Whether these best Kickstarter board games had many backers or were the most funded, they have definitely captured our attention.
Kickstarter has been an excellent platform for top board game creators. It allows them to get the funding they need to realize their dream. Some fantastic board games have come out of Kickstarter, and we will take a look at the best of the best.
To fully appreciate the best Kickstarter board games of all time, we need to look at Kickstarter board games history. Kickstarter has been around since 2009, and in that time, there have been some great board games that have come out of it.
The games category is the most funded category of Kickstarter, with over $1.87B spent. $1.74B was successful, and $102.16M was unsuccessful.
The success rate of the Kickstarter games category is 44.96% (the Kickstarter average is 40%).
259 game projects have hit the $1m funded milestone – around 100 more projects than the second place, technology, with 168.
In this blog post, we will discuss the 15 best Kickstarter board games of all time and look at each game's main features. So without further ado, let's get started!
The 15 Best Kickstarter Board Games of All Time
1. Exploding Kittens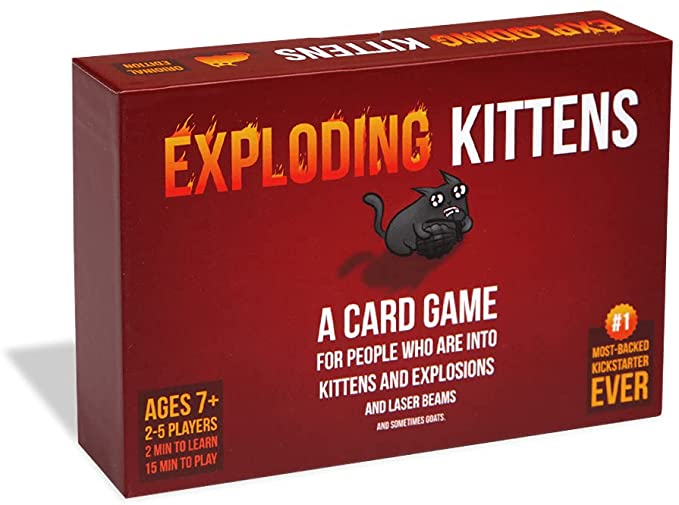 Overview
Exploding Kittens is the best Kickstarter board game based on the backer number. It's a card game created by Elan Lee and Matthew Inman. The objective of the game is to avoid being blown up by an exploding kitten. It is a party game for up to five players, and it takes about 15 minutes to play.
Main Features
The best part of exploding kittens is the absurdity of the design and concept, and the game doesn't disappoint in that regard.
It's a great party game because of its lighthearted nature and easy-to-learn rules – and it's loads of fun.
Another great feature of Exploding Kittens is that it can be played with up to five players making it an excellent game for parties or get-togethers – to be enjoyed by people of all ages.
2. Bears vs Babies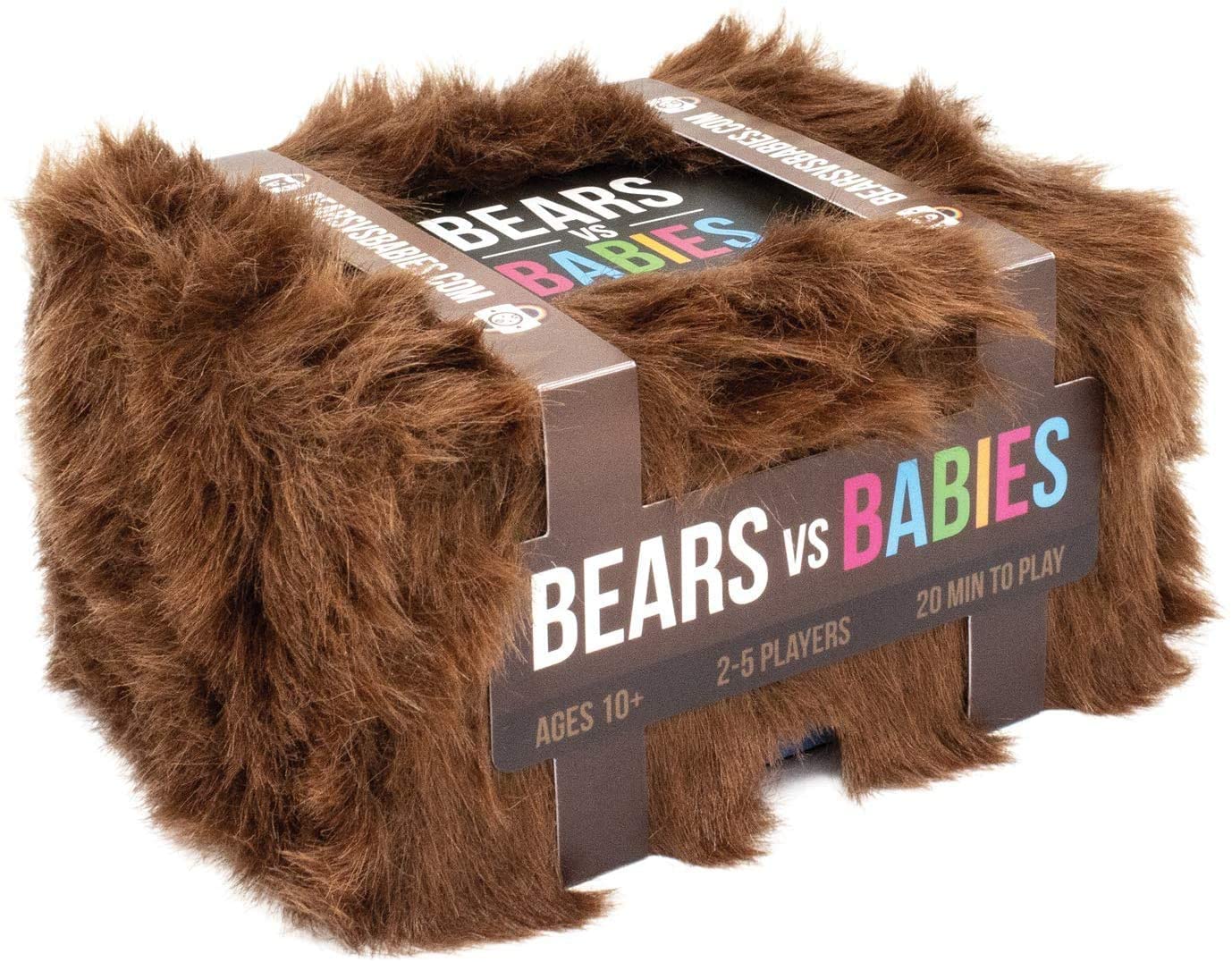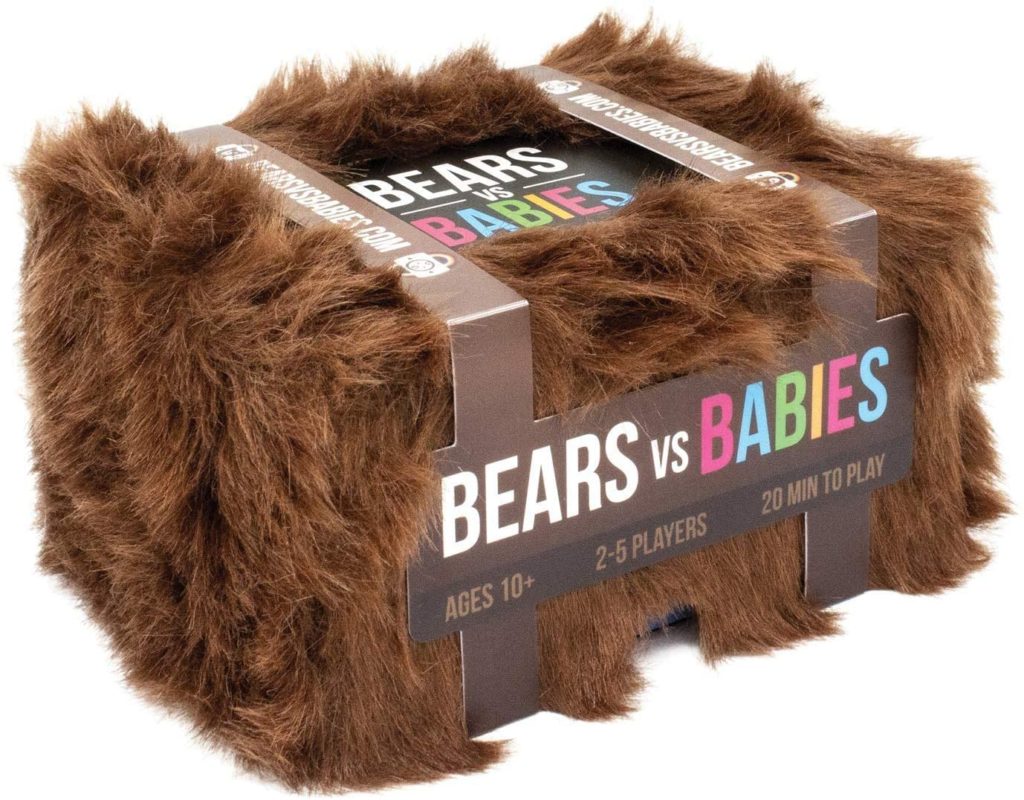 Overview
Bears vs. Babies is the best Kickstarter board game based on the number of backers – a card game created by the same team as Exploding Kittens. The game's objective is to build the best bear army to fight the babies. It is for two to five players, and it takes about 20 minutes to play.
Main Features
The objective of Bears vs. Babies is to create magnificent monsters, eat delicious babies, and take down the competition. Similarly, this game is absurd, fun, and lighthearted. The clear benefit of these first two games is how little brainpower you have to use to play them and how much fun it gives you.
3. Frosthaven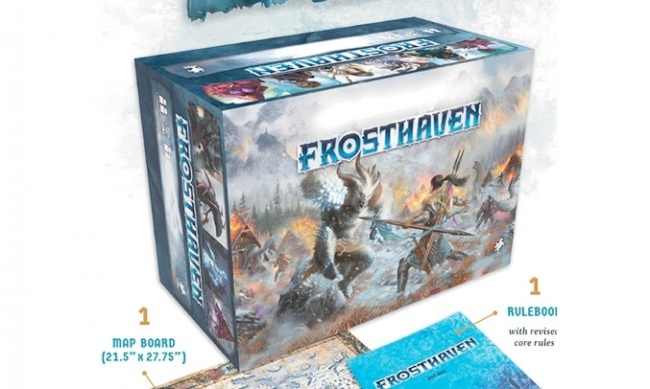 Overview
Frosthaven is a Euro-inspired dungeon crawling game made by the same creators as the very successful 2017 top board game Gloomhaven.
The gameplay is similar to Gloomhaven (another game on our best Kickstarter board games list – we'll get to that later). In Frosthaven, you form a group of mercenaries and go to the northern coast fighting through many different scenarios in an extensive campaign with over 100 scenarios. It is for one to four players, and it takes about 30 minutes per player to play.
Main Features
The dungeon crawling aspect of the game makes it unique and exciting. Another great feature is that It's a standalone campaign in the Gloomhaven World made with 32 guest designers.
It has a 10-scenario community-driven campaign and more than 25 puzzles. The cool thing is that each scenario is played out through combat against fully automated enemies. You'll play two cards each round to determine when and how your character will act out their turn.
These abilities are strong and unique, offering a wide range of options and playing styles dependent on the character you pick.
There are no dice in the box. Instead, a deck of assault modifiers will be drawn each time you attack. However, over time, you will be able to customize this deck by adding and removing cards through battle objectives and level up.
4. Avatar Legends: The Roleplaying Game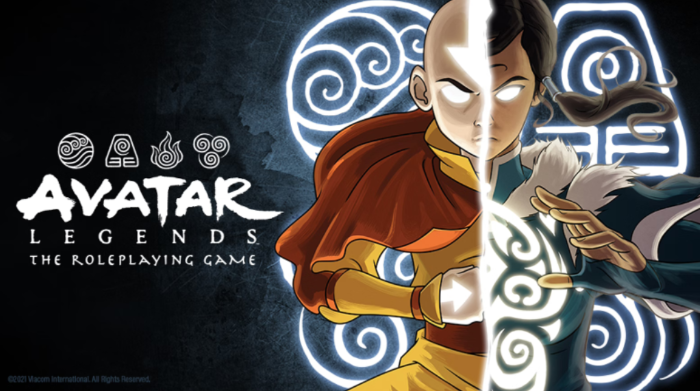 Overview
Avatar Legends is a licensed tabletop roleplaying game made by Magpie Games. For many people who've grown up watching Avatar the Last Airbender, this game is the best Kickstarter board game idea ever.
It's a heroic fantasy adventure set in the Avatar universe in which you and your friends take on the part of young heroes from across the Four Nations who have joined together to make the world a better place. It's for people of all ages who wish to look at the world beyond the confines of existing tales.
Whether you're a bender, martial artist, trader, or crafter, you're constantly torn between two crucial ideals in your life as you encounter difficulties in the world. If you focus too intently on one of them—forgiveness rather than action, tradition over progress—you'll be off-kilter and must strive to restore your sense of self.
Main Features
First of all, the coolest part of this top Kickstarter board game is how true they've stayed to the originating principles of the avatar series. The people you are fighting are not merely monsters; they have their desires, needs, ideas. You don't need to conquer evil; you'll have to find balance.
Secondly, the game is set up to be modular to be tailored to the group of players you have quickly. This allows for a high replay value as you'll play through a different story with your friends each time.
5. Joking Hazard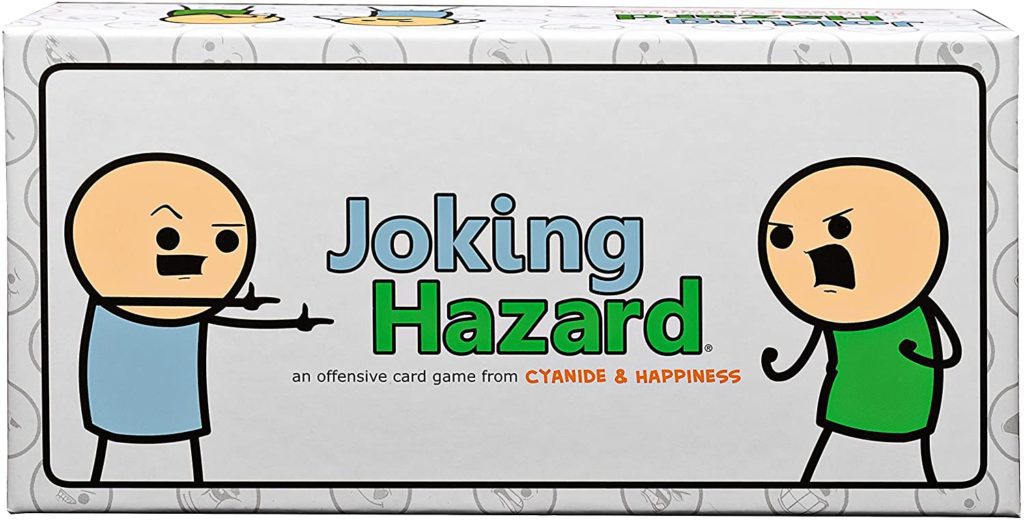 Overview
Joking Hazard is an adult party game created by Cyanide & Happiness; the internet hit comic.
Thousands of terrible and excellent situations are created by 360-panel cards (including ten add-your-own-words cards), which combine to form hilarious and awful comics about friendship, violence, sex, and everything in between.
As they say on their Amazon page: "After society falls, high-quality playing cards can be burned for heat." According to us, if you're only looking for absurdity, this is the best Kickstarter board game.
Main Features
The best part about Joking Hazard is that it's a dark party game. This means that you and your friends can get together, have a few laughs, and share some dark humor without any real commitment.
It's clear that the people behind the product have years of experience in writing comedy material and comics. This makes for a well-polished and entertaining game below the belt.
6. Gloomhaven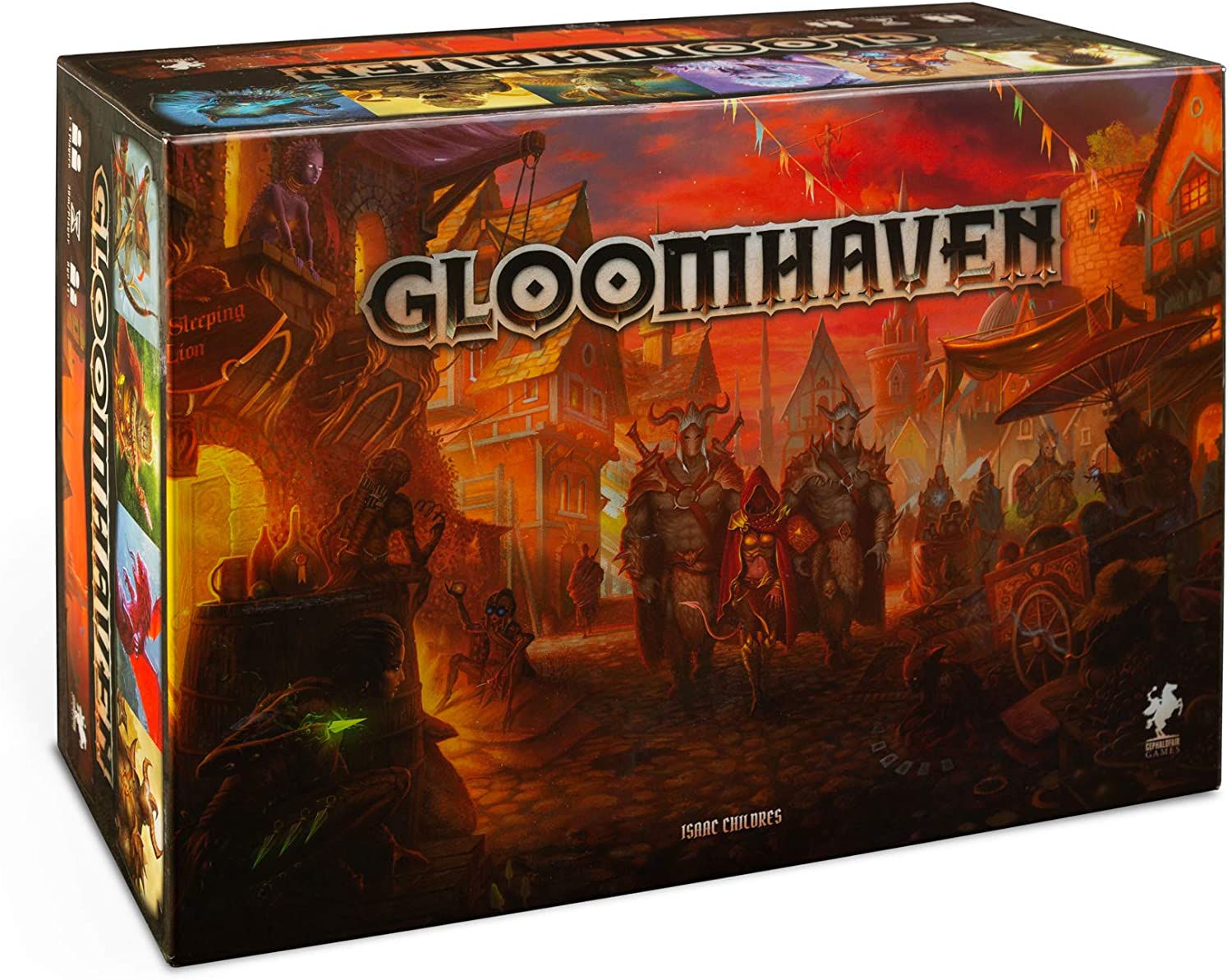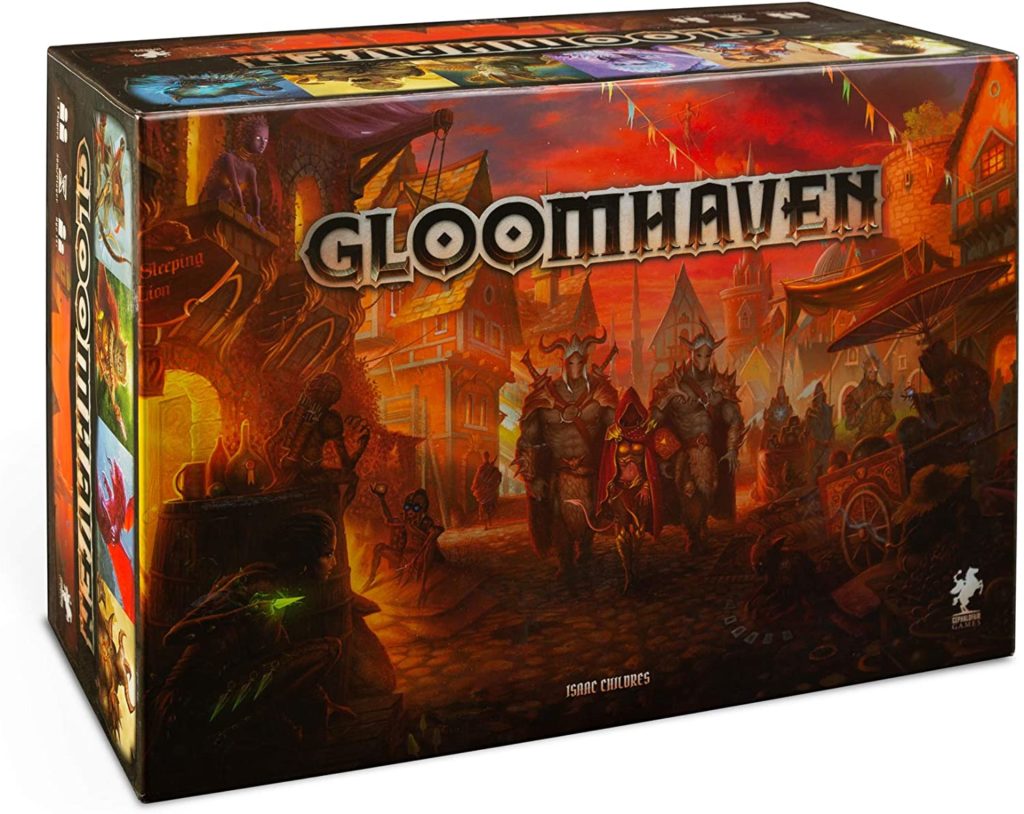 Overview
As we mentioned in the best Kickstarter board game number 3, Gloomhaven is a massively successful board game. It's a cooperative, dungeon-crawling board game for up to four players, that takes place in the world of Gloomhaven.
As a player, you'll assume the position of an adventurer with their own unique set of abilities and motives for trekking to this mysterious part of the world.
Players must collaborate to clear out sinister dungeons and long-forgotten ruins as a result of necessity. They'll improve their skills with experience and loot, discover new areas to explore and plunder, and build an ever-growing narrative driven by their decisions.
Main Features
The most interesting aspect of Gloomhaven is the method in which decisions are made because You must battle against automated adversaries utilizing an interesting card system to set the order of play and what a player does on their turn in this fantasy-themed game.
Second of all, the system of the changing world makes this game highly replayable. The creators seem to have worked hard to make sure the game had a stable balance of chance-taking and strategy.
7. Trial by Trolley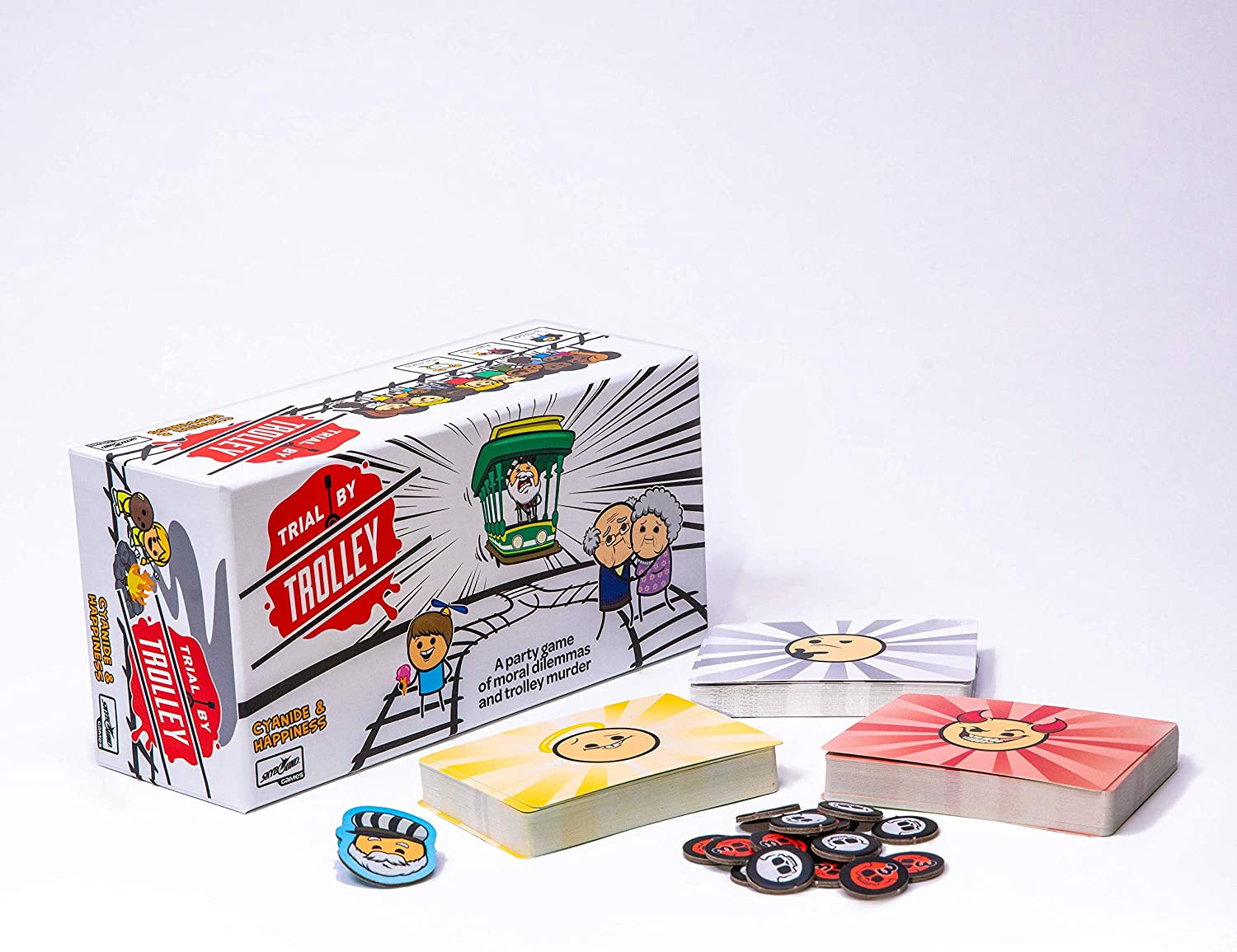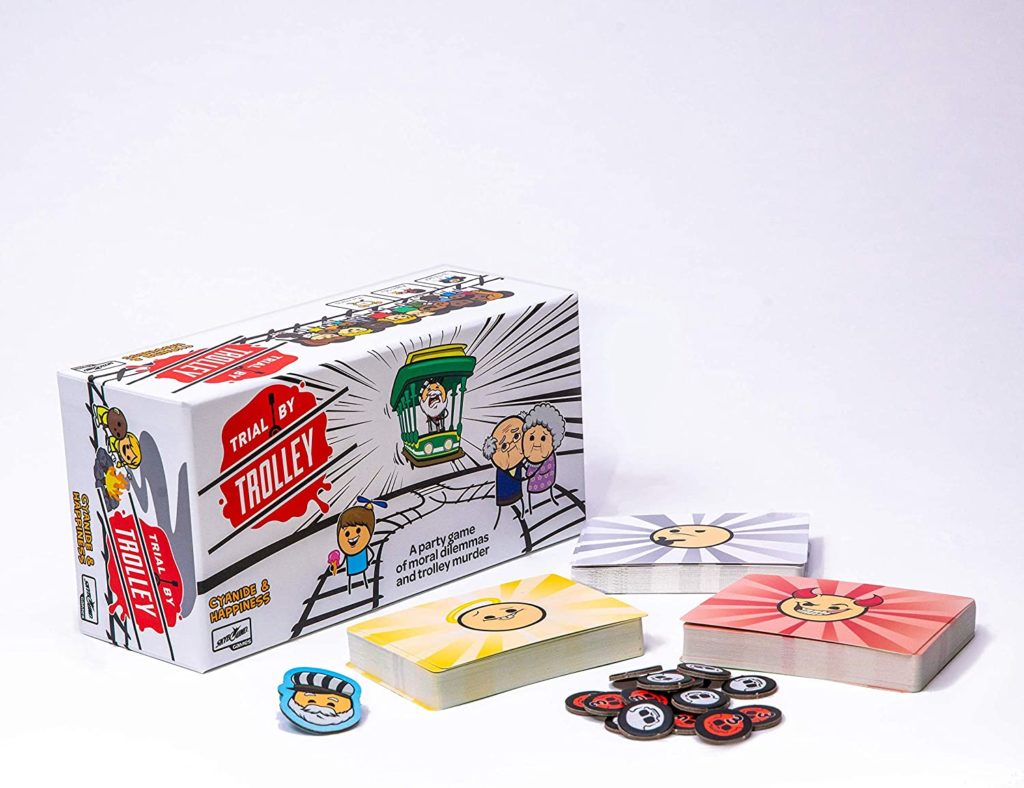 Overview
In this party board game by Cyanide & Happiness, you'll be playing an operator of an out-of-control trolley and must make tough decisions on who to let die.
This game will undoubtedly put you in moral dilemmas you've never thought of before – getting it high up on the best Kickstarter board game list of originality.
It has 500 cards that constitute moral dilemmas and will force your co-players to act on your decisions. Truly horrible.
Main Features
The best thing about Trial by Trolley is that it takes the best of party games and throws in moral decisions. Similar to Jokin Hazard, this makes for a game that is interesting, dark, and humorous all at the same time.
It also has a unique concept. Trolley problems have been discussed for many years but making it into a party game is very unique.
8. Throw Throw Burrito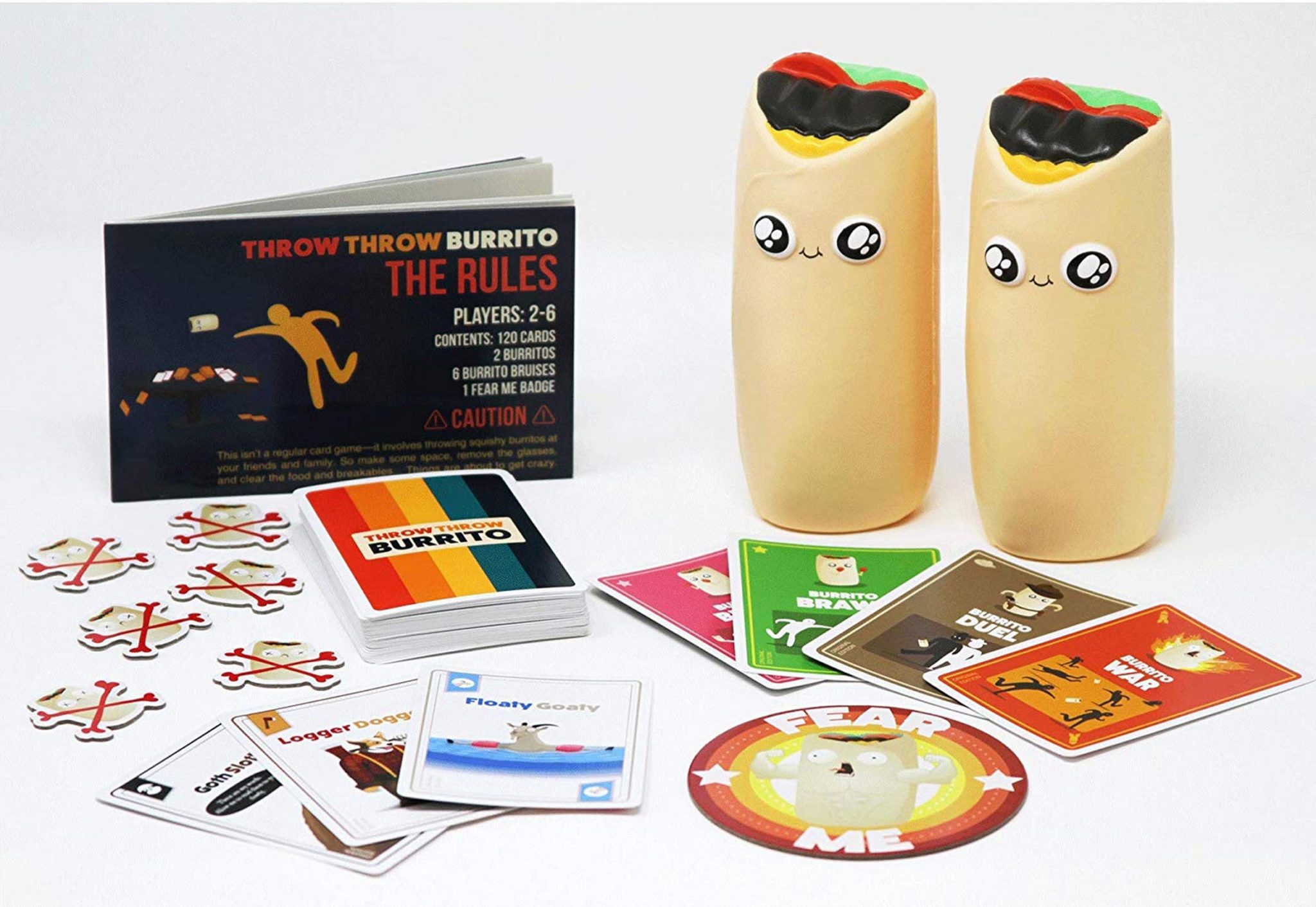 Overview
Throw Throw Burrito is a fast-paced and exciting card game for kids and adults that will have you laughing and playing your best hand.
2-6 players have to collect sets of cards as quickly as possible while dodging and throwing squishy burritos at their opponents.
This is the best Kickstarter board game that contains a burrito (we guess also the only one on this list) and is designed by the creators of Exploding Kittens, so you know it will be a hit with the whole family.
Main Features
The main features of Throw Throw Burrito are the originality, mixed playstyle, family-friendly design, and quick gameplay.
It only takes 15 minutes to play, so it's perfect for game night or when you have a few friends over. It's also great for travel because all you need is a small space and you're ready to go.
9. The Binding of Isaac: Four Souls Requiem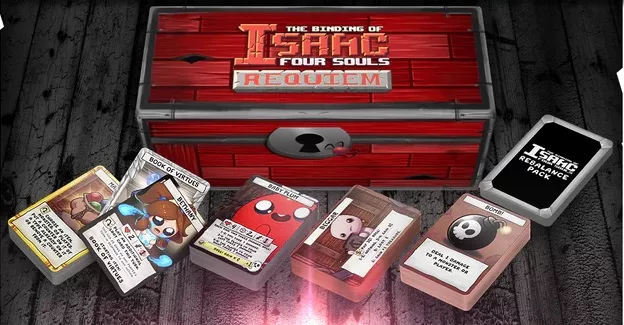 Overview
The Binding of Isaac is a tabletop card game about sacrifice, betrayal, and hoarding. The Binding of Isaac, the famous video game, served as a source of inspiration for the official card game, which was released in 2018.
Experience the terrifying and frightening World of The Binding of Isaac: Four Souls for yourself in this authentic adaptation. Gather valuables, pillage goods, battle monsters, and be the first to collect four souls. Discover killer combinations, enhance your skills, betray your pals. There's a lot of replayability with over 300 cards to play with.
With the new Requirem expansion, there are now 50+ cards that can be added to the game, making it even more complex and exciting.
Main Features
The coolest part is the exciting and fast-paced gameplay and dark and twisted story, and the addition of new cards makes the game even more complex.
If you like the computer game, you'll love the card game. It's just as exciting and provides hours of entertainment.
10. The Witcher: Old World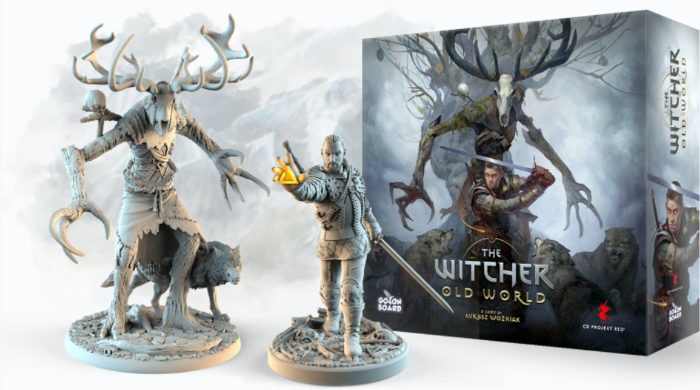 Overview
The Witcher: Old World is an action-packed board game with immersive options and intriguingly innovative mechanics.
The Witcher. Old World is a game in which 1 to 5 players explore an enormous map, undertaking wonderfully written missions, and making difficult ethical decisions.
Main Features
Players combat monsters and occasionally brawl with other witchers to defend their school's reputation. Players can build their own unique decks of cards by selecting from a diverse set of abilities: attacks, dodges, and witcher combat magic.
A really cool aspect is that you are able to develop and train your character over time while training. As your deck grows, your strength increases. If we're judging on the freedom to create your character, this seems to be the best Kickstarter board game.
Also, like in the computer game, the monsters often have unique traits, strengths, and weaknesses that you will have to calculate and work with while in combat.
11. The 7th Continent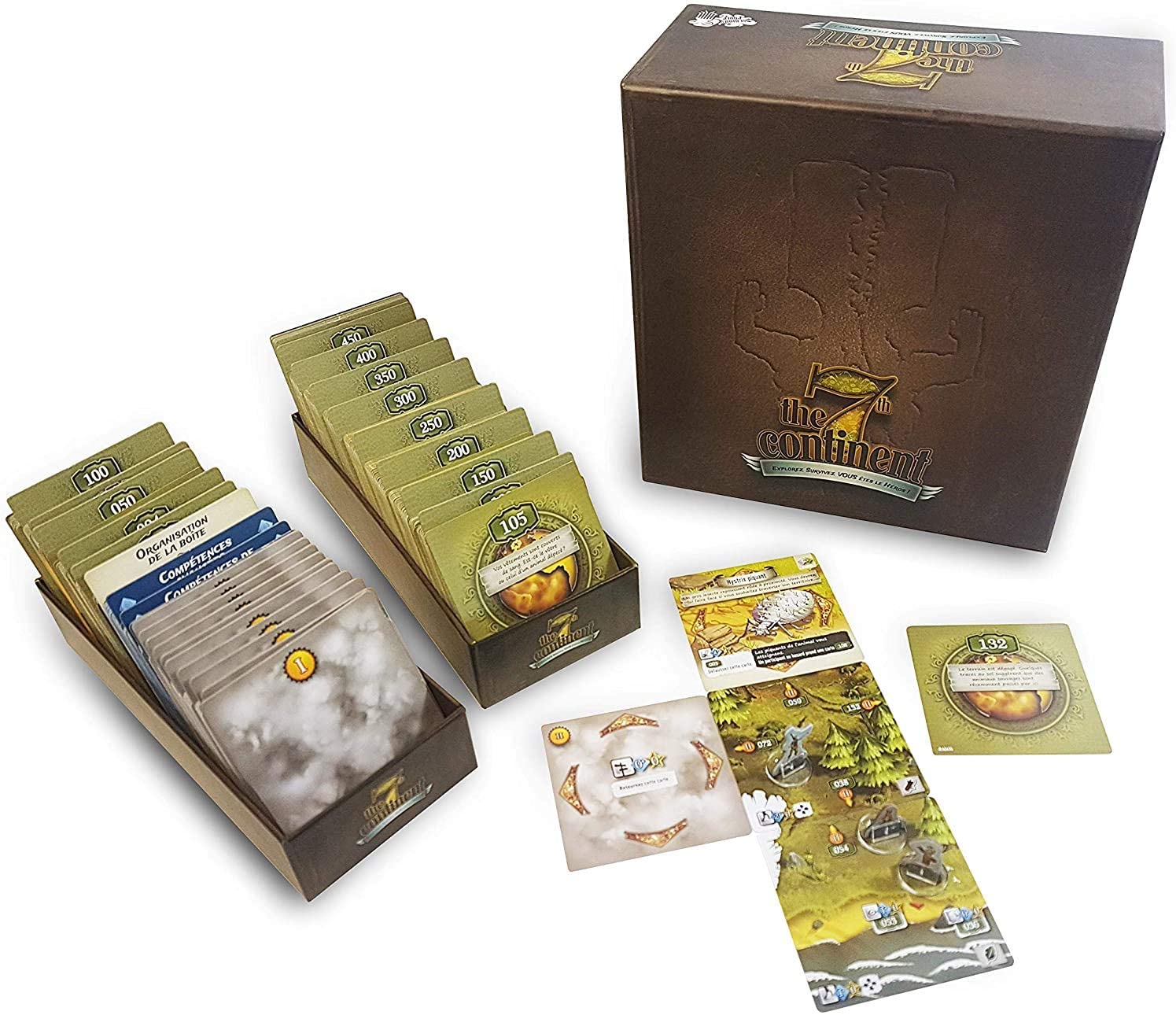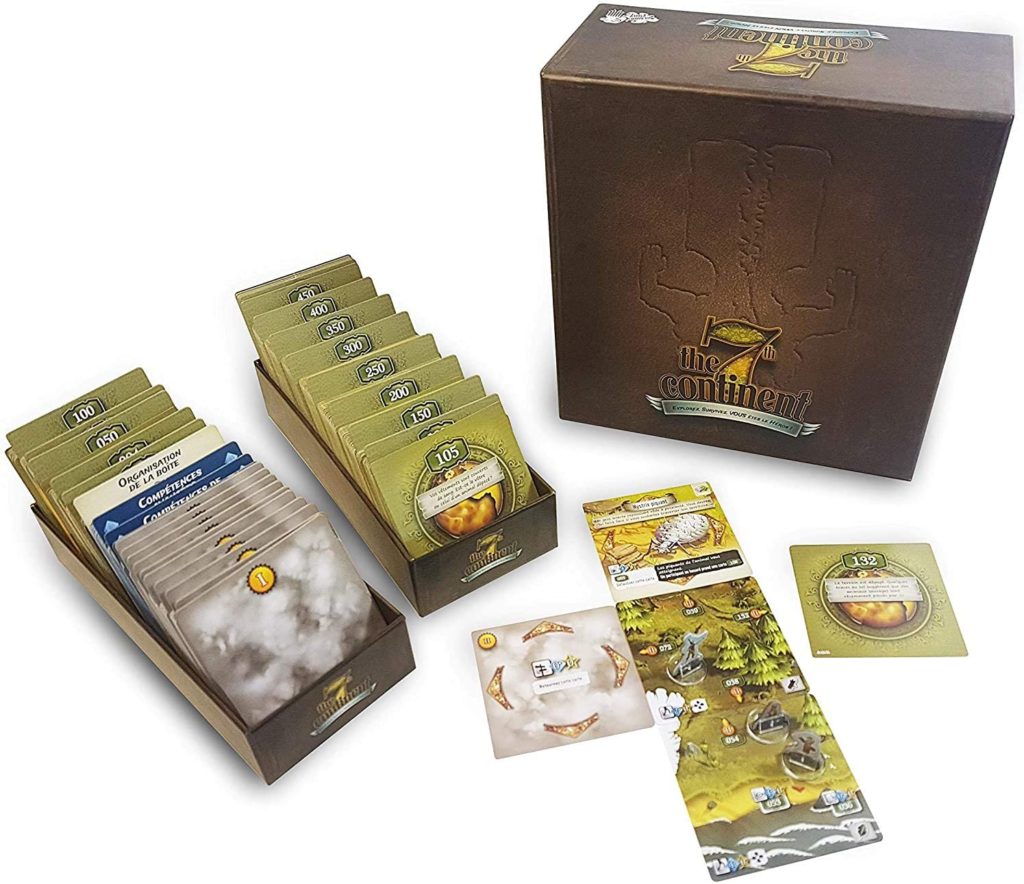 Overview
The 7th continent is an exploration and survival game best for one to four players. It takes around 30 seconds to set up, and the game is designed to be different every time you play it. Plus, the game remembers your choices, so you can continue onto other chapters with the same characters!
Furthermore, the game has nearly 850 cards in the base game and exposes players to various random events while exploring the seventh continent.
The seventh continent is similarly divided into several zones, including the forest, desert, dungeon, and sea. You will travel across these areas by playing numbered Adventure cards that will eventually form the board the same way you did with the chapter-based "choose your own path" gamebooks. The dozens of terrains that pepper your journey expose.
Main Features
It's a great adventure to rediscover the sensations of your childhood's adventure "gamebooks." The fact that it has high replayability and is so fast to save and open is a game-changer.
Another significant part is that the game remembers your choices – which you will later find out can have dangerous consequences. You'll have to think about making a difference by investing your time and resources. You may help save the life of someone you encounter along the road, and it might save your life later. If you ignore them, you will lose out on the chance to benefit from their expertise.
12. Tainted Grail: The Fall of Avalon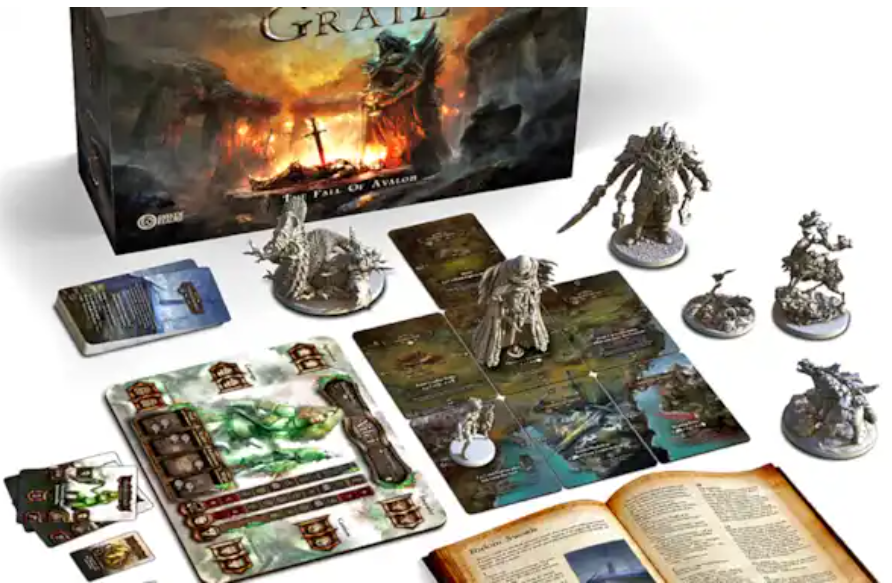 Overview
Tainted Grail: The Fall of Avalon is a solo or group adventure for 1-4 players set in a world inspired by Celtic and Arthurian mythology. A complex, branching storyline allows you to approach issues differently.
There are dire difficulties and tough choices lurking behind every corner and seemingly inconsequential activities with significant long-term implications.
Your character's qualities are defined by several conflicting paths, such as Brutality/Empathy or Practicality/Spirituality. These Traits provide:
Players with a wide range of mutually exclusive abilities.
Different deck-building methods.
Making character development meaningful and deep.
Main Features
Like in the witcher, the cool thing here is that you'll be developing your character over time. They'll be tested through many different scenarios and battles. These scenarios also have quite different nature. Sometimes fighting is the right way; more often, diplomacy is best.
No matter how you choose to play, the dice-less game of encounters makes resolving conflicts the heart of the game, and that's incredibly fun and exciting.
Another cool feature is that the creators focused on ensuring secrets are uncovered throughout the story, not just in the beginning. While you're building puzzles, you'll potentially face a threat.
Lastly, since the game was created by one of the best polish fantasy authors, Krysztof Piskorski, the story of Tainted Grail has grand narratives and great storytelling.
13. Nemesis Lockdown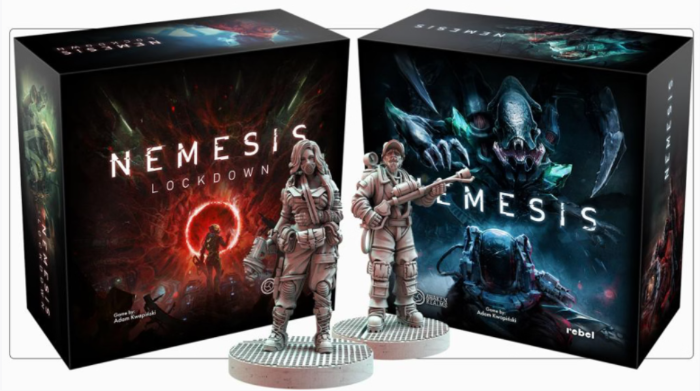 Overview
Nemesis Lockdown is the first standalone expansion to Nemesis for 1-5 players. The original game's highly cinematic, semi-co-op gameplay is maintained, and several new, innovative mechanics are introduced. During the game, players will be transported to a new Mars location, represented by a multilevel board.
During this 13th best Kickstarter board game, you and your fellow players will gather things, visit various locations, utilize your actions, craft items, run from creatures, and fight each other. Every player will strive to accomplish their concealed aim while also attempting to complete their specific objective. Sometimes at the expense of others.
Main Features
A great feature of Nemesis Lockdown is that it is chock-full of dramatic events, some of which you may enjoy even if your most excellent ideas are ruined, and your character meets a horrible demise.
Simply the central situation you and your co-players will be in during this game is the core of the experience. Along with exceptionally designed hurdles and opportunities, this game has a particular stress factor few games can replicate.
14. Tiny Epic Dungeons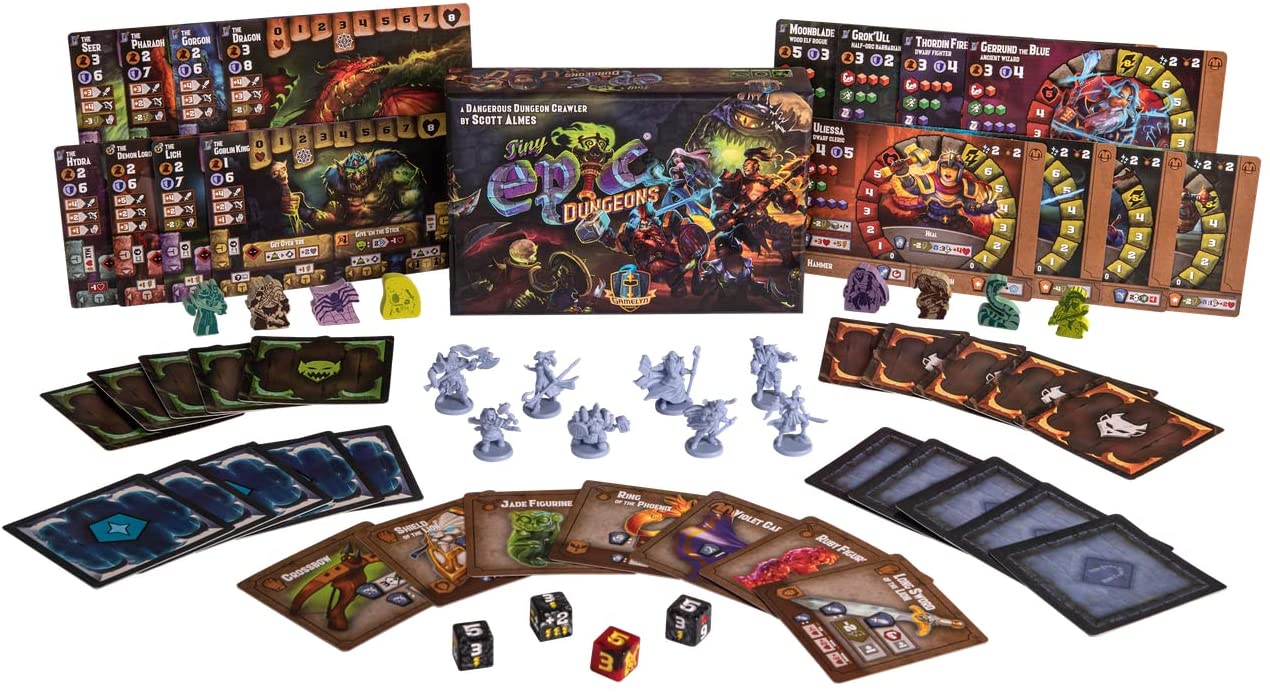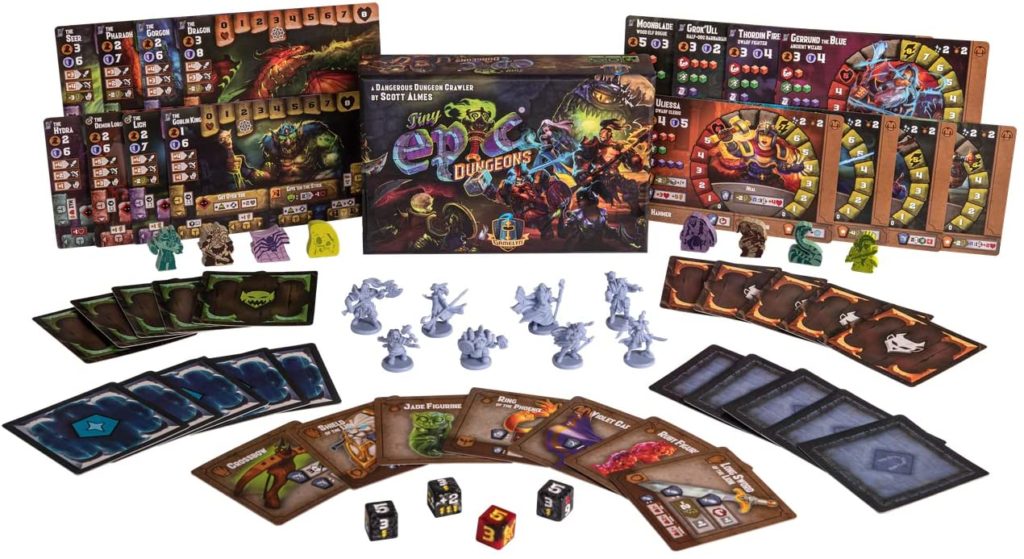 Overview
In tiny Epic Dungeons, players control a group of heroes as they explore a scary dungeon searching for the terrible dungeon boss. The heroes make their way through the dungeons struggling against time, one room at a time.
Tiny Epic Dungeons has unique abilities and a unique environment. Players must fight bosses with special skills in a unique replayable environment that makes it easier or more challenging for the players to get through, depending on their skills.
To strengthen their characters, players will have to collect loot and spells that aid their journey.
Main Features
One of the best features about tiny Epic Dungeons is that players are able to customize their dungeon crawl experience depending on what loot and spells they collect.
This game contains dice, takes about 1 hour to play, and is very easy to learn.
15. Kingdom Death: Monster 1.5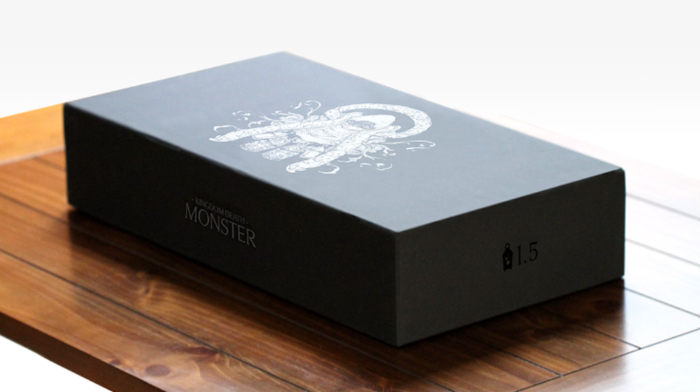 Overview
In Kingdom Death Monster, you and your friends manage a group of post-apocalyptic survivors who must fight off an onslaught of strange and deadly monsters in order to survive.
In a world where humans are at the bottom of an overwhelming ecosystem, they will build a fragile civilization based on the spoils of their fights.
This is a well-made Kickstarter campaign. With many add-ons, well-thought-out design, and community engagement, Kingdom Death: Monster 1.5 has loads of potential.
Main Features
One of the best features of Kingdom Death: Monster is that it is a cooperative game where players can work together to survive.
This game also has impressive miniatures and detailed artwork. It's made by a true top board game geek who has the support of loads of backers.
Another huge part of why this game got so much finding is the epicness. Imagine feeling like you're "a survivor in an apocalypse as you fight off monsters and build a civilization from the spoils of your fights." That is one of the most epic descriptions we've heard here at Tech I Want
Final thoughts
Board games have come a long way in the past few years, thanks in part to Kickstarter. These 15 best Kickstarter board games are a great representation of the amazing games available to gamers.
From these 15 games, we can conclude that the games that have character building, unique abilities, edginess and fun, unique environments, customizable and repeatable experiences, and cooperative gameplay are the ones that will most likely succeed.
Furthermore, it is important that the Kickstarter campaign be well-made, with good communication and engagement with the backers, in order to ensure a successful game.
Thank you for reading! We hope this article has given you some insight into the best Kickstarter board games available today.
Whether you're looking for a cooperative game to play with your friends or a game that will test your skills, there's something here for everyone. So, what are you waiting for? Get out there and start gaming!