Mountain biking is a joy for riders who like to take their bike along challenging mountain terrains. But if you are like most people, you likely have no idea what it takes to find the right one. If you've decided on buying a mountain bike (MTB), knowing how to do that can be the difference between you making sweet moves and eating a pound of dirt.
To avoid dirt eating, you need to know what makes a mountain bike special. While having a little bell on it might be nice, it won't help you on tough terrain. By the end of this article, you will know what to look for when buying an MTB.
What are Some Differences Between Mountain Bikes and Road Bikes?
Astute observers might notice a striking cost difference between buying a mountain bike (or MTB) and a road bike (RB). Some of these bikes just include the word "mountain," hoping that new buyers aren't paying attention. Knowing how to spot the differences is crucial.
MTBs are explicitly for rough terrain and off-road use. Most of these bikes have wider tires and a stubby appearance, making them more sturdy for rough usage. The tires also have larger "lugs," meaning they dig into the ground and get better traction.
The front and rear shocks of MTBs are also much more durable. This durability is necessary for MTBs to withstand the numerous drops of downhill mountain biking. As a result, MTBs are suitable for shorter travel distances under rocky conditions.
Road bikes are lighter and lighter shock tunes because they aren't for rugged terrain. You'll find that RBs are more suitable for regular street driving. Road bikes are much better suited for this if you pick up speed.
A clear sign that you have a road bike comes from its lighter frame. RBs are automatically less sturdy regarding forks and handlebars. The pedals on MTBs also have smaller cleats (so your shoes do not lock in place).
How To Choose A Good Mountain Bike Size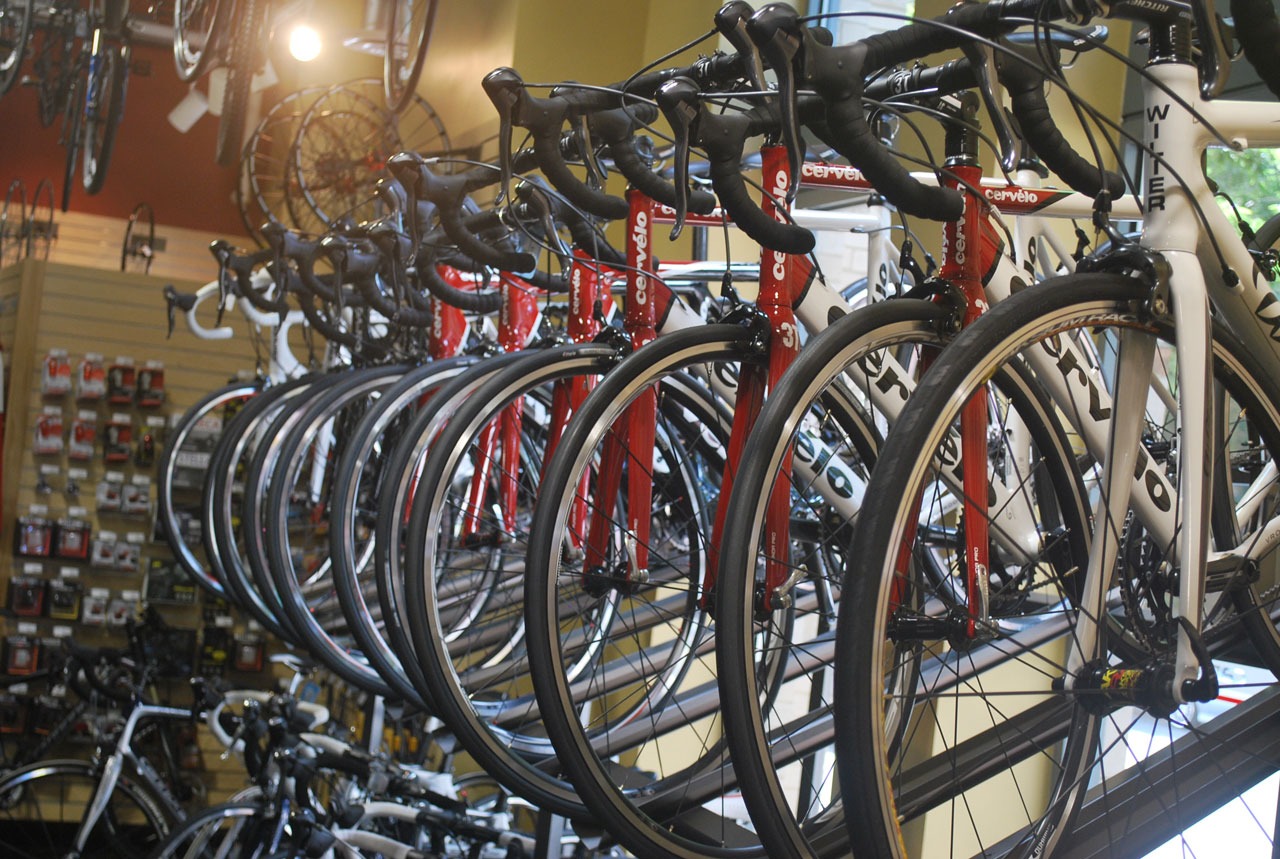 To find the best mountain bike size, you need to be aware of two things:
Standardized tire measurement procedures start with ISO 5775. You can find the markings for bead seat diameter (BSD) along your tires. We will identify them in millimeters as 559b, 650b, and 700c (three of the most standard measurements for BSD measurement).
Understanding the technical aspects of MTBs is essential, even if this part puts you to sleep. Thankfully, you only have to worry about it when buying stuff.
Keep these in mind when comparing prices for tire and inner-tube replacement. BSDs need to match up with tire sizes to fit correctly.
These are your seat-bead diameter, containing numerous additional tire sizes not used for MTBs. Your seat-bead diameter is essential when selecting tubes, varying in cost when buying a mountain bike. Below, I will go through all aspects of bike sizing.
Frame Size
Many bike manufacturers rely on a simple sizing scale for small, medium, and large. Much like clothing, these sizes change depending on your favorite bike brand. If you've ever compared Walmart clothing to GAP clothing, you already know the deal.
A bike's frame length should be comfortable enough, so the distance from the saddle to the bars is comfortable. This can be slightly longer than your preference for RB because it prevents you from flying over the handlebars when crashing.
Test-driving your bike is necessary to determine a good deal of comfort. When buying a mountain bike online, please take advantage of whatever money-back guarantee they have as a test phase. However, you will want to be a bit pickier in wheel selection.
26-inch Wheels (559b)
Twenty-six inches are the most common bike tire size across MTBs. These wheels are widely available and solid for transportation across some distance. All 26″ bike models are typically cheaper because of this availability. However, many experienced MTB riders are fonder of the larger wheel sizes.
27.5-Inch Wheels (650b)
The broader 27.5-inch wheel model has more surface area, making it easier to ride over most terrain. These tires are close enough to the 26″ wheel size (but easier to use). These come in a plus-size tire variant that is bigger in width but smaller in circumference. The resulting advantage makes these wheels sturdier and long-lasting.
29-Inch Wheels (700c)
Some bike manufacturers still sell 29-inch wheels as suitable for MTBs. The larger wheel size makes these more suitable for road bikes. These wheels are great for long-flat stretches of travel, not for tricky mountain trails. These also come in the more durable plus-sizes.
24-Inch Wheels (Kids)
Whether you have shorter legs or want to give your kids a shot at mountain biking, 24-inch wheels are great. These sizes are best for tall eight-year-olds to 13-year olds. Shorter kids can start on 20″ wheels, but those are not usually suited for mountain biking. Keep this in mind when buying a mountain bike for your kids.
Different Types of Mountain Bikes
There are four standard forms of MTBs worth mentioning:
Trail Bikes
XC Bikes (Cross Country)
DH Bikes (Downhill)
Full-Suspension Bikes (Enduro)
Trail Bikes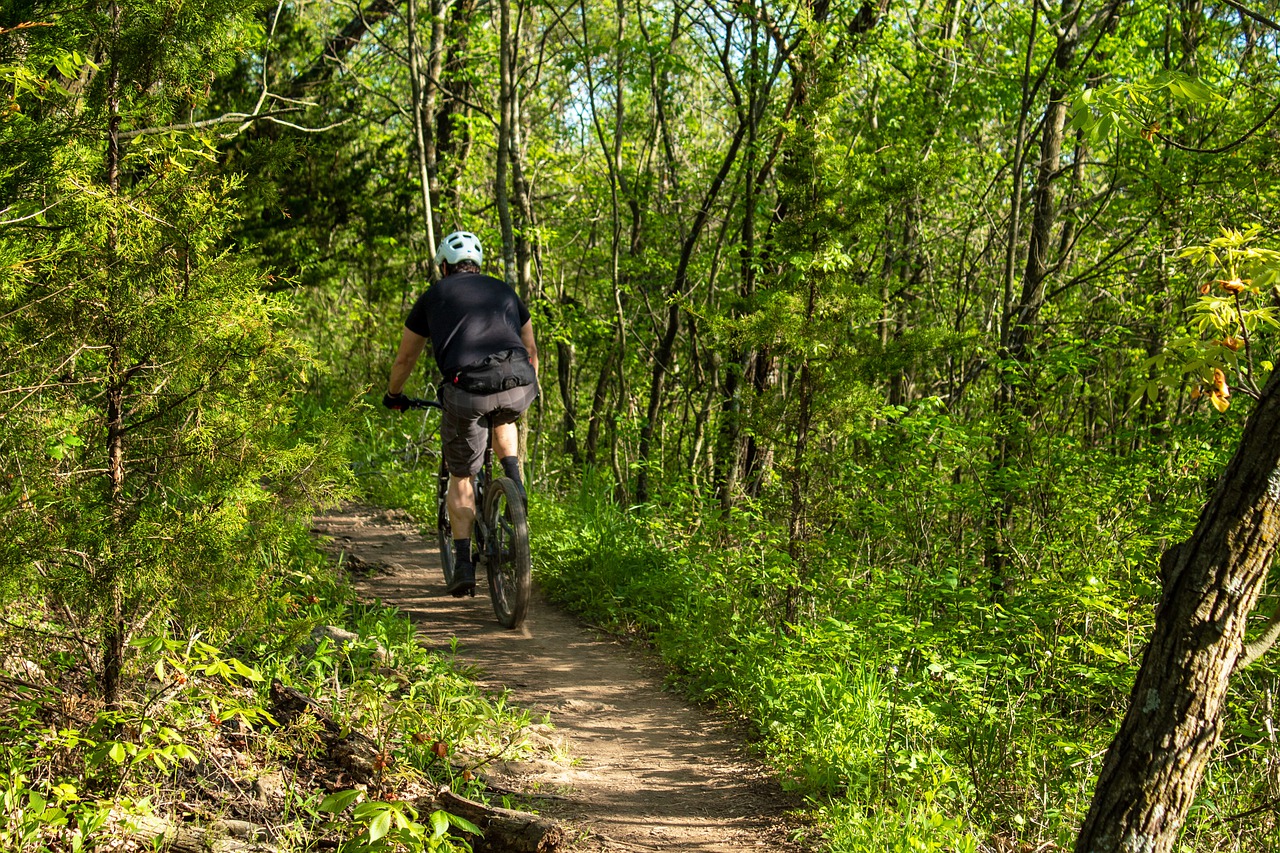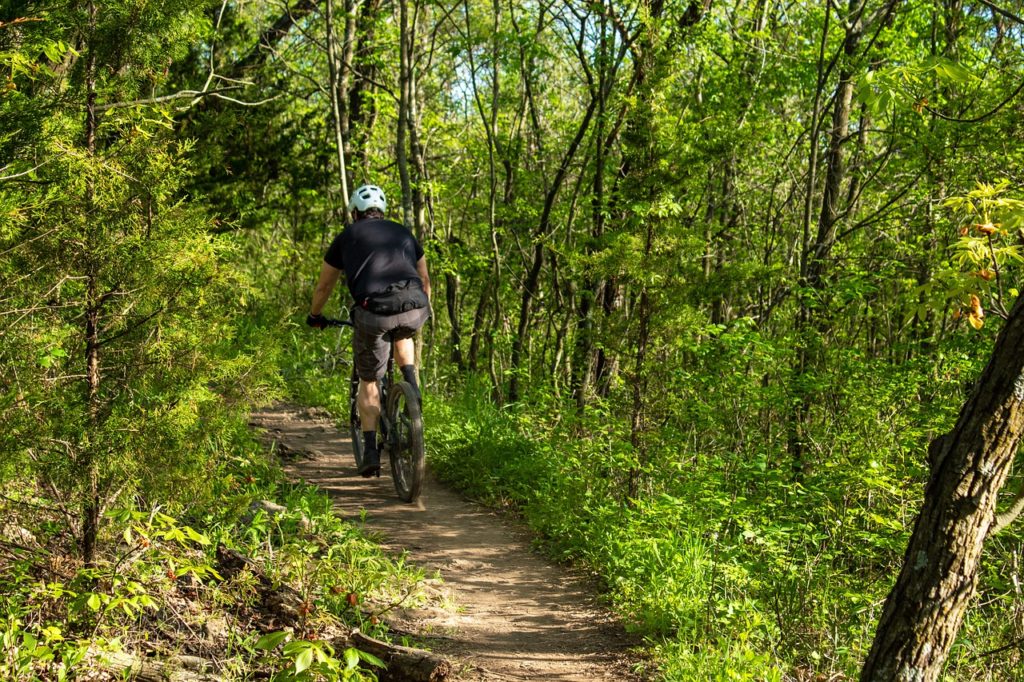 Trail bikes are the most common type of MTB. These are similar to standard bikes but with more suspension, chunkier tires, and bigger brakes. These bikes cover a wide range of terrains.
Trail bikes are an excellent first stop when buying a mountain bike for the first time. Their balanced design makes them suitable for beginners and biking veterans. They are also cheaper.
| | |
| --- | --- |
| Pros | Cons |
| Cheaper | Not exceptional at climbing or dropping |
| Great starting MTB | It can be tricky giving the considerable range of options |
Cross Country Bikes (XC)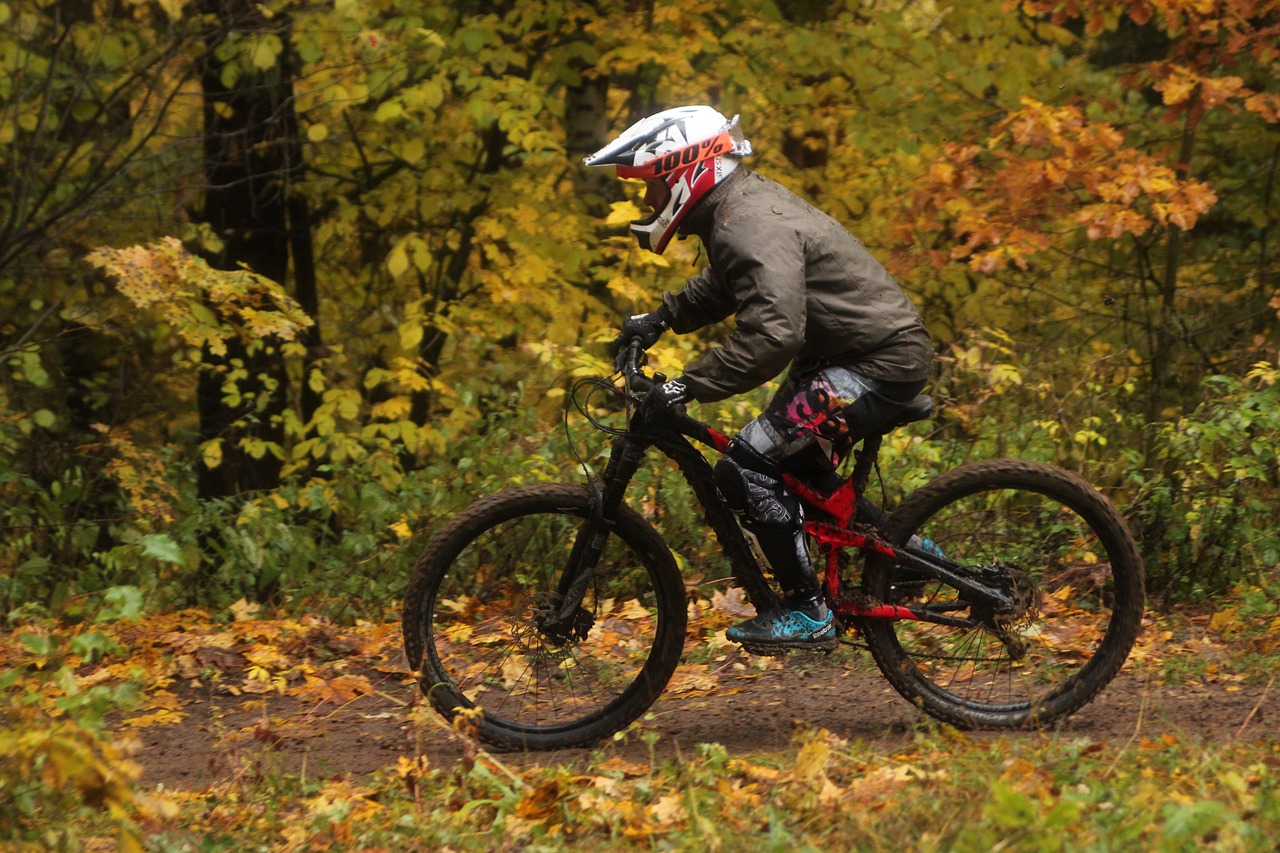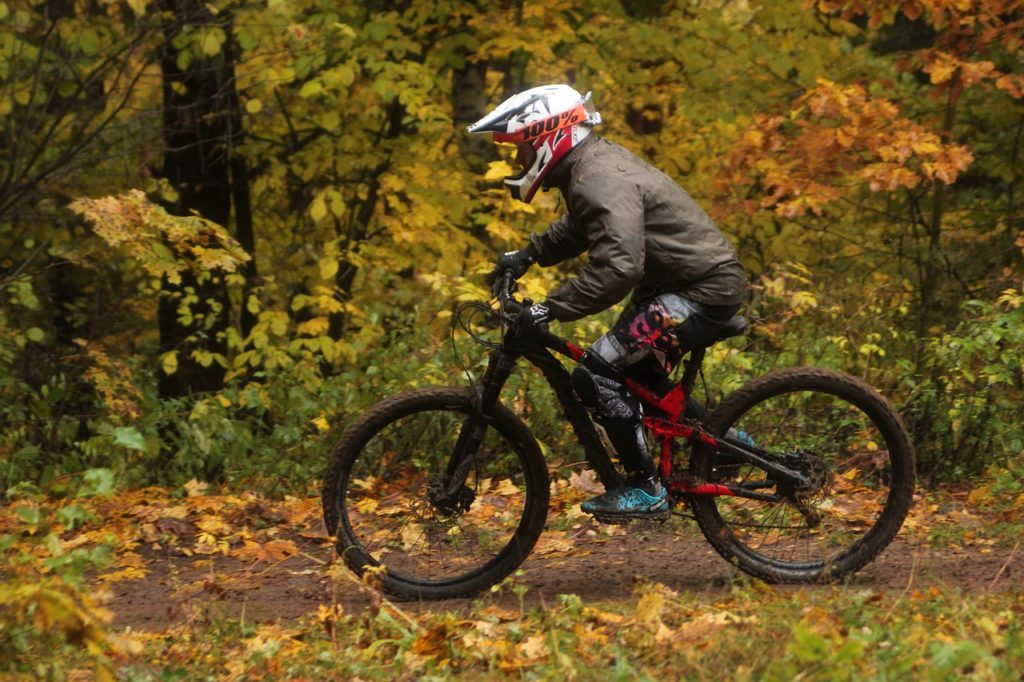 Cross Country Bikes are for uphill battles. Their lightweight designs are suitable for getting up the mountain. However, they sacrifice going downhill in exchange for this.
XC Bikes are also hardtail bikes or those that have front suspension only. Combine this with an overall longer frame, and you have a bike suitable for uphill travel.
| | |
| --- | --- |
| Pros | Cons |
| Lightweight builds can be under 25 lbs | Not suitable for downhill trials |
| Great at going uphill | Less sturdy than DH bikes |
Downhill Bikes
Downhill bikes (sometimes called freeride bikes) are known for thick, durable frames. This bike style is durable and takes the challenge of going downhill.
Downhill bikes have a low center of gravity and thicker everything. As a result, they are a pain to get uphill.
| | |
| --- | --- |
| Pros | Cons |
| Built for intense downhill durability | Not suitable for going uphill |
| Great for aggressive riders | Extra durability makes this heavy |
Enduro-Bikes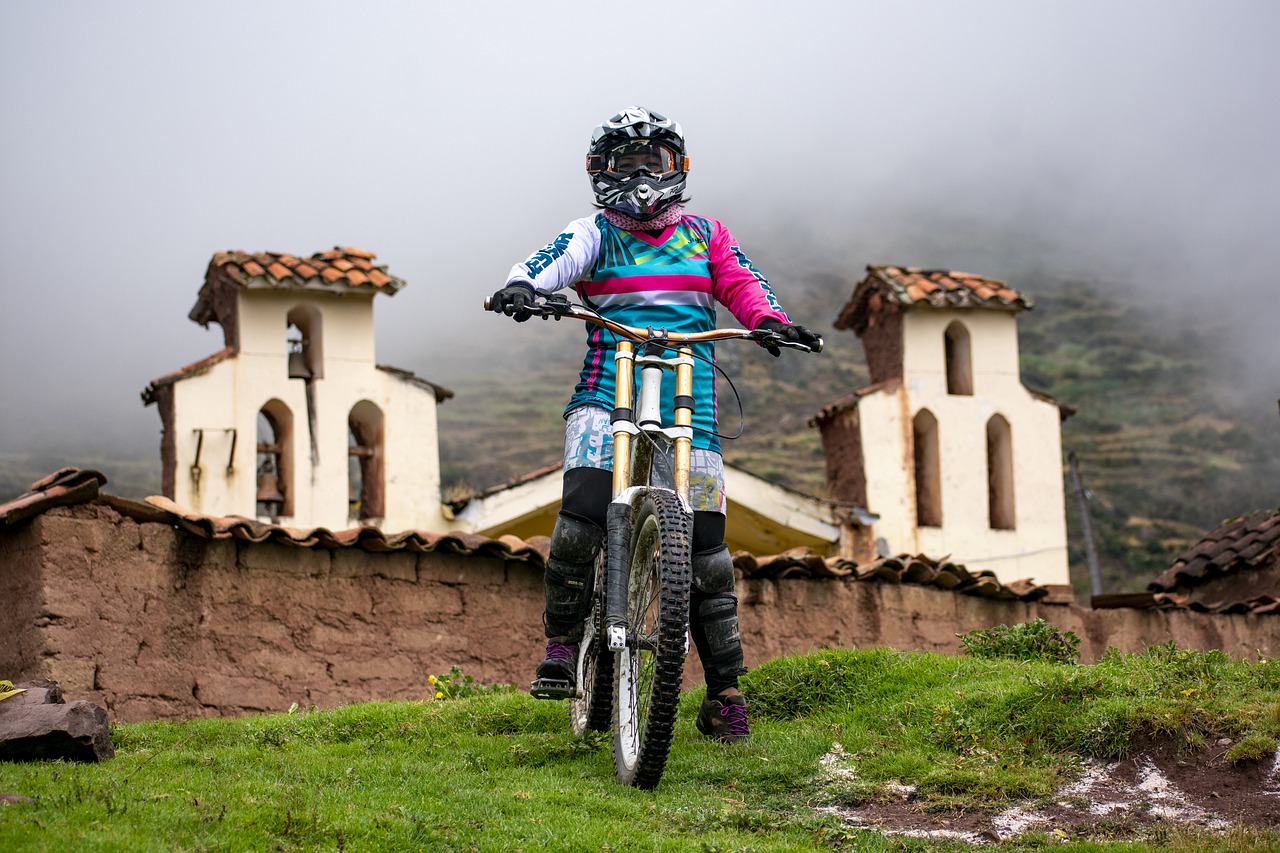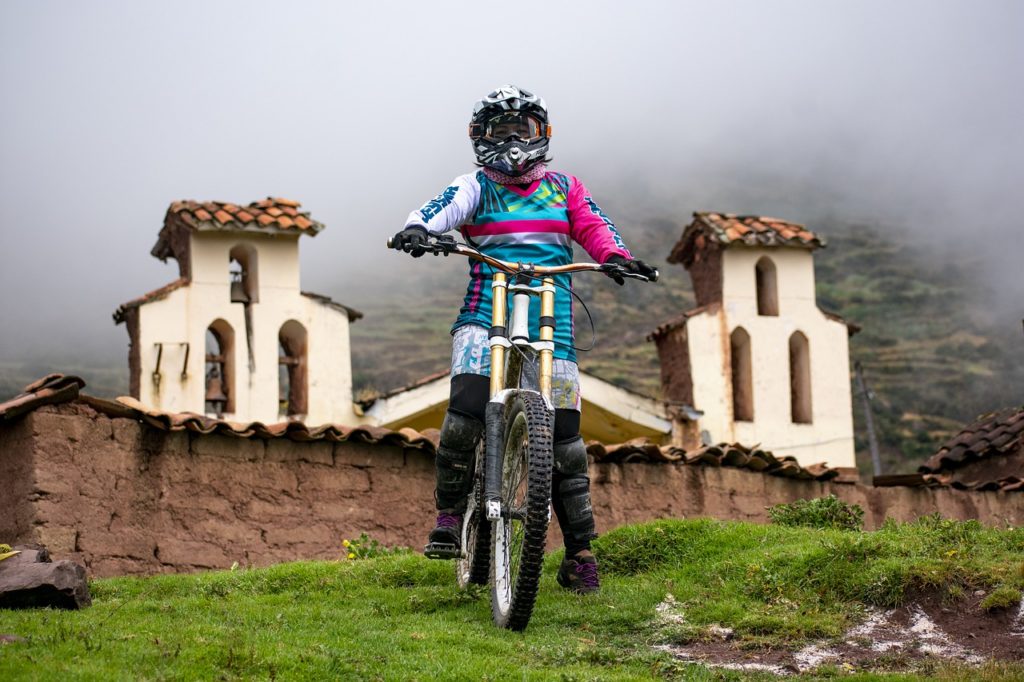 Enduro mountain bikes (or all-mountain bikes) are the best overall. These models are full-suspension bikes great for downhill but lightweight enough to be pushed uphill as well.
Professional riders use these to get a real workout from bike riding. Just be ready to pay a bit more for the professional focus.
| | |
| --- | --- |
| Pros | Cons |
| The best of both worlds | Expensive |
| Great if you want to get into racing | Not great for beginners |
Fat Bikes
Fat-tire bikes (known as "fat bikes") have massive tires. The large tires make for maximum grip, making them great for getting through snow or sand.
Not all fat-tire bikes are made equal, so they typically come in trail bike or DH bike forms. When buying a mountain bike, be sure your purchase is for mountain biking.
The Most Important Mountain Bike Features for Beginners
Knowing bike sizes and types are two of the most critical aspects regarding comfort. But there are numerous other features worth discussing when buying a mountain bike:
What You Need To Know About Mountain Bike Brakes
There are two types of brake types for MTBs:
Disc brakes (best for quality MTBs)
Rim brakes (best for entry-level MTBs)
Here are the pros and cons of the two of them.
Why Choose Disc Brakes for MTBs
Disc brakes come in two forms: Hydraulic and Cable-Activated
Hydraulic disc brakes are more responsive and require less effort. Given they are pressurized, they adjust as the brake pads wear down.
Cable-activated disc brakes need manual adjustment as the pads wear down. Being responsive to weaker brakes will require you to tighten these cables.
Hydraulic brakes are easier to manage while cable-activated brakes are cheaper.
Why Choose Rim Brakes for MTBs
Rim breaks are limited to beginner's MTBs and road bikes because they wear down rims. They act as a method to catch the wheel and prevent it from moving forward.
As you might expect, having them during an intense downhill session can lead to you flying off your bike. So if you are going to get a bike with rim breaks, stick to uphill and flat mountain riding.
If the fear of becoming an impromptu superman is real, disc brakes are safer.
Frame Materials (How To Identify Sturdy Bikes)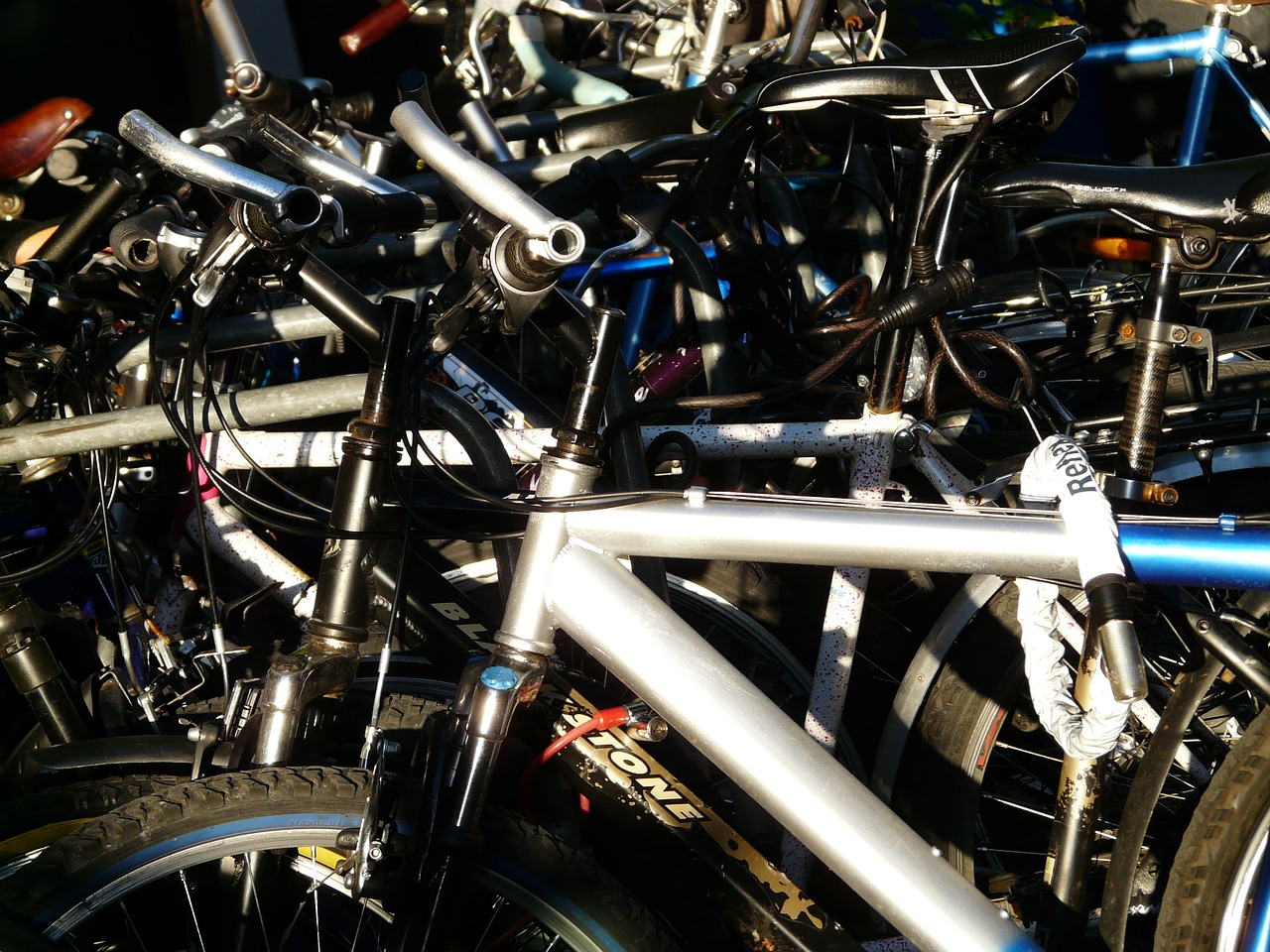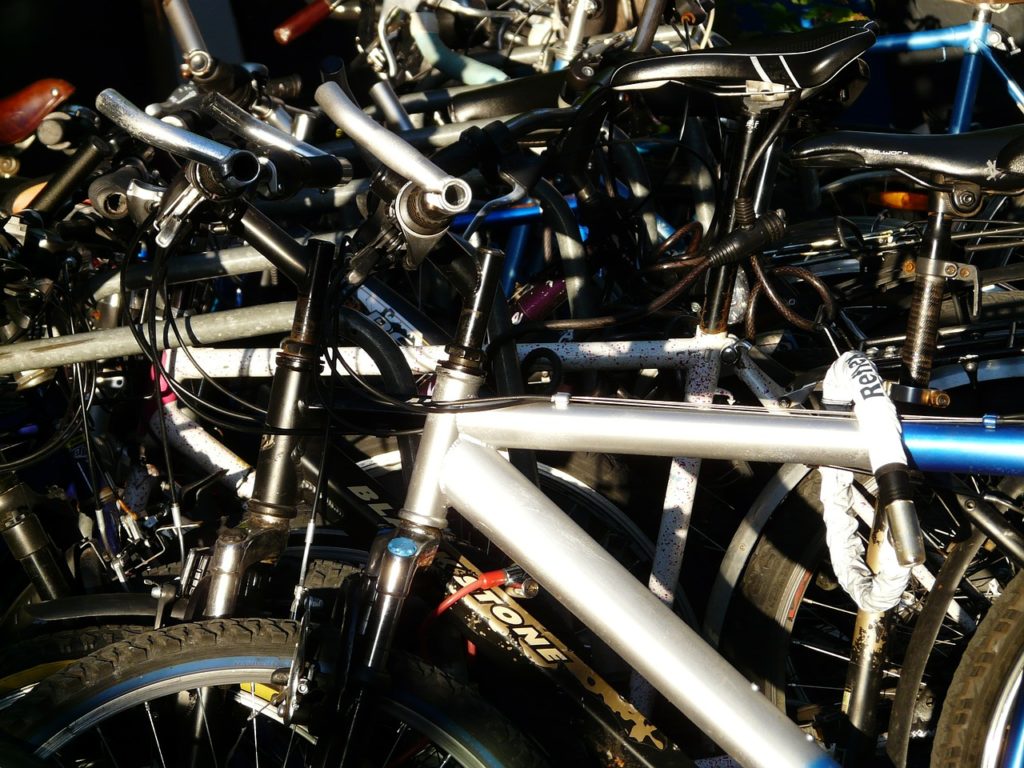 Good frames use one of these four materials:
Aluminum Alloy – Aluminum is cheap, durable, and lightweight. Aluminum alloy is the most common material bike frames are made of, making them more affordable than others.
Steel – Decades ago, steel was the go-to choice for bike frame materials. It is not as lightweight as aluminum but is sturdy and great for shock absorption.
Titanium – Titanium is an expensive material because it matches the strength of steel but is far lightweight. Titanium is for premium bikes.
Carbon Fiber – It is an expensive material because it is made with resin and lightweight sheets. It is incredibly stiff and durable, known for being incredibly easy to move around.
What You Need To Know About Bike Gears
Bikes can have a vast range of gears leading from one to thirty. Gears are a big part of the drivetrain, coming from getting a large upfront cassette.
A cassette is the large cog-like formation in the center of your bike. The chainlink is fed through this, enabling the pedals to operate the bicycle.
Switching your gears increases the resistance of your cassette, requiring you to pedal harder. If you are trying to get a better workout, having more rigid gears is an excellent addition.
If you are trying to get bike gears that are suitable for mountain bike riding, keep these tips in mind:
More gears are better if you ride terrains that are consistently changing
If you ride mainly on flat terrain, you won't need as many low gears
Having more challenging gears is suitable if you are healthy and have good fitness
Having more gears does not automatically mean a higher-quality bike. Bike manufacturers use this tactic to fool shoppers into buying overpriced models.
Also, avoid trying to get into strongman competitions by using abnormally high gears. Pushing yourself too hard as a beginner is a great way to think about throwing your bike down the mountain.
MTB Suspension – What You Need To Know
Suspension is one of the more complicated aspects of your MTB. There are two areas of concern regarding the suspension: front and back.
Your front suspension is part of your bike's fork. The fork is on either side of your bike's front wheel. A bike's front suspension holds most of your weight, making it incredibly important during downhill rides.
The rear suspension consisted of inner tubes that slide into the outer tubes of your fork. The suspension catches the inner tubes so that a hard drop on your front wheel absorbs the impact of your bike through your shocks.
Rear suspension, limited to full-suspension bike models (sometimes called "full-sus"), is the heaviest of impacts. As you might expect, these are limited to Enduro-bikes and DH bikes. Much like your front suspension, it involves tubes sliding into each other, air pressure, and spring to determine hard drops.
For your sake, you will want a front suspension type with a recommended sag of 20%. The sag refers to the bike's allowance to let the seat drop, which is more necessary during harder impacts (a 30% sag is best for DH bikes). This 20% sag level covers beginner models like Trial and XC bikes.
Looking At MTB Other Less Discussed Aspects
Here are some other aspects that are important to look at:
The Dropper Seatpost – A dropper post ensures that your rear suspension and seat are connected. This enables your saddle to lower without stopping the bike. These are for more expensive models.
Head Angle – Head angles are typically around 62, 64, or 66 degrees, which comes from the length of the fork. Stick with head angles around the upper-standard lengths, and strive not to go beyond 68 degrees.
Upright Riding Position Support – Bikes that support an upright riding position are better for short riding distances. Those who like fast and rugged terrain seek out bikes with short-travel suspension.
Many of the least discussed aspects are more suited to those looking for advanced models. Still, if you want to enhance your mountain riding experience, it's good to keep these in mind.
Buying a Mountain Bike – What is a Reasonable Cost?
If you talk to an MTB enthusiast, they will tell you about a series of sweet rides for the low price of several thousand dollars. However, these enthusiasts are working from their frame of reference, so some people can give amazingly bad advice for beginners.
For a new mountain bike, you need to focus on paying no more than $700. Nearing the $1000 mark leads you to more advanced bikes that are much more lightweight. However, you don't want to invest too much as a beginner.
Ideally, you'll want to see about buying a used mountain bike. Many experienced riders selling their bikes are trying to get better models. This used sale gives you an excellent opportunity to shave a few hundred bucks from your purchase.
You'll want to perform a bit of an inspection on the condition of the mountain bike. Here are some tips when judging a used mountain bike purchase:
Look for rust and signs that the bike hasn't been taken care of
Tug on the chainstays to see if they move smoothly along the bike
Ask the rider about the last maintenance checkup they did. If the rider struggles to recall, walk away.
Ask the rider what riding style they took (uphill trails, DH riding, etc.)
Use all of the other aspects on this list to ensure you get a bike that's good for you
Where to Buy a Good Mountain Bike?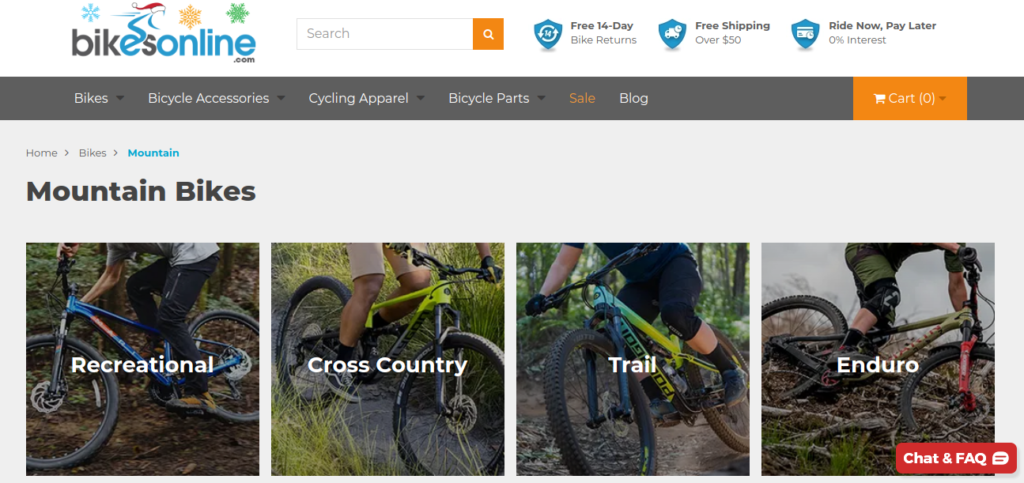 When buying a new mountain bike, you've got a few options. Here are some of the more popular options:
Avoid big-box retailers like Walmart, Cosco, or King Soopers. If you find a local buy shop, quiz them about their knowledge on bikes before going there.
You can also find bikes through Facebook Marketplace and eBay. Anytime you go check out a used bicycle, always go there with a friend to be sure you are safe.
Mountain Bike FAQs
Do I Need Suspension For a Mountain Bike?
Rigid suspensions exist on RBs and a few select mountain bikes. However, getting an MTB without a suspension is a quick way to get yourself injured. So yes, you need a suspension.
What are Some Good Safety Tips With a Mountain Bike?
Riding with pads and a helmet is always essential when buying a mountain bike (or any bicycle for that matter). When riding on a biking trail, do not stop in the middle of the trial. You need to pull off to the side if you have any reason to stop.
Do I Need a Full-Suspension Mountain Bike?
As a beginner buying a mountain bike, the short answer is no. However, as you get the experience of riding technical trails, you can consider a full-suspension mountain bike.
Conclusion – Final Tips in Finding a Good Mountain Bike
When buying a mountain bike for the first time, please don't overdo it. Start simple and spend little, so you don't feel a mountain of regret. Like any new activity you get into, it's best to start slow (just in case you don't like it).
Despite the level of fitness required, it's best to start with uphill riding. DH riding requires a more expensive bike with a strong suspension. Plus, understanding your bike helps you when flying down a mountain.
If you feel like MTB riding is good for you, keep upgrading. We hope that this guide on buying a mountain bike helps you out when deciding.
Check out some of the most popular mountain bikes on Amazon
Sale
Bestseller No. 1
Huffy Stone Mountain Hardtail Mountain Bike, 24 Inch, 21-Speed, Lightweight, Gloss Red (74808)
With a gloss red hardtail frame and 21 speeds to conquer the trails, the Huffy Stone Mountain is ready for outdoor adventures
An Amazon exclusive: Ideal for ages 12-19 and a rider height of 58-70 inches; durable steel frame is backed by our limited lifetime warranty (see owner's manual for details); Kolo 1200 suspension fork...
The indexed Shimano TZ-31 rear derailleur combines with the micro-shift twist shifter to deliver 21 speeds on-demand for uphill climbing, downhill riding, or pure acceleration; removable rear...
Bestseller No. 2
Dynacraft Slick Rock Trails 26" Mountain Bike
Sturdy steel frame with matte black and purple glow-effect paint finish
26 inch wheel size for rider 12 years and up or over 57" tall
Front and rear alloy V-Brakes with alloy levers
Bestseller No. 3
Sale
Bestseller No. 4
Bestseller No. 5
Bestseller No. 6
Bestseller No. 7
Mountain Bike,Carbon Steel Frame, 27.5 Inch Wheels, 21 Speeds, Multiple Colors[US in Stock] (27.5Inch-Wheel, X1-Spoke-Yellow)
When you need to traverse the mountains, commute in the city, ride, you can choose Eurobike's mountain bike, it is suitable for mountain roads, dirt roads, road, cycling trails.
21-speed trigger shifters and front and rear derailleurs make gear changes easy and smooth
Front and rear mechanical disc brakes provide clear all-condition, stopping on the trail; durable alloy cranks provide stable gearing and less maintenance hassle