Not too long ago, choices were limited when it came to electric dirt bikes. The available options were too expensive for consumers and the batteries didn't last enough for them to enjoy the experience.
Now, with the world moving toward electric vehicles, the market for electric dirt bikes is expanding. This means that you'll end up seeing so many options to choose from, and it can be confusing. For that, we gathered two lists to help you in your decision-making.
First, a list of the most important features to consider before buying. We don't want you to end up regretting the purchase. Second, a list of the best electric dirt bikes out there alongside their specifications
So without further ado, let's get to it.
Features to look for before buying the best electric dirt bike
Motor
The motor is always a priority when choosing an electric dirt bike. For that, you need to check two main things.
The power output. In watts or horsepower. This generally controls how fast the bike can go — the higher the better.
And the torque. In charge of acceleration, and generally written in Newton meters.
Range
Range or the distance an electric dirt bike travels on a single charge is influenced by several factors. The capacity of the battery pack being the most important one. Other factors like how hard/fast you are riding, the bike's motor size, and power requirements also affect the range.
Weight
The weight of electric dirt bikes varies depending on the components and the type of bike. Lighter materials like carbon fiber are more expensive. But even when using the lightest materials, if you want to have a beast with a big motor and more battery to cover a longer range, know that it won't be that light. The only comment we can leave there is that it can be worth it. However, if you want something casual, that's not a pain to move around, then lightweight is your choice.
Speed
Although some of the features are similar in electric dirt bikes, speed is not one of them.
Adult electric dirt bikes have a max speed between 34 to 85mph while the kid's e-dirt bikes have a lower maximum speed between 13 to 17 mph.
Keep in mind that speed gets affected by factors like rider weight, built-in speed settings, and the trail.
Price
This is going to play a big role in your decision. Before you start looking at the specifications of an electric dirt bike, you have to set yourself a budget. It'll give you a range of bikes you can actually get while eliminating the rest of the options.
10 Best Electric Dirt Bikes
KTM FREERIDE E-XC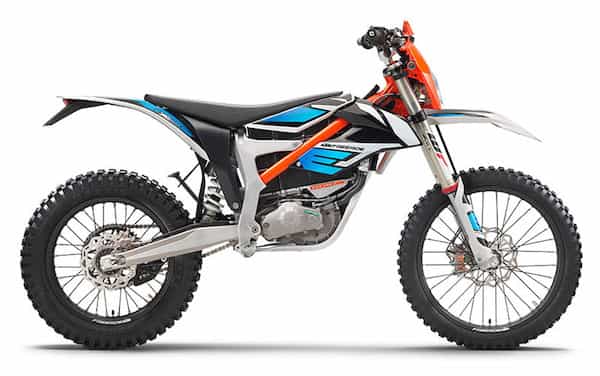 The new KTM Freeride E-XC gives 50% more capacity than the previous version's 2.6kWh.
A good acceleration
Best for competitive riding
| Reasons to Buy | Reasons to Avoid |
| --- | --- |
| ✔️ Liquid Cooled control unit to prevent overheating | ❌ Heavy to transport |
| ✔️ Strong acceleration | ❌ It lasts around 45min |
| ✔️ Replenish battery level through regenerative brakes | |
Specifications:
Battery: 260V – 3900Wh Lithium-ion KTM Powerpack
Charge time: 80min: 100%, 50min: 80%
Power: 18KW (24.5 hp)
Weight: 111Kg
Frame: high-quality chrome-molybdenum steel with forged aluminum profiles
Seat Height: 910mm
Ground clearance: 340mm
KTM simply represents the latest gen of electric dirt bikes. It is a true all-rounder for pure fun on every terrain. The motor holds great power and has a battery that lasts for 45minutes. If you like extreme sports and competitive riding on dirt tracks, this can be a good choice for you due to its aggressive styling and durable body.
KALK OR RACE 50mph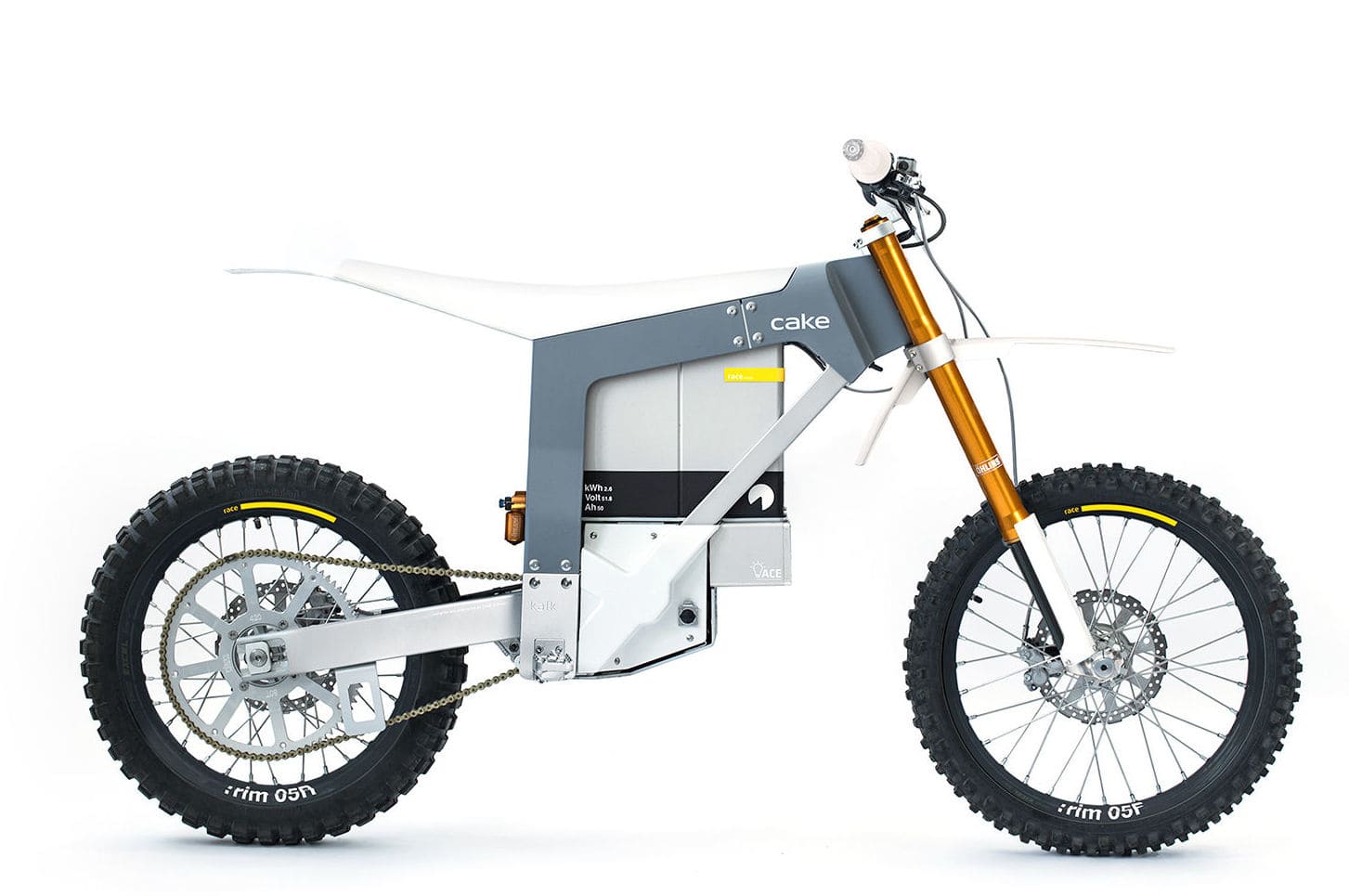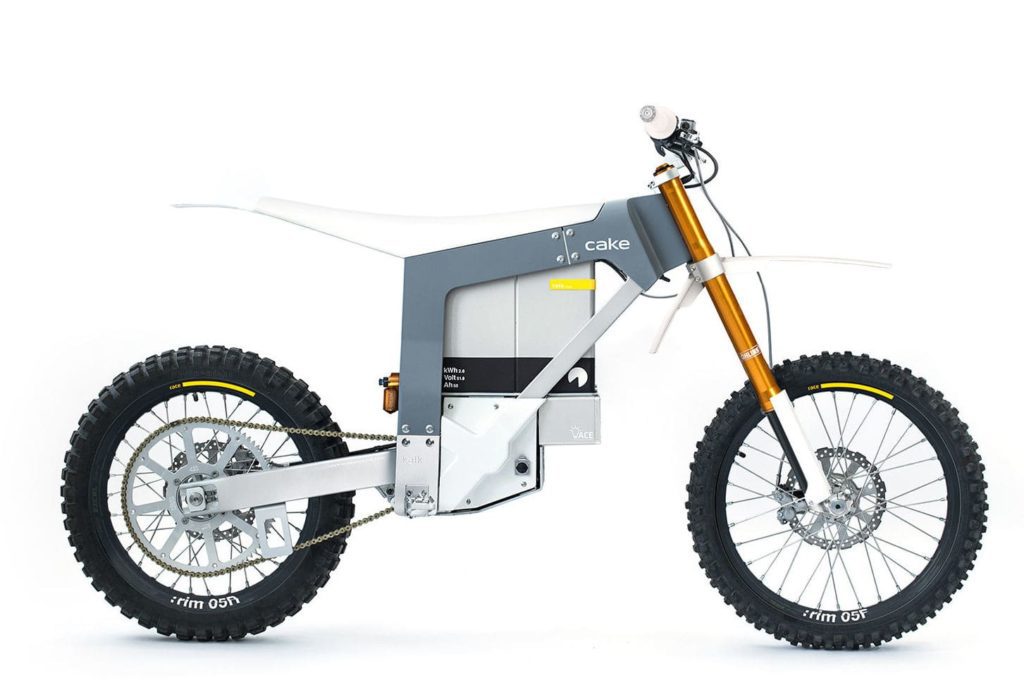 Comes with three modes for you to choose from.
Explore: As the name says, this is for exploration with a top speed limit of 45 km/h and a battery that lasts 3-4 hours.
Excite: this is where the adrenaline kicks. The perfect mode for enduro or trail riding with a speed of 70 km/h for 1-2 hours.
Excel: This mode has no limits. Maximal torque and speed for 1 hour.
| Reasons to Buy | Reasons to Avoid |
| --- | --- |
| ✔️ Control over the modes | ❌ The appearance isn't that pleasing |
| ✔️ lightweight | ❌ Expensive |
| ✔️ Onboard charger | |
Specifications:
Battery: 2600Wh premium 18650 lithium cells
Charge Time: 3hours: 100%, 2hours: 80%
Power: 11kW (15hp)
Weight: 75Kg
Frame: Aerospace grade 7050 aluminum
Seat Height: 910mm
Ground Clearance: 300mm
If you're into futuristic and simple design, then this is for you. The KALK OR RACE electric dirt bike is purely performance-oriented. It includes nothing more than the functional parts making it a lightweight bike to have. A nifty thing to point out here is that it carries an onboard charger so you don't have to carry an external one with you or remove the battery to charge it.
ZERO FX ZF7.2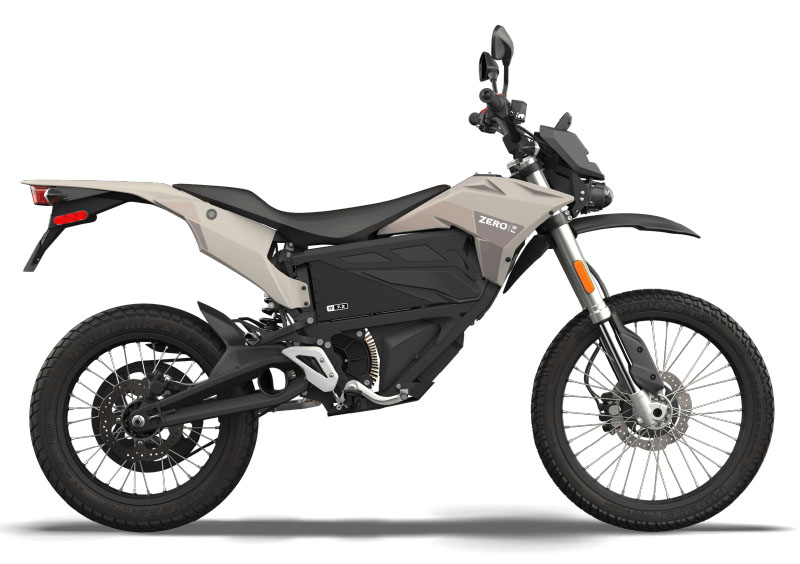 The insane acceleration of 106 Nm makes this electric dirt bike a torque monster.
Zero scalable charging. It allows users to add multiple standalone chargers reducing the charge time by up to 75%
| Reasons to Buy | Reasons to Avoid |
| --- | --- |
| ✔️ Insane acceleration | ❌ Difficult to control all that power |
| ✔️ Low frame weight allowing you to easily flick the bike | ❌ Rigid chassis (prone to friction and vibration damage) |
| ✔️ A tough and durable frame to carry all that high power | |
Specifications:
Battery: 7200Wh Z-Force® Li-Ion
Charge Time: 9.7 hours: 100%
Power: 34kW (46 hp)
Weight: 131 Kg
Frame: Zero Aluminum
Seat Height: 881 mm
If you are an experienced driver that can tame a beast, say hello to ZERO FX ZF7.2. This bike is a dominator when it comes to acceleration but can be difficult for some people to have control over if they're new to this. This bike kinda closes the gap between a real motorcycle and an electric dirt bike. Well… The only clear difference being the battery.
Further information
KUBERG FREERIDER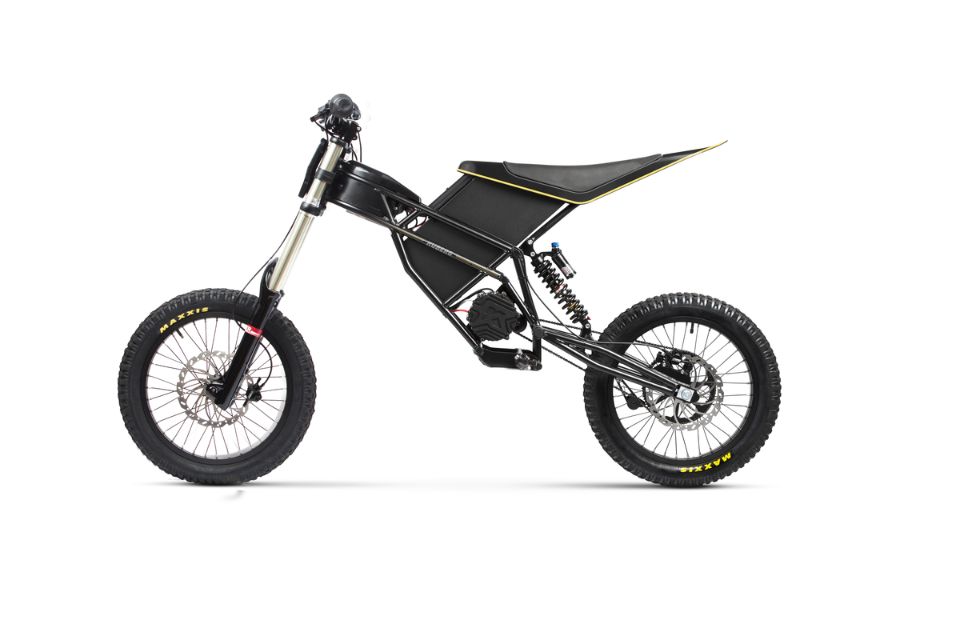 Ultra-light bike and easily hand-carried and transported.
Can go up to 34 mph
Seamless connectivity to your phone via Kuberg Volt mobile app
| Reasons to Buy | Reasons to Avoid |
| --- | --- |
| ✔️ Quick recharge time of 2.5 hours | ❌ Can only run for one hour |
| ✔️ Ultralight material makes this bike highly portable | ❌ No integrated heads-up-display |
| ✔️ Good suspensions, great for stunts | ❌ Can only carry persons up to 220 pounds |
Specifications:
Battery: A 48V 22.2Ah Power Force lithium-ion polymer
Charge Time: 2 hours: 100%
Power: 8kW (roughly 11 hp)
Weight: 36Kg
Frame: Steel double cradle tube frame, powder-coated
Seat Height: 860mm
It can be a good choice for you if you're a newcomer because it's a simple 1-speed automatic drive. It brings a good true off-road experience but only for an hour on a full-throttle which we think is not enough.
One thing to be careful of is that one unintended twist of the throttle can launch the bike forward.
Sur-Ron X
Outstanding power to weight ratio. With a power of 6000watts and only weighing 47Kg.
The battery pack is made of 176 Panasonic 18650 battery cells – similar to the cells found in Tesla's Model S and Model X battery packs.
| Reasons to Buy | Reasons to Avoid |
| --- | --- |
| ✔️ Excellent suspension system | ❌ Missing fenders |
| ✔️ Outstanding power to weight ratio | ❌ Narrow seat length |
| ✔️ lightweight | ❌ Too much torque on sudden acceleration |
| ✔️ Energy-efficient battery | |
Specifications:
Battery: 2000Wh
Charge Time: 2.5hours
Power: a peak of 6kW
Weight: 47kg
Frame: Aluminium Alloy, Double Cradle Design
Seat Height: 840mm
Ground Clearance: 270mm
SUR-RON X has an outstanding power to weight ratio. It's a powerful bike in a very lightweight body. If you're thinking that you are a beginner and can't handle all that power, don't worry. Just set the bike in eco mode which limits the power output to 3kW so that you have a more relaxed experience. This will help you build confidence and later on set it to sport mode and benefit from the full power of the motor.
SEGWAY X260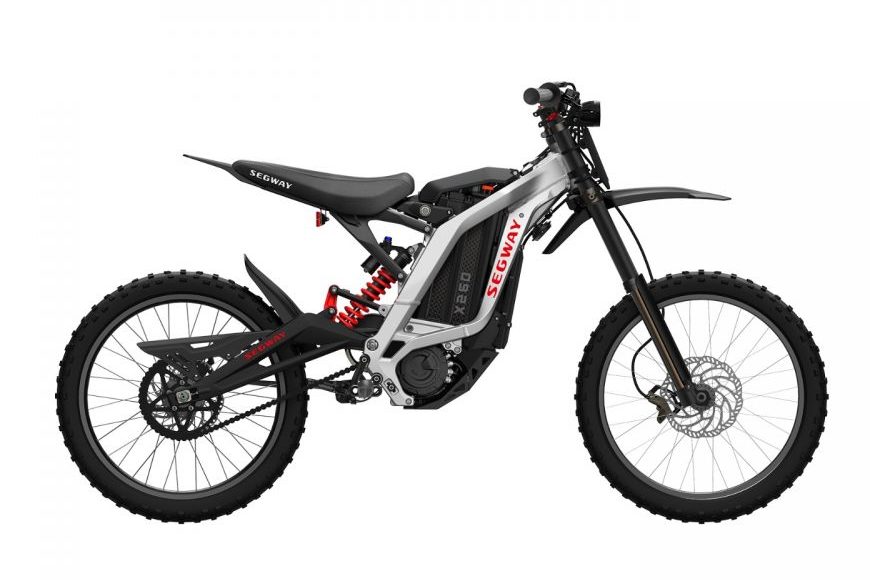 The Segway X260 uses a dual-drive system.
It has front-facing 2.5W LED headlights unlike the previous model (X160)
Easily connect your bike to your smartphone through the Segway Ninebot app
| Reasons to Buy | Reasons to Avoid |
| --- | --- |
| ✔️ built-in headlights (great for nighttime riding) | ❌ No proper rear mudguard |
| ✔️ Replenish battery level through regenerative brakes | ❌ Thin structure – might bend under too much pressure from tall drops |
| ✔️ dual-drive for better torque | ❌ The headlights don't have their own battery |
Specifications:
Battery: 5000W Panasonic battery pack
Range: 74.6 miles
Charge Time: 3-4 hours from 0 to 100%
Power: 5kW ( 7 hp)
Weight: 55Kg
Frame: lightweight aviation-grade aluminum alloy frame
Seat Height: 790mm
The dual drive system is the best feature of this bike. Segway X260 uses both a chain and a belt to propel the bike. This makes it quick and easy to traverse hills. Also if you want to take a ride at night this bike can be a good choice due to its built-in headlights. You have to be careful – it's a double-edged sword – If you forget to turn the headlights off, they'll drain the power because they don't have a battery pack of their own.
Razor MX650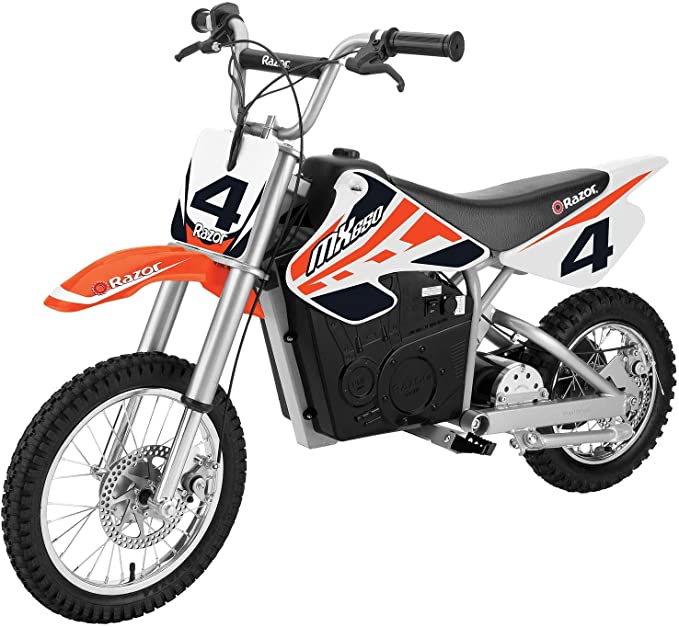 High torque, chain-driven motor with a speed of 17 mph (27 km/h).
Has rubber grips with twist acceleration control for easy acceleration
| Reasons to Buy | Reasons to Avoid |
| --- | --- |
| ✔️ All-steel frame for high durability | ❌ Only lasts up to 40min |
| ✔️ Can carry up to 100kg | ❌ Heavy for its size |
| ✔️ Affordable | ❌ Rigid tail that might cause discomfort on bumpy terrain |
Specifications:
Battery: Rechargeable 36V (three 12V) sealed lead-acid battery system
Charge Time: 8 hours
Power: 650W
Weight: 52Kg
Frame: All-steel
If you're on a budget, or you want to get in the electric dirt bike fun and all that, yet you're not sure if it's worth your investment. Razor MX650 can be a good fit. This is a bike that'll give you a taste of the experience at a low price. It's not as fast as the other models and the battery doesn't last that much… However, it is a great choice for beginners who are experimenting with new things.
TALARIA STING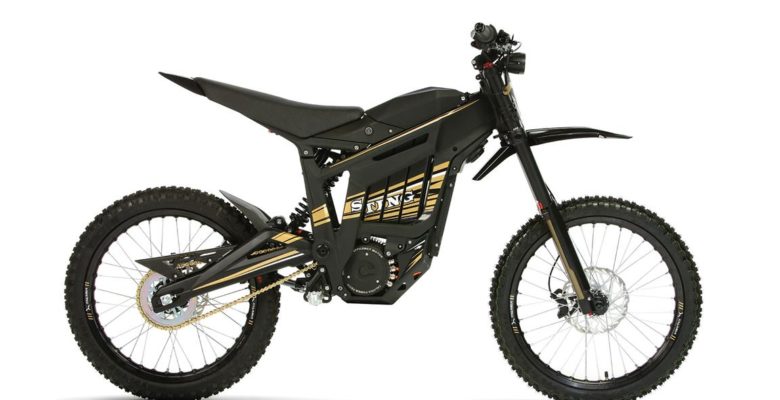 Both gearbox and chain transmission
Good power to weight ratio – Combining the light net weight of 63 Kg with its peak speed of 47mph
| Reasons to Buy | Reasons to Avoid |
| --- | --- |
| ✔️ High-quality hardware | ❌ Slightly limited on speed |
| ✔️ Great control on downhill gradients | |
| ✔️ Pro Peg footrests as standard | |
Specifications:
Battery: 2280Wh, 60V 38Ah lithium-ion power pack
Charge Time: 4 hours
Power: 6kW (8 hp)
Weight: 63 Kg
Frame: 6061 aluminum alloy
Seat Height: 870mm
Ground Clearance: 280mm
With a full charge Talaria has a range of 76km at 45km/h. It carries a good power hidden beneath that light body. It is made up of high-quality material that provides durability and safety when you're off-roading. All in all, TALARIA STING is a great competitor in the electric dirt bike market and we're sure that you can enjoy it.
Stark VARG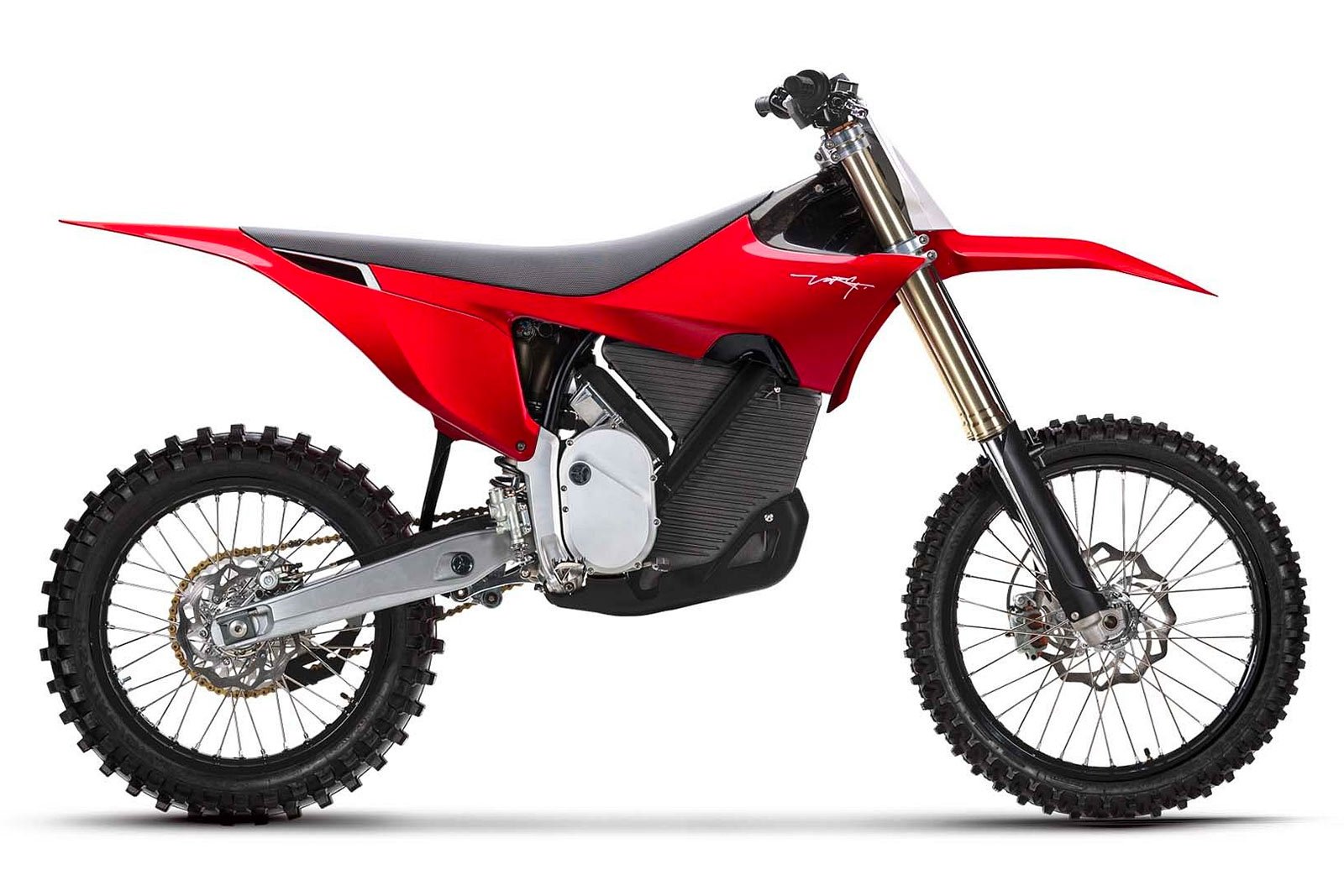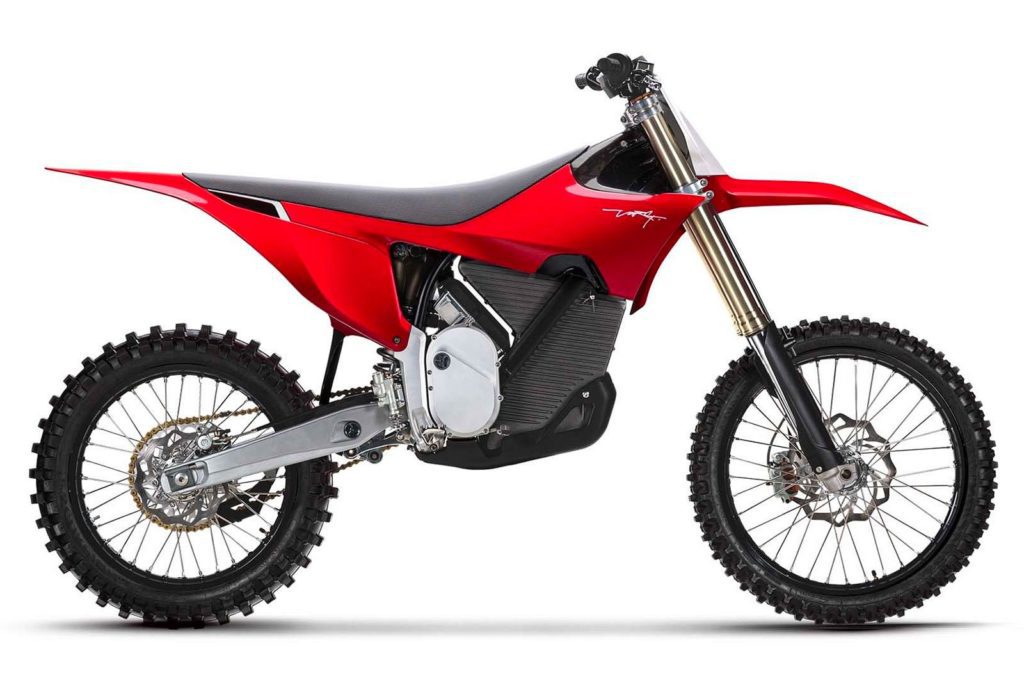 Ground-breaking motor(speed and torque), cooling, and battery.
carbon fiber, magnesium, and aero craft grade aluminum
Advanced suspension
| Reasons to Buy | Reasons to Avoid |
| --- | --- |
| ✔️ High-quality hardware | ❌ Not made for beginners |
| ✔️ Low maintenance, long-lasting | |
| ✔️ Great speed, and acceleration | |
Specifications:
Battery: 6000 Wh
Charge Time: 1 to 2 hours for full charge
Power: 60 kW (80 hp)
Weight: 110 Kg
Let us start with the point that Stark is currently taking preorders, with shipping expected to begin in the third quarter of 2023. But when it comes to speed, Stark Future unveiled the most groundbreaking electric dirt bike – Stark Varg. This bike combines extreme power and torque. And not only is it a competitor in the electric dirt bike market, but it can also compete with gas-powered bikes. This can be the bike that you've been waiting for.
OSET 16.0 ELECTRIC DIRT BIKE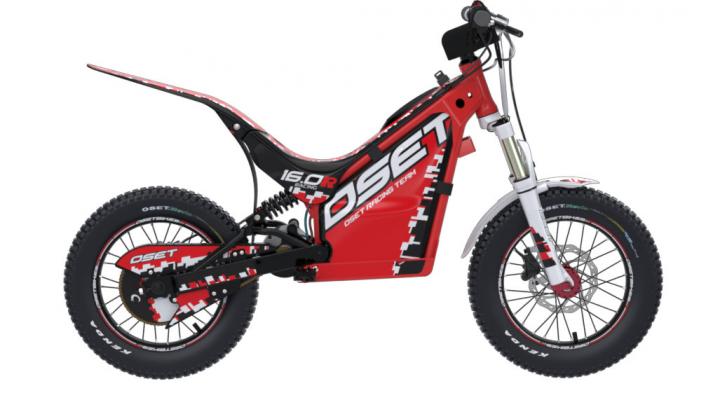 Has a 3 dial system that allows parents to adjust the power, speed, and response characteristics.
| Reasons to Buy | Reasons to Avoid |
| --- | --- |
| ✔️ Fully adjustable | ❌ A Bit pricy |
| ✔️ Magnetic cut-out switch with lanyard for safety | ❌ Not the fastest when it comes to charging |
Specifications:
Battery: 3x10ah AGM SLA.
Charge Time: Maximum of 5hours
Power: 800w 36V OSET neodymium magnet DC motor.
Weight: 33.2kg
Frame: Steel Frames
Seat Height: 480mm
Ground Clearance: 230mm
Last but not least OSET 16.0 electric dirt bike. Why? Cause we know some kids want to have an offroad experience as well and we don't want to exclude them.
It's perfect for the ages 5 -7 to help kids learn or improve their motorbike skills. Plus, it's an electric dirt bike, which means there's no petrol or hot parts for you to worry about.
Another thing to mention is that OSET has a set of electric dirt bikes for kids younger than 5 or above the age of 8. So you can check yours here
FAQ
What is the fastest electric dirt bike?
From this list, ZERO FX ZF7.2 has a maximum speed of 130km/h with powerful torque of 106 Nm. This electric dirt bike is a beast.
Are electric dirt bikes road legal?
Just like the gas-powered motorcycles, to be legal on the road an electric dirt bike has a minimum amount of required gear and requires liscence to be legal.
What is the longest-range electric dirt bike?
Range as we previously said depends on factors like riding style and the terrain. We listed the expected range of the electric dirt bikes above. From those, SEGWAY X260 has an impressive range of 70 plus miles.
How fast do electric dirt bikes go?
Well… so far we've come across electric dirt bikes that can go up to 85 mph. But if we're gonna include the Stark VARG – and even though they have not stated a maximum speed of their bike – they claim that it will be the fastest in the market. Which means that it might be even more than 120 mph.