key advantages
Impressive concept
Offers modern solution to climate change
Has an app
estimated
delivery
March 2021
As huge plastic patches are growing by the minute, the biggest of them being triple the size of France and double the size of Texas, many consumers are in desperate need of innovative solutions to remove plastic from the world.
Is the REBO Smart Bottle a user-friendly modern solution to climate change or a fancy marketing scheme? Let's find out in this Tech I Want review.
The Product
Innovation
Is this a truly new product that you can't find on the market? Or this a product that defines an entirely new product category. In some cases, the combination of several features into one or the introduction of a new feature to an old product are also considered to be an innovation.
With the REBO, the creators promise that for every one bottle you drink, they will collect one plastic bottle. They do this using Bluetooth technology implanted in the cap of the bottle, linking your bottle with your phone to share with REBO. 
We quickly understand that the internet of things has huge potential to do good for the world. The internet technology you have in your home assistant, digital alarm clock, or lightbulb actually has wider potential than just telling you the time or producing a limerick (yes, Alexa can do that. I tested it myself).
The fact that your water bottle can now automatically help you battle climate change without batting an eye, is very new. 
We've seen other bottle companies like Ocean Bottle Collaborating with Plastic Bank just as REBO does now. The main difference with these two revolutionary bottles is that Ocean Bottle picks up 1000 plastic bottles for each Ocean Bottle you purchase while the REBO picks up a plastic bottle each time you drink a bottle yourself.

With average daily water consumption of 2,25L, you'd need to drink 3,75 (600ml) REBO bottles daily totaling 1.369 plastic bottles picked up by REBO. This means in 9 months you will have fulfilled the same result as an Ocean Bottle. However, REBO continues for years on end.

This is a totally innovative solution by itself but the fact that the attached app helps you stay hydrated and meet your health goals is another great plus for this water bottle startup. 
We give it an innovation score of 8/10 as it has an impressive concept, and the used technology, although not new, is used more innovatively. Considering one of the main functionalities of the bottle is sustainability, having it solar-powered or include a more eco-friendly technology solution in it would have increased the score. 
Then there are the climate footprint calculations of battery production, technology production, mass manufacturing, shipping, and packaging. We will get more to that in the reliability section. 
Competitiveness
How much better is it than the competition? Is it faster? Bigger? Cooler? More affordable? There needs to be a solid reason why you should back this project over any other.
| | REBO | Ocean Bottle | Drink Big |
| --- | --- | --- | --- |
| Price | $93 | $55 | $34 |
| Has app | Yes | No | No |
| Materials | Stainless steel | Stainless steel | Stainless steel |
| Carbon Neutral | ✅ | ❌ | ✅ |
| Dishwasher safe | ✅ | ✅ | ❌ |
| B-corp | Pending | ✅ | ❌ |
| Certification / memberships | Gold Standard for the Global Goals 1% for the planet Climate Neutral Green Business Bureau | Climate Positive 2020 Solar Impulse Social Enterprise UK | Corporate Value Chain (Scope 3) Standard |
There is a growing number of companies making sustainable water bottles. We see them in different types and forms made from different materials. From our research, the materials of REBO have not been fully disclosed to the backers and their campaign page still says that they are planning to use sustainable or reusable materials for the bottles. Their prototype has been fully ready, as per Kickstarter regulations, but the final material has not been disclosed on the campaign page. 
If we compare by materials, the REBO has more tech in it including batteries which is, of course, a downside on the sustainability front. However, the technology is implemented for a sustainable cause, to measure the amount of water you drink and remove plastic bottles from the world based on it.
So REBO has a higher price than the main competitors but you also get an attached app and a "lifetime" subscription on removing plastic bottles from the world. 
Product Competitiveness Score
The Team
Reliability
How capable is the team? Have they developed something like this before? Do they have crowdfunding experience? Manufacturing experience? A lot of campaigns fail to deliver their product because they don't know what they're doing.
The campaign page of REBO is really well made. We were positive when we saw the level of transparency of the campaign creators. 
They are a certified B-corp and have a Certified Gold Standard for the Global Goals and published these certificates online for everyone to see. 
What is even better is their high level of communication to their backers via the updates. As of writing this review, most of the bottles have shipped and we can in retrospect see the good communication from the campaigner to the backer. Since the bottles have been shipped, we know for sure that a final material has been chosen but we were unable to find out what it is. 
The website is also very detailed with a lot of information about the company, however, the founders' page on their website is broken and we cannot access their info. 
Their partner, Plastic Bank, responsible for the plastic pickup is a very reliable organization with a lot of experience and great transparency on their website. From our research, they are one of the most credible organizations in plastic removal we've seen. 
As the vast majority of crowdfunding campaigns are late, we were not surprised to see the REBO also be late in shipping. You can read more about that in our backer guide here.
On the company's LinkedIn page you can also see an interview with one of the founders in an Italian news station which is also a good sign of good reliability. The campaign creators who are more public-facing and are engaging with their communities are more likely to succeed. Some of the biggest crowdfunding scams we've seen have little to no information about the founders. 
With one of the founders having 10+ years of experience in Marketing and Brand Management, one being a Forbes under 30 in Europe, another having extensive management background with 14 years in Finance, and so on and so on, we know that this team is serious and have enough expertise to make a great product. 
One of the only downsides we see is that the campaign page is "looking into using recycled or sustainable material" and "looking into making it from a durable eco-friendly material'. That they, still after a year, have not updated us on the final material gives them a slight loss of credibility.

If they updated their backers with the materials, we just simply haven't been able to find that update. 
Attitude
How transparent are the campaigners? Do they give their backers valuable updates on their progress? Do they engage with their backers? Crowdfunding is all about community, sharing information, and building a meaningful relationship with the people who fund your project.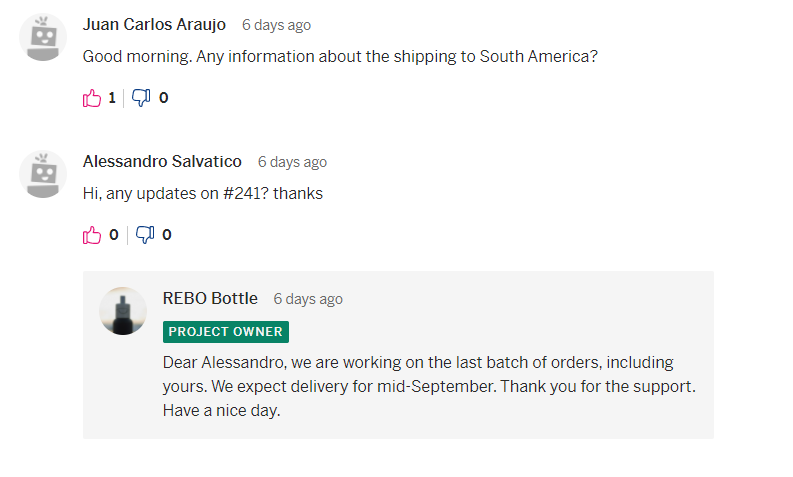 The response to Alessandro is straight to the point. Ending with "thank you for the support. Have a nice day" could easily have been reworded to "We hope you're as excited to get your bottle as we are so we can help the ocean together". That would have been inspiring and on-brand. 
In the majority of other cases, the comments are answered within a day which is good. 
Last point: they have made a secret Facebook group for all their backers which is an amazing sign that they are committed to their community. Judging from the activity though, they haven't been active for a month at least. 
Conclusion & Public Opinion
All in all, the REBO is a promising new product that we are super excited about. The team behind it is experienced from all different kinds of backgrounds and is some of the most transparent campaigners we have seen in Indiegogo. 
The concept of the bottle is very innovative and Plastic Bank, the partners they have included in their journey, is a respected organization in plastic removal. 
There are mainly only good things to write about them.
That's it for this time. Make sure to check out other innovative products on our website.
TIW Total Score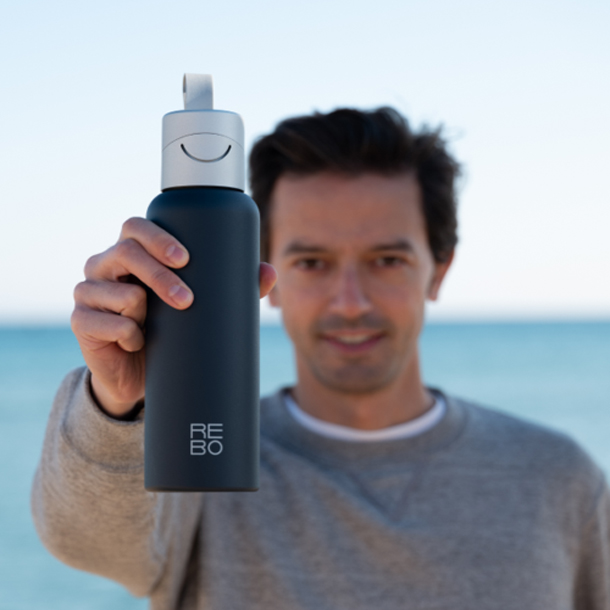 REBO
REBO