A guide to choosing the best hiking GPS
Most people don't think they will get lost until it actually happens. But it only takes a few minutes of meandering in the wrong direction with no trail road in sight for panic to set in. When your smartphone says it has no connection or the battery is low, the feeling gets worse.
As cell service isn't always reliable in the great outdoors, your phone might not be as useful as a GPS gadget in assisting you in returning home after a hike. Moreover, GPS gadgets are more resistant to damage and have a significantly longer battery life. Additionally, they are usually fitted with rechargeable batteries that can be replaced with disposable batteries if recharging is not available.
While a handheld GPS can never completely replace a map and compass, it is the most durable and long-lasting navigator available. These devices use satellite tracking to provide you with your exact location. In addition, some hiking GPS trackers come with added functions such as satellite communications, so you can stay in touch with your friends, especially in an emergency.
Modern hiking GPS trackers offer a slew of features to make your trekking adventure safe, enjoyable, and thrilling! And there's absolutely no need to trace your position over a tedious map.
However, as the market is saturated with lots of different models, it might be difficult to pick the best GPS for hiking that meets your needs and fits your budget. We are here to make your life easier and help you determine the ideal model for you. First, let's go over what to look for while searching for a hiking GPS tracker.
Features to look for before buying a hiking GPS tracker
Hiking GPS devices have come a long way since their inception and now exist in a wide range of capabilities, pricing points, and sizes, from inexpensive, basic units for occasional usage to professional-grade mapping tools that can locate you anywhere on the earth in seconds.
So to make buying your best GPS for hiking less intimidating, we've compiled a list of the key things to keep an eye out for when choosing your best fit.
Device style
Handheld GPS trackers and GPS-enabled smartwatches are the two primary types of hiking GPS devices. Hiking GPS watches are far more convenient than hand-held devices, despite having a smaller and sometimes limited display. Being constantly on your wrist, they offer the flexibility of hands-free use. However, they don't provide the same level of functionality as their bigger hand-held counterparts.
Mapping capabilities
As the entire point of a hiking GPS device is to display hundreds of maps on a screen, mapping capabilities are likely the most crucial factor to consider while shopping. So you'll need to know whether the GPS unit offers topographical maps or satellite maps. Moreover, some gadgets support GLONASS and Galileo in addition to GPS. Devices that enable additional positioning networks can pinpoint your location more quickly and precisely. They're also more likely to find you in challenging terrains, such as narrow valleys and deep woods. Additionally, the WAAS feature, which gives GPS signal adjustments, can improve location accuracy, while the Hotfix tool, which calculates and saves satellite positions for the following three days, can improve positioning speed. Don't forget to pay attention to the maps that the device comes preloaded with.
Durability and Construction
As outdoor GPS units are designed to be used in the wilderness and off the grid, they must be able to survive the abuses and hardships that come with spending time on the route. This implies being able to withstand the collisions, abrasions, filth, and different weather conditions that may be encountered while on a hike. The sort of construction utilized for the main body, as well as the display or its protective screen, determines how robust a device is.
Display
While today's manufacturers still use a variety of screen types, including TFT and LCDs, color screens have become the new standard for hiking GPS devices. When looking for the best handheld GPS, it's also worth considering the display's resolution, visibility in direct sunlight, and, most significantly, the size and dimensions. A handheld GPS device should have at least a 2-inch display with good resolution for a good map overview. The latest GPS systems have touchscreens, which are inconvenient to use while trekking in cold weather since they are difficult to use while wearing gloves. Nonetheless, touchscreens make it faster and easier to use the gadget.
Battery life
Battery life is quite crucial on handheld trackers, as they are intended to be used far away from a power source. Due to a fiercely competitive and fast-growing smartphone market, mobile device batteries are now more powerful than ever, providing up to several days of continuous use on a single charge. It's also essential to note both battery usage and overall standby time when purchasing.
Weight
The weight of the outdoor GPS is also important. Hiking demands lightweight equipment since it allows you to walk faster and more comfortably.
Secondary Functionality
While the primary purpose of a hiking GPS device is to keep you on track and informed of your location while out on the trails, some manufacturers choose to add additional features such as integrated cameras, keyboards, messaging capabilities, emergency spot beacons, and access to real-time weather reports. So, if you're thinking about spending a few hundred dollars on a premium GPS unit, you might want to consider paying a little more for some extra features.
Our top pics
With all the abovementioned factors in mind, we've made a list of the 10 best hiking GPS trackers available on the market.
1. Garmin 010-02064-00 Instinct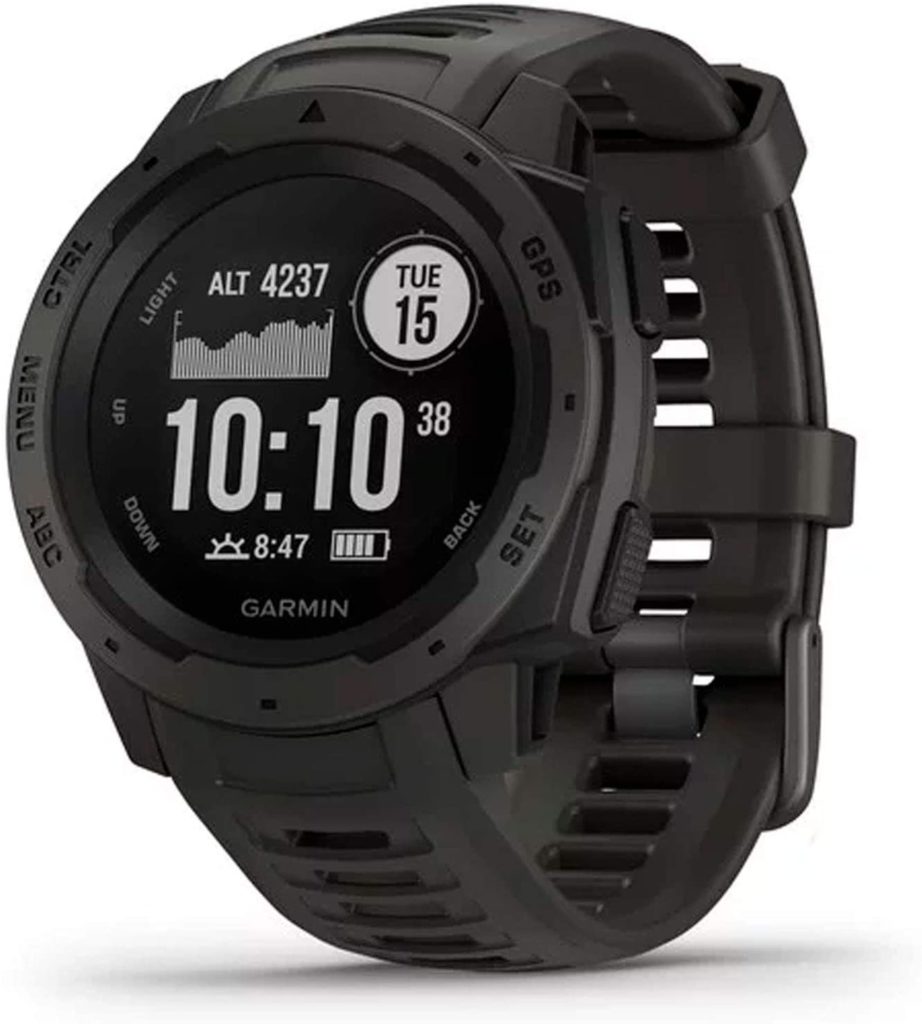 Built to withstand the toughest environments, Garmin Instinct has all the credentials to be your best GPS hiking watch.
| Reasons to Buy | Reasons to Avoid |
| --- | --- |
| ✔️ Smartwatch with GPS unit | ❌ Smaller screen |
| ✔️ Equipped with three navigation systems | ❌ Programs and capabilities may be tough to learn and understand for beginners |
| ✔️ Water-resistant (up to 100 meters) | |
Specifications:
Dimensions: 1.8 x 0.6 x 1.8 inches
Weight: 1.76 ounces
Screen size: 1.27 Inches
Scanner resolution: 128 x 128 pixels
Color: Graphite
Strap material: Silicone
Compatible devices: Smartphone
Satellite systems: GPS, Glonass, Galileo
Battery life: 14 days (smartwatch mode), 16 hours (GPS mode), 40 hours (Ultratrac battery saver mode)
You will appreciate Garmin Instinct if following the beaten path is not your thing. It offers access to GLONASS, and Galileo satellite navigation systems, that track under more difficult conditions than GPS alone. Moreover, it comes with a built-in 3-axis compass and barometric altimeter to help you keep your bearings.
No more guesswork on the way back to the beginning of your journey! Use the TracBack tool to traverse the same path back to the starting point.
No more worrying over cracking your phone screen. Just keep your phone in your backpack and stay connected with smart notifications.
You may also plan your journeys ahead of time with the Garmin Explore website and app. And since it's water-resistant, there's no need to postpone the trip because of the possible upcoming rainstorms.
Last but not least, Garmin Instinct will help you monitor your estimated heart rate, activity, and stress.
So no doubt, it'll make a valuable addition to your outdoor adventures.
2. Garmin eTrex 22x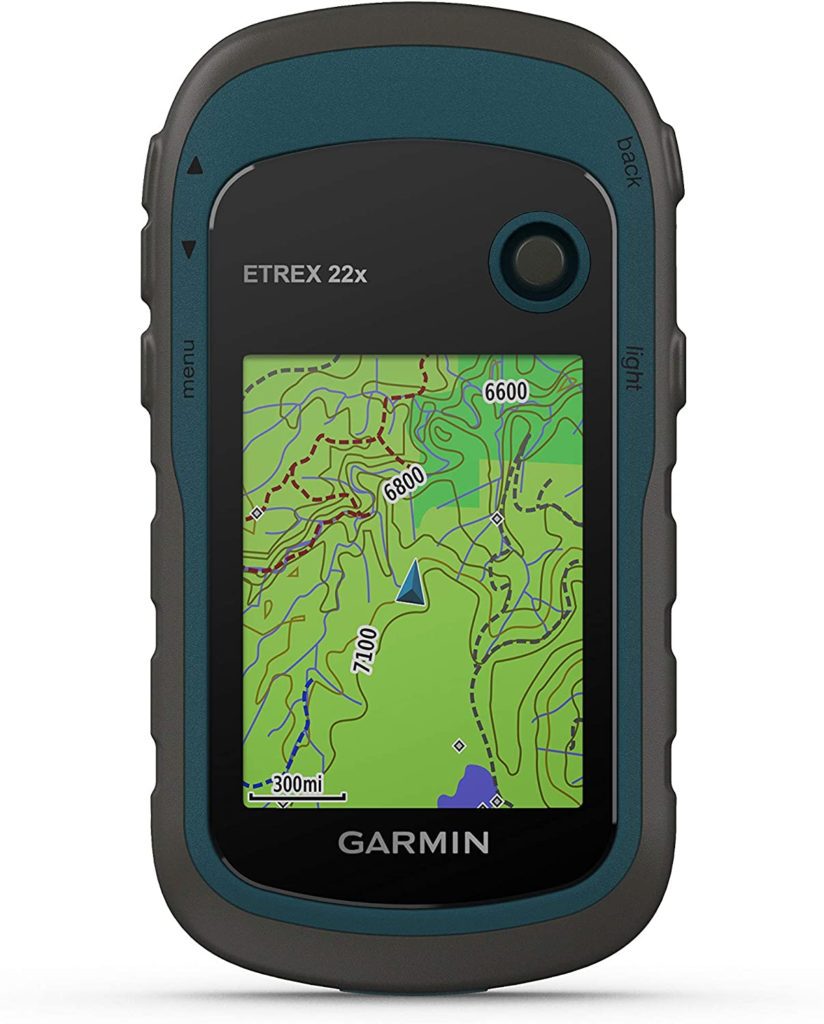 If you're looking for the best budget hiking GPS, you should consider Garmin eTrex 22x.
Expensive GPS gadgets come with a bewildering (and, for some, useless) range of features.
Garmin eTrex 22x is simple to use and gets the job done at a budget price.
| Reasons to Buy | Reasons to Avoid |
| --- | --- |
| ✔️ Preloaded road-routable TopoActive maps | ❌ A 3-axis compass and barometric altimeter will set you back another $100 |
| ✔️ Budget price | |
| ✔️ Sunlight-readable color display | |
| ✔️ GPS and GLONASS satellite systems | |
Specifications:
Dimensions: 4 x 2.1 x 1.3 inches
Weight: 4.96 ounces
Screen size: 2.2 inches
Battery life: 25 hours
Color: Black/Navy
Human interface input: Buttons
Display type: Color TFT
Map type: Topographical
Memory storage: 8 GB (micro SD card slot)
Known for ease-of-use, durability, and affordability, this outdoor GPS offers 8 GB of internal memory, 25 hours of battery life, and tough, water-resistant construction. Alongside GPS, Garmin eTrex 22x employs a GLONASS satellite system, which means it'll find you even in challenging environments.
The eTrex 22x handheld device comes equipped with road-routable TopoActive maps that include streets and trails, allowing you to go off the beaten path. You can now learn about your surroundings, including waterways, natural features, buildings, international borders, and other things. Moreover, you can find thousands of areas of interest, such as shops, restaurants, universities, parking lots, and lodgings.
This hiking GPS tracker doesn't have a barometric altimeter, 3-axis compass, and any touchscreen functionality. It also features a smaller screen than more expensive models. However, it's a tried-and-true performer with excellent overall value.
3. Garmin 010-01879-01 InReach Mini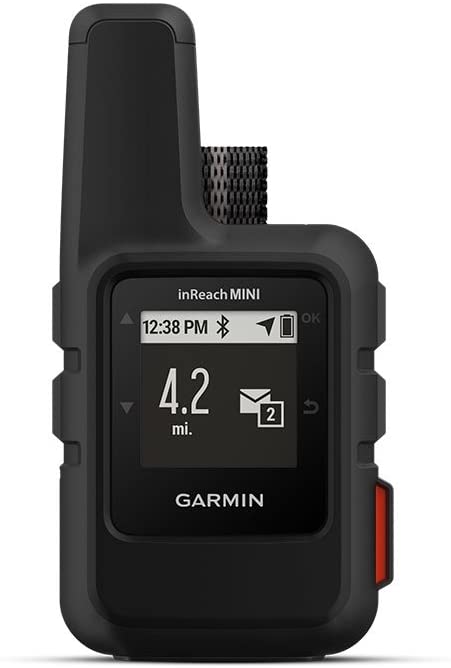 Garmin InReach Mini has a compact shape and will easily fit in your pocket without taking up a lot of space.
Tough, shock, and water-resistant, your Garmin InReach Mini will serve you for years.
| Reasons to Buy | Reasons to Avoid |
| --- | --- |
| ✔️ Small and lightweight | ❌ Limited mapping functionality |
| ✔️ Easy to understand | ❌ A smartphone connection is required for some features |
| ✔️ Internal and rechargeable lithium battery | ❌ Paid subscription is needed to use the communication features |
| ✔️ Passive tracking mode | |
| ✔️ SOS button | |
Specifications:
Dimensions: 2 x 1.3 x 3.9 inches
Weight: 3.52 ounces
Screen size: 1.27 inches
Display resolution: 128 x 128 pixels
Battery life: 90 hours
Color: Black, Orange
Human interface input: Buttons
Display type: Sunlight-readable, monochrome, transflective memory-in-pixel (MIP)
Map type: Satellite
Connectivity technology: Bluetooth, ANT+
Not being within range of a cell tower is not a problem anymore. Garmin InReach Mini got your back, as it connects to the global Iridium satellite network for messaging. Moreover, with wireless unit-to-unit connectivity, you may send and receive messages from inReach Mini using compatible Garmin handhelds, wearables, or other mobile devices. You can also share your whereabouts with folks at home or in the field using GPS-based location tracking. And if necessary, you can send an SOS alert to contact the GEOS 24/7 emergency response team.
Furthermore, the free Earthmate software syncs your inReach handheld with your compatible Apple or Android device via Bluetooth wireless technology, giving you access to infinite maps, aerial photos, and NOAA charts in the United States. Just recharge the internal, rechargeable lithium battery via the micro USB power cable and enjoy your safe trip off-road.
4. Garmin GPSMAP 66i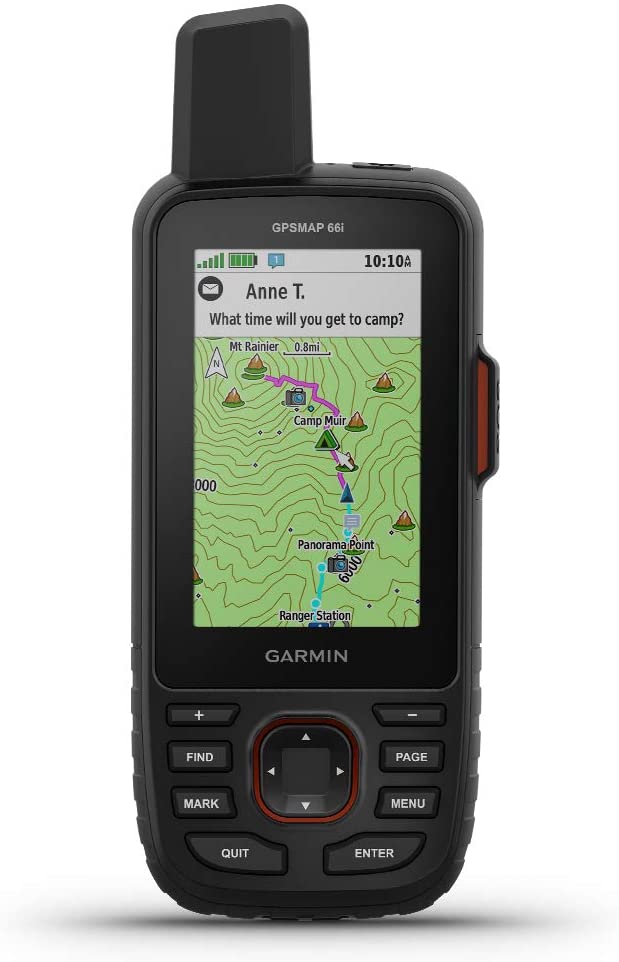 Garmin TOPO mapping is preloaded on the device enabling detailed views of terrain contours, topographic elevations, peaks, parks, coasts, rivers, lakes, and geographical landmarks.
BirdsEye Satellite Imagery can be downloaded directly to your device for high-resolution photo-realistic images of your route, trailheads, clearings, and more.
Multi-GNSS support, as well as altimeter, barometer, and compass navigation sensors, are available for tracking and navigating in tough conditions.
| Reasons to Buy | Reasons to Avoid |
| --- | --- |
| ✔️ SOS button | ❌ Expensive |
| ✔️ Built-in texting system | ❌ Doesn't support standard batteries |
| ✔️ Massive battery life | ❌ A smartphone connection is required for texting functions |
| ✔️ GPS and Galileo satellite navigation systems | |
| ✔️ Rugged build with MIL-STD-810 thermal | |
| ✔️ Shock, and water protection | |
Specifications:
Dimensions: 6.4 x 2.6 x 1.4 inches
Weight: 1.28 ounces
Screen size: 3 inches
Battery life: 35 hours (200 in power save mode)
Color: Black/Orange
Human interface input: Buttons
Display type: Color TFT
Map type: Topographical
Connectivity technology: Bluetooth, ANT+, Wi-Fi
The Garmin GPSMAP 66i is a high-performance handheld GPS for hiking. It has a helix antenna that tracks both GPS and Galileo satellites at the same time, increasing satellite lock speed and positioning accuracy. It also has inReach technology, which allows it to use the Iridium satellite network as a satellite communication device. As a result, even if there is no cell phone coverage, you can send and receive messages and activate an SOS in an emergency. It's worth noting, though, that the inReach technology requires a subscription.
When using more complex features, the Garmin GPSMAP 66i GPS gadget can last up to 35 hours on a single charge. But the battery will last up to 200 hours if you use only basic features. Thus, with Garmin GPSMAP 66i you won't have to worry about running out of battery!
5. Garmin Montana 680t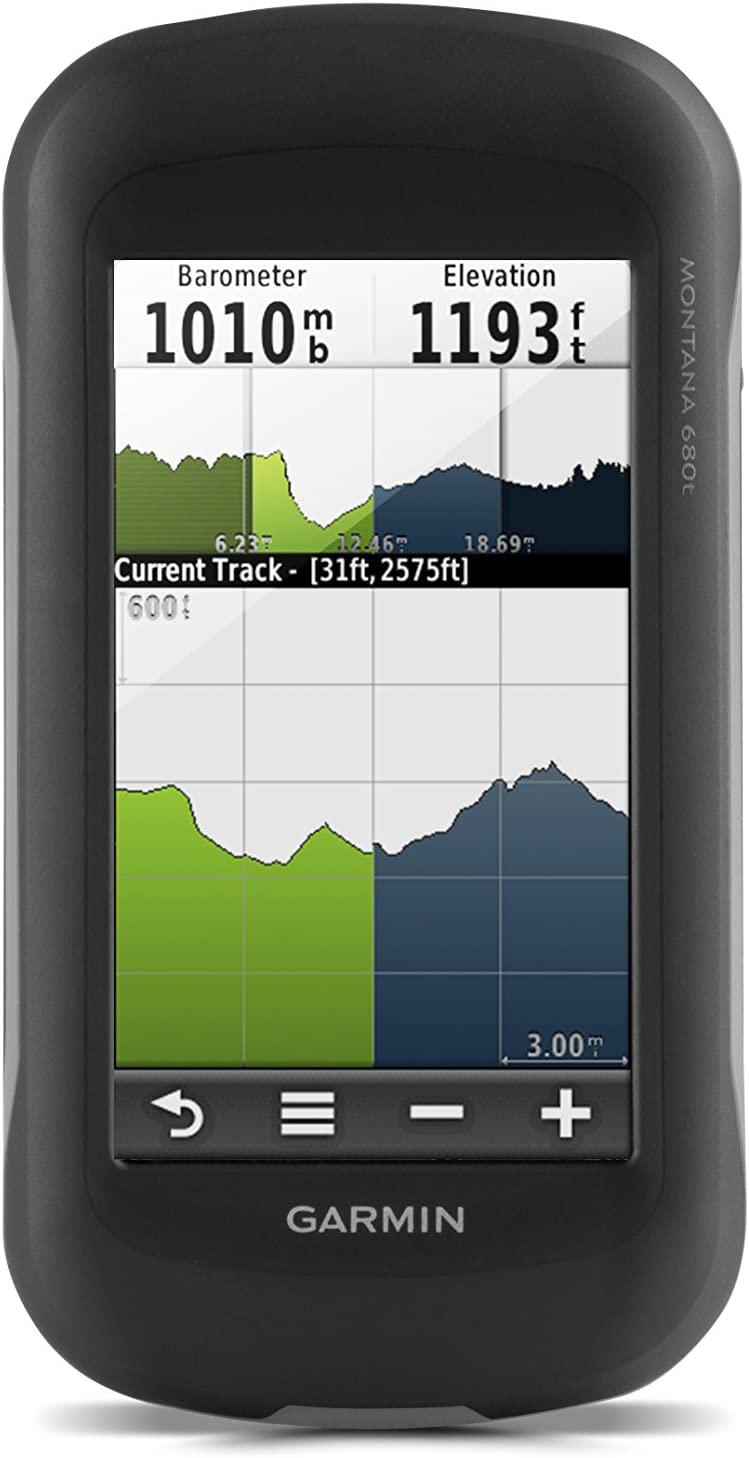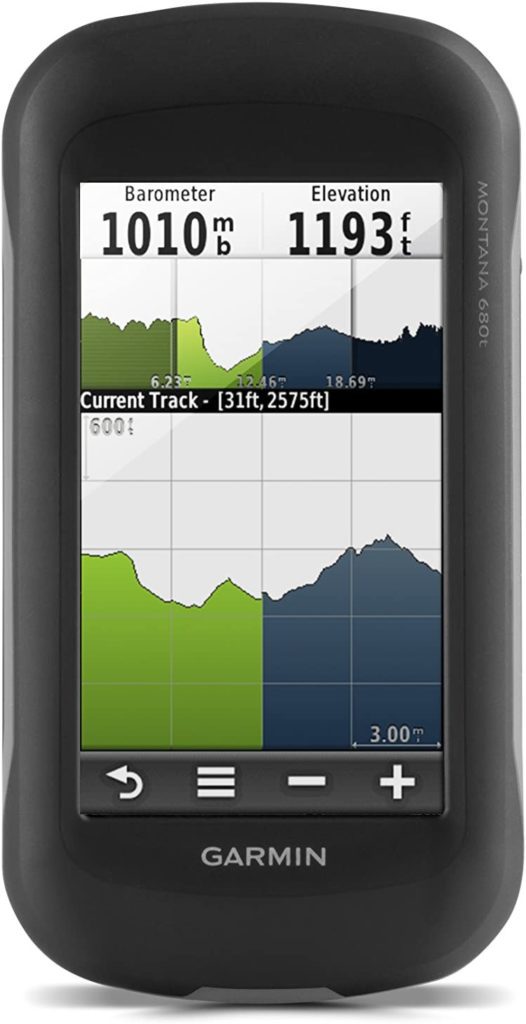 Garmin Montana 680t locates your position fast and precisely, even in dense cover and deep gorges, thanks to its high-sensitivity, WAAS-enabled GPS receiver, Hotfix satellite prediction, and GLONASS support.
| Reasons to Buy | Reasons to Avoid |
| --- | --- |
| ✔️ Glove-friendly display | ❌ Bulky |
| ✔️ Big screen | ❌ Heavy |
| ✔️ Mounts anywhere | ❌ Expensive |
| ✔️ Built-in camera | |
| ✔️ 3-axis compass with barometric altimeter | |
Specifications:
Dimensions: 1.4 x 2.9 x 5.7 inches
Screen size: 4 inches
Battery life: 16 hours
Color: Black
Human interface input: Touchscreen
Display type: 272 x 480 pixels
Map type: topographic
Memory storage: 1 GB
Camera: 8 megapixels with autofocus and automatic geo-tagging
Garmin Montana 680t eliminates the need for manual coordinate entry and paper printouts. As this hiking GPS tracker supports paperless geocaching GPX files, you can upload geocaches from Geocaching.com straight to your device. It will store and display key information, including location, terrain, difficulty, hints, and descriptions. Additionally, the track manager tool will help in the organization and navigation of waypoints, routes, and tracklogs.
Montana boasts a large 4-inch touchscreen display that is sunlight readable and offers vibrant colors and high-resolution photos. So you'll be able to spend more time enjoying the outdoors and less time looking for information. Don't forget to capture the best moments with the 8-megapixel digital camera, allowing you to automatically geotag your photos with coordinates.
6. Garmin inReach Explorer+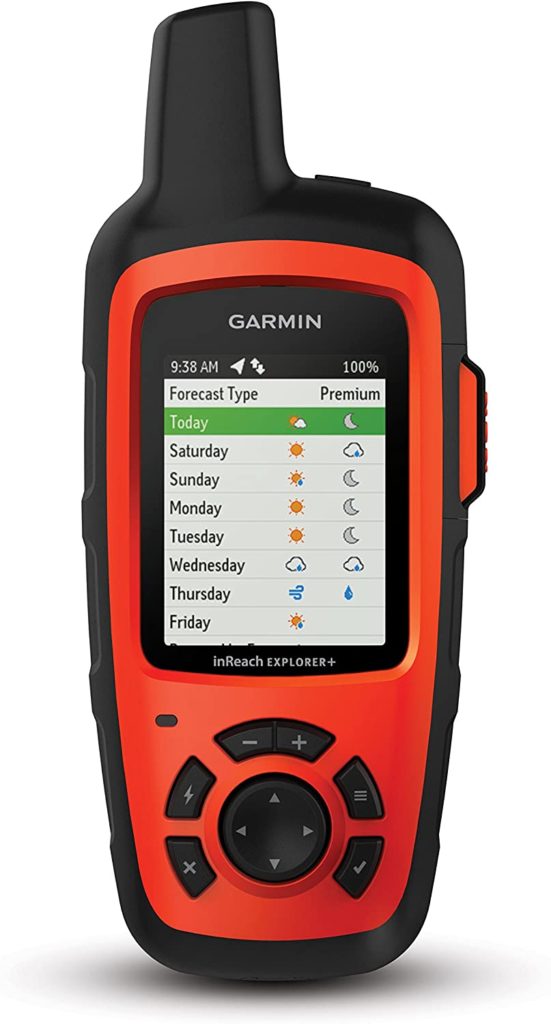 Demand for satellite messaging and SOS is constantly increasing in 2023, so it's no surprise that subscription-based inReach technology is now included in many of Garmin's current devices.
The Garmin inReach Explorer+ is a satellite communicator and hiking GPS navigator with 100% global Iridium coverage for 2-way messaging, tracking, and interactive SOS from anywhere on the planet.
| Reasons to Buy | Reasons to Avoid |
| --- | --- |
| ✔️ The cheapest inReach-enabled GPS gadget available | ❌ Middling GPS features |
| | ❌ Heavy |
Specifications:
Dimensions: 1.5 x 2.7 x 6.5 inches
Screen size: 2.3 Inches
Battery: Rechargeable internal lithium-ion
Battery life: 30 hours
Memory storage: 2 GB
Water rating: IPX7
The Garmin inReach Explorer+ offroad GPS comes with preloaded DeLorme TOPO maps with onscreen GPS routing, as well as a built-in digital compass, barometric altimeter, and accelerometer.
You may also use the free Earthmate app to connect the gadget to a mobile device for access to downloaded maps, NOAA charts, color aerial imagery, and more.
To top it off, this offroad GPS offers 24K maps of the U.S. and Canada and a 100-hour battery life. So just keep track of your whereabouts, share them with relatives and friends, and always stay connected.
7. Garmin eTrex 10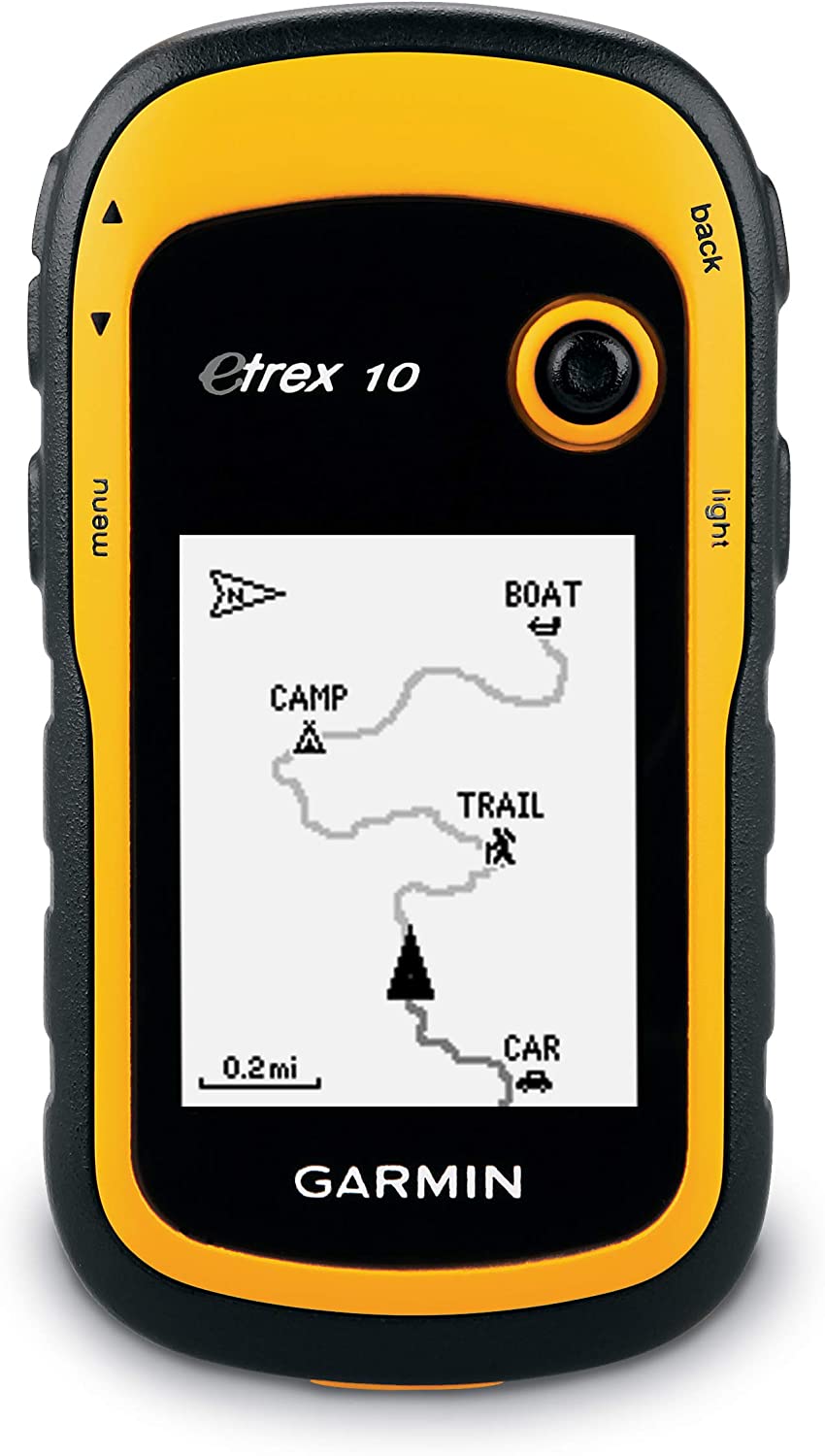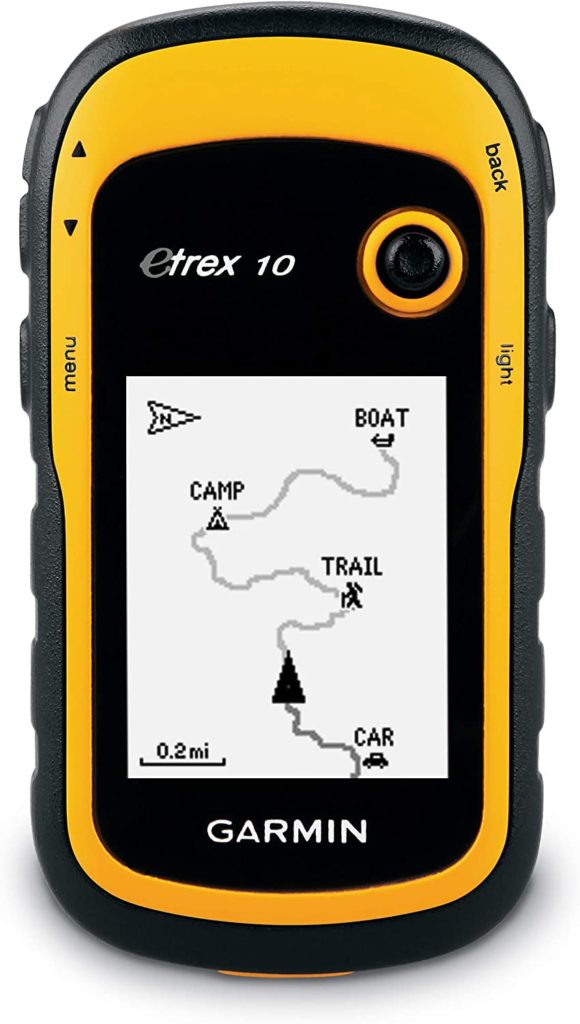 Wherever you go, this budget handheld GPS will provide you with precise and reliable directions by simultaneously tracking on both GPS and GLONASS satellite navigation systems.
To ensure constant contact with navigation satellites, it also employs Wide Area Augmentation Systems and HotFix satellite prediction technology.
| Reasons to Buy | Reasons to Avoid |
| --- | --- |
| ✔️ Tough | ❌ Only has a monochrome display |
| ✔️ Water-resistant | |
| ✔️ Tracks both GPS and GLONASS | |
| ✔️ Compatible with GPX files for geocaching and BaseCamp | |
Specifications:
Dimensions: 2.13 x 1.3 x 4.06 inches
Screen size: 2.2 inches
Battery life: 25 hours
Color: Black/ yellow
Human interface input: Buttons
Display type: LCD
Display resolution: 128 x 160 pixels
Garmin eTrex 10 is IPX7 rated, indicating that it can resist the rigors of the outdoors. This GPS handheld is powered by easy-to-find AA-sized batteries, so replacing the batteries won't be a problem.
The eTrex 10 is compatible with BaseCamp trip planning software to ensure a seamless trip. So you'll be able to see where you're headed even before you leave your home. And as eTrex supports geocaching GPX files, you can download geocaches and details straight to your unit.
Beva CM84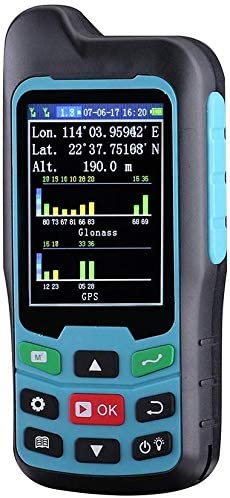 The BEVA CM84 is a very useful gadget for measuring outdoor lands.
| Reasons to Buy | Reasons to Avoid |
| --- | --- |
| ✔️ Budget-friendly | ❌ Limited features and battery life |
| ✔️ Large screen | |
| ✔️ GPS and GLONASS navigation satellite system | |
| ✔️ Great land measurement | |
| ✔️ Waterproof | |
Specifications:
Dimensions: 3.6 x 1.7 x 0.96 inches
Weight: 0.39lb
Screen size: 2.4 inches
Battery life: 12 hours
Color: Black/ blue
Human interface input: Buttons
Display type: LCD
This outdoor GPS is easy to use and delivers the fundamental essentials for less than $100. The Beva CM84 comes with a GLONASS navigation satellite system and remarkably strong signal for instant and precise positioning. According to the manufacturer, the area measurement error is 1-2%.
It's small, compact, and will perfectly fit in your hand or pockets.
9. Garmin Fenix 6 Pro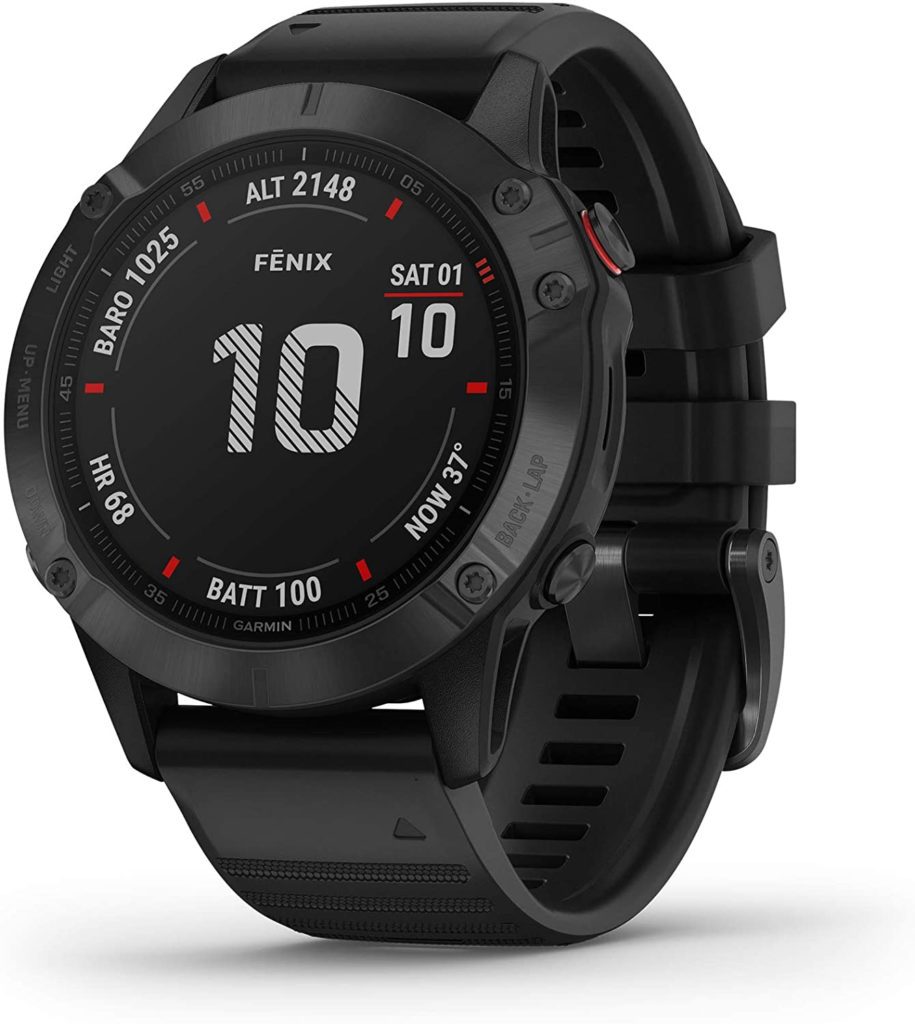 The Garmin Fenix 6 Pro features everything you need to be your best hiking GPS watch, including long battery life, a large screen, and a user-friendly menu system.
| Reasons to Buy | Reasons to Avoid |
| --- | --- |
| ✔️ Sophisticated design | ❌ Heavy |
| ✔️ Always-on 1.3" sunlight-readable display | ❌ Expensive |
| ✔️ Preloaded TOPO maps | |
| ✔️ 3-axis compass | |
| ✔️ Gyroscope barometric altimeter | |
| ✔️ Multiple global navigation satellite systems (GPS, GLONASS, Galileo) | |
Specifications:
Dimensions: 1.85 x 1.85 x 0.58 inches
Weight: 1.36 ounces
Color: Black
Wireless communication technologies: Bluetooth, Wi-Fi
Connectivity technologies: Bluetooth, ANT+, Wi-Fi
Display resolution: 260 x 260
Battery life: 14 days (smartwatch mode), 10 hours (GPS and music mode), 28 days (expedition GPS activity mode), 48 days (battery saver watch mode)
GPS watches, in addition to smartphone GPS apps, are a relatively new piece of technology giving handheld GPS gadgets a run for their money.
With the Garmin Fenix 6 Pro, you can navigate the outdoors confidently. It comes with preloaded TOPO and ski maps for over 2,000 worldwide ski resorts. It also offers GPS, GLONASS, and Galileo global navigation satellite system support. Moreover, this hiking GPS watch features built-in sensors for a 3-axis compass, gyroscope, and barometric altimeter.
10. Polar Grit X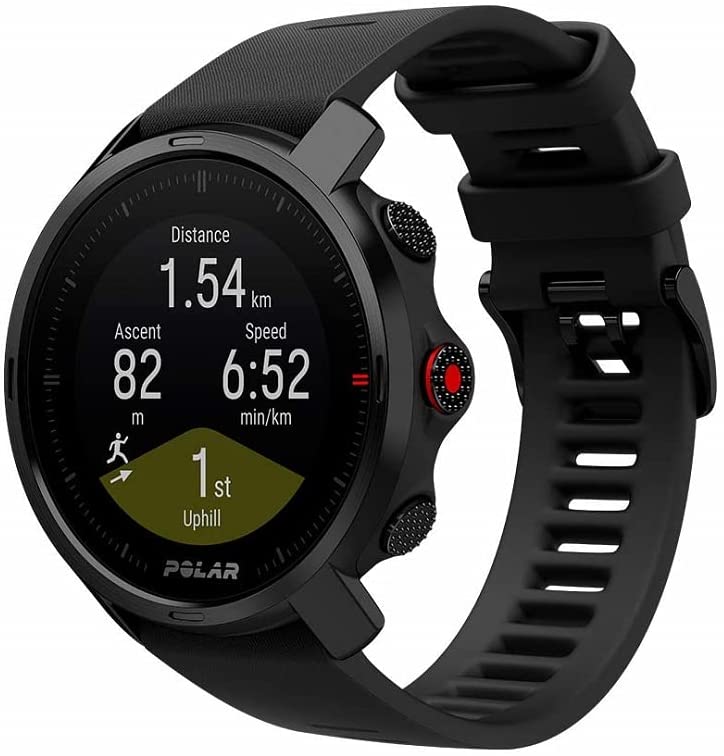 Polar Grit X is one of the lightest GPS outdoor watches available, weighing only 64 grams.
It's not a dedicated hiking gadget but it does have a hiking profile alongside its presets for trail running, mountain biking, and other outdoor activities.
| Reasons to Buy | Reasons to Avoid |
| --- | --- |
| ✔️ Lightweight | ❌ No offline maps when navigating |
| ✔️ Sturdy design | |
| ✔️ Durable | |
| ✔️ Waterproof | |
Specifications:
Dimensions: 3.27 x 3.7 x 4.84 inches
Screen size: 1.2 Inches
Human interface input: Touchscreen
Map type: Worldwide
Weight: 10.5 ounces
Color: Black, white, green/black, green/silver
Battery life: 40 hours (with full GPS and HR tracking)
Polar Grit X has proven military-level durability and also water-resistant (up to 100m). This GPS watch will take your hiking experience to the next level. Komoot's real-time turn-by-turn route assistance and route import will help you stay on track. Moreover, Polar Grit X comes with a compass, barometric altitude, and some other unique features, which will let you strive higher!
Conclusion
When trying to find your way in the wilderness, a hiking GPS tracker unit might be a lifeline. It's critical to know where you are and where you want to go when you're in the middle of nowhere. So we hope our guide for the best hiking GPS trackers on the market will help you to make a smart purchase.