A walk in nature walks the soul back home. Don't you think that it's a heck of a lot more fun to ride down a trail instead of walking?
Riding may be a form of therapy, allowing you to block out negative thoughts, let go of frustrations and fears, and focus on the tight, twisted curves, trees, and gnarly obstacles that make life amazing.
The resilience of ATV tires allows you to explore locations that a standard motorcycle can't, and it's a completely new experience. ATVs help you to disconnect from the rest of the world and go off-road. It's the ideal time to get out and experience just a little more of the unknown.
The good news for potential ATV buyers is that now there are more options than ever before, allowing you to find the ideal machine for your riding style. The large selection, on the other hand, makes narrowing down your choices more difficult. So, to help you find your best fit, we've made a list of the best electric ATVs on the market.
The features to look for before buying the best electric ATV
ATV's purpose

To choose an ATV that will fulfill your needs, first, you need to consider what you want to use it or. ATV models are mainly divided into two categories: Sport ATVs and Recreation or utility ATVs. Sport ATVs have more horsepower, better suspension, and more precise handling, allowing them to reach high spe ds. Utility ATVs are adaptable and can be used for a variety of tasks, including hunting, adventurous trail riding, and camping.
ATV's level of performance

Moreover, you should decide on the ATV's level of performance, which is directly linked to its purp se. Are you going to use it for work, play, or hunt ng? Are you going to carry passeng rs? Or is it a gift for your kid?
The rider's skill level
What's more, if you are not an experienced rider, you don't want to buy a high-powered speed machine as it may be a challenge to h ndle. So don't forget to consider your level of skill.
Our top pics
1. Eco-Charger Lithium Prestige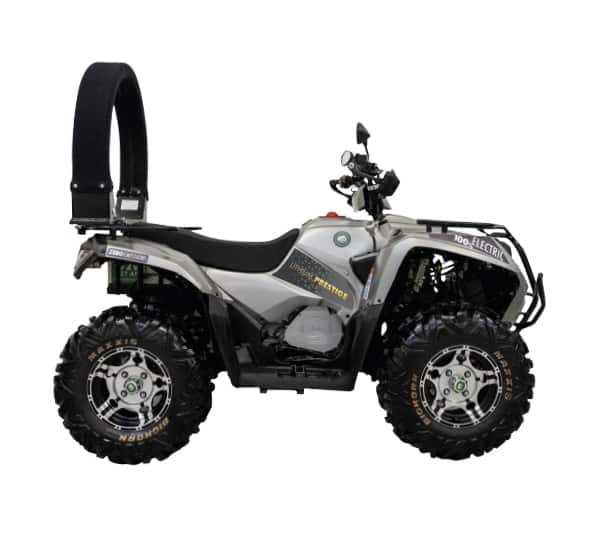 | Reasons to Buy | Reasons to Avoid |
| --- | --- |
| ✔️ 100% electric | ❌ High-priced |
| ✔️ Ultimate 4 WD workhorse | |
| ✔️ High-quality components | |
Specifications:
Max speed: 50 km/h
Drive: 4 WD
Max range: 110 km
Max power: 72V
Hydraulic Front: R/L Disc brake
Rear: Disc brake
Front & Rear: Dual A-arm with five way preload-adjustable shocks
Unladen Weight: 349 KG
Revenue Weight: 421 KG

The Eco Charger ATV was intended and developed to be a workhorse with rigorous testing, controlled production, and high-quality com onents. It's quiet when approaching horses and li estock. Moreover, it offers amazing torque for towing, as well as regenerative braking to conserve electricity.
Despite its high price, the vehicle stands out for its exceptional performance and 62-mil range. It's undoubtedly one of the greatest electric ATV models on the market in terms of speed, power, and build quality.
2. Eco-Charger Pioneer 4WD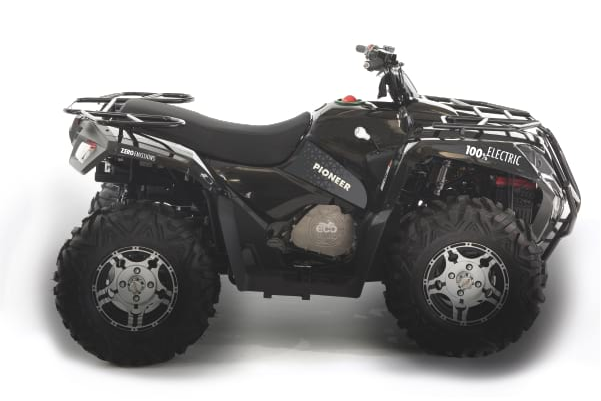 | Reasons to Buy | Reasons to Avoid |
| --- | --- |
| ✔️ Utility eco charger | ❌ Not entirely silent when running |
| ✔️ Switchable 4 WD chassis | |
| ✔️ Powerful off-road capability | |
Specifications:
Max speed: 50 km/h
Drive: 4 WD
Purpose: Heavy duty
Power: 72V electric quad
Range: 25 miles (40km)
Hydraulic Front: R/L Disc brake
Rear: Disc brake
Front & Rear: Dual A-arm with five way preload-adjustable shocks
Unladen weight: 349 KG
Revenue weight: 520 KG
Pioneer 4WD is the top-of-the-line Eco harger. This 72-volt bike has a long list of outstanding features as well as excellent perf rmance. A fully switchable 4wd shaft-driven chassis provides a firm platform, and the bike's 'full differentials' drivetrain offers awesome off-road cap bility. This also means the bike has a small turning circle and won't scratch surfaces when turning.
Depending on usage and terrain severity, the bike has a range of about 40 kilometers.
Due to the batteries' placement, the bike's center of gravity is low, allowing it to be stable on even the most uneven s rfaces. The bike features four gears, ranging from a road-going gear with a top speed of 32 miles per hour to a super low towing gear with a top speed of 9 miles per hour.
Moreover, in its class, the towing capability of Pioneer 4WD in low gear is unrivaled.
3. DRR EV Safari 4×4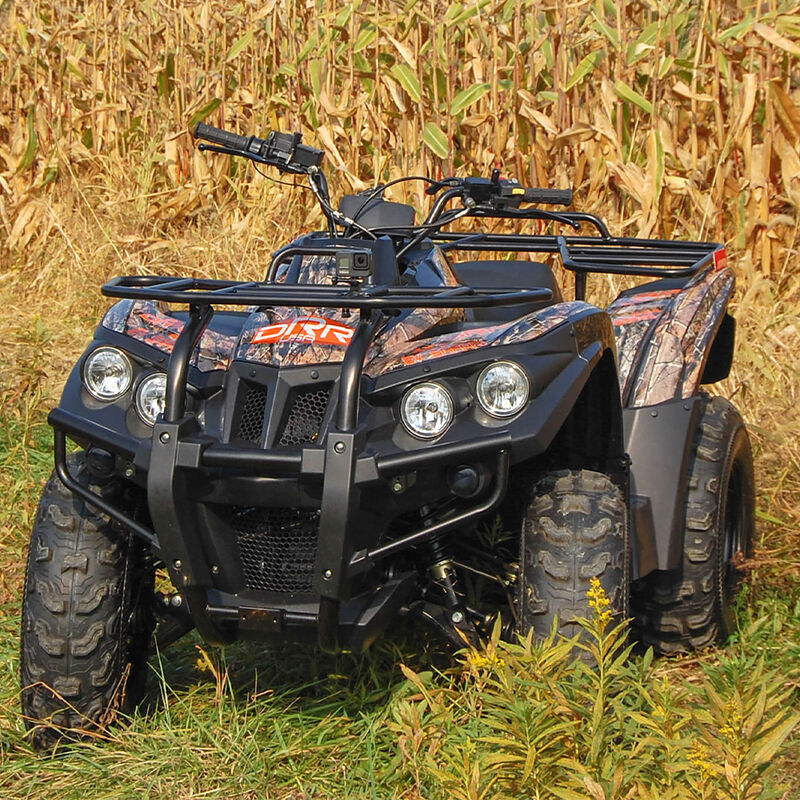 | Reasons to Buy | Reasons to Avoid |
| --- | --- |
| ✔️ No fuel | ❌ The battery is not removable |
| ✔️ Silent | ❌ Only for ages 16+ |
| ✔️ Strong and sturdy | |
Specifications:
Motor: 7.5 kW
Range: 35 miles (56 km)
Max speed: 45 mph (72 kph)
Transmission: One-speed w/ reverse
Drivetrain: 2wd, 4wd, and 4wd-locked diff modes
Tow capacity: 800 lbs (362 kg)
Payload: 450 lbs (204 kg)
Battery type: 72V Lithium-Ion
Brakes: R/L DRR Dual Disc Wave Rotor Technology
Suspension: Dual A-Arm Independent Suspension
Tires: AT25 X 8-12
The 7.5 kW electric motor in the EV Safari 4×4 is geared to take on the rougher side of th outdoors. The completely silent motor with 2wd,4wd, and 4wL makes EV Safari 4×4 the best electric ATV for hunting.
It offers up to a 35-mile range on a sin le charge. However, it's only for ages 16+ (DRR recommends 18+).
4. Tesla Cyberquad for Kids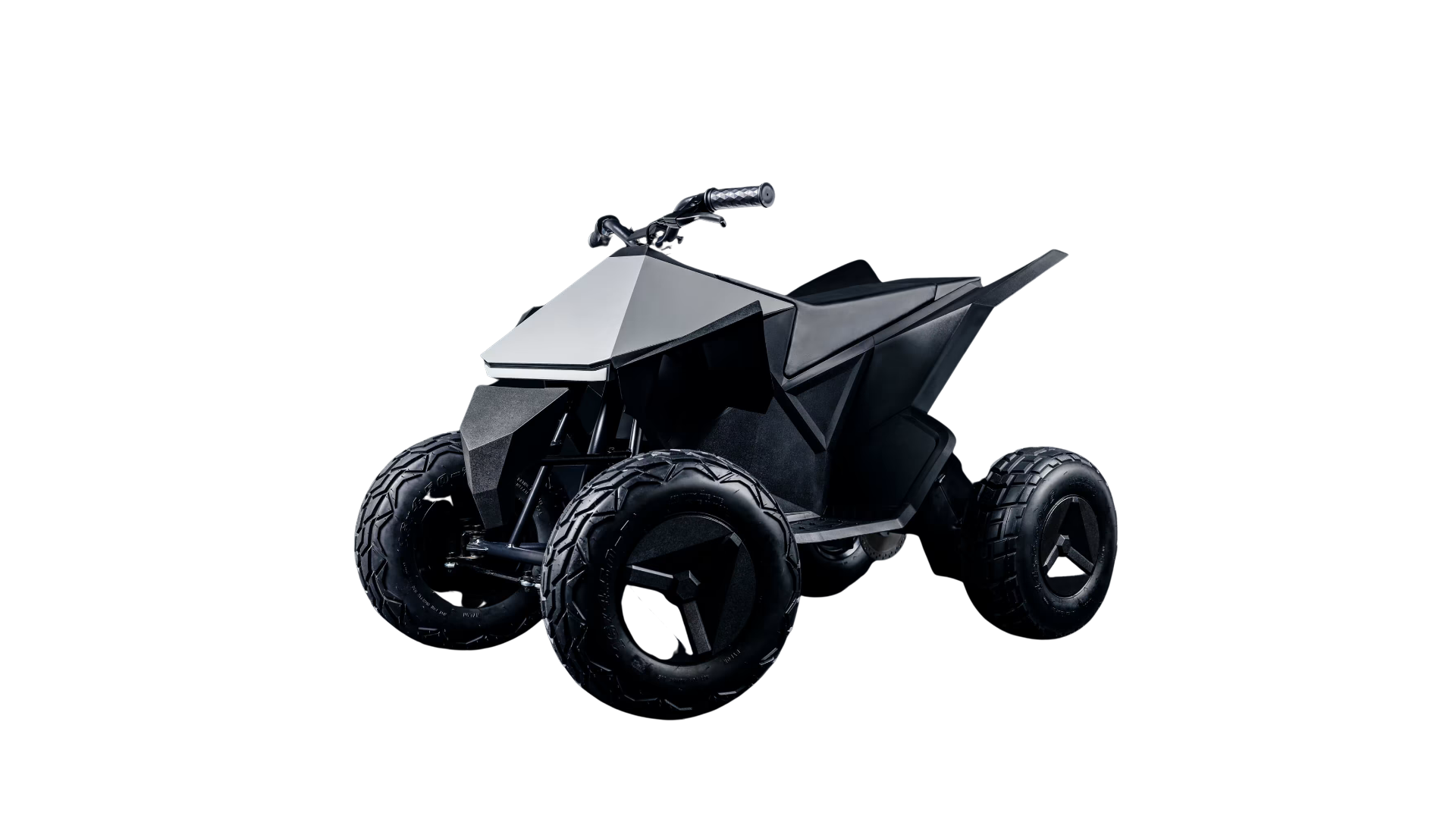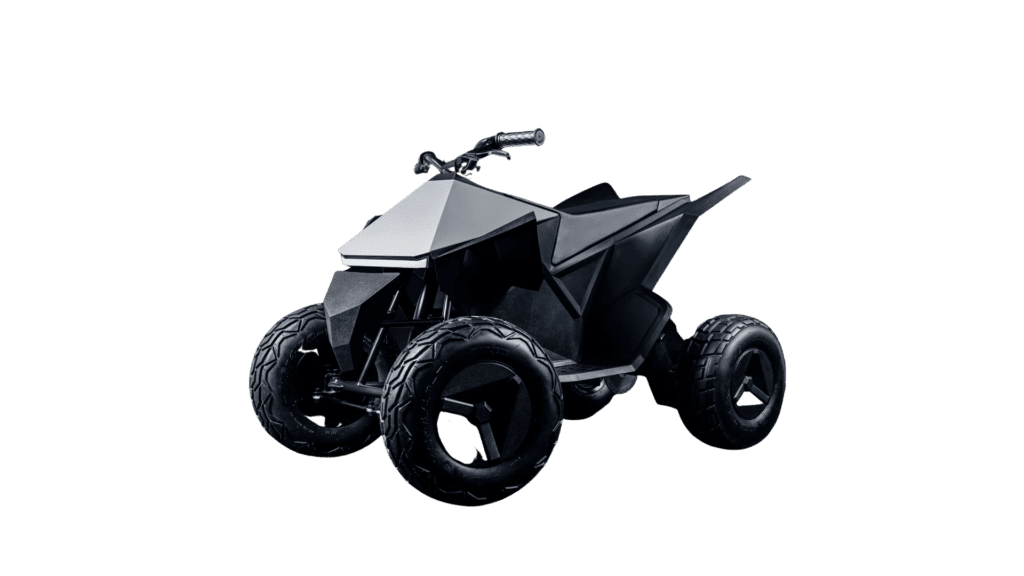 | Reasons to Buy | Reasons to Avoid |
| --- | --- |
| ✔️ All-electric | ❌ High-priced |
| ✔️ Powerful motor and battery | |
| ✔️ High-quality components | |
Specifications:
Motor: 500W nominal
Top speed: 16 km/h (10 mph)
Range: 25 km (15 miles)
Battery: 36V 8Ah (288 Wh)
Weight: 54 kg (120 lb)
Max load: 68 kg (150 lb)
Brakes: Single mechanical disc brake on the solid rear axle
Suspension: Adjustable spring shock in the rear, no front suspension
Extras: Multi-speed selector, Tesla-style charger, thumb throttle, LED battery meter on the battery
The Tesla Cyberquad for Kids is co-developed by Radio Flye and Tesla. Due to its 36V electrical system and 500W continuous-rated motor, this ATV has some real power.
The four-wheeler is inspired by the Tesla Cybertruck design and boasts a full steel frame, cushioned seat, adjustable suspension, rear disk brakes, and LED light bars. Cyberquad for Kids is suited for 8 to 12 years old youngsters and is powered by a lithium-ion battery with a range of up to 15 miles and a top speed of 10 mph.
Although it comes with a Tesla price, the fun it provides is incomparable.
5. Razor Dirt Quad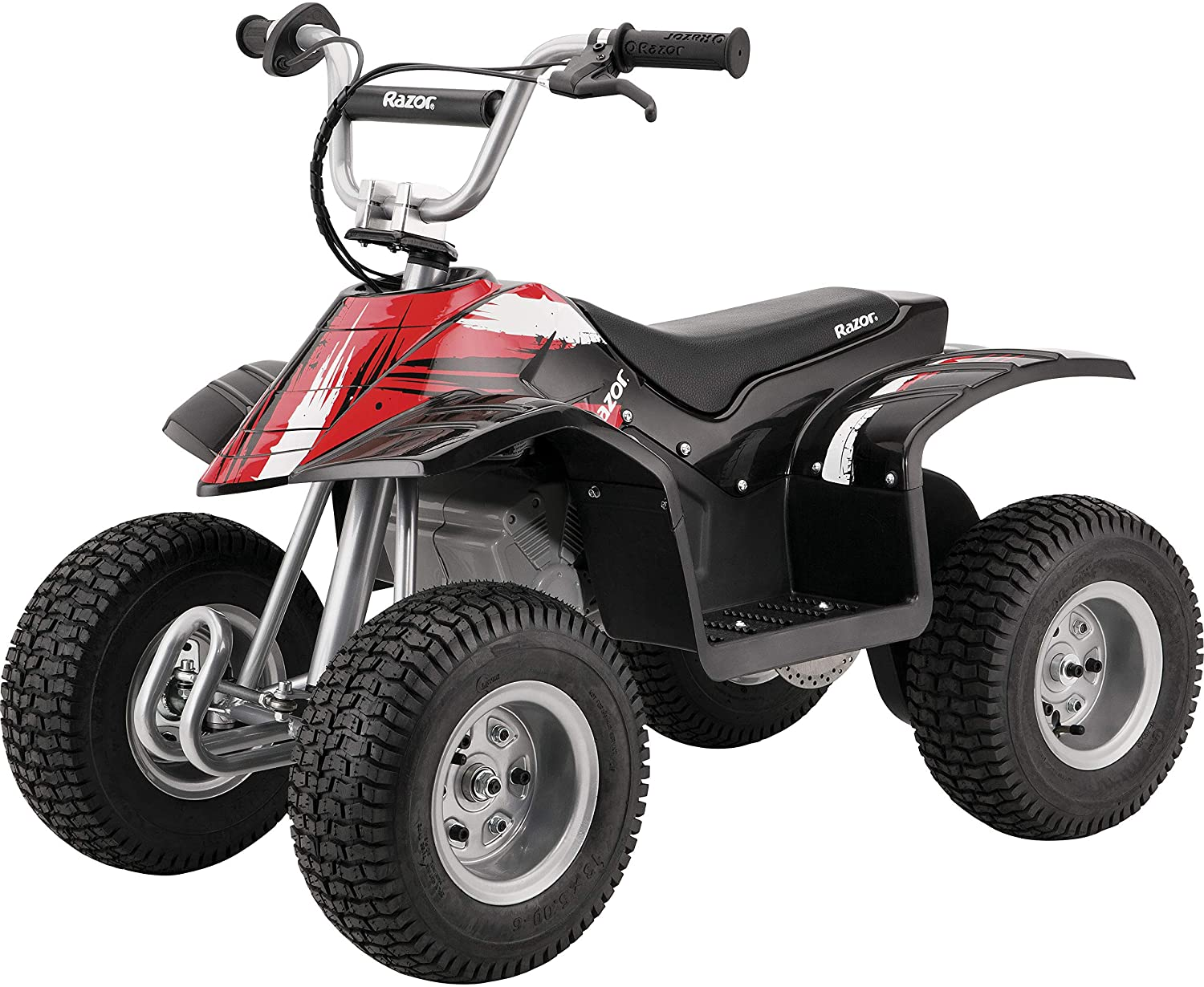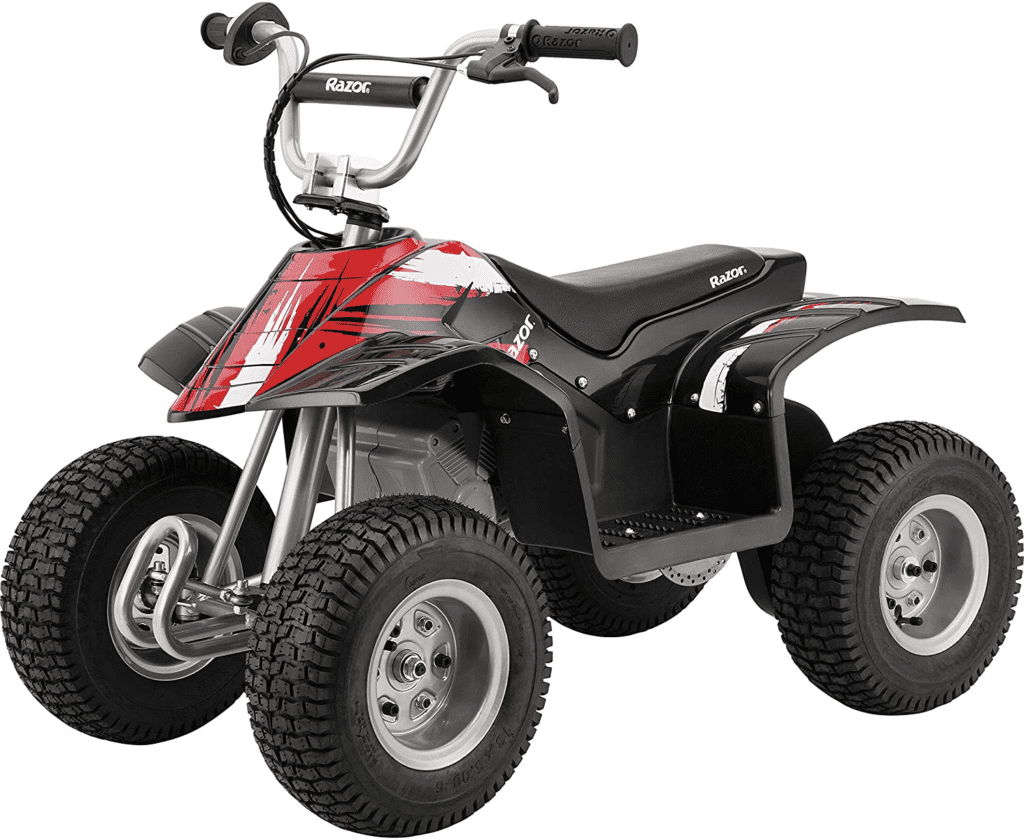 | Reasons to Buy | Reasons to Avoid |
| --- | --- |
| ✔️ Powerful motor | ❌ No reverse option |
| ✔️ Safe to drive | ❌ No lights or headlights |
| ✔️ Strong and sturdy built | ❌ there are chances of tipping over because of the weight of the vehicle |
| ✔️ Good acceleration control | |
| ✔️ Eco-friendly | |
| ✔️ Water-resistant | |
Specifications:
Minimum age: 8+
Max rider weight: 120 lbs (54 kg)
Max speed: 8 MPH (13 KPH)
Battery: 24V, lead-acid
Motor: 350W, variable speed
Run time: Up to 40 mins
Range: 5 miles (8 km)
Brake: Rear disc
Wheels: 12″ pneumatic
Weight: 75 lbs (34 kg)
Razor has been making high-quality electric rides for near y two decades. The Dirt Quad joins their flock, providing kids with the thrill they crave.
The Razor Dirt Quad is noted for its fuel efficiency, not because it uses little gasoline but because it runs n electricity. This means you may save money on gas, contribute to environmental protection, and ensure that your child breathes clean, fresh air.
Moreover, due to its heavy-duty chassis, body, and suspension system, this ATV is engineered fo off-road use. You won't have to worry about going through mud, gravel, dirt, grass, o even streams. The suspension system is supported by coil shocks, allowing it to take on even the most difficult terrain.
The Razor Dirt Quad is designed exclusivel for children. It has an ergonomic body frame that allows kids to sit comfortably and securel while riding. Rubber sidings are also installed on the frame so that they won't be injured if they unintentionally hit it.
Most importantly, with its adjustable handlebars, the Razor Dirt Quad will accommodate the height of yo r growing kid. So your kids will enjoy this electric toy from 6 up to 12 years old.
6. Coolster 3150DX-2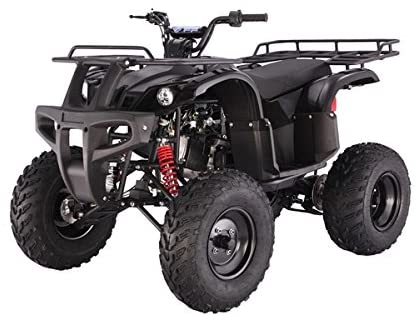 | Reasons to Buy | Reasons to Avoid |
| --- | --- |
| ✔️ Electric start system | ❌ Below average build materials |
| ✔️ Powerful air-cooled engine | |
| ✔️ Auto transmission | |
| ✔️ Double A-Arm suspension | |
| ✔️ A rack on both front and back | |
Specifications:
Engine type: Single Cylinder, 4-Stroke
Displacement: 150cc
Bore and stroke: 2.26 inches x 2.28 inches
Maximum speed: 58 mph
Battery: 12V/9Ah
Transmission: Automatic with Reverse
Drive system: Chain
Suspension: Hydraulic Spring
Front brake: Hub Brake/hand manipulating patterns
Rear brake: Hydraulic Disc/foot manipulating patterns
Front tire: 23 x 7-10
Rear tire: 22 x 10-10
The Coolster 3150DX-2 has a top speed of 58 mph, which is just the ideal amount of power for e perienced riders. It has an automated transmission with reverse gears and an electric start system.
Air-cooling prevents the engine from overheating, so adults will never have to worry about their vehicle's interio getting damaged. This four-wheeler can be easily parked up and maneuvered off-road, around railroads, or through the woods.
It's Coolsters longest-ru ning utility ATV. The Coolster 3150DX-2 got its durability due to the large 23″/22″ tires and the compulsory powered 4-st oke 150cc engine. So no matter the purpose of use, the Coolster 3150DX-2 will get the job done.
7. Offroad Mall 36V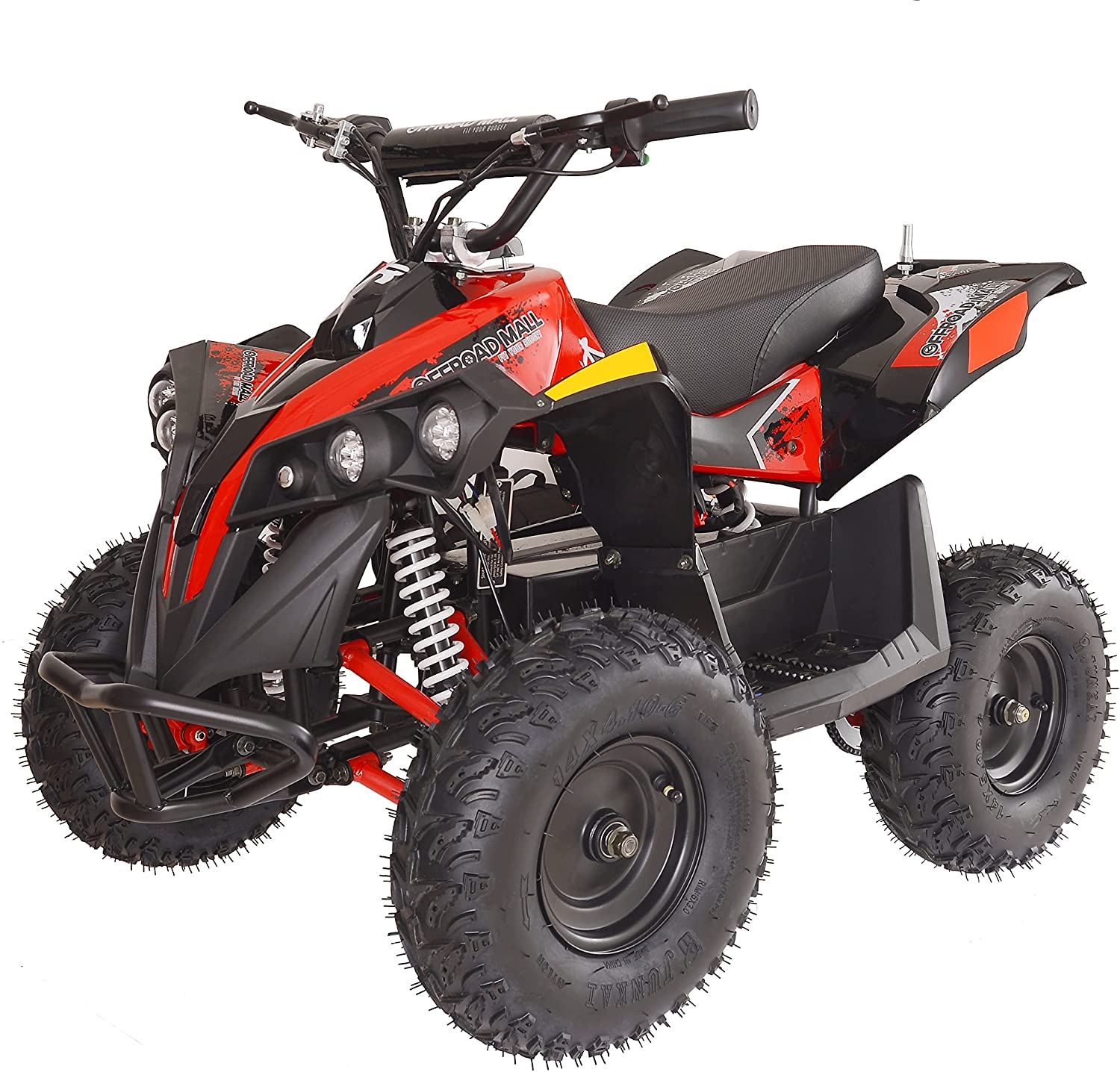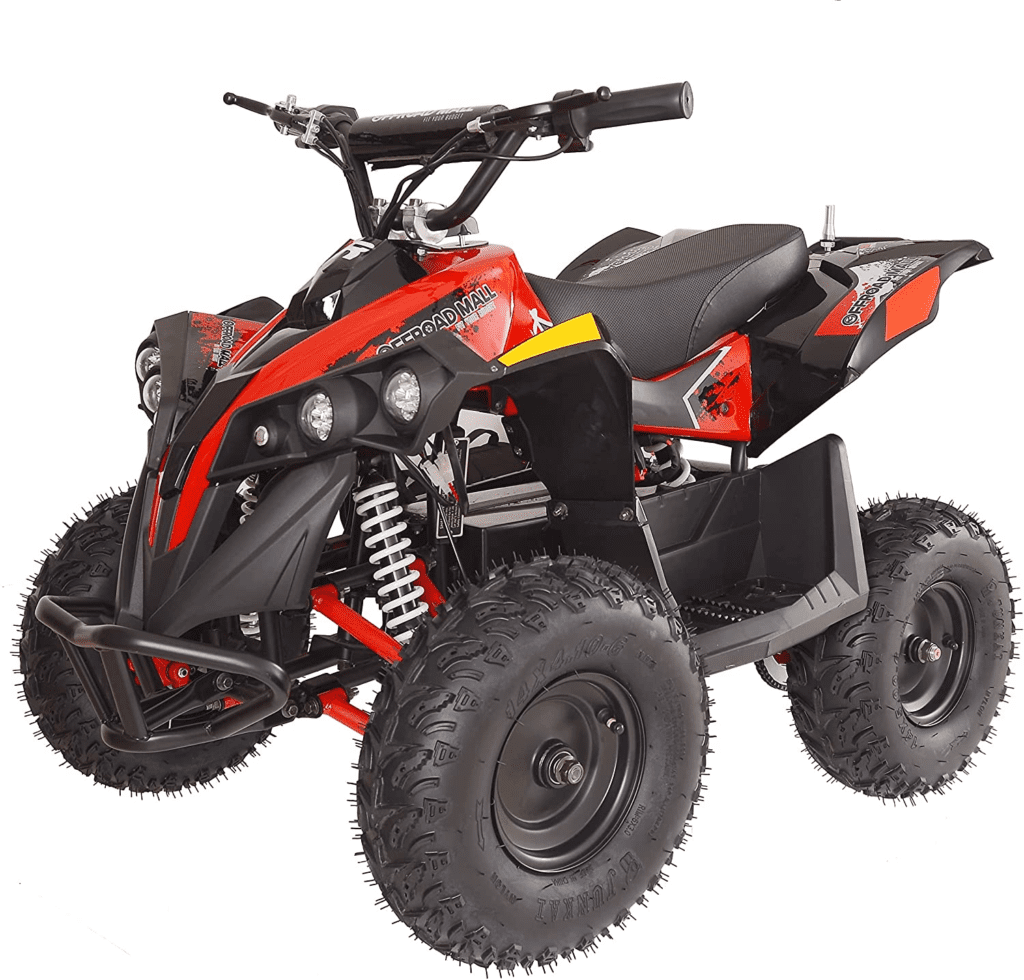 | Reasons to Buy | Reasons to Avoid |
| --- | --- |
| ✔️ High-torque air-cooled waterproof motor | ❌ Not entirely silent when running |
| ✔️ Safe | |
| ✔️ Comfortable | |
Specifications:
Motor: 36V 1000W high torque
Max speed: 18 mph
Battery: 36v
Tires: tubeless
Brake: rear disc
Weight: 118 lbs (54 kg)
Max rider weight: 220 lbs (100kg)
The Offroad Mall 36V will make you stand out with its unique desi n and bright colors. To ensure your safety, the vehicle is equipped with a 1000w motor, tubeless tires, and a 36v battery, as well as front nd rear disc brakes. The three-gear system (forward, neutral, and reverse) will provide you w th enjoyable riding. The ATV is suitable for people over the age of 10.
For a more comfortable riding experience, the front traverse double-arm independent suspension and rear suspension are equipped with 55 molybdenum silicon shock absorber springs.
The powerful high-torque air-cooled motor gives you a t ue rider experience. The upgraded motor controller prevents the motor from overcurrent, overheating, and blocking, extending t e life of the motor. And with the waterproof feature, you won't need to worry about water splashing.
Safe, dependable, stable, and comfortable, the Offroad Mall 36V is one of the best ATVs in the market.
8. Daymak Beast AWD Ultimate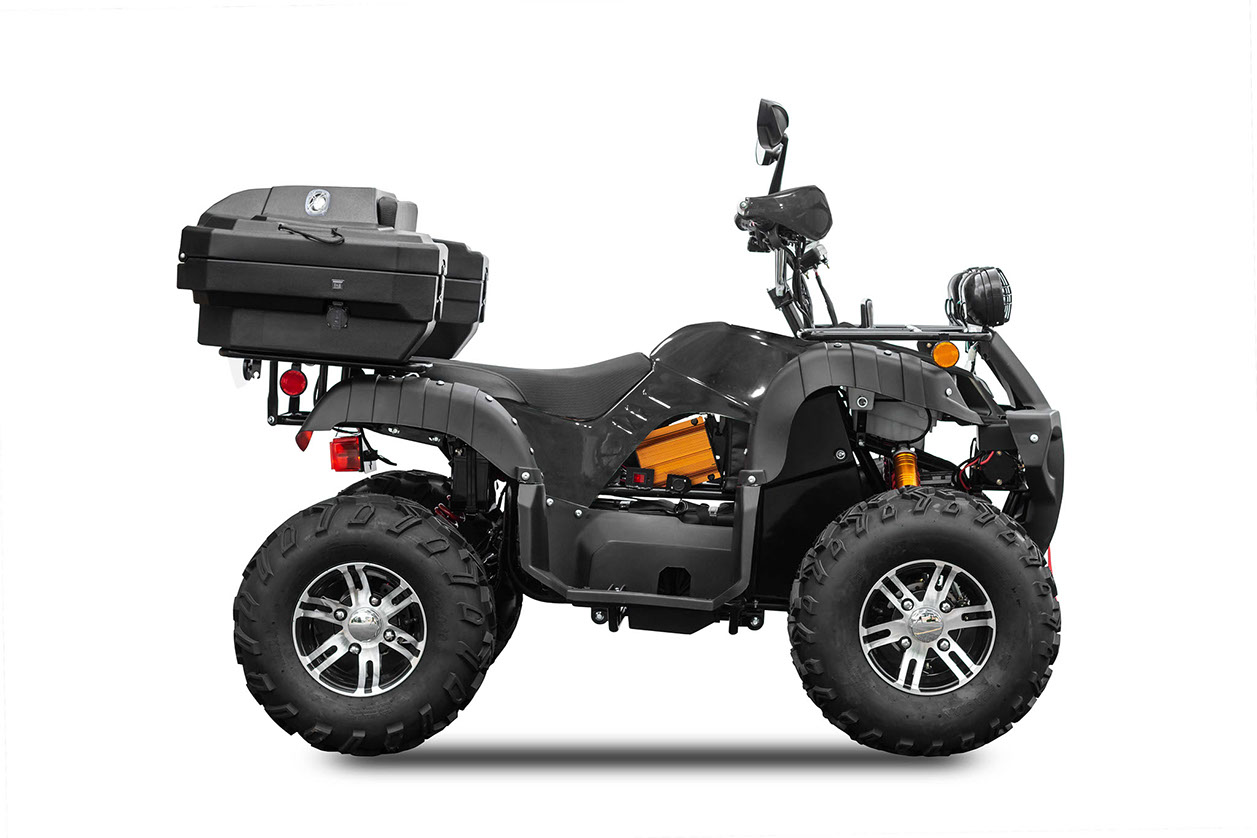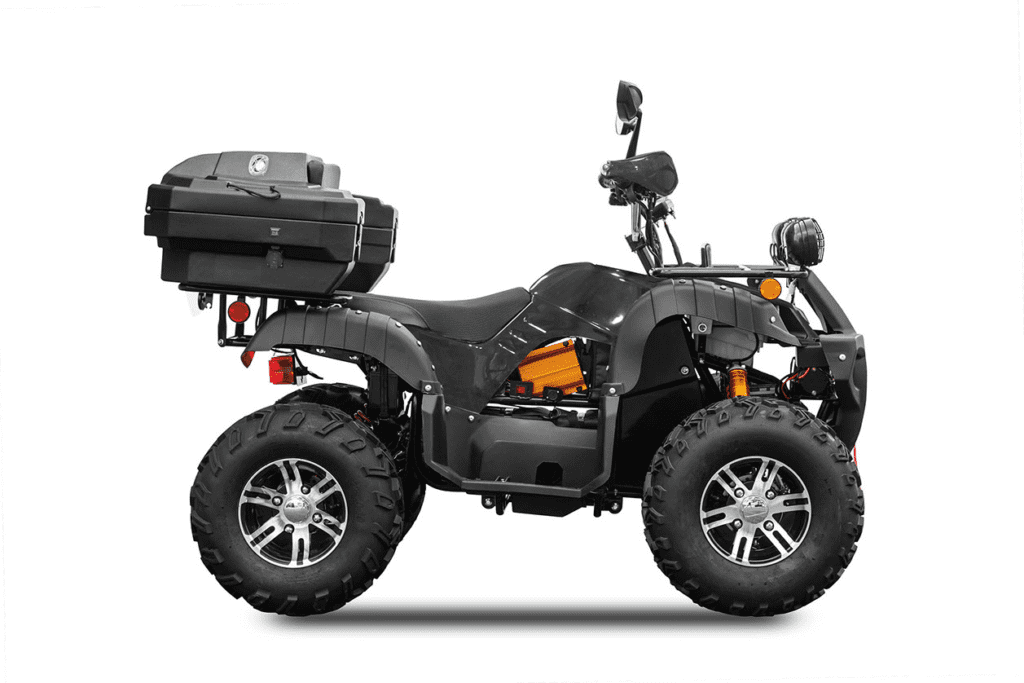 | Reasons to Buy | Reasons to Avoid |
| --- | --- |
| ✔️ Eco-friendly | ❌ Pricey |
| ✔️ High-quality components | |
| ✔️ Built-in inverter | |
| ✔️ Speakers | |
Specifications:
Motor: 1000W Dual
Battery: [1 to 8] x 60V 40AH Lithium Ion and 60V 50AH Lead Acid
Battery life: 1000/300 charges
Removable battery: Removable only to replace
Charger input: 110V-240V
Charge time: 4-8 hours
Lights: LED
Max load: 120 kg
The Beast AWD ATV Ultimate's battery pack design includes both lithium-ion and lea -acid backup batteries. With a flick of a switch, you can quickly switch between the lithium-ion pack and the regular lead-acid battery, or you can turn both on at once for maximum power. The Beast ATV Ultimate has a built-in inverter that allows you to charge or run all your electronics directly from the ATV usi g an 11V outlet or USB. What's more, you can increase the lithium battery pack up to 8 times for a maximum range of up to 360 km.
So if you're looking for a powerful ATV, with its top speed, acceleration, and range, the Beast AWD ATV won't let you disappointed.
9. Razor Dirt Quad 500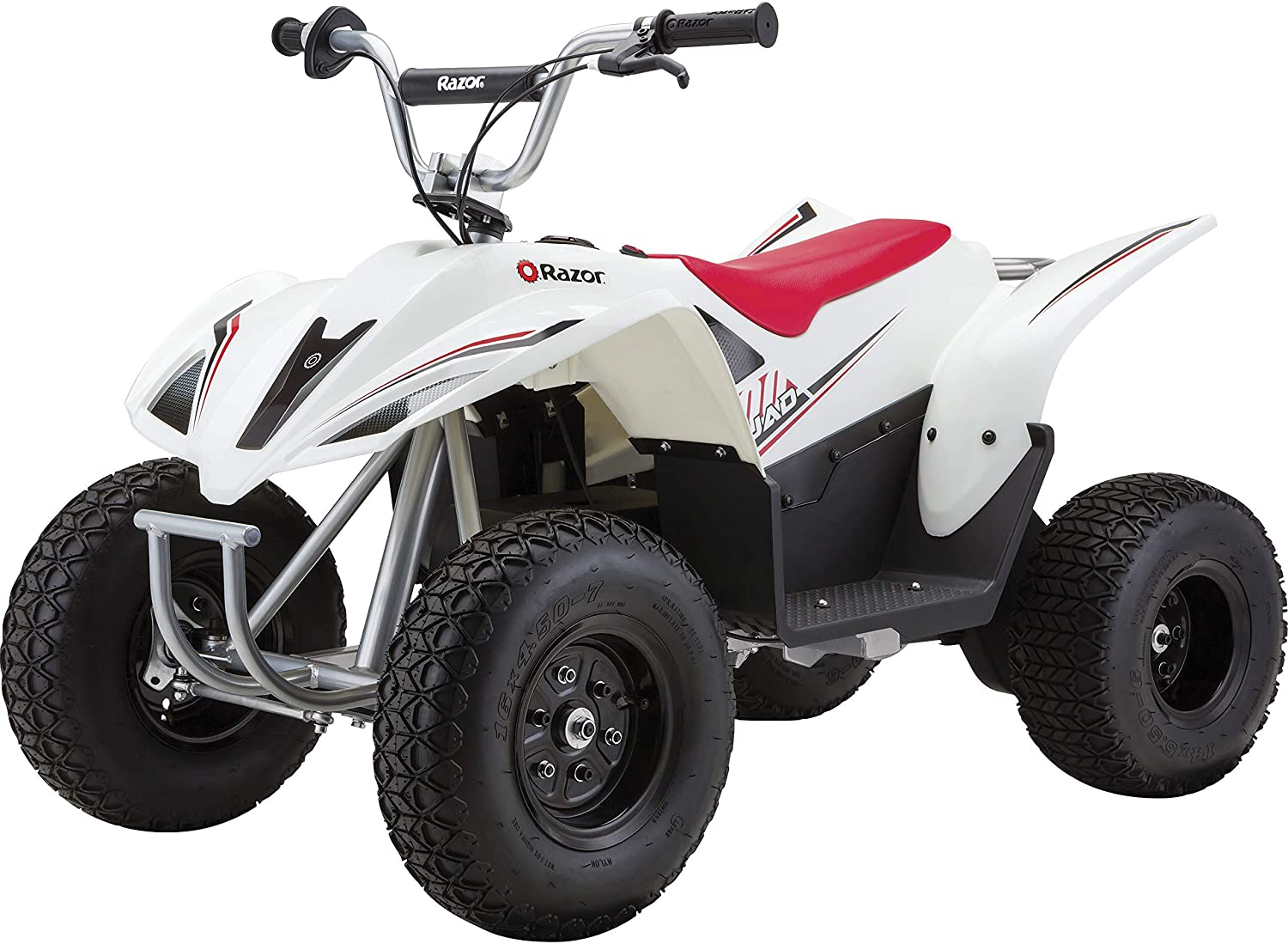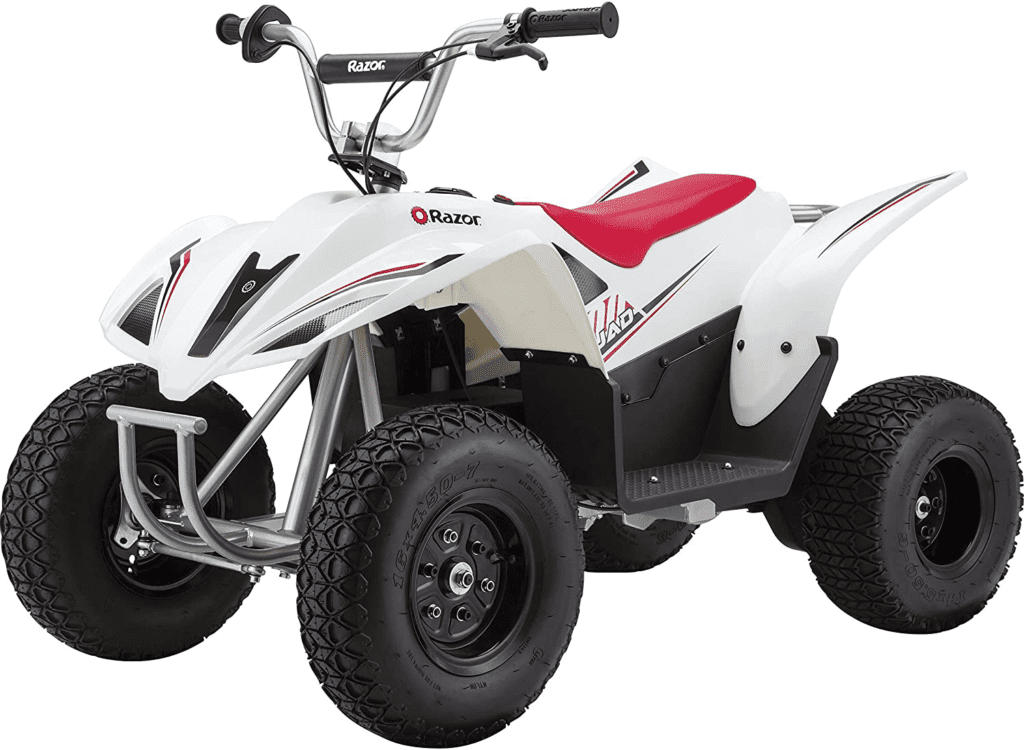 | Reasons to Buy | Reasons to Avoid |
| --- | --- |
| ✔️ Great durability | ❌ Headlights are absent |
| ✔️ Has a weight capacity of 220 lbs | ❌ Spindle breaks often |
| ✔️ Sturdy framework | |
Specifications:
Run Time: Up to 60 minutes of continuous use
Motor: 500 watts with high-torque internal/integral gear set, self-adjusting chain-driven
Suspension: Fully active rear suspension for increased traction
Throttle: Variable speed, twist-grip
Brake: Hand-operated, rear disc
Frame: Powder-coated tubular steel for all-weather durability with front brush bar and rear carry handle
Fairings: Shatter-resistant plastic
Handlebars: Adjustable height, riser style
Grips: Soft rubber
Wheels: Steel with front and rear-specific (size and tread) pneumatic tires
Battery: 36V (three 12V) sealed lead acid, quick-change compartment, rechargeable
It's a good entry-level ATV for getting the rider used to twist grips, variable speed throttles, and hand-operated rear disc brakes.
With a maximum rider weight of 220 pounds, this Razor electric quad is suitable for children aged 14 and above.
For pure four-wheel power, the Razor Dirt Quad 500 has a large 500W motor with a high-torque internal/integral gear se and self-adjusting chain. It has a powder-coated steel
frame with a front brush bar for all-weather durability and a convenient carry handle on the back.
The Razor Dirt Quad 500 has a top speed of 9 mph and can run for 6 minutes on a full charge. This corresponds to range of around 10 miles. The top speed of the Dirt Quad 500 is significantly lower than that of other gas-powered four-wheelers. This also makes the quad a little safer by lowering the possibility of it toppling over.
However, this grown-up, pumped-up ATV is ready and able to get your adrenaline pumping on difficult off-road terrain.
10. DRR EV Stealth
| Reasons to Buy | Reasons to Avoid |
| --- | --- |
| ✔️ Silent-running all-electric motor | ❌ Only for adults |
| ✔️ Completely gear-less | |
Specifications:
Motor: 4 kW
Range: 35 miles (56 km)
Max speed: 25 mph (40kph)
Transmission: One-speed w/ reverse
Drivetrain: 2wd (rear-wheel drive)
Battery type: 72V Lithium-Ion
Charge time: 35 Mile Battery Pack: 4-6 Hours
Payload: 450lbs (204kg)
Brakes: R/L DRR dual disc wave rotor technology
Front suspension: Dual A-arm independent suspension
Rear suspension: Monoshock swing arm
Front Tire: AT25 X 8-12
Rear Tire: AT25 X 8-12
The DRR EV Stealth electric all-terrain vehicle is designed for adults and is both comfortable and quiet. I boasts a powerful 4kW electric motor that runs on 72 volts.
Environmentally friendly, this vehicle minimizes both noise pollution as well as greenhouse gas emissions. T e EV Stealth can reach speeds of up to 35 mph and helps assist in the field.
This electric 4-wheeler, designed for search and rescue, has a smooth chassis that glides over the rubble. M reover, due to its full silent design, it can also be a lifesaver for rescue personnel.
With a top speed of 35 miles per hour, the ATV can work intermittently for eight hours on a single charge. S mply plug the ATV into any standard three-prong outlet to charge it. T e battery may be easily replaced in less than three minutes. W at's more, the DRR Stealth comes with a digital dash, which makes it simple to see all of the important information while riding.
Eco-friendly and with a silent motor, the DRR EV Stealth ATV offers the ultimate nature experience.
FAQ
What is the fastest electric dirtbike?
While 2-stroke dirt bikes are faster off the starting line and generate power sooner than 4-strokes, the 4-strokes provide lasting power and endurance over time. Their power is more steady after it has been aintained. Ultimately, your decision will be determined by the type of riding you intend to do on your dirt bike.
However, the KTM 450 SX-F is the overall fastest dirt bike. The 450 SX-F leaves the competition in the dust with a top speed f 123 mph. It delivers both substantial power and user-friendly handling for experienced riders looking for a fast ride.
Are electric dirt bikes road legal?
In most circumstances, an electric dirt bike that meets all of the federal law standards to be designated an e-bike i road legal. Even so, if an electric dirt bike isn't categorized as a dual-use vehicle, you won't be able to ride it on the road. This is because it lacks the operable pedals that are required by law for street-l gal e-bikes. Most states have their road safety standards for e-bikes, such as headlights and taillights, a rearview mirror, turn signals, and a horn, in addition to federal legislation.
What is the longest-range electric dirt bike?
In terms of range, the Brutus V9 is considered to be the best elec ic dirt bike. With a stated range of up to 250 miles at lower speeds and up to 130 miles at higher speeds, Brutus V9 is a vehicle that excels in the range.
How fast do electric dirt bikes go?
Leading 250cc two-stroke dirt bikes may reach speeds of 70-85 mph in id al conditions. Most 4-stroke options, on the other hand, have a top speed of ar und 70-80 mph. There are a few exceptions, such as the KTM 450 SX-F, which can reach speeds of 123 mph.
Conclusion
Whether you are looking for an ATV to take on tough jobs and travel over any terrain or simply load up and go exploring, there is one to meet your needs. So we hope our list of the best electric ATVs on the market will help you make a wise purchase.