key advantages
Self-Cleaning
Self-Emptying
Quick Drying
Alexa and Google Compatible
360 All-Round Scanning
Super 3200Pa Suction
estimated
delivery
March, 2022
One of the first robots that changed people's lives (in a non-worrying way) was the robot vacuums. You got to admit, you have either bought one or considered buying one any time soon. They might seem a bit expensive, but hey, they're doing the dirty job for you.

Of course, if you're a lazy person, you would be more interested in them as you can simply clean your floors with a click of a button. You can find a bunch of them on Amazon, AliExpress, Kickstarter, or Indiegogo; However, we are here to tell you about a specific self-cleaning and emptying robot vacuum called the ROIDMI EVA.
The Product
Innovation
Is this a truly new product that you can't find on the market? Or this is a product that defines an entirely new product category. In some cases, the combination of several features into one or the introduction of a new feature to an old product are also considered to be an innovation.
So, let's introduce the Xiaomi ROIDMI EVA real quick and tell you what it's all about. As the title mentioned, it's a self-cleaning and emptying robot vacuum; however, it has some exciting and innovative features that make it stand out from the other robot vacuums.
First off, let's talk about the design. This Xiaomi robot vacuum has an intriguing design that enables the combination of an automatic mop cleaning module and a dust collection base in one. Additionally, the ROIDMI EVA has an extra-large antibacterial dust bag that kills the bacteria and is big enough to contain dust for 60 days. It also comes with a 4L water tank system that can separate clean water from dirty water.
Moreover, since we're talking about a self-cleaning robot vacuum, we have to mention how that feature works. So, the self-cleaning feature on the ROIDMI can wash the mop automatically in order to keep it sanitary, and it does this when it returns to its base, and afterward, it returns to the spot it left off to redo the vacuuming and mopping.
The Xiaomi ROIDMI auto-detects the mop's dirtiness, and once it returns to its base for the cleaning process, it sprays the mop with fresh water by a built-in pump. After that, it has an auto-drying process where it blows strong vortex wind from its fast turbine to ensure fast drying with no mildew or odor. And that's the whole self-emptying robot vacuum buzz.
The only downfall is that it doesn't bring mind-boggling innovations to the robot vacuuming game. Still, overall, the Xiaomi ROIDMI EVA has decent advantages over the other robot vacuums.
Competitiveness
How much better is it than the competition? Is it faster? Bigger? Cooler? More affordable? There needs to be a solid reason why you should back this project over any other.
| | ROIDMI EVA | Narwhal J1 Pro | Roborock S7 |
| --- | --- | --- | --- |
| Product Net-weight (KG) | 13.5 | 11.8 | 14.2 |
| Self-collection | ✅ | ❌ | ✅ |
| Self-cleaning | ✅ | ✅ | ❌ |
| Water tank capacity (L) | 4 | 5 | 0.3 |
| Dust collection capacity (L) | 3 | N/A | 3 |
| Endurance(min) | 220 | 180 | 180 |
| Maximum Suction (Pa) | 3200 | 1800 | 2500 |
| Obstacle avoidance type | 360° omnidirectional LDS | LDS | LDS |
As you can see from the table above, the Xiaomi robot vacuum cleaner is above some of its main competitors. Although it is a bit heavier, it is equipped with many features that we mentioned above. It stands out the most in the suction area as it has 3200Pa high suction capabilities.
Additionally, the obstacle avoidance type is pretty advanced – 360° omnidirectional LDS. Moreover, the Xiaomi ROIDMI EVA works with Alexa and Google assistant. The base is also equipped with a smart LED color display screen, allowing you to monitor the cleaning status, and it illustrates all the functions of the self-cleaning and emptying robot vacuum.
The ROIDMI EVA has a mobile application as well where it can automatically save the maps of rooms in your house and set different cleaning modes for different rooms.
Product Competitiveness Score
The Team
Reliability
How capable is the team? Have they developed something like this before? Do they have crowdfunding experience? Manufacturing experience? A lot of campaigns fail to deliver their product because they don't know what they're doing.
The main guy behind the campaign seems to be John Wang, the Roidmi Tech CEO. The Roidmi Information Technology Co., Ltd. has become the Xiaomi Eco-chain enterprise after being invested by Beijing Xiaomi Technology Co., Ltd. in 2015.
Surprisingly, it turned out that ROIDMI focuses on innovative products for cars. However, they seem to focus on cleaning tools, more specifically vacuums. We had a little look at John Wang's previous campaigns; he seems to get some decent backing; however, after checking the discussions/comments, it turned out that many people have been having delivery issues, delays, or missing parts of products. Some even haven't received their products at all! So a bit of a sus situation there with the campaign owner.
Therefore, we recommend that you have a more thorough look at the Xiaomi ROIDMI EVA and check the discussions of Joh Wang's previous campaigns.
Attitude
How transparent are the campaigners? Do they give their backers valuable updates on their progress? Do they engage with their backers? Crowdfunding is all about community, sharing information, and building meaningful relationships with the people who fund your project.
The attitude part does not seem on point. There are some unanswered comments in the discussion section, and many people are angry about certain aspects of the campaign. The page owner is trying his best to respond to the comments and be thankful, but the responses don't seem that lovely or humorous. Also, we're having some trouble understanding the replies. We might be misjudging, but have a look on your own.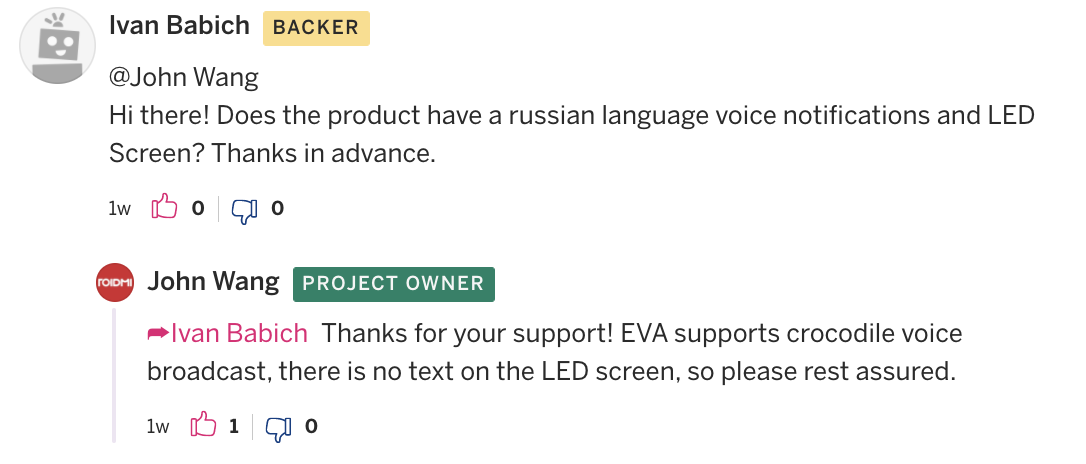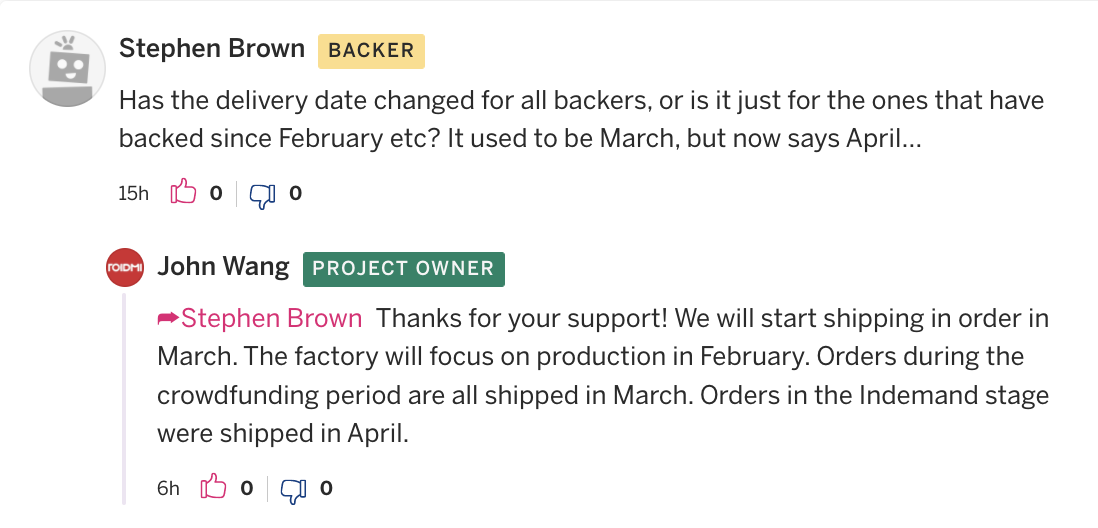 Conclusion & Public Opinion
To sum up, the Xiaomi ROIDMI EVA seems to be a promising product with some interesting innovations and technologies. However, we are a bit unsure if the team
will manage the deliveries on time and leave their backers satisfied. We wish them all the best and hope that everything goes well
TIW Total Score
XIAOMI ROIDMI EVA
XIAOMI ROIDMI EVA