key advantages
Detachable Wodbag
Velcro Loop for Customization
Mobile Phone Magnetic Holder
estimated
delivery
May 2023
Fashion bags are not versatile enough, and gym bags don't look good. Do you relate to this? The creators of Velites Storm also did. And here they are, presenting their complete redesign for fitness gear storage. So fitness bags don't have to look ugly anymore!
Casual, rugged, spacious, versatile, functional enough to carry all your fitness gear, and also with a slick design, the Crossfit freak Matias Hernandez, the CEO and CTO of Velites Sport, wanted to provide you with everything you need in a backpack as an athlete. The result looks really promising.
At Velites Sport they believe that technology and product design can be aligned to help you become a better athlete. So they create innovative products and digital tools to help you reach your fitness goals. Their story began when Matias decided to redesign the whole jump rope concept as he couldn't perform proper double unders with the jump ropes available at the time. He was not alone in struggling with that issue, his idea got backed on Kickstarter giving a start to a project meant to help athletes get fit, have fun and crush their goals.
Now the team of engineers, designers, and fitness enthusiasts is introducing their 3rd product the Velites Storm ultimate fitness backpack. Inspired by athletes, the cross-training enthusiasts did their best for you to avoid facing the problem of poor-quality materials or horrible design.
The Product
Innovation
Is this a truly new product that you can't find on the market? Or this is a product that defines an entirely new product category. In some cases, combining several features into one or introducing a new feature to an old product is also considered an innovation.
Looking for something water-resistant to hold any wet apparel? Also with a laptop or electronics compartment as you're planning on squeezing your workout in between an already jam-packed schedule? With function, room, and ease to fit your lifestyle without sacrificing fashionability? Velites Storm comes to endure the most demanding workouts.
From storing your gear and gym apparel to organizing your things when you're traveling, Velites Storm will become your elegant daily-use backpack while holding everything you need for a successful workout.
The most remarkable feature of Velites Storm is its patent-pending detachable Wod bag. Thanks to the advanced Fidlock and neodymium magnet system you can easily separate it from the main bag and lock it into place with any metal surface. The magnets are really strong and can hold up to 3 kg of gear! Now you can easily access the items you need to crush your workout.
What's more, you can attach your phone to your Wod bag and it'll become your magnetic tripod. So you don't have to ask your gym buddies to help you record your performance. Your Wod bag will hold your phone so you won't risk dropping dumbbells on it.
Use the hidden strap to secure Wod bag and the main bag together. So no one can snatch your little gym buddy. And if you want to take only your Wod bag, you can use its included cross-body magnetic strap. 
It's small but still spacious with 3 wide mesh pockets, so all your workout essentials will fit inside. Moreover, they will stay ventilated and dry. The creators have really thought about every detail. The Wod bag has lateral ventilation systems to control the gear odor as much as possible. 
Don't forget to personalize your Wod bag.  Attach your favorite patches or motivational quotes – make it stand out even more!
Now let's discover the main bag. It seems as impressive as the Wod bag. 
First off, it's spacious. Like really spacious. It'll help you stay organized be it in the gym or on your travels. It'll hold and keep safe any sporting gear you want. 
There are 3 zippered mesh pockets, where you can keep your smaller items. You'll have everything visible at a glance and accessible when needed.
It also has a waterproof internal pocket – ideal for storing all of your soggy swim gear after a long session at the pool. And if you need shoes for your workout, there is a separate shoe compartment and an expandable bonus packet with storage space for up to 2 pairs of workout shoes. 
You also need to take your foam roller, weightlifting belt, or jump mat with you? No worries! Take out the 2 hidden top straps, adjust them and that's it, ready to go. 
Velites Storm comes with a lateral strap system to ensure your sweaty workout gear is well-ventilated and open to the fresh air outside the backpack. Your gym stuff won't smell for weeks anymore if you accidentally forget your backpack in the car for a few days.
Do you still remember the day when you spilled your protein shake in your bag? With Velites Storm you have an integrated bottle holder with a magnetic closing. It'll firmly hold your bottle, so you won't have unpleasant surprises anymore.
What else do you need? A soft, anti-scratch environment for your sunglasses? A place to keep your keys or other everyday stuff that needs easy access? Also, a pocket to hide your critical valuables, inaccessible to thieves? Yes, the details matter! And with its "daily pocket", "easy access pocket", and "safe passport travel pocket" this bag got your back.
Velites Storm also offers you a cushioned, and waterproof laptop pocket, that can hold any laptop up to 17 inches. So it'll keep your laptop safe when you make your way through the hustle and bustle of your work commute. Moreover, with its ergonomic straps, you won't arrive at your office peeling the bag from your shoulders. And if you need to have your keys or sunglasses ready at any time you can simply use the included straps. 
Velites Storm is available in 2 fabrics. The first is the plain black option made from 100% recycled PVC with a water-resistant matte finish. Although this option has one of the best-coated nylon fabrics, the creators decided to go even further with the second option. So they made it for the most demanding athletes with the best fabric available: the premium Duradiamond. 
Both versions are waterproof and made out of environmentally friendly fabrics. And no matter how hard you're on your Velites Storm it will serve you for years and years due to its premium stretching and tough fibers.
Competitiveness
How much better is it than the competition? Is it faster? Bigger? Cooler? More affordable? There needs to be a solid reason why you should back this project over any other.
Water-resistant, elements-resistant, lightweight, spacious, and durable – this fitness backpack got the essentials to become your new everyday bag. It's professional enough to accompany you to your work and functional enough to endure your workouts. 
But what makes it stand out in a competitive market? 
The most iconic feature of Velites Storm is its patent-pending detachable Wod-bag with its magnets. It's really well thought out and brings the organization of your backpack to another level. But wait! There's more. You can make your Velites Storm even more organized. 
You can magnetically attach a configurable internal divider to the main bag and arrange your gear the way you want. It has 3 modular compartments and 2 big lateral compartments.
And if you need a separate bag for your toiletries you can get the toiletry bag, again magnetically detachable. 
Surely, in the absence of high quality, all these cool features would be meaningless. The team behind the Velites Storm is aware of it. The company is ISO-certified to ensure that every product they provide conforms to the highest quality standards, from the development phase all the way through production. Velites Storm is made of the most trusted and resistant materials on the market, so you can rest assured that it'll last a long time.
Product Competitiveness Score
The Team
Reliability
How capable is the team? Have they developed something like this before? Do they have crowdfunding experience? Manufacturing experience? A lot of campaigns fail to deliver their product because they don't know what they're doing.
People at Velites are athletes themselves, so every project they develop is designed to solve the problems that fitness enthusiasts face. 
Over 10,000 happy customers worldwide have received high-quality workout equipment from them in the last few years, including the Earth 2.0 Jump Rope and Ultra Hand Grips from their previous Kickstarter projects.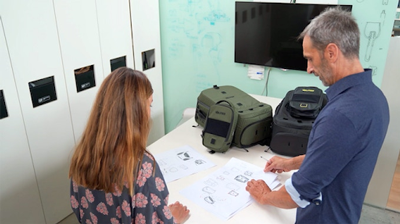 Their products can be bought on their website, which is really easy to navigate. You can find all the information you need about their company, products, as well as their apps. As a customer, you'll definitely appreciate the user-friendly interface and the simplicity of their website. Buying their products won't be a problem, as they're also available on Amazon. 
Aside from their website, they are active on their social media channels ( FB, Instagram, Twitter, YouTube), especially on Instagram with 34.7K followers. Check it out, their content is really cool and useful. Not to forget about Linkedin. Seemingly, people in Velites are really proud to be a part of the company.
Attitude
How transparent are the campaigners? Do they give their backers valuable updates on their progress? Do they engage with their backers? Crowdfunding is all about community, sharing information, and building meaningful relationships with the people who fund your project.
With 9 days to go, Velites Storm has already raised over $180k surpassing its $10k goal. 
Being already experienced campaigners, the creators are transparent, clear, and honest with their backers. They are constantly providing updates, sharing news, and promptly answering comments.
Moreover, they organized polls and asked their backers to select their favorite Velites Storm backpack color for both recycled PVC and Duradiamond versions. Based on the results they added new Stretch Goals! 
Based on the comments, we can tell that the supporters liked the previous products of Velites and are impatient to have the new one.

Conclusion and Public Opinion
With optimal storage solutions, handy compartments and high-quality materials Velites Storm combines functionality with aesthetics. 
Whether going to the daily grind at the gym or looking ahead to an active weekend break, this revolutionary backpack is robust, stylish, and practical enough to keep pace with your fitness ambitions.
TIW Total Score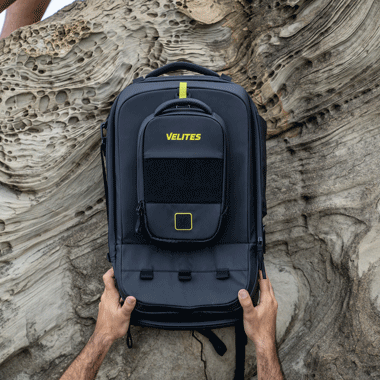 Velites Storm
Velites Storm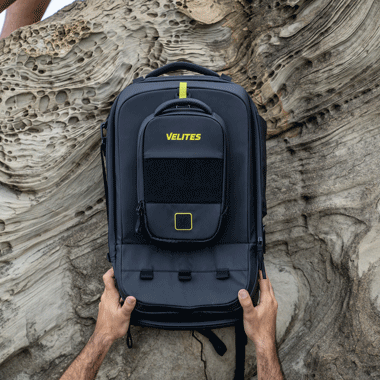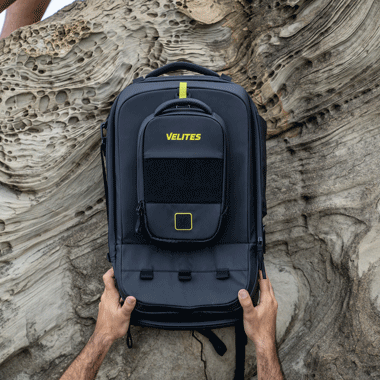 Limited time offer
d
·
: :