key advantages
Ultraslim Design
MagSafe compatible
Internal 1160mAh Li-Ion battery for 8 hours of continuous Hi-Fi playback
High-Resolution Bluetooth Audio
estimated
delivery
March, 2022
For all y'all who don't know what a DAC is: it's basically like one of those add-ons you put on your water hose to make the water spray nicely – but for sound.
See, your phone sound sucks. Yes, even the sound that goes through your $400 headphones. The problem is that the music is stored digitally but has to be converted to analog for your ears to hear it. But that is a huge conversion load for your phone to handle.
No matter how good your headphones are, your phone simply can't send out enough of those sweet music bytes (or whatever) without a device that translates it perfectly.
I know it sounds like a scam that Khadas made "some magic $160 portable headphone amplifier device that can maximize your listening experience" but trust me – DACs are legit. But none of the existing ones are specifically designed for phones.
…
So is anyone gonna try and solve this? Yes. Am I writing a review of this portable amplifier now? Yes. Do I secretly have a crush on Emma Watson? None of your business…
The Product
Innovation
Is this a truly new product that you can't find on the market? Or this is a product that defines an entirely new product category. In some cases, the combination of several features into one or the introduction of a new feature to an old product are also considered to be an innovation.
We've seen many like it. DACs are cool, and it seems like they are steadily rising in quality as there is a growing demand. I really appreciate that more people are getting into upgrading "their sound experience" on their devices themselves instead of trusting the big smartphone producers that say they have the best sound ever integrated (which is rarely true). 
The Khadas portable headphone amplifier takes a concept that works well already and tailors it to the modern smartphone user. Specifically, if you have an iPhone 12, this DAC will look stunning on the blue back cover. 
They didn't reinvent the wheel as far as I know, but they sure did think of a great way of upgrading the good and necessary-for-the-audiophiles technology found in traditional DACs by connecting it to apple and android devices, making it attach to your phone, and making it turn to horizontal or vertical mode. 
What they are doing is turning the bulky, ugly, and huge traditional DAC systems into a beautiful but affordable solution for the modern audiophile. 
Remember, as the product is currently in the crowdfunding phase, I haven't been able to get a hold of one myself, so my review is strictly based on a lot of competition research, my own knowledge, and the concept they have brought forward. If you're wondering if you can trust them, scroll on down to the reliability section or join me for a competitiveness analysis just down below. 
Competitiveness
How much better is it than the competition? Is it faster? Bigger? Cooler? More affordable? There needs to be a solid reason why you should back this project over any other.
| | Tea | Chord Mojo | Audiolab M-DAC Nano | iFi hip-dac |
| --- | --- | --- | --- | --- |
| Price | $160 (KS price) | $567 | $150 | $169 |
| Size | 0.95mm x 64mm x 6/8mm (depending on model) | 22 x 60 x 82mm | 44 x 44 x 14mm | 14 x 7 x 102mm |
| Weight | 73,5 grams 0,16 pounds | 181 grams 0,4 pounds | 28g 0,062 | 125g0 28 pounds |
| Sampling rate | USB 32bit 384KHz @PCM, or Native DSD 256 Bluetooth 24bit 96KHz | 32bit/768kHz PCM, DSD512 | 32-bit/384kHz | PCM (up to 384kHz), DXD (up to 384kHz), DSD (up to 256kHz), MQA |
| Battery life | 8 hours | 10 hours | 8 hours | 6 hours |
| Bluetooth | ✅ | ❌ | ✅ | ❌ |
| Attachable to phone | ✅ | ❌ | ❌ (but very small) | ❌ |
| Design | Beautiful | Like a 1990 guitar tuner | Good | Beautiful |
| Mag Safe compatible | ✅ | ❌ | ❌ | ❌ |
There are a lot of specs to go into detail with down below. To summarize and clarify, I'll say that the Tea lies at a comfortable price point, with very low weight, is very beautiful, and has standard battery life. One of the core strengths of this portable headphone amplifier is its Bluetooth capabilities which you won't find in all DACs out there, and the simple-to-use nature of the product. 
Certainly, there are weaknesses. I cannot assess the audio quality as I do not have the product in front of me – so a considerable portion of what would be considered the most critical part of a review about an audio device I cannot provide. Without being too demotivated by it, remember that crowdfunding is an amazing tool to let creators make products in collaboration with their biggest fans and to get a good audience of backers early. But there is always a risk of products not being as good as they were promised – especially after the product has gone through the notoriously difficult mass manufacturing process.
From what I see, the unique selling point of the Tea is that it is stylish, lightweight, and easy to use, all while keeping the central points of a good DAC. 
Product Competitiveness Score
The Team
Reliability
How capable is the team? Have they developed something like this before? Do they have crowdfunding experience? Manufacturing experience? A lot of campaigns fail to deliver their product because they don't know what they're doing.
Now to the fun part. 
Having received an average of 4,45-star amazon rating from a total of 138 reviews from their two previous products, Tone 1 and Tone 2, I can comfortably say that Khadas can produce and mass manufacture high-quality audio products. 
As a reviewer, it is incredibly important for me to have something solid to base my review on. Many crowdfunding campaigns are by first-timers who have no credibility or experience in making products, so having good past experience with happy customers is key. 
Being based in Shenzhen, China, is a very good thing in many aspects. ​​Shenzhen is famous for being the tech mass-manufacturing hub of the world, and a lot of new technologies are created there. Many crowdfunding products actually get mass-manufacturing deals with producers in Shenzhen so being part of that environment lets the team know what tech is already being produced and what has never been done before. 
A huge difficulty for first-time crowdfunders is that their products are often ripped off by manufacturers in Shenzhen. It is, therefore, super important to have all the legal rights to the products you create. Since Khadas has successfully launched products from there before, I am sure they also have their copyright protection in order for the tea portable headphone amplifier. This means that you won't find out in a year that someone else has made the same product for cheaper. 
Attitude
How transparent are the campaigners? Do they give their backers valuable updates on their progress? Do they engage with their backers? Crowdfunding is all about community, sharing information, and building meaningful relationships with the people who fund your project.
Another great way to understand a campaigner is to read their responses to comments and their engagement with the backer community. 
From what I see, Khadas answers in a timely manner (within a couple of hours) with super professional responses that are polite and to the point. They weirdly enough start many of their comments with "yep" instead of "Hi [name]." But that's a minor detail not really worth mentioning. 
From the 3 updates they have written, I cannot necessarily judge the quality of their communication related to updates on the product quite yet. The fact that they write out to their community to celebrate the launch and they made a referral program is good news. 
They also have a forum called "Khadas Community," where they write updates, answer questions, and share info about the product. Though it is not a Facebook group (which is more convenient, in my opinion), it still seems like it has good engagement on there. Good job, Khadas!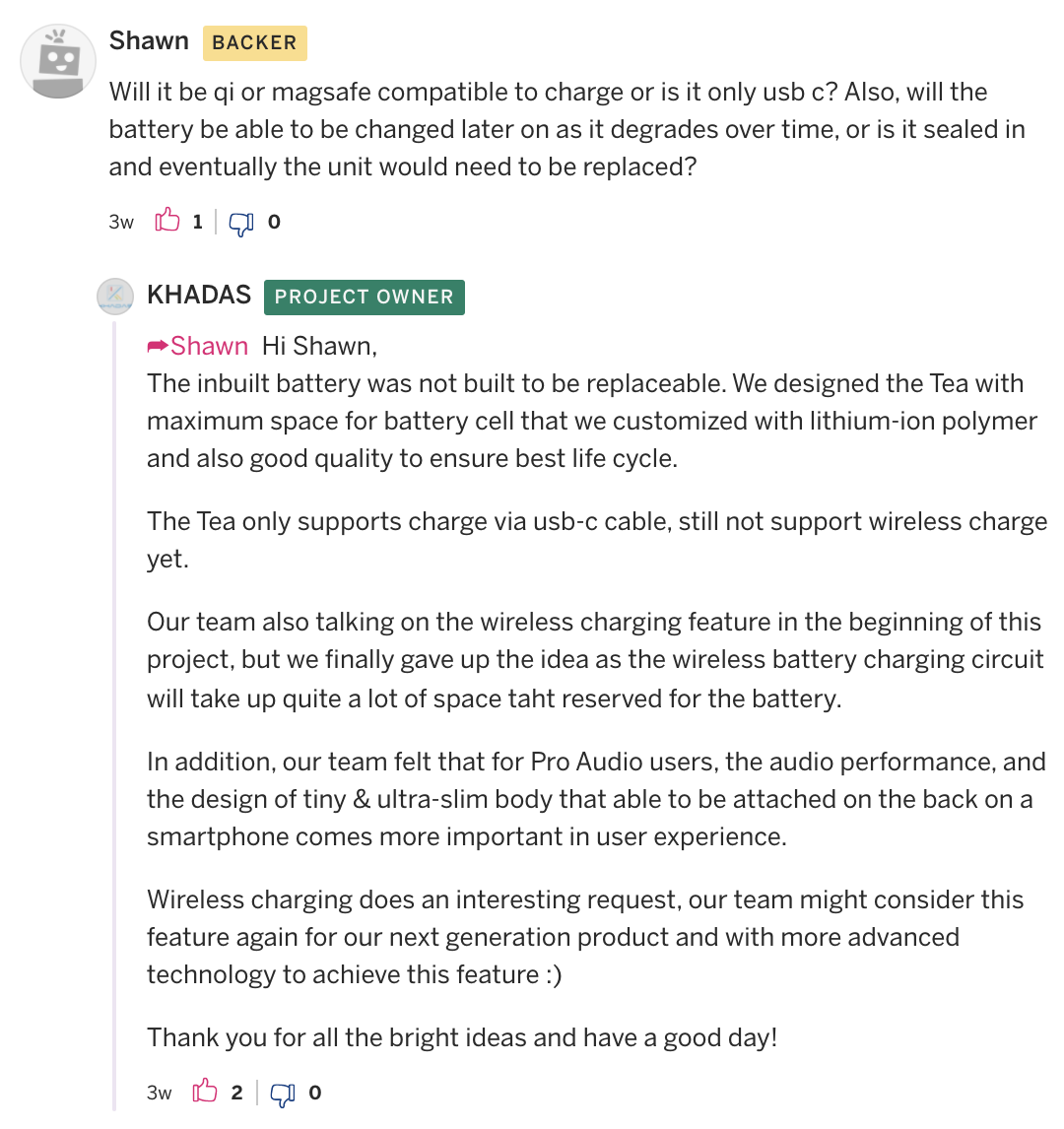 Conclusion & Public Opinion
Being a modern, fresh take on the traditional DAC, the Tea Ultra-slim Hi-Res Headphone Amplifier from the new-but-respectable Khadas brand seems like a project that can be very successful and give the Khadas team a new placement in the global market. 
With a really well-developed product that fits a unique spot in the global competition, the Tea has a bunch of highlighted features such as usability, price, and design that sets it apart from other DACs. 
Especially if you are an iPhone user, the Tea portable headphone amplifier will compliment your phone very well. 
Khadas had two previously successful projects related to sound technology, and it seems they are on a good path to making a very impressive product that many will like. 
I would trust that this product will ship as they have experience in mass manufacturing and have received great comments and support from their previous products. 
TIW Total Score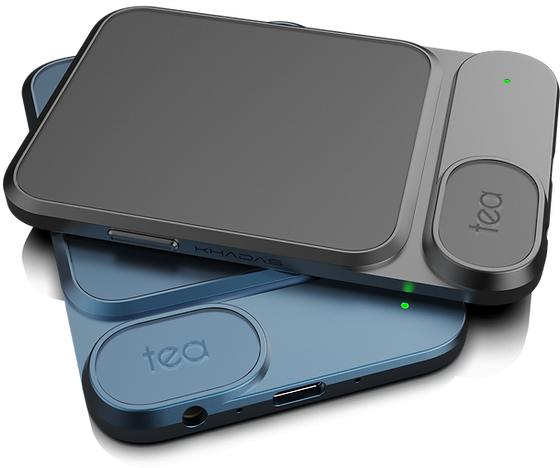 Tea' Ultra-slim Hi-Res Portable Headphone Amplifier
Tea' Ultra-slim Hi-Res Portable Headphone Amplifier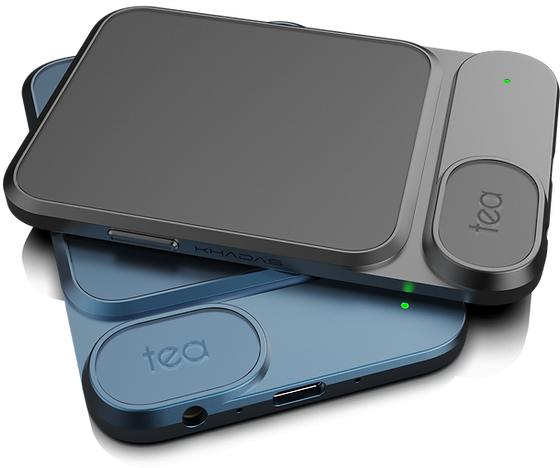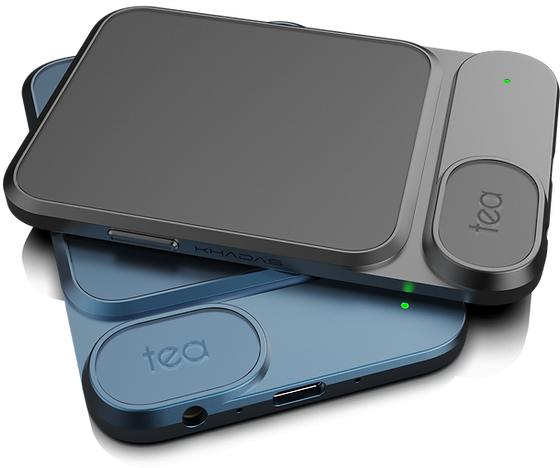 Limited time offer
d
·
: :