key advantages
Quick and Easy Installation
A Hot Water Hug
Water Valve Control
estimated
delivery
January 2023
Are you one of the rockstars fresh off the shower? 
Singing in the shower is amazing. What about singing with the person you love?
Indescribable! As the saying goes, happiness is only real when shared.
So now, dual showering can be more like what you see in the movies and not the reality that we all know.
No more standing in the cold, while your partner is enjoying the hot water. No more perilous side-switching. And all these thanks to the Tandem Shower by Boona. The name speaks for itself: dual shower head allowing you to shower in tandem with your partner.
Brett Skaloud and Jeff Feiereisen, two engineers who met while working at Amazon, designed the Tandem Shower in early 2021. They both worked on some of Amazon's most cutting-edge technology, with a particular focus on assisting with the launch of the company's cashier-less Amazon Go convenience stores. The engineers have now founded their own company, Boona, with the first product being a dual showerhead called Tandem Shower. So no worries, it's not an Alexa showerhead.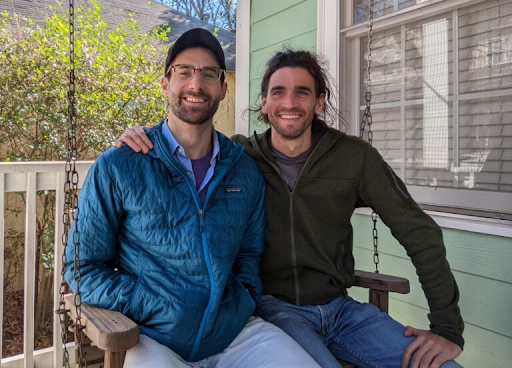 From their own experience, the founders know what it means to feel guilty about being a warm water hog or to be stuck in the cold all the time holding all the different shampoos and whatnots.
And for installing multiple showerheads you might need to dip into your piggy bank.
After doing some quick research, the two engineers were surprised that a simple, low-cost solution had not yet been mass-produced. As a result, they created a rapid prototype and discovered that it delivered an excellent experience.
The Product
Innovation
Is this a truly new product that you can't find on the market? Or this is a product that defines an entirely new product category. In some cases, the combination of several features into one or the introduction of a new feature to an old product are also considered to be an innovation.
Multiple showerheads are an upmarket feature that some bathroom remodels are now including to give the room a more opulent feel. Moreover, several showerheads can make showering faster, make it easier to clean the entire body at once, and allow a couple to shower comfortably at the same time. 
However, they not only increase comfort, but also the monthly water bills. Not talking about plumbing and bathroom remodel costs. 
According to the engineers, the installation of the Tandem Shower is simple and does not necessitate the hiring of a plumber or contractor. To use the Tandem Shower, you just need to extend it until it fits snugly between your walls, then attach the hose, valve, and showerhead. You may even use your existing showerhead, the Tandem Shower is also compatible with other showerheads, including handhelds. However, they suggest using their custom-engineered showerheads on both sides for the best experience.
What's more, if you ever break up with your partner, reversing the installation is as simple as installing it. But wait, what's the hurry? Your Tandem Shower got your back! And also your front. You'll enjoy the dual shower head system even when you shower alone. The Tandem Shower provides a more immersive experience by quickly warming you up and keeping you there with covering on both sides. Furthermore,  thanks to the insulated hose you will get the same temperature out of each showerhead. In effect, you will have doubled the warm water area in your shower. You'll love that warm hug.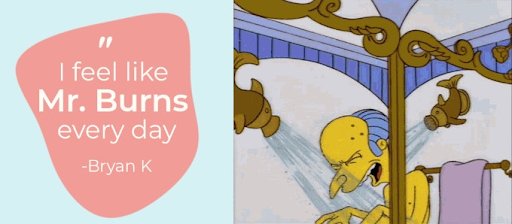 To offer an outstanding experience when used in tandem, Boona examined over 50 showerhead designs and custom-created their solutions. 
The tandem shower head optimizes water pressure and prevents water from dripping out. The showerheads offer three different settings: full-body spray, power spray, and high-velocity spray. The Tandem Shower's high-velocity setting generates nearly twice the force of standard showerheads, providing all the thick-hair-rinsing power you'd expect, but with twice the coverage.
This shower with 2 heads uses less water than two separate showers. As a result, taking a shower together will not only allow you to bond with your partner in a unique way, but will also help you save time, water, and money. So just soap off, raise your hands, spin around and that's it, you're done! 
Moreover, the Tandem Shower has a flexible hose that enables easy installation with plenty of room. Also, with this dual shower head system, showerheads that fit partners of various heights are now available. Taller people can now use a showerhead that is considerably higher than their main showerhead. 
What's more, you can find the perfect balance in the shower. The flow between the two showerheads can be adjusted using the custom-designed valve. With this, soaping up becomes a lot easier.
Thanks to the range of motion on the showerheads, you and your partner will have enough space to comfortably shower together. Your Tandem shower will also cover you head-to-toe in your solo shower.
However, there are some requirements that you will need to follow. 
First off, although the Tandem Shower can be used with standard bathtubs or shower stalls of similar size, the wall-to-wall spacing must be between 57″ and 76″. Furthermore, the Tandem Shower mounts to the walls using pressure, so the walls must be robust. And last but not least, the shower arm must come from one of the sidewalls, instead of the ceiling or back wall. 
Competitiveness
How much better is it than the competition? Is it faster? Bigger? Cooler? More affordable? There needs to be a solid reason why you should back this project over any other.
The Tandem Shower by Boona is going to be the first of its kind shower with 2 heads. That said, there are no direct competitors in the market. 
While the retail price for 1 Tandem Shower is $349, the Kickstarter special is $249. You can save more if you order 2 or 10 before it sells retail. Custom packages for higher quantities are also available. 
Even though you can easily find dual shower heads with one rain shower head and one hand shower for $30, the experience will be completely different from that of a Tandem Shower.
Although the Tandem Shower comes with one showerhead, you can add another and have an optimal shower experience when using both at the same time (or you can use your existing showerhead). As mentioned previously, you can control the distribution of water by adjusting the flow between the two showerheads with the valve. And most importantly, you and your partner will have enough space to shower comfortably, while also enjoying each other's presence. 
Moreover, the beta customers claim that the installation process of the Tandem Shower was so easy they did it by themselves. This is a remarkable competitive advantage, isn't it? The other showers require a plumber, whether it's about upgrading the shower you already have or installing a new one. 
What's more, if one day you decide to move, you can effortlessly take your Tandem Shower with you. 
"I love that I can move with it and set it up easily" – Anna T, beta customer 
Nonetheless, keep in mind that your bathroom must meet the requirements of this dual shower head system: the wall-to-wall spacing, the shower arm placement, and the sturdy walls.
Product Competitiveness Score
The Team
Reliability
How capable is the team? Have they developed something like this before? Do they have crowdfunding experience? Manufacturing experience? A lot of campaigns fail to deliver their product because they don't know what they're doing.
Aiming to help people enhance their relationships, Boona provides its first product, the Tandem Shower. With the two shower heads in one shower being their first step, they are constantly brainstorming new ideas to develop new ways of bringing people closer together.
Boona is highly prioritizing quality, reliability, and safety. With its premium materials, the Tandem Shower is designed to last. Finite Element Analysis provided Boona with a cost-effective way to reduce weight while limiting stresses in the components. The result was an enhanced design with greater strength and durability.
The founders are proud to announce that the Tandem Shower is pending several patents and trademarks.
What's more, Boona requires its vendors to meet stringent finish and quality standards, and they ensure that each manufacturer is ISO 9001 certified. Also, throughout the manufacturing process, they will undertake a thorough process and reliability testing.
Safety is Boona's primary concern. They will test the Tandem Shower against the UL 21-2IC protocol, which includes practical use, static load, and slip resistance testing, to verify it achieves a secure pressure mount to the walls. 
The Tandem Shower will be certified to meet all US laws, including ASME A112.18.1 requirements, as well as WaterSense certification for states and localities with more stringent flow restrictions, such as California.

Boona will do this by installing top-of-the-line Neoperl flow regulators in each showerhead, which will reduce flow loss for people who currently have low pressure in their homes.
At Boona, they place a premium on minimizing the Tandem Shower's environmental impact. To decrease their environmental impact, they have only chosen factories that are ISO 14001 certified.
Moreover, Boona thoroughly evaluated its supply chain to ensure that the vendors they work with also meet their ethical standards, such as worker safety, non-discrimination, and the ban on child labour and forced labour. 
They conducted remote factory audits to complete the vetting process, reviewing production capabilities, quality processes, and working conditions. Furthermore, they used Design For Manufacturing (DFM) testing, business licensing, production assessments, and supply chain expert consultations to assess proficiency.
Having a large portion of its supply chain in China, Boona is reducing supply chain risks by using duplicate sources in Vietnam, Mexico, and the United States. 
Boona has its pages on Instagram and Twitter. They are constantly providing updates by posting funny and engaging content.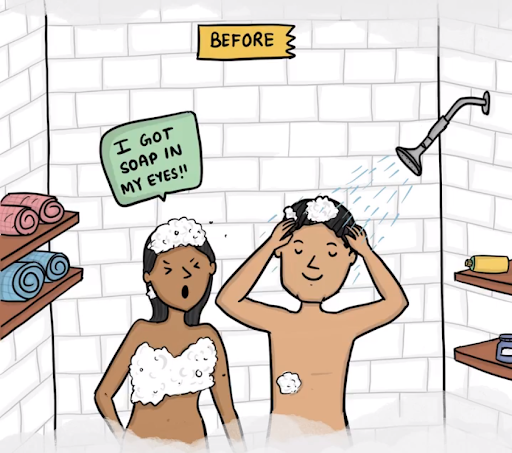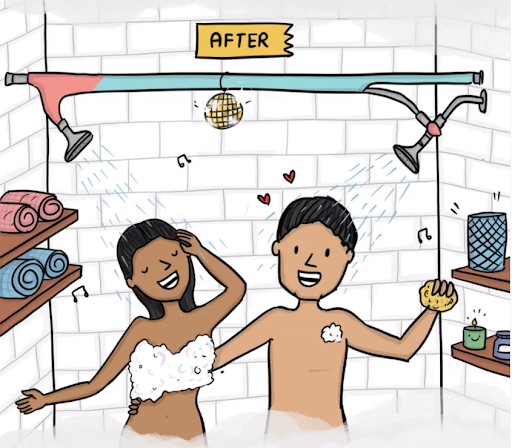 Attitude
How transparent are the campaigners? Do they give their backers valuable updates on their progress? Do they engage with their backers? Crowdfunding is all about community, sharing information, and building meaningful relationships with the people who fund your project.
With 10 days left to back the project, the Tandem Shower Kickstarter has already raised over $500,000, surpassing its $10,000 goal. 
The campaign was launched on the 12th of March and will last till the 17th of May. Here is the funding progress on Kickstarter.
Although being a first-time campaigner, Boona manages to communicate effectively. They are quick to respond and answer all the comments. They address personally and clarify all the confusion.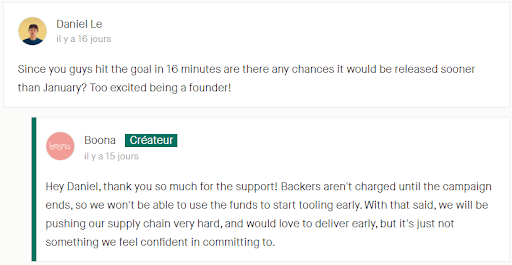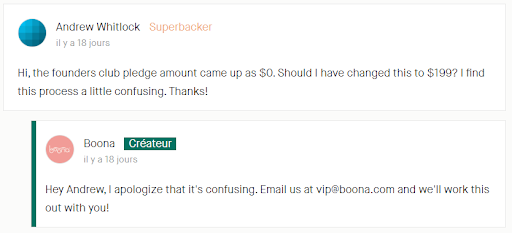 Boona values customer satisfaction and is willing to do its best to provide a luxury shower upgrade at an affordable price. 
The founders of the Tandem Shower had their first press interview with Geekwire. The article "Ex-Amazon engineers put heads together to create "Tandem Shower" and raise $525K on Kickstarter" by Kurt Schlosser was published on the 22nd of April. 
"It's incredibly wonderful to be able to have creative flexibility and drive the product," said Brett. However, having "unlimited money" at Amazon made things easier, and working on high-tech projects was appealing. 
"It's fascinating to go from really sophisticated electromechanical devices, cutting-edge work that took many years, thousands of people, and billions of dollars… to this," Jeff said.
As part of their journey, the two men have discovered that not everything is as straightforward as it appears. For this project, the engineers have had to learn a lot about marketing, advertising, product design, how to communicate with customers, and how to work with directors and actors to make a video. 
"If anything, we've learned a lot about starting a business," Jeff said. "Even if nothing else comes of it, other than a huge amount of empathy and a great experience, we will be pretty stoked. However, so far it seems that there might be a real business here."
Conclusion & Public Opinion
First off, Boona crossed its funding goal in only 16 minutes. Impressive, right? 
Moreover, Kickstarter's editorial team awarded them a "Projects We Love" badge. 
And most importantly, Brett and Jeff were taken aback by the campaign's success, which came with only 24 days of crowdfunding left. A TikTok video featuring the device as part of a "genius companies" series has racked up over 6 million views.  And it was not an ad. The ones who saw the video loved this shower with 2 heads.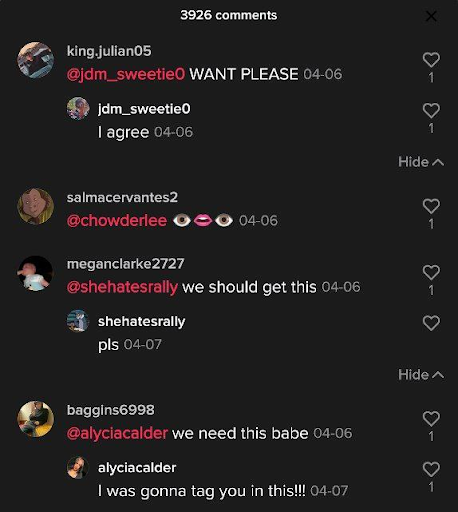 With its innovative design, the Tandem Shower brings the double shower head attachment system to the next level. 
This remarkable showerhead eliminates all complications associated with sharing a shower space, ensuring that you never run out of hot water before you've finished showering. Not only that, but you'll save time, water, and money as well.
So with your Tandem Shower, you will never have to face your shower thoughts alone anymore.
TIW Total Score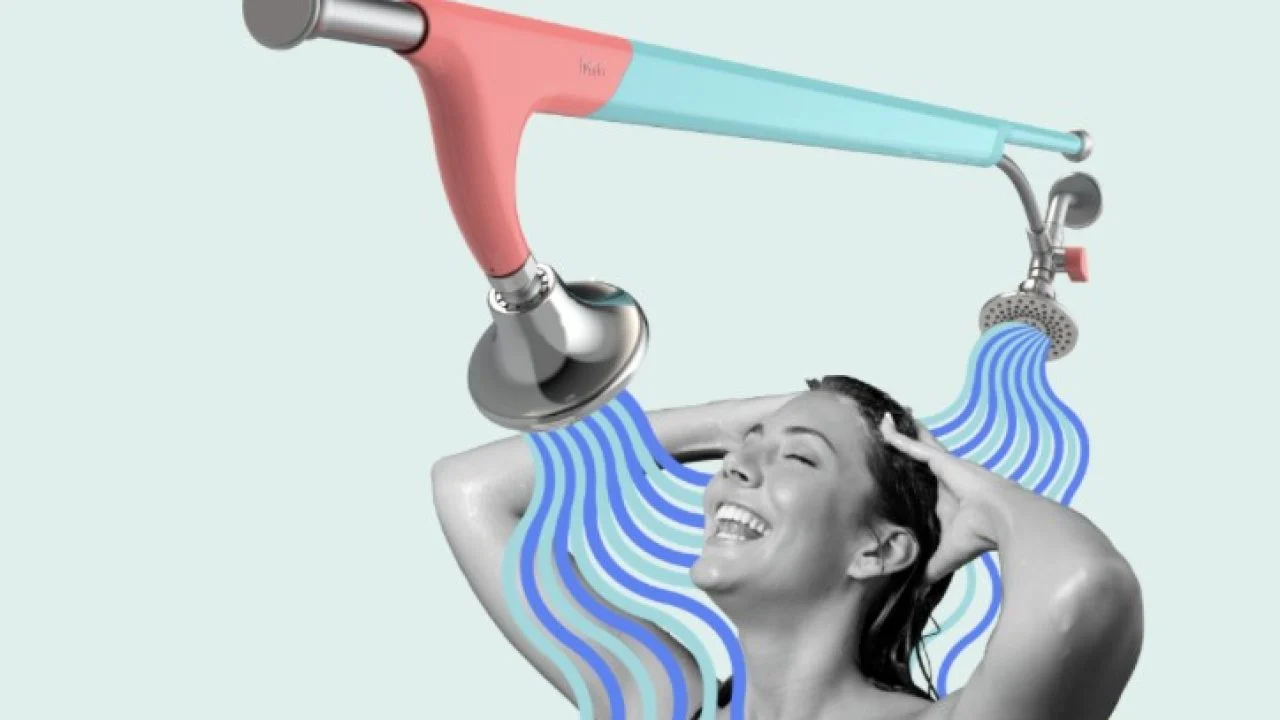 Tandem Shower by Boona
Tandem Shower by Boona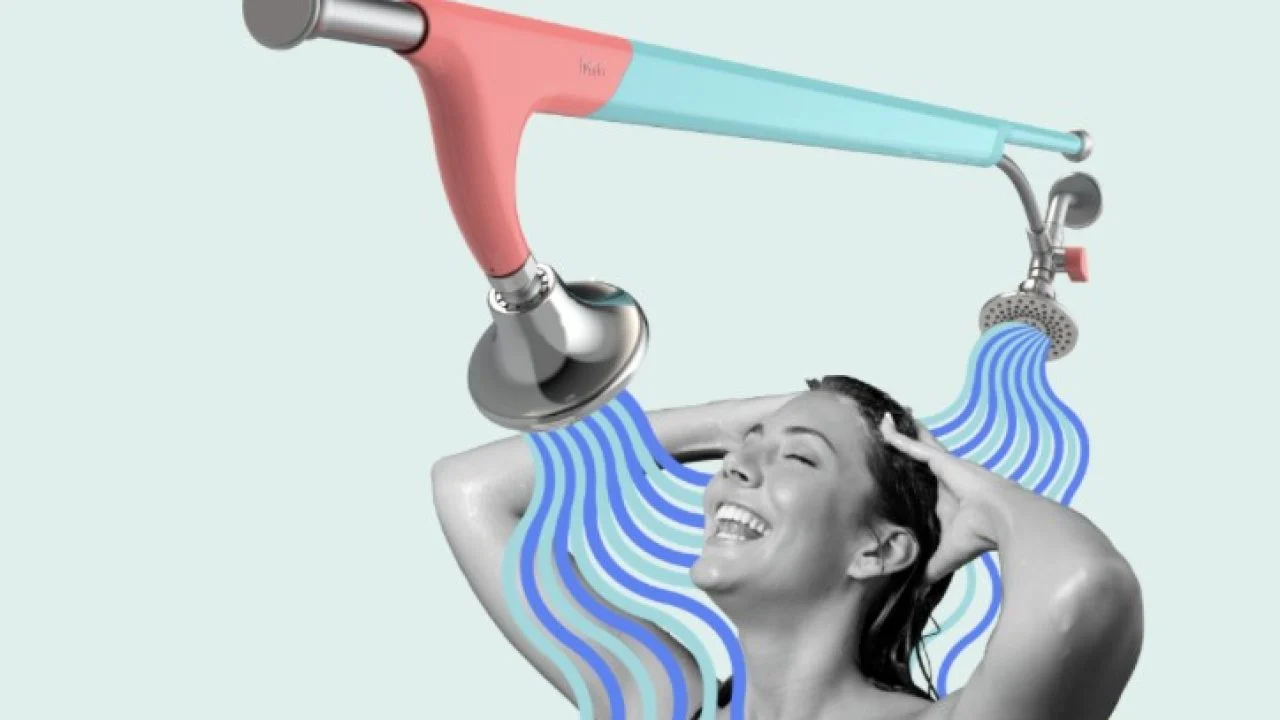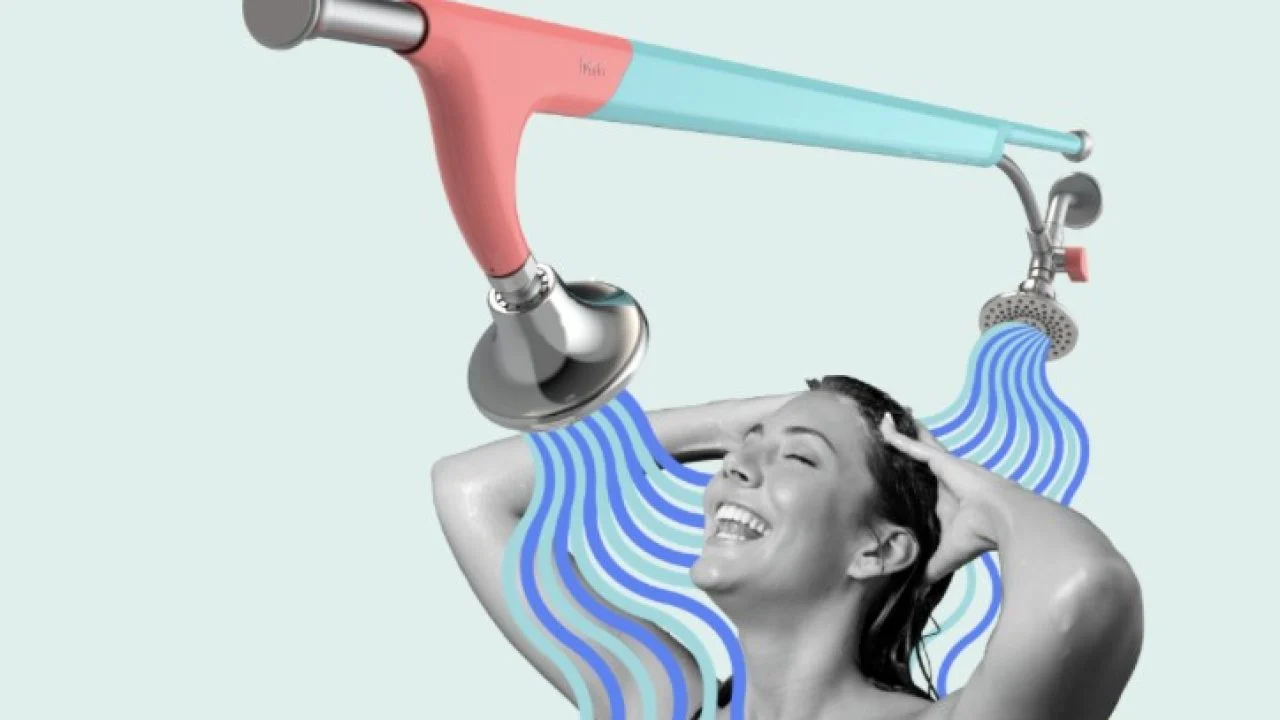 Limited time offer
d
·
: :