key advantages
Magsafe-compatible
Works with iPhones and Androids
8,500 mAh total capacity
2x USB-C ports
estimated
delivery
August 2023
Say goodbye to the days of being tethered to a wall socket or weighed down by heavy power banks – the era of all-day, on-the-go charging has apparently arrived. Sparkee is here to help you forget about low battery anxiety!
Sparkee is not just another wireless charger – it seems to be a true game-changer. While wireless charging technology has been around for some time, Sparkee takes it to the next level. Its innovative patent-pending design packs a punch offering you a combination of convenience and power. Sparkee gives you the freedom to power up your devices in multiple ways and multiple times. So with Sparkee you'll enjoy a completely wire-free experience like no other.
Sparkee is born out of Kyla's passion for wireless charging and her frustration with inadequate chargers. To create a product that truly delivers on its promises, she partnered with Speck Design, the creators of the popular PopSocket. The end product is a beautifully designed wireless charger that seamlessly blends style and function.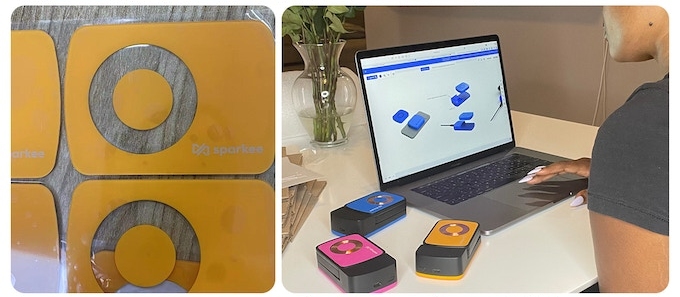 Kyla has experienced the stress of constantly worrying about the battery life of her devices firsthand. And it's this shared struggle that makes Sparkee so special. With this charger, you don't have to put your phone down to charge it and potentially miss out on capturing unforgettable moments.
The Product
Innovation
Is this a truly new product that you can't find on the market? Or this is a product that defines an entirely new product category. In some cases, combining several features into one or introducing a new feature to an old product is also considered an innovation.
What lets Sparkee provide more battery power than other portable wireless chargers is its innovative two-part charging system. So if you're tired of your phone running out of battery life right when you need it the most, then Sparkee seems to be the solution you've been waiting for!
Up until the creation of Sparkee, wireless chargers were typically one-piece units that had to be plugged into a wall, which limited mobility when charging. The Sparkee's charging system is made up of two parts – the Puck and the Base. 
The Puck is a wireless charger, which can be easily attached to your phone using MagSafe or a disc. The great thing about the Puck is that it also comes with a USB-C port. So, if you need to charge your device in a traditional way, you can do that too! Sparkee is all about having options and flexibility with your charging needs.
The Base is where the Puck recharges. It plugs into the wall and also features a USB-C port, for you to charge another device as well.
So the coolest thing about Sparkee's two-part charging system is that it allows you to charge two devices simultaneously. No worries when you're out with your friend and both of your phones are about to die. One of you can charge wirelessly using the Puck, and the other can charge traditionally using the USB-C port.
Additionally, the creators of Sparkee took into account the high visibility of the charging puck and balanced form and function by reconciling the design concept with the constraints of charging technology.
Sparkee not only adds the convenience of portability to charge, but it also looks and feels innovative. This power bank comes in three bold colors and is incredibly low-profile to fit the modern aesthetic.
Competitiveness
How much better is it than the competition? Is it faster? Bigger? Cooler? More affordable? There needs to be a solid reason why you should back this project over any other.
| | Sparkee | Casely: Power Pod |
| --- | --- | --- |
| Charge Multiple Devices at Once | ✓ | |
| Magsafe Compatible | ✓ | ✓ |
| 2 Full Charges | ✓ | |
| Charge Wirelessly and Portably Simultaneously | ✓ | |
| Fun Colors | ✓ | ✓ |
| 2 Year Warranty / Guarantee Satisfaction or Money Back | ✓ | |
| Rechargeable Base | ✓ | |
| Magnetic Non-Apple phones | ✓ | ✓ |
| LED Battery Life Indication | ✓ | ✓ |
| Price | launch price $89 | $60 |
Wireless chargers are nothing new. Maybe you already have one. So what unique features and benefits set Sparkee apart from other wireless chargers? What new does it bring to the table? 
To start with, Sparkee's wireless charging pad, also known as the Puck, provides a truly wireless charging experience. It can charge any wireless charging-capable device, whether attached via MagSafe, disc, or simply by placing the device on top. And the best part? Once you're done using the puck, just place it back into the base and it will automatically recharge, giving you an extra charge. So the limitations of portable wireless chargers with just one charge are a thing of the past. With Sparkee, you'll never have to worry about running out of battery. It moves with you and looks sleek and aesthetically pleasing cuddled up to the back of your phone.
Moreover, Sparkee offers a 2-in-1 self-charging system, meaning you can use it to charge your devices not only wirelessly but also traditionally with a fast-charging USB-C cable, depending on your needs. This versatility makes Sparkee a highly adaptable and convenient charging solution that caters to a variety of charging preferences and lifestyles. So whether you need a quick charge before heading out or a full charge while you're on the go, Sparkee got you covered.
In a world that is constantly connected, it's no surprise that you'll need to charge multiple devices at once. Our phones, tablets, and other gadgets are our lifelines to the world, and we can't afford to let them run out of power. That's where Sparkee comes in – it's not just a wireless charger, but a powerful charging hub that offers a range of charging options to keep all your devices powered up. 
Along with being MagSafe compatible, Sparkee also comes with a disc that makes the wireless charging pad fit on all phones, expanding its range of compatibility even further. And with 2 USB-C ports, the charging possibilities with Sparkee become limitless. So it's the right time to ditch the tangled mess of chargers and embrace the convenience of Sparkee.
Product Competitiveness Score
The Team
Reliability
How capable is the team? Have they developed something like this before? Do they have crowdfunding experience? Manufacturing experience? A lot of campaigns fail to deliver their product because they don't know what they're doing.
Sparkee's Kickstarter campaign appears to be a promising venture, despite the fact that it's creator Kyla Wilkinson's first campaign.
The fact that Kyla has partnered with Speck Design, the company behind the popular PopSocket, to bring her vision to life is certainly reassuring. Moreover, Speck Design has featured the project on their LinkedIn and Behance with a post that boasts about the project's success, calling Sparkee 'the new it girl' of wireless technology. This public endorsement from Speck Design shows their confidence in the product's success.
What's more, the attention that Sparkee has received from Essence magazine, a publication that focuses on inspiring and supporting women, is a positive sign. The article highlights that Sparkee is created by a black-woman-owned tech company and that its two-part charging system is unique, providing greater portability. The endorsements from such a reputable source certainly add credibility to the project.
Overall, while this is Kyla Wilkinson's first campaign, the involvement of Speck Design as well as the attention from Essence magazine suggest that Sparkee is a promising and innovative product that has the potential to be a success.
Attitude
How transparent are the campaigners? Do they give their backers valuable updates on their progress? Do they engage with their backers? Crowdfunding is all about community, sharing information, and building meaningful relationships with the people who fund your project.
The Sparkee campaign is absolutely killing it! With a massive $24,000 already raised and 17 days left to go, it's safe to say that the campaign has displayed a highly engaged and positive attitude towards its backers. In fact, the campaign was fully funded within 24 hours of launching – a clear sign of the excitement surrounding this unique two-part charging system. 
Moreover, the creator has been responding promptly to the comments and questions of her backers. Sparkee also has a Facebook page that is regularly updated with news and information about the product, allowing backers to stay in the loop and remain engaged with the campaign.
Conclusion
Sparkee is a solution designed by someone who understands your charging woes. This innovative and exciting product has all the potential to make waves in the wireless technology world. With its two-part charging system, you will get more portability and flexibility than ever before. So, if you're tired of dealing with subpar charging solutions, give Sparkee a try and experience the power and convenience of a truly wireless charging experience.
Limited time offer
d
·
: :