key advantages
Bluetooth Control
Smart Motion Control
Smart Speed Force
OLED Display
Wireless charger
estimated
delivery
May, 2022
Arrowmax is back again with their 3rd product – a smart electric engraving pen. After successfully launching and currently shipping their previous two products (one of them being a Red Dot Design Winner of 2021) they are ready to give new life to something so simple as an electric engraving and polishing pen.
They did it before, can they do it again?
Let's find out what the SGS PRO can do in this Tech I Want review.
The Product
Innovation
Is this a truly new product that you can't find on the market? Or this is a product that defines an entirely new product category. In some cases, the combination of several features into one or the introduction of a new feature to an old product are also considered to be an innovation.
Just like they did with their award-winning electric screwdriver, Arrowmax takes a simple tool and turns it into a smart, beautiful, and customizable tool with a bunch of added features you wouldn't usually find in your smart engraving and polishing pen. 
Arrowmax tries to make us understand that tools can also be luxury products. An engraving pen can be innovative in a lot of ways. For example, it can have a Bluetooth feature that allows you to control it with your smartphone. It can also have a smart motion control feature that lets you adjust the speed and force of the pen with just a touch. 
Additionally, it can have a smart speed force feature that keeps the speed consistent regardless of the surface you're working on.
Now, we don't have any DIYers working on this review, but we can comfortably say if we wanted to start a jewelry business, we would want one of these to begin with.
Competitiveness
How much better is it than the competition? Is it faster? Bigger? Cooler? More affordable? There needs to be a solid reason why you should back this project over any other.
| | SGS Pro | Engraving Pen (36 Stencils) | AxPower Electric Micro Engraver Pen |
| --- | --- | --- | --- |
| Price | $63 (KS price) | $28 | $20 |
| RPM | 20,000 | 25,000 | 20,000 |
| Bits | 30 engraving bits and 12 polishing bits | 30 rotary bits,36 stencils | 10 pointed bits, 5 round bits, 4 jujube-shaped bits, 11 flat bits; 4 graphic stencils, 4 letters/number stencils, 8 flower stencils. 6 different style polishing head with sanding ring. |
| Speeds | Stepless | 3 | Stepless |
| Design | Beautiful | Nice | Ok |
| Smart control | ✅ | ❌ | ❌ |
| App compatibility | ✅ | ❌ | ❌ |
There are many factors to consider when comparing this smart engraving and polishing pen with the rest of the market such as price, design, polishing speed, battery life, and bits. 
Price
Looking at the average market price for engraving and polishing pens we say the range lies at  $20 – $100. The price of the SGS Pro is $63 which makes it lie comfortable in the middle to top range. Although, we can't simply say that other engraving and polishing pens are cheaper because they don't have the same features as this one does.  
Design & Aesthetic
This electric engraving pen looks very sleek with its glossy silver style. It looks so nice that it can pass off as a decor piece for your desk instead of an engraving & polishing pen.  Looking at the most competition, the design is one of the two biggest unique differences that the SGS PRO has. The second is its functionality. 
Functionality
The key differentiator is the fact that it has Bluetooth, smart motion control, smart speed force, one key operation, CVT, OLED display, and a lot more features found on its campaign page. 
This really is the tool for the nerds out there who want to tailor their experience and upgrade their crafting experience. 
Overall competition
There are different electric engraving pens in the market that are cheaper and can reach higher RPM (25.000 vs 20.000). They have around the same drill bits available as the SGS but none that I could find have the app compatibility, customizability, and slick design as the SGS Pro. If you want a good engraver, you can find it on Amazon. But if you want to support some beginning creators push out all competition by making a luxury product? Then Kickstarter is your friend. 
Very often when writing reviews, we see competitors who have the same or similar features but we still give the products which combine the features more effortlessly a higher competitiveness score than the rest. Cause the final product is more than the sum of its part. 
The fact that Arrowmax also made a smart screwdriver and smart electric drill might tingle your DIY collector's sense cause all the designs go flush with each other and combine beautifully to a collection of 3 (or more, if Arrowmax decides to make more products – which we dearly hope for). 
Product Competitiveness Score
The Team
Reliability
How capable is the team? Have they developed something like this before? Do they have crowdfunding experience? Manufacturing experience? A lot of campaigns fail to deliver their product because they don't know what they're doing.
With 2 previously successful campaigns that are still shipping, we can confidently say that Arrowmax is quite reliable. 
Their last product was promised to ship in August 2021, but like almost every Kickstarter campaign, the delivery is late, and it seems there are still some missing pledges to be delivered. From reading the comments, it is not a considerable amount, and the people who have received their previous Arrowhead products are pleased with the product. 
Reading an update from Arrowhead from October 11, 2021, they mention that their factory is suffering from power outages which we have fact-checked to be true. 
The "About Us" section on the campaign page seems convincing and conveys that they care about their products and backers. However, from doing research, it appears like Freemax Technology, which owns Arrowmax, is an electric cigarette producer. This definitely doesn't put down their credibility, but some people might want to know. 
Lastly, from checking the team members' names, I haven't been able to confirm that they are part of the Freemax Technology team. The searches on their names on Linkedin also don't give any results, and I can't prove these people exist. But often, even the best campaigners are often not active on LinkedIn, so don't get your hopes down. The fact that they have previously delivered campaigns is more than enough to prove they can be trusted. 
Attitude
How transparent are the campaigners? Do they give their backers valuable updates on their progress? Do they engage with their backers? Crowdfunding is all about community, sharing information, and building meaningful relationships with the people who fund your project.
Since crowdfunding is more than simply buying products online, it is vital that campaigners know how to connect to their backers. The best campaigners have realized that caring a lot about their community can give amazing benefits to both backers and campaigners.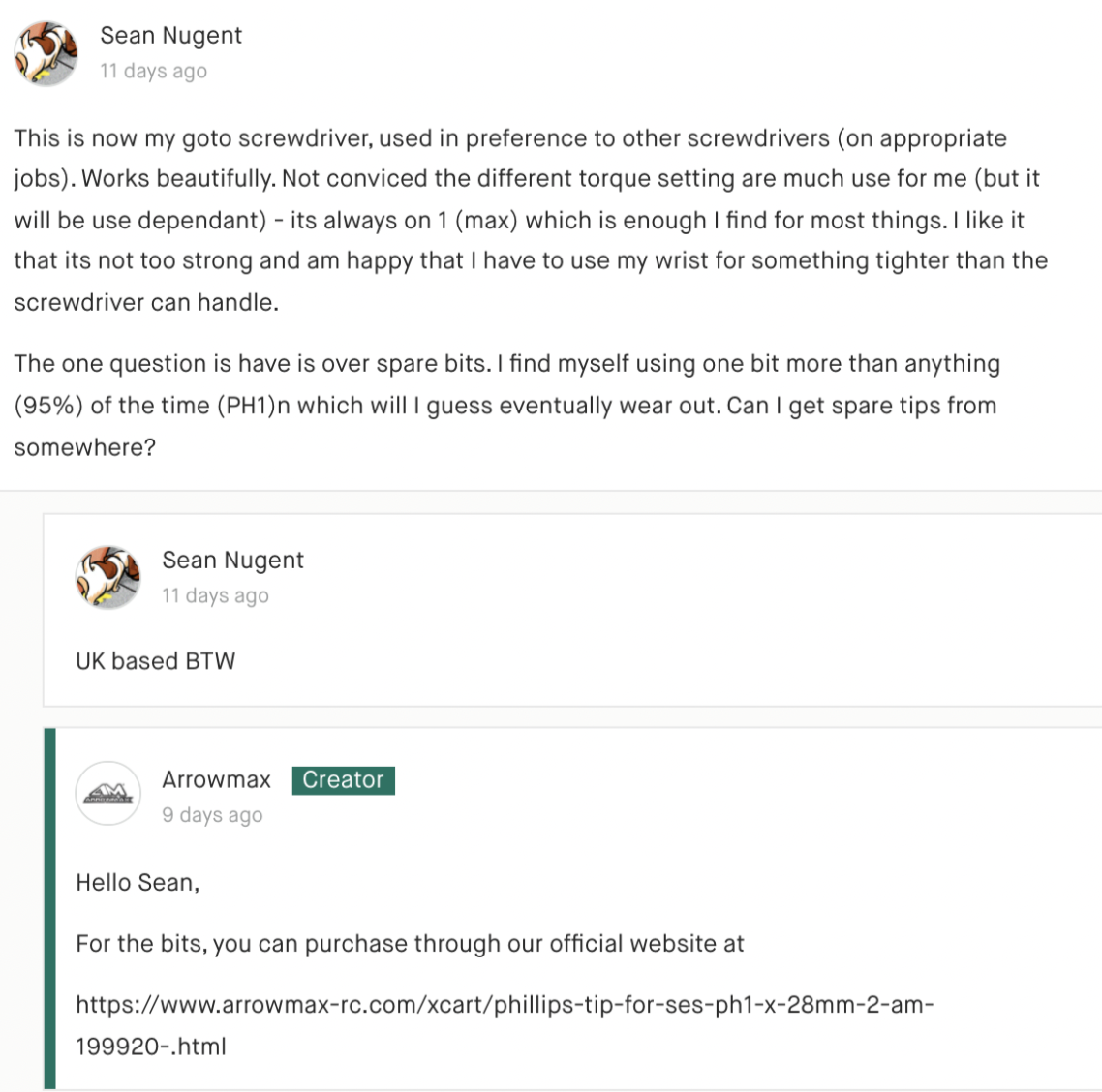 From my research, the idea of making a magnetic charger stand is an idea that came from the backers that backed their previous project. The fact that they have listened to their backers is great proof that they care and are serious about their backers. 
For Arrowhead to get a higher score on the attitude, we recommend that they open a Facebook group for all their backers to give feedback, send user-generated content, and discuss certain feature requests. We've seen this done ourselves and the effect it gives is amazing. 
The responses to the questions on their campaign page are timely but lack a bit of personality. The responses are short and to the point – not the best, considering you need to treat your backers really well as they can be a great asset to the business. 
Conclusion & Public Opinion
The Arrowmax Smart Engraving & Polishing Pen is a great pen for anyone looking to get into the engraving and polishing business. The features in this pen make it easy to control your work from start to finish, which can help you create beautiful products with less effort. 
Arrowmax has been able to create a smart electric engraving pen that is more competitive than the other products in the market. The pure functionality of the pen is also enough to convince many pros or newbies to get the SGS PRO. 
Though their attitude is not the best, we trust that the product will ship when you back it and we hope for no more power outages in China! 
TIW Total Score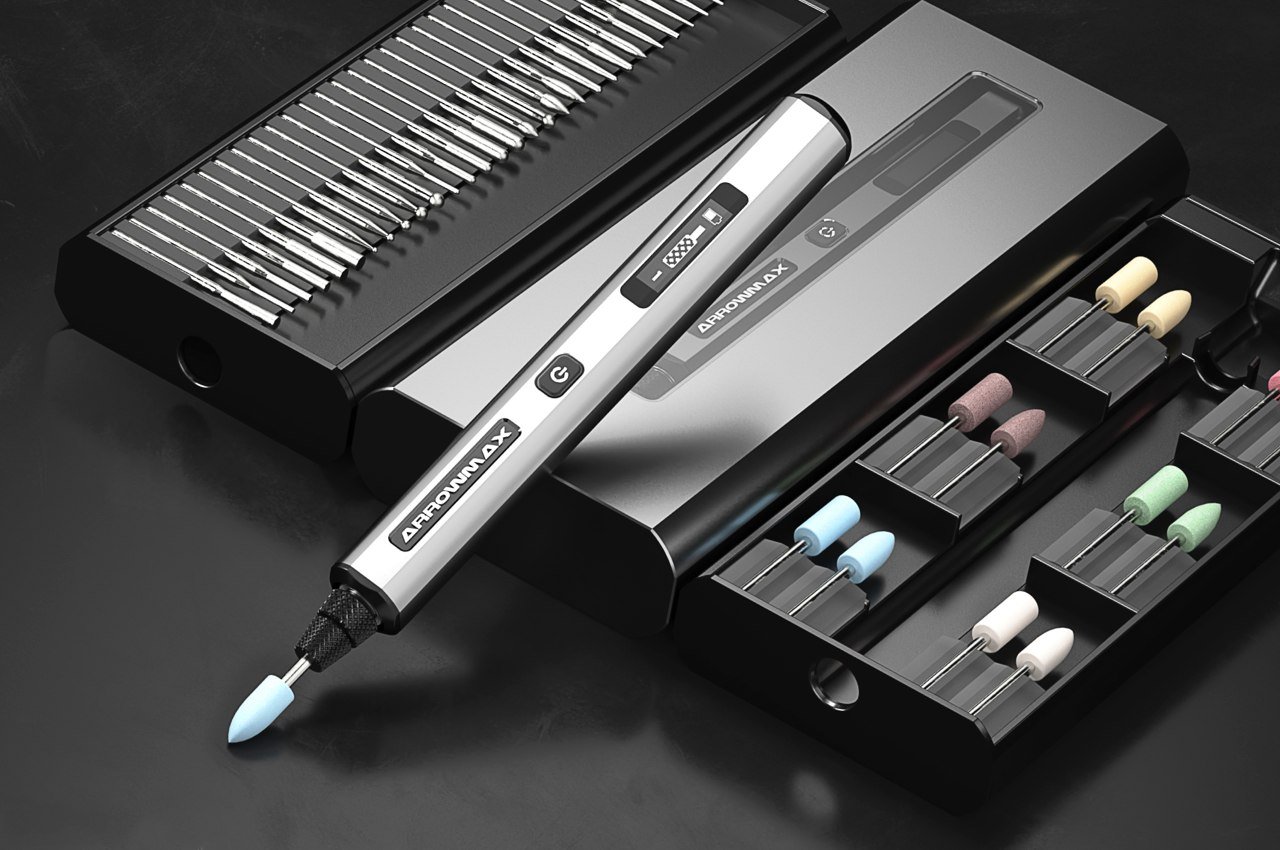 SGS PRO Review
SGS PRO Review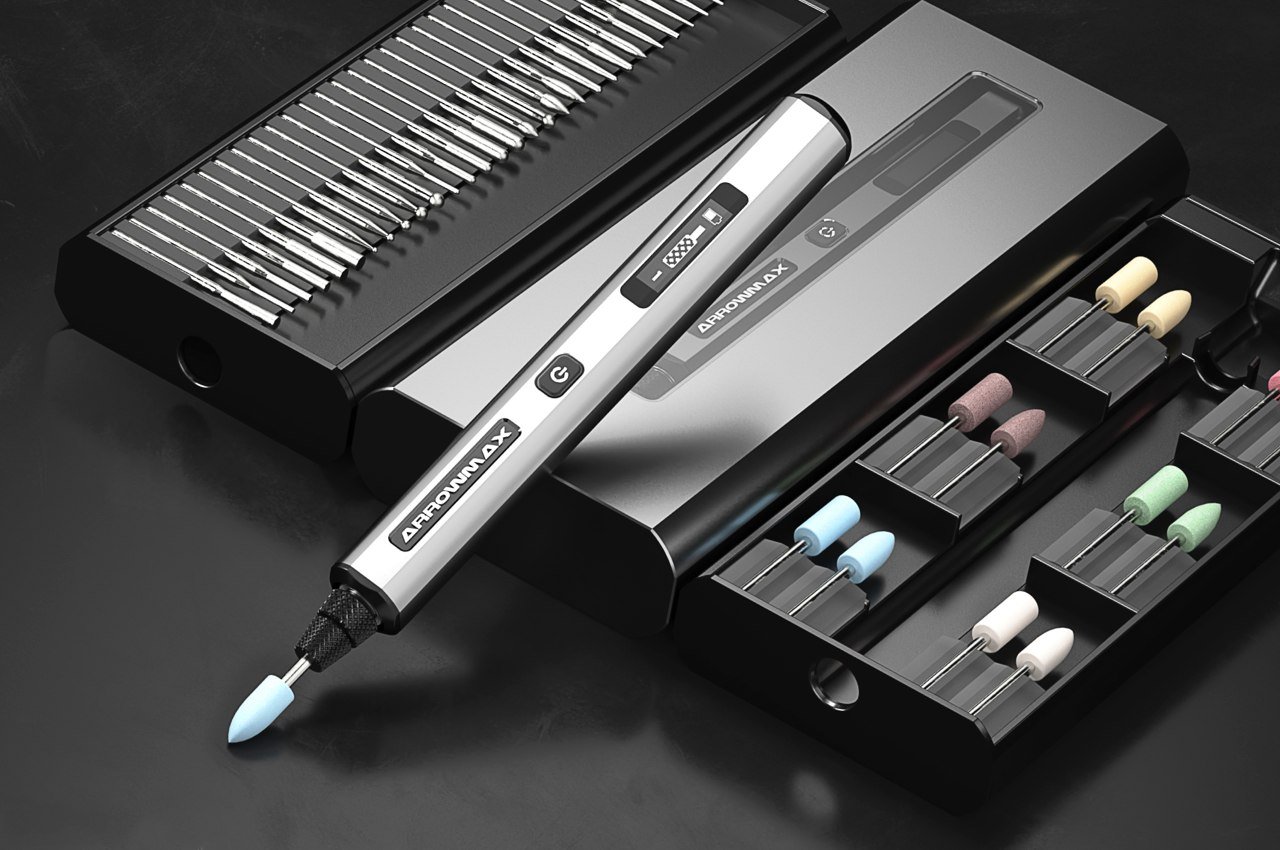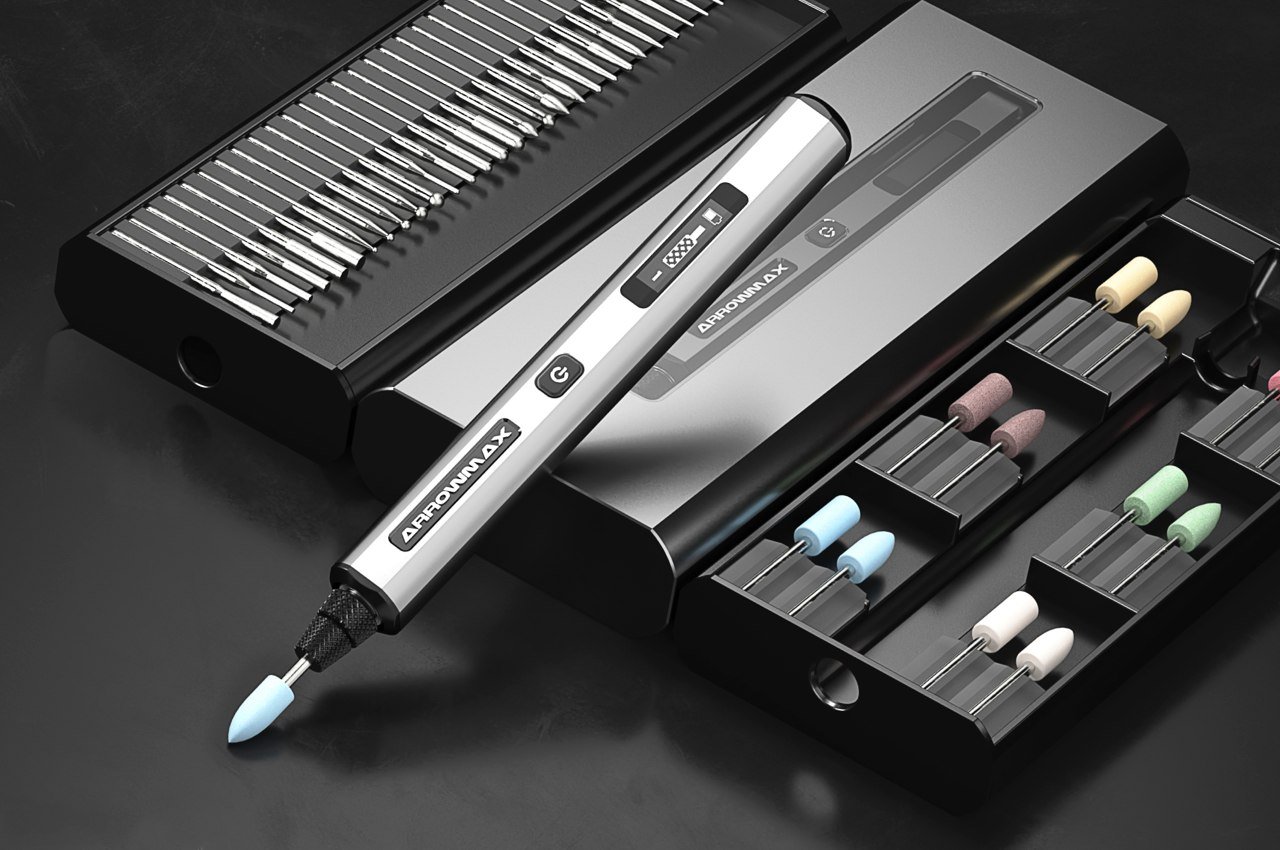 Limited time offer
d
·
: :