key advantages
Website with story-telling and quest
Up to 30 quests to solve
Hidden surprises
estimated
delivery
January 2023
Puzzle makers have become more adventurous and creative since the first jigsaw puzzle was created in 1762. Intricate shapes, challenging cut patterns, whimsy pieces – all these are techniques that make the puzzling experience even more enjoyable and fun.
The jigsaw puzzle went through rapid growth with technological advancement. And now Enjoy the Wood with its Quatro city is bringing this traditional pastime activity to a whole new level by combining it with an online quest.
Quatro city is a brand-new type of wooden puzzle that combines a jigsaw puzzle, an interactive story-telling quest, and a detective twist. So the fun doesn't end after reassembling the picture, there is still a mind-blowing online quest that you have to solve. 
The idea belongs to a Ukrainian family that started its family business, Enjoy the Wood in 2014. Their first products were the Wooden World Map and World's first 3D Wooden World Map, which became a huge success. Since then they have grown from just a small idea to a big production. They also expanded their product range by introducing no ordinary jigsaw puzzles with a unique design for each puzzle piece. And with Quatro city, they've gone even further, they've added gripping quests for you to unravel when you're done with the puzzle. 
The Product
Innovation
Is this a truly new product that you can't find on the market? Or this is a product that defines an entirely new product category. In some cases, combining several features into one or introducing a new feature to an old product is also considered an innovation.
With the introduction of high-quality and accurate lasers, random-cut jigsaw puzzles became more and more popular. The irregular and unique pieces make puzzling more dynamic and challenging, but Quatro city also adds interaction and mystery to it. So you're not only assembling a picture but also solving quizzes and riddles. Now let's discuss what Quatro city is and what its objective is. 
The puzzle is divided into 4 parts containing up to 500 pieces. And each part is an independent story, a chapter with 7-9 quests. The game evolves in an engaging story-telling way. It allows you not only to watch the events unfold but also to participate and appear as a character.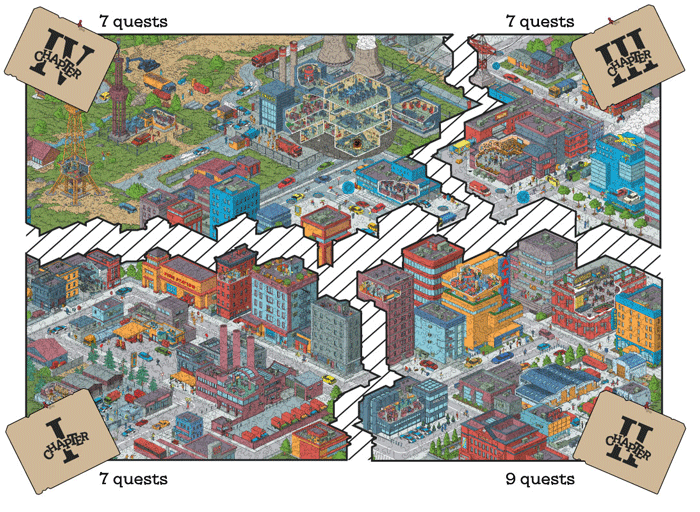 The game starts with putting together the pieces and assembling the 4 parts of the puzzle one by one. Each part is in a different envelope, so you'll find 4 envelopes in the box. Those who love a real challenge can mix the contents of all the envelopes and make the puzzle even more difficult. The Quatro city comes with a magnifying glass and a vacuum pen to help you catch even the smallest details of the city parts.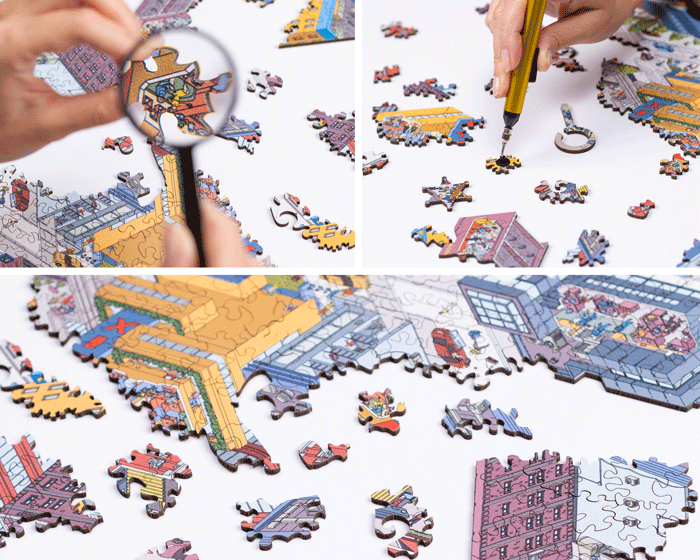 After completing the picture and having thoroughly examined the numerous streets of Quatro City you're ready for the next step, where the interaction with the game continues on your device. 
To make this puzzle quest even more engaging, the creators have included some characters, whom you'll meet in the course of solving the quests. One of those characters is a detective, whom you're going to help to unravel the mysteries hidden in the Quatro city.
Inside the box, with the 4 envelopes and detective tools, you'll find his business card with a QR code. By scanning it you will fully immerse yourself in the atmosphere of the town to start the investigation.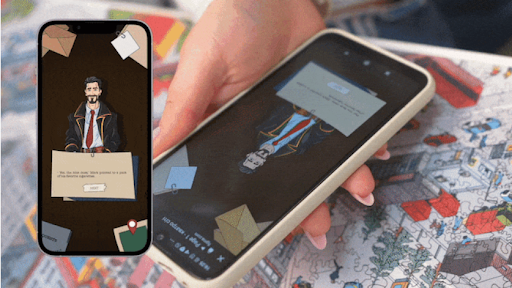 On the website, you'll find interesting stories and about 30 quests to solve. Quatro city is fraught with lots of plot twists and surprises, so rest assured that you're going to enjoy the entertaining investigation.
Competitiveness
How much better is it than the competition? Is it faster? Bigger? Cooler? More affordable? There needs to be a solid reason why you should back this project over any other.
The Quatro city is a one-of-a-kind interactive storytelling puzzle quest. It'll make the friend gatherings more fun and will keep you entertained for up to 40 hours. The game contains 1 to 4 envelopes with jigsaw puzzles inside. The 1943 puzzle pieces have a unique design and are full of mysteries.
The Quatro city also has a website, where you will find 4 independent stories and mini-stories. You will also meet lots of game characters. What's more, there are up to 30 quests and other side quests waiting for you to solve them. Quatro city is using new technologies to make the traditional puzzling experience more immersive and active.
The creators thought of everything. They included a vacuum pen in the game box for you to easily pick up and place the smallest puzzle pieces. Moreover, they added a detective magnifying glass for you to examine and trace all the hidden evidence. 
So the objective of the game is to assemble the puzzle in order to untangle the mysteries, complete the quests and solve the case. You'll feel like a detective conducting an investigation. 
The game also allows you to write your very own adventure based on the Quatro city map. So there are no limits, you can create your own quests for your friends.
Product Competitiveness Score
The Team
Reliability
How capable is the team? Have they developed something like this before? Do they have crowdfunding experience? Manufacturing experience? A lot of campaigns fail to deliver their product because they don't know what they're doing.
The creators of Quatro city have already funded 7 campaigns on Kickstarter since 2014. All of them had been in great demand and received lots of positive feedback. Thanks to their first successful campaigns they expanded their brand and hired a lot more people. During these 8 years, they gained experience in the production of high-quality goods. As a result, more than 100k customers all over the world enjoyed their products.
Now, inspired by their previous success, the Ukrainian family came up with an even more special product and created its 8th campaign on Kickstarter. Having already proven experience in doing business and delivering products, the creators guarantee that they won't let their customers down. After all their previous Kickstarter campaigns, they have tried to mitigate all risk factors as much as possible. They know the details about delivery and international transportation and have already tailored a well-thought plan on how they're going to proceed after the campaign is over. 
The Quatro city is manufactured in the creators' own production facilities, so they are certain that they will be able to provide high-quality products and helpful customer service. 
The producers are proud to share their stories and present the people behind the projects. On their Kickstarter campaign page, you'll find the names of not only the owners but also the other team members. And those people are also proud to be a part of the company and announce it on their LinkedIn pages. The company has 52 employees on LinkedIn. Seemingly, Enjoy the Wood is not only appreciated by its customers but also by its employees.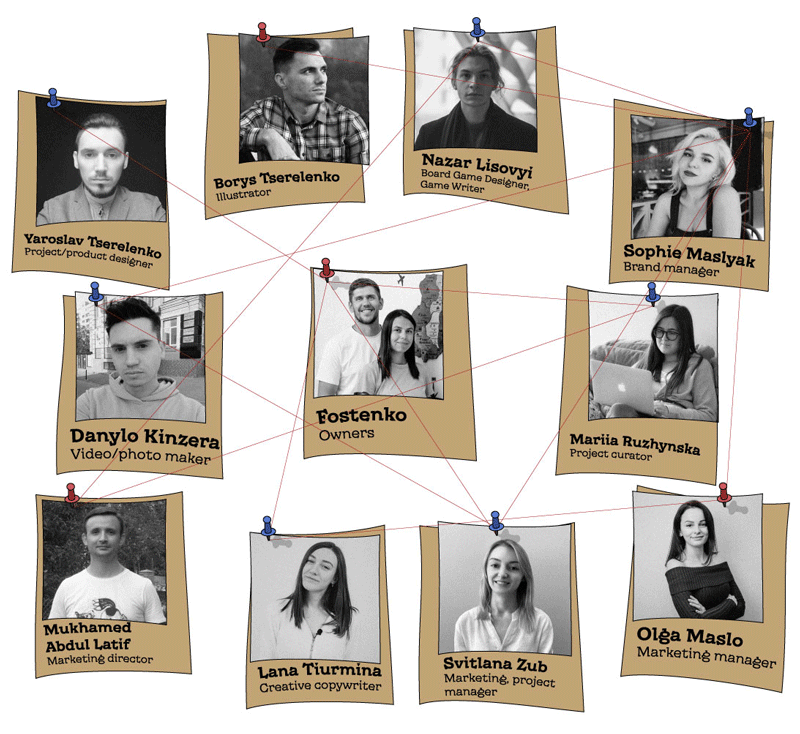 Enjoy the wood has its own website, and is present on different social media platforms, such as Twitter, Facebook, Instagram, and LinkedIn. Moreover, customers can easily order their 3D Wood World Maps on Amazon, where the product features over 1,079 customer reviews. Most of the reviews that have been left are positive, as 91 percent of reviewers rate the wooden wall decoration 5 stars.
Attitude
How transparent are the campaigners? Do they give their backers valuable updates on their progress? Do they engage with their backers? Crowdfunding is all about community, sharing information, and building meaningful relationships with the people who fund your project.
With 22 days left to back the project, Quatro city has already raised over $117k surpassing its $5k goal. 
The campaign was launched on the 13th of October and was fully funded in the first hours. Apparently, backers loved the idea of the interactive puzzle-quest game and decided to support the Ukrainian family business in getting back on its feet. 
The creators have already experienced campaigners and know that communicating with their backers is incredibly important. They promptly answer all the comments, providing all the required details and information. They are completely transparent and honest with their backers, which resulted in huge support from them.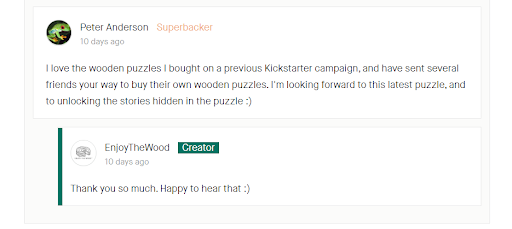 The producers of Quatro city are also active on their social media platforms. They have separate Instagram pages for their 2 products – Enjoy the Wood wooden world maps and PuzzleUp wooden jigsaw puzzles. You can find real-life pictures and beautiful videos of their products, as well as honest reviews and reels shared by customers. We can confidently say that the previous products of this family business enjoy the love of their users. Moreover, Quatro city has also been showcased on both Instagram pages. Based on the comments we can tell that the followers are quite intrigued and are waiting for it. 
The campaigners are also present on LinkedIn, Twitter, and Facebook. And on all these platforms they are thrilled to announce their new project.
Conclusion
This interactive and unique story-telling puzzle quest has the potential to become one of your favorite pastime activities. If you enjoy assembling random cut puzzles with detailed and bright illustrations and you're passionate about solving mysteries, Quatro city will not let you be disappointed. It combines old-fashion puzzling with high-tech solutions to make your experience even more enjoyable. 
TIW Total Score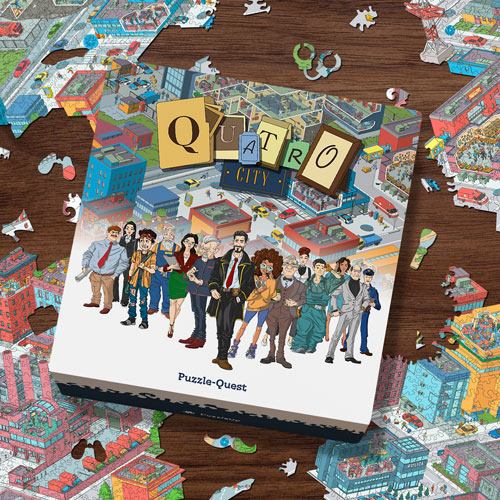 Quatro City
Quatro City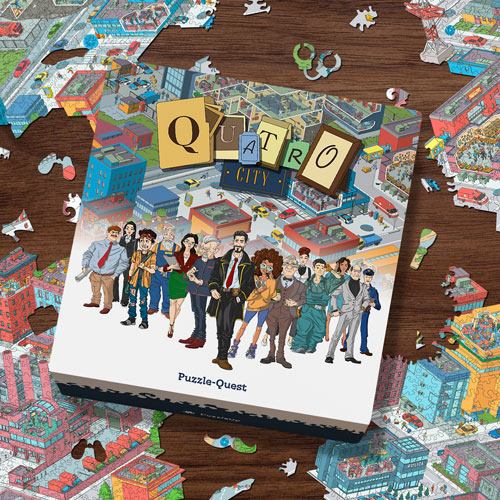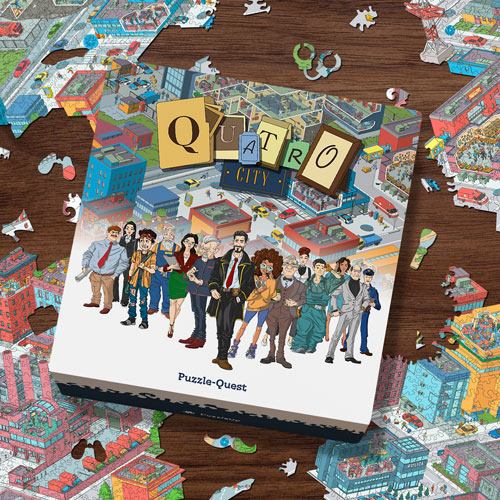 Limited time offer
d
·
: :