key advantages
Easy Sharing
Convenient
Safe
estimated
delivery
Ships Worldwide
Consider yourself lucky if your bike has never been stolen. About 2 million bicycle thefts are reported each year in the United States, that's roughly 1 bike every 30 seconds. Moreover, over half of the stolen bikes relied on a cable lock. Therefore, it goes without saying that failing to choose the right bike lock will lead to disastrous consequences.
The challenge of finding a lock that is both secure and easy to use can be a real hurdle. That's where LAAS enters the room with its smart solution to save the day.
Marcus, the founder of LAAS, has been using his self-built electric cargo bikes for years for his daily commutes. And in 2022, with the aim of creating a contemporary bike lock that meets all security and usability standards, he came up with O-lock smart bike lock.
During an era of rapid digitalization, even small keys can be a large burden. O-lock is keyless and full of smart features. Let's discover them together.
The Product
Innovation
Is this a truly new product that you can't find on the market? Or this is a product that defines an entirely new product category. In some cases, combining several features into one or introducing a new feature to an old product is also considered an innovation.
LAAS O-lock doesn't have a keyhole. The key is in its convenience and simplicity. 
To start with, this bike lock is designed to be locked manually, as the motor comes with many problems and less battery life. And for unlocking, you only need your smartphone. It's really simple. First, secure the O-lock on your bike with the provided screws. Then download the app and pair your O-lock using the QR code. That's it. Now you can open the lock through your phone whenever you want in less than 3 seconds.
Remember the feeling when you forgot whether or not you locked your bike? Surely, you went back to check, hoping to find your buddy where you left it. Imagine how much time and effort you would've saved if only you could verify it on your phone. All this is in the past… LAAS got you sorted. The O-lock app provides you with a history log, where you can see when was the last time you locked your bike. 
Moreover, LAAS gives you the opportunity to share your bike with the ones you want. With a tap on your phone, you can share the encrypted code with your friends and family through your favorite texting app. 
Besides, with the integrated tracking, you'll always stay up to date on where your best-loved two-wheeler is. You'll definitely appreciate keeping track of your bike's whereabouts, especially when you park in crowded areas. 
What if your bike doesn't have holes in the frame? No worries. To make O-lock compatible with all bikes, LAAS offers a flex mount. It consists of two strips that allow the lock to be attached to any bike frame.
What's more, you can use the LAAS chain to fix your bike to a post for extra security. 
So O-lock is smart, safe, and convenient. That's the essence of innovation, isn't it?
Competitiveness
How much better is it than the competition? Is it faster? Bigger? Cooler? More affordable? There needs to be a solid reason why you should back this project over any other.
In a market full of different bike locks, you can now choose the smart one. LAAS uses the best available technology for you to have peace of mind.
O-lock includes Bluetooth 5 connectivity and the App is available for both iOS and Android devices. 
Furthermore, both the shackle and the bent pipe are made of hardened stainless steel, meeting the standard of regular bike locks. Therefore, the O-lock is not only safe and sturdy but also rust-free. 
It also comes with a CR123 non-rechargeable battery. It will serve you for more than 2 years and is super easy to change. You just need to screw off the cap, remove the battery and replace it with a new one.
Not to mention the O-lock's cool and compact design. The fact that it's keyless allows unique and perfectly round design. We can all agree that nowadays design really matters. O-lock comes in 3 different colors to seamlessly blend with any bike on the market. You can choose between steel, black, and copper. But wait! During its Kickstarter campaign, LAAS introduced 3 more colors for the O-lock collection on Kickstarter – forest green, baby blue, and rose gold. Personalization at its best!
Product Competitiveness Score
The Team
Reliability
How capable is the team? Have they developed something like this before? Do they have crowdfunding experience? Manufacturing experience? A lot of campaigns fail to deliver their product because they don't know what they're doing.
People behind O-lock are not only experienced professionals but also cycling enthusiasts. Michael, the CEO, and founder of LAAS has been interested in mechanical engineering all his life and has dedicated himself to simplifying complex propositions and providing a fresh take on technology. 
As the CPO and co-founder of Friday Smart Lock, he has already demonstrated the capacity to develop a scalable, user-friendly, high-end consumer electrical product. Besides, O-lock isn't the first product of LAAS. The company not only offers you a smart solution to keep your bike safe but also a smart lock for your door. This smart lock unlocks your door automatically as soon as you get close to it with your phone. It's compatible with almost all types of doors, as it installs on the inside of the door and everything from the outside stays the same. 
For their smart locks, LAAS provides 100 day testing period. The customers can return the product and get a full refund if they have problems with installation or don't like the experience. So we can confidently say that the company is responsible for what they are creating.
Moreover, LAAS has partnered with different institutions to produce the O-lock, design the software, and the App, also for video production, content creation, and marketing. Every detail matters not only in product design but also in business. It's nice to see the campaigners taking the project seriously and working on all aspects of it.
Attitude
How transparent are the campaigners? Do they give their backers valuable updates on their progress? Do they engage with their backers? Crowdfunding is all about community, sharing information, and building meaningful relationships with the people who fund your project.
LAAS O-lock has already raised more than $100k surpassing its $5k goal. 
They are transparent and friendly with their backers. They provide answers to all their questions in a timely manner. Seemingly, no question is being left unanswered. 
For instance, one of the backers asked for a comparison with another smart bike lock. I'm pretty sure they got what they were looking for. LAAS highlighted 2 major differences. First, O-lock is locked manually, which is also a requirement from insurance companies in Scandinavia. Also, O-lock uses simple Bluetooth-based tracking that doesn't require a data plan, while the other has GPS tracking, which requires more battery and a data subscription.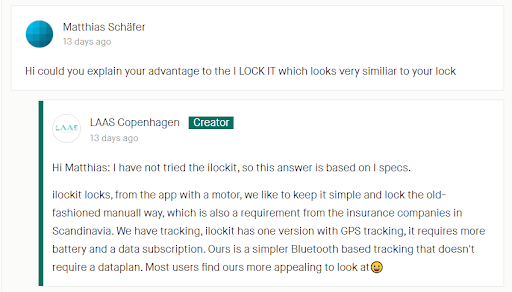 The campaigners are grateful to their backers and they communicate with them by constantly providing updates. They also organized a survey for their backers to pick new colors for their O-locks.  Based on the results they added new Stretch Goals!
LAAS has its website, where you can find information about the company and its existing product.  Also, you can pre-order your LAAS smart lock there. The company has started to showcase its smart bike lock on different social media platforms as well. There you can also find testimonials from professional athletes and regular bike users. Apparently, they enjoy securing their bikes comfortably without a key.
Conclusion
This smart bike lock not only keeps your bike safe but also has tracking capabilities. You only need your smartphone to check the location of your bike and unlock it whenever you want. What's more, you can even share your bike with your friends by only sending them the encrypted code for unlocking the O-lock. Happiness is most palpable when shared, isn't it? 
The simplicity and convenience of O-lock come with its thoughtful and minimalistic design. We have appreciated the useful features packed into this compact gadget and hope you will as well.
Better safe than sorry is a good rule to abide by. So be sure to stay safe on the roads and your O-lock will help you keep your bike safe at any other time.
TIW Total Score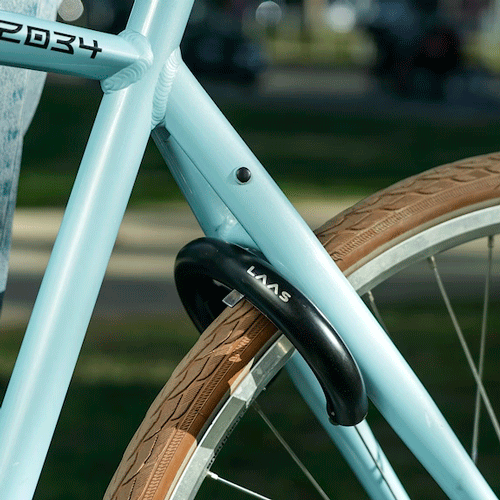 O-Lock
O-Lock