key advantages
No Perimeter Cable
Security Monitor
Visual Detection
Multi-zone Cut
estimated
delivery
July, 2022
We humans are busy people. Whether we're working, hanging out with friends, out on hikes, or simply chilling at home, we always have something to do, and something to look out for. But there are things we always try to postpone or even avoid. Ah, yes, the dreaded home chores.
If you live in a house with a large yard, you surely know the struggle that is mowing the lawn. Especially in spring when the grass grows faster than you can keep up, do you really want to spend all your time caring for your lawn? Probably not! Are you seeing where we are getting at? That's right: a robot lawnmower!
The Novabot is an autonomous lawn mower (and security monitor, more on that later) developed by LF Intelligence, a company with ties to the University of Pennsylvania. This seems to be their first product and by the looks of it they're going all-in with it — packing it with interesting features.

But is it any good? As usual, in this review we have tested the Novabot against the 4 Tech I Want criteria.

Let's check it out.
The Product
Innovation
Is this a truly new product that you can't find on the market? Or this a product that defines an entirely new product category. In some cases, the combination of several features into one or the introduction of a new feature to an old product are also considered to be an innovation.
Going through Novabot's Indiegogo page you'll immediately notice that the makers of Novabot heavily promote their ties with the University of Pennsylvania. They claim that their team consists of graduated and current Penn students and that they have famous Penn professors as advisors. Sounds extremely promising — a team like that should theoretically come up with something truly innovative.
So does it? Nearly all robot lawn mowers out there use perimeter wires to guide the lawn mowers around, help them detect boundaries and edges, and get them back to their charging base. That sounds like a lot of work and effort, especially if the yard is large with different types of boundaries. The Novabot team decided it's time to innovate and move on from this traditional method, so they came up with a way to detect edges and navigate around without the need for perimeter wires.
Specific details behind how exactly they pull it off is not clear, but they claim to use AI algorithms, RTK-GPS, and a visual recognition system called "NovaVision™" to achieve this feat. We could not find any other robot lawn mower that uses such a system, so if it works as well as claimed then it surely is a big step forward in terms of innovation!
The Novabot will come equipped with a 360° HD camera, which reportedly works in harmony with VSLAM technology (Visual Simultaneous Localization And Mapping) to provide good obstacle detection. We've seen this technology in the past on robot vacuum cleaners, and it works pretty well for that use case, but this is the first time we are seeing it in a robot lawn mower. Whether or not it works as well as on vacuum cleaners remains to be seen. Now, let's talk about Novabot's second functionality — security monitoring. Yes, this has nothing to do with mowing grass, and this is where we think the Novabot may be truly innovative.
The Novabot is reportedly able to use its sensors (and camera) to detect unwanted intruders, essentially turning into a security monitor when not mowing the grass. It looks like the Novabot also moves around in this mode, so that it can detect intruders in all corners of the yard. When an intruder is detected, the Novabot promises to send a notification with a photo to the user's phone. Awesome if true, and truly innovative as there is no such dynamic monitoring robot on the market today.
Competitiveness
How much better is it than the competition? Is it faster? Bigger? Cooler? More affordable? There needs to be a solid reason why you should back this project over any other.
| | Novabot | Worx Landroid M | Husqvarna Automower 435X |
| --- | --- | --- | --- |
| Price | $1,299 | $999.96 | $4,799 |
| Works without boundary wire | ✅ | ❌ | ❌ |
| GPS Anti-theft | ✅ | Optional | ✅ |
| Waterproof | ✅ | ✅ | ✅ |
| Obstacle Detection | ✅ | Optional | ✅ |
| Cutting Area | 1/4 Acre (1000 m2) (1/2 Acre / 2000 m2 for the N2000 version) | 1/4 Acre (1000 m2) | 9/10 Acre (3500 m2) |
| Maximum slope | 45% | 35% | 70% |
| Safety Monitoring | ✅ | ❌ | ❌ |
Robot lawn mowers have come a long way since their inception, and as firms like Novabot appear on the market with new features, jumping into the market with fancy terms and seemingly innovative features, there is also a quiet competition of already established brands that release their own autonomous lawn mowers with less fuss. 
The Novabot comes with patrolling safety monitoring — a feature that is unheard of in other robot devices, and especially robot lawn mowers. So if you are looking for a little extra peace of mind in regards to safety and security, you may want to choose the Novabot.  The fact that it does not require boundary wires could (!) be another plus over its competition. Why could? Well, not everyone has a problem with placing boundary wires around their yard. And in practise, it is a tried and trusted method. As the replacement technology is new, it may not be the best option for those who want to be sure about reliability.
However, if the Novabot's boundary and edge detection does prove to work well, then it will definitely give the Novabot a big edge over its competition.  All in all, the Novabot seems to provide an excellent price/performance ratio. Yes, the Husqvarna 435X can service a larger area and is able to take on steeper slopes, all the while matching most of the Novabot's features (other than safety monitoring and functionality without boundary wire), it is also much more expensive at about four times the price of one Novabot. 
Basically, if you are looking for a yard companion that gets the most out of it's price, the Novabot may just be for you. Because at its price point you could say it's impossible to find a robot lawn mower that has as many features as the Novabot does, and that also doubles as a security monitor. 
Product Competitiveness Score
The Team
Reliability
How capable is the team? Have they developed something like this before? Do they have crowdfunding experience? Manufacturing experience? A lot of campaigns fail to deliver their product because they don't know what they're doing.
This is the first major project by LF Intelligence. The company itself was founded back in 2020, and it looks like they have been solely focused on this one product to this date, having never released anything in the past. According to their LinkedIn page, they have up to 10 employees.
They have a presence on Instagram, Twitter, Linkedin, and Facebook. Sadly, there is minimal engagement throughout their social media channels. We also checked out their website, which looks like it was rushed into place from a design point of view. That said, it is easy to navigate and provides clear information about the Novabot as a product.
Anyway, their affiliation with the University of Pennsylvania does lend the team some well-needed credibility. As mentioned earlier, they make sure that whoever reads their campaign page and website knows that they are affiliated with that University. At the same time, it also makes things seem fishy.
It is almost as if they are trying too hard to prove that they are legit. The fact that they have two uPenn professors on the board as advisors may seem like a positive point, but is that actually true? And how involved are they really? We tried finding a link between the Novabot and the two professors in question, but could not find any information other than that provided by the Novabot team itself. There is no track record to check and it's hard to say for sure whether or not they will actually be able to deliver.
This is not to say that they won't. There have been plenty of legitimate campaigns by newcomers in the past, and the Novabot by LF Intelligence may as well become one of them.
Attitude
How transparent are the campaigners? Do they give their backers valuable updates on their progress? Do they engage with their backers? Crowdfunding is all about community, sharing information, and building a meaningful relationship with the people who fund your project.
The Novabot team actively replies to comments on their campaign page. While the reply speed is quite fast, the answers do come over as a bit robotic. That said, the answers are quite clear and they even occasionally present their contact email in case those with a question need more information.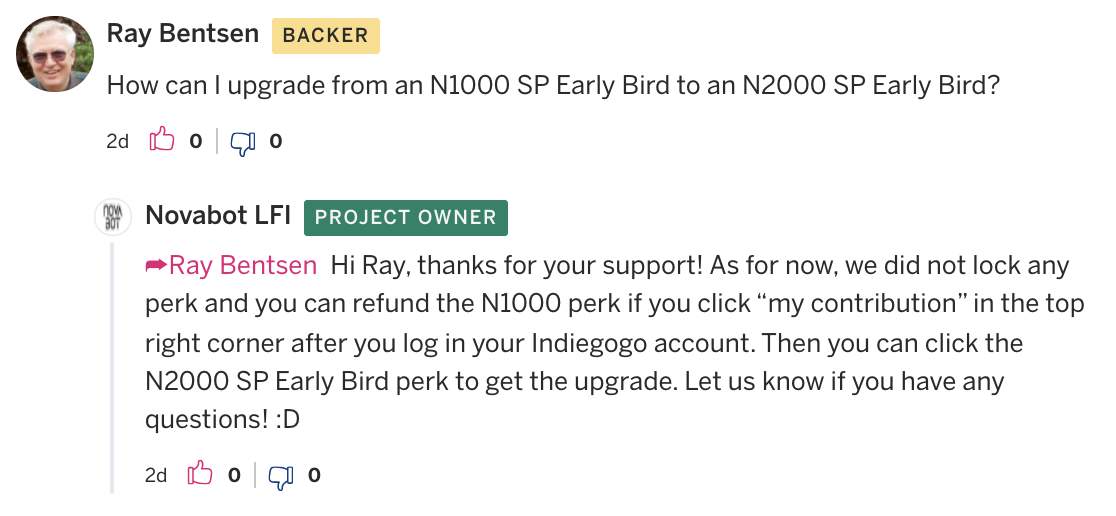 A little negative point we noticed was that the activity is less apparent on YouTube. In fact, not a single comment on any of their YouTube videos has received a response. We wonder why because they do have a team that's active in replying on Facebook and Indiegogo. Why not also on YouTube, team Novabot?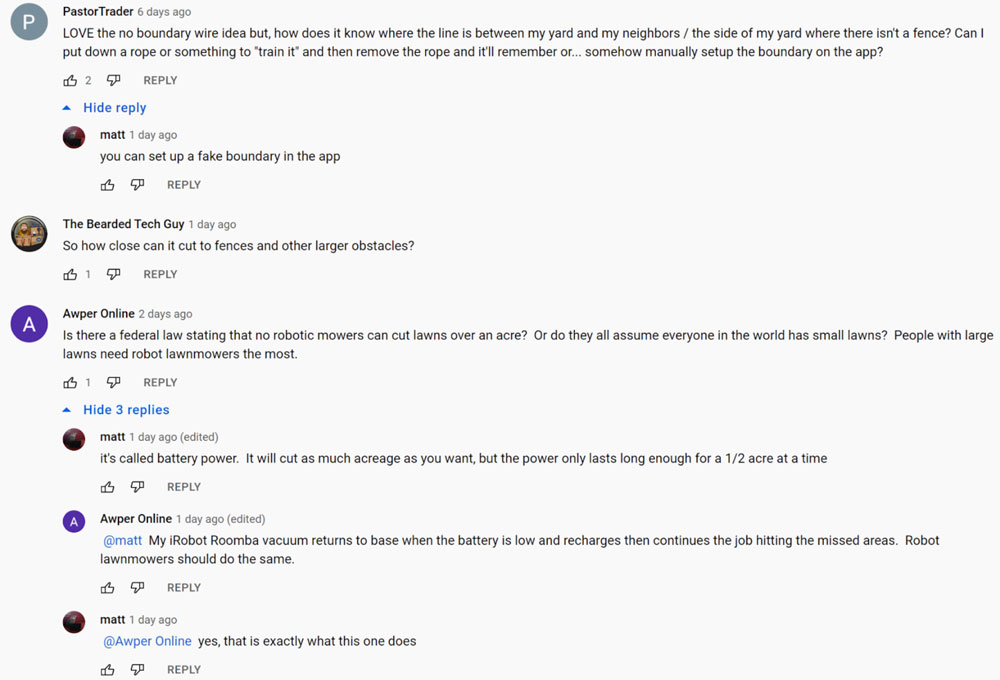 Conclusion & Public Opinion
With its security monitor feature and lack of boundary wire requirement, it has the potential to heavily shake the robot lawn mower market. Especially at its relatively affordable price point. All things considered, while the Novabot itself seems amazing and highly innovative, it remains to be seen whether or not the product will work out the way it's promised to. Fingers crossed!
TIW Total Score
Novabot
Novabot
Limited time offer
d
·
: :