key advantages
Laser Powered
4K Resolution
2400 Lumens
Android TV 10.0
150" Screen
estimated
delivery
March, 2022
Have you ever invited a date over, and you struggle to keep up the conversation because you're not that interesting? Well, the solution is clearly not to continue your boring lecture on medieval catapult systems.
So, what to do?
We asked a random guy from our office, and he said that putting on Monthy Python on the computer is definitely the best strategy.
So I guess you need a laser 4k projector!
Nebula Cosmos Laser 4K is the most compact 4K laser theatre in the market. It's made by Nebula, a trustworthy and famous manufacturer, so you know it must be good! Right?
Today, your one and only source of independent and trustworthy reviews of crowdfunding products are here to help you find out if it is actually an amazing product or just another watered-down remake of a previous one.
Let's get going.
The Product
Innovation
Is this a truly new product that you can't find on the market? Or this is a product that defines an entirely new product category. In some cases, the combination of several features into one or the introduction of a new feature to an old product are also considered to be an innovation.
The Nebula Cosmos Laser 4K seems from the get-go to be an amazing product. We have verified that it is, in fact, the most compact 4K laser projector in the market – made by the very reputable manufacturer, Nebula. 
Besides having strong hardware specs, it also has the software to support it, like Android TV and Chromecast. This makes it a very solid product with great software integration. 
But don't be fooled; just because it is a compact 4k laser projector, doesn't mean Nebula has spared it of other crucial hardware specs. Having 2400 lumens and a 150-inch screen size is pretty impressive for a compact device like this. The 2400 lumens ensure that no matter how good the quality of the image is, you can see the picture perfectly clear. 
Their previous product lines Cosmos, Solar, Capsule, Astro, Mars, and apollo all have way lower lumens. Even their previous Kickstarter 4k home cinema had 900 lumens. 
In the grand scheme of things, we give this a high innovation score because they've created a product that is beautifully optimized to both have quality and size at a fraction of the price. Second of all, it doesn't consider itself just a projector but a home speaker due to the advanced sound system, which, judging by the Amazon reviews of their previous products, is great.
If you're looking at the mainstream competition, you'll see that you can find better projectors – however, they are often way more expensive. But more about that in the next section. 
Competitiveness
How much better is it than the competition? Is it faster? Bigger? Cooler? More affordable? There needs to be a solid reason why you should back this project over any other.
| | Nebula Cosmos Laser 4k | Epson Home Cinema 4010 | LG HU810PW 4K UHD |
| --- | --- | --- | --- |
| Price | KS Early Bird $1,499 | $ 1,999.99 | $2,600 |
| Size | 10,4 x 8,7 x 6,5 inches | 17.7 x 20.5 x 6.7 inches | 13.3 x 16.1 x 5.7 inches |
| Weight | 10,7lbs | 24.30 lbs | 24.3 pounds |
| Resolution | 3840 x 2160 | 4K PRO-UHD | 3840 x 2160 |
| Resolution | 2400 lumens | 2,400 Lumens | 2700 lumens |
| Brightness | 25,000 hours | 5000 hours | 20,000 hours |
| Light source life | Dual 10W full-range speakers and dual 5W tweeters | None | 10W (5W+5W Stereo) |
Comparing the Nebula Cosmos Laser 4K projector with other projectors on the market, it is clear that it is the most compact 4K laser projector. It also has higher lumens than many other projectors, making the image quality very clear. Furthermore, its low price point makes it a very competitive option. 
The main competitor with a similar quality we could find is this 4K Epson with the size 17.7 x 20.5 x 6.7 inches. The Nebula is smaller at 10,4 x 8,7 x 6,5 inches. Another similar competitor is the LG HU810PW 4K UHD.

The Nebula Cosmos Laser 4K projector is one of the most compact 4K laser projectors on the market, making it a very appealing option. Its small size means that it is easy to transport, doesn't require much storage space, and can easily be integrated into any room without taking up a lot of visual space.
But even if you have something compact, few projectors in the market can really create a clear and bright image. The higher the resolution and brightness, the sharper and more detailed the image. This is especially important for projecting movies or TV shows, as you want to enjoy them in the best possible quality.
Brightness is definitely the aspect where Nebula have outdone themselves. The Lumen measures how bright the projector is, and the higher the number, the brighter the image will be. This is important because you want to be able to see the picture perfectly clear, no matter what the lighting conditions are like in the room.
Their previous projector has 900 lumens, and this has 2400. So if you were satisfied with the previous, this might even be worth getting. If you're fast, you can get an early bird price from Kickstarter. 
Product Competitiveness Score
The Team
Reliability
How capable is the team? Have they developed something like this before? Do they have crowdfunding experience? Manufacturing experience? A lot of campaigns fail to deliver their product because they don't know what they're doing.
Nebula has created over 8 product lines of projectors in their lifetime and 2 Kickstarter campaigns. From reading the comments of the previous laser 4k projector products, the vast majority of products have been shipped, and there is an active engagement among backers. 
Nebula has won prestigious design awards like Golden Pin, GIDA, iF, Red Dot, and Good Design. This is a good indicator that they are trusted by market authorities in design. Furthermore, the previous Nebula Cosmos projector they sold from Kickstarter has 4.4 out of 5 stars on Amazon based on 241 ratings. 
This is another good indicator that they can successfully create and ship a crowdfunding campaign and take it to e-commerce. This doesn't come to our surprise as Nebula is made by the people at Anker, and they generally have a lot of experience in making great products. 
We don't often give a campaigner 30 out of 30 in reliability, but we do it this time. There are always millions raised towards the Nebula creators. This means they can consistently create new exciting products that people are ready to buy. The fact that they are also successful outside Kickstarter is a great bonus. It proves they are not just hobbyists but are serious campaigners. 
Attitude
How transparent are the campaigners? Do they give their backers valuable updates on their progress? Do they engage with their backers? Crowdfunding is all about community, sharing information, and building meaningful relationships with the people who fund your project.
In terms of the attitude by Nebula, it is not the best. They respond in a timely fashion to the backers' questions, but if you go to their past campaign, there are a lot of unanswered questions. It is important that creators understand that even though you ship a new product, you still need to provide support for the people who bought the previous one. 
On Amazon, there are also some negative reviews of their other Nebula Cosmos products malfunctioning (which is normal for every product – and can be easily fixed), but the major complaints were with the handling of the support given to the backers. A buyer had to have a correspondence of over 14 emails before Nebula took in the product to check it. 
Maybe it was justified, but no matter what, that specific customer gave the product 1-star, saying he felt he wasn't supported. And that is not well. 
Normally, first-time campaign creators have a very, very small team that mostly works on production. Few expect the workforce you need to be able to go through support tickets when products have shipped, and often we see low attitude for first-time creators. 
But now, as a serious and big company, Nebula should be able to provide the support their backers need. 
Attached is a response to a backer comment. The answer does the job but is not very friendly. One of the main differentiators between Kickstarter and Amazon is that you need to be able to connect with your backers on Kickstarter because they literally decide whether to make your dream come true or not. The backer-campaigner relationship should be taken very seriously.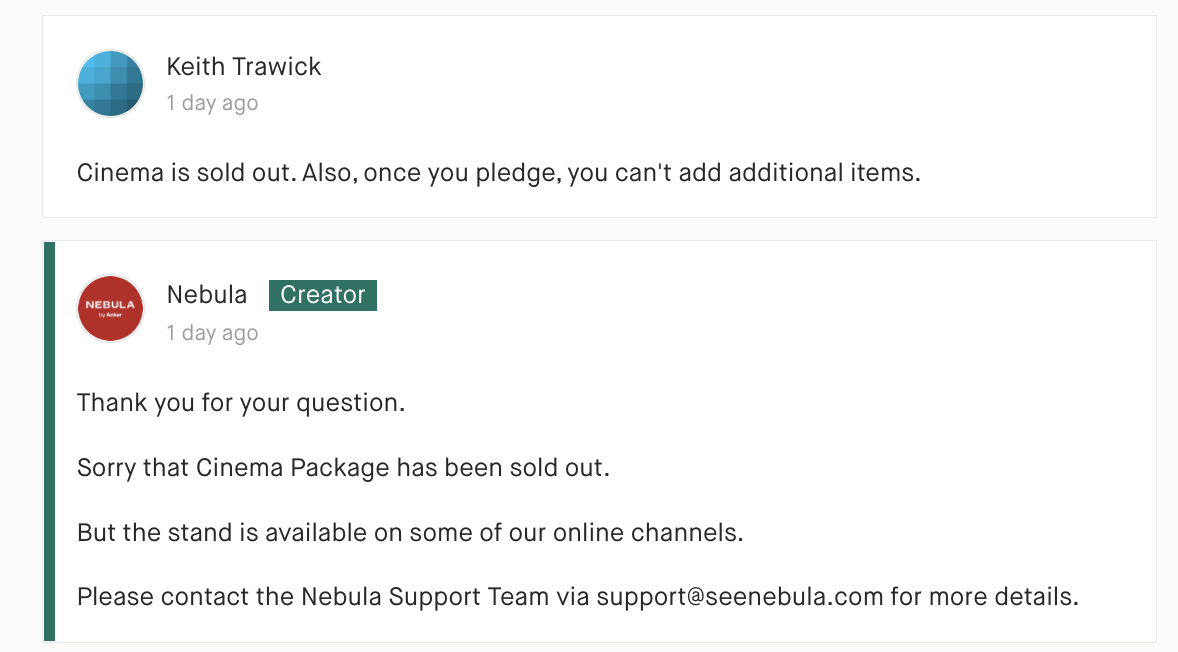 Conclusion & Public Opinion
Overall, the Nebula Cosmos Laser 4K projector seems like a great product. It has excellent features, a team with high reliability, and an attractive design. 
The only downside is that Nebula's customer service could be improved. However, with a little bit of improvement in this area, the experience of backing this projector would be perfect. We are more than 100% sure that the product will ship to your door. 
It might be late, like in around 99% of all campaign cases, but it will be there.  
If you're looking for a great projector that's powerful, beautiful, and easy to use, this could be the right product for you. 
If you're interested in purchasing one for yourself, make sure to check out the Kickstarter campaign page before it ends.
Limited time offer
d
·
: :