Nebia by Moen Quattro
Water Saving Shower Heads
key advantages
easy installation
Made with ocean recycled plastic
Up to 50% water savings
estimated
delivery
October 2021
Imagine how often you use water without thinking about it and then imagine that all of those instances combined are only a fraction of the amount needed for one person to live.
As there is a drastic lack of water supplies in many areas of the globe, people are thinking of ways to reduce water loss. Many companies come up with the solution by producing products that are eco-friendly.
Nebia by Moen shower head is a water saving shower head with four different modes to suit the user's preferences. The product can be installed in seconds and will instantly cut your water usage by 50%.
So let's find out the uniqueness of the Nebia by Moen shower head.
The Product
Innovation
Is this a truly new product that you can't find on the market? Or this a product that defines an entirely new product category. In some cases, the combination of several features into one or the introduction of a new feature to an old product are also considered to be an innovation.
The Nebia by Moen Quattro shower head is constructed using reclaimed ocean plastics to provide a truly eco-friendly experience. With five finishes, including brushed nickel, chrome, matte black and oil rubbed bronze it will match your bathroom decor well without worries of clashing colors.
This water-saving shower head promises to bring a spa-like experience that is affordable and is easy to install. It offers 4 different modes for a better showering experience.
Angel Hair – This spray is designed to transfer calming and soothing sensation to your body after a tiring working day. It also provides the hottest spray in comparison to the other modes.
Hard Spray – The highest pressure mode of intense showering. It will give you new awakening sensations and a fresh mind and body.
Soft Spray – It is the mode that Nebia is proud of. It transfers the spa-like effect with thousands of water droplets for relaxation and bliss.
Super Saver – The maximum flow rate for this 1.2 gpm which is the most water-saving spray without sacrificing the utmost showering experience.
The Nebia by Moen shower head comes in two options: rain shower and hand shower. With the rain shower, you can easily adjust the height giving you the warmth in the right spot. Another advantage is that you can keep your hair dry while showering.
Competitiveness
How much better is it than the competition? Is it faster? Bigger? Cooler? More affordable? There needs to be a solid reason why you should back this project over any other.
| | Misen oven steel | Conductive Cooking | Sur La Table |
| --- | --- | --- | --- |
| Price | KS $99 | $34.49 | $58.99 |
| Material | Recycled ocean plastic(partially) | Chrome Plated Premium ABS | Metal |
| Shower modes | 4 | 6 | - |
| Water consumption per min | 1.5 Gallons | 2.5 Gallons | 1.75 Gallons |
As you can see the price of Nebia by Moen is relatively high which is connected with the water-saving modes. In fact, it saves almost twice more water than its competitors which is highly appreciated. Plus to add one more step towards the planet-saving flow, the chosen material for Nebia by Moen is recycled ocean plastic (not in total). This water-saving shower head has 4 modes or sprays which is not as many as we expected. Along with all the good features more modes could have been implemented.
Product Competitiveness Score
The Team
Reliability
How capable is the team? Have they developed something like this before? Do they have crowdfunding experience? Manufacturing experience? A lot of campaigns fail to deliver their product because they don't know what they're doing.
Founded in 2013, the US-based company Nebia aims at building innovative and impactful products that improve how people use water in their daily lives.
They made they unforgettable entry to the crowdfunding world by hitting $3.120.000 for their first water saving shower head with the help of 8,559 backers. The following 2 campaigns raised $2 mln and people are mostly satisfied with their water saving shower heads. But as you know delays are very common in crowdfunding and there is no campaign that can avoid it so Nebia is not an exception.
Attitude
How transparent are the campaigners? Do they give their backers valuable updates on their progress? Do they engage with their backers? Crowdfunding is all about community, sharing information, and building a meaningful relationship with the people who fund your project.
Although almost all comments are answered, for some of them it took months.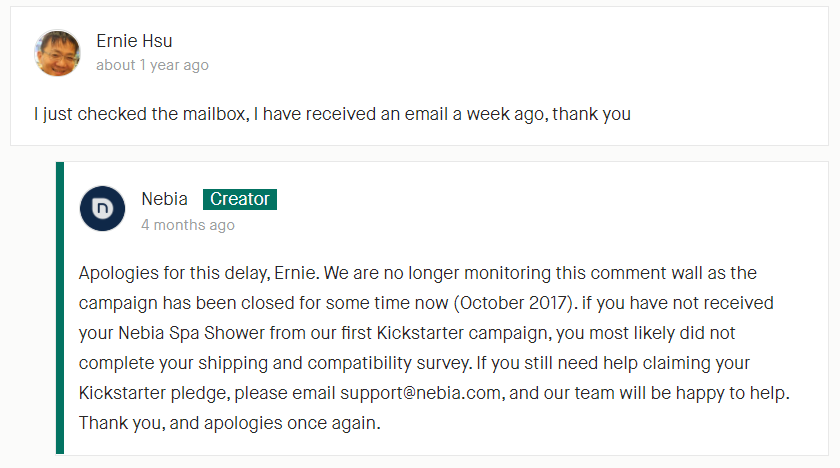 Morover, we really liked their approach in answering negative comments.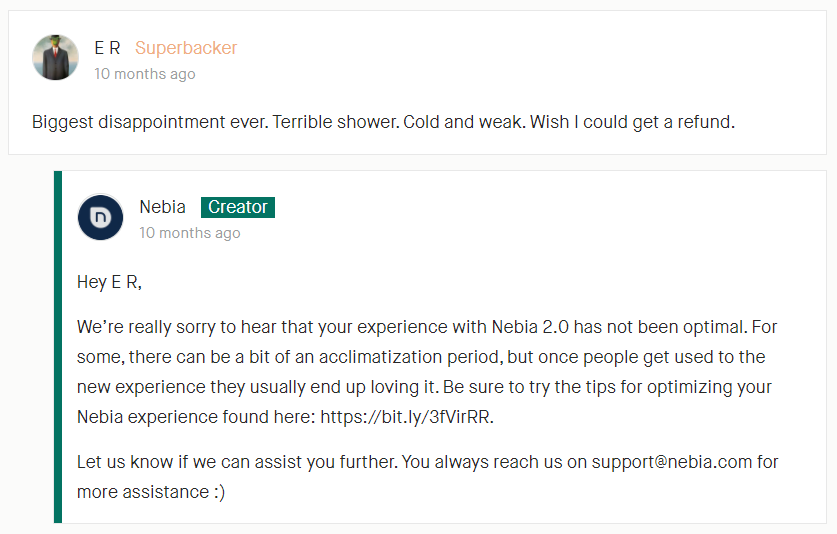 Conclusion & Public Opinion
By teaming up with the industry-leading company Moen, this new release of Nebia water saving shower head is promising to be the next success story in crowdfunding.


TIW Total Score
Nebia by Moen Quattro
Nebia by Moen Quattro
Limited time offer
d
·
: :