Mantiz
Portable Laptop Stand
key advantages
Minimalist & compact design
Versatile laptop & tablet compatibility
Up to 6.1lbs capacity
estimated
delivery
February 2021
We are living in an era where most of our jobs are connected with laptops. At the end of the hard and heavy working day, we end up with back and neck pain, not talking about eye strain. So we are in a constant search for a perfect laptop stand. But the ones in the market are either too big or too expensive. Another problem is that the joints are flimsy and break very easily after several days of usage. So, Mantiz is here to solve all these mentioned problems.
Mantiz is a portable laptop stand designed to carry seamlessly, fold effortlessly, and provide durability and most importantly stability. It is made from 100% aluminum and copper alloy which ensures the product is unbreakable and durable. Thanks to the strong joints you can fold and unfold it more than 3000 times.
| | |
| --- | --- |
| PROS | CONS |
| ✅ Price | ❌ Holds up to 6lbs |
| ✅ High Portability | |
| ✅ Durability | |
Check out Kickstarter's most funded Tech & Design category products of 2020 here!
The Product
Innovation
Is this a truly new product that you can't find on the market? Or this a product that defines an entirely new product category. In some cases, the combination of several features into one or the introduction of a new feature to an old product is also considered to be an innovation.
What makes Mantiz really distinguishing in the market is its palm-sized design and high portability. It weighs only 159 grams so you can carry it wherever you go. Unlike the bulky and heavy stand, Mantiz is very durable and flexible. It gives you the opportunity to place it anywhere from 3 to 4.6 inches high and choose the most suitable angle from 20° to 32°. So the problem with back pain and eye strain is solved. This portable laptop stand fits any notebook up to 17.3 inches. 
Another big problem connected with laptops is that proper airflow is not provided as we always put them on our desks and after several hours of usage most of them get warm. To keep laptops cool is the key factor for their longevity. Mantiz solves this problem by providing better airflow. As I have already mentioned above Mantiz is made from a high-quality aluminum alloy without worrying about scratches and breaks.
Competitiveness
How much better is it than the competition? Is it faster? Bigger? Cooler? More affordable? There needs to be a solid reason why you should back this project over any other.
| | Mantiz | EPN | MOFT Z |
| --- | --- | --- | --- |
| Price | KS $25 | $35.99 | $69.99 |
| Material | Aluminum alloy | Aluminum alloy | PU fiberglass |
| Weight (g) | 159 | 1450 | 1100 |
| Adjustable Height | ✅ | ✅ | ✅ |
| Adjustable Angles | ✅ | ✅ | ✅ |
I am sure the "price" and "weight" rows immediately captured your attention. As you can see Mantiz is the cheapest portable laptop stand weighing just 159 grams. And the weight difference is more than big and noticeable. With all the needed features for everyday use and carry it becomes the best alternative to those bulky stands. Despite its small dimensions and weight, it is capable to hold up to 6.1 lbs. And all these only for $25.
Product Competitiveness Score
The Team
Reliability
How capable is the team? Have they developed something like this before? Do they have crowdfunding experience? Manufacturing experience? A lot of campaigns fail to deliver their product because they don't know what they're doing.
Mantiz is designed by a team of professionals integrated into product development, design, and testing.  To create the best innovative products the team pays big attention to every stage of development.
Mantiz portable laptop stand is Luxtarr's second crowdfunding project. The first one was Luxtarr which is a portable, magnetic solar emergency light with a hook. $79,022 was pledged by 1,466. Not a bad result considering the price factor (one luxtarr for $25).  Mantiz raised $57,624 in 15 days still having 31 days left.
Attitude
How transparent are the campaigners? Do they give their backers valuable updates on their progress? Do they engage with their backers? Crowdfunding is all about community, sharing information, and building a meaningful relationship with the people who fund your project.
Luxtarr team is very open and sincere with backers sharing updates on a regular basis and keeping them informed about delivery stages and problems connected with it.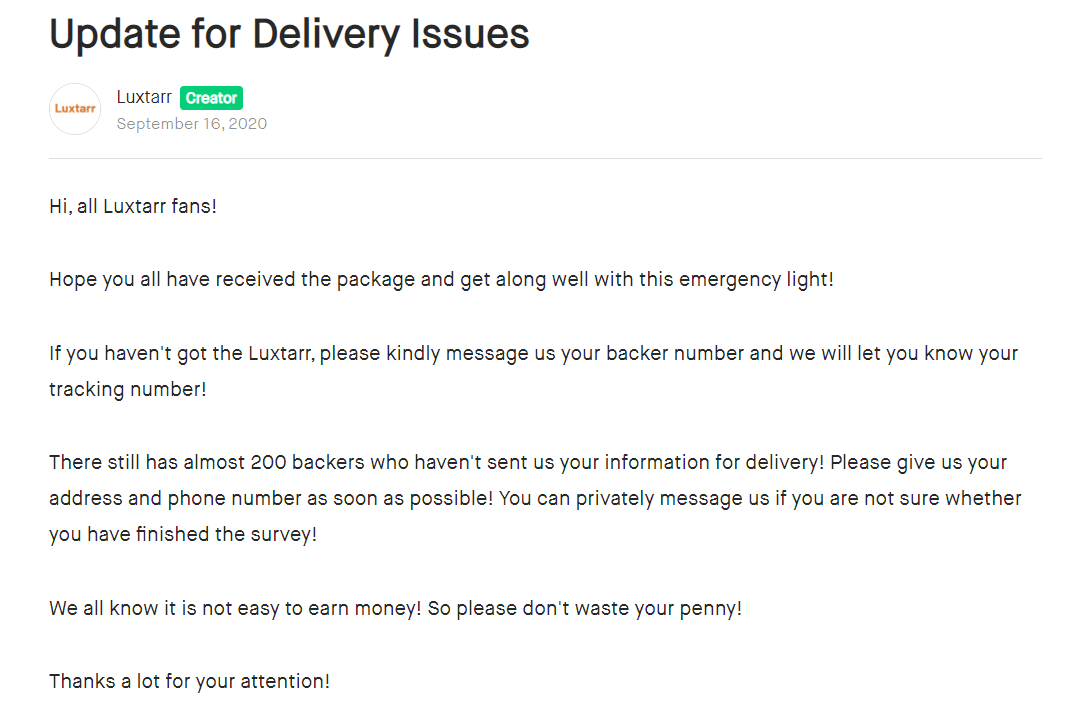 In most cases, it takes a day to get an answer from the team.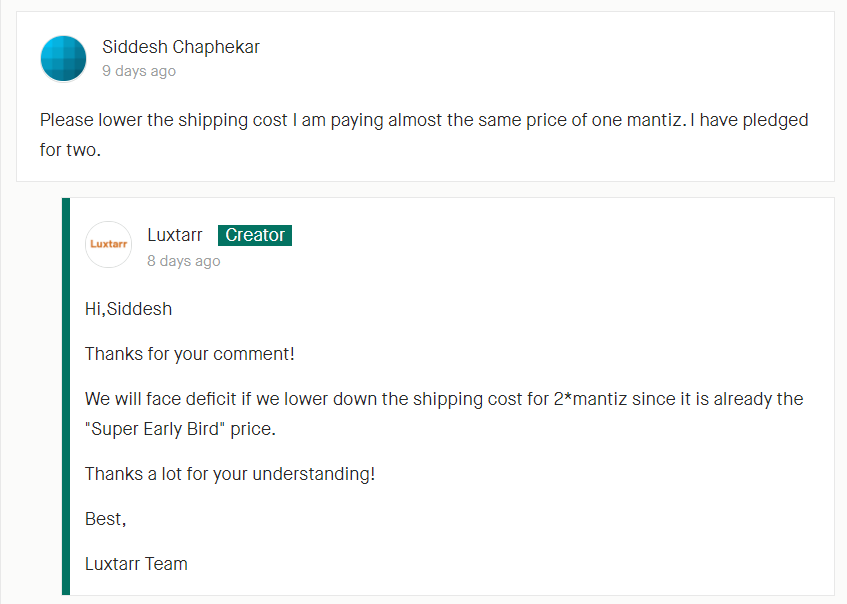 Conclusion and Public Opinion
So Mantiz is a portable laptop stand that is highly distinguished by its small sizes, high portability, and durability. Thanks to the aluminum alloy material you can fold and unfold it seamlessly and effortlessly more than 3000 times. And it costs only $25.
Here is how people feel about their previous product.


TIW Total Score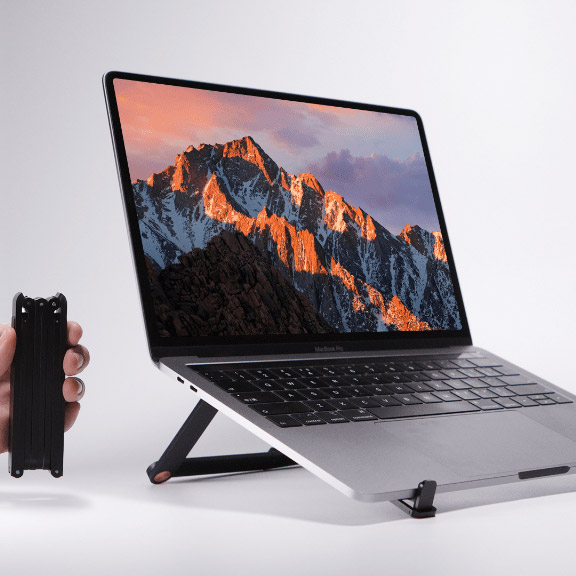 Mantiz
Mantiz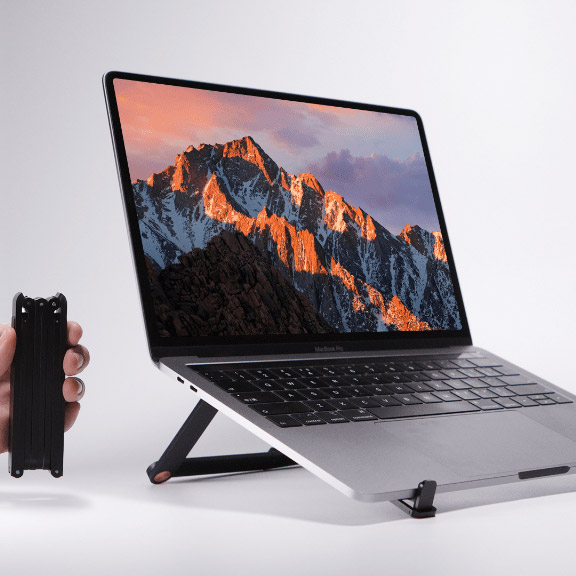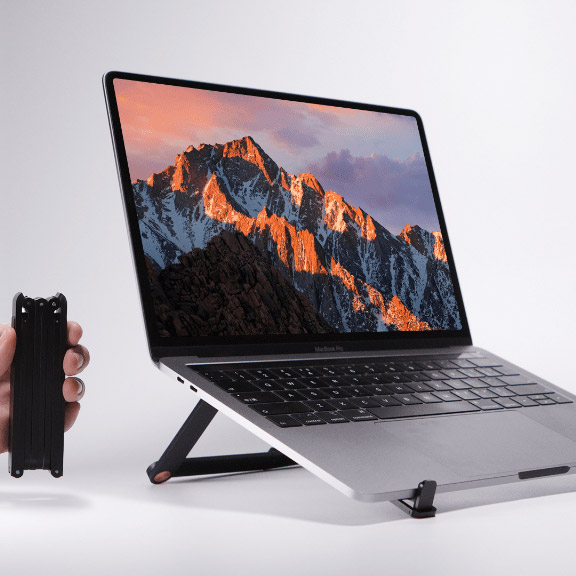 Limited time offer
d
·
: :