key advantages
Tool-free installation
Intelligent Assistant
Full Compatibility
estimated
delivery
March 2023
The e-bike has great potential to encourage people to switch from motorized to active transportation. Studies show that those who purchase an e-bike more than double their use of bicycles for transportation. However, the prices of e-bikes grow simultaneously with their popularity. You can easily find e-bikes in various shapes, sizes, and capabilities, but they all demand a large financial commitment. And if you already have your beloved regular bike, the extra bells and whistles of a full-blown e-bike may not be in your best interest.
Good news! Livall tosses the notion of spending a fortune on an e-bike out the window with its PikaBoost e-bike conversion kit.
It's the same Livall that released the world's first smart and safe cycling helmet in 2015. Founded in 2014, they currently have offline stores all over the world. Besides, they are also available online to be at utmost accessibility. Now, with the aim to be a leading international innovative company, they are introducing the PikaBoost e-bike converter.
At a fair price, the PikaBoost packs a controller, motorized hub, and battery pack to provide you with tool-free installation, intelligent assistance, and healthy cycling. So you can easily turn your old bike into an electric bike to enjoy a smoother ride on rough terrain and reduce stress on your joints.
The Product
Innovation
Is this a truly new product that you can't find on the market? Or this is a product that defines an entirely new product category. In some cases, combining several features into one or introducing a new feature to an old product is also considered an innovation.
You might already be familiar with other e-bike conversion kits available on the market, that will allow you to add motorized power to your favorite bike. So what's special about Pikaboost? 
To start with, it'll save you not only money but also time.

You can skip doing plenty of research to figure out which converter is right for your bike model and tires. And trust me it's not a piece of cake, since tire types differ from bike to bike, and even the same bike model might have different wheel diameters. Here PikaBoost comes to save the day. It's fully compatible with all bike types, frames and tires. Besides, given that you don't need to replace your bike's tires or brake discs to adapt the converter, its original functionality won't be impacted.
Furthermore, you don't need any tools to mount your PikaBoost between the seat post and the rear wheel, in contrast to the standard e-bike conversion kits that need you to disassemble the original components on your bike. Therefore, PikaBoost is also convenient for road, shared, and rental bikes. It'll take less than a minute to have your e-bike all set up. 
What's more, PikaBoost has an elastic mechanism to avoid minor laxity that could cause it to slip off and a self-locking mechanism to prevent vibration-induced loosening. So it appears to be completely safe and stable when in use.
Above all, you'll definitely appreciate the intelligent rides with your PikaBoost due to its ultra-modern technologies. It combines an intelligent control algorithm, an adaptive rate mechanism, a two-axis linear Hall sensor, and a rotary gyroscope.

This means that your converter will detect the change in terrain as well as the bicycle speed in real-time, and dynamically adjust the motor power without latency. In other words, PikaBoost determines whether you're cycling uphill, downhill, or on a flat road, and whether there is a trend of acceleration or deceleration, and automatically alters the output power of the motor for speed matching. As a result, it ensures a smooth transition when the speed changes or keeps the bike at a constant speed.
Another remarkable factor is that PikaBoost offers 3 riding modes, cruise, eco, and exercise, that can be easily selected on the PikaBoost App. These 3 modes are designed for bikers with different physical strengths and riding requirements. By providing complete flexibility, they enable you to enjoy your rides without having to constantly change speed gears and assistance levels.
Cruise is the most labor-saving but at the same time the most power-consuming mode. Therefore, it works best for short commutes. In this mode, Pikaboost will maintain the riding speed and gradually accelerate to go into full electric riding. 
Eco mode provides assistance only on uphill terrains and can be used on bumpy roads. PikaBoost will automatically shut off the motor and switch to the regenerative system on downhill and flat roads, thereby lowering energy usage.
In Exercise mode, PikaBoost not only provides assistance but also increases resistance for the longest duration. It helps to expand the range by converting kinetic energy into electrical energy, making it ideal for long-distance cyclists. As your PikaBoost's battery runs low, the app will notify you so you can enter Exercise mode in time.
The app has some other great uses as well. For instance, you can manually lock your e-bike converter by long-pressing the PikaBoost icon in the app. Nonetheless, in order to prevent theft, PikaBoost will automatically lock whenever the Bluetooth signal on your phone is not present. So no worries! No one will separate you from your PikaBoost.
Moreover, on the PickaBoost App, you can select your region and your e-bike converter will auto-adapt the speed and electric assistance modes to the legal regulations of your country. It also allows you to set the speed by yourself from the range of 0-35kmh/0-21mph.
Competitiveness
How much better is it than the competition? Is it faster? Bigger? Cooler? More affordable? There needs to be a solid reason why you should back this project over any other.
| | PikaBoost | Schwinn Electric - Bicycles Healy Ridge | Hurley Hybrid - Bicycles E-bike |
| --- | --- | --- | --- |
| Price | $399 | $945 | $575 |
| Power | 250W | 250W | 250W |
| Battery Capacity | 234 Wh | 280 Wh | 180 Wh |
| Range | Up to 30 km / 18 m | 40 km / 25 mi | 32 km / 20 mi |
| Weight | 3kg | 28kg | 18kg |
With the integrated battery and motor, this all-in-one e-bike converter weighs only 3kg, offering extreme portability. The question then arises: Will this small unit be competitive in a market full of various e-bikes and e-bike conversion kits? 
Apparently, with its 250W power and 18 cells of 18650 Lithium batteries, forming a 234Wh battery capacity, PickaBoost is not only lightweight but also remarkably powerful. At a full load level, the range is up to 30km/18 miles, which is comparable to that of a large e-bike. 
But wait. That's not all. The battery compartment of PickaBoost is specifically designed with a modular replaceable 18650 lithium battery to allow you to enjoy wider ranges. So the range of 30km under the full electric assistance mode is not the limit. You may buy additional battery compartments with spare batteries to extend your range and support you on long trips without the need for further installation.
The 18650 lithium battery not only grants you increased durability and recharging speed, but is also eco-friendly. Moreover, by drastically lowering the need for recharges and minimizing energy loss, the intelligent regeneration technology of PickaBoost fundamentally resolves the issue of battery aging. So with your Pikaboost, you'll significantly lower your Co2 footprint and contribute to achieving a truly low-carbon environment.
Besides, you can enjoy your rides in any weather thanks to PikaBoost's IP66-rated battery and engine, which means they are resistant to sand, light rain, heavy storms, and dust.
PikaBoost also takes care of your health. Its Precision Assist Intelligence technology lessens wear and tear on the knees and meniscus by evenly distributing the output. This allows you to prevent overexertion and keep your heart rate up for long aerobic sessions. 
What's more, the PikaBoost booster system reduces the risk of knee damage from cycling uphill. In addition, it is helpful for cyclists who have low endurance levels. It relieves over-exercise and muscle soreness to make the ride easier, healthier, and more enjoyable.
Last but not least, the creators of PikaBoost have really thought about your safety. It's not a secret that bicycle brake failure is one of the most frequent reasons for accidents, particularly when riding at high speeds. Thanks to the supplied brake sensor, PickaBoost is able to turn off power to the motor as soon as the brake levers are actuated. Built-in acceleration and brake sensors detect the breaking behavior, automatically switch off the motor and immediately stop the power output. So brake failure or reduced braking efficiency is significantly minimized by the dual detection system.
Using acceleration and gyroscope technology, PikaBoost detects falls and attitudes. In order to prevent secondary injuries from falls, PikaBoost will automatically cut off the motor output if it determines that the tilt angle of the bike is greater than 45 degrees. Moreover, PikaBoost will slow speed and increase ground-to-wheel friction to lessen the likelihood of skidding. It'll also turn on the rear light after detecting the bike's brake line.
Product Competitiveness Score
The Team
Reliablility
How capable is the team? Have they developed something like this before? Do they have crowdfunding experience? Manufacturing experience? A lot of campaigns fail to deliver their product because they don't know what they're doing.
Since its foundation in 2014 LIVALL, a Chinese manufacturing company, has applied for and obtained more than 180 global and domestic patents, 58 of which are for product inventions, along with 50 industrial-recognized international awards. Notably, in 2018 it received the ISPO global design award for product of the year, becoming the only product in China that has won ISPO's highest honor award.
After producing various smart products for years, they invented the PikaBoost to provide fun and healthy rides at a reasonable price.
You can find some information about the team behind the PikaBoost on their Kickstarter campaign page, as well as on Linkedin. Livall also has a website, which allows its online presence and accessibility. Additionally, the company started presenting its innovation on social media platforms such as Instagram, Facebook, and YouTube.
Attitude
How transparent are the campaigners? Do they give their backers valuable updates on their progress? Do they engage with their backers? Crowdfunding is all about community, sharing information, and building meaningful relationships with the people who fund your project.
With 20 days before the end of the campaign, PickaBoost has already raised over $999,000, surpassing its $25,000 goal. 
It is Livall's first Kickstarter campaign, but its 8 years of experience are not to be taken lightly. They surely understand the importance of effective communication. Therefore, they promptly reply to the comments of their backers and constantly provide updates. To answer the requests of their backers, they also created a demonstration video showing the motor noise of PikaBoost. 
Note that, the motor noise of PikaBoost is almost imperceptible due to the top-notch motors Livall used.
Conclusion
With its e-bike conversion kit, Livall makes the advantages of e-bikes accessible for all bike owners. The major goal of the company is to make riding a bike safer while keeping the sense of freedom that comes with it. Being versatile, compact, and full of smart technologies PikaBoost seems to have all the potential to succeed in the market. 
TIW Total Score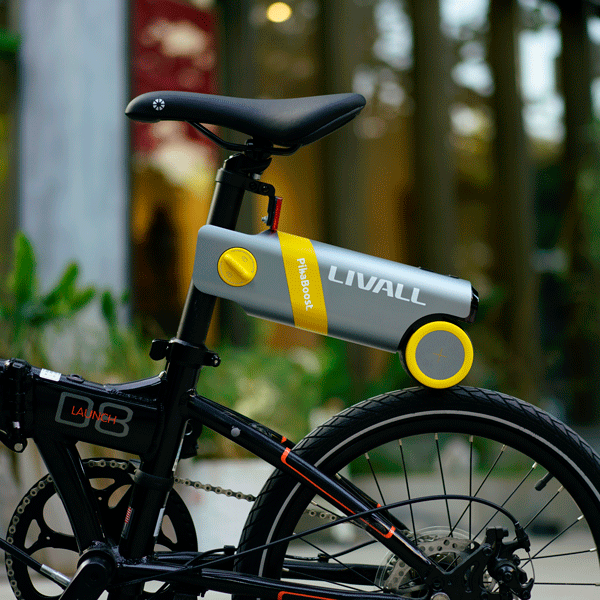 Livall Pikaboost
Livall Pikaboost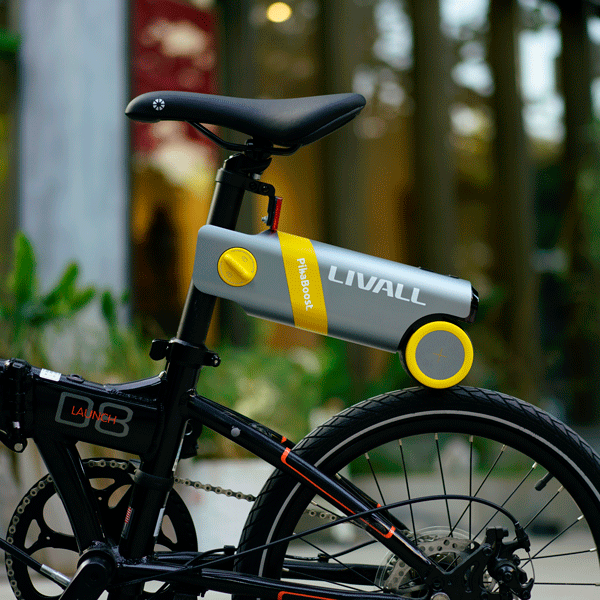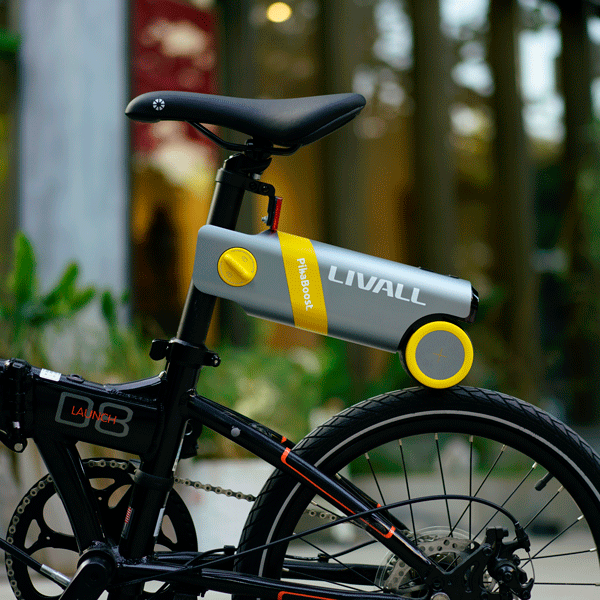 Limited time offer
d
·
: :