key advantages
Stereo Sound Quality
Smart Touch
40 Hours Battery Life
Smart Play&Pause
estimated
delivery
April, 2022
At Tech I Want, we're always on the lookout for new and innovative technology, which is why we were so excited to hear about the Kaibo Flex: The Next Gen Of Bone Conduction Headphones.
This Kickstarter campaign promises open-ear stereo sound quality, quick charging, and 40-hour battery life. Plus, it comes with a wireless charging dock.
Even though we don't have the product (as with all our high-quality crowdfunding reviews), we can spot whether a campaign will deliver as promised or not.
In this bone conduction headphones review, we will analyze this new campaign deeply and give our experts' verdict of the Kaibo Flex against our 4 Tech I Want Criteria.
The Product
Innovation
Is this a truly new product that you can't find on the market? Or this is a product that defines an entirely new product category. In some cases, the combination of several features into one or the introduction of a new feature to an old product are also considered to be an innovation.
First, a bit about what bone-conducting headphones are.
As opposed to normal on-ear or in-ear headphones, bone conduction headphones are placed on the cheekbones or temples and use vibrations to transfer audio into your inner ear, bypassing the eardrum.
It also allows you to listen to music or take calls without inserting earbuds into your ears. That makes them an excellent option for people who want to listen to music or make calls while still being able to hear what's going on around them.
The Kaibo team mentions: "Kaibo Flex uses patented audio technology to deliver crystal-clear mid and high-pitch frequencies alongside solid bass. You can hear every detail accurately. " 
Now, bone-conducting headphones are famous for not having an outstanding and detailed audio quality. They are excellent at what they do, but they are no match to traditional earphones in sound. 
Even though their sound quality is no match for in-ear headphones, we believe this new Keibo Flex seems like it can lift off and prove that bone-conducting headphones can actually be really good. Being the first bone-conducting headphone, according to our research, with such advanced smart touch controls and a charging dock is a definite plus for the innovation score.
The Kaibo Flex comes in a sleek and modern design. The headphones are made of Titanium Alloy + Silicone, giving them a flexible feel, and it looks like it comfortably fits around the head. 
The charging dock could need a design upgrade. We checked their previous headphones, which we will mention in the reliability section, and their charging case design is much more beautiful. If they wanted to win our hearts fully, simplify the charging dock. 
Even with their patent-pending cladding technique – their competitive advantages are not necessarily innovative but competitive. That is why we are moving to the next section to understand if the Kaibo Flex is strong enough to kick the competition. 
Competitiveness
How much better is it than the competition? Is it faster? Bigger? Cooler? More affordable? There needs to be a solid reason why you should back this project over any other.
| | Kaibo Flex | AfterShokz Aeropex | AfterShokz OpenMove |
| --- | --- | --- | --- |
| Price | KS $79 | $129 | $79 |
| Smart Play | ✅ | ❌ | ❌ |
| Noise Cancellation | ✅ | ✅ | ✅ |
| Play Time | 8 Hours (body) 40 Hours (dock) | 8 Hours | 6 Hours |
| Quick Charging | ✅ | ❌ | ❌ |
| Weight | 30g | 30g | 30g |
| Water Resistance | IP55 | IP67 | IP55 |
| Controls | Smart Touch | Button | Button |
We do our best with our substantial collective expertise in crowdfunding to analyze the campaigns and help you understand if they are worth buying and whether we believe the company will successfully ship the pledges you backed. 
But you can imagine why assessing headphones is one of the hardest things for us to do at Tech I Want without having the product. The sound quality, comfortability, weight, feel, and minor details impact the product quality. 
Nevertheless, to account for this issue, Tech I Want always does substantial background research on the competition and background of the creators. 
Overall, the Kaibo is a steal with its added features at the Kickstarter Early Bird price. The fact that it has smart controls, a charging dock, and a patent-pending cladding technique (let's see how that one goes) does make the Kaibo stand out from its competitors. 
From what we can see, the Kaibo Flex also looks more comfortable and flexible than its competitors. Lastly, their quick charge function will also be great for those people who forgot to charge it before a run.
Product Competitiveness Score
The Team
Reliability
How capable is the team? Have they developed something like this before? Do they have crowdfunding experience? Manufacturing experience? A lot of campaigns fail to deliver their product because they don't know what they're doing.
The producers of Kaibo Flex seem to have a lot of experience in the headphone engineering industry. They have over 30 years of experience and have spent the last two years researching materials and mechanical design to deliver unparalleled privacy, comfort, and sound quality. 
This seems to be a credible statement, as they have already designed audio processors for brands like Bose and Sennheiser. 
Traditionally, even if a team has a lot of engineering experience, they are not destined to succeed. There are few guarantees for many first-time campaigners that they will deliver pledges for their Kickstarter campaign successfully.
However, once again, Kaibo got it covered. From their campaign page, the founder, Chai-Po, is stated to have over 30 years of entrepreneurial experience in the consumer and high tech space. From my Linkedin and website research, it also seems like Chai-Po's daughter, Vivian, is working with him on making and releasing the product. 
Though I found their previous headphones on their website, I cannot find any major retailer selling them. Since I don't trust reviews on creators' own websites, I will treat this fact as having not mass manufactured and globally shipped a product (even though there is a Chinese influencer who did a review). However, their credibility has been proved enough for the reliability rating not to go down significantly. 
They also attended CES 2022, which is a great sign that they are ready to show their product to the world and are sincere creators putting their own face on their product. 
Attitude
How transparent are the campaigners? Do they give their backers valuable updates on their progress? Do they engage with their backers? Crowdfunding is all about community, sharing information, and building meaningful relationships with the people who fund your project.
From reading almost all comments on their campaign page, we conclude that the attitude of the Kaibo Flex team is good but not good enough to handle the most challenging comments they've received. 
Please don't misunderstand us; when Kaibo responds, they are professional with a twist of personality. Most of the critical questions are answered in a timely and professional manner. 
Most of the frustrated comments are about how there are already headphones with smart controls and how the product is similar to other headphones. While they are correct that the added features that make Keibo Flex unique compared to the competition are few, we still predict these few features to be quite impactful to the product as a whole – and thus make the Kaibo more competitive than the other products.  
The second problem seems to be that Kaibo had the product available for distributor inquiries at a wholesale price before launching the campaign. This means that distributors could buy what is now called the Kaibo and resell it during some period. 
A super backer commented erroneously: "Existing products shouldn't be on Kickstarter!". Though it does seem logical that they shouldn't, there are plenty of examples of Kickstarter campaigns that fully developed their product, planned mass-market production, and then launched a Kickstarter campaign to see how many units they should buy. 
Though this is often done by big corporations who have had previous success in Kickstarter, it is a good thing that manufacturers are allowed to build their product to completion before starting a Kickstarter. 
However, the more central argument against Kaibo is that they actually started selling it and then opened a Kickstarter to benefit from the virality of the Kickstarter campaigns. 
Attached is a screenshot of Kaibo's justification for opening a Kickstarter, and you can judge yourself if you believe it to be good enough. We do strongly believe so. We've given our score based on a lot of consideration.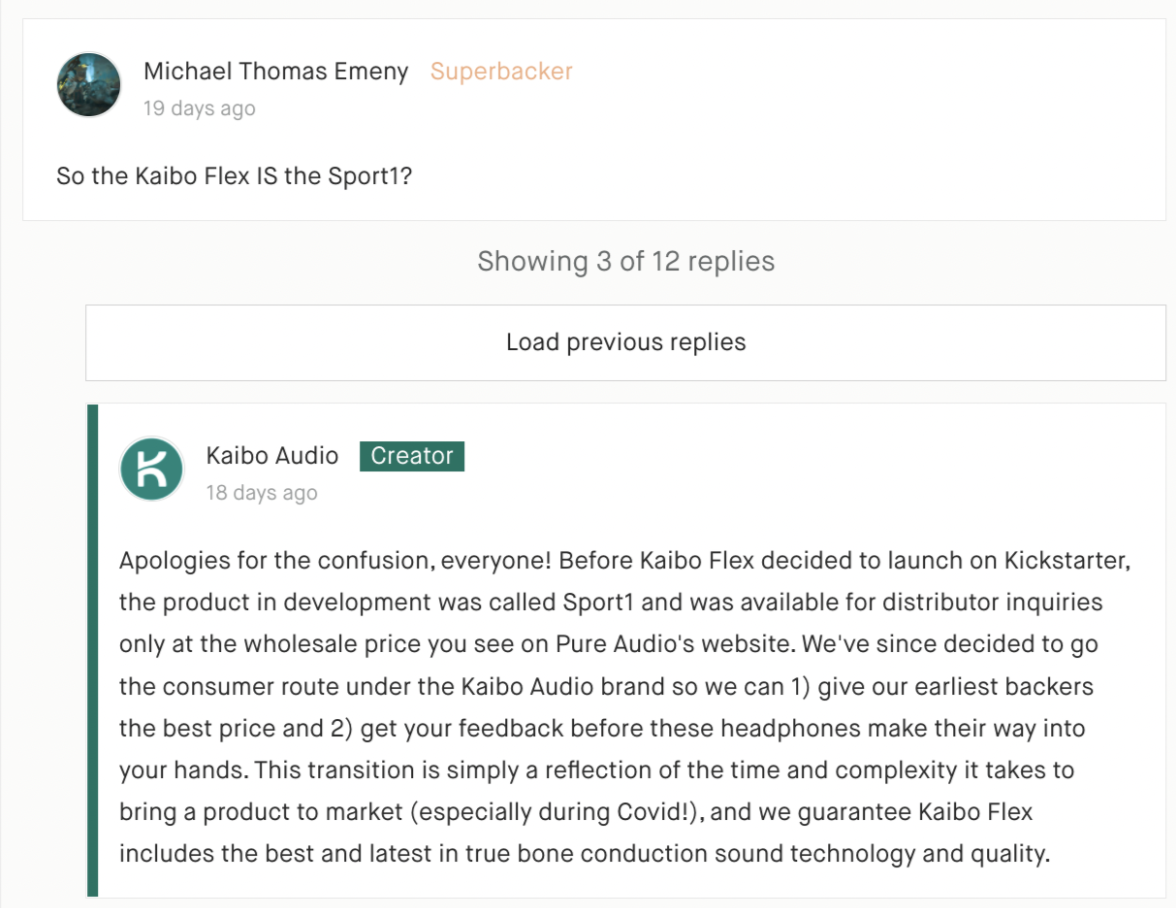 The last point we want to mention is that one specific person seems to be causing a lot of trouble for Kaibo's comment section. This person posted 64 out of 216 comments, and they were rather rude and aggressive. We understand that it is essential to be critical of the campaigners you back and give them feedback – but we decided not to include this person's comments in our consideration of the rating of the attitude as that person seems like a scam.
Conclusion & Public Opinion
The Kaibo Flex is a fresh upgrade on relatively new and underutilized technology.
There are other good products on the market with similar features, but Kaibo Flex managed to include some of the great features we've seen, like in-ear headphones like touch control.
Their attitude and professionalism make them worth considering for your next purchase, and we will excitedly keep an eye on them to see when they ship and if the backers are happy.
We hope that moving on they will be more communicative with their backers and take into account all the feedback they have received so far to make a better product – because honestly, the best part of crowdfunding is that the campaigner and the backer can collaborate on how to develop and upgrade the product along the way.
Limited time offer
d
·
: :