key advantages
A single universal cable for every device
100W
OTG charging
30cm to 3m
estimated
delivery
May, 2022
If you're like me, you have a drawer full of charging cables for all your different devices.
And if you're not like me, then you probably have at least one cable that's specific to your phone or tablet.
It can be a real pain trying to find the right cable when you need it, and even more of a pain when you don't have the right cable with you. That's why we were excited to hear about Rolling Square's latest product: inCharge XL – Universal Cable.
It's a single universal cable that can charge any device, from 30cm up to 3m in length. Let's see if the new inCharge XL Universal Cable by Rolling Square is a godly new invention or simply a remake of a previous product.
The Product
Innovation
Is this a truly new product that you can't find on the market? Or this is a product that defines an entirely new product category. In some cases, the combination of several features into one or the introduction of a new feature to an old product are also considered to be an innovation.
The inCharge XL is the 11th campaign of the serial campaigner Rolling Square. They've been praised in the past for great products and have established themselves as credible product creators in the market. 
As we are looking through their subsequent campaigns we see a lot of improvements in product quality and design over time – so we always expect new highs when Rolling Square releases a new product. 
Let's see if the new inCharge XL Universal Cable by Rolling Square is a godly new invention or simply a remake of a previous product.
The concept of having one universal cable makes sense – why hurt the environment by buying more and more cables that anyways transmit the same data and electricity?   
Looking back at the change of design of iPhone chargers over the years, why the hell did they need to make that long, bulky, ugly charger that was incompatible with everything? It seems like the trick of some producers to stay strong in the market and establish a monopoly in the past has been to make their chargers incompatible with other products. 
But as the climate movement is moving forward (and you have to buy a new phone every 2-3 years because they are designed to die) it seems like such a waste to keep getting mutually incompatible charging cables along with it. 
Back in 2020 when Rolling Square announced inCharge X – the 100W Swiss Army Knife of Cables – they raised over $720k and became the most funded cable ever. it was damn innovative.
When this new product inCharge XL cable launched I was skeptical that it would just be a long version of the previous product but I saw crucial changes:
The design was updated

The length (duh)

Two extra connections

Strength and durability
By adding one extra connector they achieved giving two extra connections than the previous product – so it can charge a wide array of devices. It also has 100W of charging power, which means it can charge your devices quickly. 
We've given the inCharge XL a score of 7. It hasn't completely changed the charging market but they have seriously listened to backer demand from their previous product and upgraded some much-needed features that make their product more attractive for a wider audience. 
The look and feel of the product have also improved proving that Rolling Square is moving towards being very established creators in their field. 
Competitiveness
How much better is it than the competition? Is it faster? Bigger? Cooler? More affordable? There needs to be a solid reason why you should back this project over any other.
| | inCharge XL | Anker Powerline II | Puxnoin Multi Charging Cable |
| --- | --- | --- | --- |
| Price | $21, $26, $29 | $21 | $13 |
| Connections | 6 | 3 | 3 |
| Size | 30cm, 200cm, 300cm | 91cm | 121 cm |
| Types | USB, USB-C Micro USB, USB-C, Lightning | USB Micro USB, USB-C, Lightning. | USB Micro USB, USB-C, Lightning x2 |
| Data Transfer | Yes | Some | No |
In the grand scheme of things, the inCharge XL has a lot of competitors. 
After doing a thorough analysis on Amazon, there don't seem to be competitors that have the exact same features as the inCharge XL. There are many universal cables but few of them have two inputs. Second of all, if there is one with two inputs it's never as long, strong, or with a nice design like inCharge XL. 
For all the people who are ready to go on Ali Express to get cheap caples with similar features, you'll most likely be facing a cheap hit or miss. From the Tech I Want team, many of us have tried Ali Express and some purchases were successful however it's hard to trust what you can get. 
The inCharge XL is definitely affordable but it is in a higher price range than some of the non-brand universal cables. Still, we argue, with the added features and nice finish to the product, it is still a competitive product. 
But for it to get a 40/40 it would need to have more connectors, be cheaper, or have some incredible other must-have feature that other products don't have. 
Product Competitiveness Score
The Team
Reliability
How capable is the team? Have they developed something like this before? Do they have crowdfunding experience? Manufacturing experience? A lot of campaigns fail to deliver their product because they don't know what they're doing.
Based on Rolling Square's track record, we believe that they are definitely able to produce, manufacture, and ship the inCharge XL. The Rolling Square team has been in the business for a while now and has established itself as a credible company. Furthermore, they have great reviews on their previous products. 
They have made in total 11 previous campaigns, all on Indiegogo. They've become famous for their inCharge products which have all been keyring-sized universal cables. Their designs were nice but for the inCharge XL it seems the Rolling Square really has stepped up their game.  
They are not only in the cable business though. They have produced phone cases, work-from-home kits, wireless earbuds, power banks, and more. 
The fact that Rolling Square has taken such a wide approach to create crowdfunding campaigns is very interesting. Usually, campaigners make their first product and then continuously upgrade it or branch out in one category  (like phone cases). Rolling Square, however, has done a bit of everything. 
This could be seen as a risk but it also gives them more credibility in the market – if they mess up one product, people are not so quick to judge all their other products. 
However, we wouldn't be too afraid. From checking the campaign pages most pledges have been delivered and it seems Rolling Square are pros at what they do (no matter what product category they work in). 
Attitude
How transparent are the campaigners? Do they give their backers valuable updates on their progress? Do they engage with their backers? Crowdfunding is all about community, sharing information, and building meaningful relationships with the people who fund your project.
The attitude of the campaigner is a crucial part of nurturing the backer community. If the team is not passionate about their product, it will be very difficult to keep up with the demands of the market and backers. 
From what we see on the current and previous campaign pages, they do have a great attitude and seem like they are always trying to improve their products and listen to their clients. 
Furthermore, they are communicative and open to feedback which is always a great sign in crowdfunding. The backers are the most important supporters of a campaign and if the campaigner is not willing to listen to them, it might be an indication of future problems. 
Here's an example of a response that we really like. It's friendly, in-depth, and professional.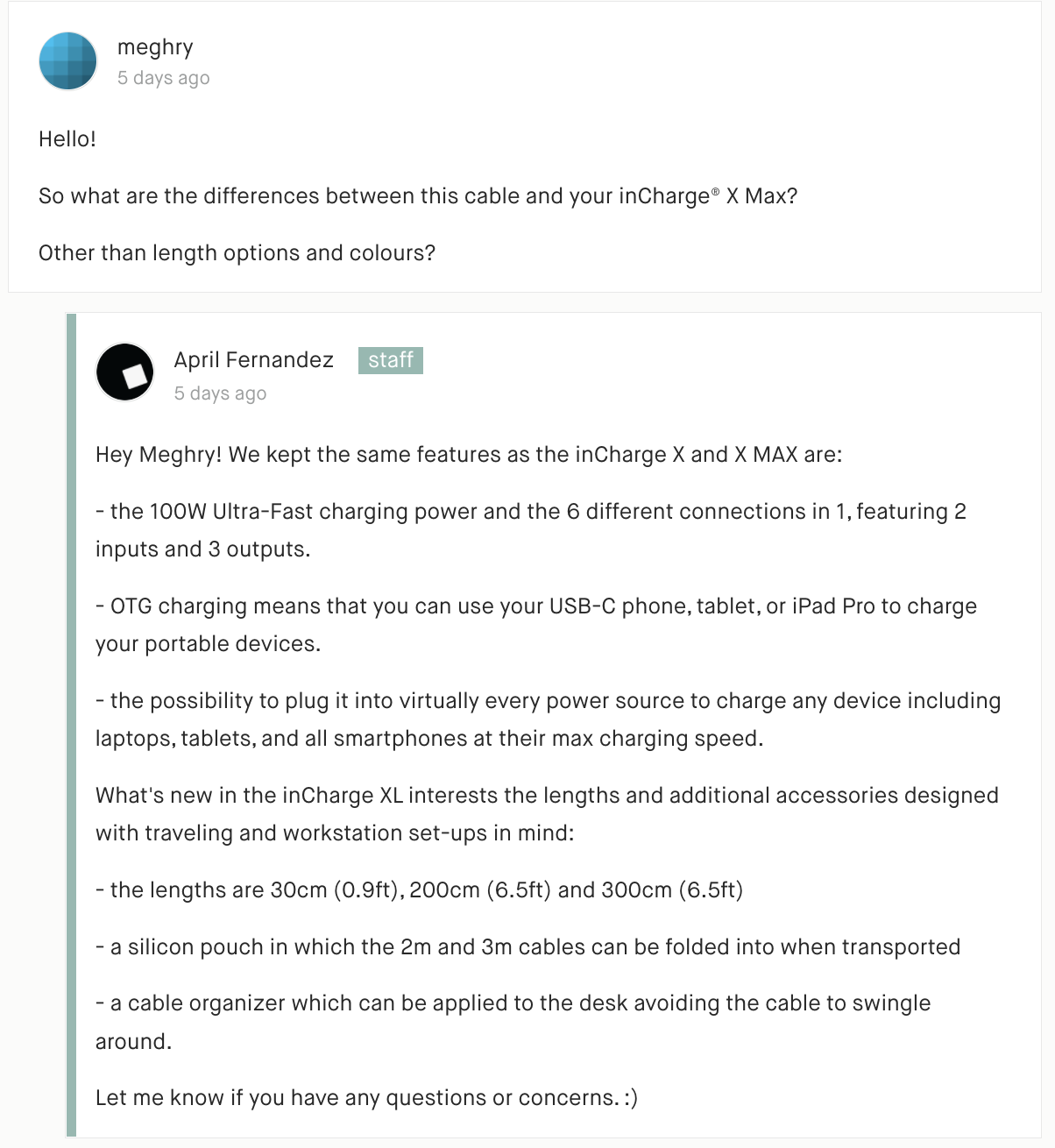 The Rolling Square team has definitely had some issues in the past with long delivery times but they seem to have learned from their mistakes (and have communicated this effectively to their backers). 
Overall, we believe that Rolling Square has a great attitude and is definitely willing to work with its backers to create the best product possible. 
The Rolling Square team is pretty transparent when it comes to their manufacturing process and timeline. They have included some information on their campaign page about shipping information. 
Some campaigners produce 20+ updates during a campaign however Rolling Square is keeping it simple with between 5-20. Some products with many delays need the campaigners to be extremely active and transparent in their communication but maybe Rolling Square is just so good at production they don't need to update their audience? 
No matter what, we love when campaigners send regular updates and we'd love if Rolling Square would send some more.
Conclusion & Public Opinion
Rolling Square is a great campaigner with a lot of experience. They have made some great products in the past and we believe that they will be able to deliver on their promises for the inCharge XL. 
The inCharge XL looks great and has gone through some substantial upgrades compared to the previous product. 
The attitude of Rolling Square is also very positive and they seem to be communicative with their backers. 
We hope that Rolling Square will continue to send regular updates about the product and its manufacturing process as it would help alleviate some of the backer's concerns.
TIW Total Score
inCharge XL by Rolling Square
inCharge XL by Rolling Square
Limited time offer
d
·
: :