key advantages
Versatile & compact design
Expandable storage
Adjustable size settings
estimated
delivery
March 2021
6,7, maybe 12? How many slings do you have laying on the drawers of your shelves or in your wardrobe? I am certain you did like their design, style, or perhaps the material when you decided to get them. Although, the greater your focus was on their quality, the higher you might have paid for them. Foreseeing this, I am now up to offer you to take a look at FINO IV, which is the 4th generation sling pack produced by Niid.
This sling bag serves as a versatile companion by matching with the style you choose, the place you go, and the outfit you pick. It comes with:
magnetic closure & buckle
rubberized hanger
retractable keychain
external zip pocket
theft-proof magnetic cellphone pocket
reusable mask pouch
Whether you prefer to look sporty, classic, or dressy, the Niid sling pack is there to be worn.
| | |
| --- | --- |
| Pros | Cons |
| ✔️Versatility | ❌ Price |
| ✔️Practicality & stylishness | |
Check out Kickstarter's most funded Tech & Design category products of 2020 here!
The Product
Innovation
Is this a truly new product that you can't find on the market? Or this a product that defines an entirely new product category. In some cases, the combination of several features into one or the introduction of a new feature to an old product are also considered to be an innovation.
Undoubtedly, the sling and backpack market keeps growing and is consistently refreshed with new designs, styles and approaches. It, therefore, becomes even more crucial to pay attention to the specific details of the product when considering buying it. Fino sling bag manages to stand out in the world of innovation with the versatility of functions it holds together as a product. The compact design, the multiple magnetic pockets for every accessory you might think of, the expandable storage and the rubberized hanger make it look different, fancy and alluring. Thus, regardless of how fast-growing the industry is, Fino manages to appear with features that make it unique and visible.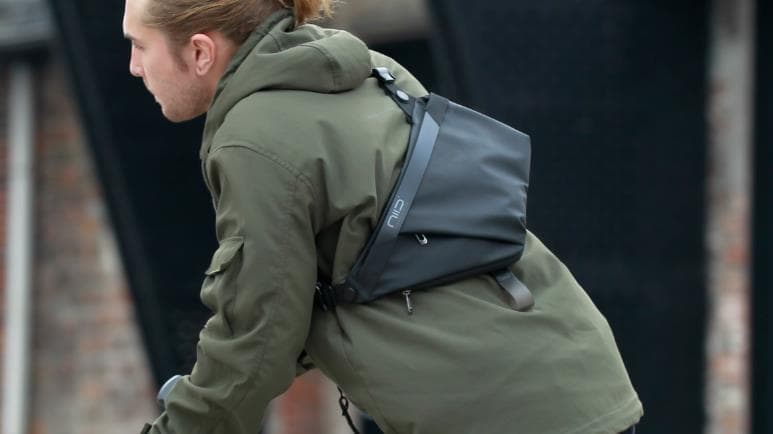 Competitiveness
How much better is it than the competition? Is it faster? Bigger? Cooler? More affordable? There needs to be a solid reason why you should back this project over any other.
| | FINO IV | Osprey | Topnice | Ceephouge |
| --- | --- | --- | --- | --- |
| Price | $39 | $42 | $23 | $17 |
| Dimensions (inches) | 15.7 x 9.6 x 1.2 | 16 x 10 x 3 | 14 x 8.5 x 1 | 12 x 7.8 x 0.4 |
| Material | Water-repellent fabric | Nylon | Water-resistant fabric | Waterproof nylon |
| Magnetic closure | ✔️ | ❌ | ❌ | ❌ |
| Rubberized hanger | ✔️ | ❌ | ❌ | ❌ |
| Magnetic inside pockets | ✔️ | ❌ | ❌ | ❌ |
The competition for sling bags is obviously intense! There are numerous producers in the market, as a result of which a vast variety of models are available for customers. Although the Niid Fino does not offer the lowest price in the competition, it manages to get attention with some eye-catching features such as the magnetic closure, the rubberized hanger and the magnetic pockets inside. They appear to justify the slightly higher price compared with the competitors and make it look like a more desirable option for many people.
Product Competitiveness Score
The Team
Reliability
How capable is the team? Have they developed something like this before? Do they have crowdfunding experience? Manufacturing experience? A lot of campaigns fail to deliver their product because they don't know what they're doing.
Fino IV is the 4th generation of sling bags produced by Niid. The team has managed to create an outstanding background in the world of crowdfunding by having launched 5 campaigns on Kickstarter. The first one was an interchangeable backpack, which raised $168.463 with the support of 1664 backers. A year later the first Niid sling pack was launched. Fino's youngest ancestor – the Radiant Urban Sling brought big success to the team at the beginning of the challenging 2020. $784.943 with the support of 10.312 backers. 
The promising results and the earned reputation pushed Niid forward to give birth to Fino IV, which has managed to raise $199.503 with still 16 days to go. The details of the products initially launched on Kickstarter and later supplied on different platforms for sales can be found on Niid's official website, where you can also purchase their sling bags available in various colors and designs. 
The team, as seen, has been working hard to improve since 2017, and as of the end 2020, it seems to be on a good track. 
Attitude
How transparent are the campaigners? Do they give their backers valuable updates on their progress? Do they engage with their backers? Crowdfunding is all about community, sharing information and building a meaningful relationship with the people who fund your project.
Trying to find out how the Niid team communicates with their backers and what are the ways they want to keep their backer community engaged and hyped, I went back to check their updates on their previous campaign that brought so much luck and popularity to them on Kickstarter. 
As a result, I found this honest update, which seemed to me as an explicit explanation and clarification to the challenges the team had to face because of the pandemic. In the continuation of the update, the team talks about the actions they took to respond accordingly to the created challenges. Moreover, the thing I would pay much attention to is that they care about their backers' impression and opinion about them, and they do apologize if necessary. 
3957 comments on the Radiant campaign and this one grabbed my attention as it illustrated the responsive style in which the team refers to their backers' thoughts, suggestions and regards.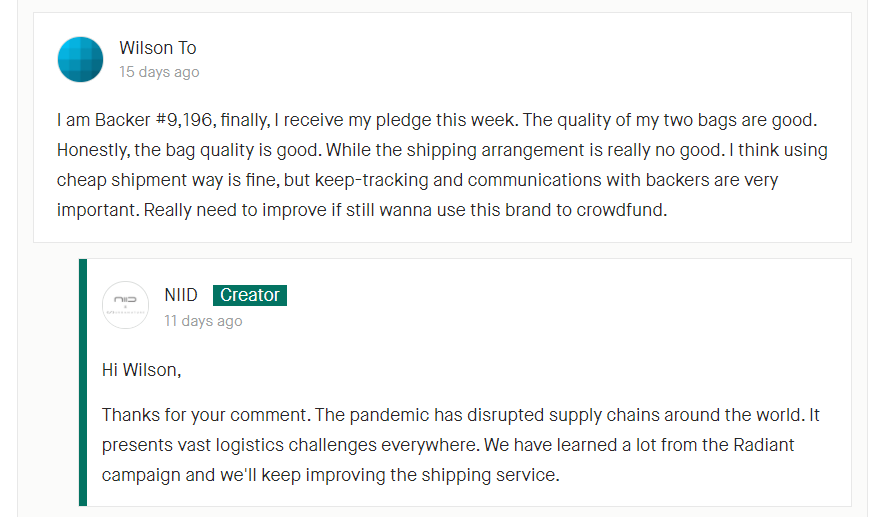 Conclusion & Public Opinion
As the brand has managed to spread its products on different online and retail stores, customers have shared their feedback and review for most of the products supplied by Niid. The overall atmosphere created around the team's products appears to be positive, and the majority of customers seem to be satisfied with what they have purchased. 
The following review refers to Radiant sling, which was Niid's 4th campaign on Kickstarter.

This one is on one of the previous generations of Fino:

As observed, the team has created an atmosphere enabling its customers to freely express their opinions, recommendations, and also concerns regarding their products. Niid appears as a responsive group of campaigners on Kickstarter, too. Thus, if you would like to get a cool and convenient sling bag produced by a reliable and responsible team, Niid Sling Pack is what you should give a chance to!
TIW Total Score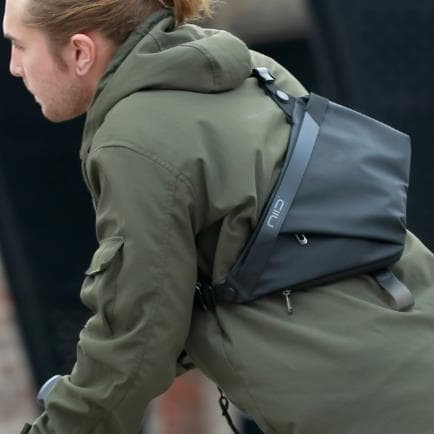 FINO IV
FINO IV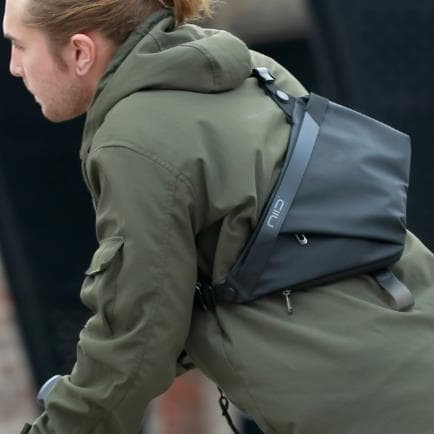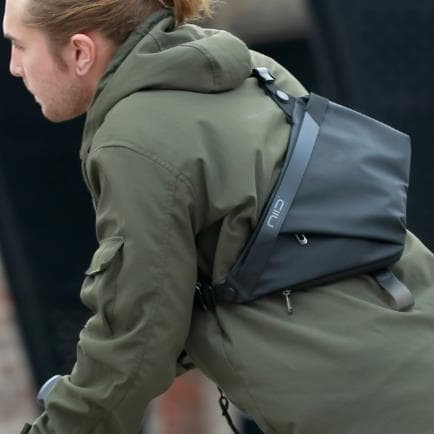 Limited time offer
d
·
: :