key advantages
Fast Fingerprint Detection
2k Resolution Camera
Night Vision
estimated
delivery
May 2022
Knock, knock.
Who's there?
Robin.
Robin who?
Robin you. Give me your money!
The joke is funny… I hope so. But the situation is definitely not. The safety of our houses is something we have to pay a lot of attention to. The security of our family members and children is a priority, but regular locks may not provide that security properly.
Smart locks have created a new home security experience with features and functionality designed to give you control over what happens to your home.
Eufy Security just launched The See-Everything Smart Lock with camera, which allows you to watch your visitors approach, lock and unlock the door, and get notifications when someone leaves home, irrespective of your location.
Let's go a little bit deeper and analyze this product according to our four criteria.
The Product
Innovation
Is this a truly new product that you can't find on the market? Or this is a product that defines an entirely new product category. In some cases, the combination of several features into one or the introduction of a new feature to an old product are also considered to be an innovation.
The See-Everything Smart Lock is the latest innovation of Eufy Security which offers its customers 3-in-1 convenience, that is, fingerprint unlock, camera and doorbell. 
We can find smart locks with a camera in the market, so this is not something new, but what makes the Eufy smart lock with a camera genuinely innovative is the integrated 2k camera. However, the maximum which we came across in the market is 720p.
It also makes viewing your front door natural thanks to the 160° large field-of-view in a 4:3 format. In addition, the Wide Dynamic Range technology ensures that the video footage is clear even on sunny days. You can also have a good quality picture at night due to its four infrared light systems; this is something new among the products with such feature combinations.
The Eufy Smart lock has a 3D generation of fingerprint detection, which recognizes your fingerprint in 0,3 seconds. Although its competitors, for example, Lockly Vision, also have the 3D fingerprint detector, the Eufy Smart stands out with its Self-Learning Fingerprint Identification. Also, it uses ultra-thin fingerprint film to ensure it recognizes your fingerprint in rain, snow, or dust. 
Smart locks in the market are mainly run with AA batteries; the only competitor with a rechargeable battery is the Gate Smart Lock, which the Gate team guarantees will work 48 days without charging. Type 18650 rechargeable lithium battery is used for the Eufy Smart lock, and Eufy Security ensures that it can last about 120 days with all features on (lock/unlock 10 times per day10 motion detections per day).
If it really does that, it's about three times more powerful than its competitors. Moreover, when you look at the other competitors, most do not offer a rechargeable battery.
Competitiveness
How much better is it than the competition? Is it faster? Bigger? Cooler? More affordable? There needs to be a solid reason why you should back this project over any other.
| | Eufy Video Smart Lock | Lockly Vision | Gate Smart Lock |
| --- | --- | --- | --- |
| Price | $229 (KS) | $399,99 | $249+Service Plans |
| Doorbell | ✔️ | ✔️ | ✔️ |
| Camera | ✔️ (2k) | ✔️ (720p) | ✔️ (720p) |
| Fingerprint Unlock | ✔️ (Self-learning Recognition) | ✔️ | ✔️ |
| Night Vision | ✔️ | ❌ | ❌ |
| Movement Detection | ✔️ | ❌ | ✔️ |
| Key unlock | ✔️ | ✔️ | ✔️ |
| Notifications | ✔️ | ❌ | ✔️ |
| Voice Control | ✔️ | ✔️ | ✔️ |
| Video Storage | ✔️ | ✔️ | ✔️ |
| Quiet Operation | ✔️ | ✔️ | ❌ |
| Rechargeable Battery | ✔️ | ❌ | ✔️ |
The Eufy Smart lock has some competitors with quite the same features. The Eufy Smart lock has a lower price and offers higher quality.  The Eufy Video Smart Lock has a 2K resolution camera, though its competitors do not offer cameras with more than 720p.
In addition, Wide Dynamic Range technology and four infrared lights provide you with a clear video, be it a sunny day or night. However, competitors lack night vision.  Although other smart locks in the market also have the fingerprint unlock feature, the Eufy Smart lock again wins with its self-learning recognition and ultra-thin fingerprint film, which quickly recognizes your fingerprint in 0.3 seconds in rain or dust.
The Eufy smart lock does not require any monthly fees, while the Gate smart lock requires a service plan to unlock all its features. So compared to its competitors, the Eufy Smart lock with a camera is much more affordable, considering the features it has.
Product Competitiveness Score
The Team
Reliability
How capable is the team? Have they developed something like this before? Do they have crowdfunding experience? Manufacturing experience? A lot of campaigns fail to deliver their product because they don't know what they're doing.
Eufy is part of Anker Innovations, one of the leading consumer electronics brands in The United States. Anker is a US-based Chinese company founded in 2011 by ex-Google engineer Steven Yang, debuted on the Shenzhen Stock Exchange on August 24th.
The brand was one of the first Amazon-native brands.  Eufy Security offers a wide range of home security devices and appliances: smart locks, security cameras, vacuum cleaners. Their products rate 4-4,5 stars on Amazon.  Let's check their Kickstarter campaign page, as our experience shows that not all established companies are running their campaigns professionally.
The Smart lock with a built-in camera is the 3rd campaign of Eufy Security on Kickstarter.  The two previous crowdfunding campaigns were quite successful, raising $3,139,558 from 8,803 backers and $362,842 from 1,718 backers. 
According to the comments of previous campaigns and Facebook reviews, the products were successfully shipped to thousands of backers. If not, they reacted very quickly and sent the product again, which indicates the high level of professionalism of the Eufy Security team.

Attitude
How transparent are the campaigners? Do they give their backers valuable updates on their progress? Do they engage with their backers? Crowdfunding is all about community, sharing information, and building meaningful relationships with the people who fund your project.
From what we see on the first campaign page, the Eufy team didn't have good customer support, as they mostly did not answer the comments. But it seems like later on, they improved it.
In the other two campaigns, we can see that the company's attitude became very friendly and polite to its backers. Their team mainly responds to the comments in 2-3 days.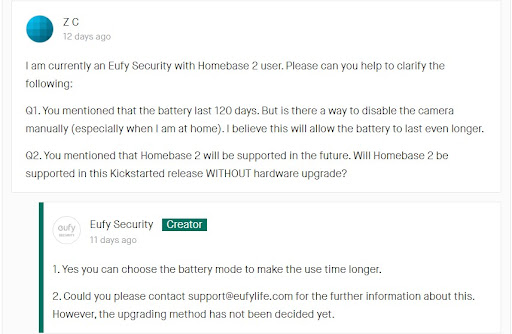 Also, it's worth mentioning that the webpage of Eufy Security is quite convenient. It has a community section for customers to discuss the problems they face. Besides that, there is a Product FAQ section and a section with support howto videos, which can be very useful and informative for their customers. 
Plus, Eufy Security has a live chat on their webpage. At first, you can choose the product you have and the problems you face with it, getting answers from a chatbot. If you are not satisfied with the answers or they did not help to solve the problem, the chatbot offers you to contact the agent. 
They are pretty active on social media platforms (Instagram and Facebook), constantly posting about their products. They get many customer reviews on Facebook, both positive and negative, and they are actively responding to the reviews by being supportive and ready to help.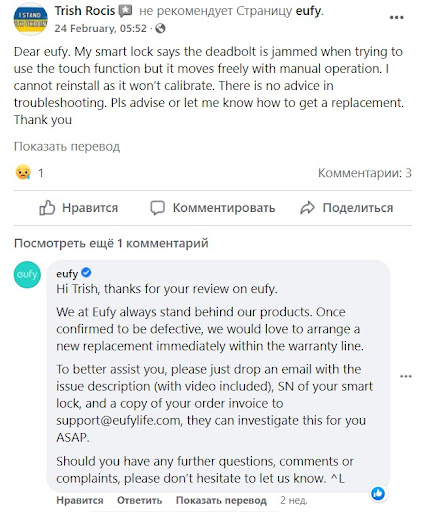 Conclusion & Public Opinion
To sum up, the Eufy smart lock with camera is a great innovation that offers something new in managing home security. In about two weeks, they raised $ 941,007 from 3645 backers.  An established company runs them, and they have made some great products in the past as well, which have great reviews on Amazon. 
The attitude of Eufy Security towards its backers is relatively positive, and they are also open to feedback on their social media platforms.
TIW Total Score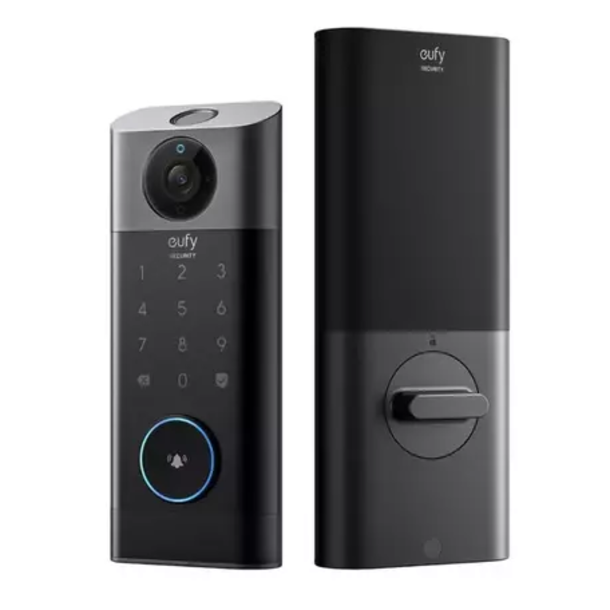 Eufy Security
Eufy Security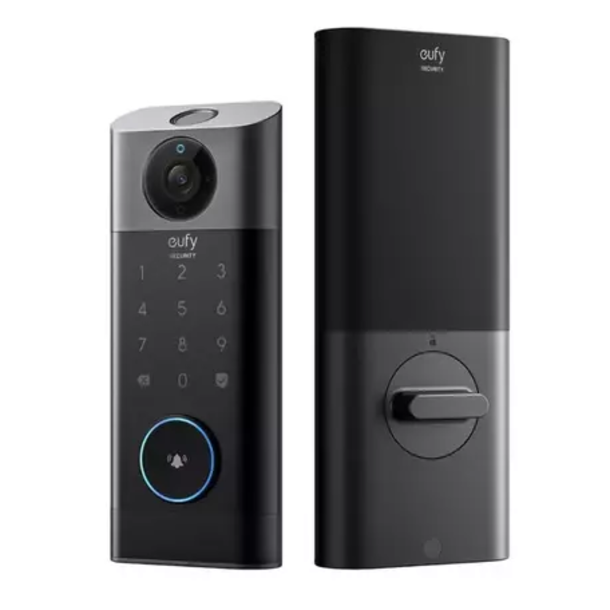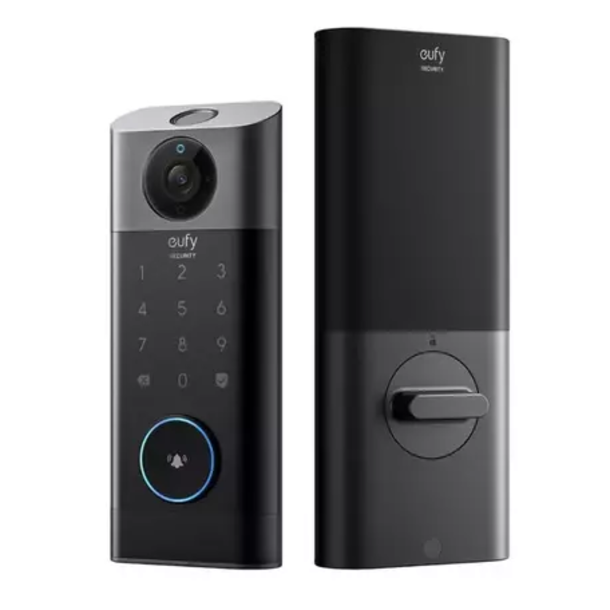 Limited time offer
d
·
: :