EcoFlow DELTA Pro
Battery Backup for Home
key advantages
6000W Multi-Charge with AC & USB outputs
3.6 - 25kWh Expandable Capacity
1200W Solar Charging
estimated
delivery
October 2021
In 1879, Thomas Edison, a world-famous American inventor, made a revolution in the world by creating the first-ever light bulb. His invention changed the world. Now it's 2021. 142 years have passed since the invention of the light bulb, but people didn't stop there.
So, what happens when the light bulb that Edison created dies down because of the lack of electricity? This is where EcoFlow Delta Pro: battery backup power supply for home comes in handy.
The Delta Pro is the world's fastest rechargeable portable power supply. Its features are quite promising. But is this product worth spending a whole fortune on? Let's find out!
The Product
Innovation
Is this a truly new product that you can't find on the market? Or this a product that defines an entirely new product category. In some cases, the combination of several features into one or the introduction of a new feature to an old product are also considered to be an innovation.
Ecoflow, with headquarters in San Francisco, invented a new portable battery backup for home. This is not the first-ever battery generator in the world, but it has the full potential to be one of the strongest ones and even grab the top spot. 
Compared to other power stations, the EcoFlow Delta Pro charges much faster. You can fully charge it in less than 2 hours. But how do you charge it? Well, EcoFlow offers you multiple methods on how to do so. Besides using wall outlets and EV charging stations you can also charge your Delta pro with solar energy, wind energy,  smart generators, and your car. You choose. 
When severe storms decide to say hello, you will not worry,  because EcoFlow Delta Pro delivers up to 25kWh of capacity. This is a very promising number. With this product, you will be able to power almost anything: air conditioners, phones, washing machines, and if you connect two Delta Pro units with the Voltage Hub you will even be able to power heavy-duty devices.
Also, the EcoFlow Delta Pro is 25% more fuel-efficient. It allows you to save money on your energy bills. The company states that it is possible to save over 1000$ a year with 2 Delta Pro's, a smart home panel, and 2400W worth of EcoFlow solar panels. Moreover, Delta Pro features a brand-new LFP battery which will give you 6500+ cycles. That means you can use this product for many years before the unit reaches 50% of the original capacity.
So, how do you control the EcoFlow Delta Pro battery backup for home? Well, EcoFlow took care of that. They created an app that allows you to control the station remotely. 
Another thing to take into account is the design. The exterior of the product is made so you can easily move it if you are on the go. It reminds me of a small travel suitcase. Although, if you want something even smaller than this take a look at battery backup for home Delta max.
Delta Pro's exterior contains fire-resistant materials with a V-0 rating and its interior is copper-plated which prevents the product from overheating. It also features a new cooling system that can quickly react to changes in wattage and automatically adjust the fan speed.
See? Not only Thomas Edison can bring bright ideas to life, but EcoFlow may also be able to do it. 
Competitiveness
How much better is it than the competition? Is it faster? Bigger? Cooler? More affordable? There needs to be a solid reason why you should back this project over any other.
| | EcoFlow Delta Pro | Jackery Explorer 1000 | Bluetti EB150 |
| --- | --- | --- | --- |
| Price | 2699$ (K) | $999 | $1999 |
| Weight | 99lbs | 22.04lbs | 48lbs |
| USB-C ports | 2x 100W | 2x PD18W (5V 3A / 9V 2A / 12V 1.5A) | 1x 45W |
| DC Car ports | 2X12V | 12V 10A | 12V 9A |
| Digital display | ✅ | ✅ | ✅ |
| AC Power outlets | 5x 3600W | 3x 1000W | 2x 1000W |
| Battery Capacity | 3.6-25kWh | 1002Wh | 3.6kWh |
In this list of rechargeable generators, you can see that EcoFlow's Delta Pro battery backup for home is far from cheap, but it also has high quality, so the price is understandable. By spending a bit more money you will get more power. The battery capacity is much higher in Delta Pro than in Jackery Explorer 1000 and Bluetti EB150. The only downside is the weight. If you are fond of something smaller and lighter try looking for other models. Although, you can easily carry the EcoFlow Delta Pro around with its holders.
Product Competitiveness Score
The Team
Reliability
How capable is the team? Have they developed something like this before? Do they have crowdfunding experience? Manufacturing experience? A lot of campaigns fail to deliver their product because they don't know what they're doing.
With two previous crowdfunding experiences and various manufactured and already sold products, EcoFlow proves itself to be quite reliable despite being founded in just 2016. In the span of 5 years, the privately-held multinational company made a revolution by reinventing the way the world accesses energy. They have created industry-first, smart, and powerful mobile power products. The company's CEO Eli Harris was in fact listed as a Forbes 30 under 30 entrepreneur. 
EcoFlow has a website where you can see all the products. EcoFlow DELTA Power Station, for example, received 5 stars out of 5. Very few people had complaints and the majority was satisfied with the received product.

So… Do you trust them? Because I do. 
Attitude
How transparent are the campaigners? Do they give their backers valuable updates on their progress? Do they engage with their backers? Crowdfunding is all about community, sharing information, and building a meaningful relationship with the people who fund your project.
Everything is great until you take a look at the comments. Not every comment is like this, but there is a great number of late answers which is a bit worrying and also understandable at the same time.
Why understandable? Because when the sun goes down in Los Angeles, in  Moscow people enjoy the sunrise.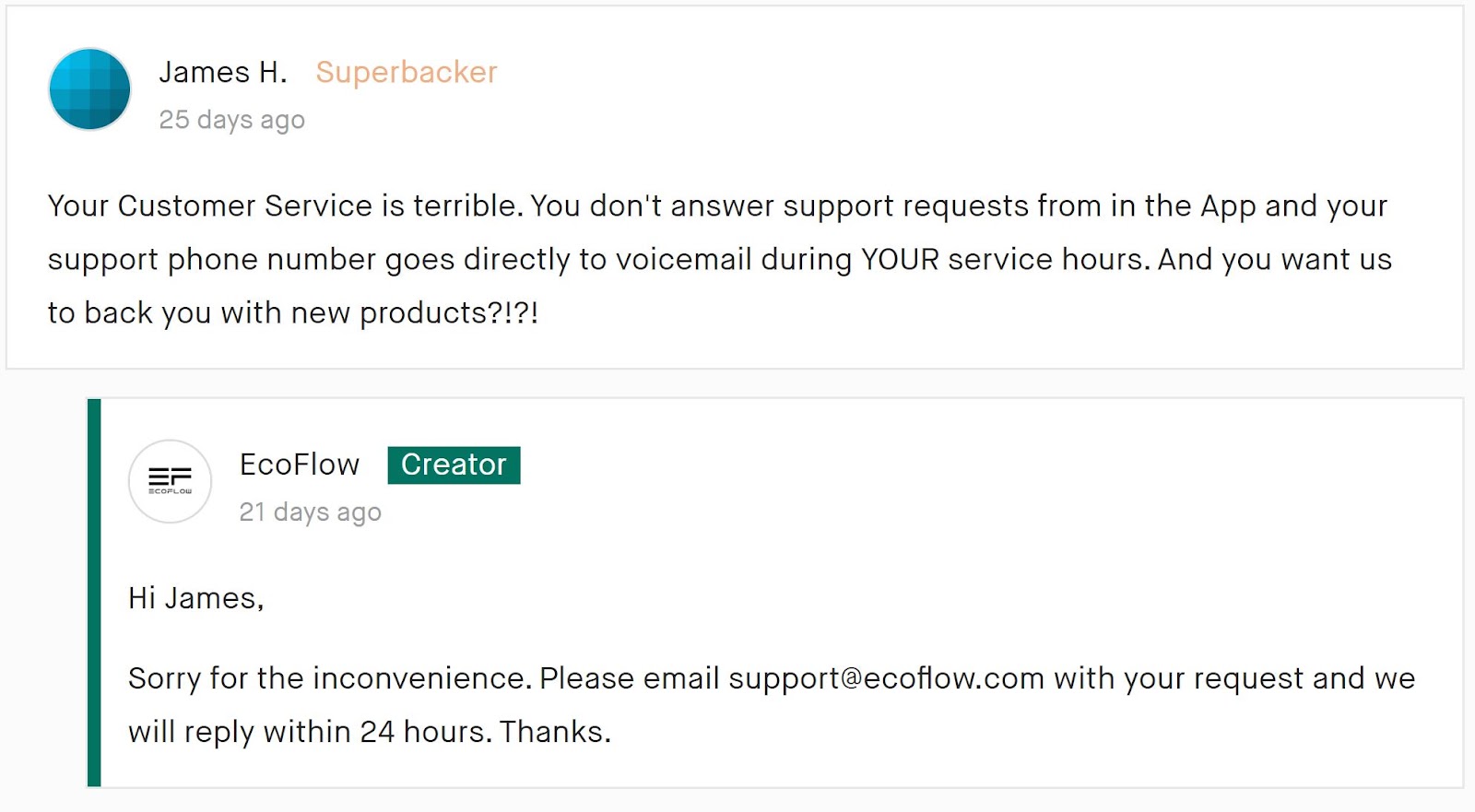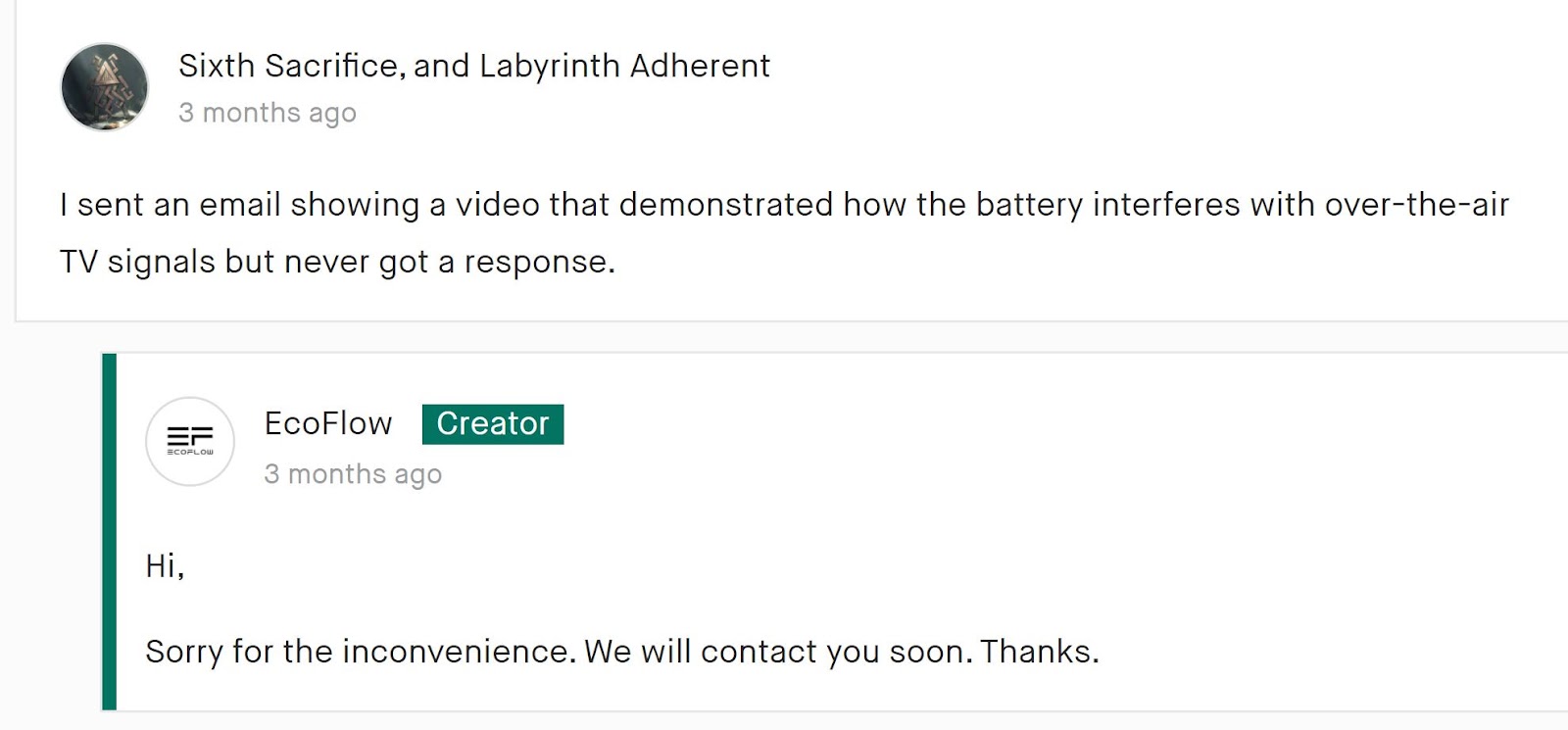 Conclusion & Public Opinion
One of the previous versions of power stations: EF EcoFlow Portable Power Station RIVER received 4.5 stars on Amazon, which shows the satisfaction level of consumers.


In one sentence- the EcoFlow's Delta Pro is worth the money.
TIW Total Score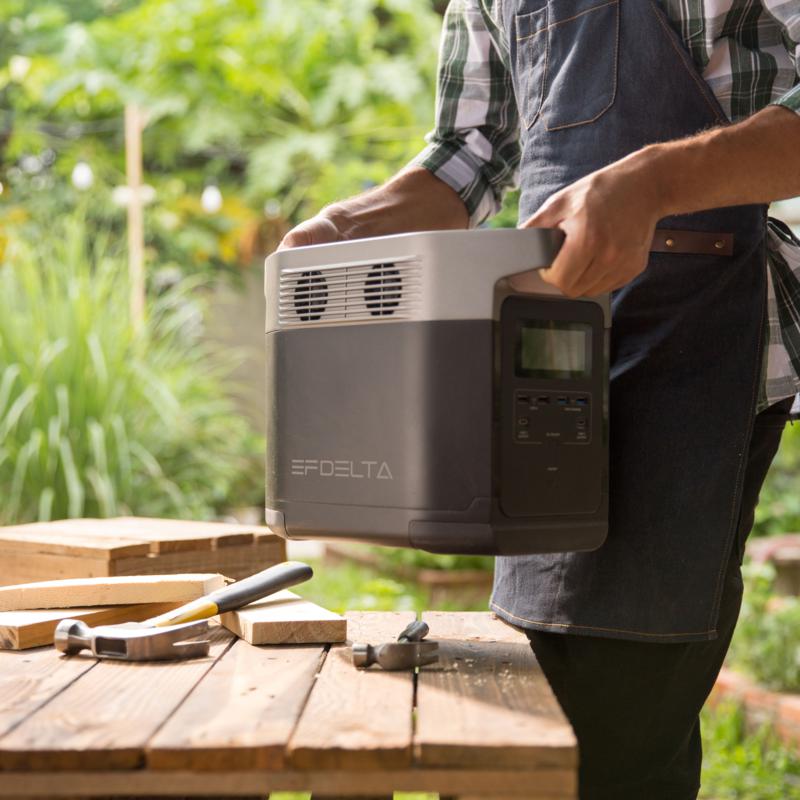 EcoFlow DELTA Pro
EcoFlow DELTA Pro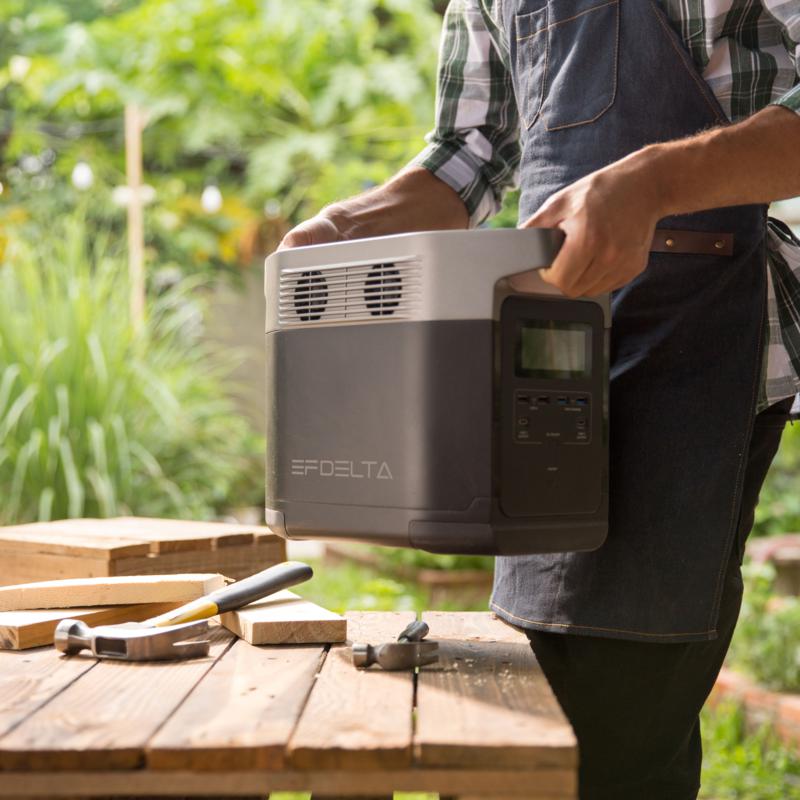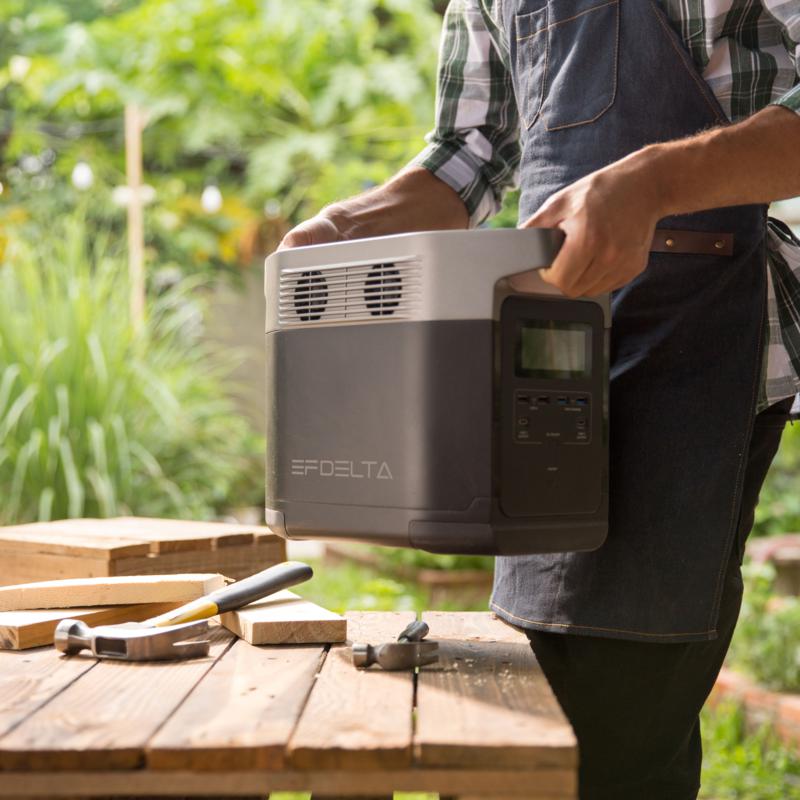 Limited time offer
d
·
: :