Ceramique Edition One
The First Bugatti Smartwatch
key advantages
High quality materials
3 replaceable bezels to customize your style
72 activities
estimated
delivery
November 2021
Bugatti…
Yes, your eyes don't deceive you…
The Bugatti watch is on its way…
Now you can afford a Bugatti, but not the one on 4 wheels.
Yes, thanks to the partnership with smartwatch manufacturing company VIITA Bugatti just launched its first line of three smartwatches that look amazing.
Bugatti's latest smartwatch models are named in tribute to some of the luxury French marque's most iconic hyper sports cars and offer a new take on functionality. The Pur Sport, Divo, and La Noire are three models that come from Ceramique Edition One line. This collection is available for a limited time only through Kickstarter at an affordable price of $1,094 — down from its original retail value of $1,513– which makes it way cheaper than what you would find with other brands like Rolex or Omega!
The Product
Innovation
Is this a truly new product that you can't find on the market? Or this a product that defines an entirely new product category. In some cases, the combination of several features into one or the introduction of a new feature to an old product are also considered to be an innovation.
The best of traditional and modern watchmaking is combined in the Bugatti Ceramique watches. With a titanium case, ceramic bezel, 390×390-pixel square touchscreen under sapphire crystal glass for scratch resistance, and an elegant design that brings together tradition with innovation – it's hard to go wrong wearing this stylish timepiece from Bugatti!
Bugatti watches offer countless features that include everything from how fast you're running at any given moment down to what levels of O2 is flowing through each individual's body. To quickly adjust to new technologies and customer demands VIITA has developed its own software which allows you to easily customize key elements such as time zones or units based on pre-selected preferences.
What makes Bugatti watch exceptionally unique is the integration of 1000 individual units shelled under a neat case.
Competitiveness
How much better is it than the competition? Is it faster? Bigger? Cooler? More affordable? There needs to be a solid reason why you should back this project over any other.
| | Bugatti Ceramique Edition One | TAG Heuer Connected Modular | Breitling Exospace B55 |
| --- | --- | --- | --- |
| Price | KS $1096 | $2745 | $8685 |
| Case Material | Ceramic | Titanium | Titanium |
| Glass Material | Sapphire | Sapphire | Sapphire |
| Display | AMOLED | AMOLED | - |
| Strap Options | Titanium Silicone | Rubber | Rubber |
| Battery Life | 14 days | 20 hours | Up to 2 months |
| Water Resistance | 100m | 50m | 100m |
| Technology | Dual Sensor | Rechargeable Battery Operated Quartz Movement | - |
| VO2 Max | Yes | - | - |
| Warranty | 5 years | 2 years | 2 years |
Take a close look at the table, all the features and then at the price. What can we conclude?
The Bugatti watch is the smartest in comparison with the ones mentioned in the table. Why? Let's understand.
The Bugatti Smart Watch from a French luxury carmaker has finally hit shelves – heralding a leap forward when it comes to performance! The watch not only offers almost all features you would expect like notifications and activity tracking but also provides unparalleled insight into your physical state thanks to its two custom-made sensors that can measure heart rate and heart rate variability. This gives users a wealth of information about their health status including cardiovascular recovery time, training recommendations based on VO2Max readings which allows them to use it with over 90 sports as well as other data such as biological age or stress level measurements.
The Watch comes with three different bezels and two straps to customize you style.
And let's not forget about the 5-year warranty which once again states how confident they are about the quality.
Product Competitiveness Score
The Team
Reliability
How capable is the team? Have they developed something like this before? Do they have crowdfunding experience? Manufacturing experience? A lot of campaigns fail to deliver their product because they don't know what they're doing.
Do we have someone who hasn't heard of Bugatti? Raise your hands.
Cool. You all know about them.
Well, Bugatti was founded in 1909 by the most successful designer of race cars and luxurious vehicles of his days Ettore Bugatti. Since then the company grew into something huge and immense that everybody is well aware of it and its breathtaking race cars.
And now, Bugatti teamed up with a famous watchmaking company VIITA to create Ceramique Edition One line of three watches.
We have big hopes that Bugatti watch will be as good as their cars.
Attitude
How transparent are the campaigners? Do they give their backers valuable updates on their progress? Do they engage with their backers? Crowdfunding is all about community, sharing information, and building a meaningful relationship with the people who fund your project.
As this is Bugatti's first campaign we don't have enough data to judge their experience in crowdfunding. We rely on the brand name, its professionalism and years of experience in manufacturing.
All the comments are answered within 2 hours. That speaks about their caring attitude towards the backers and the campaign itself.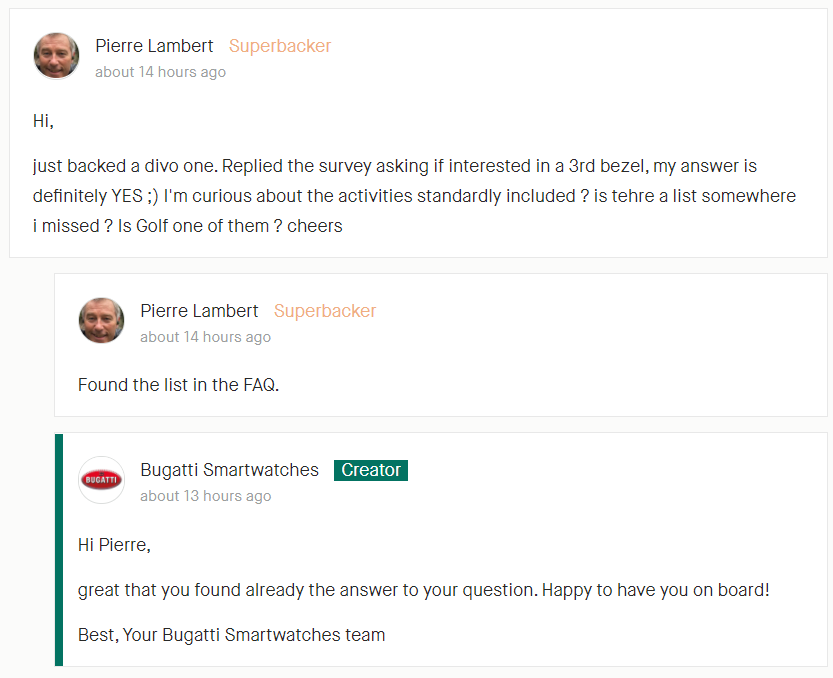 Conclusion & Public Opinion
In corporation with VIITA Bugatti launched its first line of three smartwatch models offering an innumerable amount of technical features like blood oxygen level, GPS tracking, data for use in 90 different sports and acceleration data.
The Bugatti watches stand for highest technological standard, precision and speed which is reflected is 1000 individual parts that compose the watch.
TIW Total Score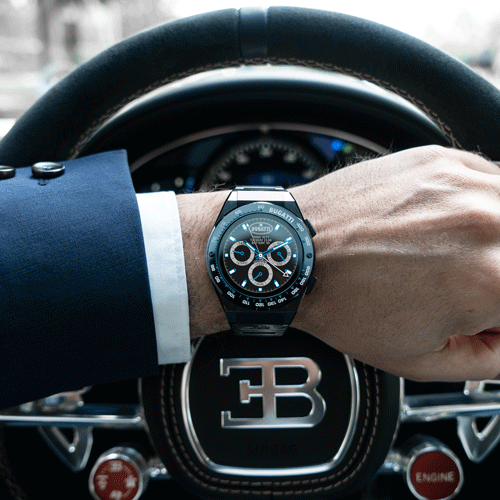 Ceramique Edition One
Ceramique Edition One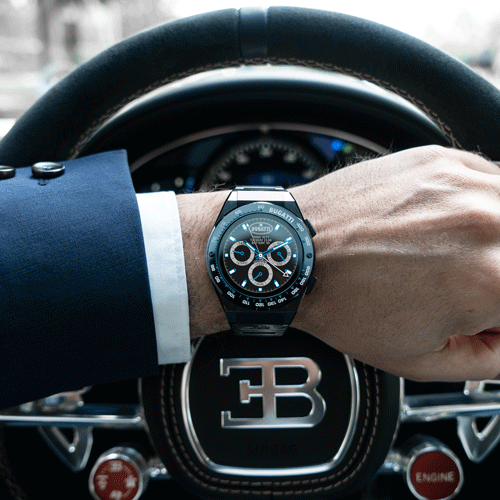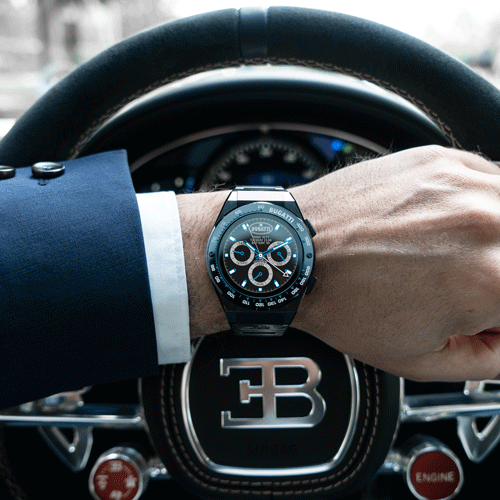 Limited time offer
d
·
: :