AZIO IZO
Mechanical Keyboard for Mac and Windows
key advantages
Vintage Style
5000mAh battery capacity
21 backlight modes
estimated
delivery
September 2021
Azio's newest mechanical keyboard for mac collection is a beautiful and functional desk accessory. The Azio Izo is designed to be pleasing for the eye while providing all of the functionality that you expect from your favorite typing devices.
Azio has a long history of creating mechanical keyboards with round keycaps and metal frames that emulate the look and feel of old typewriters.
The Product
Innovation
Is this a truly new product that you can't find on the market? Or this a product that defines an entirely new product category. In some cases, the combination of several features into one or the introduction of a new feature to an old product are also considered to be an innovation.
What really grabbed our attention is that AZIO IZO is a set of computer accessories which you can buy at a reasonable price. It aims to boost your mood through color. From the ergonomic, round design and trendy colors that will make you want one all for yourself, this keyboard set not only improves productivity but also will spruce up your workspace.
The Izo keyboard is a sleek and stylish option for Mac users with an eye to Windows. The bottom row features the Option and Command keys, as well as smaller variants of Alt+Windows buttons that don't interfere with backlighting. You can switch between layouts just by hitting Fn + Home on the keyboard! The Azio Izo takes the best features of traditional and wireless keyboards, to make your typing experience more enjoyable.
The gold-plated switch can be used for wired or wireless mode switching. Plus, it works seamlessly on up to 3 devices at once. It has a 5000 mAh battery that can last for a full year with a single charge with backlights turned off. The keyboard is only available with Gateron Blue switches, meaning it can't be used for fans of tactile or linear switches.
One of the advantages of the AZIO IZO mechanical keyboard for mac is that it offers 3 different color options to fit your styling needs.
The palm-sized mouse is ergonomically shaped and perfect for most hand sizes. AZIO IZO mechanical keyboard set also has a number pad that matches the style of the keyboard, complete with a gold backspace key! This little guy can be used as a stand-alone calculator too–it's versatile enough to serve multiple purposes without taking up any extra space on your desk or in your bag.
Competitiveness
How much better is it than the competition? Is it faster? Bigger? Cooler? More affordable? There needs to be a solid reason why you should back this project over any other.
| | AZIO IZO | Keychron K3 | Ajazz K620T |
| --- | --- | --- | --- |
| Price | KS $70 | $74 | $75 |
| Size (mm) | 320x150x42 | 306x116x22 | 298x137 |
| Weight (g) | 793 | 395 | 607 |
| Switch Type | Gateron-Blue | Gateron Low Profile Brown | Choice of Ajazz Blue (clicky) or Pink (linear) RGB mechanical switch |
| Mode | Wired/Wireless | Wired/Wireless | Wired/Wireless |
| Capacity | 5000mAh | 1550 mAh | 4000 mAh |
| Hot-Swappable | YES | YES | YES |
| Compatibility | Windows/MacOs | Windows/Android/Mac/iOS | Windows/Android/Mac/iOS |
Design and style make this mechanical keyboard for mac set stand out in the market. It can accompany your mood and make your working space more eye-catching.
Plus it also has the highest battery capacity of 5000mAh which will allow you to use this mechanical keyboard for mac for a year.
Product Competitiveness Score
The Team
Reliability
How capable is the team? Have they developed something like this before? Do they have crowdfunding experience? Manufacturing experience? A lot of campaigns fail to deliver their product because they don't know what they're doing.
Founded in 1995 AZIO is a manufacturer of computer and electronic peripherals.
Inspired by the vintage typewriters of decades past, AZIO sought to combine classic aesthetics with modern efficiency. To create a truly unique user experience, they say they meticulously went through all aspects of standard keyboards and designed custom molds for sound keycaps and mechanical switches. Having 26 years of experience in the field AZIO knows the market needs and always comes up with great products.
AZIO IZO mechanical keyboard for mac set is their 3rd crowdfunding campaign.
Attitude
How transparent are the campaigners? Do they give their backers valuable updates on their progress? Do they engage with their backers? Crowdfunding is all about community, sharing information, and building meaningful relationships with the people who fund your project.
Check out some of the comments from the backers. The team seems to be responsive and they are trying their best to solve any sort of issues.
They could've been a bit more friendly with their responses, but it is what it is.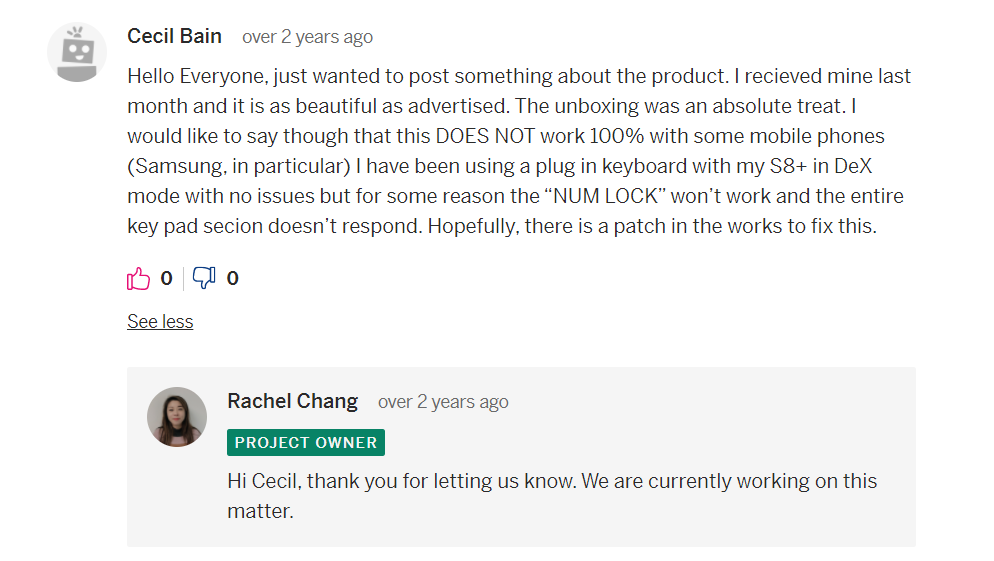 Conclusion & Public Opinion
AZIO IZO mechanical keyboard for mac is a unique computer accessory set. It is a mash-up of form and function, as this device satisfies the needs of tech-savvy individuals.
We hope that this new campaign will be a real success for the AZIO campaign and the backers will be satisfied with their keyboards.
TIW Total Score
AZIO IZO
AZIO IZO
Limited time offer
d
·
: :