key advantages
5x Faster Printing
Built-in AI Camera Monitoring
7x7 Auto Leveling
Precise 0.1mm Detail
Aluminum Alloy Structure
estimated
delivery
Nov, 2022
SOOOO…
Guess what's new… Anker is crowdfunding a high-speed 3D printer on Kickstarter – The AnkerMake M5 3D printer.
Anker? 3D printer? Yup… that surprised us all.
Most of you know them, or at least have heard or seen a few of their products in your local tech stores. They have a huge lineup of phone chargers, cables, power banks, and so many other accessories. And as a result of their reputation, Ankermake has successfully collected more than $6 Million already in a very short period.
Sure this got us excited but let us see if it is worth all the hype?
The Product
Innovation
Is this a truly new product that you can't find on the market? Or this is a product that defines an entirely new product category. In some cases, the combination of several features into one or the introduction of a new feature to an old product are also considered to be an innovation.
In this section, we are going straight to the point. Anker baldly claims that out of the box – with no extra optimization in the settings – their 3D printer prints at 250mm/s. That's 5x faster than the regular ones thus cutting the printing process by 70 percent thanks to their powerboost technology. But for the whole process to be fast, it has to have a good heating and cooling mechanism.
Otherwise, this high-speed 3D printer will give you nothing but a spaghetti mess – and no one likes that!
The AnkerMake M5 has a 60W heating rod that quickly raises the nozzle temperature to 392°F (200°C) and up to a maximum of 560°F (260°C). In addition to that, the double cooling system uses a pair of fans that push out 1.3x the air output volume of other printers at a max speed. This lets your model cool down quickly.
When this speed is delivered as promised by Anker, new concerns come up like precision and accuracy.
According to Anker, they got that covered too. The trick is in the design and the new processor.
The aluminum alloy frame alongside the new ultra-direct extruder enhances control for better precision and makes the printing more stable.
In the AnkerMake – along with the regular processor – the M5 comes with an additional XBurst CPU that with its powerful processing technology, keeps track of your prints so that your model matches the design. The XBurst CPU is used by the AI camera recognition system to continuously check, analyze and compare the model throughout the entire printing process. The camera allows you to see your design in real-time whenever you want and wherever you are through the AnkerMake app on your smartphone. You can also record the time-lapse of the process and share it on your social media account.
Furthermore, when an error happens like a nozzle blockage, non-sticky first layer, broken material, or any other type of error, it will be detected, and you'll be notified through the AnkerMake app on your phone.
Competitiveness
How much better is it than the competition? Is it faster? Bigger? Cooler? More affordable? There needs to be a solid reason why you should back this project over any other.
| | | | |
| --- | --- | --- | --- |
| | AnkerMake M5 | FLSUN QQ-S | CR-10 |
| Price | $629 | $687 | $961.99 |
| Printer Weight | 14.3Kg | 12.5Kg | 13.6Kg |
| Printer Size | 502 x 438 x 470mm | 290 x 350 x 800mm | 578 x 522 x 648mm |
| Printing Size | 235 x 235 x 250mm | 370 x 370 x 260mm | 300 x 300 x 400mm |
| Printing Speed | 50 - 250mm/s | 30 - 300mm/s , normally 80mm/s | 50mm/s |
| Filament Diameter | 1.75mm | 1.75mm | 1.75mm |
| Touchscreen Display | ✔️ 4.3 inches | ✔️ 3.2 inches | ✔️ 4.3 inches |
| Nozzle Diameter | 0.4mm | 0.4mm | 0.4mm |
| Nozzle Temperature | 392°F (200°C) - Max of 560°F (260°C) | 518°F (270°C) | 500°F (260 °C) |
| Connectivity | Wi-Fi - USB cable - USB Flash drive | USB - SD card - Wi-Fi | 500°F (260 °C) |
| Smart App | ✔️ | ❌ | ✔️ |
| Auto-leveling | ✔️ | ✔️ | ✔️ |
| AI camera | ✔️ | ❌ | ✔️ |
| Night Vision | ✔️ | ❌ | ❌ |
One thing to mention before diving into this part is that the market has other printers with high specs and features. However, there is a huge price difference. So we intentionally assigned a budget limit to have a fair comparison.
After all, you can not compare the jet engine with a car engine right? Anyway, you got the point.
AnkerMake weighs a bit more than FLSUN and CR-10. That is because of the die-cast aluminum alloy base that gives it stability. So the weighty base is intentional and it boosts the precision.
Bed leveling is one of the core issues when it comes to 3D printing. So having auto bed leveling is a huge plus because it makes it easy to adjust the build surface. AnkerMake M5 does auto-leveling like the competitors, but it has a 49-point auto bed leveling system which is a nice upgrade.
Both the AnkerMake and the CR-10 have an AI camera for real-time control but the infrared night detection of the AnkerMake is something that can come in handy in a few cases. Like when you're outside of the house and still want to see what's happening even with your lights off, or having to check an error at 4 AM while being away from your printer, or simply wanting to have a nice timelapse video to post on your social media account.
Anker, as we previously mentioned, said that their high-speed 3D printer can print 5x faster than the competition. We have seen and shown you that other printers print fast as well. Furthermore, Anker is claiming that within 15 minutes and with only 3 steps you're good to go. You don't have to dedicate time to play with the settings and optimize the printer to print with that speed. Just take out the two halves of the printer, connect the 8 screws, plug it into the power, and it will automatically start printing at 250mm/s.
Product Competitiveness Score
The Team
Reliability
How capable is the team? Have they developed something like this before? Do they have crowdfunding experience? Manufacturing experience? A lot of campaigns fail to deliver their product because they don't know what they're doing.
Anker Innovations are experts in the market and their innovation is being led by 4 key brands which are Anker, Soundcore, Eufy, and Nebula. These cover the Charging accessories, smart devices for entertainment, travel, and smart homes.
We have recently reviewed one of their brands which is the Eufy. So it's not our first time checking and reviewing one of their products.
Just like us, a lot of people know them, and consider them reliable. You can see that from the comment section of their campaign page.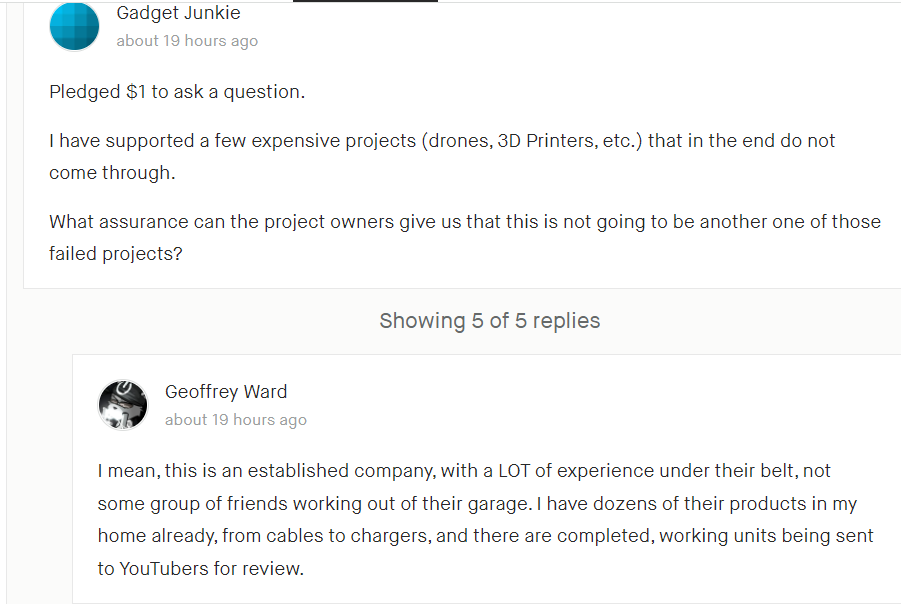 We've seen a lot of times people trying to be innovative, promising new things to their backers, but due to lack of resources/team – at leat in the beginning – some fail.
Anker has been in the market since 2011. This alone shows that they have an experience that exceeds a decade. The point here is that it's a bit more comforting when you see an experienced company doing such campaigns rather than having inexperienced people trying to be innovative and deliver what they promised.
Attitude
How transparent are the campaigners? Do they give their backers valuable updates on their progress? Do they engage with their backers? Crowdfunding is all about community, sharing information, and building meaningful relationships with the people who fund your project.
While still on the Kickstarter campaign page of Ankermake, you'll notice that the team responds in a timely manner with polite and professional responses.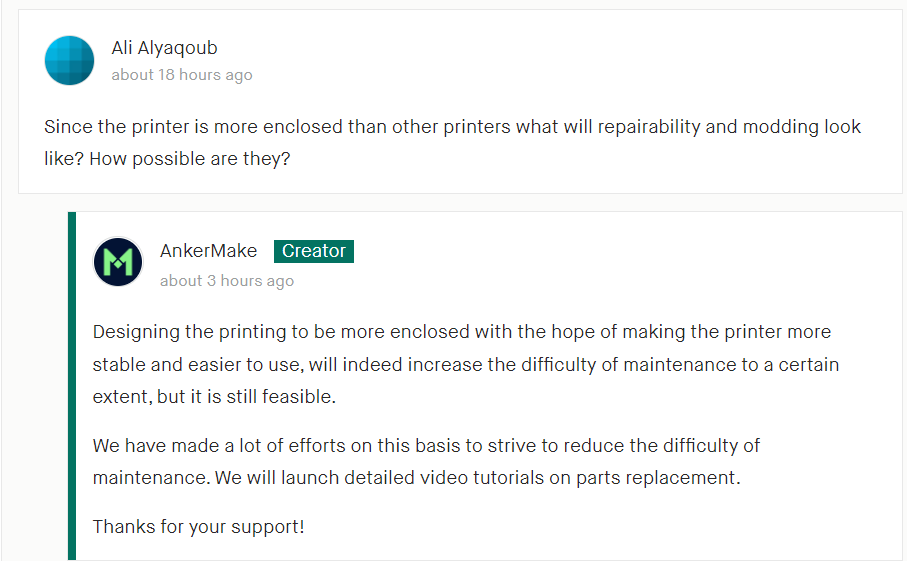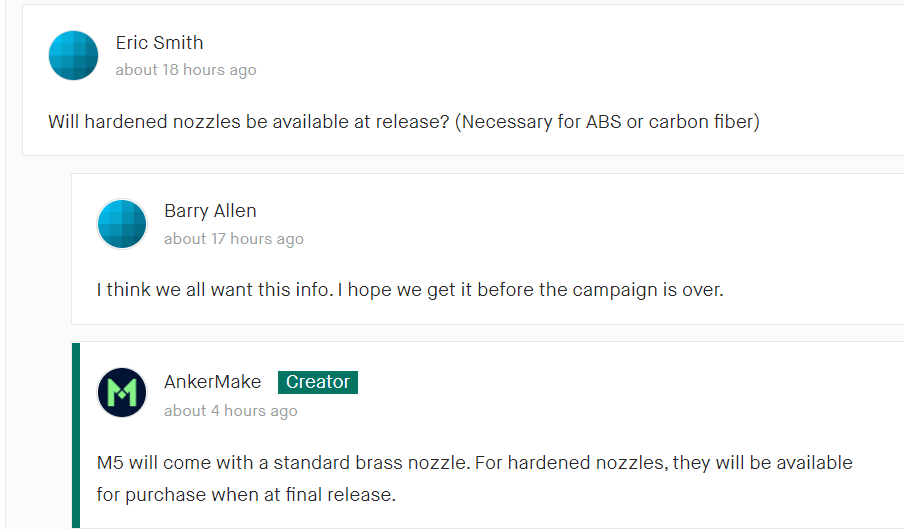 However, there are no replies from the team to the comments on the IG page but they're pretty much active on posting new stuff frequently. They might be doing this so that they focus their time on the campaign page and get to reply to their backer community but the least they should do is be a little bit more responsive on social media.
Additionally, if you didn't know, Anker give their customers from different countries that have different timezones an option to call them through their contact page which is a great way to show customer support and not every company has managed to provide that.
Conclusion & Public Opinion
People usually complain that printing 3D models can take hours or sometimes days. They complain that it can be time-consuming, but what if this high-speed 3D printer by Anker can be the change. What if Anker can actually cut 70% of that time with their new printer.
That's something we're looking forward to.
Ankermake comes with other nifty innovative features. It allows you to remotely view the printing in real-time, record timelapse videos, and share them on social media with one click. It has a feature of automatically pausing a print job and giving you alerts/notifications if an error happens.
So overall, we think that Ankermake might be the thing that you've been waiting for. You can check them on Kickstarter.
TIW Total Score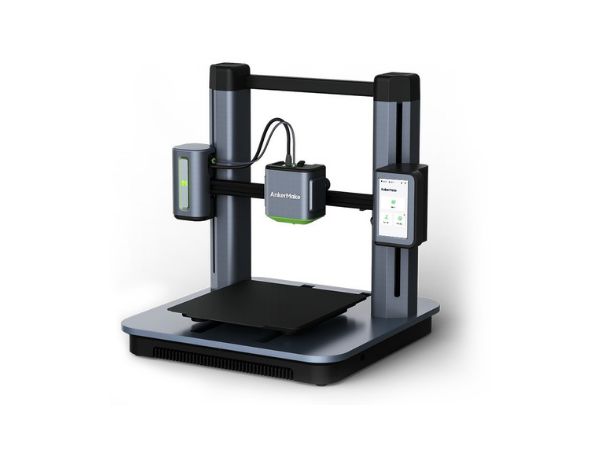 AnkerMake M5 Review:
AnkerMake M5 Review: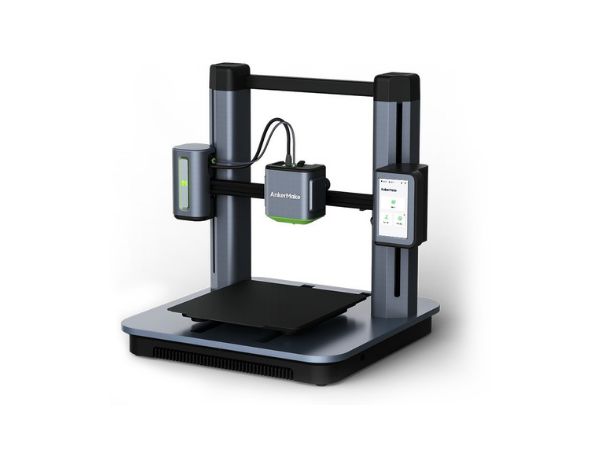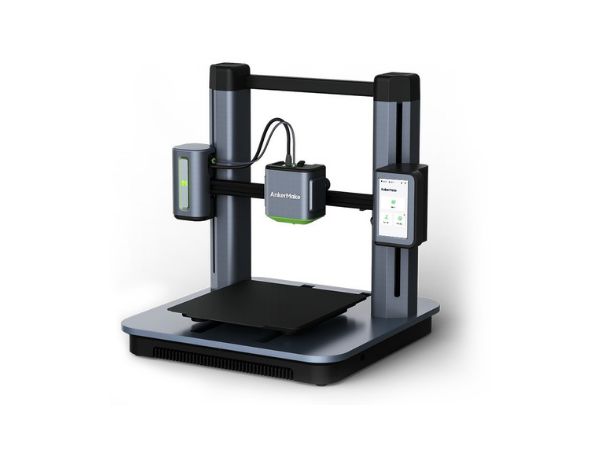 Limited time offer
d
·
: :