key advantages
Intelligent Path Planning
Triple-Drive Motors
App Control
Wall, Waterline & Floor Cleaning
Auto Park
estimated
delivery
June, 2022
Bored of pushing a vacuum around your pool by hand? The cordless pool cleaner will do the dirty job for you, cleaning the walls and floor of your swimming pool automatically.
As Coco Channel once said, luxury must be comfortable, otherwise, it is not luxury. Cleaning the swimming pool after storms and flooding isn't a bed of roses. Tangles of cords, electrical leakage, and serious tripping hazards are already in the past.
Since its inception in 2017, AIPER has grown to become one of the world's leading manufacturers of cordless robotic pool cleaners. In the last few years, they launched seven different pool cleaning products, six of which became Amazon Best-Sellers in just a year, providing efficient and convenient pool cleaning to over 100,000 families around the world.
Through its outstanding focus on R&D, AIPER made pool cleaning easier and safer for everyone. After years of providing pool owners with convenient, next-generation cleaning, they are now presenting the Seagull 3000 smart cordless robotic pool cleaner: a great budget model that sucks down any debris, clearing a pool of any shape, size, or surface.
The Product
Innovation
Is this a truly new product that you can't find on the market? Or this is a product that defines an entirely new product category. In some cases, the combination of several features into one or the introduction of a new feature to an old product are also considered to be an innovation.
Undoubtedly, pool cleaning is no longer a chore with cordless pool cleaners. Not to mention, it's safer. Even though cordless cleaners are convenient, not many people choose them. The main reason behind this is their poor cleaning abilities. In addition, some are quite pricey and some do not offer a waterproof power supply.
As the campaign page says, the Seagull 3000 is equipped with a 7800 mAH floating battery. With the steady power supply from the battery, the cleaner can cover 3229ft² of the area including the pool's floor, walls, and the edge of the water, where the majority of the scum and filth collects.
Aiper claims that the Seagull 3000 doesn't creep at a snail's pace like the other pool cleaners that 
carry their batteries. Floating above the Seagull 3000, the full 7800mAh power station gives it the ability to clean the pool at full strength for 120 minutes.
What's more, the powerful 120W motor enables the Seagull 3000 to filter water through its system, capturing dirt, leaves, twigs, and algae. Even the slightest dirt is never overlooked by this robotic pool cleaner. It captures particles as small as 180µm and prevents them from floating back into the pool.
The floating battery not only ensures a more reliable power source but also provides a stable Bluetooth connection, allowing the pool cleaner to be connected to the smart app at all times.
To fulfil the varied cleaning needs of the pool owners, the Aiper App has four cleaning programs that can be changed at any time from the app. You can also drive your Seagull 3000 remotely with the Aiper App's manual mode.
What's more, while other robotic pool cleaners clean at random or follow an "N" form route, the Seagull 3000 follows an "S" shape route. This very fact enables the cordless pool cleaner to avoid cleaning the same path over and over again and cover hard-to-reach spots. 
What if the battery dies while the cleaner is still in the middle of the pool? Good question! 
Without a doubt, jumping into the pool to get the pool cleaner would be insane. The Seagull 3000 uses Aiper's Low Battery Self-Parking Technology to automatically halt along the pool wall after completing a cleaning cycle or when the battery is low. Afterwards, the smart app will help you to get it directly into your hands.
By deeply considering all the benefits that the innovative floating battery design brought to the table, we can state that it is surely the icing on the cake, which will help the Seagull 3000 stand out in the market.
Competitiveness
How much better is it than the competition? Is it faster? Bigger? Cooler? More affordable? There needs to be a solid reason why you should back this project over any other.
| | | |
| --- | --- | --- |
| | Aiper Seagull 3000 | Dolphin Liberty Premium 8 |
| Price | $699 | $3,604 |
| Product type | Cordless | Cordless |
| Motor | Triple-drive motors | Dual-drive motors |
| Maximum cleaning range | 3229ft² | <2421ft² |
| Suction power | 120W | 115W |
| Runtime | 2 hours maximum | 1.5 hours maximum |
| Direction adjustment | Auto 360° turning | Bidirectional turning |
| Smart app | ✔️ | ✔️ |
| Cleaning coverage | Floor, wall, waterline | Floor, wall, waterline |
| Dimensions | 16.93 x 15.35 x 8.66 inches | 23 x 19.5 x 13.7 inches |
We could tell at a glance that Aiper smart pool cleaner goes over and beyond by offering all the premium features pool owners need at an affordable price.
The Seagull 3000 has exceptional mobility and obstacle-crossing capability thanks to its Aiper triple-axis drive motors. Aiper smart pool cleaner was designed to clean from every angle, with smart auto-turning that allows it to go in any direction.
According to Aiper, the Seagull 3000 covers 30% more cleaning space than clunky dual-motor pool cleaners that only reverse direction after hitting the wall.
One of the famous YouTubers, thep00lguy ML, states in his video review, that he has used and worked with a lot more expensive cleaners that do only the half job the Seagull 3000 does. Sounds pretty credible to me. [Aiper Seagull 3000 video review]
The supercharged battery and the powerful motor give the Seagull 3000 worth noting competitive advantages.
First off, it drives stronger suction at any angle. Mud, crushed stone, leaves, the Aiper robotic pool cleaner is tough enough to suck down them all. And the twin large filter baskets, each with 2.7 liters holding capacity, ensure that dirt and debris do not float back into the pool. The baskets gather waste more effectively and are considerably easier to clean than rival vacuum cleaners' bag-based collection systems.
Furthermore, the Seagull 3000 does not have any difficulties with uneven surfaces, as it easily handles drain caps and other bumps on the walls and floor.
So, if you're searching for a cordless pool cleaner that does a great job and doesn't break the bank, you can't go wrong with the Seagull 3000.
Product Competitiveness Score
The Team
Reliability
How capable is the team? Have they developed something like this before? Do they have crowdfunding experience? Manufacturing experience? A lot of campaigns fail to deliver their product because they don't know what they're doing.
Having the vision to lead innovation in outdoor smart cleaning, Aiper has already established itself as the industry's first and most successful cordless robotic pool cleaner. Hmm..that's what they say.
Aiper is pleased to announce that its current crowdfunding campaign to support the development, production, and distribution of its innovative Seagull 3000 robotic pool cleaner has raised more than $600,000 in just 20 days, with 26 days remaining in the campaign. Aiper's crowdfunding success is a consequence of constant product innovation and improvement, as the company listens to user feedback and values all of its customers' support. This is the self-image they are trying to build on PR.com, where any company can promote anything they want.
Because of its revolutionary power and numerous capabilities, Kickstarter chose the Seagull 3000 as a 'project we love,' according to Aiper spokesperson Kaylee Yang. However, all the verifications on this matter failed. Also, Kaylee Yang is either overly preoccupied with her job to be active on social media or tries to hide every connection with Aiper. She was nowhere to be found on Linkedin or any other platform.
The same is for Aiper's CEO, Richard. We hope he has a surname. At least we have his name, don't we?
Seagull 3000, according to Richard, CEO of Aiper, combines the advantages of corded and cordless pool cleaners. Until now, nothing like this has been available on the market. The Seagull 3000 demonstrates Aiper's commitment to delivering the best cordless cleaning tool available. Their solutions provide an unrivaled combination of efficiency, security, and ease of use. Simultaneously, they strive to ensure that their pricing is among the lowest on the market. [PRNewswire, 22/03/2022, New York, news provided by Aiper prnewswire.com]
In his place, I'd be proud to be the CEO of such a successful company. But it seems like people behind Aiper are so concerned about their privacy, that it becomes strange.
Despite having pages on Facebook, Twitter, and Instagram, they are not active. However, they do offer a good website with a user-friendly interface for effortless navigation. Aiper's website allows customers to easily find and buy the products it offers. Additionally, the website provides some information about the company as well as the technologies it has developed.
We discovered that Aiper Orca 800 received the Red Dot Award 2022, which is one of the world's largest design competitions. However, the winners' list is not yet published on the Red Dot website. It will be available on 20 June, the same day, when the Red Dot Gala will take place. A little bit confusing! Nonetheless, Aiper did win the Red Dot Award in 2020 for its Flash 600 portable power station for home and outdoor use. The jury was impressed with the compact and sturdy design of the product, which reflects the excellent quality of its materials and performance.
Attitude
How transparent are the campaigners? Do they give their backers valuable updates on their progress? Do they engage with their backers? Crowdfunding is all about community, sharing information, and building meaningful relationships with the people who fund your project.
As a first-time campaigner, Aiper is pretty good at communication. They provide accurate information on time. It's hard to find that personal touch in the comments, but the ones, who have questions, do get prompt responses.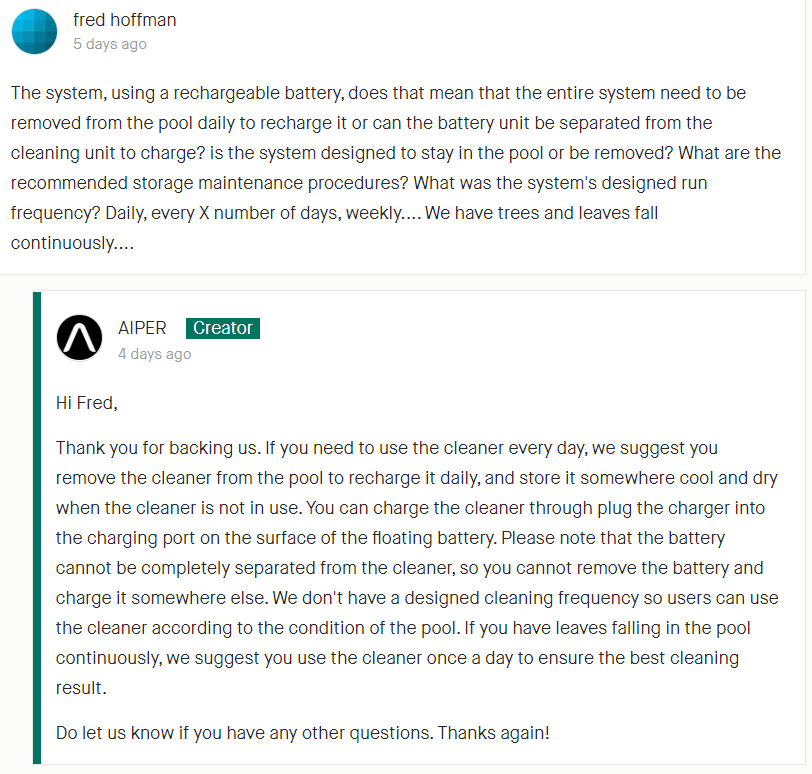 Aiper is also efficient in providing news. Almost once a week they publish their news and announcements. They already have 5 articles on Kickstarter since the day they launched their campaign. 
Moreover, to address the backers' possible concerns and earn credibility, Aiper held a beta test program.
Before launching the project they encouraged some of their early supporters to join the Aiper beta tester team to test the performance of Seagull 3000. Professional YouTubers were also invited to do an open box review. All the reviews are available online. This is one of the key reasons why, despite having an almost non-existent campaign team, the Seagull 3000 was able to reach the $500,000 milestone just three weeks after its introduction.
Conclusion & Public Opinion
To summarize, the Seagull 3000 appears to have all the potential to be a cool addition to the world of cordless robotic pool cleaners. 
Aiper's products are also available on Amazon. 61% of the reviewers gave a 5-star rating to Aiper Seagull 600 and it has received 4.1 stars out of 5 based on 5,560 global ratings. 
Although the majority of customers seem to be satisfied with their products, some had problems with customer service and getting replacements.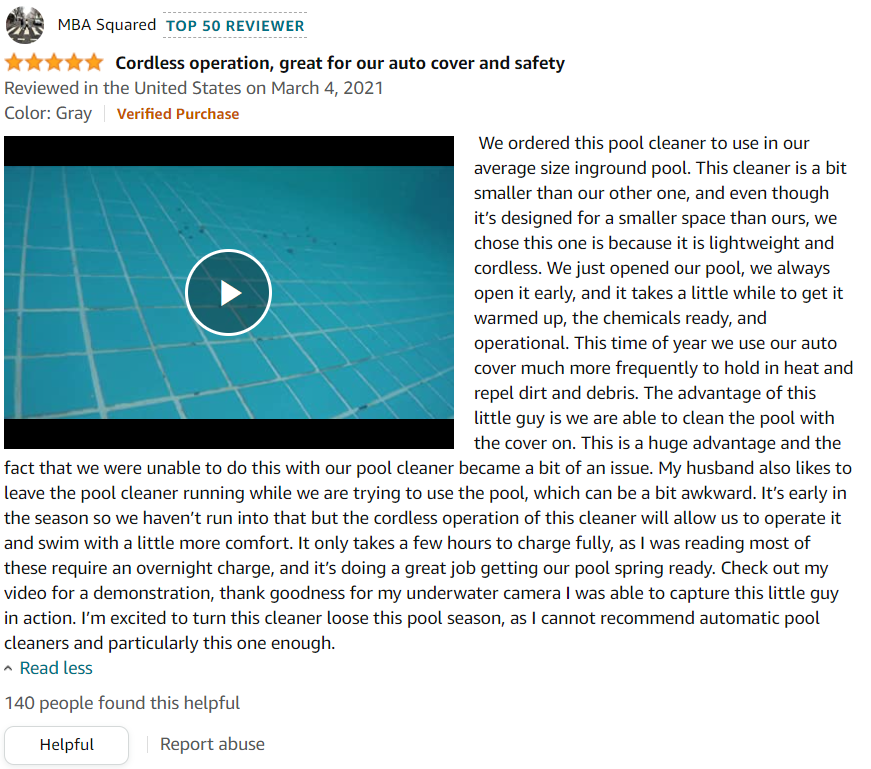 Although the Aiper team prefers to hide behind a cloak of anonymity, they undoubtedly did great on this campaign. With this new robotic pool cleaner, they are bringing a lot of incredible technologies and innovations to the table – cordless feature, triple-axis drive motors with auto-swerve technology and low battery self-parking technology. Not to forget, thanks to Aiper's gyroscope technology for intelligent route planning, small cleaning coverage, and randomized paths are now a thing of the past.
All this for well $699? If I had a swimming pool, I'd definitely back this miracle right off.
TIW Total Score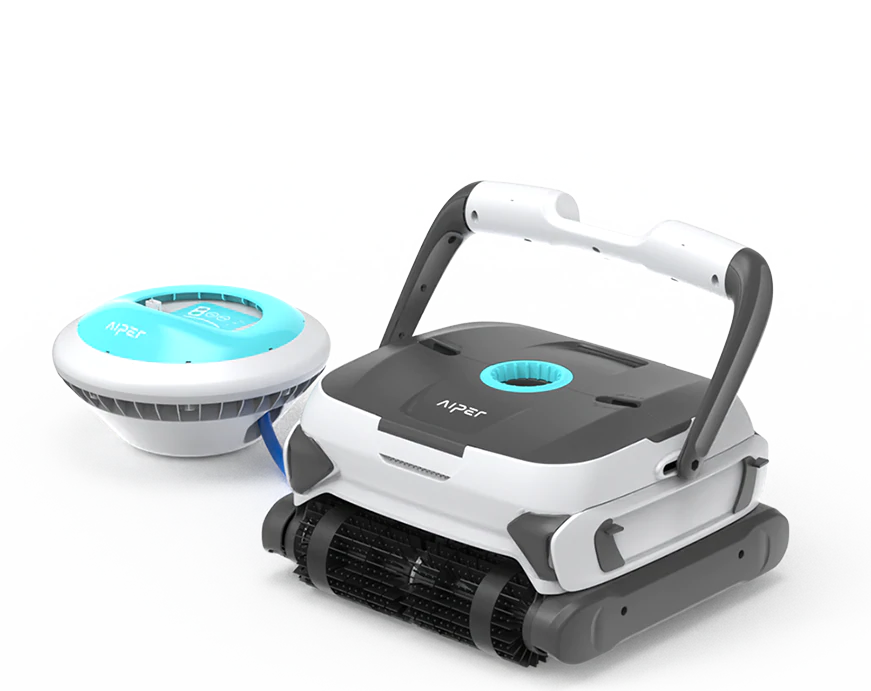 AIPER Seagull 3000 Review:
AIPER Seagull 3000 Review: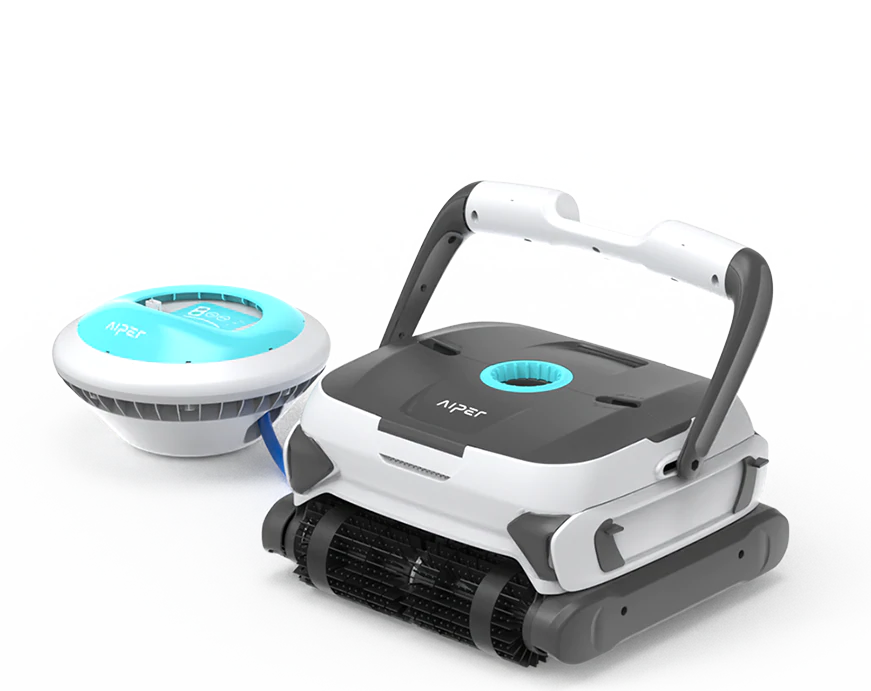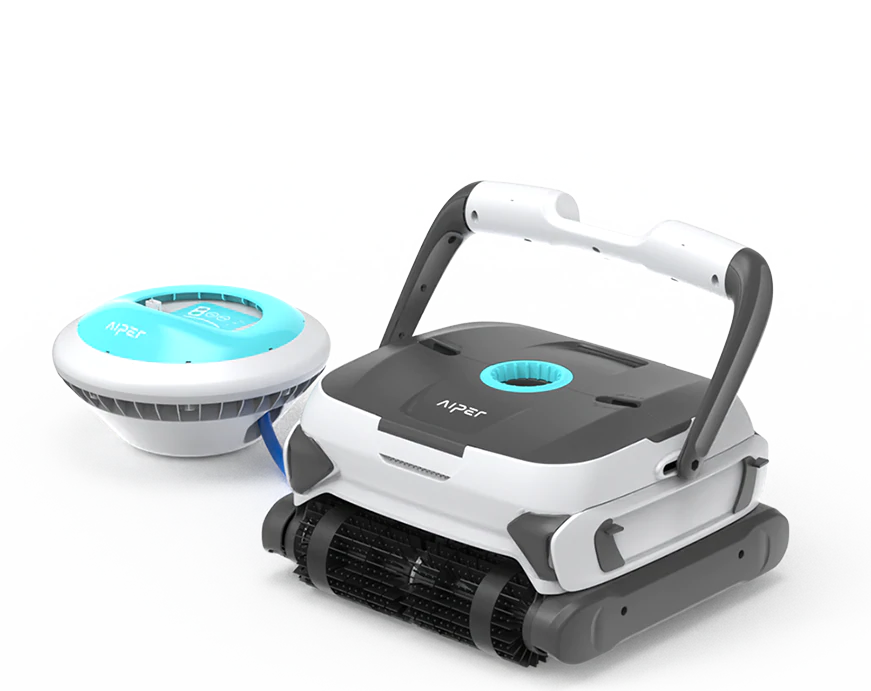 Limited time offer
d
·
: :