Introduction
Suns out, Guns out! With all the weight we are going to be shedding for our summer bods, it is time to also get an everyday carry belt to keep our pants on! EDC Belts are for more than just keeping our pants up, you can attach clip-ons, make use of the buckle, and holster anything necessary. 
Belts are not always visible, but that should not stop you from getting something stylish for the summer. With so many options to choose from, you are bound to find something that is both practical and matches your outfit. As simple as edc belts are, we got some guidelines to help you make a more informed choice.
What to Look for in EDC Belts
When choosing what EDC Belt is going to be holding your pants up and your items holstered, take a look at these Criteria:
EDC Belts Material
What kind of material is the belt made of? Some materials like high-quality leather or nylon make for a super durable edc belt while cotton makes for a more comfortable and flexible edc belt.
EDC Belts Size Range
How much do you expect your waist size to change? Some belts have fixed holes that limit the size range you can expect the belt to fit while others can be easily cut to fit or have a buckle that lets you fasten it at any length.
EDC Belts Buckle
How does the belt fasten itself? There are some belts that use the traditional buckle while others use ratchets or clips to fasten. Make sure it is something that you can buckle in and off with ease and finesse.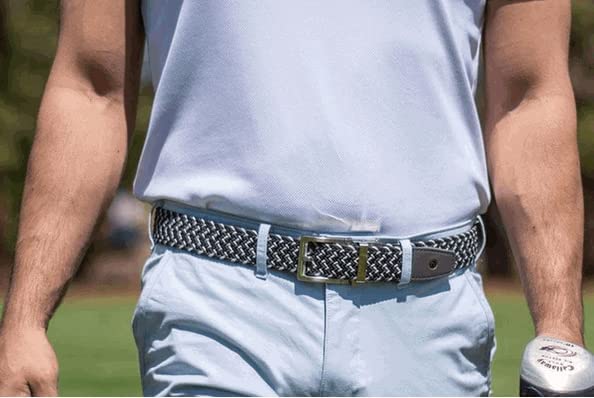 | Reasons to buy | Reasons to avoid |
| --- | --- |
| ✔️Buckle Anywhere on Belt | ❌Cotton not very Durable |
| ✔️Multi Colored Design | |
| ✔️Stretchy | |
Specifications:
Material: Nylon, Leather, Cotton
Size: 1 3/8″ (Fits up to 50″ waist)
Buckle: Standard Buckle
With a variety of color options, this EDC Belt will look great on the golf course, at school, or on a night out. You can get a variety to match your outfits! This belt is Super stretchy and the buckle will buckle in anywhere on the belt so you can make micro-adjustments.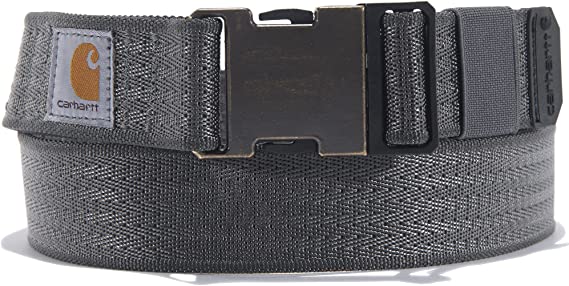 | Reasons to buy | Reasons to avoid |
| --- | --- |
| ✔️Durable Material | ❌Not Soft or Flexible on the Waist |
| ✔️Trusted Name | |
| ✔️Any Size | |
Specifications:
Material: Nylon
Size: 1 1/2″ (Fits up to 42″ waist)
Buckle: Low Profile Clip
If you want one of the toughest EDC belts look no further than a trusty Carhartt Rugged Belt. We went ahead and reviewed the nylon version with a clip that is super low profile. This may be one of the more tactical ones thanks to the nylon, which lets you use it as a super strong material to clip onto things.
| Reasons to buy | Reasons to avoid |
| --- | --- |
| ✔️Scratch Resistant | ❌Not as strong of a hold |
| ✔️Trusted Name | |
| ✔️Very Large Size Available | |
Specifications:
Material: 25% Polyurethane, 30% Bonded Leather, 45% Split Leather
Size: 2″ (Fits up to 54″ waist)
Buckle: Magnetic
This belt is best for those who need to make adjustments with discretion. Instead of an open-face buckle, a magnetic strip is hidden to give you free rein on quietly sliding your belt on without making any noise. The all-leather look makes it a great addition to any outfit.

| Reasons to buy | Reasons to avoid |
| --- | --- |
| ✔️Tough Nylon | ❌Non Metallic Buckle |
| ✔️Adjustable Fit | |
| ✔️Machine Washable | |
Specifications:
Material: Nylon
Size: 1.5″ (Fits up to 54" Waist)
Buckle: Plastic
If you don't want to take off your belt when you are going through security this Tactical EDC Belt has no metal to set alarms off. It has a buckle that you slide your belt through, so there is no need for holes in your belt to wear and tear.
It comes in a variety of colors to match your tactical outfit!
| Reasons to buy | Reasons to avoid |
| --- | --- |
| ✔️Super Soft Belt | ❌Not Very Adjustable |
| ✔️Trusted Brand | |
| ✔️Buckle has Nice Finish | |
Specifications:
Material: Cotton
Size: 1 1/2″ (fits 50")
Buckle: Metallic
With a traditional military style, this edc belt would look great with any outdoor or professional look. Cotton is a much more comfortable alternative to nylon and provides flexibility for the job that other materials just can't compete with.

| Reasons to buy | Reasons to avoid |
| --- | --- |
| ✔️Classic Look | ❌Set Holes |
| ✔️Reversible | |
| ✔️Beautiful Stitching | |
Specifications:
Material: Leather
Size: 1.75″ (fits 32-46")
Buckle: Brass
Well Partner, if you are looking for a classic look no further. This Fancy Stitched reversible belt is made with full grain leather with an oil finish that you just don't see on other belts. It can hold anything you throw at it, and then some. Just make sure to order one size larger as these belts are not that flexible and don't give you too much breathing room if it is buckled in tight.
Conclusion
There is a whole world of EDC belts out there that mixes practicality with fashion. Figure out what your belt has to do on top of keeping your pants up and see which ones meet those needs. After all, why not get a few belts… under your belt:).
EDCs are a vital part of our day to day. Practicality meets purpose and there is no reason to skip out on looking good. Your belt should be able to do more than its one intended purpose, that is the whole idea of pushing the new EDC world. Now everything has more purpose!