The future is now. "The Jetsons" were wrong, the flying car never came to fruition, but powerful electric scooters are here and they're taking over! We've gathered a list of some of the fastest electric scooters on the market right now so you can make your purchase with confidence.
In a world where every day starts with "Uber," you could be forgiven for not assuming that people still enjoy the simple pleasure of riding an e-scooter. But this is no longer just something we do to get from A to B, it's now a lifestyle choice – and there are fast electric scooters out there perfect for each price point and power level.
So let's get going!
Electric Scooter
Image
Dimensions
Price
Nanrobot RS7
Scooter:
55.1inch*12.2inch*55.1inch

Wheels:
11 inch
Check The Price
Wolf Warrior 11



Scooter:
49.2 x 24.6 x 49.2 inches

Wheels:
11″ tubeless tires
Check The Price
Dualtron Thunder


Scooter:
48 x 12.5 x 45 inches

Wheels:
11 inch wide tubeless
Check The Price
Nanrobot D4+2.0
Scooter:
47 x 12 x 21 inches (folded)

Wheels:
10″ Pneumatic Hybrid Tires
Check The Price
INOKIM OxO
Scooter:
48 x 23 x 51 inches

Wheels:
10″ x 2.5″ air tires
Check The Price
Apollo Phantom

Scooter:
51 x 8.5 x 49 inches

Wheels:
10 inch pneumatic
Check The Price
Apollo Ghost

Scooter:
50.5 x 9.3 x 50 inches

Wheels:
10 inch pneumatic
Check The Price
Slidgo X8
Scooter:
43 x 16.5 x 18 inches

Wheels:
10″ Solid
Check The Price
Segway Ninebot Kickscooter Max
Scooter:
46 x 18.6 x 47.4 inches

Wheels:
10″ pneumatic
Check The Price
Swagtron Swagger 5 Elite
Scooter:
41.5 x 17 x 45.3 inches

Wheels:
8.6″ Air-filled Rubber Tires + airless honeycomb
Check The Price
Our Top Picks
1. NANROBOT RS7 – 52mph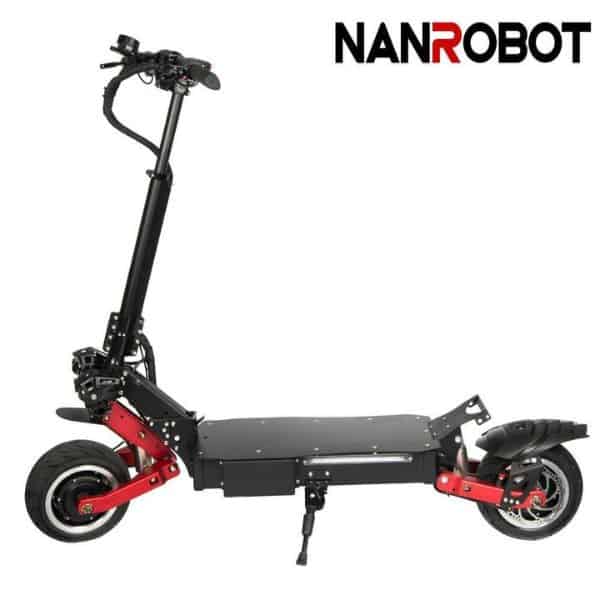 | Reasons to Buy | Reasons to Avoid |
| --- | --- |
| ✔️ Good shock absorption | ❌ Quite Big |
| ✔️ Incredibly fast | |
| ✔️ From a respected brand | |
Specifications
Model:RS7
Mileage: 55miles
Dual Drive:1600W*2
Max Speed:52MPH
Lithium Battery: 60V 31.2AH
Wheel Diameter: 11 inch
Net weight: About 88.2lbs (40kg)
Maximum speed: 55 MPH
Load capacity: MAX 397lbs
The NANROBOT RS7 is one of the fastest electric scooters in the world which you can find in the market today. The foldable, lightweight design makes it easy to take with you and ride no matter where you go. With high quality materials, a load capacity of 397lbs, and a battery life that lasts 55 miles on one charge – this scooter will send you flying through the streets, but at a hefty price!

This is the fastest electric scooter in our list, but it isn't the fastest in the world. Why? Cause we only want to include scooters that actually have a chance to be driven legally on a public road – though some of these actually could be illegal in some countries 🙂
2. Wolf Warrior 11 – 50mph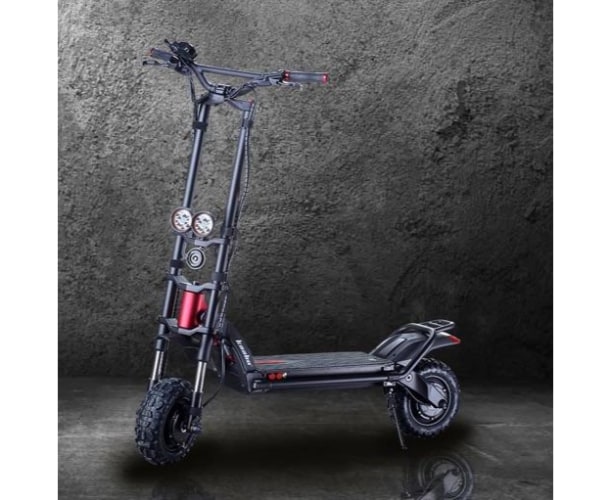 | Reasons to Buy | Reasons to Avoid |
| --- | --- |
| ✔️ Suspension system | ❌ Difficult to carry around |
| ✔️ Off road & road tire capability | |
| ✔️ Very long range | |
Specifications
Motor: 2x 1200W base / 5400W peak
Battery: LG/Samsung Li-ion 60V 35Ah
Est range: 70 miles (eco / single drive)*
Top speed: 50 mph
Weight limit: 330 lbs / 150 kg
Tire size: 11″ tubeless tires
Suspension: front hydraulic / rear springs
Brakes: Front and rear hydraulic
Lights: front / side/ rear LEDs
Display: Minimotors display / throttle
The Kaabo Wolf Warrior 11 is designed for serious high-speed riders of all types. Whether you are cruising on the road or taking your bike off-road to tackle those gnarly trails, this scooter is sure to keep you happy and satisfied. It features a 50mph top speed that can make any rider feel unstoppable. The huge 35Ah LG/Samsung battery delivers over 70 miles even with high speed driving too so there's no need to worry about getting stranded before reaching your destination.
And if all that wasn't enough, this powerful electric scooter features inverted hydraulic front shock absorbers and rear spring brake which enable it to break comfortably without a problem, even when driving down after you're climbing up steep inclines (up to 30% grades). Bam!
3. Dualtron Thunder – 50mph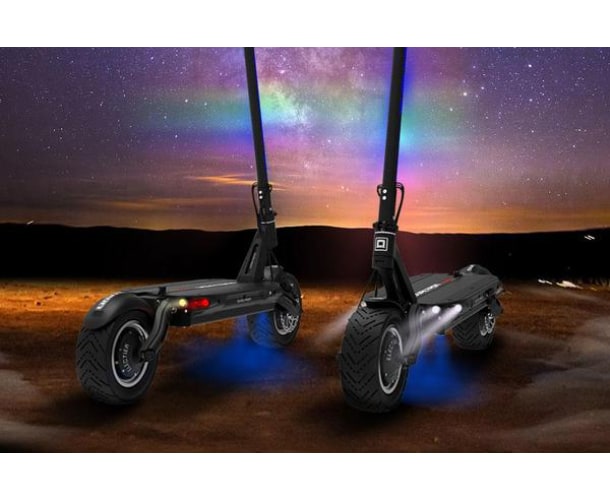 | Reasons to Buy | Reasons to Avoid |
| --- | --- |
| ✔️ Very long range | ❌ Suspension to the weaker side |
| ✔️ Extra wide board | |
| ✔️ ABS brakes | |
Specifications
Motor: MAX 5,400 watt BLDC dual hub motor
Battery: 60 volt – 35 Ah – 2,060Wh – LG 3500 cells
Charge time: 20 hours with standard charger, 10 hours with 2 standard chargers, 5.3 hours with the quick charger
Max mileage: 75 miles (mileage may vary depending on rider weight and road conditions)
Max Speed: 50 mph
Climbing Grade: 47% or 25 degrees depending on rider weight and state of charge
Braking System: Hydraulic brakes with ABS standard and 160mm disks
Max Load: 265 lbs
Scooter Weight: 95 lbs
The Dualtron Thunder has massive 5,400 watt BLDC motors, adjustable suspension, and ABS brakes. Despite the performance of this beast, it will still give you a range of around 75 miles. That is one hell of a fast scooter.
What we're most excited about is that the suspension geometry has been completely reworked on the current generation of Dualtrons. We haven't tried it ourselves sadly, but the creators claim it now has a fully adjustable 3 step variable suspension system which is coupled with replaceable rubber cartridges to completely dial in your ride.
The most important thing to keep in mind is that anyone can make a super fast electric scooter, but the safety mechanisms included are damn important. Nobody cares about speed if they are not safe using the product.
4. Nanrobot D4+2.0 – 40mph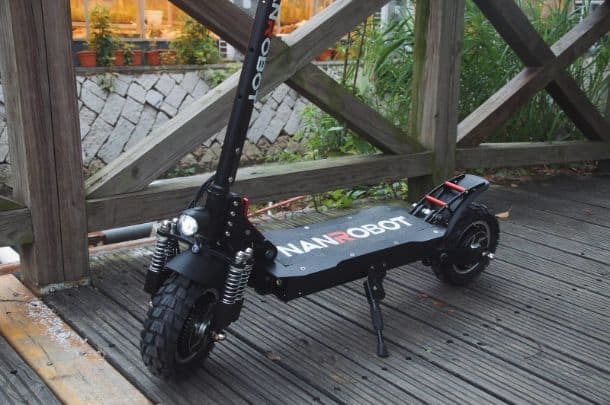 | Reasons to Buy | Reasons to Avoid |
| --- | --- |
| ✔️ Set addition relatively cheap | ❌ Lengthy recharge time |
| ✔️ Wide board for stability | |
| | |
Specifications
Model:D4 +2.0
Range:34-40 Miles(23AH) 25-28 Miles(18AH)
Dual Motor:1000W x 2
Max Speed:34-40 MPH
Lithium Battery:52V-23AH 52V-18AH
Wheel Diameter: 10 inch
Net weight: About 59.5lbs
Size: 48inch*44.9inch*22.5inch
Load capacity: MAX 330lbs
Charger: Smart Lithium battery charger
The Nanrobot D4+2.0 is a high performance electric scooter that gives you the ability to zip past traffic on signal-free roads with speeds up to 40mph.
Its dual 1000w motor and lithium battery combined with brushless gear motor makes for a smooth ride at all times, while its unique folding design makes it easier than ever to store away when not in use.
The Nanrobot fast electric scooter sports additional safety features such as two shock absorbers on the rear and four on the front for smoother rides and an LCD readout at the handle so you know how much power's left in your tank. With this fast, efficient scooter, there's no limit to where it can take you—literally! (not literally but close)
5. INOKIM OxO

– 40mph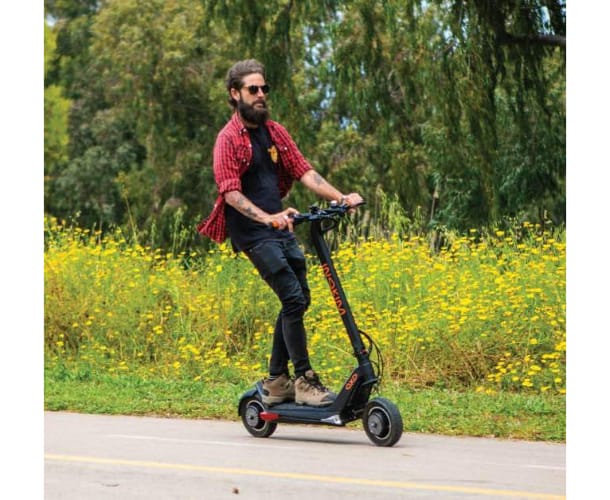 | Reasons to Buy | Reasons to Avoid |
| --- | --- |
| ✔️ Superior build & ride quality | ❌ Heavy & not very portable |
| ✔️ Peak power performance | |
| ✔️ Advanced display | |
Specifications
Motor: 2 x 1000W base / 2600W peak
Battery: LG 60V Li-ion 26Ah
Est range: realistic 36 miles*
Top speed: 40 mph
Weight limit: 265 lbs / 120 kg
Weight: 74 lbs
Suspension: adjustable front and rear
INOKIM OxO was praised as "Almost perfect" by The Electric Scooter Guide. It has a top speed of 40mph and is told to be a very comfortable ride with its two silent dual 1000w brushless motors. With its 26Ah LG Li-ion battery pack, it can run 50mph on one charge.
The main downside about this is the awkward throttle described by the aforementioned guide saying that the acceleration using the thumb throttle can be difficult to master and can feel jerky from time to time. Keeping a constant speed is a balancing act.
Nevertheless, it is a really good choice for fast electric scooters and is said to be amazing even if it has a high price.
6. Apollo Phantom

– 40mph
| Reasons to Buy | Reasons to Avoid |
| --- | --- |
| ✔️ Double charging ports | ❌ Wobbly kickstand |
| ✔️ Great overall ride ergonomics | ❌ No front turn signals |
| ✔️ Very anticipated by experts | |
Specifications
Motor: 2 x 1200W base / 3200W peak
Battery: 52V 23.4Ah Dynavolt Li-Ion*
Est range: up to 40 miles
Top speed: 38 mph
Weight limit: 300 lbs / 136 kg
Weight: 77 lbs
The Apollo Phantom is probably the most anticipated fast electric scooter of 2023. Experts say it has so many features including a supersized display, amazing triple-secure locking mechanism, and light package that it can almost not be compared to any other scooter. 
It has the ability to reach speeds up to 40MPH and can accelerate faster than many other models out there. The instant acceleration will help you maneuver through city traffic easily without having to worry about stopping for stop lights or going uphill when shifting gears frequently would be required otherwise.
It might not be the fastest scooter in the world, but it really is worth the investment.
7. Apollo Ghost

– 34mph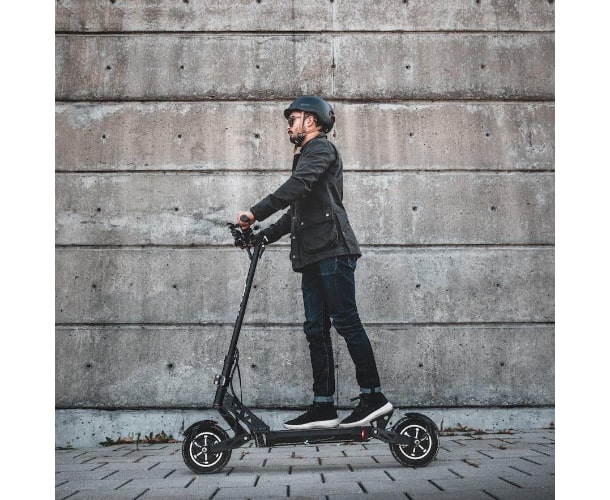 | Reasons to Buy | Reasons to Avoid |
| --- | --- |
| ✔️ Fast for the price | ❌ Less smooth than other Apollo scooters |
| ✔️ Good range for price | |
| | |
Specifications
Motor: 2 x 800w
Battery: 52V 18.2aH battery
Est range: 39 miles
Top speed: 34mph
Weight limit: 300 LBS
Weight: 64 LBS`
The Apollo Ghost is a little slower than the Apollo Phantom which is $300 more. It has a great range of 39 and has a key lock ignition. Though it is on the 7th place in this list, 34mph is still incredibly fast for an electric scooter and is made by the respectable Apollo brand.
Nevertheless, some experts and users would say that if you can splurge just $300 you should do it cause the Apollo Phantom is more bang for buck with its $300 higher price.
8. Slidgo X8

– 19mph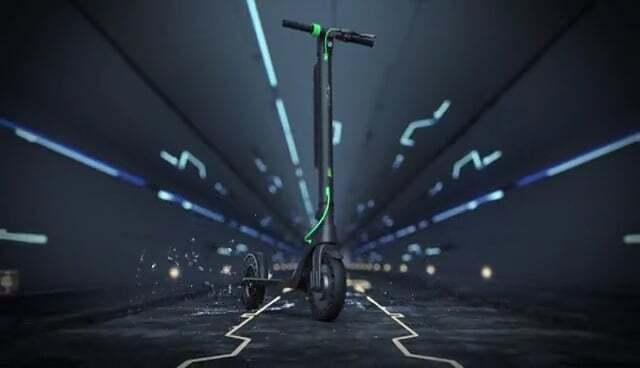 | Reasons to Buy | Reasons to Avoid |
| --- | --- |
| ✔️ Very lightweight | ❌ Slow acceleration and short range |
| ✔️ Exchangeable battery | |
| ✔️ Decent brakes | |
Specifications
Motor: 1 * 350W
Battery: 12.8 Ah
Est range: 20 miles
Top speed: 19mph
Weight limit: 250lbs
Weight: 35lbs
Now we're getting here. The Slidgo X8 is a powerful and affordable electric scooter for the entry-level readers out there who want something that is good for the price.
The really cool feature in our opinion is the replaceable battery that gives a convenience to this fast electric scooter that's just amazing. Second, for the price, it's a good enough speed and is probably what many are looking for in a scooter. All in all, a really solid general choice for a fast electric scooter in that price range.
9. Segway Ninebot Kickscooter Max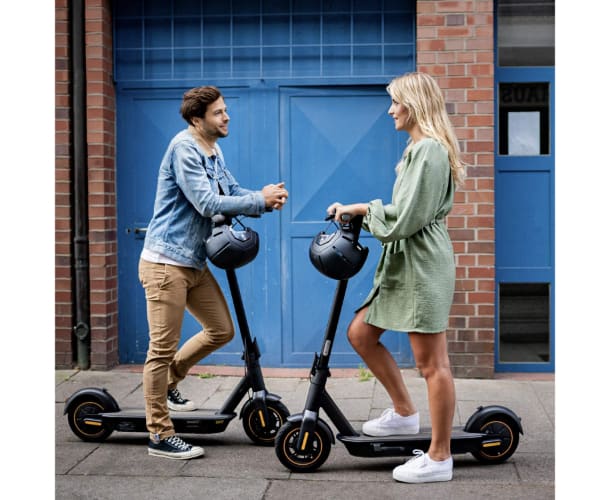 | Reasons to Buy | Reasons to Avoid |
| --- | --- |
| ✔️ Great range | ❌ Beefy |
| ✔️ Comfortable | |
| ✔️ From a respected common brand | |
Specifications
Motor: 1*350w
Battery: 551Wh Battery
Est range: 40 miles
Top speed: 18. 6 mph
Weight limit: 220lbs
Weight: 41.2lbs
The Segway Ninebot Kickscooter Max is an excellent choice for those who want a long ride at moderate speed. This fast electric scooter runs at 18.6mph and has a range of 40 mph Iit's another affordable electric scooter that gets you where you need to be – not too slow but not too fast either.
It comes from the respected brand Segway so we know this won't disappoint or malfunction on us unexpectedly; yet still has some flaws like its heaviness and bulkiness when compared next to other models with lighter weight frames.
10. Swagtron Swagger 5 Elite – 18mph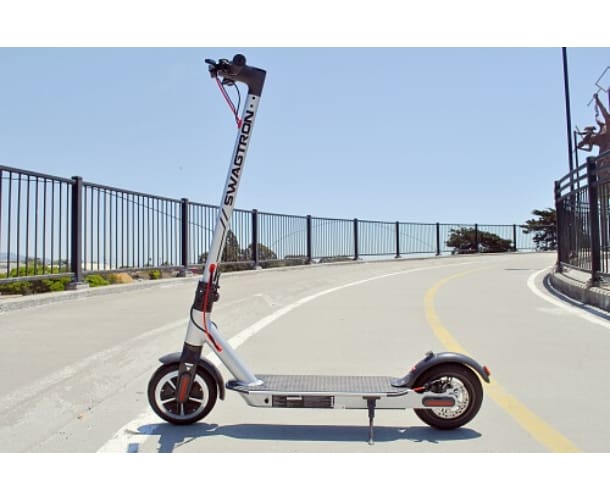 | Reasons to Buy | Reasons to Avoid |
| --- | --- |
| ✔️ Smooth ride | ❌ Problems with uphill |
| ✔️ Attractive | |
| ✔️ Good value for money | |
Specifications
Size: 45.3 x 41.5 x 17 inches
Weight: 27.5 pounds
Max rider weight: 320 pounds
Max speed: 18 mph
Max range: 11 miles
Motor: 250 W, front-wheel drive
Battery: 36 V, 6 ah
Charging time: 3.5 hours
In the last place of the fastest electric scooters is the Swagtron Swagger 5 Elite. If you live in relatively flat terrain and you want bang for buck, the Swagtron Swagger 5 is for you. Though it is last on this list, that doesn't mean it's the slowest, it means it's the scooter we want to highlight at this range of speed.
It has a hard time getting up hills and the range isn't the best we've seen but it is good as a fast electric scooter- especially as it is under $500.
---
Features to look for before buying the fastest electric scooter
Make sure the scooter can handle your weight
If you're going to buy an electric scooter, make sure it can handle your weight. A lot of the cheap bikes have a max capacity of 250 pounds, while some more expensive models support up to 400 pounds.
Consider how often you will use it and for what purpose
If you're looking for a fun way to get around the city, an electric scooter is perfect. It can also be an affordable and environmentally friendly way of getting to and from work or school. Some others might just use it for fun once in a while – and if that's the case, the quality of the scooter might not matter so much.
Look at mileage per charge, battery life, speed, and power assistance
There are many electric scooters to choose from these days. From this article, we know you're interested in speed but that there's more to consider than just the top end of performance and acceleration. Where do you live? How far is your commute on average? That ties into how often will you need a recharge and what kind of control system does it have? There's hi-tech systems like one where turning or leaning adjusts power output (think video games), which might be fun for some people but not others who may not want all their attention diverted while riding an e-scooter.
Hopefully our post about different kinds of options available has helped guide your decision making process!
Read reviews from other buyers before making a purchase
Though we did our absolute best in condensing the best information about these scooters, it may not be enough for some people. User reviews are super helpful and you'd be able to see user experience reviews from an eye-height perspective rather than all the salesy language producers use.
Take into account where you live – some models are not weather-resistant or have no suspension system
When it comes to scooters, there are a lot of variations that you have to consider. You'll need one with the right suspension system if your terrain is more rugged and not paved; weather-resistant features for people in climates where rain or snow can be expected throughout all seasons (like areas near beaches); speed options based on how far away from home you live – some models achieve speeds up to 52 mph while others top out at 15 mph.
And don't forget about battery life! It's important when commuting long distances every day because range varies depending on performance – so what type of vehicle will make these trips worth it?
Get a helmet if riding an electric scooter on streets or sidewalks
Get a helmet if riding an electric scooter on streets or sidewalks, because it could save your life.
Maintaining safety is always important when you're driving any type of vehicle; however with the highways being so congested and littered with accidents these days – why not take some precautions? That's where helmets come in handy- they can help protect our heads from things like fender benders that happen often while using public transportation.
Knee pads are also quite useful too as many riders who have gone down say their knees were bruised for weeks after finally getting off the floor! Finally there are hand guards to consider: I know we all want to be able to show off those beautiful fingers at family gatherings so keep them protected!
---
FAQ