The wind caressing your face, the slow and steady pace, the complete freedom to go anywhere. Well, a lot further than you planned on it. Electric road bikes aren't exactly paving new roads in commuting, but they make cycling a WHOLE LOT EASIER. Pedal assist, torque on demand, and just straight-up pedal free riding. A lot of things that held people back from hopping on a bicycle are now a thing of the past for those ready to get their e-road bike.
An Electric road bike differs from other electric bicycles because they focus on being lightweight, sleek, and practical. Road bikes are built for riding on paved roads with little to no suspension or comfort.
Electric road bikes may seem counterintuitive, but for those who want to keep up the pace and go further, want something more lightweight, or just like the look and feel of a road bike, the electric motor and battery are worth the extra weight. 
What to Look for in an Electric Road Bike
If you know anything about road bikes, you know they serve a purpose. Our list of specialized electric road bikes will have you gliding with minimal effort, whatever your budget, power needs, and range requirements. Since these traits matter more for a road bike, I will not be giving too much attention to handlebar style, gear ratios, or off-road capabilities as we are discussing electric road bikes.
Weight
The less weight you have, the less weight you have to move. Batteries have come a long way from being lead acid bulky bricks to neat little power-packing marvels. While your electric road bicycle will weigh more than its simpler, low-tech ancestor, it doesn't mean that they are heavier than your average affordable steel frame cruiser.
Road bikes usually try to go as light as possible, and modern electric road bikes have done everything to trim dead weight off, so your bike doesn't become unusable if you were ever to run out of power. This brings us to our next topic…
Range
You're gonna go far, kid. Think of all that extra mileage you can squeeze out of your ride when you don't have to heave and how to get up those hills. You can treat this thing like an electric scooter and let it get from A to B without breaking a sweat, but where is the fun in that? You should be ready to put some effort into getting where you want to be, and with smooth pedal assist available, it doesn't get any easier.
Given the vast differences in terrain, weight, and cadence, it is difficult to pin an exact range on an electric road bike, but given how similar the motors and power delivery systems are, I'd wager that you can compare them to each other with their claimed range.
Power
Do you need something to help give a little boost when you are on your final breath or something to race alongside cars going uphill? As the saying goes, there is no replacement for (electric motor) displacement, but how much power do you actually need? Given that these electric road bikes are already lightweight and you should be pedaling, you probably just need something to assist you more than the one doing ALL the hard work.
Don't get too distracted by large numbers of motors. I went ahead and picked the ones that prioritize pedal assist, not "slam on the throttle and fly across the highway," as should you. But hey, if you have some steep hills to climb, then I guess you really do need a high-end electric road bike. If you are looking for one, then you probably do need it. 
Top Speed
We are counting throttle only! It is important to get acquainted with your local electric bike laws in your area and see if whatever catches your eye even legally qualifies as an electric road bike. Some of these are real speed demons and can't help you out when you get pulled over for passing speeds other cyclists only dreamed of. As an adult, you are to be trusted to obey speed limits because they aren't there just for cars. Do you even have a speedometer on your bike?
Ease of Charging Battery and Security
Thankfully batteries are now lightweight and removable to take home to charge and not left out with a long wire leading back upstairs because there are no outlets in the parking garage. Since these electric road bikes are a bit pricier than our standard road bikes, they are, unfortunately, a bigger target for bike thieves.
Higher-end e-road bikes have built-in GPS, insurance, and smartphone capabilities that set them in a whole nother class of security, but your average electric road bicycle is probably going to be pretty basic, as it should be. Needing a special key to take the battery out is a huge plus in this category, and we often see a struggle for a balance between safety and convenience in this category, so it is up to you to prioritize. 
Comfort
Just kidding :).  These are electric road bikes, silly. If you want suspension, a cushy seat, or a built-in coffee machine, look somewhere else. These e-road bikes are for hitting the road with some guts.
1. Hurley Carve Electric Urban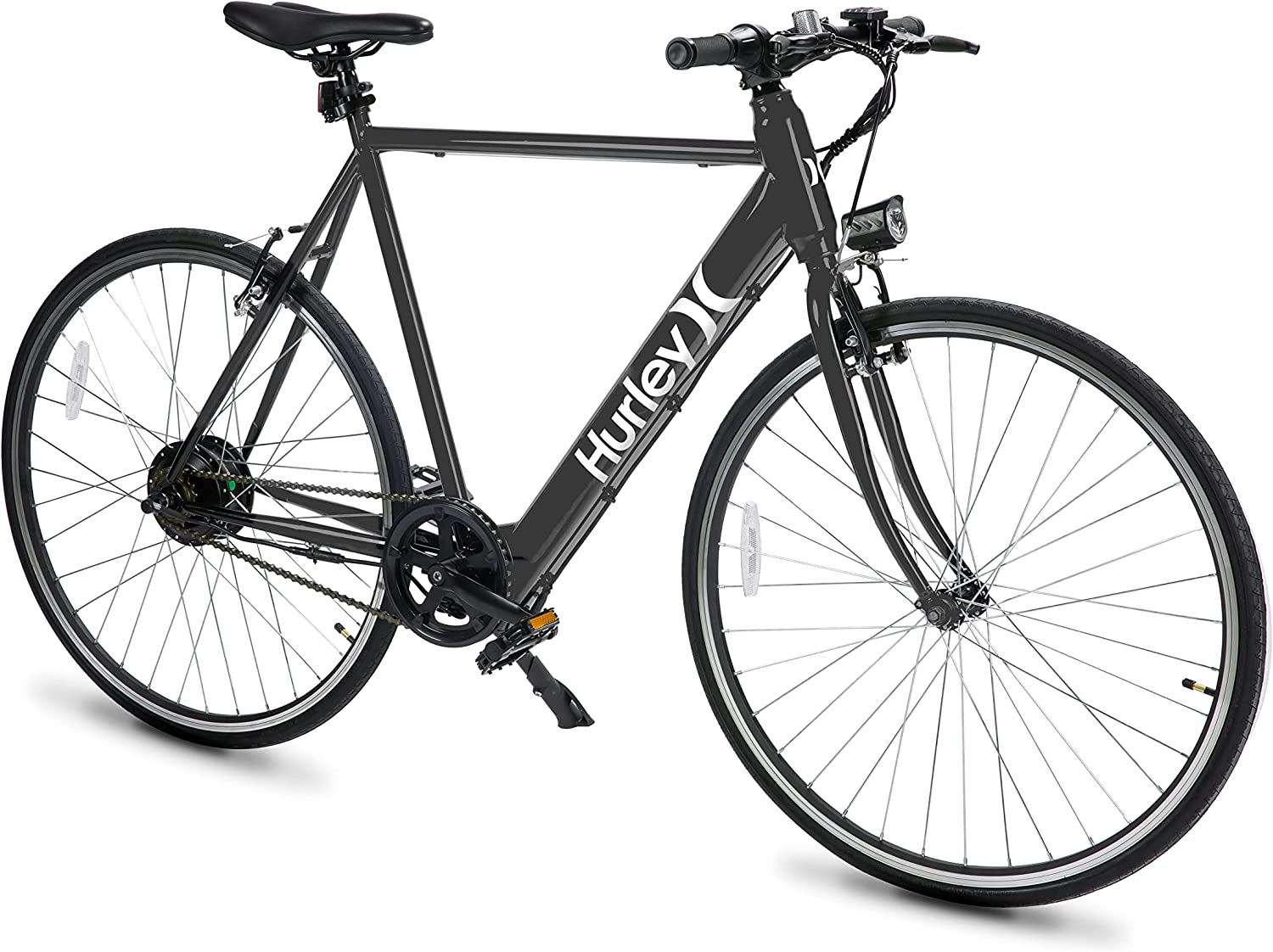 | Reasons to buy | Reasons to avoid |
| --- | --- |
| ✔️ Simple Fixie | ❌ Internal Battery |
| ✔️ Inexpensive | ❌ V-Brakes |
Specifications:
Weight: 44lbs
Range: 30 Miles
Top Speed: 20 mph
Don't shoot it down just yet, road bike purists. This affordable fixie is just what some people who don't have steep hills or long distances to tackle just might want. Hurley is a familiar brand to those in sports and cycling, and they put out a decent electric road bike for those who want something simple and not heavy on the wallet. 
2. TREK FX+ 2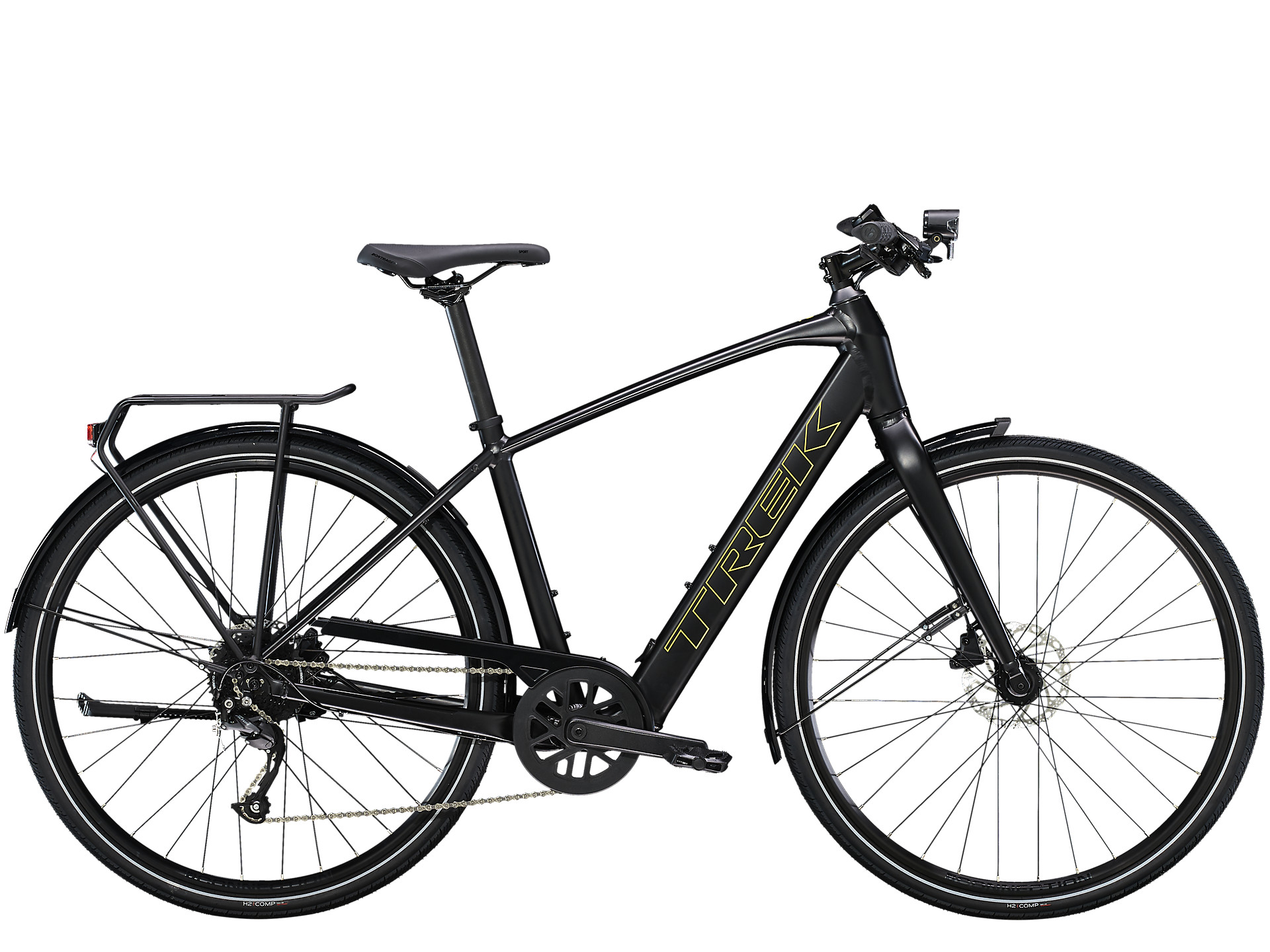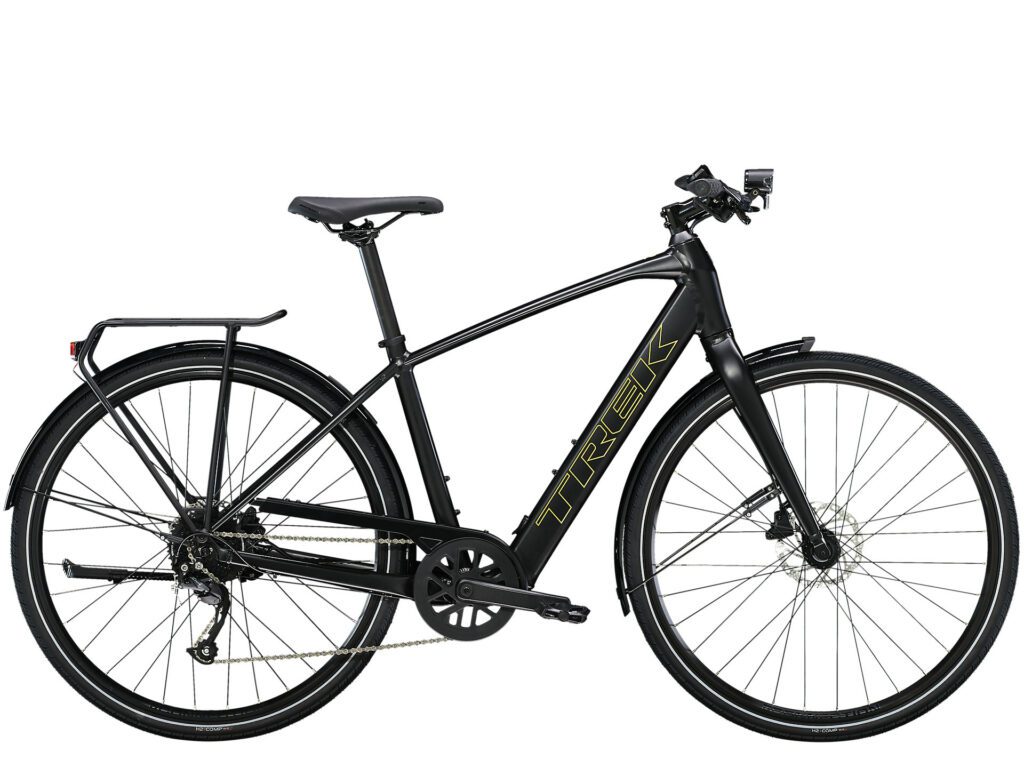 | Reasons to buy | Reasons to avoid |
| --- | --- |
| ✔️ Trusted Brand | ❌ Internal Battery |
| ✔️ Rear Cargo | ❌ Pricey |
Specifications:
Weight: 40lbs
Range: 35 Miles
Top speed: 20mph
Trek is a name all bikers know and love. This entry Trek ebike has a rear cargo mount with a chance to option it out with a bunch of accessories. It has a built-in battery that you can't take out but comes with an optional range extender that mounts right on the water bottle rack that can more than double your range. I put the two extremes of the best electric road bikes early in the list to show you the range that electric road bikes come in. This isn't even a high-end one. It just comes from a high-end brand. 
3. Asomtom RV2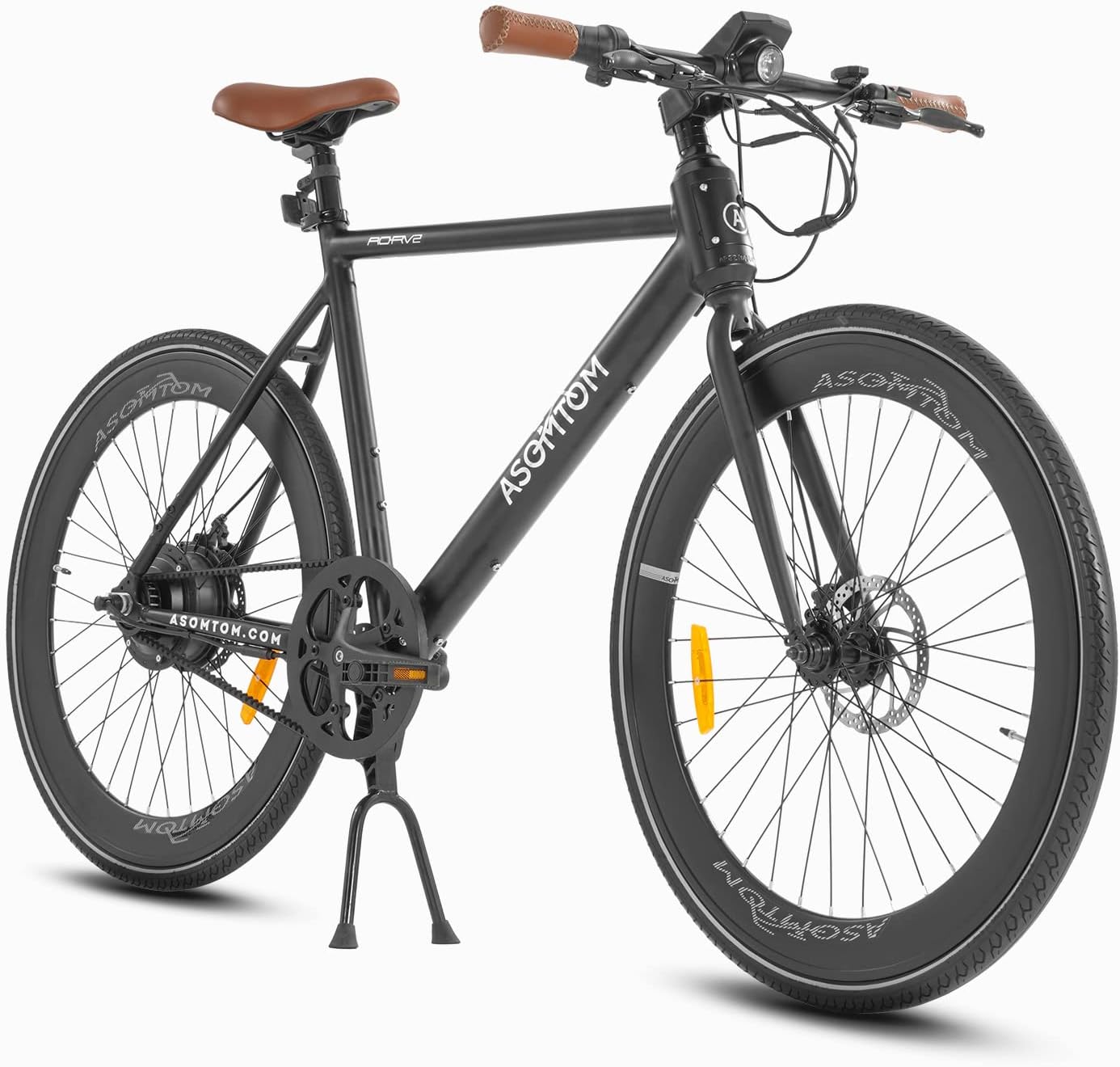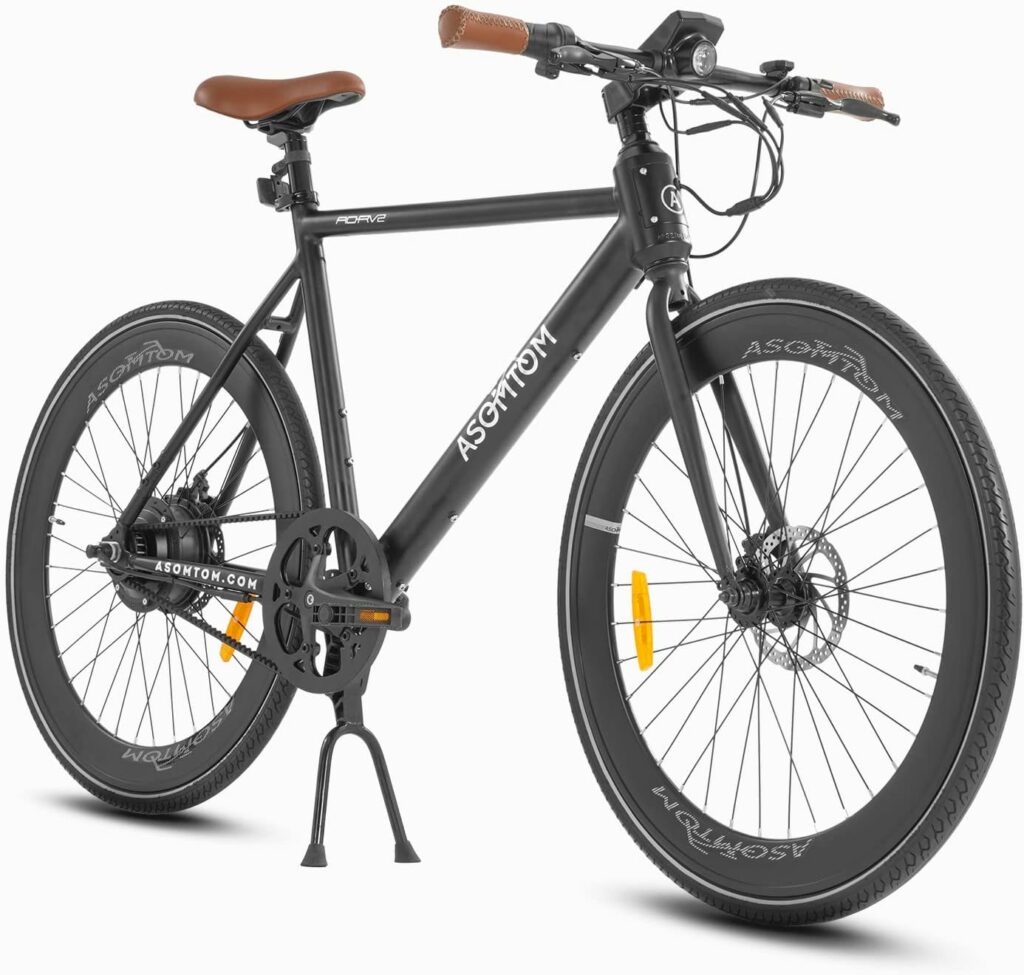 | Reasons to buy | Reasons to avoid |
| --- | --- |
| ✔️ Strong 350W Motor | ❌ Internal Battery |
| ✔️ Quiet Belt Drive | |
| ✔️ Disc Brakes | |
Specifications:
Weight: 46lbs
Range: 30+ Miles
Top Speed: 24 mph
This single-gear electric road bike is a solid minimalist ride for those who don't have any major challenges on their routes and need something to get them from point A to B. With a solid range available depending on what level of pedal assist you to use, you can get over 30 miles of easy riding with minimal effort. 
4. Swagtron Swagcycle EB-12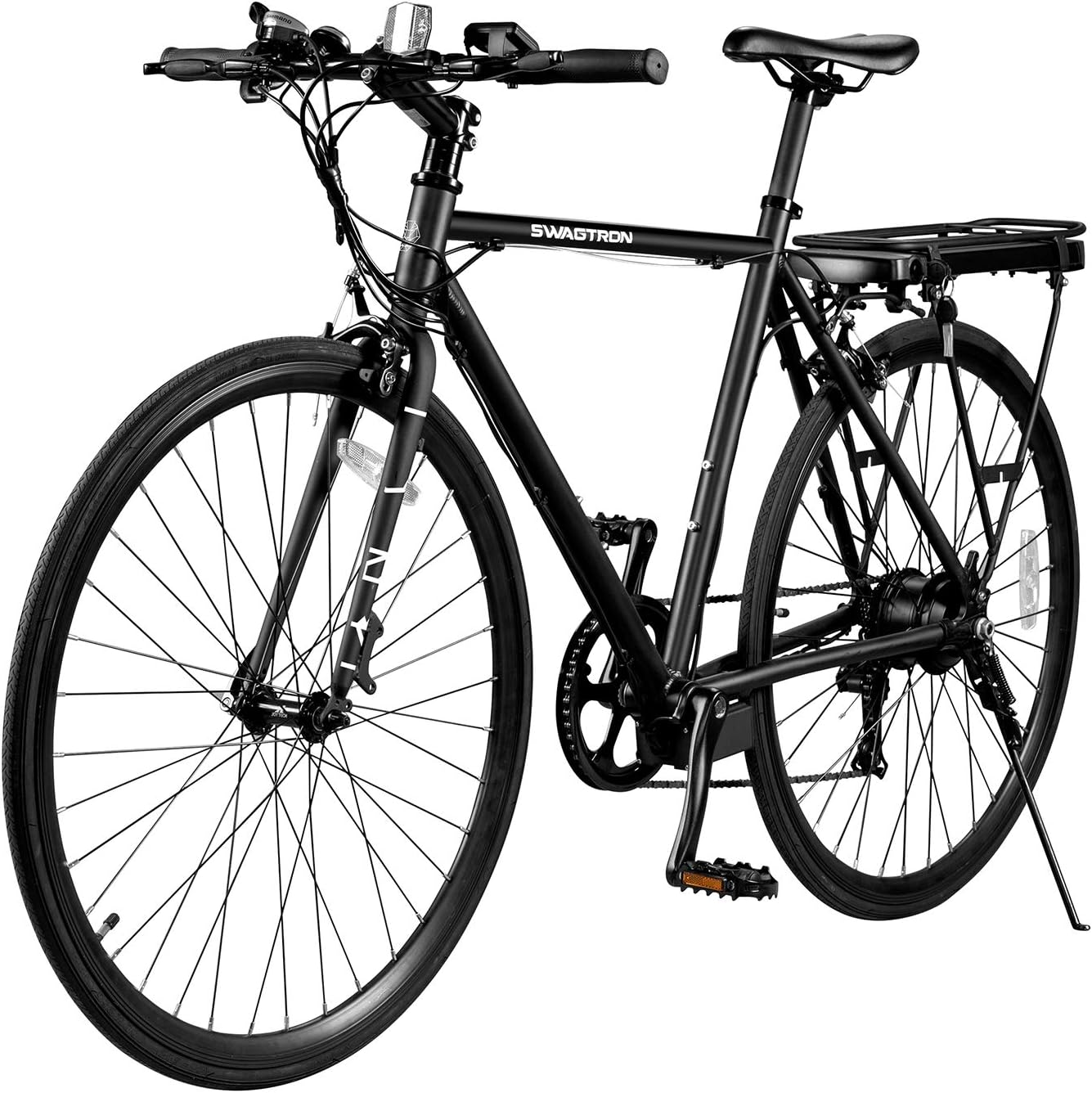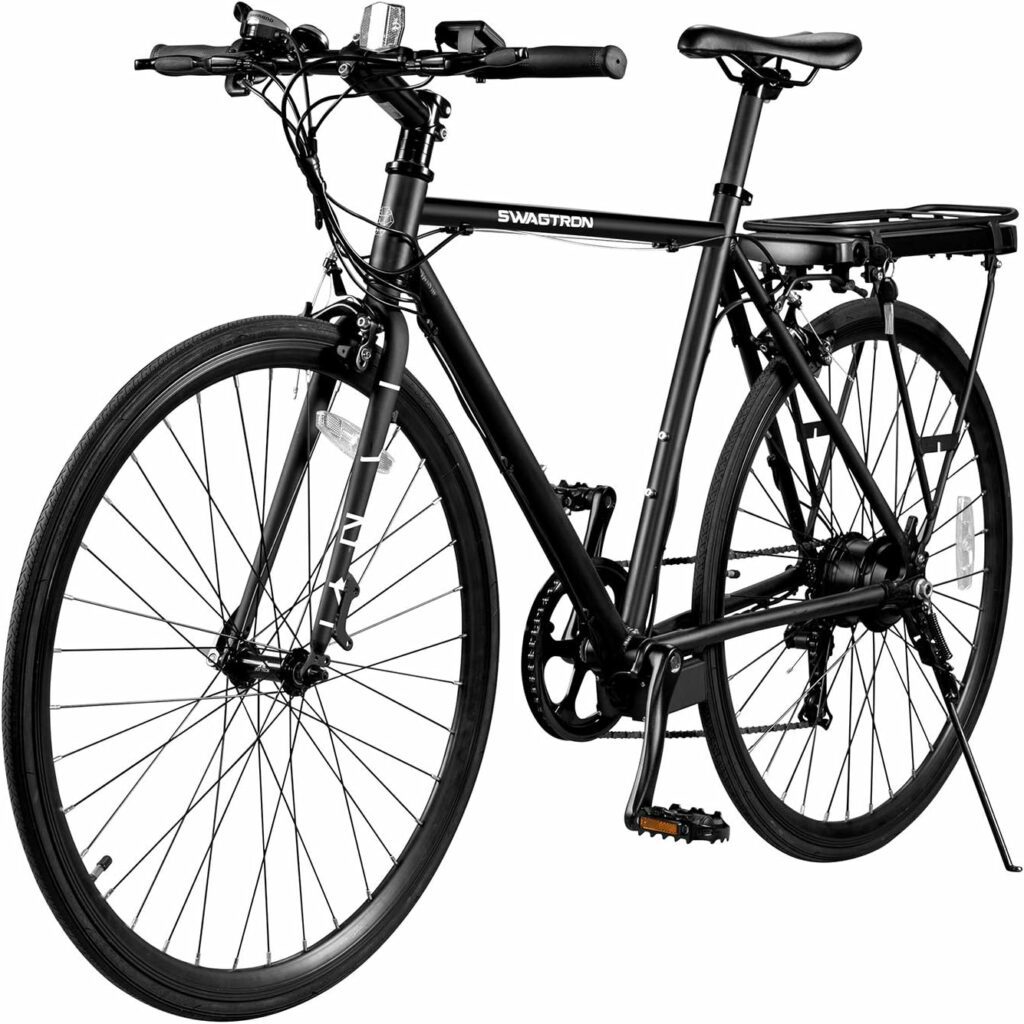 | Reasons to buy | Reasons to avoid |
| --- | --- |
| ✔️ 7 Speed | ❌ V-Brakes |
| ✔️ Cargo Rear | |
| ✔️ Speedometer | |
Specifications:
Weight: 39lbs
Range: 31 Miles
Top Speed: 16.5 mph
The Swagtron Swagcycle is a good compromise between a Commuter and a Road Electric bicycle. It has some bells and whistles, a few gears that you can make use of, and an optional removable battery that doubles as a cargo rack. It has standard 700c tires like most other road bikes and a 250W motor which is super common as well. A safe choice you can't go wrong with. 
5. Ribble Endurance AL e – Sport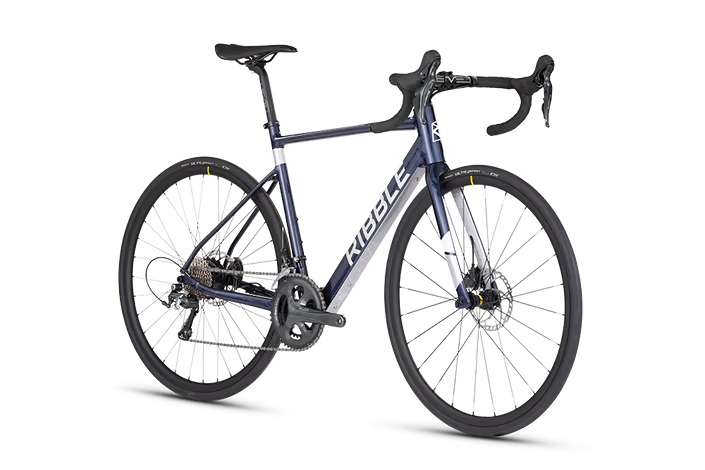 | Reasons to buy | Reasons to avoid |
| --- | --- |
| ✔️ Super Lightweight | ❌ Expected Screen at this price point |
| ✔️ Mud Guard | |
| ✔️ Speedometer | |
Specifications:
Weight: 30lbs
Range: 25 Miles
Top Speed: N/A mph
If you really want a great road bike that completely hides the fact that it has an electric motor tucked away, look no further. The mudrock lets you ride this beast out in any weather, and the wider tires allow for a more comfortable ride with better handling, making this one of the best electric road bikes out there. 
6. Freewheel Electric Adult Bike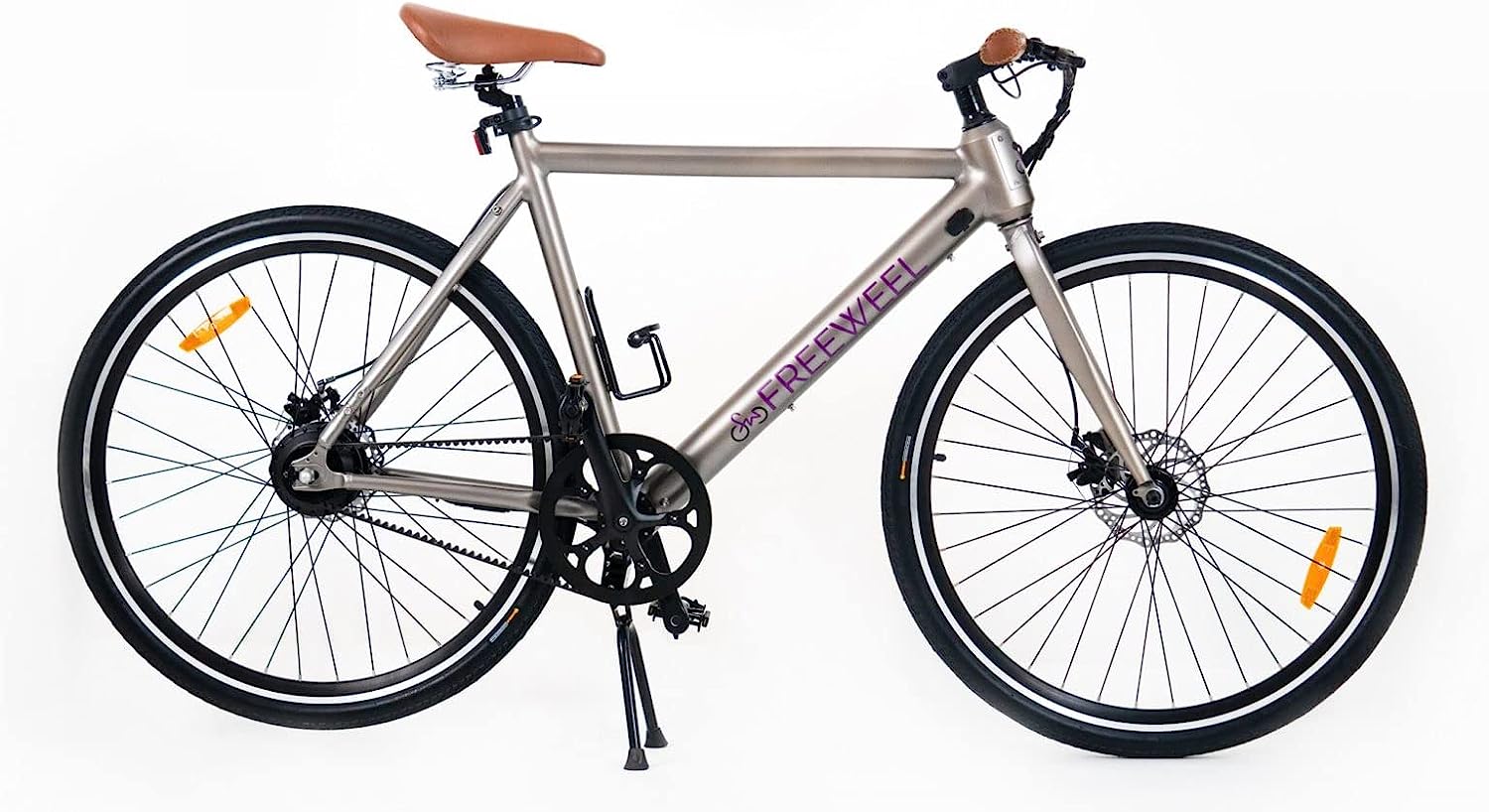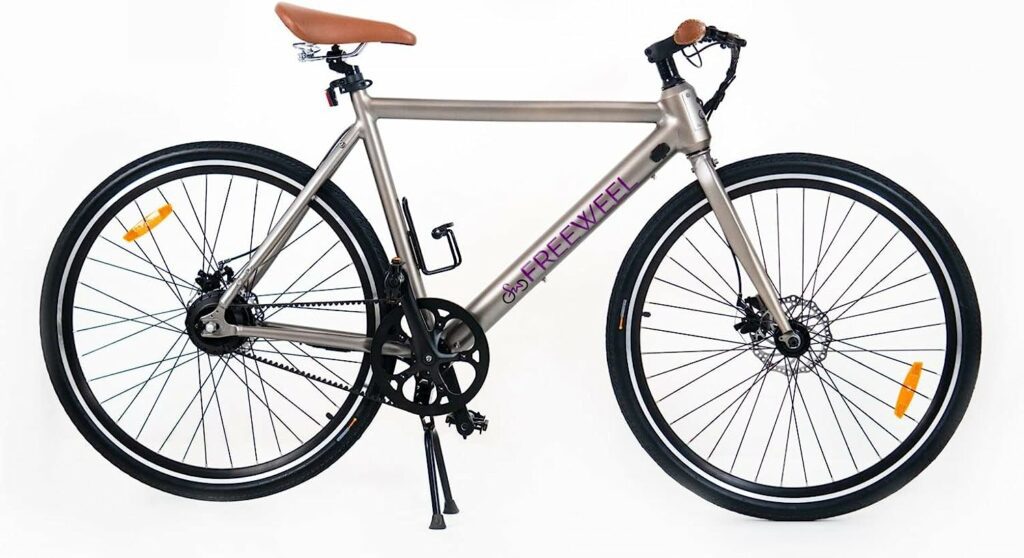 | Reasons to buy | Reasons to avoid |
| --- | --- |
| ✔️ Belt Driven | ❌ Internal Battery |
| ✔️ Speedometer | |
| ✔️ Kickstand | |
| ✔️ Built in Phone Charger | |
Specifications:
Weight: 55lbs
Range: 50 Miles
Top Speed: 20 mph
This is one of the best electric road bikes for anyone who loves bells and whistles and doesn't need a "pure" road bike. It sits high, has a few gears, and disc brakes. What more could you want? It will hold your water. It will charge your phone. The real question is, what will you do for it?
7. Scott Addict eRIDE 30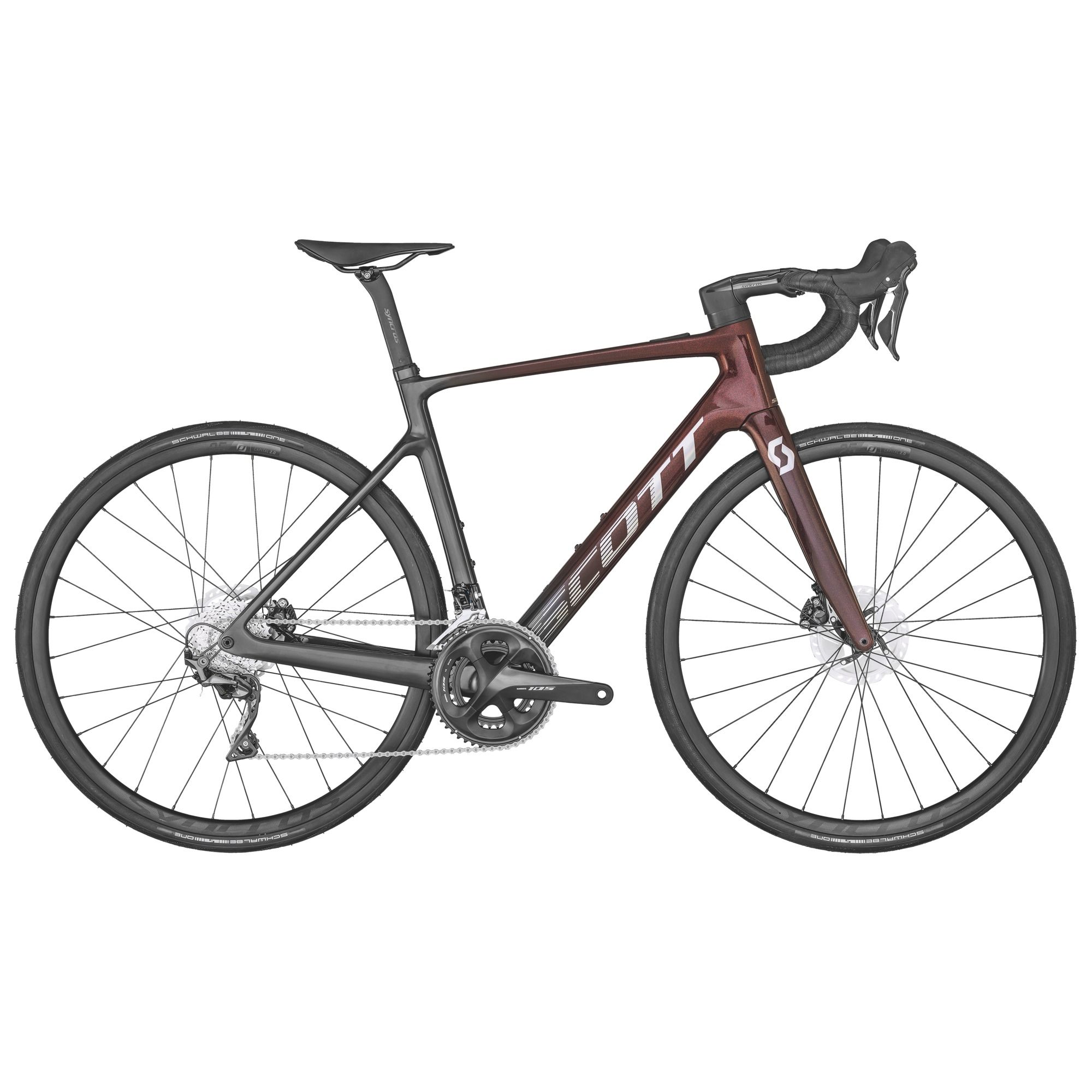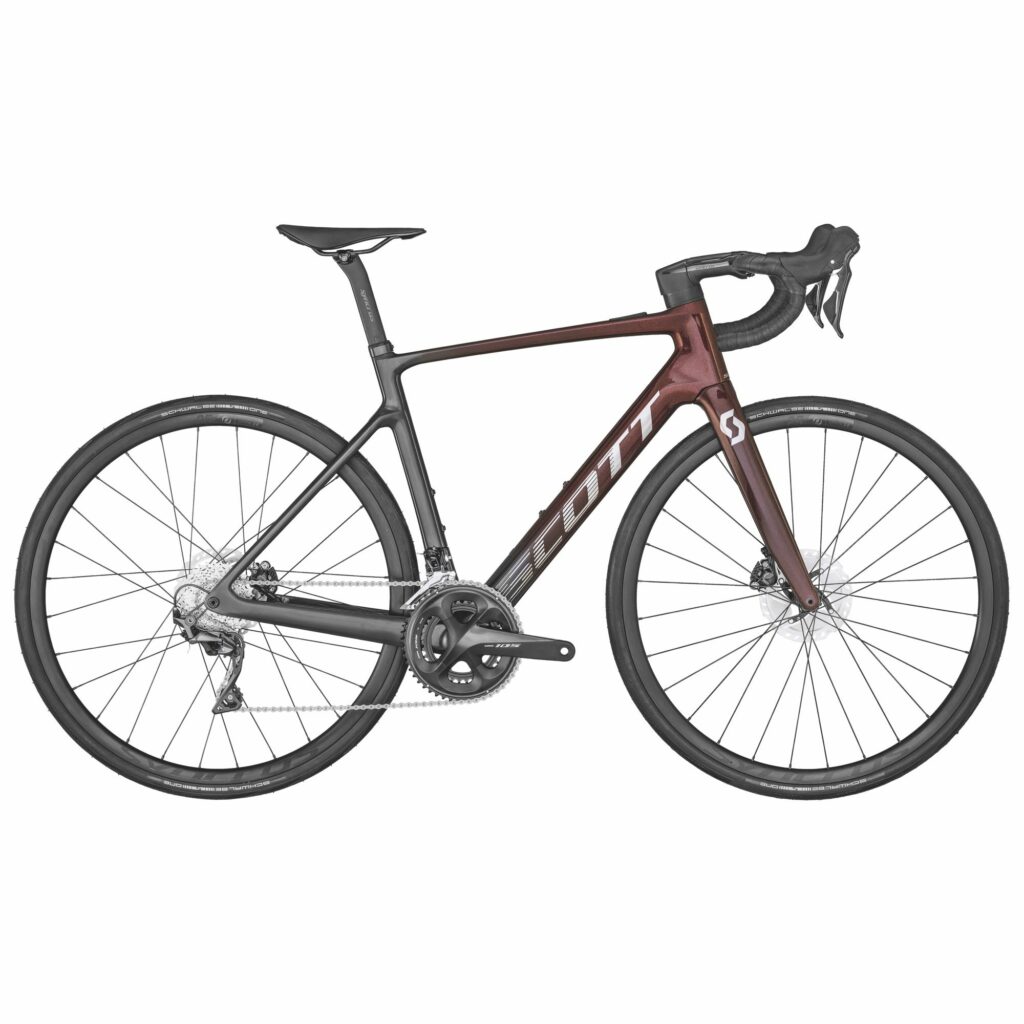 | Reasons to buy | Reasons to avoid |
| --- | --- |
| ✔️ Looks Amazing | ❌ Very Expensive |
| ✔️ Bluetooth 4.0 | |
| ✔️ Optional Range Extender | |
| ✔️ Road Bike | |
Specifications:
Weight: 26lbs
Range: N/A Miles
Top Speed: 20 mph
For those who are much more serious about getting on the road, consider spending a pretty penny on getting one of the best electric road bikes on the market. It rides high, has amazing handlebars, and has some of the highest-quality parts on this list. The Scott e-bike is the crowned jewel on this list. 
8. Cannondale Topstone Neo SL 2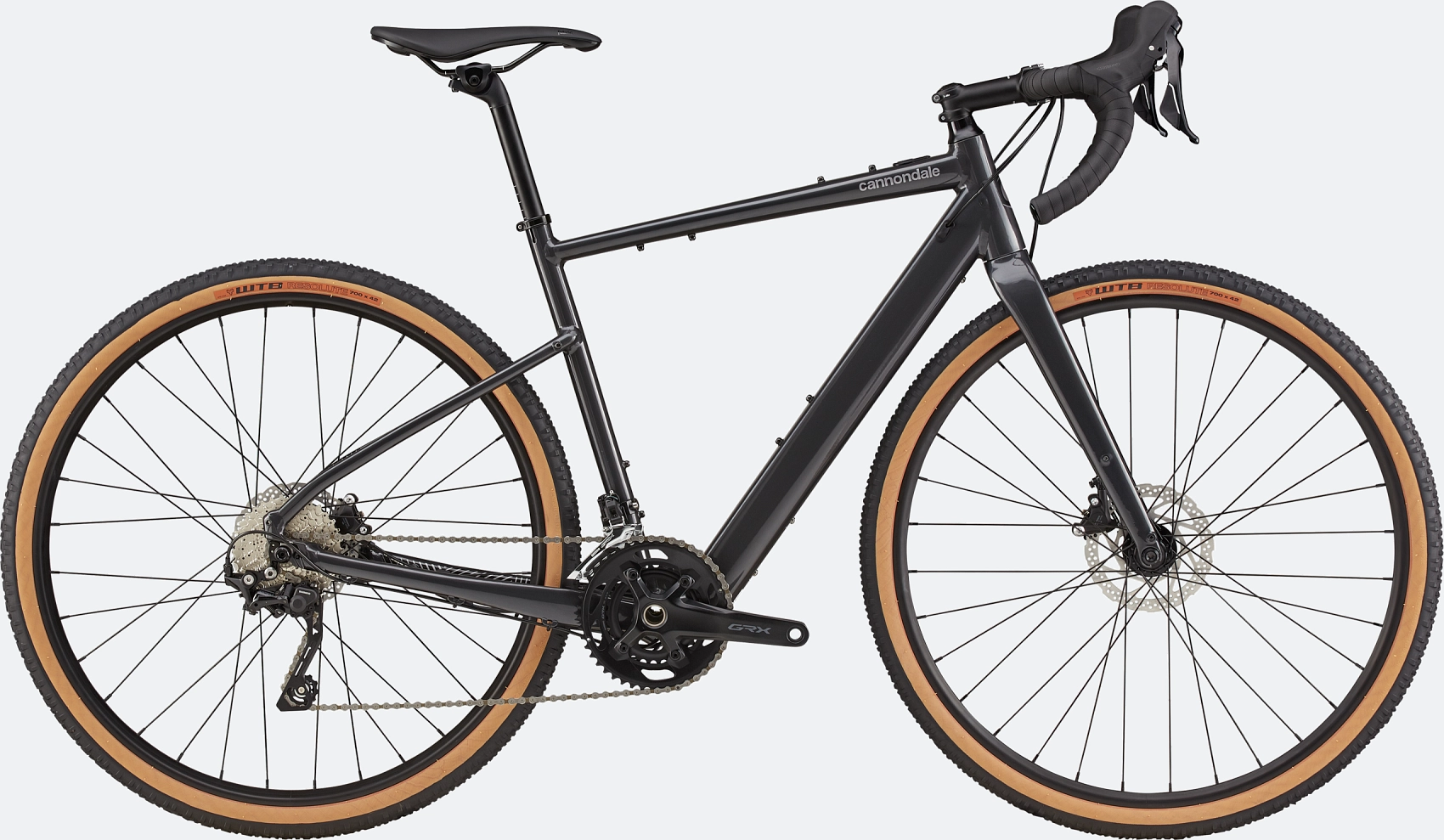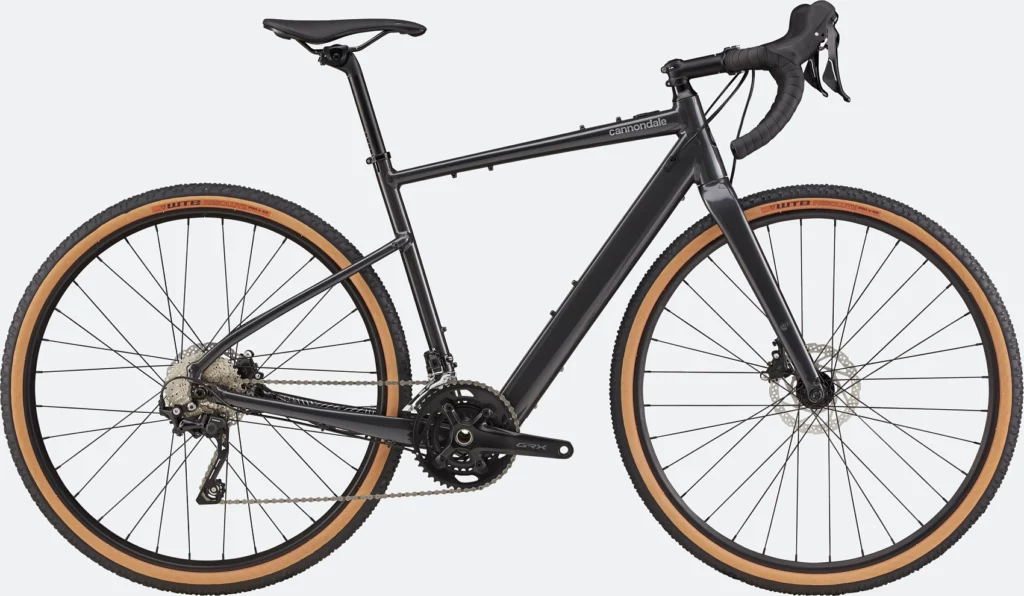 | Reasons to buy | Reasons to avoid |
| --- | --- |
| ✔️ Great Range | ❌ Integrated Battery |
| ✔️ Gravel Capable | ❌ Price |
| ✔️ Tubeless Tires | ❌ No Speedometer |
Specifications:
Weight: 32lbs
Range: 47 Miles
Top Speed: 20 mph
The beauty of an electric gravel bike is that you can be a little rougher with it than your average road bike but keep in mind it can handle a dirt path, not a mountain. It has a simple button to adjust your pedal assist power and powerful disc brakes. Just what you need if you live in a rural area and your roads aren't always perfectly paved.
9. Magicycle Electric Commuter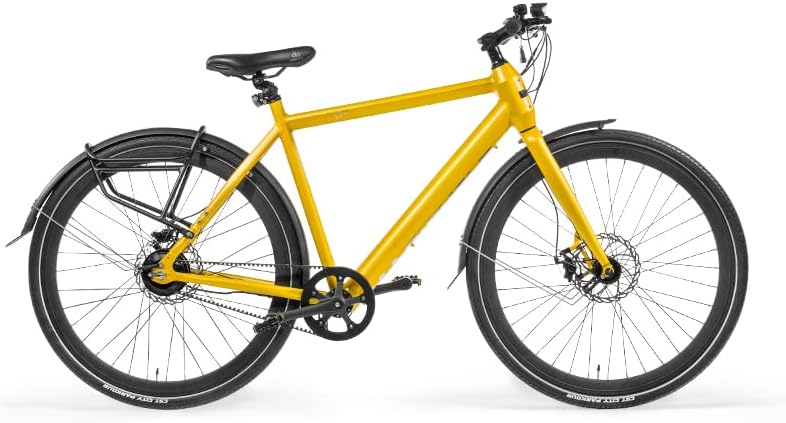 | Reasons to buy | Reasons to avoid |
| --- | --- |
| ✔️ Great Range | ❌ Integrated Battery |
| ✔️ Belt Driven | |
| ✔️ Display with USB Port | |
Specifications:
Weight: 43lbs
Range: 40 Miles
Top Speed: 20 mph
This belt-driven beast is one of the best electric road bikes for a commuter. It has a powerful 350W motor that is sure to assist you with your entire commute with ease. It works smart, not hard. With the added benefit of dual disk brakes and a handy kickstand, you'll enjoy all the little things. 
10. cysum CM520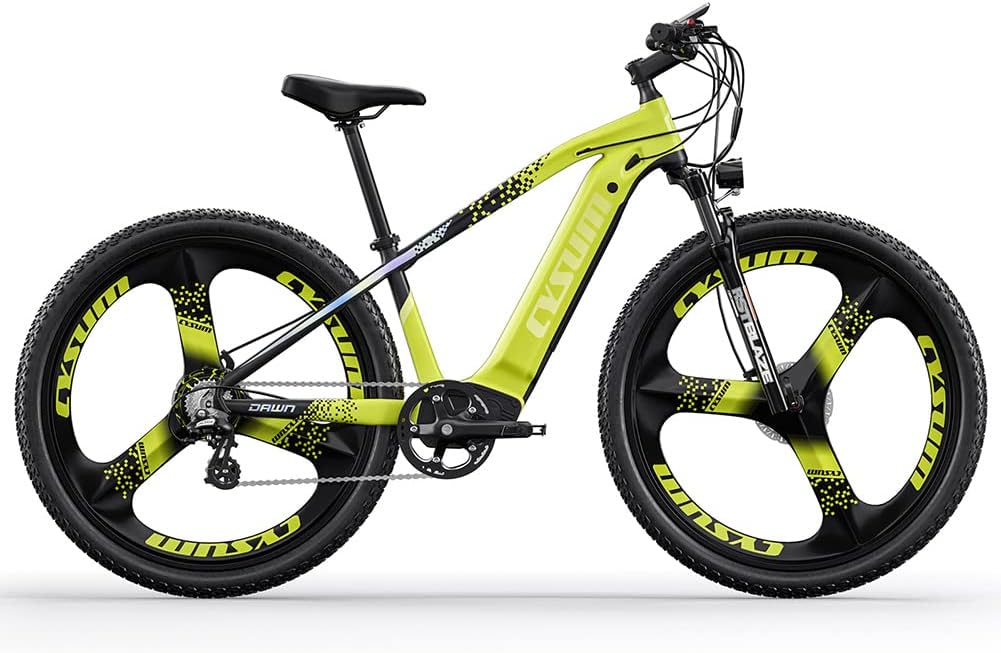 | Reasons to buy | Reasons to avoid |
| --- | --- |
| ✔️ Great Range | ❌ No Security System |
| ✔️ Removable Battery | |
| ✔️ Full Display | |
Specifications:
Weight: N/Albs
Range: 46 Miles
Top Speed: 25 mph
I couldn't end this list without adding at least one electric hybrid bike. The cysum not only has great suspension so you can tackle the back roads but comes with a removable battery for you to charge in your home or work at your own convenience.
It looks great, has a powerful 500W motor, and comes with a powerful LED to light your way. A great choice for those who want an electric bike that can do everything!
FAQ
Conclusion
Do you see a clear path in your future? Are you riding through it on an electric road bike? I know the throttle is tempting, but let's use our pedals so we can actually exercise at our own pace instead of turning electric road bicycles into glorified racing bikes. But hey, some just call me a road bike purist. Why take my word for it? I like pineapple on pizza.
I hope you figured out what your needs are and what you are willing to give to get it. Compromise isn't bad if you are still happy.