Suppose you want to toast a bagel or reheat that leftover pizza from last night. Using the microwave would make it all soggy and the range oven would be an overkill. What you need is a smart toaster oven. The convenience and compact size of this appliance make it a great addition to any kitchen. Besides toasting bread, it can also come in handy for baking cookies, roasting vegetables, cooking salmon—the list goes on. Some toaster ovens are even double as air fryers. And did we mention they're incredibly energy efficient?
What to Look for in a Smart Toaster Oven
With the abundance of options available on the market, choosing the right one can be a bit of a challenge. But it doesn't have to be. There are certain factors to account for that can narrow down your choices and help you find the best toaster oven.
Size
How much room have you got in your kitchen to spare for your smart toaster oven? If space isn't a problem at all, go for the biggest model you can find. There are some that will even fit a small turkey. But if space comes at a premium, you'll find many compact options that still get the job done. Consider measuring your counter area and go for a toaster oven that fits just right. You'll want one that leaves room for, let's say, your coffee maker without sacrificing much interior capacity.
Settings
Finding the right toaster oven depends on what you'll be primarily using it for. Do you just want one for toasting bread or reheating leftovers? Or maybe you're planning on making homemade pizza or air-frying salmon. Many models come with a number of presets for your convenience. For example, your toaster oven can have a "bake" mode for small cakes and casseroles, "toast" for a lovely slice of bread, and "roast" for mouthwatering meats with a perfect crust. Other settings may include "reheat" for warming yesterday's spaghetti and "air fry" for healthy frying.
Special Features
While it's not exactly a big-ticket item, you'll still want your smart toaster oven to be worth the money you spent on it. This means choosing one that offers a bevy of useful features such as:
Pre-set cooking programs that are optimized for various types of food such as roasting chicken or baking cookies
Temperature and time adjustments that let you control the cooking process for recipes with specific requirements
Convection technology that uses a fan for faster and more even cooking
Sensors that can detect when the food is done and automatically adjust the time for the best results
An interior light and a large glass door let you watch your masterpieces being cooked to perfection
Smart connectivity that lets you operate the appliance via a smart home app on your phone
Accessories
It's not exactly easy to find a smart toaster oven with all the bells and whistles. But most models should have at least one baking pan and a broiling rack. But of course, it doesn't hurt to have added accessories like pizza stones, rotisserie spits, and air fryer baskets. Modem options even come with crumb trays that you can remove and toss in the dishwasher. Speaking of which, you'll want to make sure that your toaster oven is easy to clean and maintain.
Rack Positions
Toaster ovens often have two rack positions, with some larger models having three. The additional position makes for more versatile cooking and gives you more room to work with—which is especially ideal for dehydrating or air frying. As a rule of thumb, you'll be using the top position for broiling, the middle one for toasting bread or baking, and the bottom one for cooking pizzas or large roasts.
Design
Considering your smart appliance will most probably be sitting on the countertop, the aesthetic value goes a long way. Modern toaster ovens with stainless steel exteriors tend to be sleeker and more visually appealing than older models. But looks aren't everything; you'll also want your appliance to be user-friendly with touchscreen interfaces or clearly labeled buttons. Look for intuitive control panels that you can navigate without much guesswork.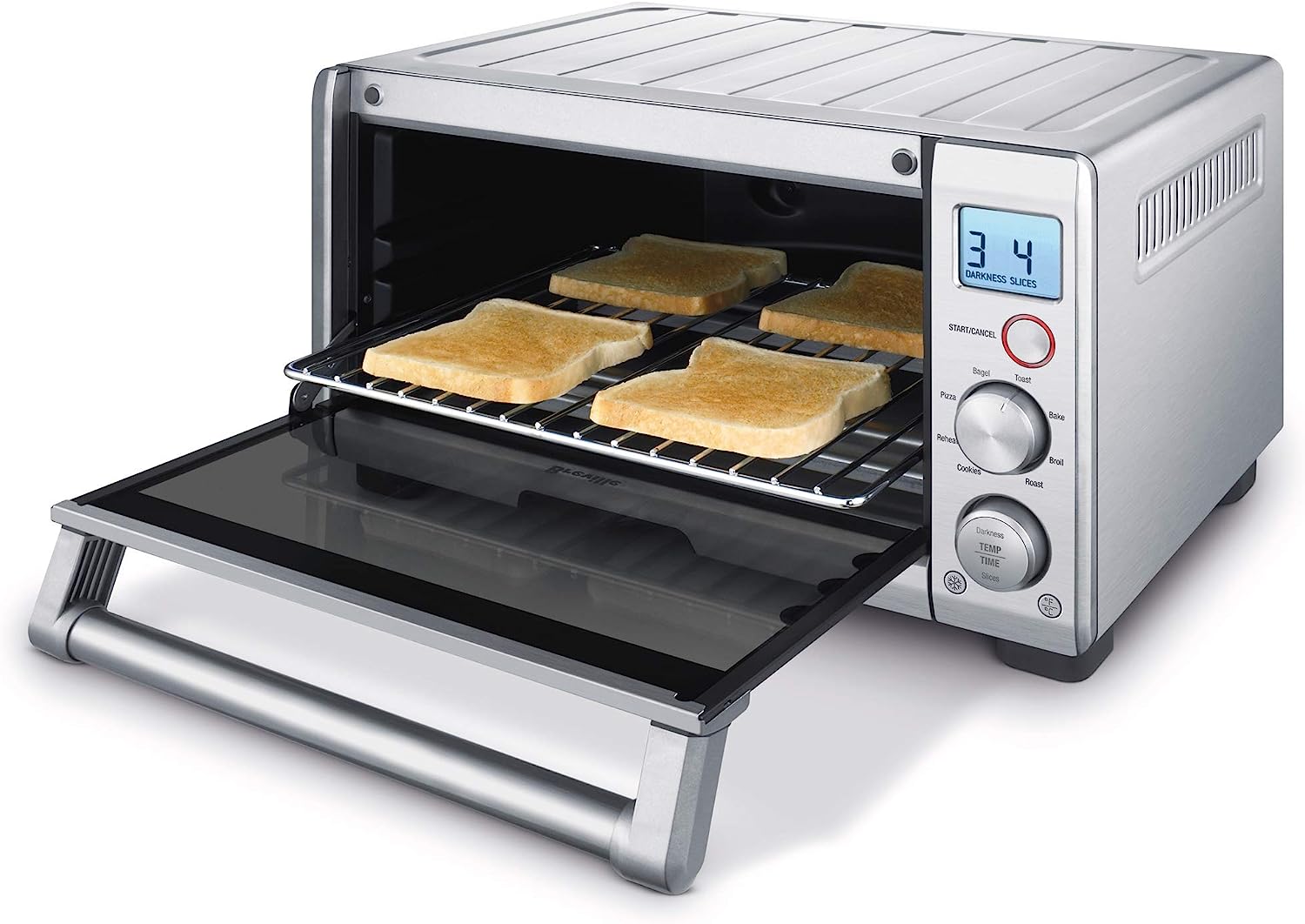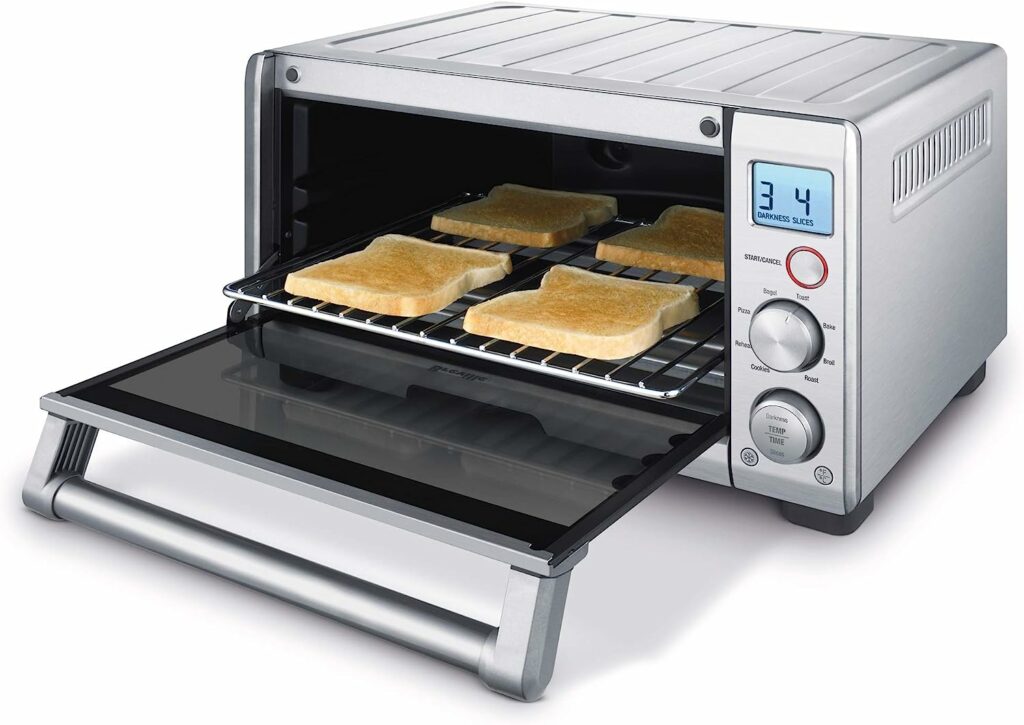 | Reasons to buy | Reasons to avoid |
| --- | --- |
| ✔️Sleek and intuitive design | ❌Compact size limits capacity |
| ✔️Easy to clean | |
Specifications:
Power: 1800 Watts
Dimensions: 10.2 x 16.7 x 15.6 inches
Modes: toast, bagel-toast, bake, broil, pizza, roast, cookies, and reheat
If you're low on counter space, you'll want your new kitchen appliance to be worth it. The last thing you need is to be wasting more space. The Breville Compact Smart Oven is here to solve that problem. Offering a bevy of preset modes, such as the broiling category it particularly excels at, this mini toaster oven certainly makes the most of the surface area it occupies. Its user-friendliness is unrivaled and cleaning it is a breeze. As a matter of fact, the contemporary dials and buttons are clear enough that you'll hardly need the user manual.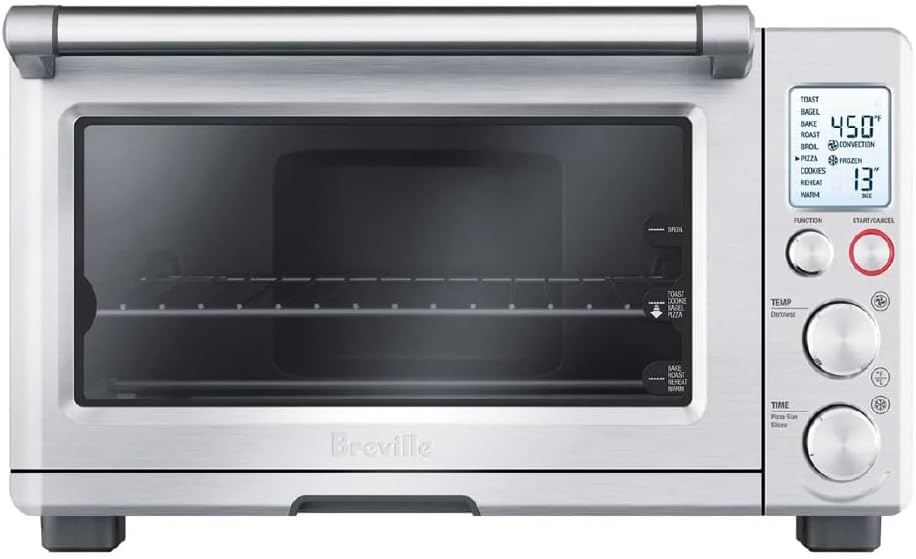 | Reasons to buy | Reasons to avoid |
| --- | --- |
| ✔️Excellent capacity | ❌On the expensive side |
| ✔️Doubles as a convection oven | |
Specifications:
Power: 1800 Watts
Dimensions: 11.1 x 18.5 x 15.7 inches
Modes: Convection, toast, bagel-toast, bake, roast, grill, pizza, cookies, reheat, keep warm, and slow cook
As a go-to choice among many home cooks, the Breville BOV800XL rightfully earns its place on our list of the best smart toaster ovens. You might agree that a single-use kitchen appliance would be a waste of space, which is why this incredible piece of machinery serves multiple purposes. It toasts, bakes, roasts, grills, and slow cooks—even offering convection technology.
What we also love is that each one of its settings has its own section showing temperatures, types of food you can cook, and the suggested rack position. And if you think multi-purpose ovens can be somewhat complex to work with, rest assured that this one is easy to get to grips with.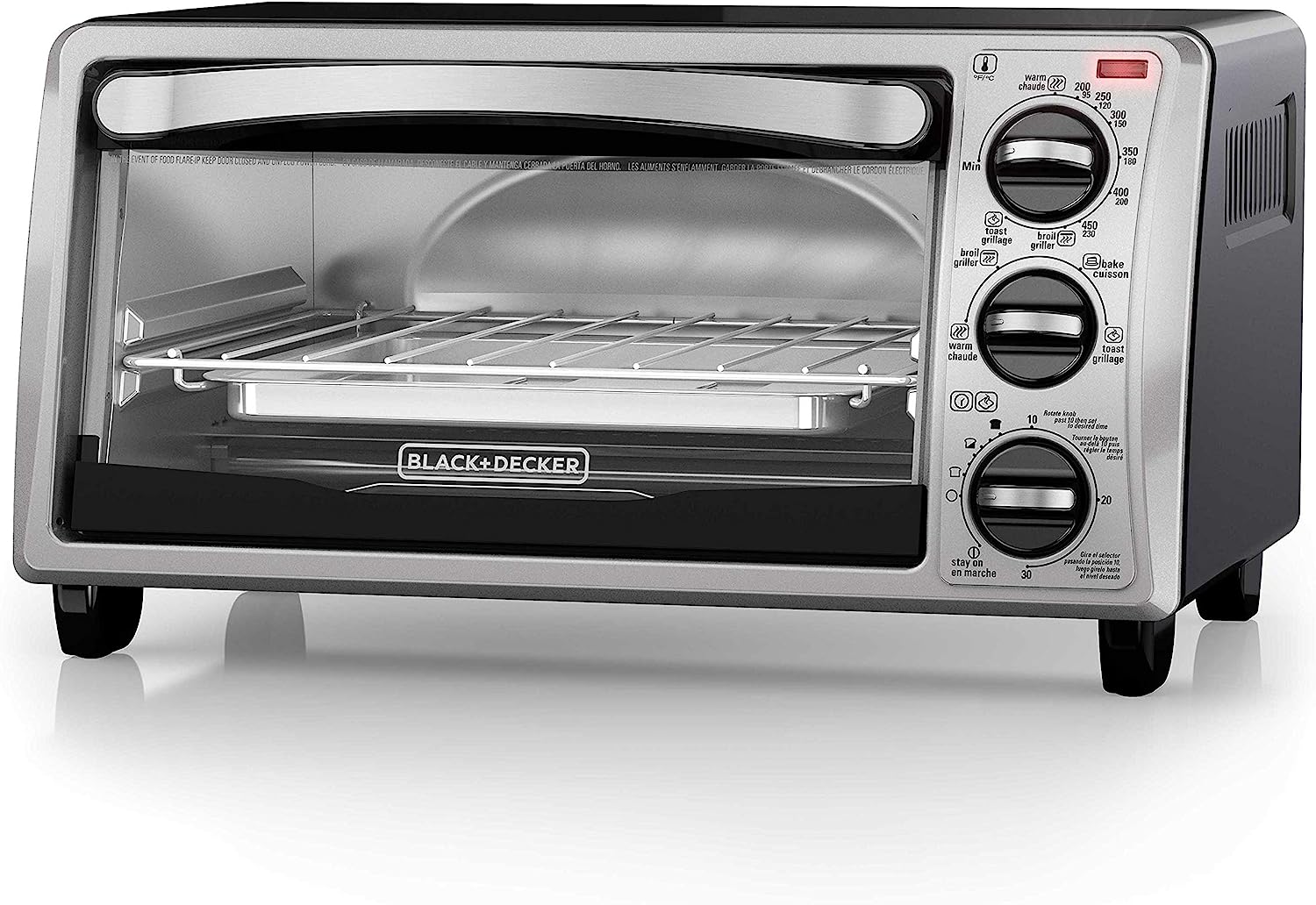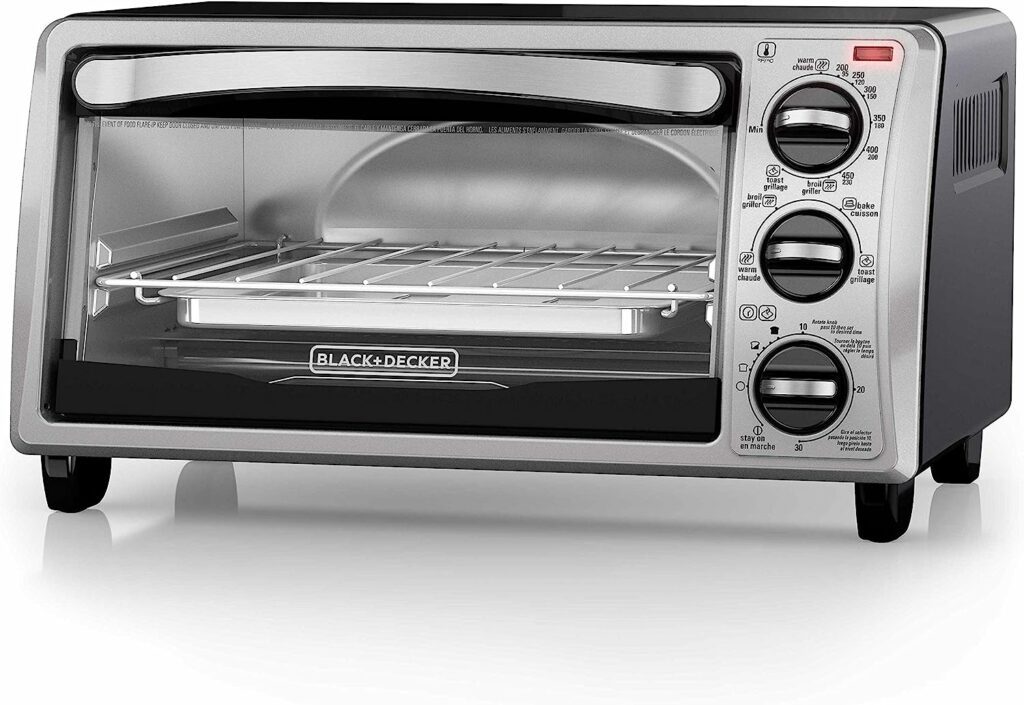 | Reasons to buy | Reasons to avoid |
| --- | --- |
| ✔️Toasts evenly | ❌Not very modern-looking |
| ✔️Maintains high heat | |
| ✔️Curved interior accommodates pizza | |
Specifications:
Power: 1150 Watts
Dimensions: 11.18 x 15.47 x 8.3 inches
Modes: Toast, bake, broil, and keep warm
The Black+Decker 4-Slice Toaster Oven is exactly what you'd imagine a "toaster oven" would look like. As the name suggests, it accommodates four slices of bread—or two bagels split in half. It also features a curved interior that allows for a 9-inch pizza. Included with the Black+Decker are a baking pan, a broiling rack, and a crumb tray that you can remove and wash.
Don't let the low price of this appliance fool you; it toasts evenly and impresses at all temperature levels, making it one of the best budget toaster ovens. And with two simple dials and a timer, you'll find that accessing the presets is completely hassle-free.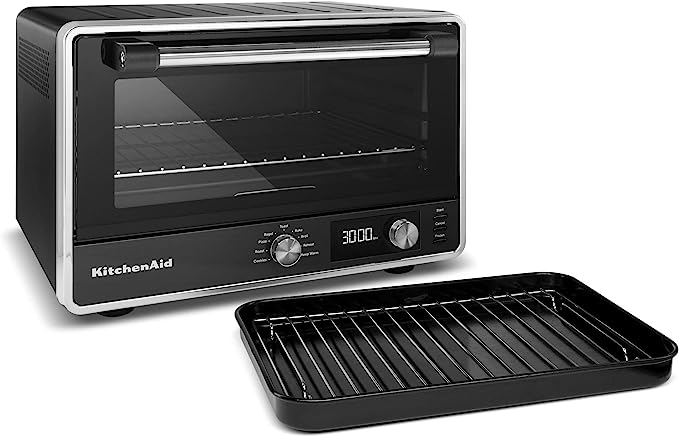 | Reasons to buy | Reasons to avoid |
| --- | --- |
| ✔️Great capacity | ❌Preheat alert is subtle |
| ✔️User-friendly control panel | |
| ✔️Toasts and broils evenly | |
Specifications:
Power: 1800 Watts
Dimensions: 16 x 17 x 11.3 inches
Modes: Toast, bagel, bake, broil, roast, reheat, keep warm, cook-from-frozen, cookie, and pizza
With decades of reliability to show for it, the KitchenAid brand certainly deserves the praise it gets. This smart toaster oven boasts a pretty decent broiling mode in addition to toasting and heating evenly. It also offers remarkable capacity for its size, holding up to six slices of bread at the same time.
The KitchenAid Digital Countertop Toaster Oven doesn't fall short of amenities either, featuring a chrome-plated rack, a baking pan, and a removable metal drip collector—plus a non-stick interior for easy cleaning. And with a sleek and modern design, it looks good on just about any countertop.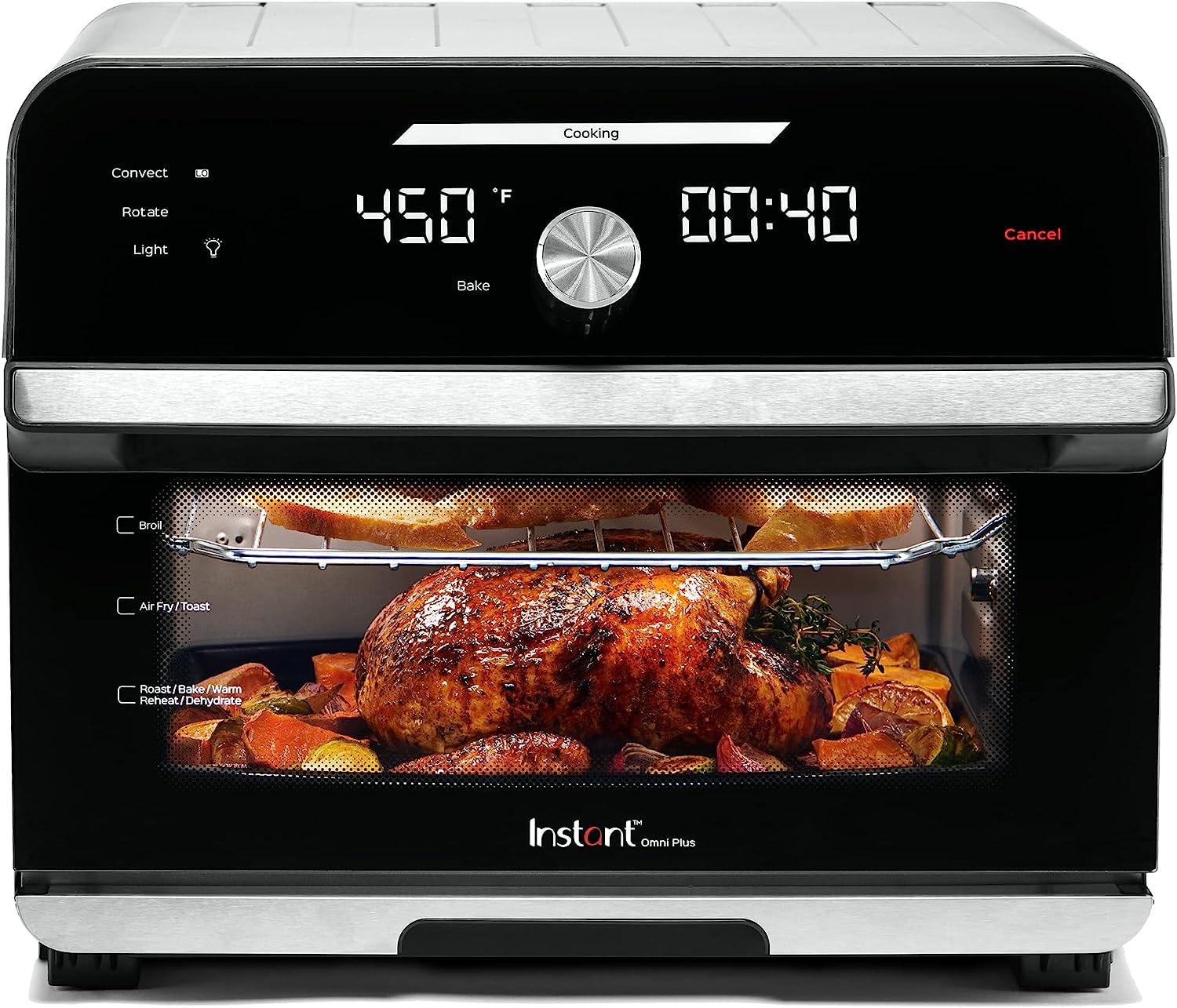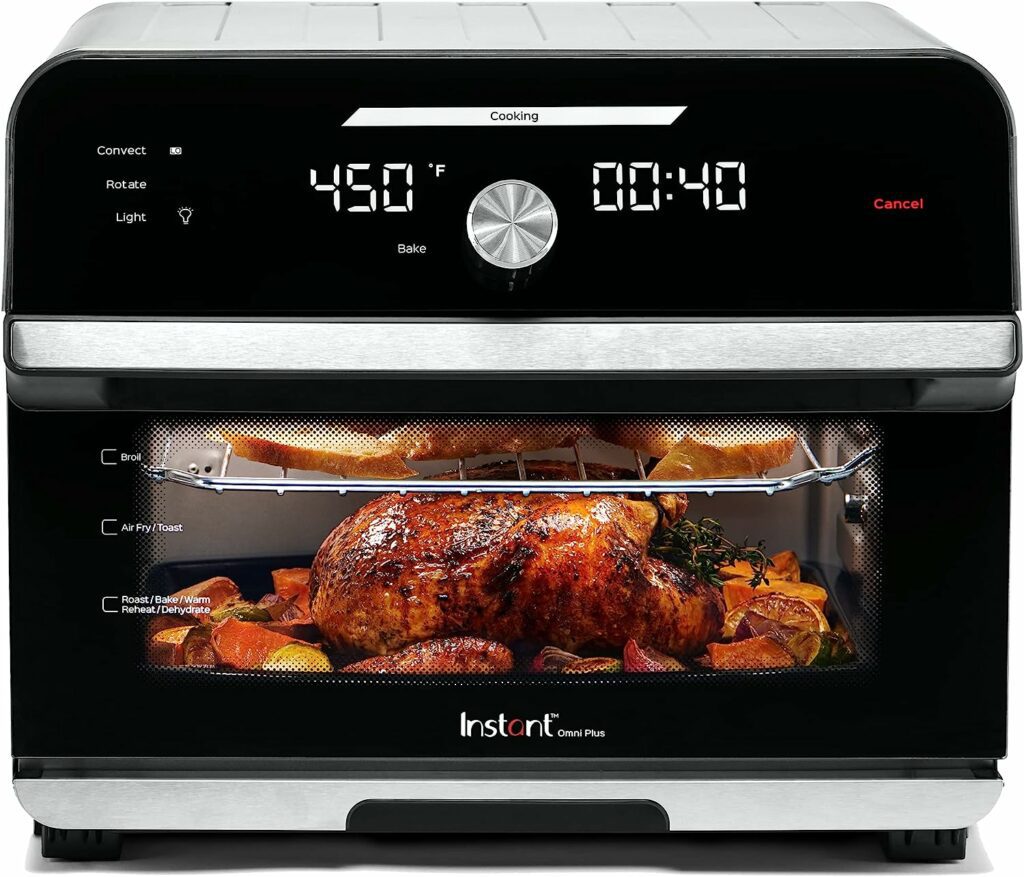 | Reasons to buy | Reasons to avoid |
| --- | --- |
| ✔️Allows for convection cooking | ❌Somewhat expensive |
| ✔️Air frying capabilities | |
Specifications:
Power: 1800 Watts
Dimensions: 16.53 x 15.74 x 13.89 inches
Modes: Toast, bake, broil, roast, dehydrate, reheat, keep warm, air dry, and convection fan rotisserie
Few other options compare to the Instant Pot Omni Plus when it comes to functionalities. Besides the regular toasting, baking, broiling, roasting, reheating, and keeping warm, this toaster oven has an air frying mode as well as a convection fan complete with a rotisserie spit and forks. And let's not forget the dehydration setting which is perfect for drying fruits or making your own jerky. But that's not all. The Omni Plus also comes with an air frying basket and a lift tool—on top of the standard broiling rack and baking tray.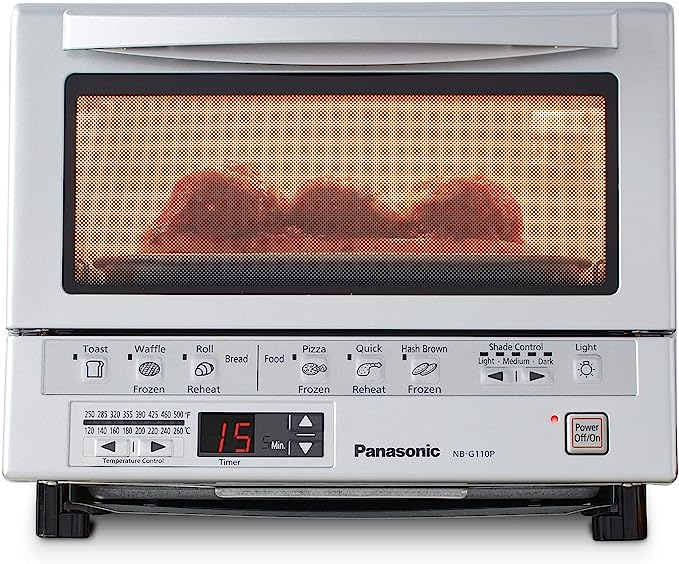 | Reasons to buy | Reasons to avoid |
| --- | --- |
| ✔️Tray automatically pulls out | ❌Hard to clean |
| ✔️Auto shut-off | |
Specifications:
Power: 1300 Watts
Dimensions: 14.5 x 13.5 x 13.75 inches
Modes: Toast, bake, reheat, waffle, cook-from-frozen
With over 6,500 five-star reviews on Amazon, the Panasonic FlashXpress is easily—and quite evidently—one of the best small toaster ovens. We love that there's a button for various dishes like toast, waffles, pizza, and hash brown—with preset cooking times for each. What's also great is that it has an auto shut-off feature that stops the oven once the cooking is done to keep your meal from burning. One detail that sets the FlashXpress apart is that the rack is attached to the door so it automatically comes out when you open the oven. 
Conclusion
More often than not, you'd just want to cook something that won't take much time. The solution? A smart toaster oven. It's versatile and convenient—and many home cooks swear by it. Not only will your meal be ready sooner, but it will also come out cooked to perfection—whether it's baked, toasted, broiled, or roasted. The appliance is considered smart for a good reason, after all. And now that we've narrowed down the options to six of the best ones, you can start planning your next culinary masterpiece. 
FAQs