When you are away from civilization, knee-deep in mud, soaking wet, with 40 pounds of gear on your back, you have one thing on your mind… How long will it take to get to the bottom of the damn mountain?!?! You may not be a super secret agent yet but you still gotta have a watch prepared just in case you gotta be a hero on the hike, or more realistically be able to tell the time without having to whip out your super bright phone that lets everyone know "Hey this person can't put away their phone for more than a second!"  Let's save you the embarrassment and find you the best tactical watches that can do everything, and even tell time.
What to Look for in a Tactical Watch
Don't be fooled by poor marketing terms and fluff. When it comes to a proper military watch there are some important things to look out for. While it is important to look good, remember that tactical watches prioritize function over form. You need a watch that can tell the time, get you going in the right direction, and be able to handle tough environments. 
Movement:
What makes your watch tick? Most tactical watches either utilize a quartz system, are digital, or a mix of both. Some watches can last as long as you with either some sun exposure, a high-capacity battery, or wind while you move around. Take a look at which you can read faster, which would help in different situations you plan on finding yourself in, and those you don't!
Water Rating:
It's all fun and games until your watch's screen is all fogged up or gone completely dead! You need a watch that you don't need to take off whenever the situation gets a little wetter than you like. Make sure your tactical watch is ready to go to the depths of hell, or the ocean, with you. 
Accessories:
This isn't a doll play set, the best tactical watches come with at least a few tricks up its sleeve to help out in hairy situations. From a handy compass to a small light that can help you out when things go dark. 
Watch Band:
Just how secure is your tactical watch to your wrist? While comfort and utility are important, it is vital to make sure that your tactical watch will stay where it is supposed to. Added bonuses include being able to untangle the band to have some handy cordage, a stretchy band, or a place to hang accessories off of. 
| Reasons to buy | Reasons to avoid |
| --- | --- |
| ✔️Lots of Different Tools to Use | ❌Super Bulky |
| ✔️The Paracord strap can be unraveled | ❌Not built for everyday looks |
Specifications:
Movement: Quartz and Digital
Accessories: Paracord, Fire Starter, survival whistle, SOS Led light, card pin, compass, thermometer, tool card, bottle opener
Waterproof: 5 ATM
Strap: Paracord
Color Options: 10
We are starting the list strong with this all in one of the best military tactical watches that is sure to keep all of your bases covered. This digital and quartz watch can is completely customizable and doubles as a multitool. From starting fires to opening bottles, this tactical watch can do it all. The quartz and digital hybrid ensure that you have a dependable source of time handy at all times. Nothing shows preparedness like having a behemoth of a watch with an entire tactical getup right on it to handle anything thrown your way.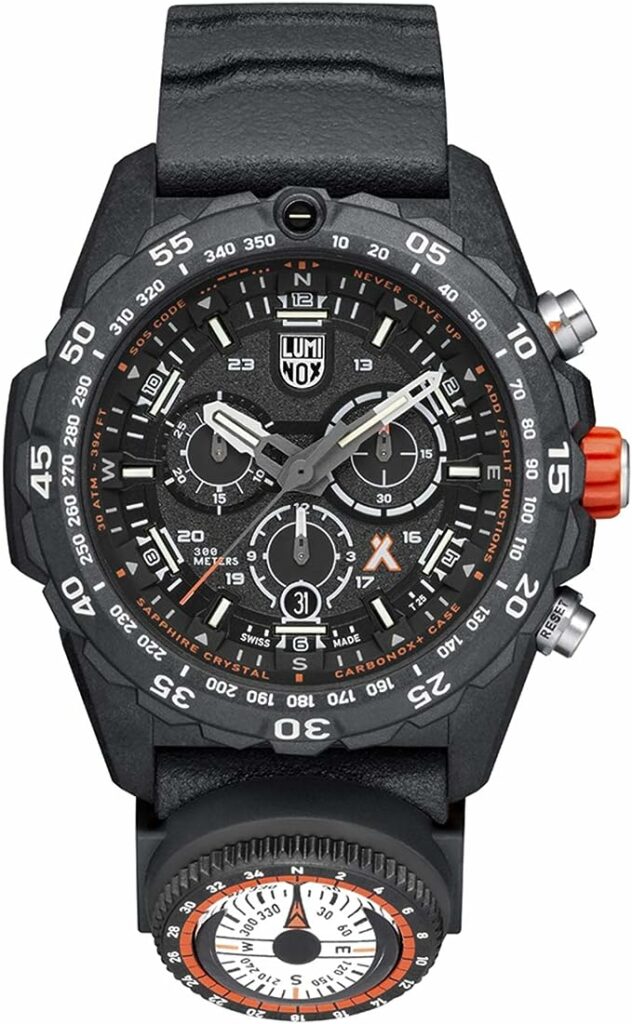 | Reasons to buy | Reasons to avoid |
| --- | --- |
| ✔️Totally visible at night | ❌Super Bulky |
| ✔️Super Durable | ❌Not built for everyday looks |
| ✔️Made in Switzerland | |
Specifications:
Movement: Swiss Quartz and Digital
Waterproof: 300 Meters
Strap: Genuine Rubber
Color Options: 1
That's right, the famous survival expert made his very own timepiece. What else would you expect from the guy ready to drink his own urine but one of the best tactical timepieces? It is a busy watch that has multiple time displays and even the date. But if you are going for a maximisit look, this watch will cost you a pretty penny and for good reason, it is masterfully crafted in Switzerland. This may not be the best watch for a beginner but is an excellent contender for those who love making a statement.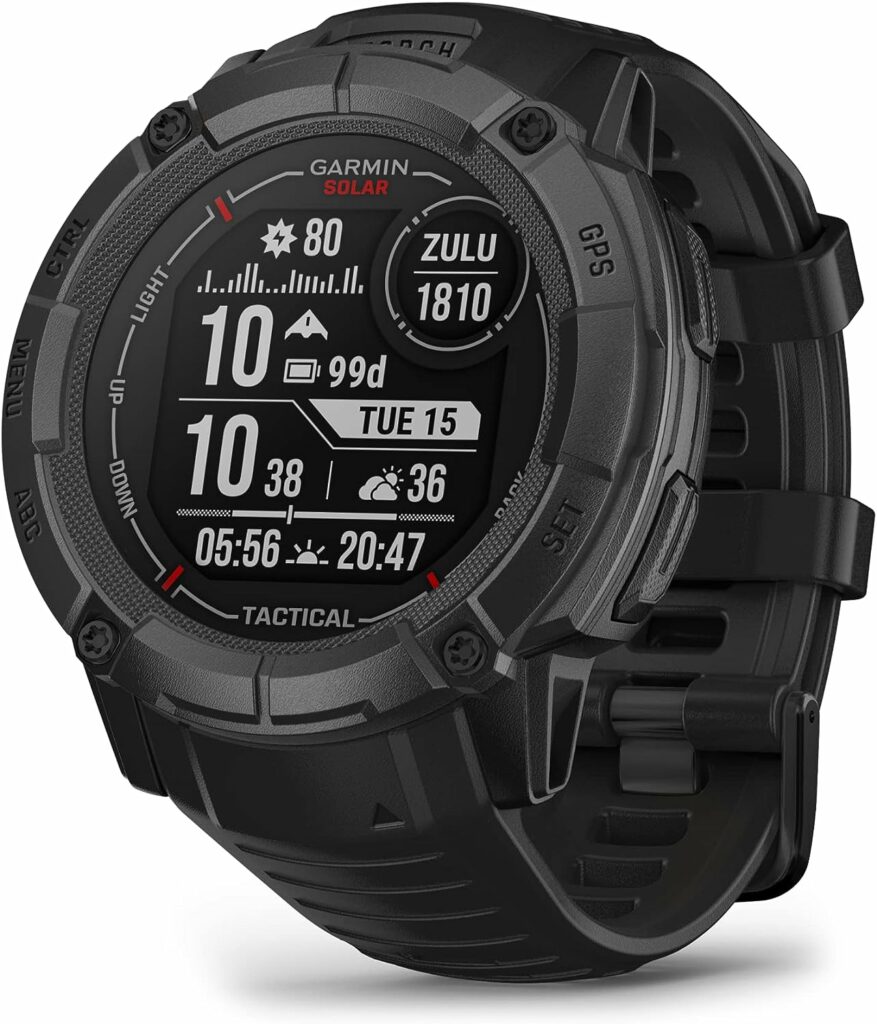 | Reasons to buy | Reasons to avoid |
| --- | --- |
| ✔️Monitors Health | ❌The poor battery on a gloomy day |
| ✔️Virtually unlimited battery | |
| ✔️Smart options | |
Specifications:
Movement: Digital
Accessories: LED Light
Waterproof: 10 ATM
Strap: Genuine Rubber
Color Options: 6
The navigation brand we all know and love has rolled out one of the best tactical watches you can find. This Garmin tactical watch can stay on virtually forever thanks to solar power technology, as long as you get 3 hours of good sunlight! It has one of the best cleanest displays for a tactical watch on this list. This is perfect for those who want the benefits of a smartwatch but need something that can last them the whole trip. Just make sure you bring up a backup power source in case the weather gets gloomy on a long trip. With so many styling options to choose from, you are bound to find the one you love. 
| Reasons to buy | Reasons to avoid |
| --- | --- |
| ✔️Monitors Health | ❌Not the best-looking UI |
| ✔️Hard Shell | |
| ✔️Syncs with phone | |
Specifications:
Movement: Digital
Waterproof: IP68
Strap: Rubber
Color Options: 2
HOFIT has made a hard shell smart watch that can handle anything you throw its way. It does a great job tracking your health signifiers like heart rate, temperature, and blood oxygen levels so you know how hard you are working and what condition your body is in.
While the UI isn't the best looking, this is one of the best tactical smart watches to get if you are on a budget. It has good build materials, has all the functions of a proper smart watch, and syncs perfectly with your phone.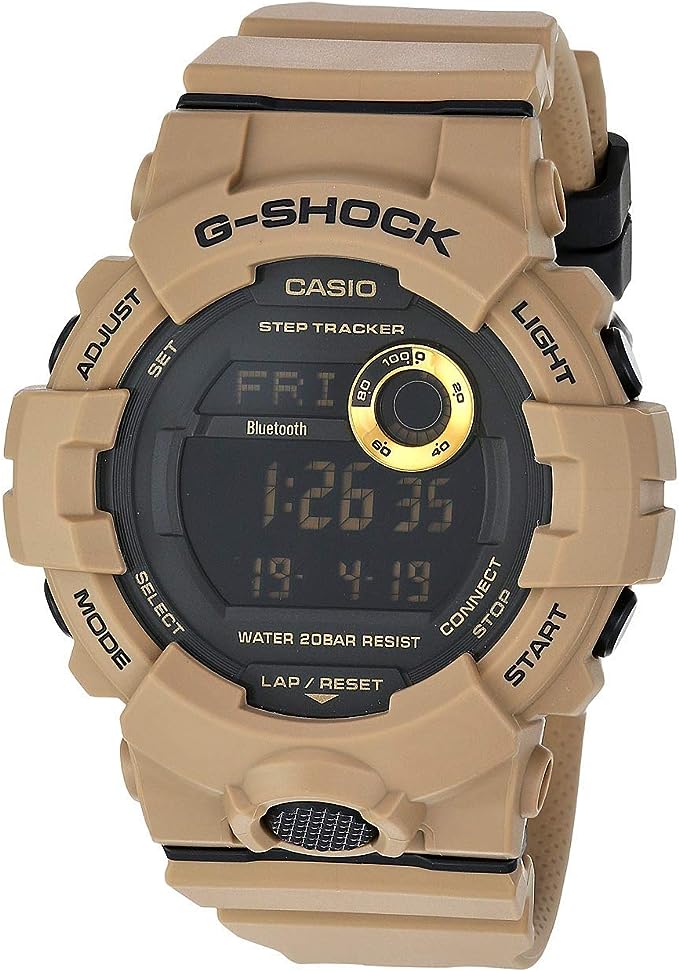 | Reasons to buy | Reasons to avoid |
| --- | --- |
| ✔️Step Counter | ❌None |
| ✔️Trusted Brand | |
| ✔️Shock Resistant | |
Specifications:
Movement: Digital
Waterproof: 200 Meters
Strap: Resin
Color Options: 2
G-Shock is one of the biggest trusted names in the watch world. This reliable tactical watch makes for one of the best things to have around your wrist wherever you go. It looks great, has the basic features you expect from a digital watch without all the bells and whistles. If you want a bold-looking watch you can wear casually with some convenient features to get you through a workout then look no further than the G-Shock.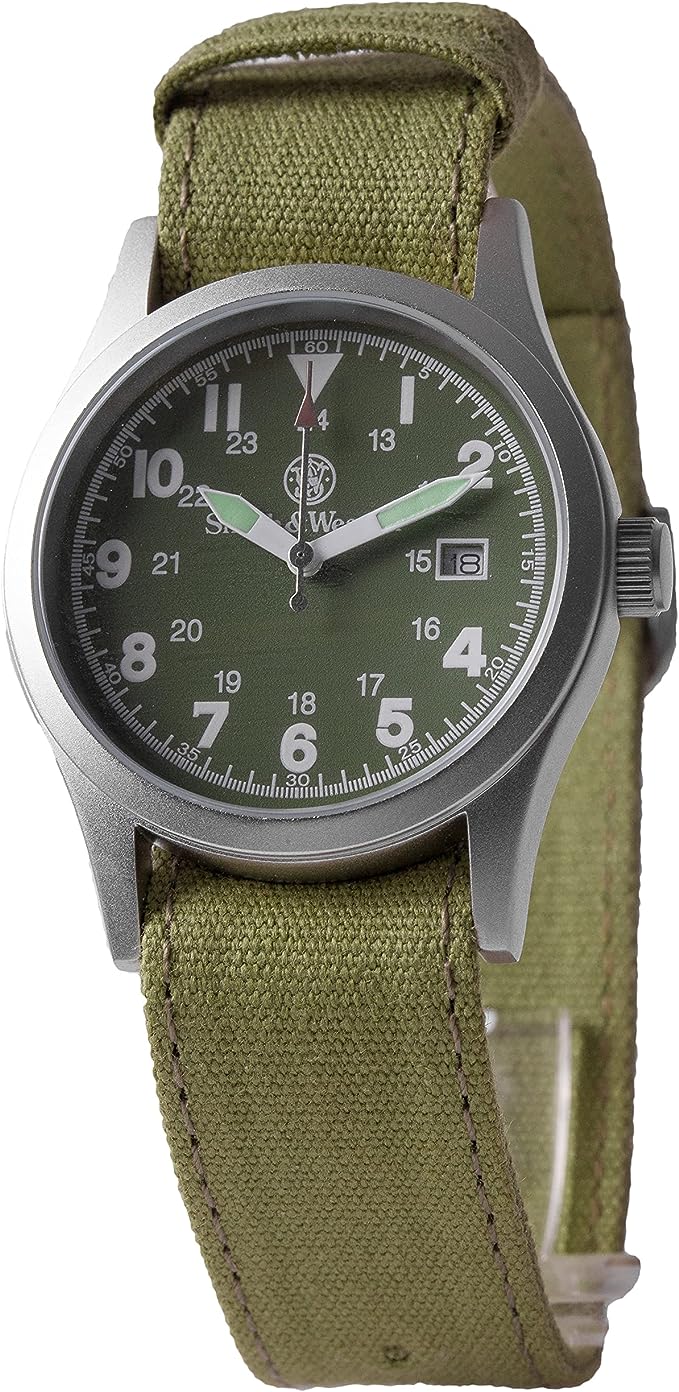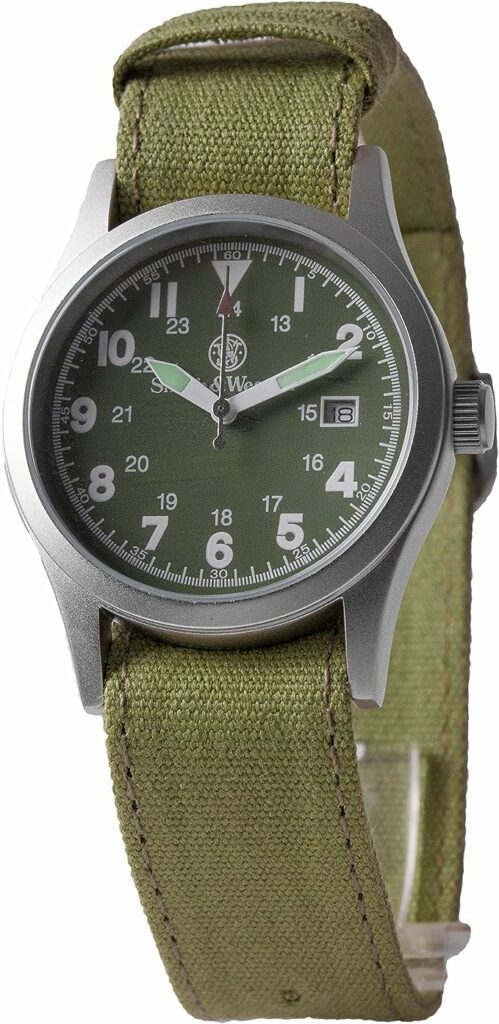 | Reasons to buy | Reasons to avoid |
| --- | --- |
| ✔️Comfortable Strap | ❌Only tells time |
| ✔️Classic Look | |
Specifications:
Movement: Japanese Quartz
Waterproof: 30 Meters
Strap: Canvas
Color Options: 2 x 3
Do you want one of the most simple, classic, and best tactical watches? The Smith & Wesson Men's Military Watch revives an era of humbleness not found in other watches. There isn't much to say about it, it is true to its look and is one of the best simple tactical watches out there. With some cool customizable options, you can color-swap for an interesting take on a classic watch. You will not need to be able to tell more than time with a watch that looks this good.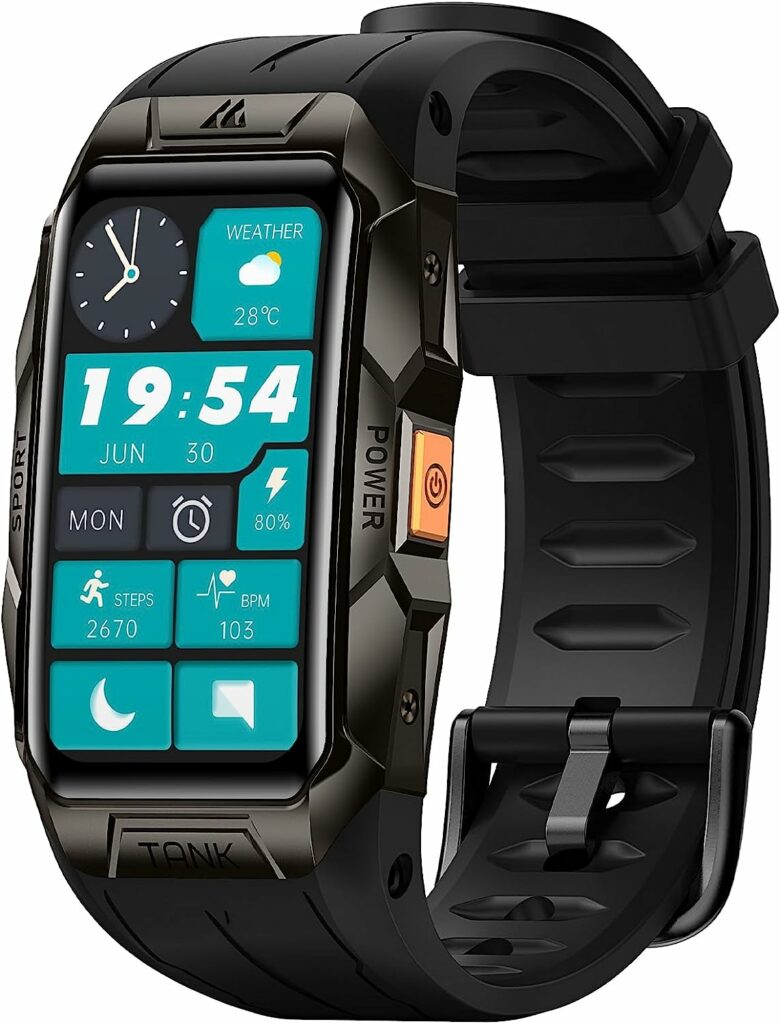 | Reasons to buy | Reasons to avoid |
| --- | --- |
| ✔️Smart Watch | ❌None |
| ✔️Health Monitors | |
| ✔️Gorilla Glass | |
Specifications:
Movement: Digital
Waterproof: 10 ATM
Strap: Rubber
Color Options: Black
A complete rugged smartwatch with all the smart features you need! The TC4 titanium unibody bimetal body and Gorilla Glass create an indestructible watch that can monitor your heart rate around the clock and track other vital health signifiers. This tactical smartwatch feels more like a take on your wrist thanks to its superior padding that is ready to serve your every need. With actual buttons for a tactile feel to help you navigate your phone, gloves or dirty hands will not get in the way of one of the best tactical smart watches you can own today. 
Specifications:
Movement: Swiss
Waterproof: 300M
Strap: Rubber
Color Options: Customizable
Nothing is going to put a scratch on this watch. The tritium casing protects this beautiful rugged looking Swiss movement that can sink with you into the depths of the ocean. Even in the dark the hands and numbers light up to let you know what time it is. This higher-end tactical watch will last you a lifetime thanks to the super durable yet light tritium casing that not only gives it a unique look that will glow for decades to come.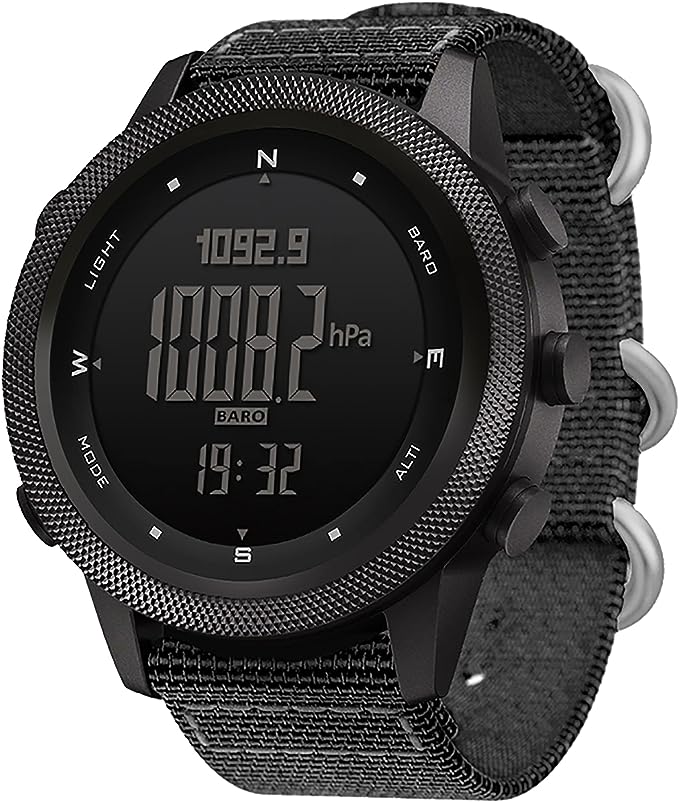 | Reasons to buy | Reasons to avoid |
| --- | --- |
| ✔️Minimalist Design | ❌Can't handle hot water |
| ✔️Health Monitoring | |
| ✔️Compass | |
Specifications:
Movement: Digital
Waterproof: 5 ATM
Strap: Nylon
Color Options: Black
Talk about tactical! This is one of the best tactical watches to take with you mountaineering, it can track altitude, weather, temperature, and so much more. The minimal look gives you all the info you need in a clean black-and-white display that won't drain your battery. This dialed-back look keeps your covert look but keeps all needed info ready on its dash. Everything is easy to read, it has solid buttons that you can always access, uses a comfortable nylon strap, and most importantly, can sense rapid temperature changes which usually means unforeseen weather that the watch will alert you about. This is definitely a strong contender for the best watch to take out in unfamiliar mountains. 
| Reasons to buy | Reasons to avoid |
| --- | --- |
| ✔️Pronounced Compass | ❌No health tracking |
| ✔️Storm Alert | |
Specifications:
Movement: Digital
Waterproof: 30 M
Strap: Rubber
Color Options: 6
This is one of the best tactical watches for people who love the outdoors. It is designed in Switzerland and has everything someone hitting the harsh outdoors would want. It can predict sunrise and sunset so you make the most of sunlight and it even alerts you if there is a storm warning so you can prepare. With so many interesting styles to choose from, you can have your cake and eat it too. Convenience, style, and a versatile look that will look good with any outfit, anywhere. 
Conclusion
We hope you found the best tactical watch that hopefully meets all of your needs. While multitools, proper clothing and equipment are vital to your wellbeing in the outdoors, a tactical watch can play a great supporting role. While we have relied on looking at the sun for all of human history, it is still good to make the most of technology and enjoy modern conveniences. 
FAQs