key advantages
6-in-1 hub & dock station
Up to 4TB SSD storage
950 MB/s read & write speed
estimated
delivery
February 2021
What is the thing we store the most nowadays? Correct – data! And the amount of data we have to store has such big sizes that it makes us seem we need as big storages to fit them all. TurboHub is the illustration of how big things can be stored, maintained, and functioned in small sizes. With its compact and lightweight design, TurboHub comes with
Up to 4TB SSD external storage
950 MB/s read & write speed
And high-speed ethernet.
The 6-in-1 hub & dock station is equipped with a Thunderbolt 3 connector, which enables it to function with both Windows and Mac laptops in addition to all the other devices it is compatible with that include smartphones, tablets, and etc. It guarantees a productive and carefree video, audio, and media experience for video bloggers, photographers, designers, and even programmers with its up to 4TB laptop SSD external storage capacity, and provides you fast access to any of your stored data. You can connect an HDMI, USB 3.1, SDCard reader, Ethernet port, and USB-C ports to your TurboHub simultaneously. Expand your screen, store your data, and have your productivity and energy boosted with TurboHub.
| | |
| --- | --- |
| Pros | Cons |
| ✔️6-in-1 functionality | ❌Only 1 USB-A port available |
| ✔️price | |
Check out our review of the TurboHub here:
Check out Kickstarter's most funded Tech & Design category products of 2020 here!
The Product
Innovation
Is this a truly new product that you can't find on the market? Or this a product that defines an entirely new product category. In some cases, the combination of several features into one or the introduction of a new feature to an old product are also considered to be an innovation.
Considering how fast the evolution of data is today, and how big the need for data storage is based on this, it makes a lot of sense to notice the laptop SSD drive market being full of choices. It is, therefore, essential to take a deep look into the features of the equipment to find out whether there is anything new that has not been introduced before. For TurboHub 4TB SSD for laptop, the 6-in-1 functionality, and the impressively high 950 MB/s  read & write speed are the characteristics that are not found in many of the similar devices, and that are extremely desired and demanded by the backer community.
Competitiveness
How much better is it than the competition? Is it faster? Bigger? Cooler? More affordable? There needs to be a solid reason why you should back this project over any other.
| | TurboHub | Samsung T5 | Sandisk SSD | VAVA SSD |
| --- | --- | --- | --- | --- |
| Price | $109 | $143 | $112 | $129 |
| Dimensions (inches) | 4.7 x 1.97 x 0.43 | 3.30 x 2.20 x 0.30 | 3.79 x 1.95 x 0.35 | 3.9 x 1.1 x 0.35 |
| Transfer speed | up to 950 MB/s | up to 540 MB/s | up to 540 MB/s | up to 540 MB/s |
| Storage | 1 TB (up to 4TB) | 2 TB | 2 TB | 1 TB (up to 2TB) |
| Fingerprint protection | ❌ | ❌ | ❌ | ✔️ |
| Cover | Aluminum | Metal | Plastic | Aluminum |
TurboHub stands out with the highest transfer speed and yet with the lowest price in the competition. It manages to appear as the best option for the ones who are considering getting a versatile laptop SSD drive and multiport adapter. You might have expected it to have 2 USB-A ports. Although it comes with a single one, its versatile functionality & portability come to highlight in the competition and also out of it!
Product Competitiveness Score
The Team
Reliability
How capable is the team? Have they developed something like this before? Do they have crowdfunding experience? Manufacturing experience? A lot of campaigns fail to deliver their product because they don't know what they're doing.
TurboHub 4tb SSD for laptop is the very first campaign of the team under ShenZhen JinKaiYa Electronic Co. Ltd. The mentioned company is aimed to design and manufacture products that would enhance people's connectivity and understanding of technology and innovation. For this purpose, the company integrates research and development together with design and sales. 
Although this is the first created campaign of the team on Indiegogo, they have already managed to create a website, turbohub.net, which contains all the information regarding the specifications of the product, the story of its team, and much more. This enhances the trustworthiness of the team by keeping the backer community aware and by staying transparent about who they are and what their goal is. The belief of the community towards the campaign and the producer team is best illustrated through the excitement with which they keep backing the project. TurboHub has managed to raise about $56.700 with an initial goal of $12.900 and with still 43 days to go.
Attitude
How transparent are the campaigners? Do they give their backers valuable updates on their progress? Do they engage with their backers? Crowdfunding is all about community, sharing information and building a meaningful relationship with the people who fund your project.
A new campaign and, therefore, a new backer community being developed gradually. Consequently, not so many comments available yet. From the existing ones, however, we can observe the team's absolute readiness to immediately respond to their backers' questions and concerns.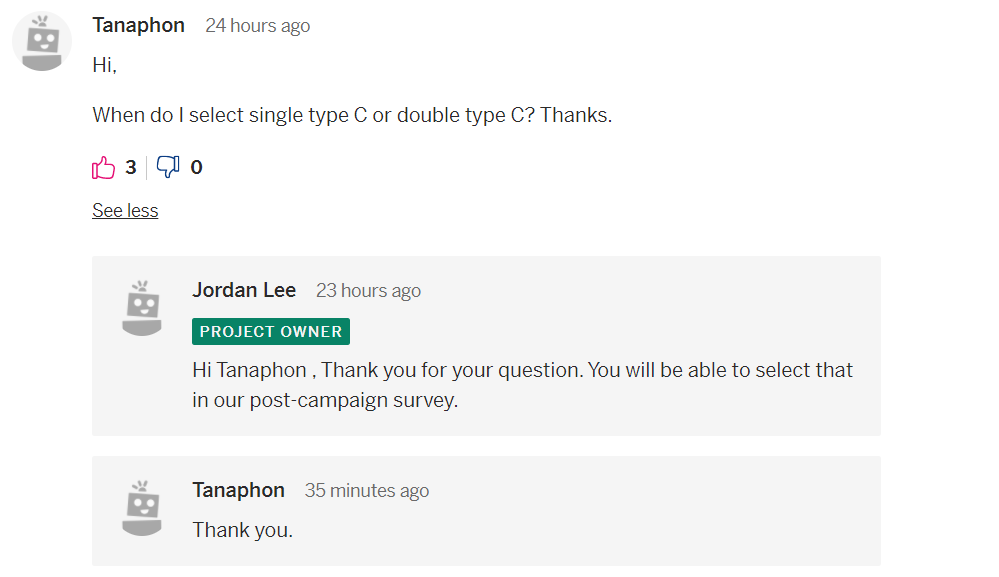 Also, the team's excitement for getting 100% funded in less than 2 hours drove them to initiate some backer-friendly events, which makes them look eager to communicate, engage and connect with their backers!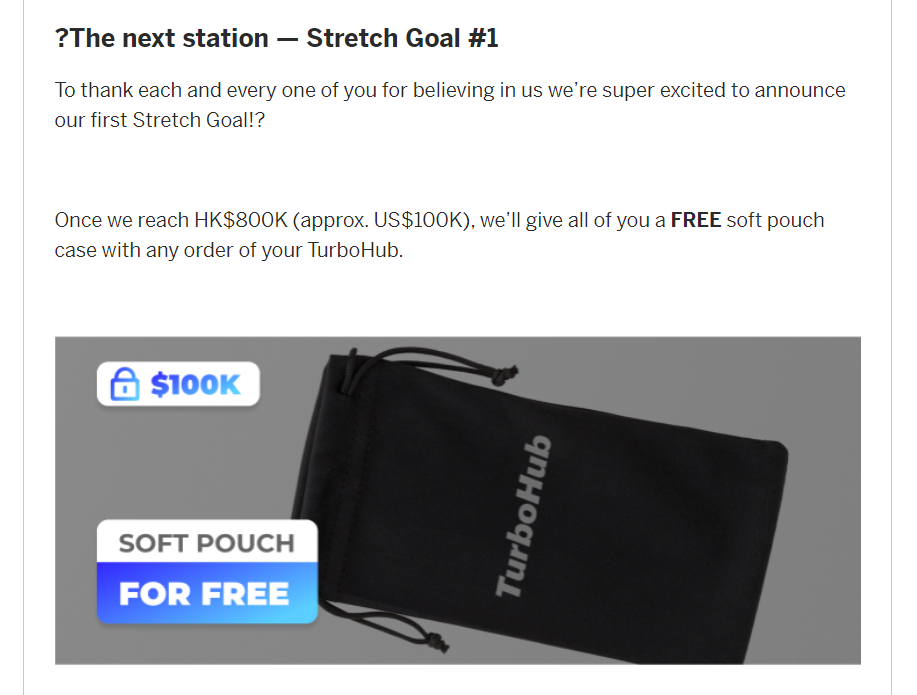 Seems like a nice way to get closer with the backer community and to  warm them up, no?
Conclusion & Public Opinion
To conclude, the product's specifications, as observed and mentioned, make it a strong candidate for becoming one of the best choices in the market. The team's responsiveness and transparency seem to contribute to the belief of the product being as competitive, as introduced. Some hesitations though remain unsolved because of the absence of some visual proofs regarding the specs. A promising product with a responsible team. A combination to be loved and appreciated in the market!
TIW Total Score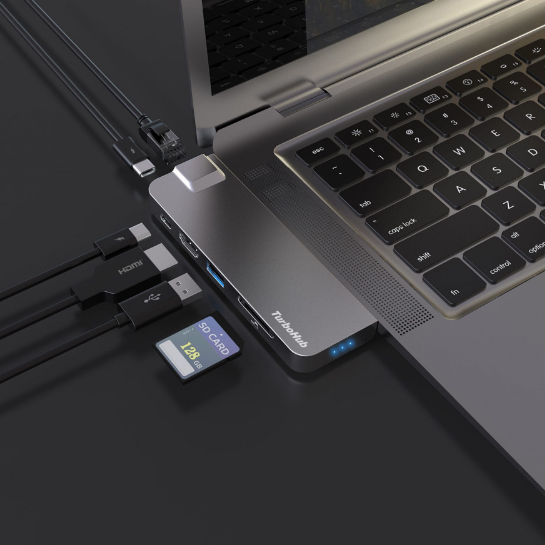 TurboHub
TurboHub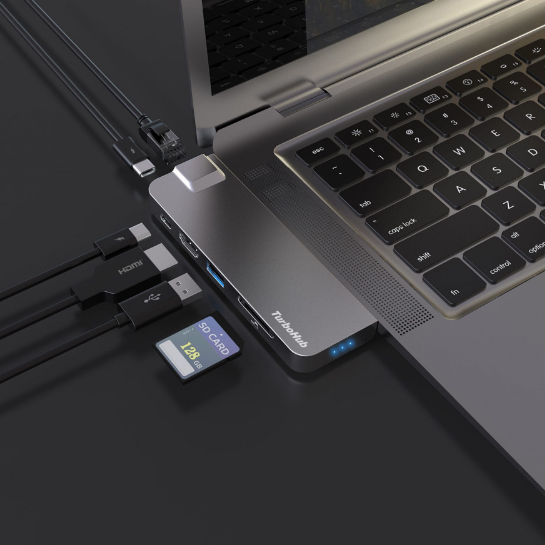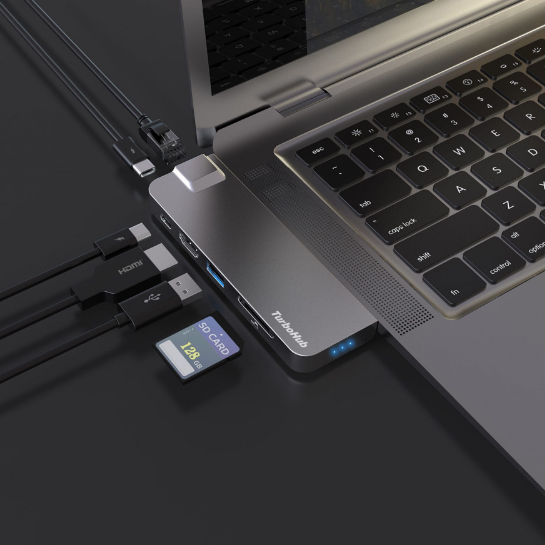 Limited time offer
d
·
: :