Tropicfeel Shell
Versatile Backpack
key advantages
Adaptable design shifting between 22L to 40L
Detachable accessories
Serves simultaneously for daily, weekend & adventure occasions
estimated
delivery
March 2021
We travel, get ready for adventure trips, go to school or just take a short vacation and regardless of how enjoyable all of these are, there is always that question spinning in our head: where do I pack my stuff?
The traditional suitcases provide you the space, but not the comfort; the regular backpacks give you the comfort, but not the space, and you're craving for an option combining these two, aren't you?
Tropicfeel has found the solution by giving birth to Shell – the versatile backpack. This lightweight travel backpack comes to meet your high standards in a minimized size, up to 20% saved space and a guaranteed durability. It appears with outstanding features that will make you feel it is the very best travel backpack you can find. Shell combines
3-in-1 adaptable design enabling you to carry from 22L to 40L.
Wardrobe system to organize your stuff neatly and to serve as a wardrobe in the places where you won't find one
Expandable kangaroo pocket
Detachable accessories.
We talk about travel a lot, but Tropicfeel has designed Shell as such a versatile backpack, that you can use it in your daily life, too. Its convenient laptop compartment, plenty of zipped pockets and the tech pouch enable you to carry all your essentials for work & study. You're all set with Shell, and it now starts to seem as the best carry on backpack, too.
With all these in our minds, let's take a look at the bright & dark sides of Shell to have a more clear understanding about its place in the market.
| | |
| --- | --- |
| Pros | Cons |
| ✅ 3 designs for daily (22L), weekend (30L) & adventure (40L) options | ❌Overall price including the various components of backpack |
| ✅Optimized organization by creating up to 20% more space | |
| ✅Serves as a wardrobe when needed through its built-in wardrobe system | |
| ✅Weatherproof | |
The Product
Innovation
Is this a truly new product that you can't find on the market? Or this a product that defines an entirely new product category. In some cases, the combination of several features into one or the introduction of a new feature to an old product are also considered to be an innovation.
Modern backpacks are everywhere. It does not take that much time and effort to find one online or to get it in a retail store. But very often it does not take that much time for them to get ruined, decayed or ripped either. Moreover, most of the time you get to buy separate backpacks for travel & work. Albeit not the first one on Earth, Shell still manages to be the most versatile backpack to be offered to you.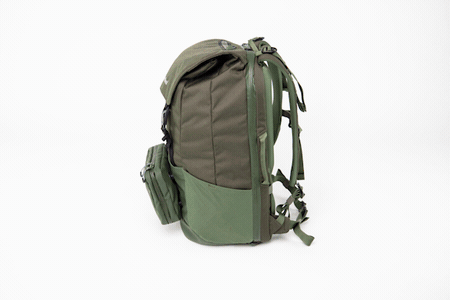 I believe you would agree if I said that the design, the sizes and the comfort levels do not let us choose and carry the same backpack when we go to the university and when we go hiking. But guess what? Shell does! Its innovation stands in its versatility, comfort & adjustability to meet your needs, desires and standards.
Competitiveness
How much better is it than the competition? Is it faster? Bigger? Cooler? More affordable? There needs to be a solid reason why you should back this project over any other.
| | Shell | Osprey | Kenneth Cole | Incase EO |
| --- | --- | --- | --- | --- |
| Price | $169 | $120 | $123 | $180 |
| Capacity | 22L - 40L | 55L | N/A | 30L |
| Expandable storage | ✅ | ❌ | ❌ | ❌ |
| Wardrobe system | ✅ | ❌ | ❌ | ❌ |
| Weatherproof | ✅ | ❌ | ❌ | ✅ |
| Material | Recycle Nylon & Polyester | Polyester | Polyester | Polyester |
| Laptop Compartment | ✅ | ❌ | ✅ | ✅ |
We already noticed that Shell may seem overpriced when combining its big and small features and functions. However, the model introduced above includes the wardrobe system, which is the main and the coolest feature of Shell. The versatile backpack manages to stand out with its expandable kangaroo pocket and also with its level of sustainability as Shell is made out of 100% recycled nylon and 64% recycled polyester.
Product Competitiveness Score
The Team
Reliability
How capable is the team? Have they developed something like this before? Do they have crowdfunding experience? Manufacturing experience? A lot of campaigns fail to deliver their product because they don't know what they're doing.
Tropicfeel leads the list of well-knowns on Kickstarter. The team has produced the most-funded shoes of the Kickstarter history twice! This shapes the image of a brand successful in crowdfunding and experienced in manufacturing. 
The very first campaign of Tropicfeel, The Ultimate Travel Shoes, raised $2.536.917 USD with the support of 26.284 backers in 2018. This gave a new breath to the shoes category of the platform and an insightful start to the exciting journey of Tropicfeel. 
It took less than a year for the 2nd generation of the versatile shoes to come to life. Another $2 million with another 20.000+ backers. 
After their 3rd pair of shoes, the Avocado Rise, Tropicfeel thought of expanding their production and trying to create something else to be appreciated by the Kickstarter community. And they appear to have absolutely managed it. Shell has raised over $1.203.510 in less than a month with the support of 4259 backers. A million+ in the category of backpacks is surely something demanding and effort-taking.
Tropicfeel's website is another great source to look for their products, which vary from clothing for men & women to accessories and flip-flops. The website also serves to illustrate the values adopted by the team, out of which sustainability appears to be the core one. 
Thus, it is fair to refer to the Tropicfeel team as a group of experienced, mastered and well-prepared experts who have managed to shape a strong and powerful brand in a quite short period of time. 
Attitude
How transparent are the campaigners? Do they give their backers valuable updates on their progress? Do they engage with their backers? Crowdfunding is all about community, sharing information and building a meaningful relationship with the people who fund your project.
A lot of successful campaigns…An impressive design, manufacturing & crowdfunding experience…And what about the team's attitude towards their backers?
It has been a while since the first campaign of Tropicfeel, the Ultimate Travel Shoes, but they manage to impressively catch up with all the comments they receive (those have crossed the line of 5500 by the way) and to assist their backers within as short period of time, as 2 hours is.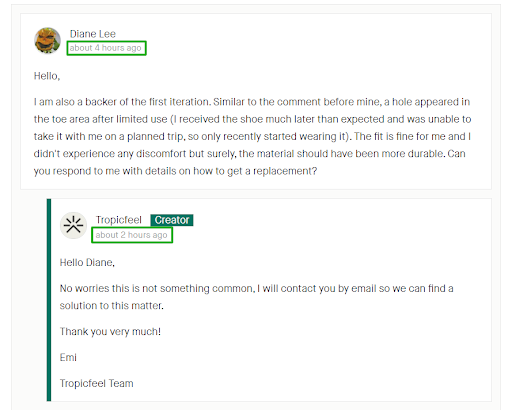 In addition, I found something in Shell's updates illustrating the significance the team gives to their backers' opinion: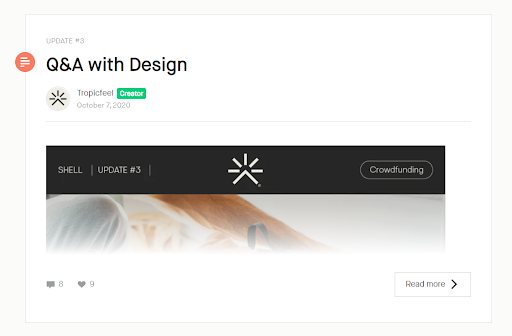 And as the most recent update on Shell offers the chance to win 100 EURO to spend on the versatile backpack add-ons, the storm of the comments started with backers actively participating: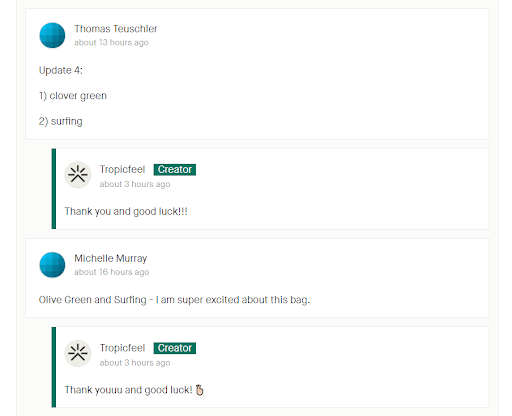 Overall, it appears to me that the team tries its best to engage in communication and touch with their backers. They do it by being responsive to questions and concerns, by initiating interactive offers and by consistently updating their backers about their progress.
Conclusion & Public Opinion
While Shell is still in the process of becoming what it is expected to become, we can draw conclusions about the public opinion of Tropicfeel's products based on the reactions of their previous campaigns.
The first sign of public trust appears to be the leading role of Tropicfeel in the most-funded shoes category on Kickstarter. People backed it not for once, but twice and even three times. It does surely mean something!
Backers sharing their thoughts and opinions after having used the 2nd generation of Ultimate Travel Shoes: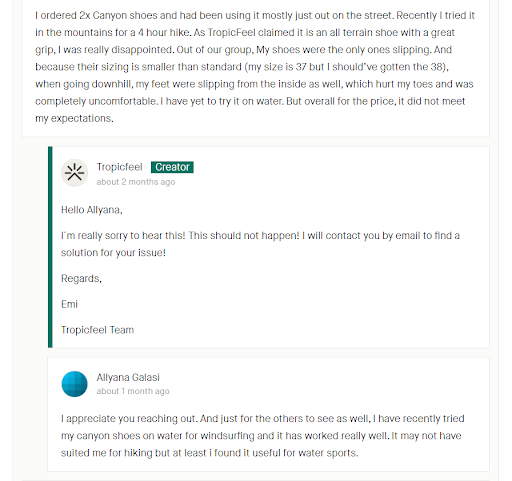 The team has demonstrated strong willingness to reach out to their backers, and even the quality issues that might be encountered seem to be addressed by the team very effectively.
Last, but not least…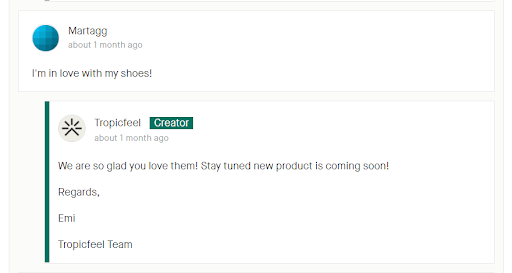 To sum up, Tropicfeel appears to be doing a great job at listening to their backers' feedback, improving based on those and proceeding with an output that will be appreciated even more. This is displayed as the key to the big success in the community the team has been having as a result of all the 4 campaigns they have launched.
TIW Total Score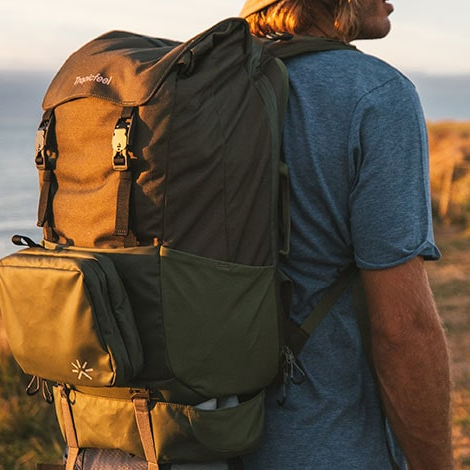 Tropicfeel Shell
Tropicfeel Shell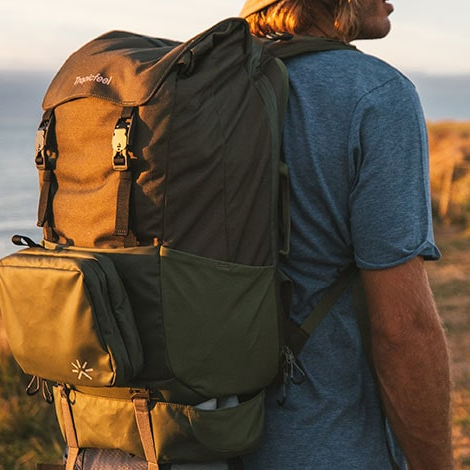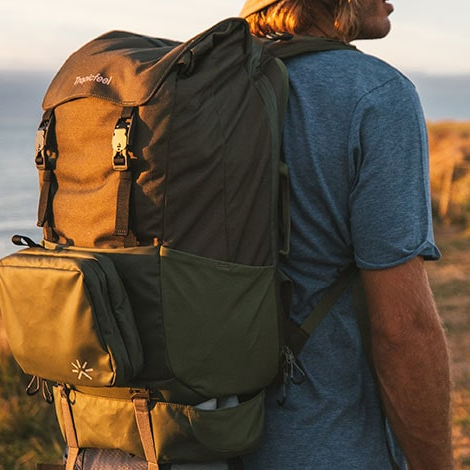 Limited time offer
d
·
: :