TrekChair
Lightweight Folding Camping Chair
key advantages
30-Second Assembly
Weighs 50% less than chairs of similar size
Supports up to 250 lbs
estimated
delivery
September 2021
As the saying goes… "An ounce lost, is a mile gained". When you're trekking in the outdoors, weight is everything. An extra bottle of water, that swiss army knife, the snacks to keep the energy levels up, maybe a camping chair, all play a role in your ability to traverse natural terrain.

As said on TrekChair's campaign page, "the less weight we carry, the more places we can see". So logically, carrying fewer items is ideal. But if you can leverage the equipment you already have and extend its original intended use, and keep yourself relatively lightweight, then you have yourself some solid gear.

So when a four-time ironman, 100-mile ultramarathon runner, and commercial pilot sets out to make some solid outdoor gear, you can bet he'd do it up, and do it well. In this case, the man with that impressive resume, Jon Davis, set out to make the outdoors much more accessible and comfortable but allowing you to take a chair with you. And like we warmed you up above with some solid storytelling (your welcome), with little added weight.

So the result? Well, it seems founder Jon Davis did a pretty damn good job at making a lightweight folding camping chair. But aside from initial impressions, is it actually a worthwhile campaign chair that doubles as trekking poles? Let's find out…
The Product
Innovation
Is this a truly new product that you can't find on the market? Or this a product that defines an entirely new product category. In some cases, the combination of several features into one or the introduction of a new feature to an old product are also considered to be an innovation.
Soo… A chair that breaks down to the size of a 20oz Smart Water Bottle and also doubles as trekking poles. What?! Not sure about you, but the founder Jon has been spending much time at the global outdoor innovation conference (Made that up, but you get the point).

Here we are, it's 2021, and someone is using that creative brain of theirs to innovate something outside of the digital hardware-software realm. Yes, people have come up with some cool concepts for lightweight folding camping chairs, but none have really taken it to this extent.

Let's get into the nitty-gritty of it all. If you're looking at the most packable outdoor chairs in the market, many of the top-tier ones do have the capacity to fold down to a comfortable size that fits in a backpack. Not only that but they are also relatively lightweight ranging around the 1-2lb range, while also being able to support weight around 250lbs.

So how does TrekChair innovate beyond this? Well, as we mentioned above, if you're hitting a long trail that will take you for miles and unseen heights, trekking poles are a good idea. But using those same trekking poles as one of the main components for a camping chair makes it not only multi-functional but also incredibly efficient and intuitive.

Thinking about it now, I can't believe no one has thought about it before! Its build is specifically designed to make it easy and quick to set up and also deconstruct (it's mentioned that it takes about 30 seconds).

So minimal space taken, lightweight, holds weight, and easy to assemble… That's music to any hiker's ears. If this campaign gets a lot of attention besides the near $100K it's already raised (probably will be more when you read this), then it's most likely to get copied in some way or some form. Good thing the TrekChair is patent pending.
Competitiveness
How much better is it than the competition? Is it faster? Bigger? Cooler? More affordable? There needs to be a solid reason why you should back this project over any other.
| | TrekChair | Cascade Mountain | Cliq |
| --- | --- | --- | --- |
| Price | KS $109 | $48 | $89 |
| Included Trekking Pole | ✅ | ❌ | ❌ |
| Weight | 680g + 442g | 1.7kg | 1.6kg |
| Size | Size 37,4 x 9,5 | 1m x 0,4m x 0,4m | Unsure |
| Setup time | 30 seconds | Unsure | 5 seconds |
In the world of competition, this chair is a stand-alone. Though there are no direct competitors since there aren't any other products on the market that feature this innovation, its current competition is pretty much other lightweight folding camping chairs.
So how does it stack up with the other outdoor chairs in the market? From its overall features, it is actually very similar in regards to what it's capable of. The TrekChair is packable enough to fit in a hiking backpack or even the side water pocket like other packable camping chairs available. It weighs a total of 1.5lbs which is around the same range that some of the best backpacking chairs feature. It can hold weights up to 250lbs, similar to other outside sports chairs.

So that's awesome that it's on par with the best of the best when it comes to outdoor camping chairs. But what's its edge?

As of right now, the TrekChair boasts a carbon fiber and aircraft-grade aluminum alloy frame that adds to its strength, stability, and overall weight. But that's not the edge, it's edge is that it features self-erecting poles which easily pop into position, making the setup process incredibly quick and seamless. Supposedly, it only takes 30 seconds to set up, which if it's the case, meant that you can go from hiking to sitting within a minute. Is that the actual setup time? To be honest, we haven't seen anyone set this chair up in real-time so if it actually takes 30 seconds to set up is actually unknown. I guess it depends on who's setting up the chair. But we'll give them the benefit of the doubt.

Aside from it's easy-set-up, it features Trekking Poles which is something that no other chair in the market features. This feature alone makes the TrekChair incredibly competitive and is what makes it stand out from all other lightweight folding camping chairs or just chairs in general.

From some of the other outdoor chairs in crowdfunding, the TrekChair definitely is one of the pricier ones. But when it comes to the overall outdoor chair market, from the better backpacking and camping chairs, it's right on par with the price range.
Product Competitiveness Score
The Team
Reliability
How capable is the team? Have they developed something like this before? Do they have crowdfunding experience? Manufacturing experience? A lot of campaigns fail to deliver their product because they don't know what they're doing.
So they made a cool innovative product that is highly competitive in the market… But are they trustworthy, and will they fulfill all of their campaign promises? Well here is their bio to understand a little bit of who they are:
"TrekChair is made by getting Out Gear, an established outdoor gear company with a proven record of delivering top-rated products to tens of thousands of happy customers.  We're on a mission to create innovative, intelligently designed outdoor gear to fuel your next adventures.
With thousands of 5-star reviews, our line of Bouffe Blankets has earned numerous Bestseller and Best Choice awards due to their unique blend of warmth, size, and weight.
Whether ultralight backpacking or camping in your backyard, our products are meant to deliver happiness, comfort, and joy as you experience the great outdoors…"
Solid statement. That is their word. But customers who have interacted with them seem to have high regards for the products they produce by giving them an average rating of 4.6 stars on Amazon. That being said, products with a solid track record on amazon usually are reliable sources when they try their hand in crowdfunding. 
Why is that? Even if this happens to be their first crowdfunded campaign, they already have a lot of experience in product creation, manufacturing, and shipping. The only thing is that since they are now trying crowdfunding, they might have to figure out shipping for themselves as opposed to having Amazon carrying the load.

This could cause a bit of jam and delays in the process, but from what we've seen from established companies, especially the outdoor-based ones, they can usually maneuver and manage quite well.
And if their presence on Amazon isn't enough validation for you, you can hop onto LinkedIn and check out the Founder Jon Davis' which gives you an idea of who is behind this operation. (Spoiler alert, the dude is pretty legit).
Attitude
How transparent are the campaigners? Do they give their backers valuable updates on their progress? Do they engage with their backers? Crowdfunding is all about community, sharing information, and building a meaningful relationship with the people who fund your project.
Character? Seems they got that down… Their overall communication on the page matches their attitude in the comment section. To break it down: 1) They are personal. 2) They answer questions in a timely manner. 3) Their answers are on point and cover everything perfectly. 
They are incredibly open to suggestions and are verbal about it. The thing that really stands out… They even checked if a backer from Indiegogo as part of their backer Facebook group and acknowledged that in their answer.

If that doesn't get you fuzzy inside as a backer, I don't know what will…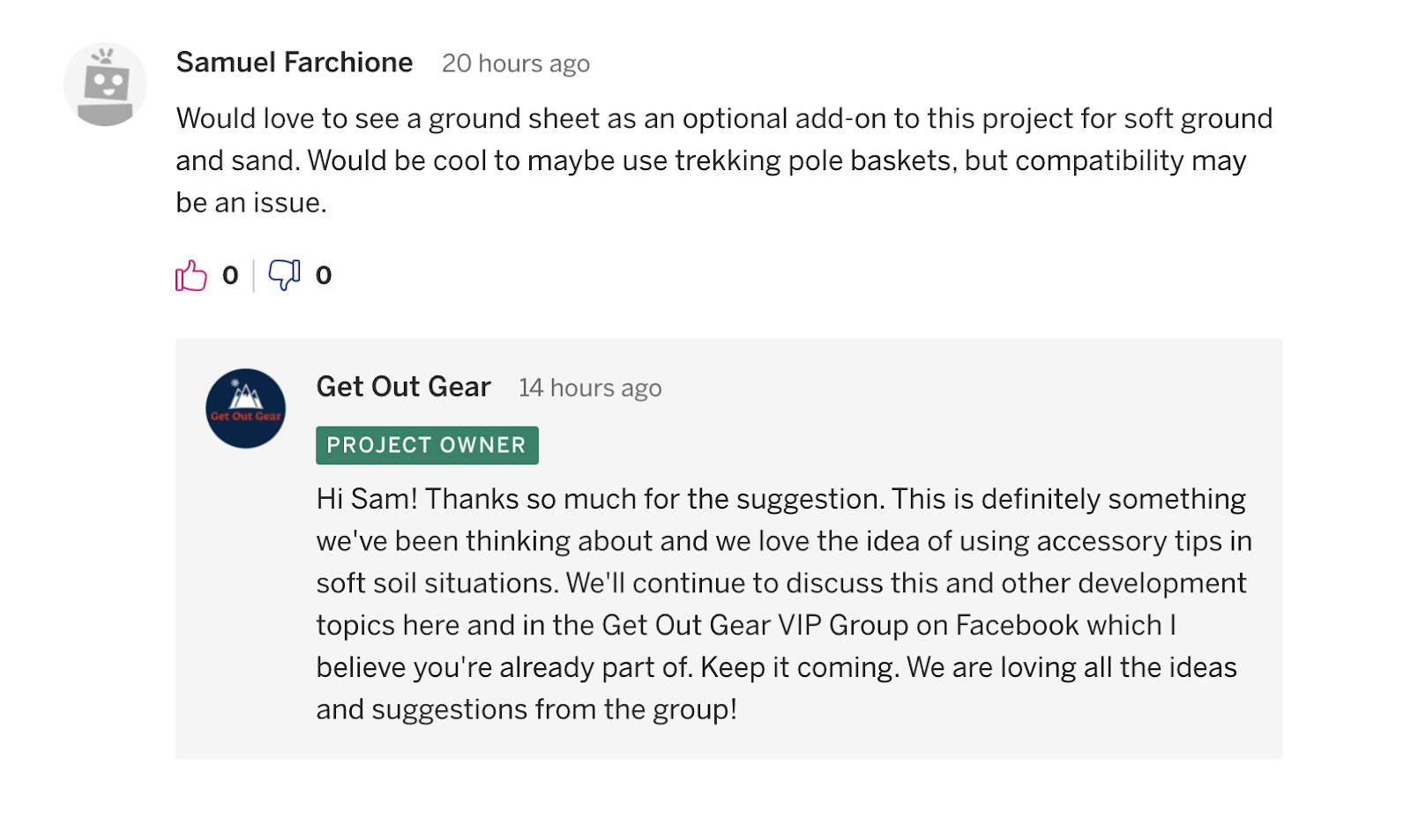 Conclusion & Public Opinion
So to sum this thing up, The TrekChair seems to be an awesome innovation that changes the game of outdoor camping chairs, backpacking chairs, or just chairs in general… Get Out Gear has really taken to the challenge and sought out to make a pretty sweet product that is not only beneficial but also sets a new standard for the outdoor product market.

They're run by an established company that boasts great reviews on amazon. They are founded by a guy who does Ironmans and ultramarathons which says a lot about commitment. 
This product really is pretty freaking cool. If it actually takes 30 seconds to set up or not is important (to some, maybe the only point of importance but I don't judge), but the fact that it's taking a known concept, deconstructing it, marrying two unrelated products together into a seamless chair design, is flat out awesome.

Am I in the market for a lightweight foldable camping chair? Not sure, but if I was someone who loves to hike, was maybe in the market of trekking or hiking poles, and could double that up with a chair? Yeah… I'd probably back this thing right now.
TIW Total Score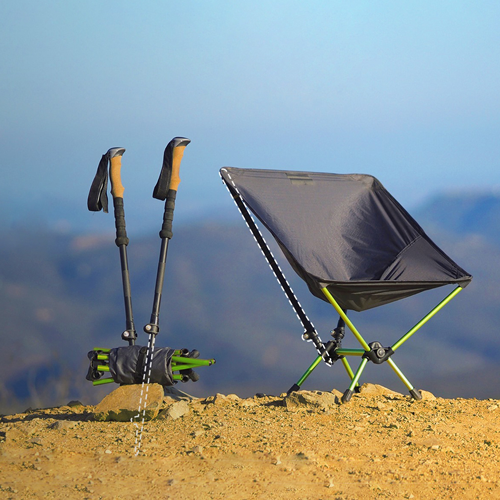 TrekChair
TrekChair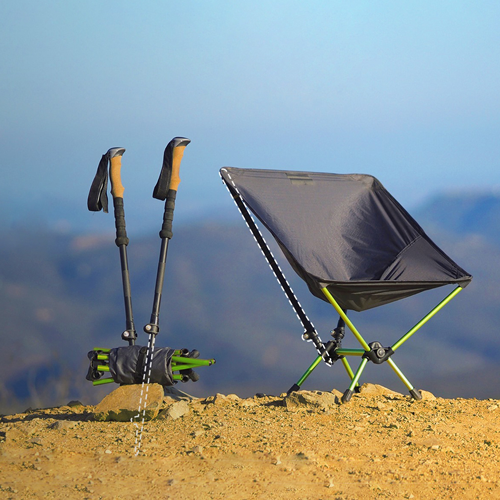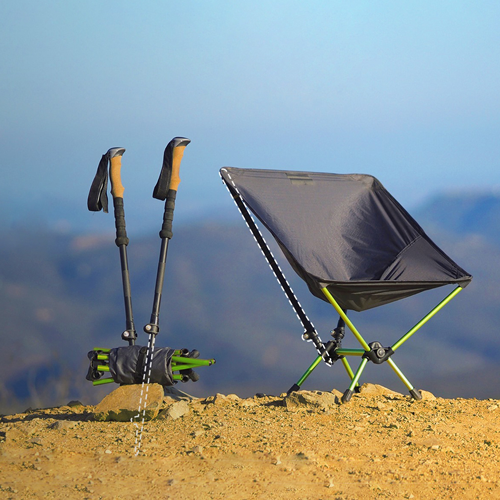 Limited time offer
d
·
: :