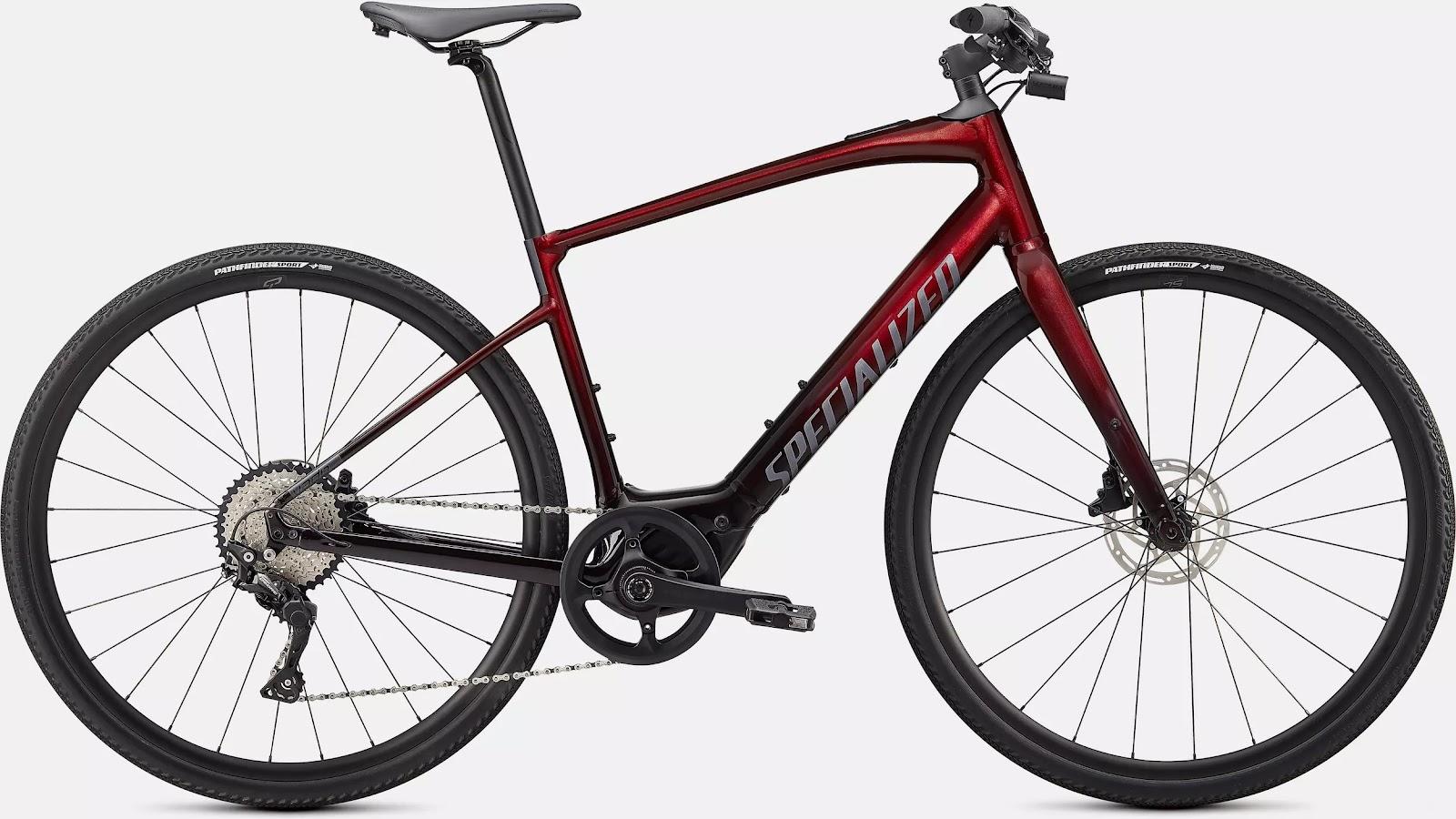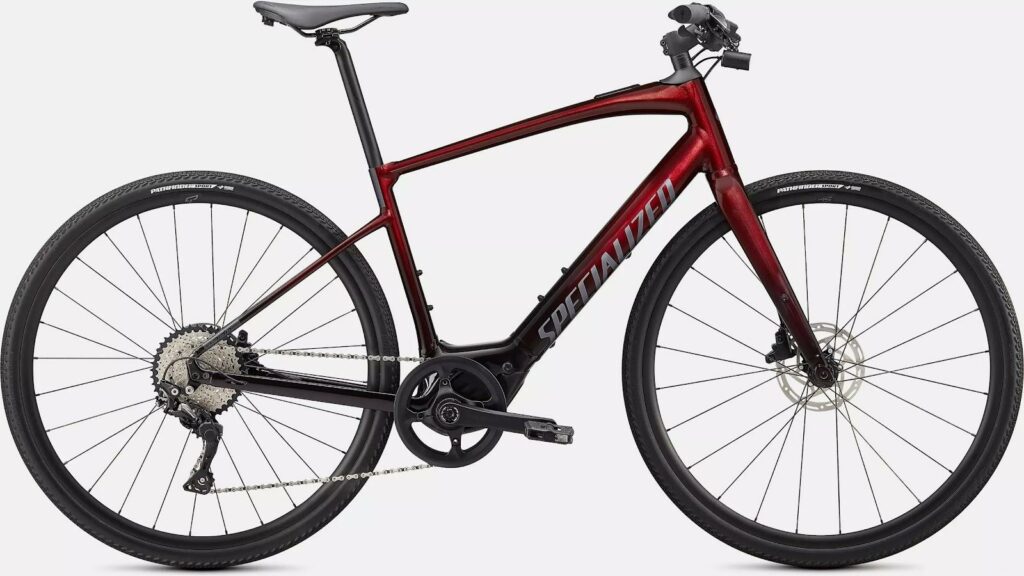 PRODUCT OVERVIEW
If you're after some fun and lighter assistance, the Turbo Vado SL 4.0 is one for the shortlist.
The Turbo Vado SL 4.0 is fully integrated and secured.
It has a very clean internal cable routing that prevents rust.
It has a premium hydraulic disc brake that has a maximum stopping making it very safe to use for everyone.
It has a specialized 320Wh downtube battery with an optional range extender that makes it work for a long ride. The Range extender compatibility can range up to 120 miles at the farthest.
The bicycle has a bright and integrated front and rear light to use every night so you can see the way or other cars can see you.
The Turbo Vado SL 4.0 has a Turbo SL mounted rear rack that can keep your favorite bags and other things that are compatible at your rack time.
Another specialized SL 1.1 custom lightweight motor with a peak of 240W per 35Nm that can carry up to twice the ride with assistance maximum of 27mph.
The premium lightweight E5 Aluminum frame of Vado SL 4.0 is very notable.
The bicycle is good for mountain or city use.
The Turbo Vado SL 4.0 is the best bicycle for your next long trip.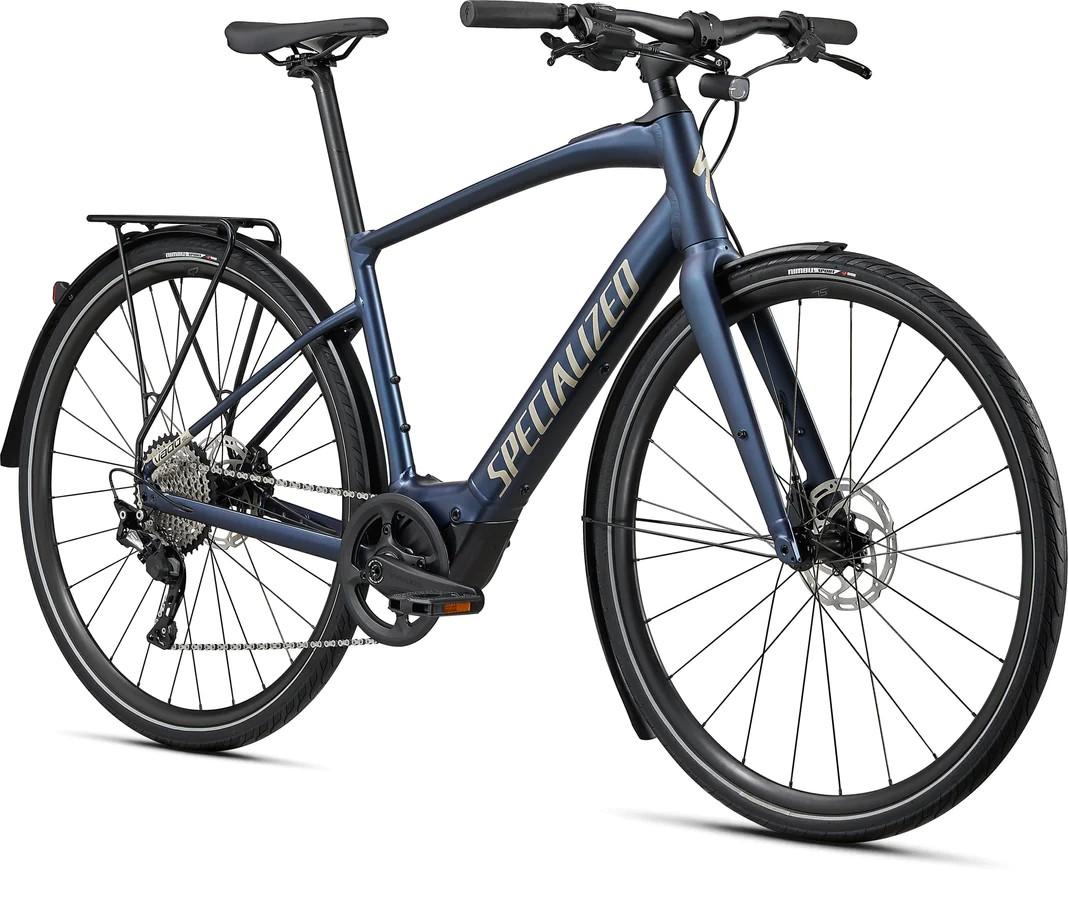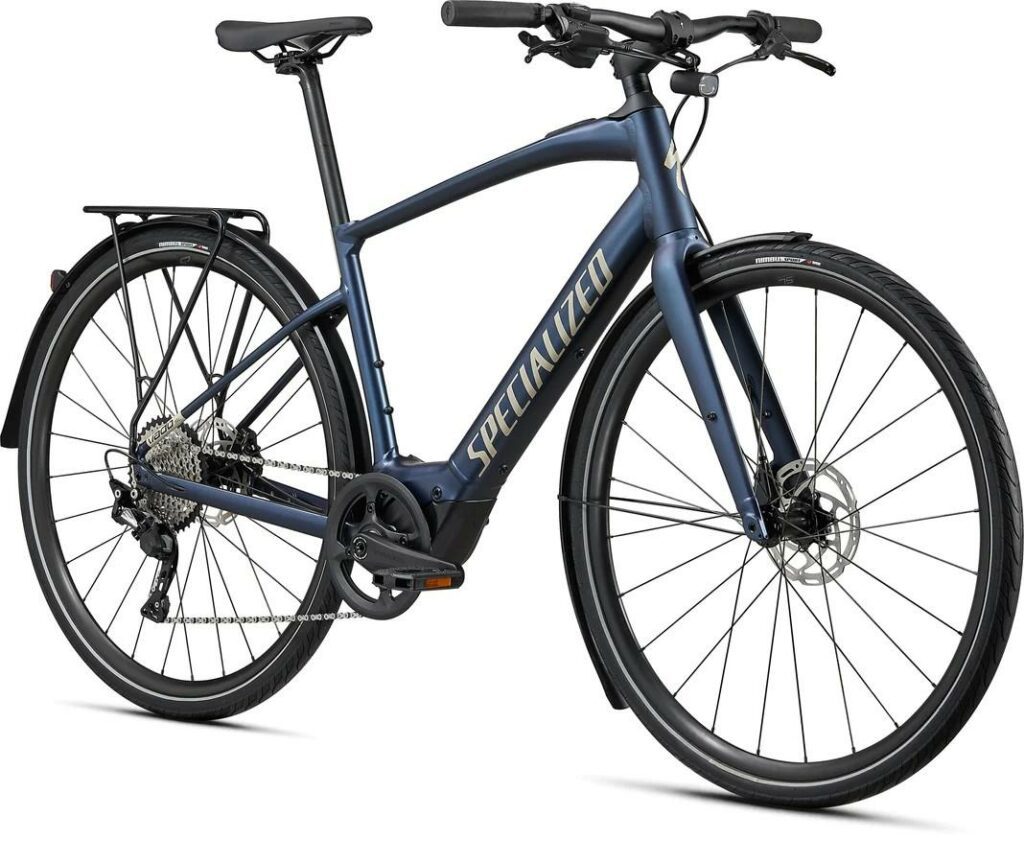 Specifications:
Fork
Rigid full aluminum disc, Boost 12x110mm, front- rack-compatible
Stem
Specialized Stealth Stem, alloy, 14 deg
31.8mm, integrated TCD mount
Tape
Specialized Body Geometry Contour lock-on
Handlebars
Specialized, alloy, 9-degree backsweep 15mm
rise, 31.8mm
Front Brake
Specialized, alloy, 9-degree back sweep 15mm
rise, 31.8mm
Rear Brake
Tektro HD-R290, hydraulic disc, 160mm
Shift Levers
Shimano Deore, RapidFire Plus, 10-speed w/ Optical Gear Display
Rear Derailleur
Shimano Deore, Shadow Plus, GS cage, 10-speed
Cassette
Shimano Deore, 10spd, 11-42t
Chain KMC e10S, 10-speed w/ Missing Link
Crankset
Praxis, Forged alloy M30, custom offset
Chainrings
Praxis, 44T, 104BCD Pedals Specialized
Commuter w/ grip tape & reflectors
Rims
700C disc, 22mm rim depth, 21mm
internal width
Front Hub
Specialized alloy front hub disc, sealed cartridge bearings, 12x110mm, Center Lock 24h
Rear Hub
Specialized alloy rear hub disc, Center Lock, sealed cartridge bearings 12x148mm, 28h
Spokes
DT Swiss Industry
Front Tire
Specialized Pathfinder Sport, 700x38c
Rear Tire
Specialized Pathfinder Sport, 700x38c
Inner Tubes
Standard 40mm PV 700×32-50
Saddle Bridge Sport, Steel rails, 155mm
Seat Post
Specialized, alloy, dual-bolt, 25mm
offset, 27.2mm
Seat Binder
Integrated w/ frame
Motor
Specialized SL 1.1, custom lightweight motor
UI/Remote
Specialized TCU, 10-LED State of charge
3-LED Ride Mode display, ANT+/Bluetooth
w/Handlebar remote
Battery
Specialized SL1-320, fully integrated 320W
Charger
Custom charger, 48V System w/ SL system charger plug
Wiring Harness
Specialized, alloy, 9-degree back sweep 15mm
rise, 31.8mm
Headlight
Lezyne Ebike Hecto STVZO E65, 210Lumens, 12V
Taillight
Specialized integrated saddle mount, LED Technology, 12V
Bell
Simple bell
Get The Product Here!
---
WHO SHOULD BUY THIS?
The Turbo Vado SL 4.0 is one of the best bicycles available in the market. There is no other e-bike out there that can match the Turbo Vado SL 4.0 when it comes to the ride quality range and power. It has a weight that is very light enough to carry everywhere. Its weight of only 28 pounds making it one of the lightest bikes available in the market. Having a light bike is an advantage because it makes it easy for you to maneuver especially when you have to go downhill or uphill.
The Turbo Vado SL 4.0 is a very good choice for people who are looking for a responsive and very lightweight bicycle that can handle daily riding and bring it into more challenging trails. This bicycle is also good for mountain climbing trips that you always long to do. It is very easy to control and you will have a hard time bringing it.
If you are an athlete who loves to work out or exercise, the Turbo Vadlo SL 4.0 is the best option for you. It could give you the best workout sessions by riding beyond the beaten path and can give you the best last-minute adventures. This bicycle will surely give you the best and smooth ride of your life while not worrying to be safe because your safety is always their consideration.
The buyers of the Turbo Vado SL 4.0 will get an excellent brake system, extra bright built-in lights in front and rear back plus pathfinder tires that roll fast on or off the road and pavements with a very tight grip to secure your safety. All you have to do is to get on and go on your travels and enjoy the ride.
The Turbo Vado SL 4.0 is clearly the best choice for someone who is looking for a smooth and fun ride while not worrying about how to carry it because of the weight with plenty of power compared to any other ordinary road bike. This bicycle is the perfect choice for people who love bicycles with great features and details. However, before thinking and planning to buy this e-bike, potential buyers should research to be informed and know the high price tag that this bicycle has and the significant maintenance required when they decide to buy it. But one thing is for sure, the expensive price that you will pay for the Turbo Vado SL 4.0 is worth every penny.
---
WHAT ARE THE EXPERTS SAYING?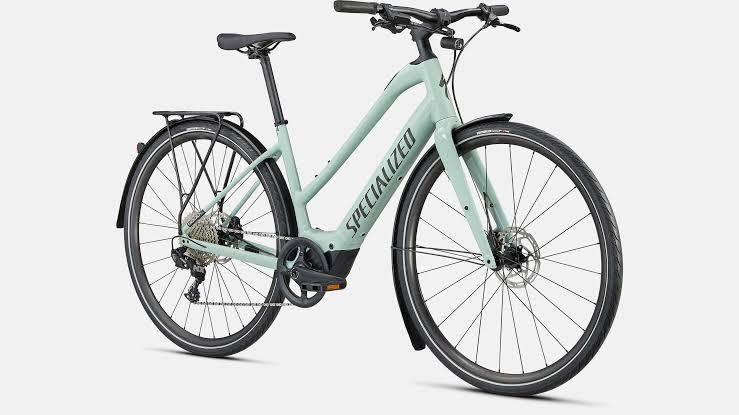 OVERALL
The Turbo Vado SL 4.0's review ratings on some respectable companies were mostly positive and very high. The first thing that you would notice in their reviews is they will highly and surely recommend this bicycle to everyone because basically, for them, the Turbo Vado SL 4.0 is the best e-bikes available in the market. With its excellent features made with high-premium materials, you will not regret buying this bike.
They are very happy with purchasing this bike because of the amazing technical specifications that could bring you to the top of the hill and can also get you back down to the main road safely. The specialized Pathfinder 38c tires that feature the proprietary Gripton rubber compound are as good on gravel as they are on pavement so it is what you see is what you believe. They are true to their words and the company never lies to their customers.
It has an incredibly fully integrated and secured specialized 329Wh downtube battery with an optional range extender compatibility for up to 120 miles of range. The premium hydraulic brake is the highlight of this bicycle that can assure your safety. They also love the durable, lightweight alloy wheels that are too light to bring paired with fast-rolling, high-grip maneuvers that are very easy to control.
The Specialized company always thinks of the safety of their customers so they always make sure to develop and create a bicycle that secures the safety of everyone. Overall, the experts really love the Turbo Vado SL 4.0 because it is the best bicycle that they have seen in the market. The high ratings that it always gets is their way of saying that buying this bicycle is always worth it.
OBJECT DETECTION
The Turbo Vado SL 4.0 is the bicycle that has everything that you are looking for. It is like the dream bicycle that you've been longing to have. The bicycle is made by creative and witty minds with well-constructed in structure. You don't need to worry about the quality and convenience because the company already made sure to give their customers the satisfaction that they are seeking from other bicycles. This bicycle can be used from home going to work, can be used for camping, and your next travel adventures, can climb up hills, and can even be used for riding for some errands as a good replacement for motorcycles.
The Turbo Vado L 4.0 may be expensive for its price but since it is an electric bike, you don't need to buy gasoline anymore so you can still save money with this bicycle and also help nature by not providing air pollution. It may not be as fast as a motorcycle but it is not that far behind when it comes to its speed and range. The Specialized company always makes sure to create and provide the industry with high-quality bicycles to make the market and the customers interested in investing in electric bicycles.
ADVANCE TURBO VADO SL 4.0 CAPABILITIES
The Turbo Vado SL 4.0 has the best features of any bicycle in the market. It will give you the smoothest ride of your life. The easiest pedal will surely make you feel the weight of the bicycle. With this bicycle, the journey to your destination will be amazing. If you love adventure, workouts, riding, exercising, or camping, the Turbo Vado SL 4.0 is the best option for you. The large 29-inch wheels will make you feel safe and stable during the whole ride. Even on a very rough road, this bicycle is very steady and reliable that is perfectly made for your next adventure. The gears are very slick and accurate combined with the safe brake and progress that this bicycle has to make you worry no more. All of these features just make sure to give you a very reassuring feeling of the best ride ever– no matter the speed you want.
The Turbo Vado SL 4.0 is made for people who love traveling and adventures but the Specialized company still makes sure that their bicycle is for everyone to use. It is best suited for individuals who love climbing up the hills and working out in their village. But no matter what you love, the mountains or the city life, the Turbo Vado SL 4.0 will make your ride worthwhile.
CONVENIENCE AND COMFORT
Because of its weight which is super light to carry, the Turbo Vado SL 4.0 gives so much convenience and comfort to the owners of this bicycle. It gives no hard time because you can bring it anywhere without worrying about how heavy it is. The Specialized company always thinks of the safety and comfort of their clients. Through this, the Turbo Vado SL 4.0 can give their riders the best ride of their time going to work or to their destination. The Turbo Vado SL 4.0 is the best bicycle available in the market. Everything you need or you are looking for is already here. Purchasing this bicycle is definitely worth it because it will surely give all the best features an ideal cycle should have.
The Turbo Vado SL 4.0 is made by a Specialized company that always put the safety and comfort of their customers first. They always provide the best quality bicycles in the market to make sure their clients will arrive at their destination safely. With the brakes of Tektro HD-R290, hydraulic disc, 160mm in front and in the back, their customers don't need to worry about their safety anymore. This bicycle is designed for everyone to use because the feedback and comments of the customers is always important for Specialized.
LOOKS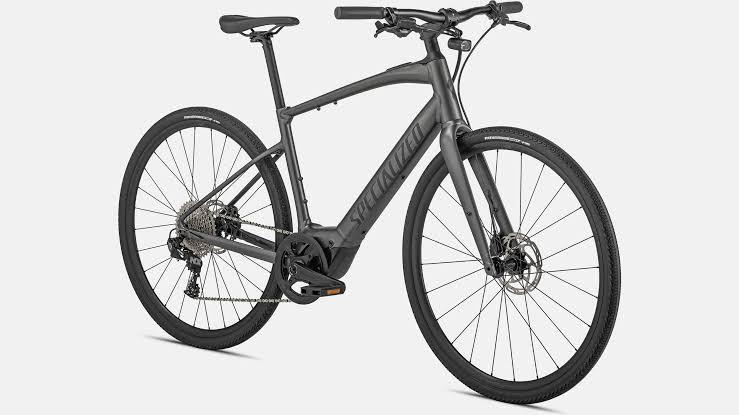 The Turbo Vado SL 4.0 is very durable and lightweight with a weight of 17 kilograms. It helps the bicycle to make maximum use when climbing a hill or going down. It would be very helpful and advantageous when a situation arises where you need to carry your bicycle for a moment. It has a wide range of gears that is very suitable for a range of terrain with the simplicity of a single shifter. The brake is the most amazing feature of this bicycle because it is very reliable and steady to keep you in control and safe.
The design is very simple and neat but you know that they really think about every detail of the bicycle. Just like what the saying is, "Simplicity is beauty." But do not let the looks deceive you. The Turbo Vado SL 4.0 may look simple but it has the most amazing features compared to any other bicycle in the market. It is already proven and tested by different customers who keep coming back to buy the Specialized products.
Get The Product Here!
---
WHAT ARE THE CUSTOMERS SAYING?
When you visit the official website of Specialized, you will see the reviews and ratings of the customers who purchased the Turbo Vado SL 4.0. You will see that most of them, if not all give a very high rating of 5 stars on the product item. They are very amazed by the amazing features that this e-bike has. They said that this is the best bicycle they have purchased so far. When it comes to making the best bicycle in the market, the Specialized company will always be one of them.
A lightweight electric hybrid that's ideal for commuting, fitness or just plain old fun
One thing to love not only about the Turbo Vado SL 4.0 but all of the products of Specialized is their durability. Their products were made of high and premium quality materials. They were ready and made to stay longer than the customers thought. The durability of the product should always be one of the things to consider when buying but with the Specialized products, you will never be disappointed.
Some of the customers said that they are very satisfied with buying the Turbo Vado SL 4.0. They always research first before they buy an item and because of the many positive feedback about this bicycle, they didn't think twice about buying this and they didn't regret buying it.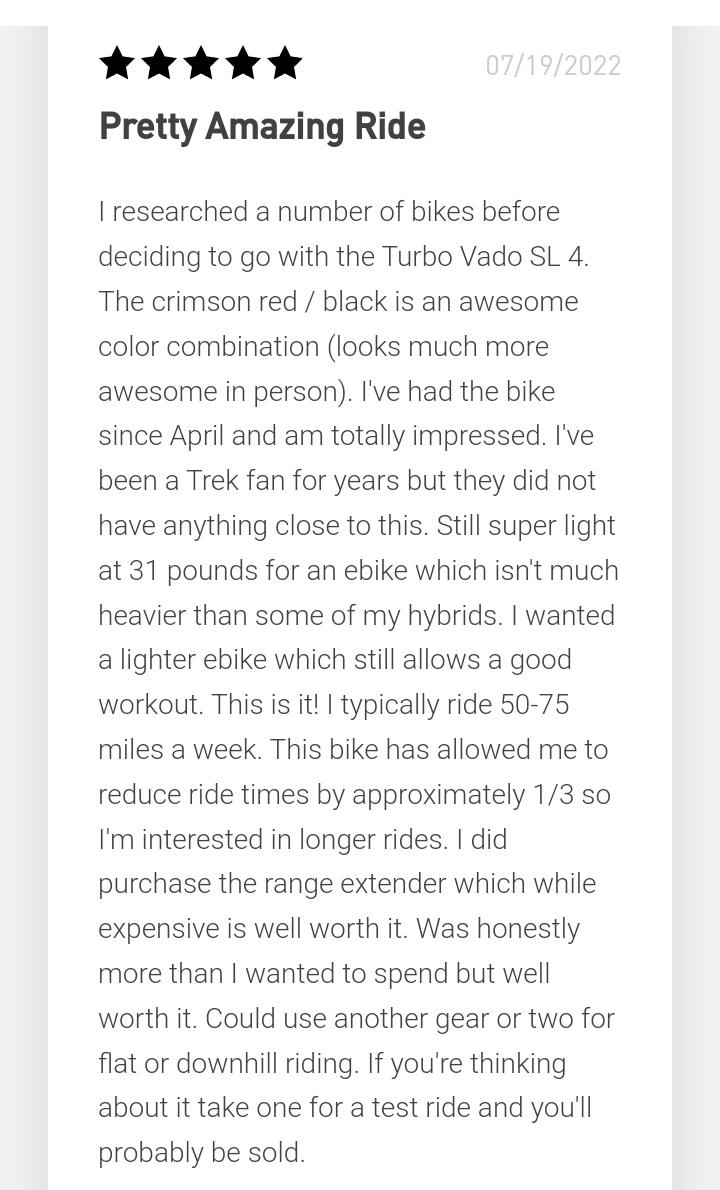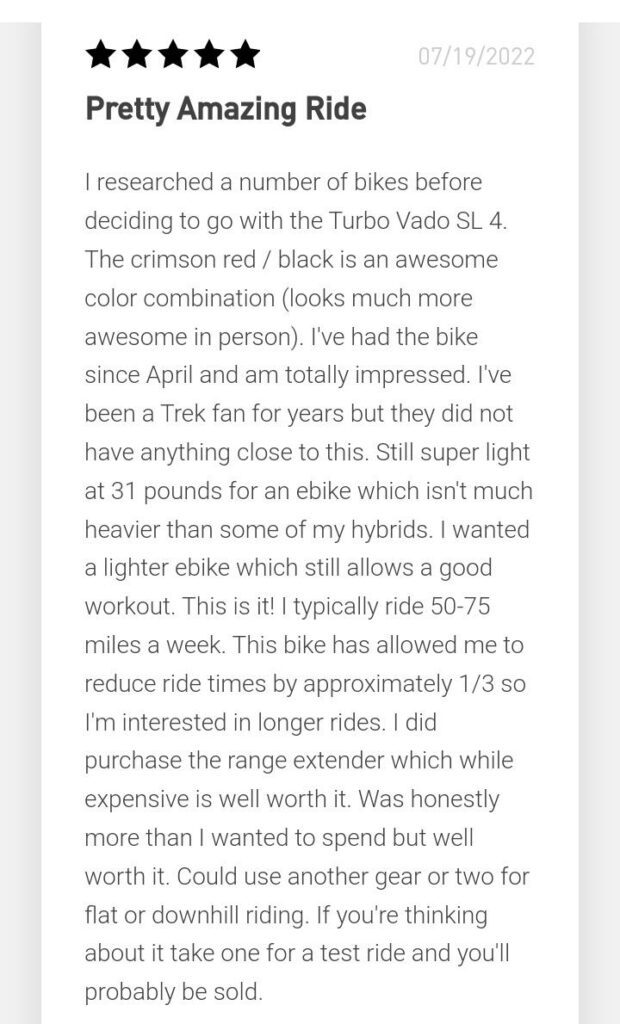 WARRANTIES WITHOUT WORRY
The Turbo Vado SL 4.0 offers a global warranty policy to their loyal customers. The first guarding principle of the company is "The Rider is the Boss." Their top priority is to give a satisfying service and serve their riders with the most innovative cycle and amazing service when it comes to cycling products in the world.
The Specialized company not only offers a Lifetime Warranty to Turbo Vado SL 4.0 but also to all of their original products. They also offer more lifetime warranty to their products that you can see on their website when you visit them.
PURCHASING POWER
There are so many ways to buy the Turbo Vado SL 4.0. The first way is to visit the official website of the Specialized company where you can just simply add the item to your cart and click check out. The current price of this bicycle is on sale for $2,499.99. You can have your new bicycle in two options, pick it up or have it delivered. When you choose to have it delivered to your home, you can see the delivery options for this bicycle on their official website.
You can also buy it on Amazon or in any other online shopping application for the product item and the price varies depending on the application. You can also find different accessories to go with the Turbo Vado SL 4.0.
CONCLUSION
Overall, most of the comments about the Turbo Vado SL 4.0 were positive and most of the reviews say that this bicycle is the best item in the market. With the special features of this e-bike made with high-quality materials, despite the price, it is worth buying this. With the reputation that the Specialized company gained over the years, just hearing the name of their company already brought the thoughts of having those amazing bicycles in the industry.
There's no other e-bike out there with ride quality, range, and power like this, at a weight that's light enough to carry.
Plus the beautiful feedback from the experts and the high ratings their loyal customers give to their products, it is almost like an automatic thing to add their products to your cart. The Turbo Vado SL 4.0 can give you the most amazing ride of your life while not worrying about your safety because the Specialized company always ensures that.
Get The Product Here!