key advantages
Smart Tracking
Built-in tripod
Pocket-sized & portable
estimated
delivery
February 2021
I'm witnessing the latest version of the iPhone in your hands with the AirPods on your ears all the time. You're probably shooting a video, am I right? If I am, then you would agree with me that despite the high image and video quality provided by iPhone, you are still in desperate need of some original shooting angles and creative positions, and you would love to have some more comfort and ease while shooting. Snoppa Atom 2 has your back! Whether you are a vlogger, a selfie-lover, a traveler or just someone video chatting frequently, the auto-foldable 3-axis smartphone gimbal is there to guarantee a remarkable and smooth experience for you.
Carry the compact and portable Snoppa Atom in your pocket or backpack, make it fold automatically tapping a single bottom, extend the handle according to your preferences and start shooting! Place the smartphone gimbal on your desk through the built-in tripod and start video chatting! Take some quality-photos thanks to Atom's smart tracking function and charge your auto-foldable gimbal fast in just an hour.
Use the 5-way joystick to control the shooting direction and the other functions. Switch the orientation of your phone through Atom's one-key flip and feel safe from motor damages with Atom's auto phone mounting detection and.
Last, but not least, Snoppa Atom comes with a dedicated filming app enabling AI recognition and tracking, time-lapse, slow motion, panorama, beauty mode, gesture control, and more.
| | |
| --- | --- |
| Pros | Cons |
| ✔️Compact and portable design | ❌The material doesn't seem to guarantee durability |
| ✔️Smart app integration | |
The Product
Innovation
Is this a truly new product that you can't find on the market? Or this a product that defines an entirely new product category. In some cases, the combination of several features into one or the introduction of a new feature to an old product are also considered to be an innovation.
Phone gimbals are everywhere. Snoppa Atom itself had its ancestor, Atom, which has served as an inspiration for the new version to be designed and developed. When talking about the innovation Atom 2 brings to the market, we should surely refer to it being an auto-foldable 3-axis smartphone gimbal with as compact sizes and as versatile functionality as it has. This makes it different from the other gimbals available, as it appears to introduce a combination of desired features. It enables its users to carry a phone gimbal, a tripod and an AI camera helper in a pocket. Truly big things combined in those small sizes. 
Competitiveness
How much better is it than the competition? Is it faster? Bigger? Cooler? More affordable? There needs to be a solid reason why you should back this project over any other.
| | Atom 2 | Hohem | DJ OM 4 | Feiyutech |
| --- | --- | --- | --- | --- |
| Price | $69 | $77 | $166 | $99 |
| Dimensions (inches) | 6.5 x 2.3 x 1.8 | 3 x 1.5 x 7 | 8.07 x 7.68 x 2.73 | 4.4 x 2.3 x 5.8 |
| Weight (oz) | 9.8 | 9.1 | 15.1 | 9.6 |
| Tripod | ✔️(built-in) | ✔️ | ✔️ | ✔️ |
| App integration | ✔️ | ❌ | ❌ | ❌ |
| Joystick control | ✔️ | ❌ | ❌ | ❌ |
| Auto Phone Mounting Detection | ✔️ | ❌ | ❌ | ❌ |
As it could be assumed, the competition for smartphone gimbals is truly intense. There are plenty of options available in the market, and each of them is unique and original. However, when deciding which one to choose, you want to make sure you get the most versatile one and the lightest one to carry around. As observed, Snoppa Atom 2 comes with reasonably compact dimensions and light weight. What is even more important, is that this smartphone gimbal appears as the cheapest one in the competition with yet having features like app integration, 5-way joystick control, and auto phone mounting detection as advantages.
Product Competitiveness Score
The Team
Reliability
How capable is the team? Have they developed something like this before? Do they have crowdfunding experience? Manufacturing experience? A lot of campaigns fail to deliver their product because they don't know what they're doing.
Snoppa Technology has been in crowdfunding since a while. Although Atom 2 is their first campaign on Kickstarter, they have managed to create some reputation and to engage with some big segment of the backer community on Indiegogo since 2016. 
Starting from as humble numbers as $41,970 is for their first campaign, the GoPro Stabilizer, Snoppa Atom, the ancestor of Atom 2, managed to raise $1.599.249 with the support of 14.617 backers. This was the breakthrough of the company in the world of crowdfunding, and also the well-planned continuation of the smartphone gimbal journey they had started. 
Furthermore, the company has managed to launch a project this year on Indiegogo, the Vmate palm-size gimbal camera, and has raised over $1.000.000 with the support of 4726 backers. 
The ongoing Atom 2 campaign has raised $194.651 in just 6 days and has still 33 days to go. These numbers tell a lot about the backers feeling trustful towards Snoppa and their mission and feeling confident to back and believe in them. 
Attitude
How transparent are the campaigners? Do they give their backers valuable updates on their progress? Do they engage with their backers? Crowdfunding is all about community, sharing information and building a meaningful relationship with the people who fund your project.
Let's now take a look on how the well-experienced team treats their backers.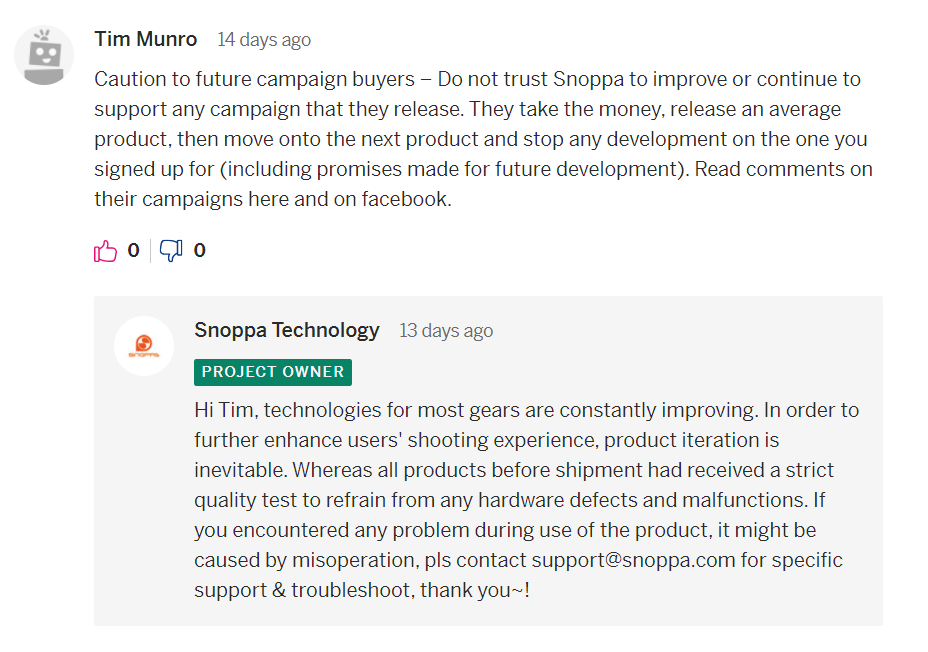 It is always the team's reaction to the negative comments that illustrates who they truly are and how well-developed their customer service is. As you can notice, Snoppa team provides an explicit and thorough response to the negative feedback given by the backer. The team explains their working process and is open to further discussions and clarifications through email. 
And then some backers who have been with Snoppa since the very beginning: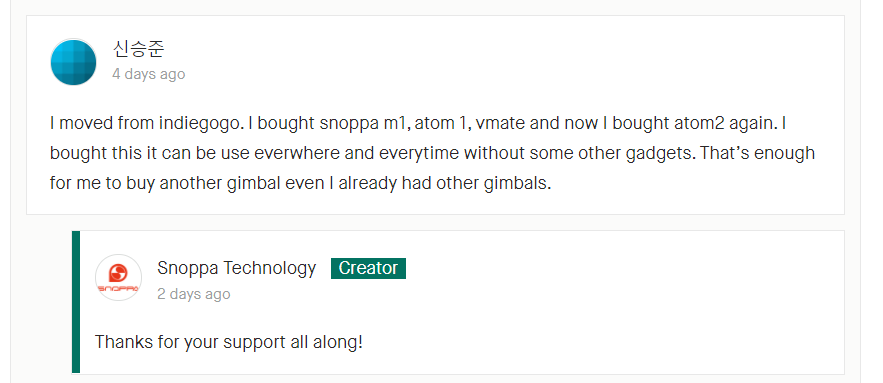 It is evident that Snoppa Technology has always been very flexible and responsive to their backer community. Their updates and the way they answer to their backers' comments are the prooves of this. It is especially pleasing to notice that the team has created a healthy feedback environment by referring to the negative comments as responsibly as to the positive ones. I am inclined to believe this is one of the main reasons Snoppa manages to maintain its growing backer community.
Conclusion & Public Opinion
The key advantage the users keep mentioning in their feedback is, as you might guess, the compact size of the product. 

This feedback refers to the previous version of Atom, while Atom 2 has even smaller dimensions and is more compact and lightweight!

Something referring back to the competition and highlighting the long battery life of the Atom. 
Overall, Snoppa Atom has earned 4 out of 5 stars on Amazon and has been generally reviewed as a helpful and practical tool to own and carry. This new smartphone gimbal is what the team has worked to improve. It will therefore be pleasing to explore backers' opinion when they receive their Atom 2s soon!
TIW Total Score
Snoppa Atom 2
Snoppa Atom 2
Limited time offer
d
·
: :