Product Overview
If you're on the hunt for a new electric scooter, the Segway Ninebot ES1L Electric Kick Scooter is definitely worth checking out.
Setting itself apart with a powerful 500W motor (nominal 250W), a 12.4-mile range, and a top speed of 12.4 MPH, this scooter is designed to make urban commutes enjoyable and efficient. Built with an aerospace-grade aluminum alloy body, the ES1L is lightweight at 24.9 lbs and conveniently foldable.
The ES1L's impressive specs have garnered mostly positive customer reviews. But what do the experts think though? To save you time and effort, we've meticulously gathered all the major reviews for the Segway Ninebot ES1L Electric Kick Scooter. So keep reading for a comprehensive, all-encompassing Segway Ninebot ES1L review.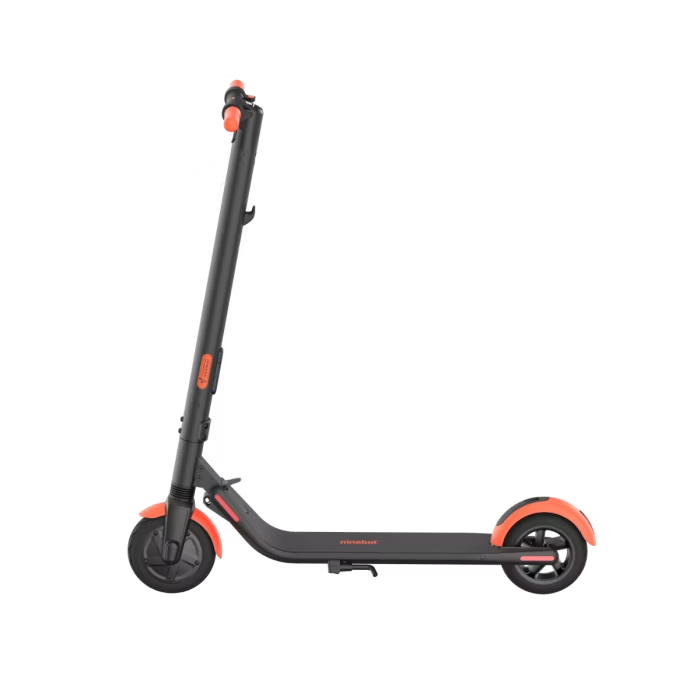 Specifications
| | |
| --- | --- |
| Dimensions | 40″ x 16″ x 44.5″ |
| Folded Dimensions | 44.5″ x 16.3″ x 12.6″ |
| Weight | 25 lbs |
| Weight Capacity | 220 lbs |
| Motor | 250 W |
| Battery | 36V 5.1Ah (184Wh) |
| Recharge Time | 6 hours |
| Max Speed | 12.4 mph |
| Max Range | 12.4 miles |
| Brakes | Electronic brake + rear foot brake |
| IP Rating | IPX4 |
| Tires | 8″ solid tires |
| Suspension | Front shock absorber |
Get The Product Here!
---
Who should buy this (pulling strengths and weaknesses of the product)
Busy urban commuters and campus dwellers alike will find the Ninebot ES1L e-scooter a game-changer for their daily travels. Thanks to the responsive ride and excellent handling of the scooter, city commuters will have no trouble navigating through packed streets. And when it comes to students, they can make use of the scooter's zippy yet safe top speed to reach their classes punctually, without breaking a sweat.
The Segway-powered Ninebot ES1L stands out from the crowd of low-quality, mass-produced scooters by delivering a well-built vehicle packed with unique features. Designed as an adult scooter for private use, the Ninebot ES1L boasts a quick and easy folding mechanism, courtesy of the lever at the base of the stem, making it perfect for transport and storage.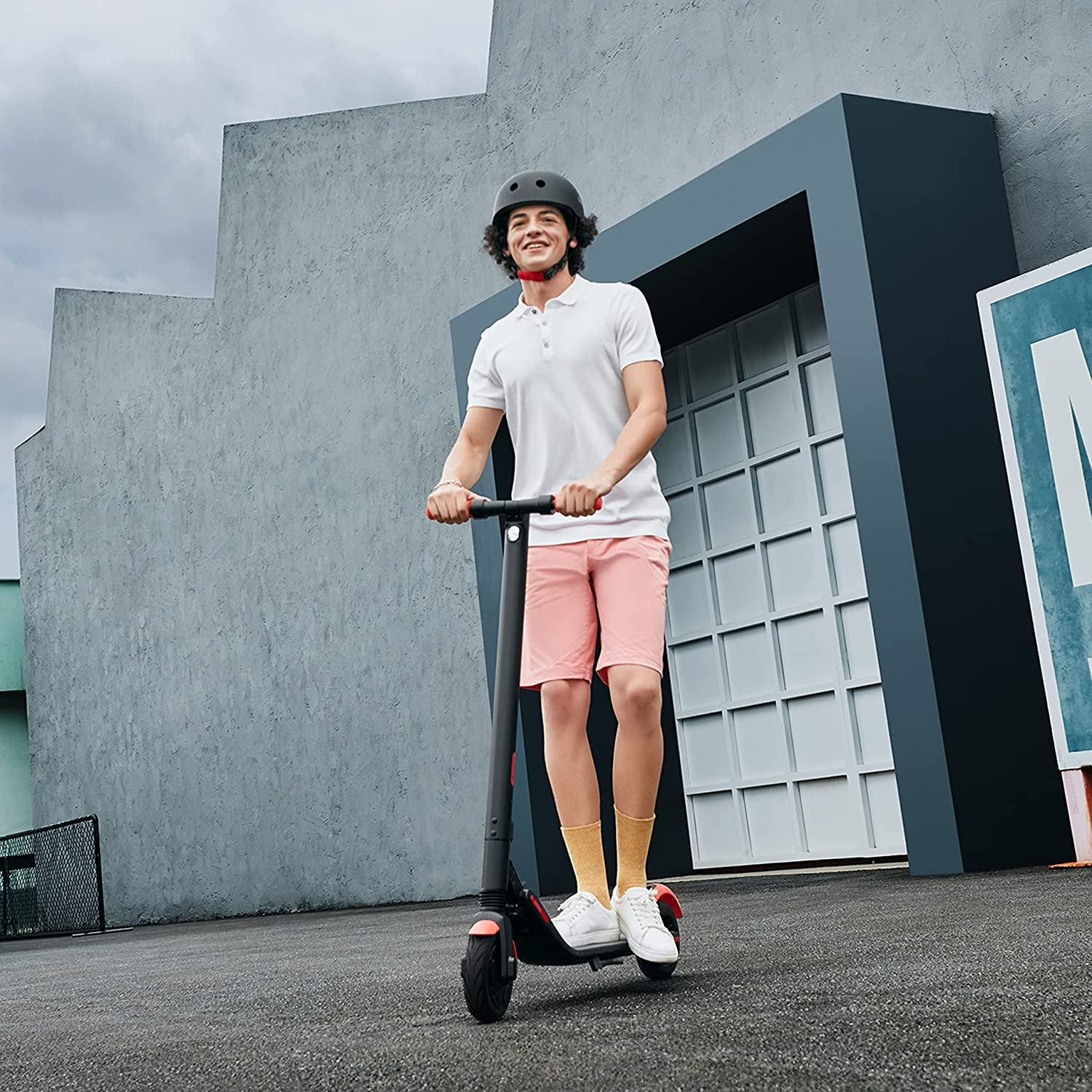 The Segway Ninebot ES1L serves as a great starter scooter, featuring front suspension and solid tires. Though not the fastest scooter out there, it offers decent portability and excelled in braking tests. Weighing in at just 25 lbs, the Ninebot ES1L is relatively lightweight and easy to carry. However, its range and power may fall short compared to the competition. This scooter is ideal for those covering shorter distances and avoiding hills. For longer commutes or tackling hills, other options might be more suitable.
In essence, the Ninebot ES1L isn't purchased for its speed or smoothness. As a sub-$500 e-scooter, it caters to those seeking affordability and functionality. It serves as a basic commuter scooter with solid tires and a single shock absorber, which may not provide the smoothest ride. Its nearly 25-pound weight might not be ideal either.
Nonetheless, if you're looking to halve your errand time or cruise around the neighborhood at a pace faster than walking, without breaking the bank, Segway's Ninebot ES1L could be the perfect fit for you.
---
What are the experts saying?
Overall
After carefully examining numerous expert reviews, it is evident that the Segway Ninebot ES1L is a reliable and budget-friendly option for those seeking a basic city commuter scooter. The general opinion gathered from these reviews indicates that the ES1L is a thoughtfully designed product, striking a balance between affordability, build quality, and performance. While the scooter may lack the fancy bells and whistles found in higher-priced competitors, it offers decent performance and a solid build that ensures durability and longevity.
Segway Ninebot ES1L is particularly well-suited for those looking to reduce their walking time or make quick trips to the store, school, or nearby locations. However, it's important to keep in mind that the strengths of the scooter do not lie in overcoming bumps or steep inclines, so it may not be the best choice for those who prioritize a smooth ride or powerful hill-climbing capabilities. On well-maintained surfaces, the ES1L provides a reliable and enjoyable ride experience.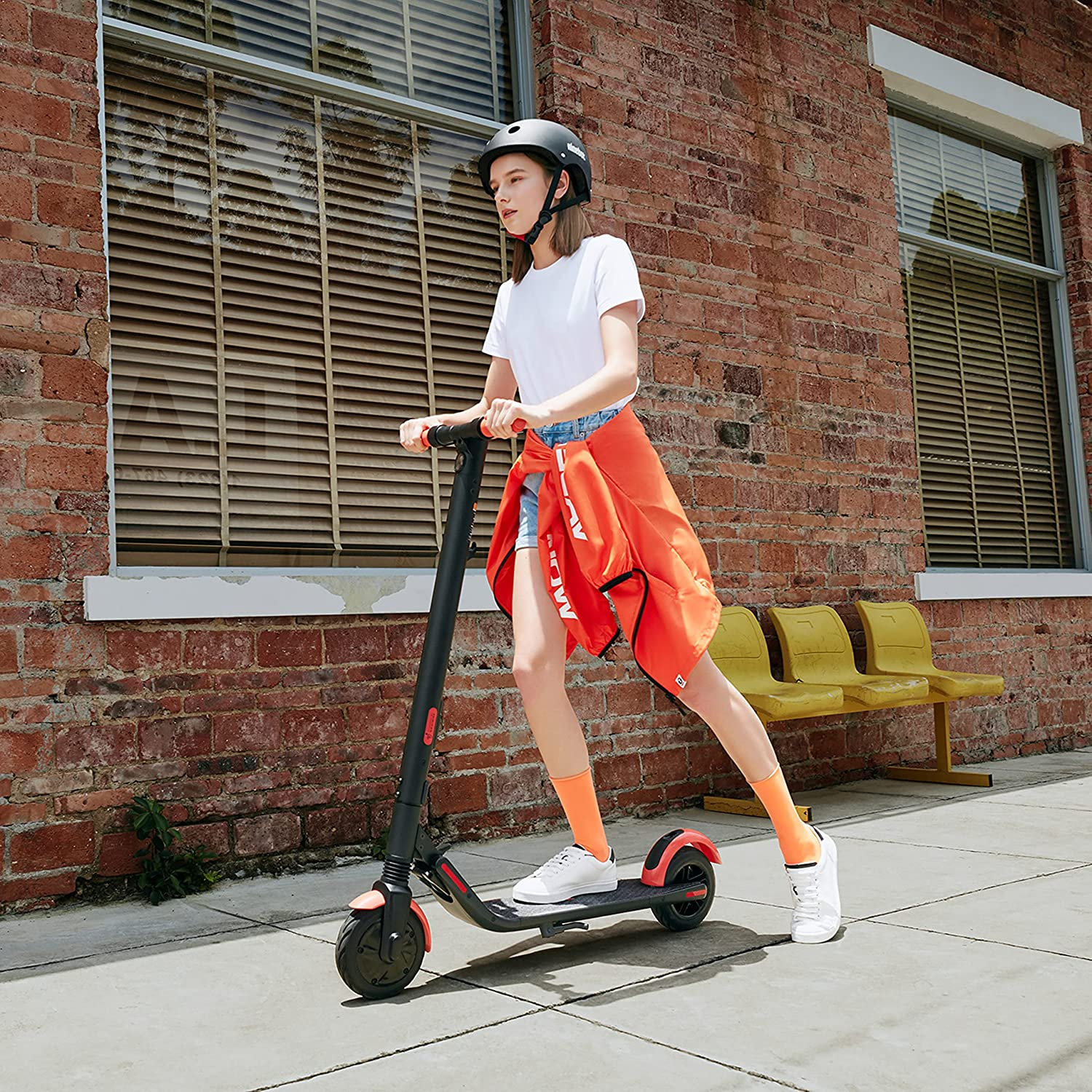 Despite its limitations, the Ninebot ES1L is a trustworthy option for casual use. It is a reliable micro-mobility device designed to sit quietly in the corner until you need it for those short trips around town. As long as you don't expect it to glide effortlessly over rough terrain or speed up steep hills, the Segway Ninebot ES1L will not let you down and will prove to be a valuable addition to your daily commute.
Speed and Acceleration
Powered by a 250W continuous, 500W peak power brushless motor, the Ninebot ES1L reaches a modest top speed of 12.4 MPH. Its torque is adequate, but beginners should be cautious of the sudden surge when starting in Sport Mode. With an acceleration that takes the scooter from zero to 15 MPH in just under 11 seconds, the ES1L offers moments of exhilarating velocity, despite its low top speed. However, with a maximum speed of 12.4 MPH, it's worth noting that you'll barely outpace cyclists and other road users.  [electricwheelers.com]
Power and Hill Climbing Capabilities
The Segway Ninebot Kickscooter ES1L may not be a powerhouse among electric scooters, but it offers a performance that's on par with other scooters in its price range. Although its max speed is relatively low and tends to diminish as battery life decreases, this scooter is still a viable option for those who don't prioritize speed. So if you're satisfied with a 12 mph top speed, the ES1L is a decent choice for you. 
The ES1L is designed to tackle slopes with a gradient of up to 7 degrees, as stated by the manufacturer. The scooter does struggle on inclines, and you may find yourself assisting it with a few kicks if you're in a rush. This scooter is best suited for navigating mild slopes around suburban neighborhoods or city streets. Don't expect it to conquer hilly terrains with ease! [electricwheelers.com]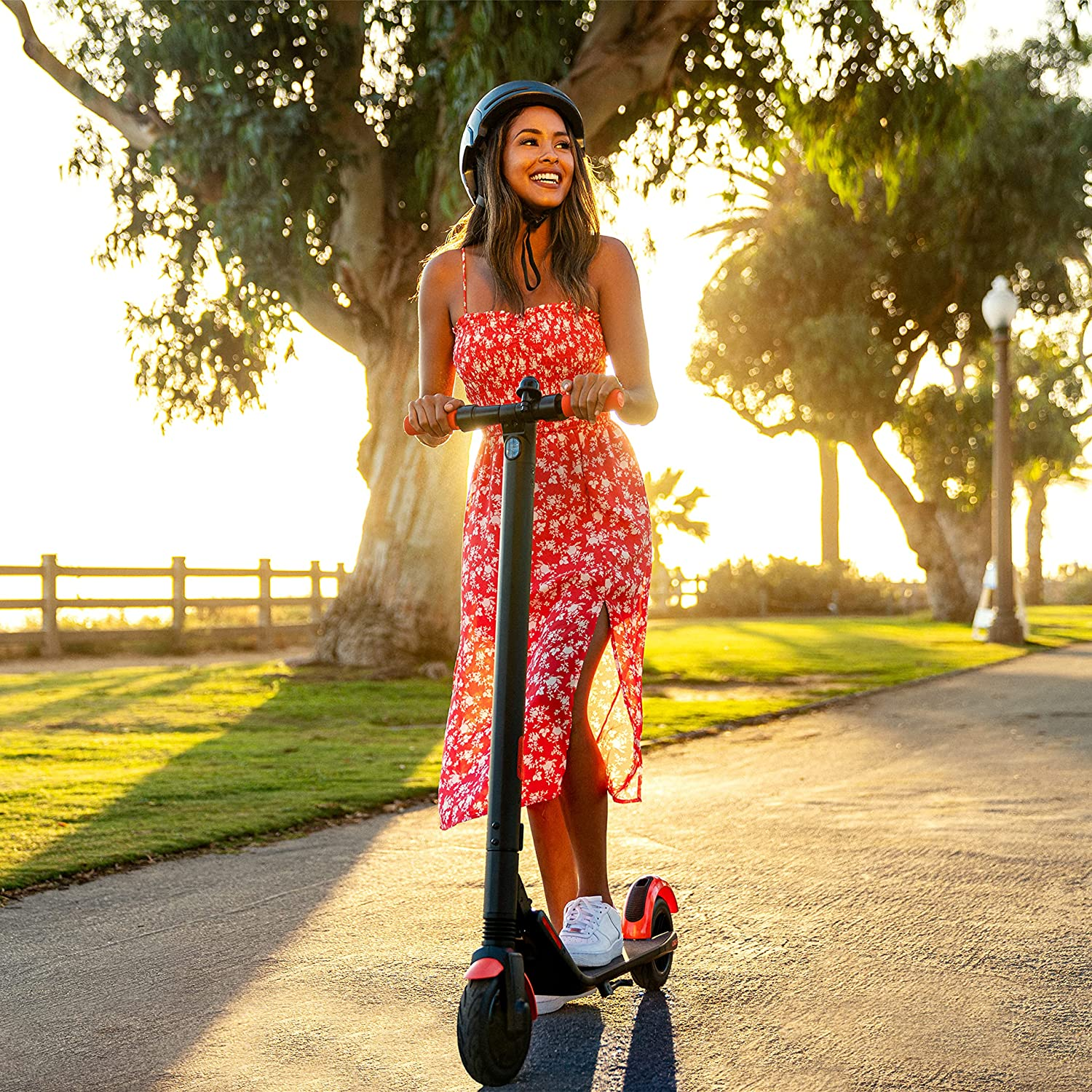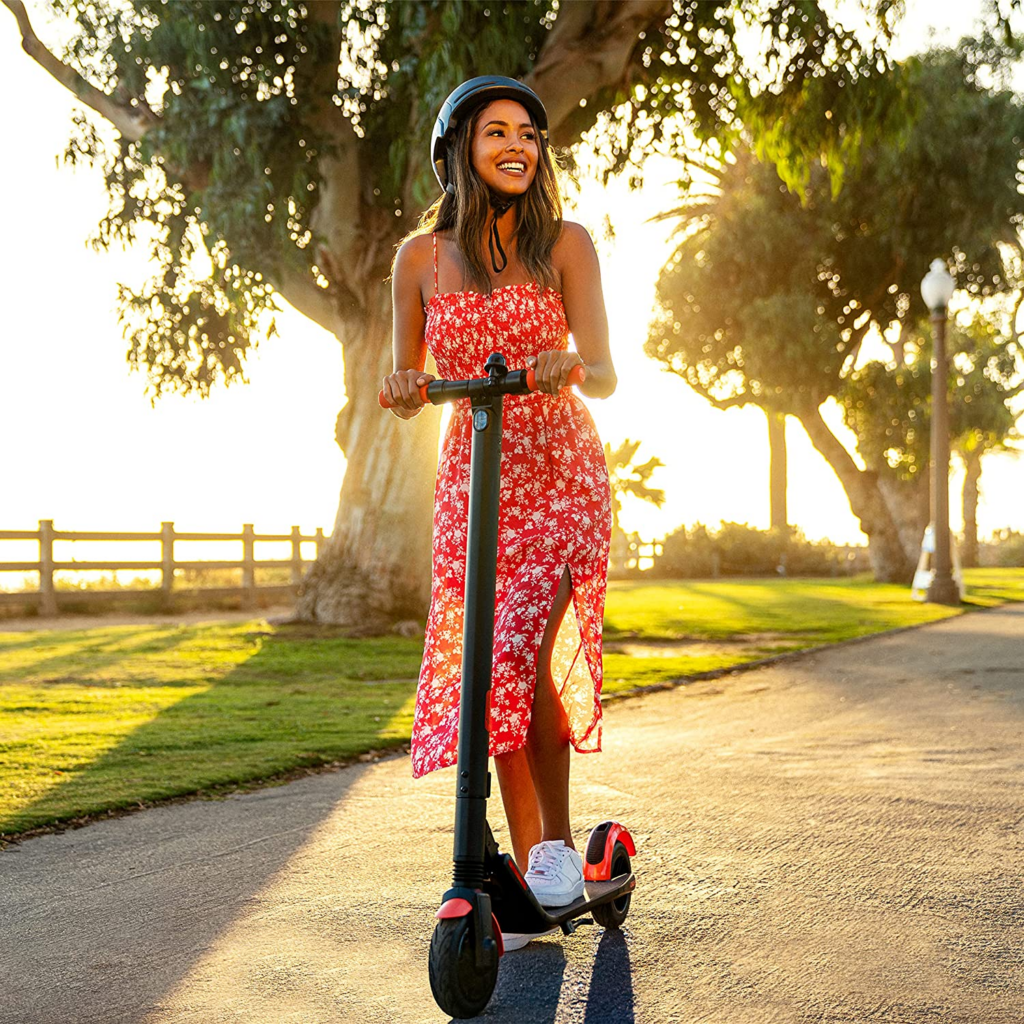 Battery and Range
Drawing on reviews from TechGearLab and Electric Wheelers, the Segway Ninebot Kickscooter ES1L offers a range that could leave riders with range anxiety. TechGearLab's test results reveal a measured effective range of just 7 miles and 46 minutes of runtime, falling short of Segway's claimed range of 12.4 miles.
However, Electric Wheelers states that the 5,100mAh battery is good for 12.4 miles per charge [electricwheelers.com]. The charging process takes around five and a half hours to reach full charge, with the first 20% achieved in just 30 minutes. The battery also offers waterproof resistance and multiple protection mechanisms, such as shock resistance and flame retardancy [electricwheelers.com].
Ride comfort
When it comes to riding comfort, the Ninebot ES1L leaves something to be desired. As noted by TechGearLab and Electric Wheelers, the scooter's solid 8-inch tires and minimal front suspension cause it to struggle on uneven surfaces. The front shock spring's short travel, combined with the lack of rear-wheel suspension, results in a limited overall suspension system, which may lead riders to feel bumps and vibrations on rougher terrain. So the Ninebot ES1L is better suited for smooth roads and well-maintained surfaces. And while ride comfort is compromised, the simpler suspension and solid tires of the scooter make maintenance easier.
The ride quality of the Segway Ninebot ES1L is comparable to that of a rented scooter. The solid tires perform adequately on smooth roads, and riders might be impressed by how well they handle around turns and bends. Although there is suspension on the front wheel, riders will still feel some bumps here and there, which is acceptable at this price point. Despite the absence of rear suspension and the reliance on solid wheels, the scooter's agility and speedy launches make it almost as enjoyable to ride as some high-end options in the market when on suitable surfaces. However, riders should be aware that riding on bumpy trails may cause discomfort due to harsh vibrations experienced in their ankles and wrists.
Portability
The Segway Ninebot Kickscooter ES1L offers a good level of portability, thanks to its lightweight design at just 25 lbs and its simple folding mechanism. The unibody design features a pedal on the lower end of the stem, allowing it to fold back and hook onto the rear fender for secure transport. While the scooter can fit underneath a bus seat or work desk, carrying it up multiple flights of stairs might be challenging. One aspect to be aware of is the potentially wobbly latch, which might raise concerns about long-term functionality.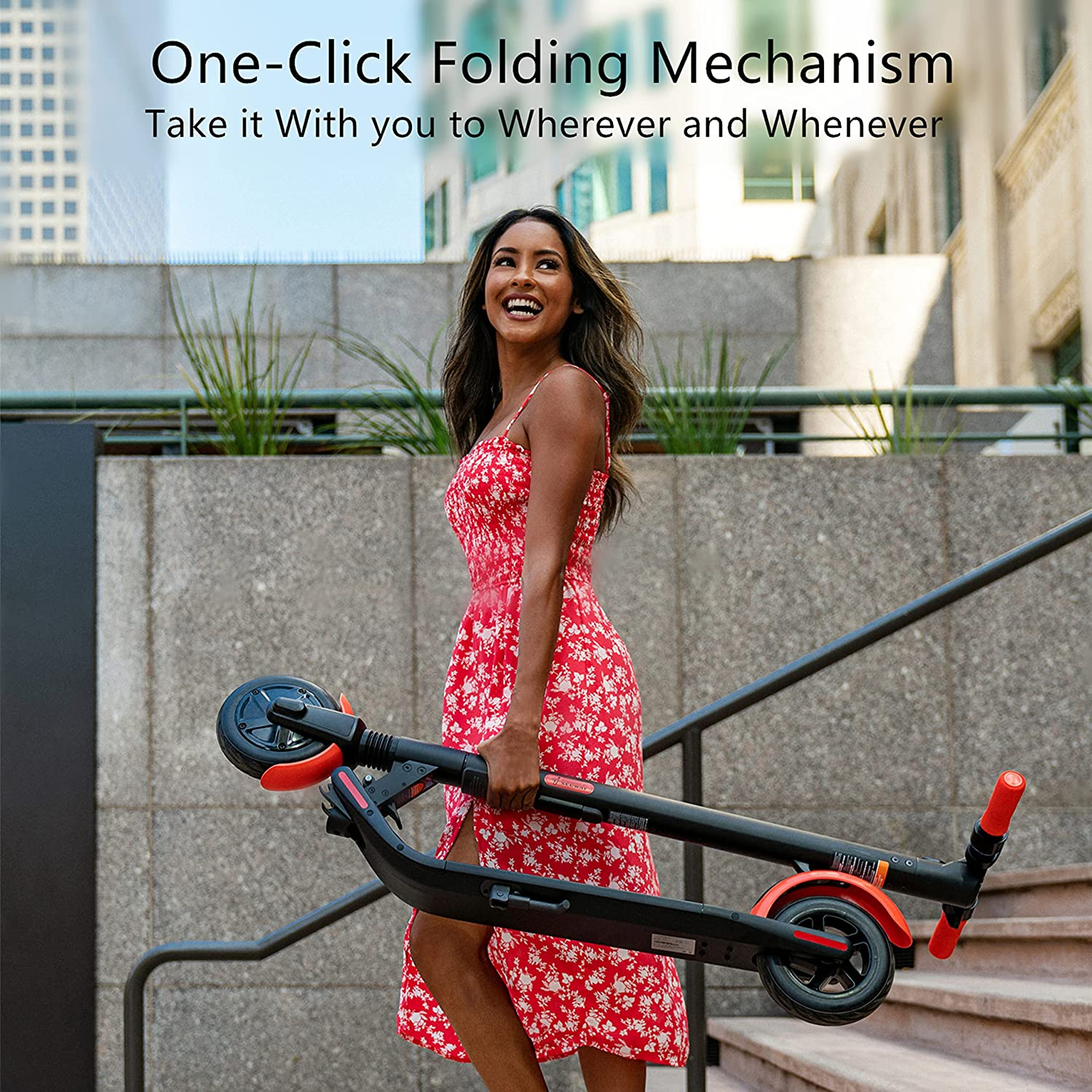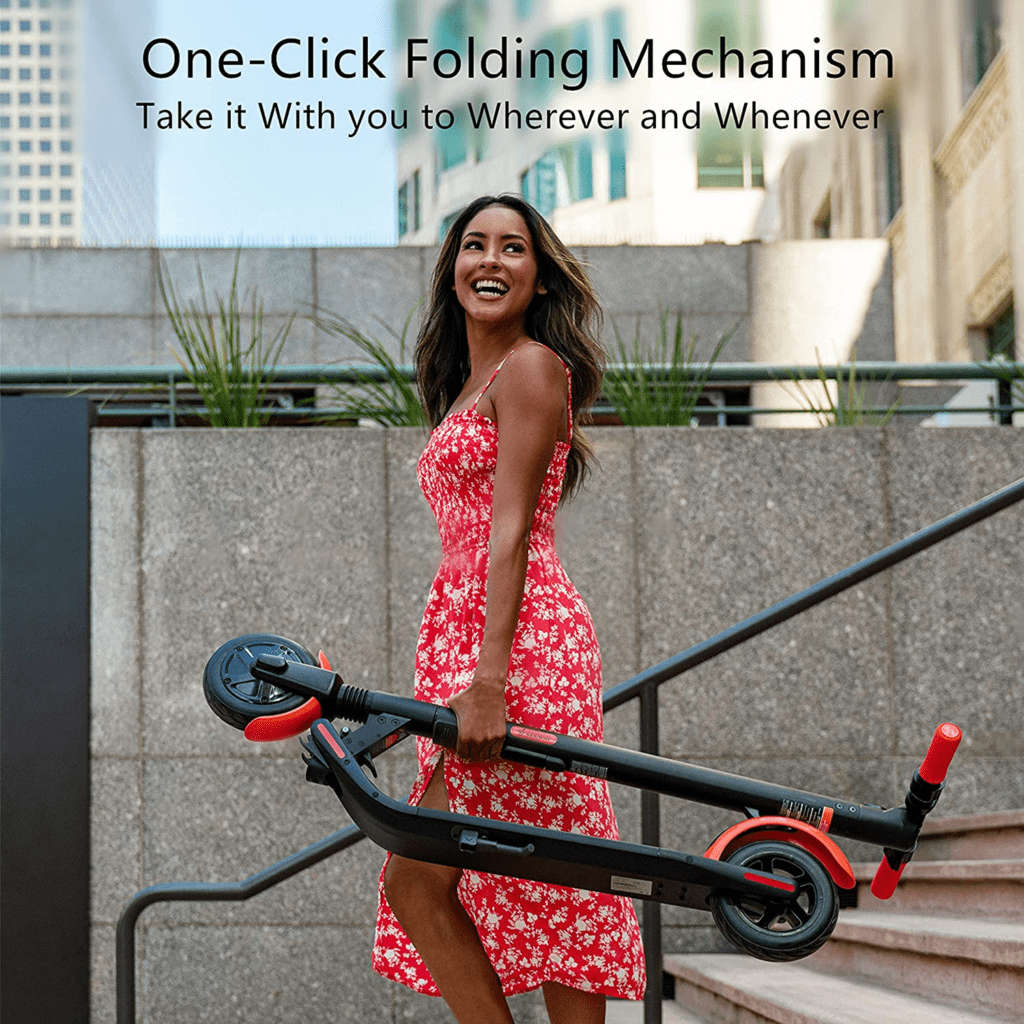 Brakes
The Ninebot ES1L is equipped with an electric front brake and a foot-operated rear brake, providing adequate stopping power on flat terrain and moderately pitched downhills. The front brake is thumb-operated, which may be more suitable for beginners. To activate the rear brake, users step down on the rear fender to increase friction with the rear wheel. Together, the brakes offer a stopping distance of just under five feet. However, the front brake may be less effective when pushing the scooter's 220-pound weight limit. Overall, the braking performance is considered good for its price range.
Design & Build Quality
The Segway Ninebot ES1L, despite its small profile, is unexpectedly heavy. Nonetheless, its bulky design lends to its robustness, with only a few design flaws to consider. For instance, the battery pack is situated on the stem rather than the deck, resulting in a uniquely thin deck that somewhat resembles a skateboard with a stem. This deck can easily support up to 220 pounds, but its low ground clearance presents an issue as protruding bumps can pose a significant risk, potentially damaging the thin deck.
Additionally, the battery pack renders the stem thick and unwieldy, which is problematic when carrying the Ninebot ES1L by the stem in its folded position.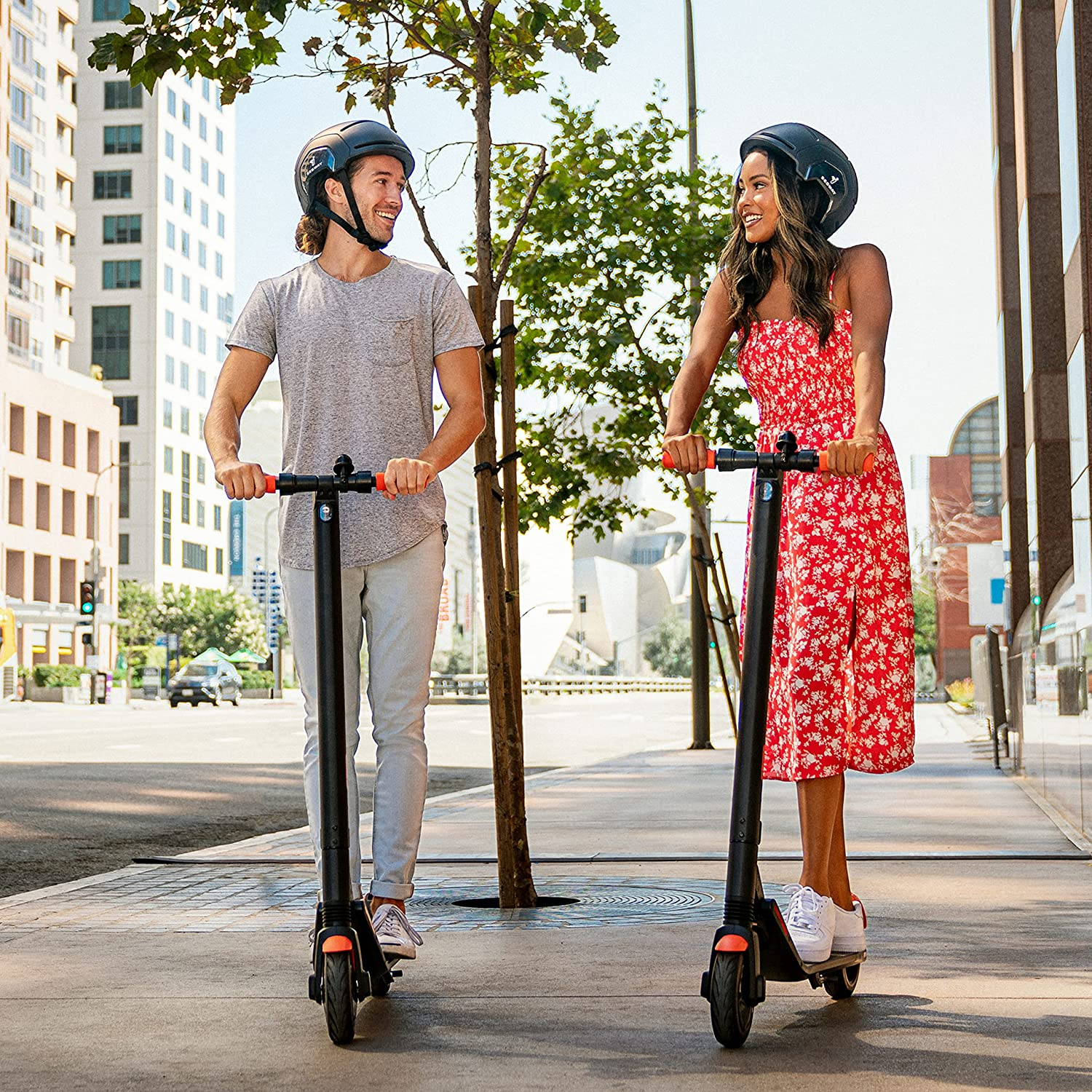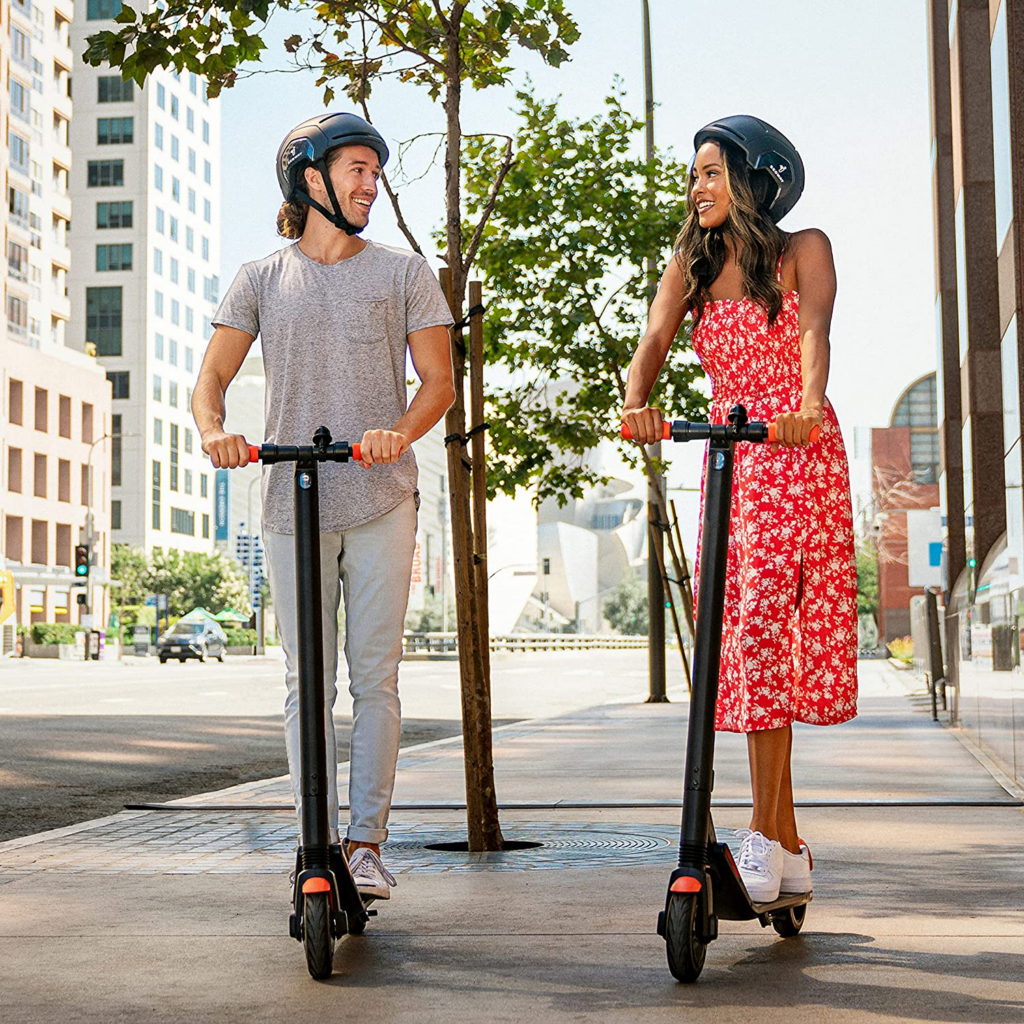 Water Resistance
Regarding water resistance, the Segway Ninebot ES1L has an IPX4 rating, signifying that it is not intended for use in deep puddles or heavy rain. It's worth mentioning that no e-scooter should be ridden in the pouring rain. However, the ES1L can handle minor splashes of water, such as those encountered when riding over shallow puddles. To ensure the scooter's durability and longevity, riders should be cautious and avoid exposing it to excessive amounts of water.
Get The Product Here!
---
What are the customers saying?
Based on the 1,880 global ratings on Amazon, this product has garnered an overall 4.5 out of 5 stars. The customers' opinions are varied, with many satisfied users and some with complaints.
Vegastar, a customer who gave a 5-star review, was initially apprehensive but ultimately found the scooter to be a decent buy for its price. They appreciated the scooter's lightweight design, streamlined look, and lower weight compared to other e-scooters. However, Vegastar did mention some drawbacks, such as a small floorboard, lack of suspension, and an app that doesn't connect to the scooter.


Another customer, Chris, rated the product 4 stars, describing it as an attractive but very basic electric scooter. He praised the design, weight, suspension, folding mechanism, and braking. On the other hand, he was disappointed with the scooter's limited speed, range, and lack of safety features like a tail lamp and bell. According to Chris, the Segway ES1L is perfect for beginners or those looking for a scooter for short commutes but not suitable for those seeking high speeds and extended mileage.
Margaret Delgado gave the scooter 4 stars as well. She liked the scooter's safety, ease of use, and smooth ride provided by the solid wheels. However, she mentioned the absence of a horn or mirrors and a battery life that lasted only two days with a mile each day.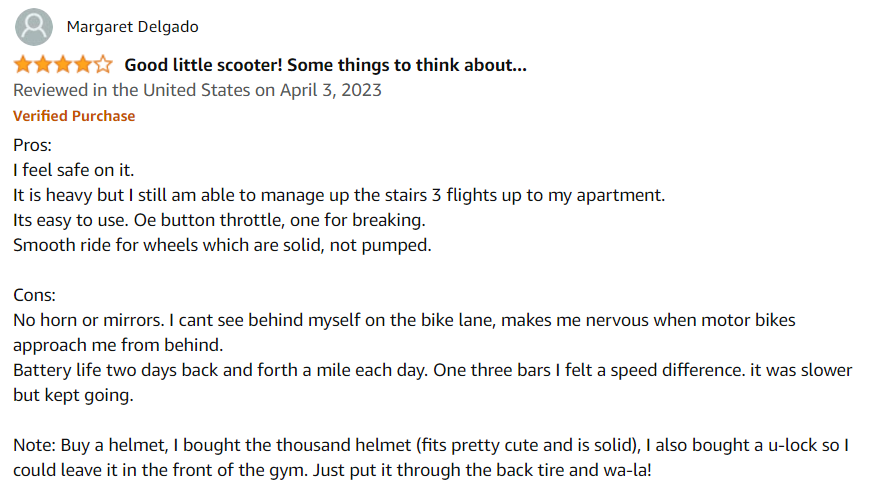 A customer named Wytemi gave a 1-star review, stating that the scooter had misleading advertising. They broke down their review into seven categories: speed, movement, battery & distance, weight, physical features, digital UI, and miscellaneous. Wytemi found the scooter slow, heavy, and have limited battery life. They also criticized the scooter's cheap materials and digital UI. They concluded that the scooter doesn't live up to its advertisements.
Overall, customers seem to have mixed feelings about this e-scooter. Some like its design, lightweight build, and suspension, while others criticize its limited speed, battery life, and lack of safety features. Segway Ninebot ES1L appears to be an excellent choice for those who want a basic scooter for short distances but may not be the best option for those seeking higher speeds and extended mileage.
Shipping
The Segway Ninebot ES1L can be purchased from its website for a discounted price of $299.99, down from $399.99. They offer free shipping for orders over $99.
Here's the scoop on their shipping:
Only ships within the Continental 48 States, using ground shipping via carriers like FedEx, UPS, or Purolator. Delivery time depends on your location, so plan accordingly. A signature is required upon delivery, but you can use FedEx Delivery Manager to make alternate arrangements if needed.
Remember, once your scooter is dispatched from Segway's possession, they are not responsible for any loss or damage that may occur. So it's important to keep a close eye on your tracking information and coordinate delivery with the carrier if necessary.
Regarding order cancellations, you can only request one if Segway is unable to fulfill and ship your order within seven business days or if your item hasn't been shipped yet. If you refuse a package upon delivery, be prepared for a 10% restocking fee.
Conclusion
The Segway Ninebot ES1L Electric Kick Scooter is a reliable and budget-friendly option for those seeking a basic city commuter scooter. While it may not be the fastest or smoothest ride, it offers decent performance, portability, and durability at an affordable price. The ES1L is best suited for short distances on well-maintained surfaces, making it an ideal choice for urban commuters and students. However, if you're looking for higher speeds, extended mileage, or superior hill-climbing capabilities, you may want to explore other options. Overall, the Ninebot ES1L is a solid investment for the ones who value affordability and functionality in their daily commutes.
Get The Product Here!