Segway Ninebot
eMoped C80
key advantages
eMoped & e-bike at once
AutoLock Mechanism
Smartphone control through mobile integration
estimated
delivery
November 2020
Smart TV's… Smart Home… what if there was smart transportation?
Well, Segway just brought you a smart eBIKE!
This moped of the future comes with an Auto-Lock mechanism, which automatically locks when you get up from the bike. On top of that its smart Air-Lock System will "unlock" the segway without the need of a key. Say goodbye to the unnecessary jingling keys!
So strap in… and ride into the future the Seg-way!
Tech I Want Score
A rider? If yes, then welcome, if no, you'll be soon! In this review we will be referring to Segway Ninebot e-Moped C80 smart bike's big and small features to find out how well it performs in the competition, how innovative it is and how trustworthy the team behind is. Let's get into it together right now!
The Product
Innovation
Is this a truly new product that you can't find on the market? Or this a product that defines an entirely new product category. In some cases, the combination of several features into one or the introduction of a new feature to an old product are also considered to be an innovation.
In the big and rapidly developing world of e-bikes and mopeds, e-Moped C80 manages to step ahead being the one to combine both of these. Starting from its moped-style design, proceeding with intelligent driving system and reaching to the point of high-level convenience, e-Moped C80 smart e-bike brings together the features you have tried to find in e-bikes and mopeds with a smooth and seamless driving experience.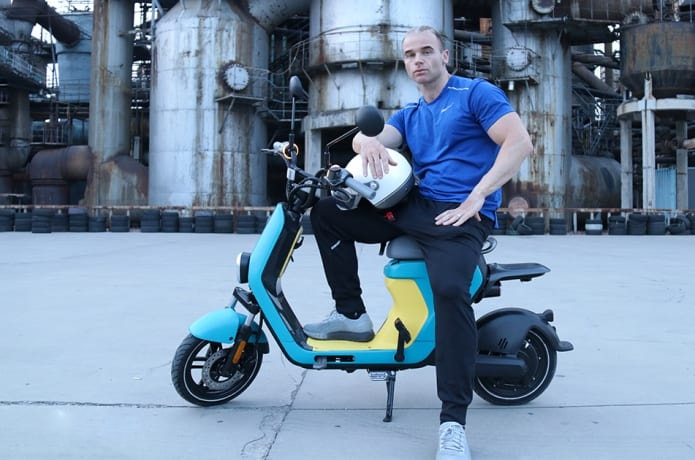 The built-in anti-theft mechanism provides a fast detection of any theft attempts and sends notifications to the smartphone immediately. Locking is another quick and easy step, yet vital and strong. Again, to keep it as simple as possible, your smartphone becomes your key and takes the ride in its hands through the AirLock System. A mobile application is available to make this step as seamless as possible. 
Park your smart e-bike without even worrying about locking it. The auto-lock mode will do it for you within just 3 seconds you have left the vehicle. To put it in a single sentence, e-Moped C80 appears to be writing a new page into the well-known e-bike and e-moped story. 
Competitiveness
How much better is it than the competition? Is it faster? Bigger? Cooler? More affordable? There needs to be a solid reason why you should back this project over any other.
| | E-Moped C80 | Fuell Fluid | Scorpion e-moped | Superstrata Ion |
| --- | --- | --- | --- | --- |
| Price | $1899 | $3985 | $2799 | $1799 |
| Speed (up to) | 32 km/h | 45 km/h | 45 km/h | 32 km/h |
| Battery | 48V 24AH | 48V 217AH | 52V | 36V 7AH |
| LED Headlamp | ✅ | x | ✅ | x |
| Weight | 55 kg | 31 kg | 46 kg | 11 kg (size-dependent) |
| Auto-lock mechanism | ✅ | x | x | x |
| Mobile integration | ✅ | ✅ | x | x |
| Range | 75 - 85 km | 200 km | 120 km | 96 km |
In the tough competition, where e-bikes are combined with mopeds and there is so much to compare and contrast, Segway e-moped C80 smart e-bike proudly stands out with its advanced AI system, auto-lock mechanism and with the comfort it creates for its users. The relatively affordable price is another strong point one should be taking into account when considering getting a moped or an e-bike. Or maybe both of them – Segway e-Moped C80.
Product Competitiveness Score
The Team
Expertise
How capable is the team? Will they be able to pull off their design? Experienced engineers, designers, market analysts, operations and other specialists have a huge impact on a project's success.
Segway has managed to pass a long journey since its very first innovation in 1999. The self-balancing personal transporter, the very famous one, announced the beginning of the multiple creative products the team was going to come up over its manufacturing experience.
Over the 2 decades of existence, Segway managed to give birth to the most diverse transportation and entertainment products, which all can be found on their website. Starting from various editions of Ninebot Kickscooter SE2 and reaching to the ongoing e-moped C80 innovation, Segway has manufactured plenty of transportation devices to make sure you have as many options available to you as many you would hardly even think of. To get to know the variety of innovations Segway has brought to the transportation market, you can check out their website, and also purchase any of your desired ones. 
Experience
Have they developed something like this before? Do they have crowdfunding experience? Manufacturing experience? A lot of campaigns fail to deliver their product because they don't know what they're doing. Or they might spend all the raised funds on getting a fully functional product, but fail to mass-produce it.
As it can be observed, Segway did a great job at utilizing time to grow and develop. Many of the products that are currently available on their website to review and to purchase, have had their story beginning on Indiegogo and have been a result of a well-planned and dedicated crowdfunding journey.
The Indiegogo community has "encountered" Segway's innovations for 8 times. The team managed to attract the community's sympathy starting from their very first campaign – The Drift W1 e-skates.  $1,044,942 USD raised with the support of 2320 backers believing in the new-born team's success and growth. And the team put a huge amount of effort to not let down its backers. 
The 2018 success was followed by another million dollar campaign. The Ninebot Electric Gokart  came to the stage in the same year and won the hearts of 927 backers. Each of the proceeding campaigns were demonstrating the evidence of the hard work the team was conducting to keep the innovative mood on and to do a step further.
The Ninebot Max ultimate electric Scooter, the Dirt E-Bike and the Kickscooter ES2  are the Indiegogo ancestors of the ongoing e-Moped C80 campaign. And it is as obvious as it can get, that the team has been doing an absolutely amazing job at both crowdfunding and manufacturing.   
Transparency
How transparent are the campaigners? Do they give their backers valuable updates on their progress? Having credible and reliable campaigners is one of the deciding factors in building the trust that backers look for.
2 ongoing campaigns right now and I'm trying to check how open the team is when delivering updates about the campaign status. Thus, 4 updates on Gokart Pro, and the last one refers to shipping. The team is planning to start the shipping process in mid-October, which is earlier than the mentioned shipping date – December. 
Back to the very first campaign to check the deliverability speed and status, the original shipping date, which was December, 2018, was changed to March, 2019. The shipments, however, were completely done in January, 2019.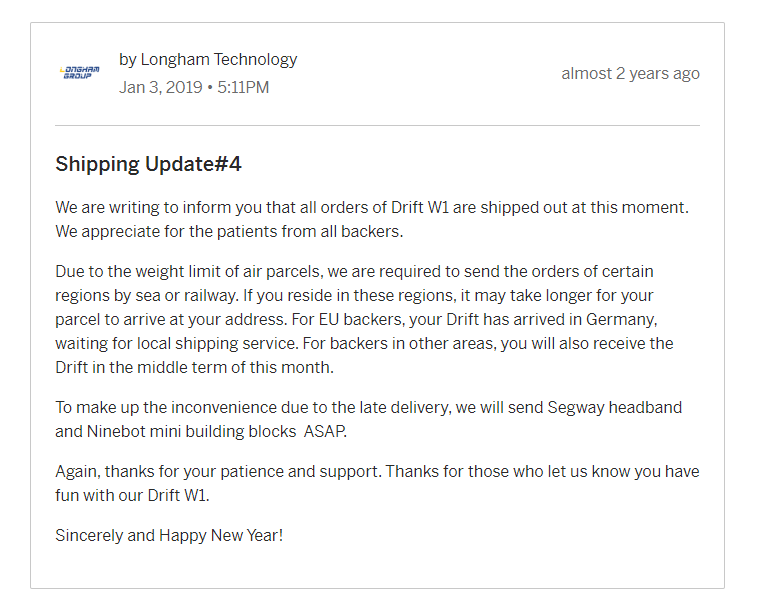 Staying loyal to their own deadlines and also being honest with backers about the probable delays, problems & obstacles. 
Responsiveness
How responsive are the campaigners? Do they engage with their backers? Crowdfunding is all about community, sharing information and building a meaningful relationship with the people who fund your project.
More than 1300 comments on the first campaign. Lots of engagement here. Not all of them are demonstrating satisfaction about the shipping process or the product, though. 
Some late replies here, but still, addressed problems we see: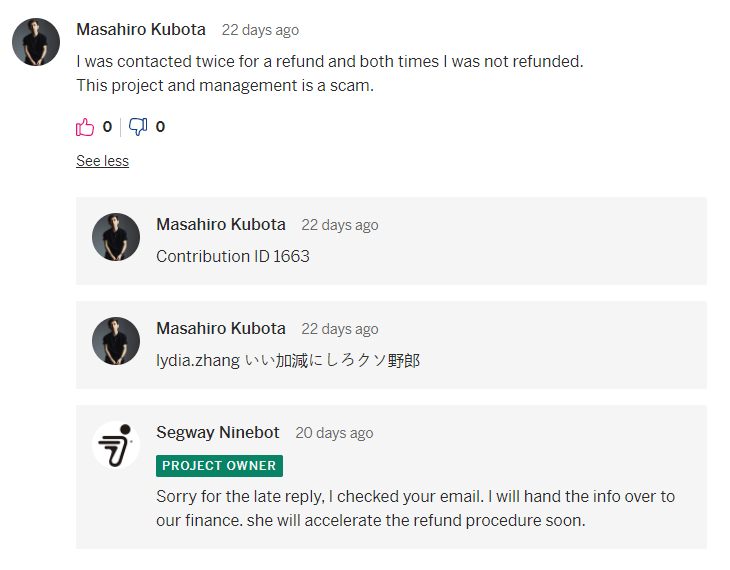 Some award-winners for the current e-Moped C80 backers. And some exciting rewards here: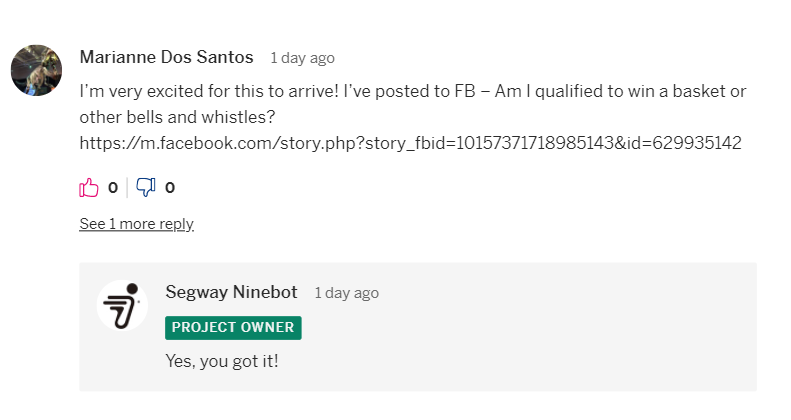 To sum up, we are dealing with a seriously experienced team of experts, who have seen and done a lot in the transportation industry and have managed to find their inherent place in it. The high-quality products and the well-prepared team are a strong combination to become a change-maker. 
Team Responsiveness Score
TIW Total Score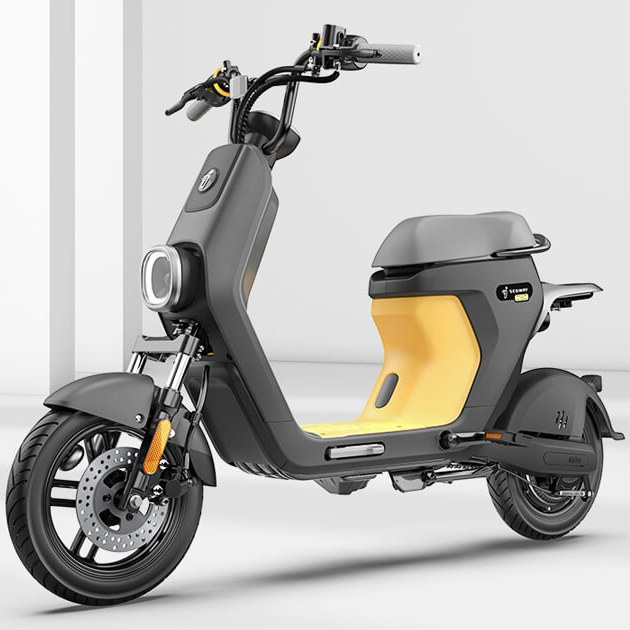 Segway Ninebot
Segway Ninebot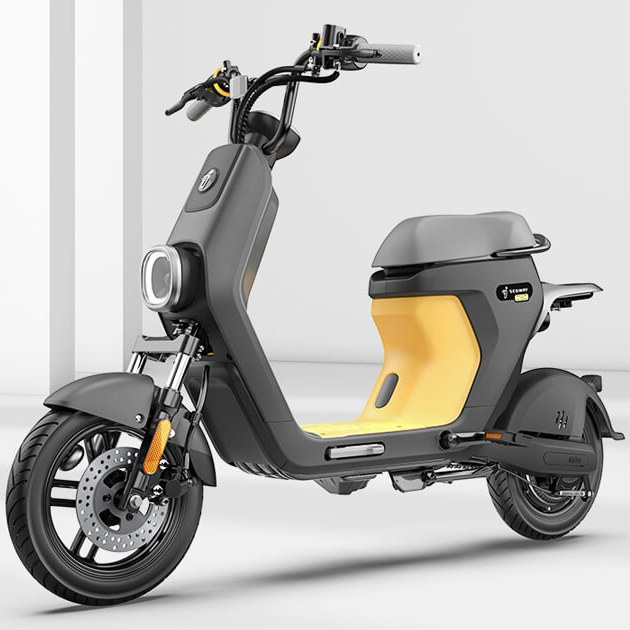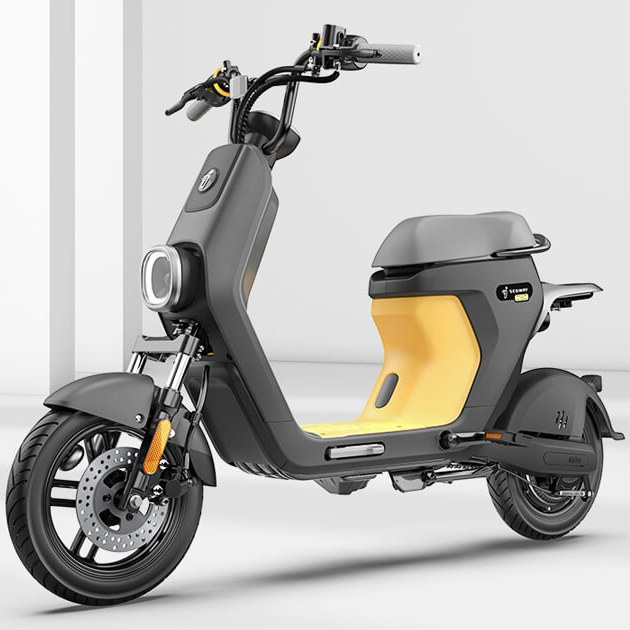 Limited time offer
d
·
: :