key advantages
Electrolyzed water sterilization
One-button water spray
Self-cleaning system
estimated
delivery
July 2022
ROIDMI NEO sucks…
But in a good way.
It's a cordless wet and dry vacuum cleaner for home with electrolyzed water sterilization technology.
"What the hell does that mean?" you may ask.
Well, we will discuss it in a minute. But first, let's have a quick overview.
After they successfully raised $4m with 11 crowdfunding campaigns, ROIDMI is back again with a new product. This time it's a self-cleaning vacuum cleaner.
So let's now squeeze every piece out of this campaign based on 4 Tech I Want Criteria – innovation, competitiveness, reliability, and attitude.
The Product
Innovation
Is this a truly new product that you can't find on the market? Or this is a product that defines an entirely new product category. In some cases, the combination of several features into one or the introduction of a new feature to an old product is also considered to be an innovation.
A cordless wet and dry vacuum cleaner is simply a machine that can suck both liquid and solid debris. ROIDMI NEO runs on a battery and there's no need to plug in while cleaning. It uses self-cleaning and self-drying technology, so there's no need to do it the old way either. It vacuums, mops, and sterilizes all at once which ultimately brings us to the innovative part of this product.
According to ROIDMI, you don't need any cleaning solution. All you need is to fill the vacuum tank with tap water and you're ready to go. The roller brush of ROIDMI NEO is designed with an exclusive water spout on it. So before removing dried tough stains you can spray some water to dissolve and soften them. But it's not just water. It uses water electrolysis technology which can electrolyze water into hydrogen peroxide (H₂O₂), achieving a 99% sterilization effect.
We will not go deep into science but for general understanding, I will describe it in 2 words. 
The electrolysis of water is the process of using electricity to decompose water into oxygen and hydrogen. Then coming into contact with air hydrogen peroxide (H₂O₂) is created. However, the conductivity of water is very low and for typical water electrolysis, you'll need to add something to pass the current. In general, it's salt. I could only find 2 pieces of research that use only water, air, and electricity to create hydrogen peroxide – one from RICE University, and the other one from MIT. 
ROIDMI doesn't mention the exact technology how this works. Well, it's an innovation, isn't it? 
However, the fact that your cleaning doesn't require any use of chemicals is quite revolutionary. Compared to other cordless wet and dry vacuum cleaners it's never been seen before. We will get more into it in the next section. 
Additionally, hydrogen peroxide is good for sterilization and has many uses for cleaning. According to the Centers for Disease Control, hydrogen peroxide is effective at removing microorganisms, including bacteria, yeasts, fungi, viruses, as well as spores.
Competitiveness
How much better is it than the competition? Is it faster? Bigger? Cooler? More affordable? There needs to be a solid reason why you should back this project over any other.
| | ROIDMI NEO | Jimmy HW10 | Tineco S5 | Bissel crosswave max |
| --- | --- | --- | --- | --- |
| Battery capacity | 3500 mAh | 3800mAh | 4000 mAh | 4400 mAh |
| Runtime | Up to 35 mins | Up to 40 mins | Up to 35 mins | Up to 30 mins |
| Cleaning area coverage | Up to 150 m2 | - | Up to 130 m2 | Up to 100 m2 |
| Suction power | 12.4 kPa | 18KPa | - | - |
| Motor power | 180/250 W | 350 W | - | 250 W |
| Smart stain sensor | ✓ | ╳ | ✓ | ╳ |
| Electrolyzed water sterilization | ✓ | ╳ | ╳ | ╳ |
| Cleaning solution | ╳ | ✓ | ✓ | ✓ |
| One-touch water spray | ✓ | ✓ | ╳ | ╳ |
| Self-cleaning | ✓ | ✓ | ✓ | ✓ |
| Self-drying | ✓ | ✓ | ✓ | ✓ |
| 2 Tank system | ✓ | ✓ | ✓ | ✓ |
| Clean water tank capacity | 750 ml | 500 ml | 800 ml | 825 ml |
| Dirty water tank capacity | 690 ml | 400 ml (liquid) 200 ml (solid) | 700 ml | 550 ml |
| Solid-Liquid Separation | ✓ | ✓ | ✓ | ✓ |
| Smart LED screen | ✓ | ✓ | ✓ | ✓ |
| Smart app control | ✓ | ╳ | ✓ | ╳ |
| Smart voice assistant | ✓ | ✓ | ✓ | ╳ |
| Enhanced Edge Cleaning | ✓ | ✓ | ✓ | ✓ |
| Operating noise | 78 db | 82 db | 78 db | 75 db |
| Charging time | 4h | 4h | - | 4h |
| Net weight | 4.5 kg | - | 4.5 kg | 5.22 kg |
| Price | $399 | $635.87 | $599.99 | $559.37 |
Cordless wet and dry vacuum cleaners have been on the market for a while now. So how does ROIDMI NEO compare with other vacuum cleaners? Considering overall features, it is pretty similar in terms of its capabilities.
But some features are different and, above all, exciting with ROIDMI NEO. The water, which is disinfected during the electrolysis in the tank, is not dispensed directly onto the roller. It is sprayed in front of the roller. Incidentally, this is also how the water release works with the vacuum cleaner from Jimmy Technology.

The price of the RODIMI NEO is significantly lower than the competition. Considering the capabilities and features, it gives a competitive advantage.
It's important to note that the battery of ROIDMI NEO is consumable. Meaning the longer the use time, the lower the energy efficiency. After 500 charge-discharge cycles, the capacity begins to decrease significantly, resulting in a shortened battery life. Although they offer a 1-year warranty, you cannot replace the battery yourself.
You might also want to check this Tineco vs Bissel video review to get a clearer idea about the competitor vacuum cleaners in action.
Product Competitiveness Score
The Team
Reliability
How capable is the team? Have they developed something like this before? Do they have crowdfunding experience? Manufacturing experience? A lot of campaigns fail to deliver their product because they don't know what they're doing.
The RODIMI belongs to the Xiaomi ecosystem and is already known for several cordless vacuum cleaners and vacuum robots. It has also been in the crowdfunding industry for a while – with 11 successful crowdfunding projects. 
However, after reviewing customer feedback from previous campaigns, it seems like they have some logistic issues. Many people were experiencing delivery troubles, delays, or missing product parts. Some customers have not even received their stuff.
Also, the information presented on the website and the campaign are not consistent.
For example, they claim that ROIDMI NEO is a 3-in-1 vacuum cleaner. However, it's not clear what they mean by saying it. Once they affirm it's "Sterilization, mop, and vacuum 3-in-1". Then they state it's "Sweep, mop and vacuum 3-in-1". 
Another example would be machine power. They mention both of these numbers for the motor power – 180W and 250W.
Finally, the water tank sizes. In the text, they mention both tanks have 720ml capacity. Meanwhile, when you scroll down a bit you can see an image where it says that the dirty water tank capacity is 690ml. 
This is probably a content issue, but it's pretty confusing.
In addition, I've reached out to their customer support in order to understand the exact process of the water electrolysis but they never get back to me. I could though find this comment which is again confusing and doesn't match what they advertise.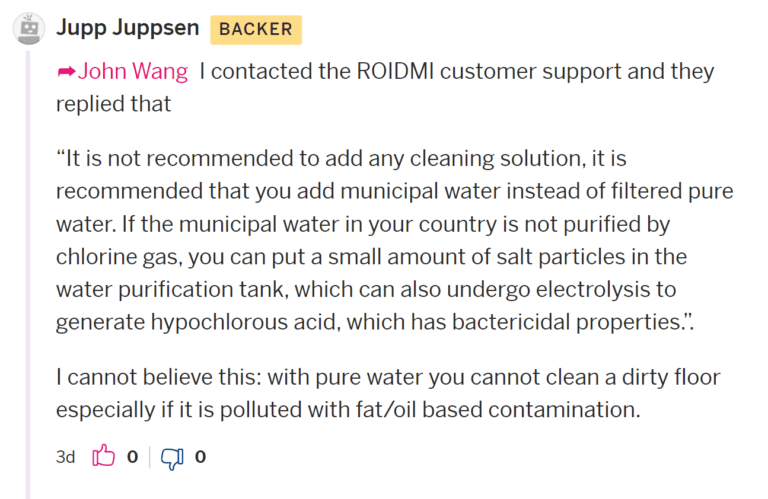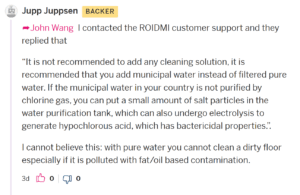 Here they have mentioned that the process of electrolysis generates hypochlorous acid. Meanwhile, on their website and campaign page, they claim it generates hydrogen peroxide. I know it's a lot of languages, but these are different things. However, it's true that both of them have antibacterial properties.
Attitude
How transparent are the campaigners? Do they give their backers valuable updates on their progress? Do they engage with their backers? Crowdfunding is all about community, sharing information, and building meaningful relationships with the people who fund your project.
The attitude part seems a bit out of place. The campaign owner tries his best to reply to all the comments. There are though some delays. Plus, the tone of voice is not the warmest. Also, if you look at the replies in the discussion section you may have some trouble understanding them. There's a language barrier as the replies are not very coherent.
Conclusion & Public Opinion
The ROIDMI NEO is a vacuum cleaner that uses water electrolysis for sterilization and doesn't require any detergent or other chemicals for cleaning. If this innovation really works then it could be a real game-changer in the cleaning industry.
Considering the competition, ROIDMI NEO is quite similar to the ones in the market. Nevertheless, it offers some new features, including water sprout and water electrolysis. It also has a competitive edge in terms of price. 
They have a notable crowdfunding experience in the past. Plus, they are a part of the Xiaomi ecosystem which gives confidence. Even so, they seem to have some inconsistency in their content and replies.
Well, if I was in the market for vacuum cleaners I wouldn't risk giving the NEO a try, as I lack scientific proof of its innovation. Plus there's only one real-life video that demonstrates the machine in action, and it's owned by the company. But if you are someone who is curious about testing this out then you'd probably want to back this thing right now!
Limited time offer
d
·
: :