Product Overview
Are you searching for a mid-range robot vacuum with powerful suction that provides you with gleaming floors and spotless carpets, leaving no crumbs behind? If that's the reason you're here, then the Roborock Q5+ could be exactly what you're looking for.
Armed with 2700 Pa robust suction and app control, you can thoroughly control the robot's route, add no-go zones and adjust the cleaning zones at your place. But wait, there's more! Another exciting feature this model by Roborock offers is the auto-empty bin and a large 2.5-liter debris bag where this stylish vacuum robot can store up to 7 weeks of dust and debris gently collected from your floors, rugs, and carpets.
Are you now excited to learn more about this product? We've collected all the useful information about this terrific all-around performer and condensed this massive data into this small and brief article. Now, let's dive right in and explore this fascinating vacuum in more detail.
Technical Specifications:
| | |
| --- | --- |
| Max Suction | 2700 Pa |
| Vacuuming | Single Main Brush |
| Navigation | Lidar Navigation + SLAM |
| Product Dimensions | 20.28″L x 16.93″ W x 15.75″H |
| Controller Type | App Control, Button Control, Voice Control |
| Filter Type | Washable |
| Capacity | 2,5 liters |
| Item Weight | 15,4 pounds = 7 kilograms |
| Battery Requirements | 1 Lithium Ion battery (included) |
| Battery Life | 3 hours |
| Compatible Devices | Smartphones, Amazon Echo, Google Home |
| Included Components | 1* Q5 Robot Vacuum Cleaner, 1* Auto Empty Dock Pure,1* Power Cable, 1* User Manual |
Get The Product Here!
---
Who should buy the Roborock Q5+?
If you're all about getting a high-quality robot vacuum with robust suction, lidar navigation, and auto-empty bins, then you might find this model by Roborock just fascinating! Although, it's to be noted that Roborock Q5+ doesn't have a mopping feature that many users also consider before making a purchase.
Also, if you're a pet owner with two or more clawed companions by your side, then this model might not be the perfect match for you, as pet hair usually gets tangled around the Q5+ brush roller which results in a less productive cleaning. And, by the way, the brush roller that comes with Roborock Q5+ is the older style from three generations back and doesn't effectively deal with long hair on the floor.
But there's a solution to this tiny problem! Vacuum Wars proposes a trick that will fix this problem once and for all. As Roborock Q5+ is compatible with new brush rollers, you can replace it any time and forget about your pets' hair getting tangled around it.
The experts from Vacuum Wars conducted a "torture test" where they hadn't vacuumed the house for a whole week and then started their Q5+ to clean all the cat hair from the ground, but unfortunately, the test failed and the hair got stuck in the evacuation process — which, as they claim, is absolutely okay and most other robot vacuums fail at this test, too.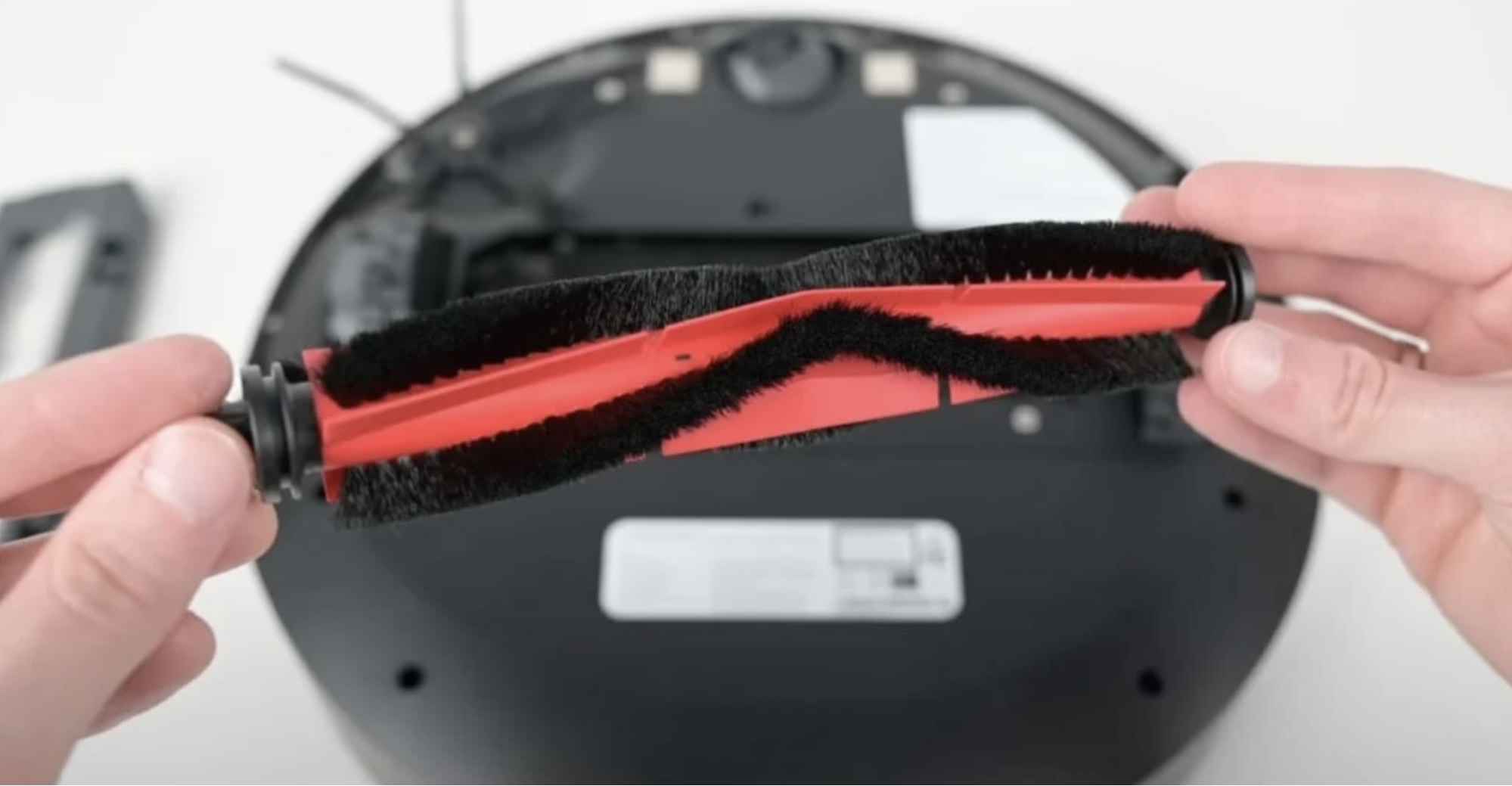 To sum up, if you're a busy pet owner who can't manage to start their Roborock Q5+ at least every two days to clean up pet hair from the floor, then this model might not be what you're seeking.
On the opposite note, if you don't have many pets and don't really care about the mopping system of a robot vacuum, then Roborock Q5+ is exactly what you need.
---
What are the experts saying?
Expert reviews of the Roborock Q5+ are mainly positive, as this fascinating robot vacuum is a true "bang for your buck" option. It's perfect for bare floors and can eliminate irritating small debris with ease. And there's more! It's designed in a way that allows it to effortlessly glide under your chairs and tables, ensuring thorough cleaning in those hard-to-reach areas.
Roborock Q5+ received a decent 7.8/10 rating for bare floors from RTNGS.com. But, it needs to be said that this stylish robot doesn't effectively deal with pet hair on low-pile carpets which resulted in a 5.3/10 rating for the pet category. And if your pets shed a lot of hair during the day, then Roborock will have a hard time cleaning them up.
Another expert from Makeuseof.com claims that "Roborock Q5+ will clean your floor exactly where and when you tell it to." They gave a high 8.5/10 score to Q5+ and note that the robot is more than you may require, given the fact that you can have the robot do the cleaning simply by the tip of your finger. Overall, its LIDAR mapping sensor, powerful suction motor, and 5200 mAh battery with a 3-hour runtime makes it totally worth the price.
Although, with all its pros and cons, this device has another possible downside to the list. TechHive's verdict after rigorous testing with Roborock Q5+ unearthed that the vacuum's inability to recognize a full dustbin may pose a challenge for some users. So, it's good to be aware of this device's pros and cons before making a purchase. Now, let's briefly look at some of the features of this round-shaped robot vacuum that experts deem noteworthy.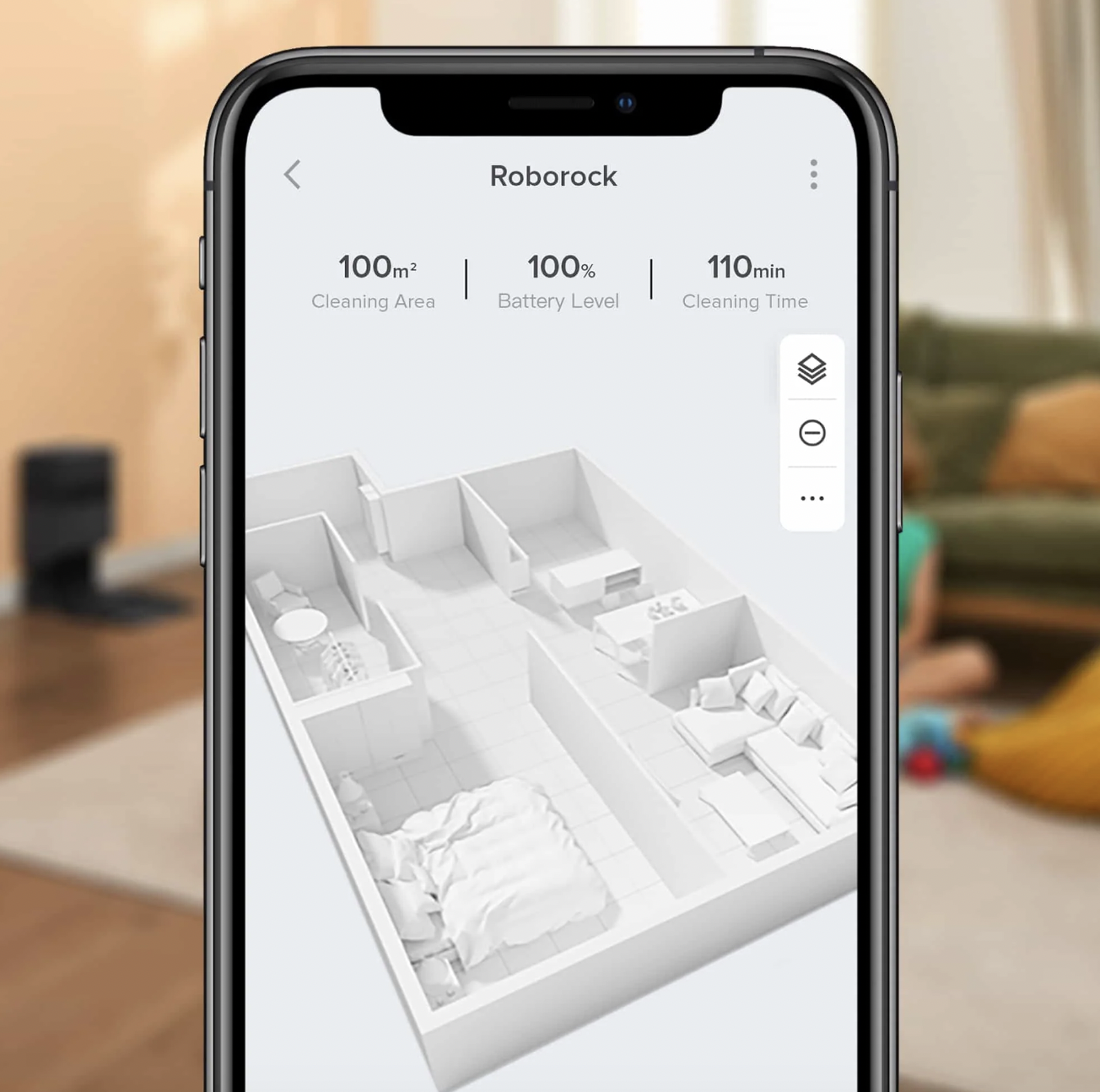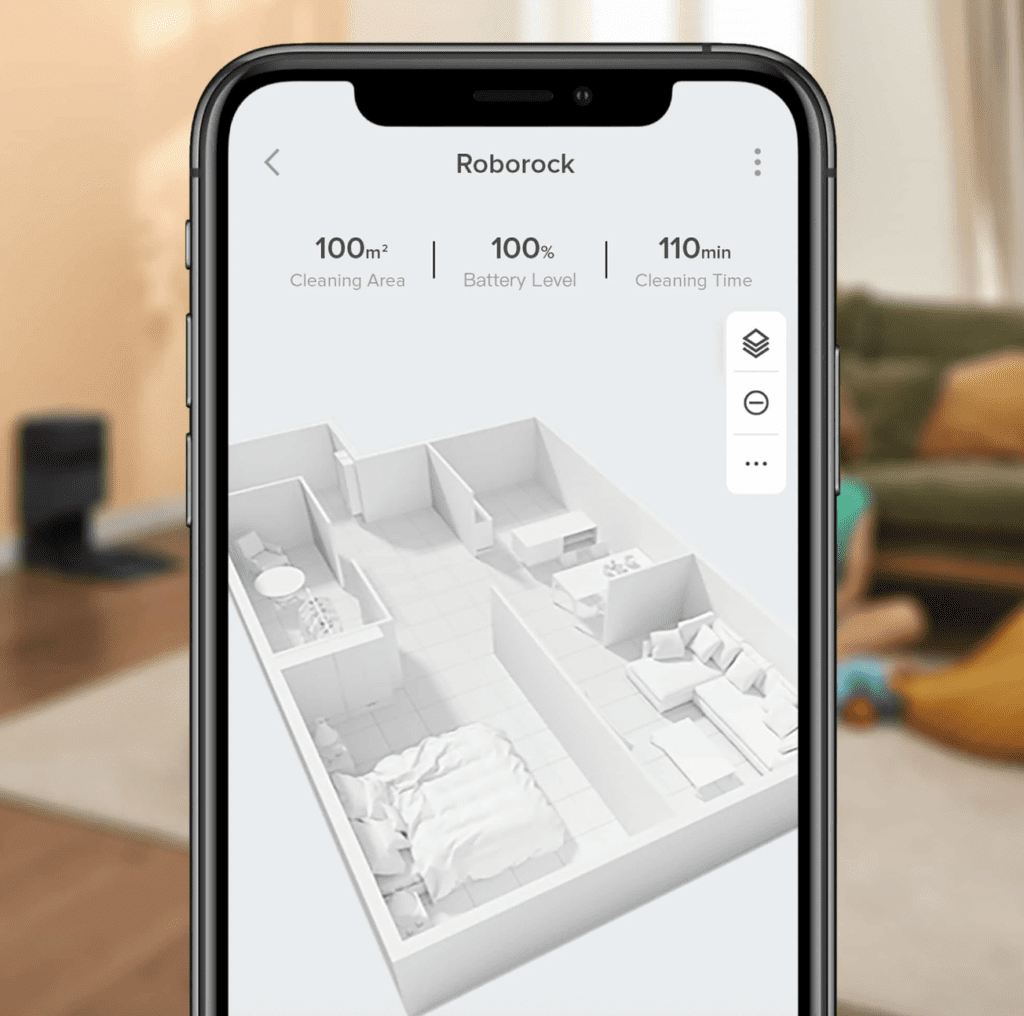 Robust Suction Power
Roborock Q5+ with its maximum 2700 Pa suction motor has 4 suction modes — Quiet, Balanced, Turbo, and Max. What's fascinating about this vacuum is that it will automatically switch gears when transferring from the hard floor to the carpets. How cool is that, right?
Mapping
For every routine cleaning, Roborock Q5+ has a plan up its sleeve. The first time Q5+ is turned on, it starts looking around to grasp the basic structure of the house. After scanning its surroundings, the robot splits the room into pieces and does the cleaning in an organized fashion. The robot starts by cleaning room edges first and then moves on to a zone-by-zone vacuum in zig-zag patterns.
The Roborock App Features
Also, you can adjust no-go zones in the Roborock App to keep it from going places where you think it might get stuck. Simply draw boxes and lines on the map and you're good to go. But that's not all, it also has a "zone cleaning" feature where in the app you can manually separate a section of your house and tell it to clean that exact area only.
Auto-Empty Bin
The last feature that makes this robot vacuum stand out when compared to many other models is the auto-empty bin. When the robot finishes the cleaning and returns to its base, the motor in the base kicks in and sucks the debris out of the robot's dustbin into the included disposable bag. This user-friendly feature won't let you carry out the procedure on your own.
Get The Product Here!
---
What are the customers saying?
Most users are extremely satisfied with Roborock Q5+ which is rated 4.5/5 on Amazon. Many users claim that this product gives you almost everything you're looking for in a robot vacuum — it provides you with good-quality vacuuming on most surfaces, can distinguish bare floors from rugs and carpets, and so much more.
Many other users love how easy the Roborock app is to use. It's simple, yet comprehensive. Customers are really fond of the mapping system offered by this smart robot vacuum. Some users on Amazon reported that before getting a Q5+, their old models would run randomly around the house and leave some spots untouched.
But here, to many users' surprise, Roborock Q5+ can distinguish rooms and plan an effective route to sweep through your place, leaving it clean and shiny. Also, it's not too loud and is absolutely bearable when compared to other models out there according to many Amazon reviews. Many other users are also impressed with the suction power and carpet work. Some customers also claim that it does a relatively better job than traditional vacuums.
Yet again with all its pros, this product also has downsides that some users have reported on Amazon. A user on Amazon reported that when the vacuum scans a black-colored spot on the carpet, it tries to go around it. According to the user, the vacuum sees it as a cliff and avoids going near it. I know it sounds strange, but it might as well be true.
Lastly, some users have also reported device malfunction within a year of use. Well, these kinds of problems might happen with almost every product we buy, and it's not unheard of. The majority of Amazon users, however, haven't had a problem like this with Roborock Q5+ and it's very unlikely that you'll encounter this complication either.
Shipping
Any vacuum purchase from Roborock is free and is delivered within 3-5 workdays. The shipping methods include FedEx, UPS, USPS, and Amazon Logistics US. Roborock delivers its products to locations in the Contiguous United States. Shipping is not possible in Alaska, Hawaii, Puerto Rico, U.S. Virgin Islands.
Conclusion
The Roborock Q5+ is an excellent mid-range vacuum that efficiently gets the job done. Given its price, opting for the Q5+ would be highly advantageous for non-pet owners and those who don't really need the mopping feature of a robot vacuum. With its robust 2700 Pa suction, mapping system, user-friendly phone app, and auto-empty bin, this product offers great value for the money and will transform your living space into a dust-free and crumb-free environment, ensuring a clean and tidy living area.
Get The Product Here!