key advantages
Thin, lightweight & portable
Versatile-box-cutter, screwdriver, bottle-opener
Durable - made out of stainless steel
estimated
delivery
March 2021
Pocket tools and especially EDC utility knives are gaining popularity as fast as rockets reach the Universe. The fact that one day the multi-purpose pocket knives will become must-have carry items is undeniable. The proof is that crowdfunding platforms are full of this kind of products and the majority of them become widespread and raise millions of dollars. One of those EDC utility knives that really caught our attention is the RAZOR.
Your knife, pry bar, screwdriver, wrench and bottle opener are combined in a small and compact RAZOR. From now on you don't have to carry all these tools as RAZOR is here to do everything. Do you like the idea? This EDC utility knife is extremely small in size and you won't even feel it in your pocket. Or just hang it from your key chain to never lose it. Let's together discuss and discover all the technical features and specifications of this tiny yet mighty product.
| | |
| --- | --- |
| PROS | CONS |
| ✅ All-in-One | ❌ Price is slightly high |
| ✅ Lightweight and Durable | |
| ✅ Lifetime Warranty | |
The Product
Innovation
Is this a truly new product that you can't find on the market? Or this a product that defines an entirely new product category. In some cases, the combination of several features into one or the introduction of a new feature to an old product are also considered to be an innovation.
As I already mentioned above RAZOR is a unique combination of several household tools. It is extremely small and can easily rest in your palm as the length(opened) equals to the length of human's palm. A 2.8cm-length blade is capable to cut boxes, thick leather, and even a bunch of thick threads, so get the utmost pleasure of the sharp cuts. This EDC utility knife is not alone. Bottle opener, wrench and pry bar are knife's inseparable friends and they teamed up to better your life and seamlessly make your everyday tasks easier without putting much efforts and energy.
The thing that needs to be highlighted here is the material that provides high quality and durability. 440C black stainless steel makes the RAZOR extremely tough by keeping it sharp and allows a long period of usage without rusting. And the team gives you a lifetime warranty. Whenever it breaks, go and replace it with a new one. Really great. And of course, the design is really very minimalistic and slim. Easy to use, easy to carry. Place it in your pocket, hang it from your key chain and be the very beloved hero to solve the utility problems.
Competitiveness
How much better is it than the competition? Is it faster? Bigger? Cooler? More affordable? There needs to be a solid reason why you should back this project over any other.
| | RAZOR | Gerber Prybrid | Edcfans |
| --- | --- | --- | --- |
| Price | KS $25 | $20.32 | $19.99 |
| Material | 440C stainless steel | - | Stainless steel |
| Dimensions(cm) | Opened- 8.8 Handle length- 6 | 10.8x3.3x1 | 8.9x2.5x0.5 |
| Weight(g) | 56.7 | 120 | 136 |
| Components | Pry bar, Wrench, Bottle opener, Screwdriver | Pry bar Wrench , Nail puller, Bottle opener, Wire stripper | Screwdriver , Wrench(different sizes), Bottler opener, Mini ruler |
Razor is the lightest and smallest EDC utility knife compared to the rest. That is a big plus as you won't feel something heavy in your pocket. As talked above material plays a big role here. The sharp blade is perfect for precise cuts and is suitable for slicing and cutting different kinds of objects. 440C Stainless steel used for RAZOR is corrosion-resistant and is not rusting which is a big plus.  The biggest thing and advantage that you will get nowhere is the lifetime warranty, This is really amazing and generous from the team as you can replace your broken RAZOR no matter when you bought it. Price for RAZOR is slightly high but you can replace it for free whenever it breaks. So it turns out you can get several EDC utility knives during a course of time only for $25.
Product Competitiveness Score
The Team
Reliability
How capable is the team? Have they developed something like this before? Do they have crowdfunding experience? Manufacturing experience? A lot of campaigns fail to deliver their product because they don't know what they're doing.
Bomber and Company is the huge team that stands behind RAZOR. This is their 5th crowdfunding campaign raising in average $150.000. All the products are EDC small pocket knives with slight differences. In total, they raised almost $1mln with the help of 20.000 backers. The knives are designed not only for utility usage but for the survival in wildlife. The sharp blades are able to cut thick woods and threads helping you create a shelter while camping or wandering in jungles. The main objective of Bomber and Company is to create a better room for those who like pocket tools and make their lives much easier. The company also produces products for wildlife survival like EDC Field kit which you can find on their website. Already very experienced guys in producing best EDC knives, so we are sure RAZOR is not and exception.
Attitude
How transparent are the campaigners? Do they give their backers valuable updates on their progress? Do they engage with their backers? Crowdfunding is all about community, sharing information and building a meaningful relationship with the people who fund your project.
For RAZOR the team has 3 updates and 71 comments in 22 days. For the previous campaigns, there are more updates ( 25 on average)  not counting B-2 Nano Blade which has 72 updates. They are mostly about the manufacturing and shipping process, seasonal sales.
Why is the for backers only… couldn't find the reason.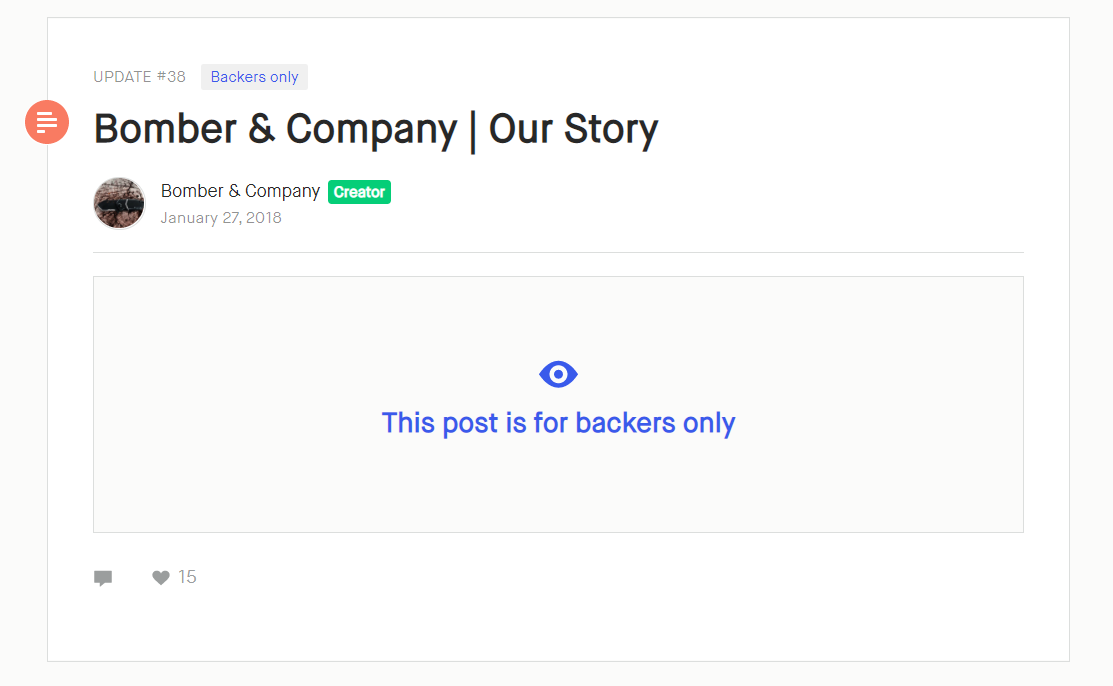 Although the comments are replied after 2 days the team is very caring and answers in details so that everything will be clear.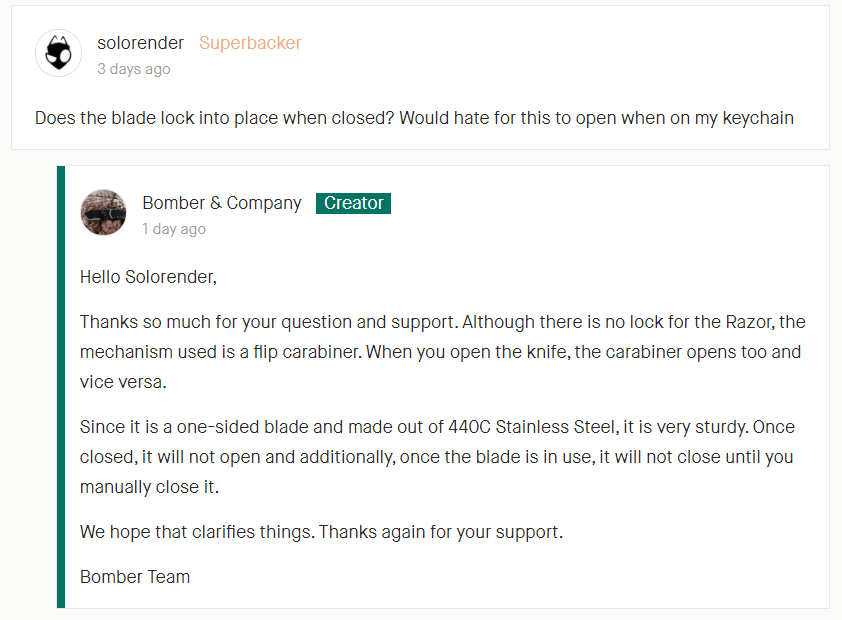 Conclusion & Public Opinion
Starting from 2016 Bomber and Company managed to produce different small pocket knives and other items for wildlife survival. Here are some reviews on their previous knives. See what people think.


So RAZOR is an all-in-one EDC utility knife which is very compact and durable thanks to the high-quality 440C stainless steel. Lifetime warranty is the thing everyone will appreciate but we have huge hopes the quality Bomber and Company provides will keep the knife sharp and durable for a pretty long time.
TIW Total Score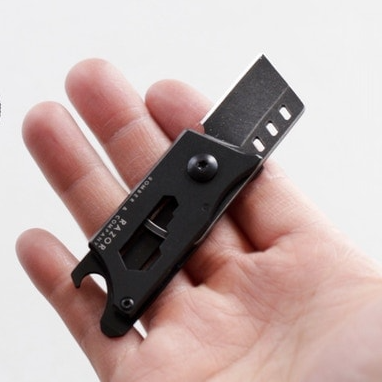 Razor
Razor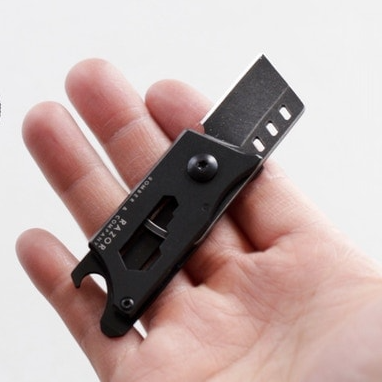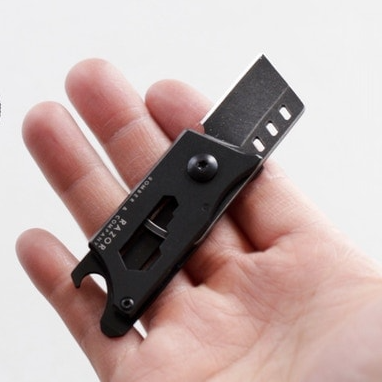 Limited time offer
d
·
: :