Welcome to the ultimate Radwagon 4 review by Tech I Want. Want to know if Radwagon 4 is the best electric cargo bike for you? Keep on reading to find out.

Radwagon 4 Overview

There are many ways to move small cargo from point A to point B. If these points are between 25-45 miles away from each other, consider the awesome Radwagon 4 electric cargo bike as your easiest option.
As one of the featured Rad Power bikes, Radwagon 4 is a powerful feat of engineering. With a patented frame that has strong mounting points all over, this electric cargo bike is a superstar. You also get an adjustable telescoping seat post with a recommended rider's height of 5'1 – 6'4.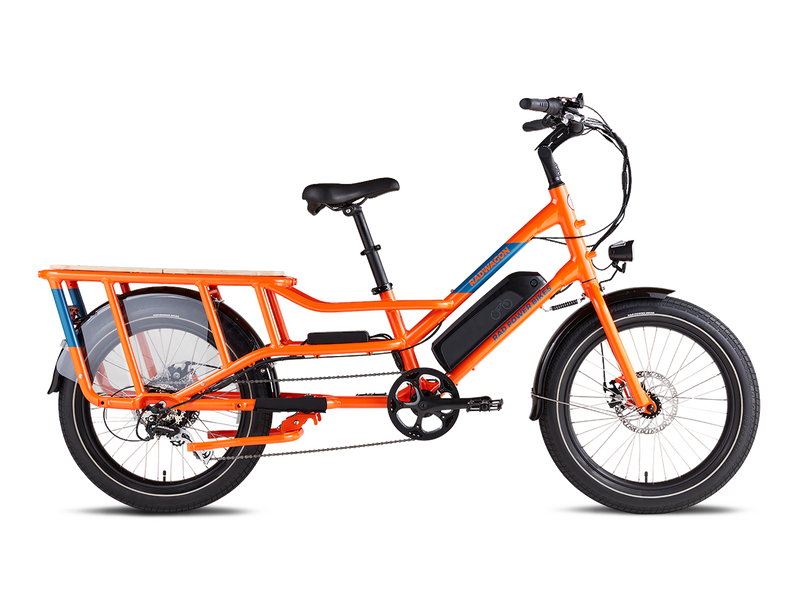 Whether you need to transport some heavy cargo or want to take your kids on a little ride around the town, the Radwagon 4 will do the trick. But, it comes at a pretty high price, which is surprisingly in the cheaper range for cargo bikes.
The Radwagon 4 is loved by families and cargo carriers alike. With all the different Radwagon 4 accessories you could get, this electric cargo bike is as versatile as it gets.
At Tech I Want, we strive to deliver the most relevant reviews of the tech you want. That is why we've scoured the web for the most reliable reviews and feedback on the Radwagon 4. At the end of the day, we want to help you understand if the Radwagon 4 is THE best electric cargo bike for you and your needs.
Keep on reading this Radwagon 4 review to learn all there is to know about this fantastic ride.

Specifications

When buying an electric transportation device, the specs are the first thing you look at. The Radwagon 4 specs are very impressive for a cargo bike. Let's take a closer look and see if the capabilities of the Radwagon 4 live up to the price.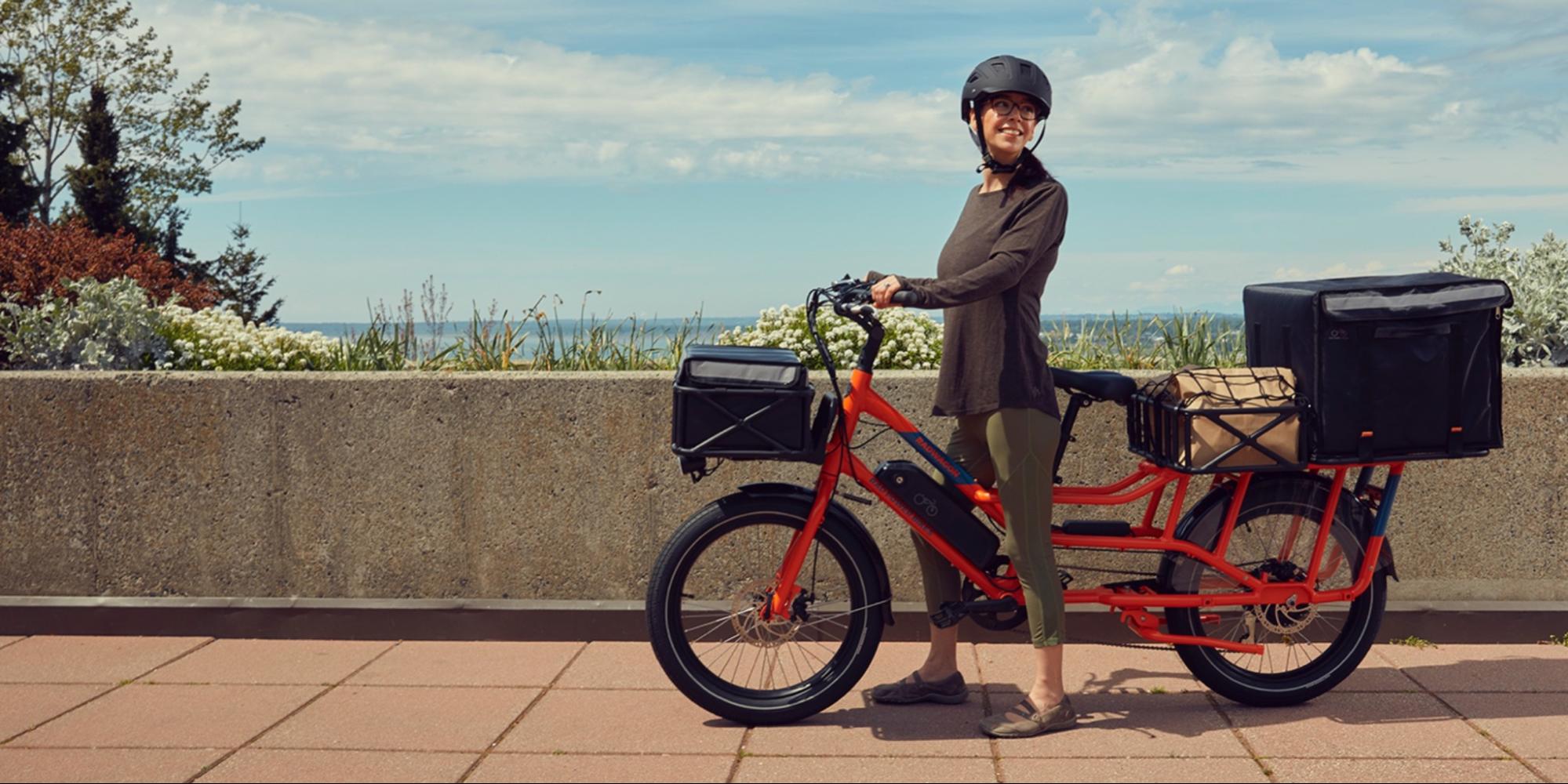 We will cover the specs measured by reviewers later on in this Radwagon 4 review, but for now, here are the specs that Rad Power Bikes claim about the Radwagon 4.
Dimensions: 78.7 × 43.5 – 47.2 inches/ 200 x 110.5 – 120 cm (LH)
Colors: Orange, White, or Black
Weight: 34.8 kg / 76.7 lb
Top Speed: 32 km/h / 20 mph
Range:38-72.5km / 24-45 miles
Battery:672 Wh, 48V 14Ah / Charging time – 3-7h
Max Load:159kg / 350lbs (up to 54kg / 120lbs cargo in the integrated rear rack)
Motor: 750W (geared hub motor)
Special Features: Various universal mounting points, patented aircraft-grade aluminum frame, 7-speed drivetrain, and 5 levels of pedal assist.

Get The Product Here!

Who should buy this (pulling strengths and weaknesses of the product)

The Radwagon 4 is one of the more budget-friendly options on the market. Plus, it has the quality that lives up to expectations.
At $1,999, the Radwagon 4 is a beast of a bike.
If you're not looking for an electric cargo bike specifically, you should probably look at other options on the market. This bike is particularly made for transporting cargo or people, and hence, the price might seem a little on the higher end.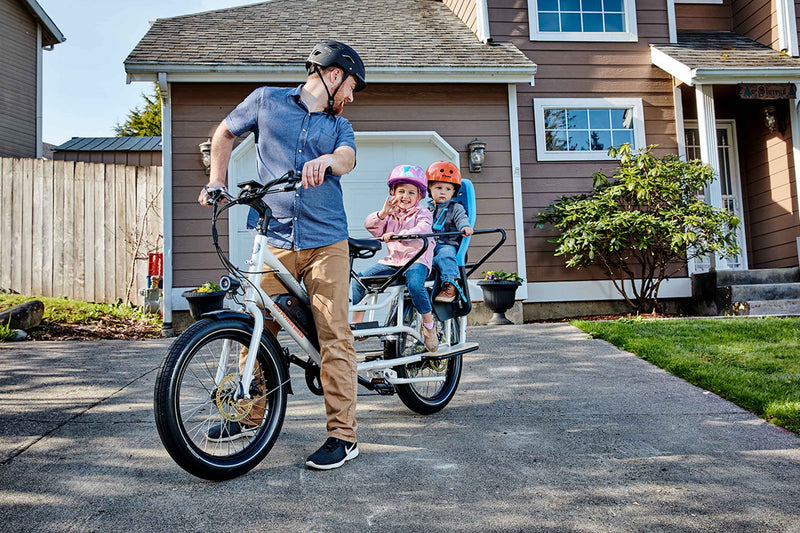 Families enjoy the ease of traveling with the kids around the town without needing a car, thanks to the Radwagon 4. If you have the budget for it, this electric bike can become an awesome childhood memory for your kids.
On the other hand, if you are in the cargo transportation business, the Radwagon 4 can become your best choice of transport.
The bike is water-resistant with sealed connectors and a wiring harness, so you can drive in almost any weather. Plus, you get to carry up to 350lbs of cargo wherever you go.
Ultimately, the Radwagon 4 by Rad Power Bikes is best for two target groups – families and those who often transport heavy (but small) cargo.
Want to take your two kids on a ride? Mount the child seats, and you're good to go!
Need to deliver some heavy but small cargo? Strap on the Caboose or any of the many front rack options, and you'll have a (small) makeshift cargo truck at your disposal.

What are the experts saying?

We've read all the most credible Radwagon 4 reviews out there, and we're ready to share the opinions of electric bike experts with you. So, is the Radwagon 4 worth it?
Overall, the Radwagon 4 is said to have great features for the price. Hence, you get almost more value than you paid for. The general opinion is that the Radwagon 4 has a good weight capacity, great accessories, long range, and more. On the flip side, the Radwagon 4 lacks in some areas, including suspension, weight, and high dependency on accessories.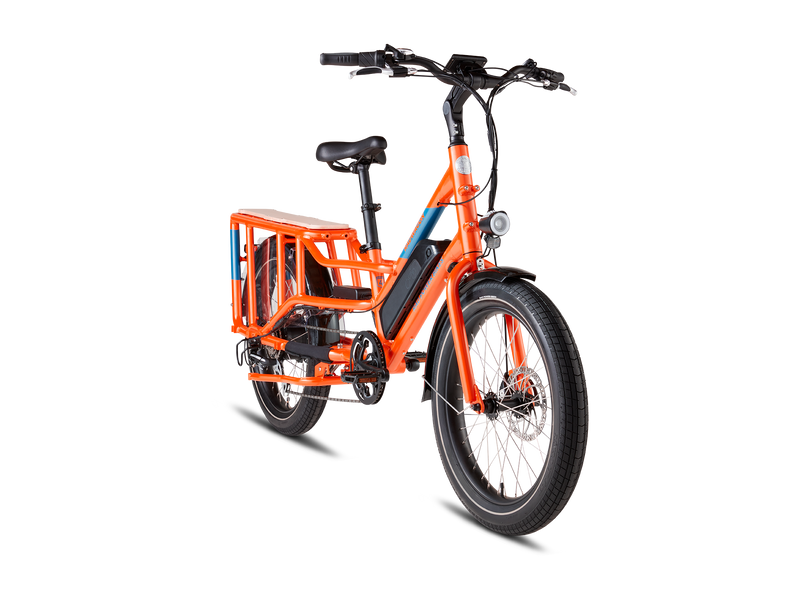 Let's dive deeper into each category of features and unpack all there is to know about the Radwagon 4.

Radwagon 4 accessories

The Radwagon 4 electric cargo bike is well known for its various accessories. In fact, you will need to purchase a lot of accessory pieces to really unlock the full potential of this ride.
From deckpads and child seats to front racks and delivery basket bags, Rad Power Bikes definitely has more than enough accessory options for the Radwagon 4.
However, this is both a blessing and a curse.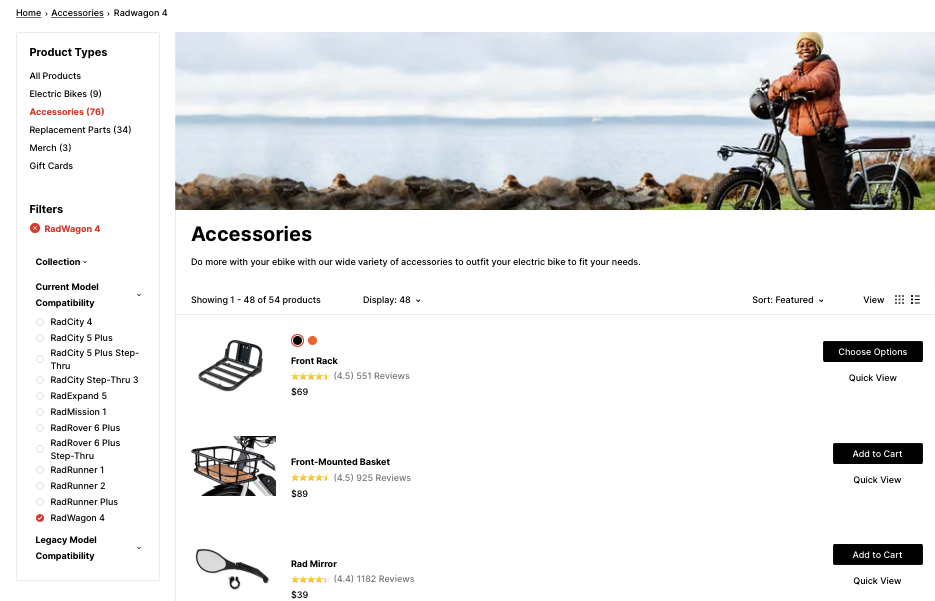 Even though you'll be able to turn your Radwagon 4 into the electric cargo bike fit for YOUR needs, you'll spend a lot of money getting there. This cargo bike is highly dependent on the Radwagon 4 accessories, so you won't get away with paying just for the bike. [OutdoorGearLab.com]
The Radwagon 4 accessories aren't too expensive, but they'll rack up to a big sum along with the standard bike's price.
It is recommended to add up the prices of the Radwagon 4 accessories you need before choosing between bikes.
The most loved Radwagon 4 accessories include the Thule Yepp Maxi Child Seat, the Caboose, Deckhand, and Deckpad. [AuthenTech]

Radwagon 4 weight

The Radwagon 4 weight is yet another blessing and a curse feature. It weighs 76 pounds, which is somewhat heavy for an electric bike. However, the weight and robustness of the bike allow it to carry up to 350 pounds worth of cargo. The integrated rear cargo has the capacity to carry 120 pounds of cargo, which is an amazing spec for many riders. [AuthenTech]

Radwagon 4 top speed

The manufacturer of Radwagon 4 claims that this electric cargo bike has a top speed of 20mph. For a heavy bike, that might seem like an average spec. But in reality, experts found that Rad Power was humble when claiming a top speed metric.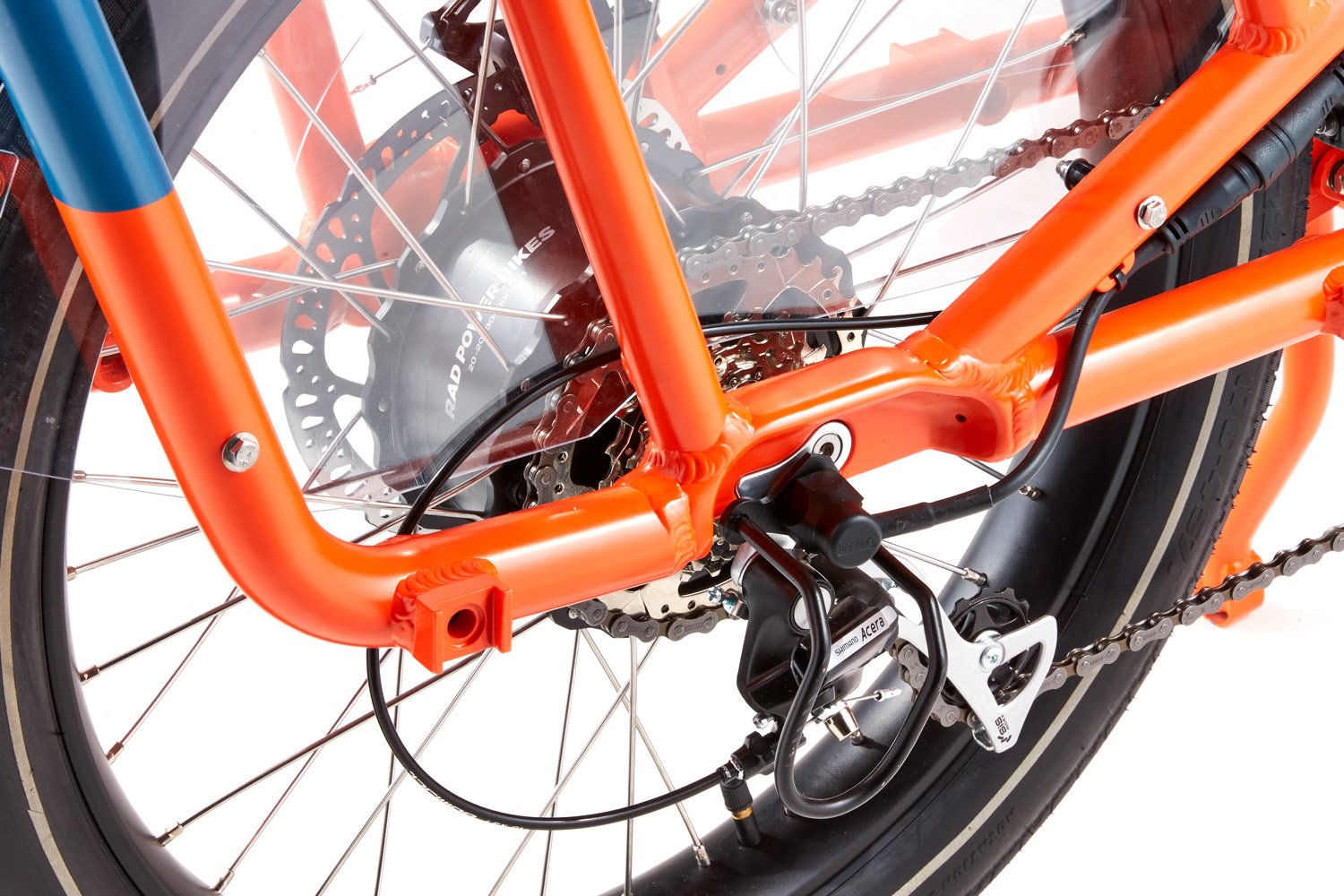 The guys over at Electric Bike Report averaged 16mph during their ride and even reached up to 30mph on a downhill trail. [Electric Bike Report]
Another reviewer measured the speed on a level surface, reaching a top speed of 23-24mph [AuthenTech].
Although many factors contribute to the speed and range of an ebike, the average top speed reviews are not disappointing.

Radwagon 4 length

The length of the Radwagon 4 is always a topic of interest for most buyers.
In this case, the length of Radwagon 4 is 2 meters (almost 80 feet) long. As you can tell from one glance, the rear rack is very spacious. It will fit 2 child seats or many delivery boxes and even a large delivery bag for UberEats drivers. [AuthenTech]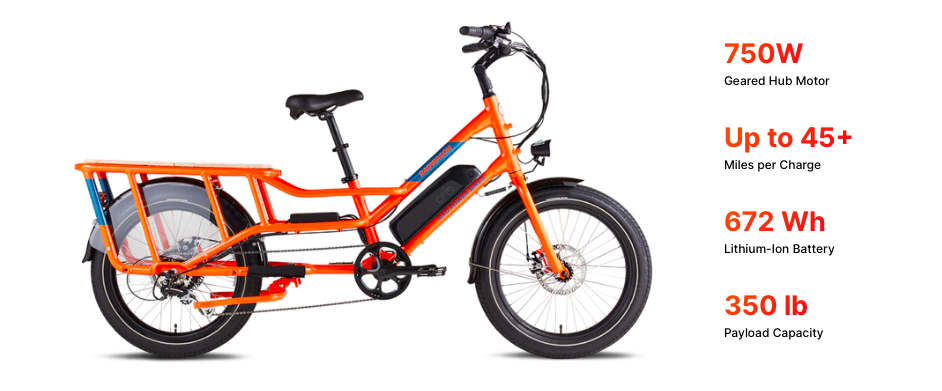 In terms of looks, the guys over at Outdoor Gear Lab find it to be a con. [OutdoorGearLab.com]
Radwagon 4 dimensions
The dimensions of the Radwagon 4 are 78.7 × 43.5 – 47.2 inches/ 200 x 110.5 – 120 cm (LH).
The 4th generation of the Radwagon is 2.4 inches lower than the previous model, giving it more stability. [Ebike Escape]
Radwagon 4 battery

The Radwagon 4 features a lithium-ion battery with 672 Wh and a 48V, 2 Amp Rad Power Bikes smart charger.
Some reviewers claim that it takes 3-7 hours to get the Radwagon 4 to a full charge. [AuthenTech]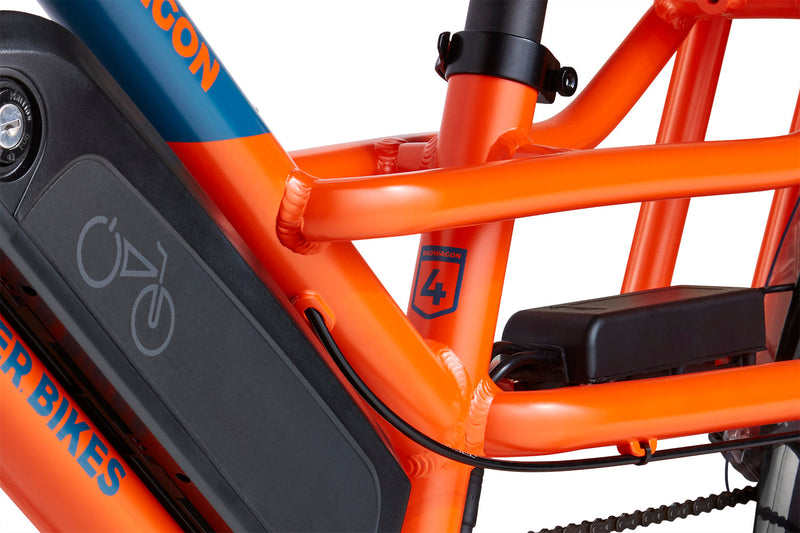 The guys over at Electrek landed on 6 hours for a full charge. [electrek.co]

Radwagon 4 range

There are so many factors that can cause the Radwagon 4's max range to vary for different riders. Since the Radwagon 4 is an electric cargo bike, the range can vary depending on the load you are carrying, the speeds you tackle, as well as the pedal assist level you choose.
One of the reviewers claims that the Radwagon 4 range is around 25-35 miles going on full power. [Electric Bike Report]
Another reviewer didn't manage to land on a metric for range because of one big disadvantage that this ebike has. Ben Schmanke claimed that the standard Radwagon 4 seat was so uncomfortable that he wouldn't want to test it without getting an upgrade first. [AuthenTech]

What are the customers saying?

All the Rad Power Bikes, along with the Radwagon 4, are sold on their website. The Radwagon 4 has a whopping 1,579 reviews with an average of 4.7 out of 5 stars.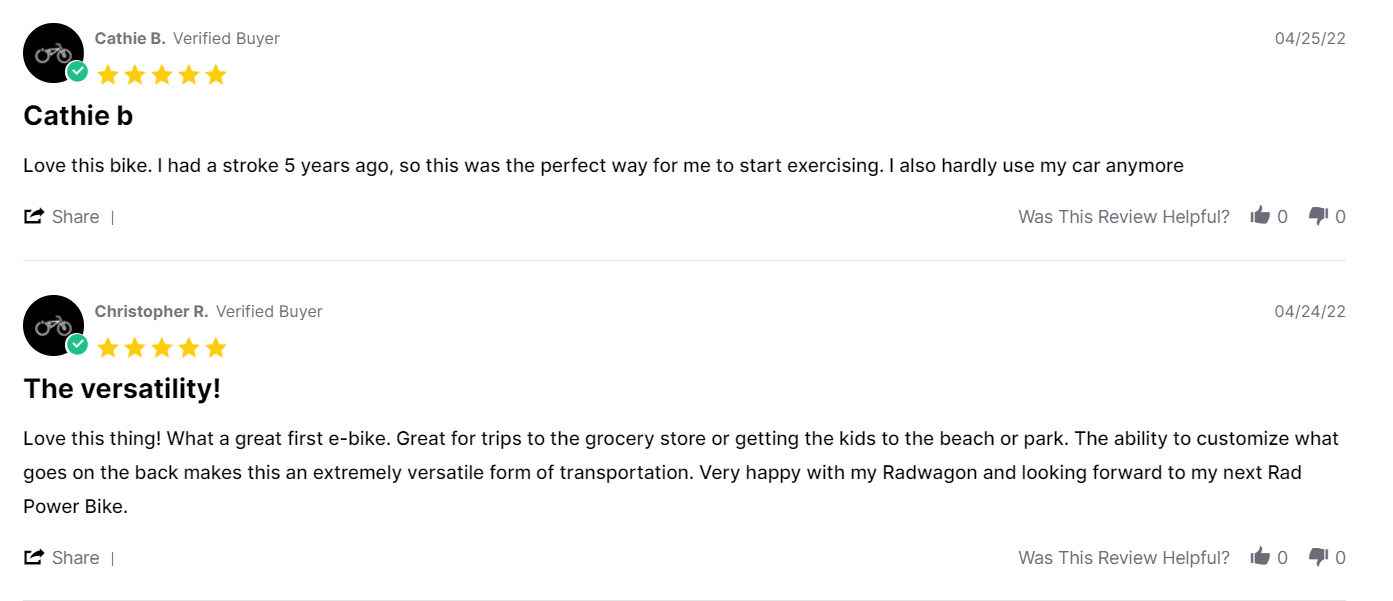 Most reviewers claim to love the versatility, comfort, power, and fun they got from their ebike. Some reviewers also claim that the Radwagon 4 is their second bike from Rad Power Bikes, showing that this company knows what it's doing.
Many reviews also praised the customer service, claiming that it is fast and the people are always nice.
There are also some negative reviews, claiming that getting a flat is a huge problem and getting new custom tubes is a hassle.
Jordan claims that The Radwagon 4 has custom-sized tires, but they are struggling to keep up inventory levels of the replacements. Therefore, he hasn't been able to ride his ebike for a long time.
Let's take a closer look at a thorough review written by Michael D., a verified buyer of the Radwagon 4.
Michael gave the Radwagon 4 electric cargo bike a 5/5 star rating. He has driven it for about 300 miles and claims to get compliments on his bike wherever he goes.
He also claimed that the battery lasts a very long time, especially if you also pedal with it. He goes on 15-20 mile rides, and the battery performs amazingly.
With all the positive reviews of the Radwagon 4, it's very clear that this electric cargo bike is a fan favorite.

Get The Product Here!

Shipping options

Suppose you've decided to order a brand new Radwagon 4. How long do you have to wait for it to be delivered to you? Let's talk about the Radwagon 4 shipping options and conclude this Radwagon 4 review.
On the Radwagon 4 electric cargo bike webpage, Rad Power Bikes claims to ship your order within two business days. Once it has been shipped, you'll only have to wait 3-8 more days for your delivery to get to you (if you live in the US).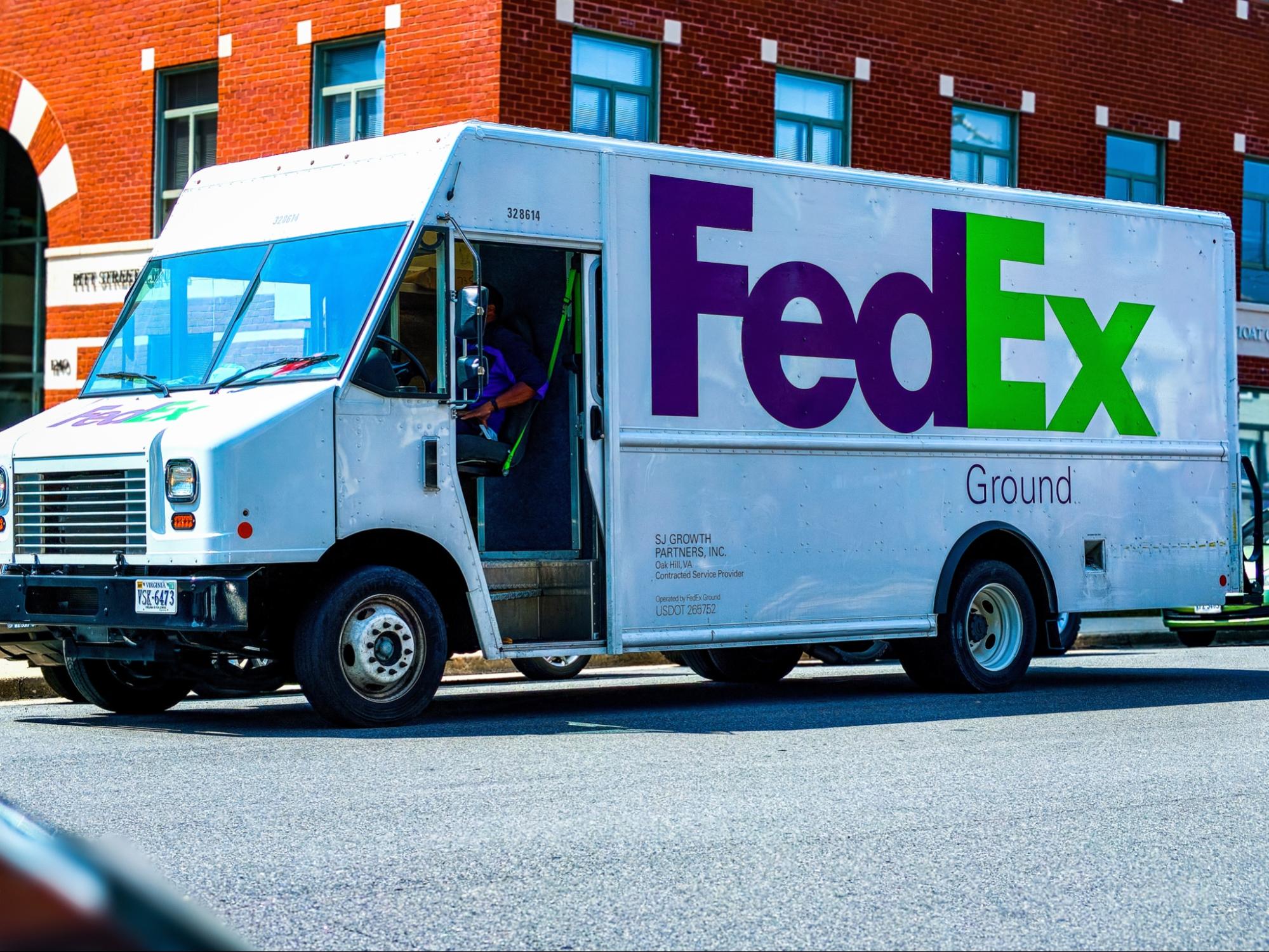 If you live in Europe, it can take around 15 business days to have your ebike delivered to you. Deliveries to the UK can take 5-8 weeks.
You get free shipping in the US if you order a bike. If you order smaller items and accessories, you may be charged a shipping fee.

Conclusion

Finally, we've arrived at the end of our ultimate Radwagon 4 review.
The Rad Power Bikes Radwagon 4 has many advantages, including its value for money, speed, capacity, accessories, and more.
On the flip side, there are some disadvantages you have to look past when getting this ebike, such as suspension and weight.
One of our main goals in this Radwagon 4 review was to help you decide if this electric cargo bike is the one for you. So, whether you're looking for a fun toy for riding around with the kids, an alternative to a car for hauling groceries, or an "almost moped" for your UberEats deliveries, the Radwagon 4 will do the job.
Get The Product Here!