Product Overview

Searching for a powerful and durable electric bike with modularity in mind? The RadMini 4 might be the electric bike for you!
The RadMini 4 by Rad Power Bikes packs a punch with its Rear-Mounted Geared Hub motor pumping output of 750 watts, helping you reach top speeds of 20 mph (32 kph).
But what you'll soon learn from this RadMini 4 Review is that the CST Big Boat 20″ x 3″ fat tires are what takes the cake for this electric bike, offering grip, stability, and a smooth and quiet riding experience both on and off the road!
But like with any potential purchase, it's wise to pay attention to online RadMini 4 reviews so that you learn the good, the bad, and the ugly before making that purchase.
We've gone through the trouble of consolidating all there is to know about the RadMini 4 electric bike in one comprehensive RadMini 4 review, so you won't have to.

Specifications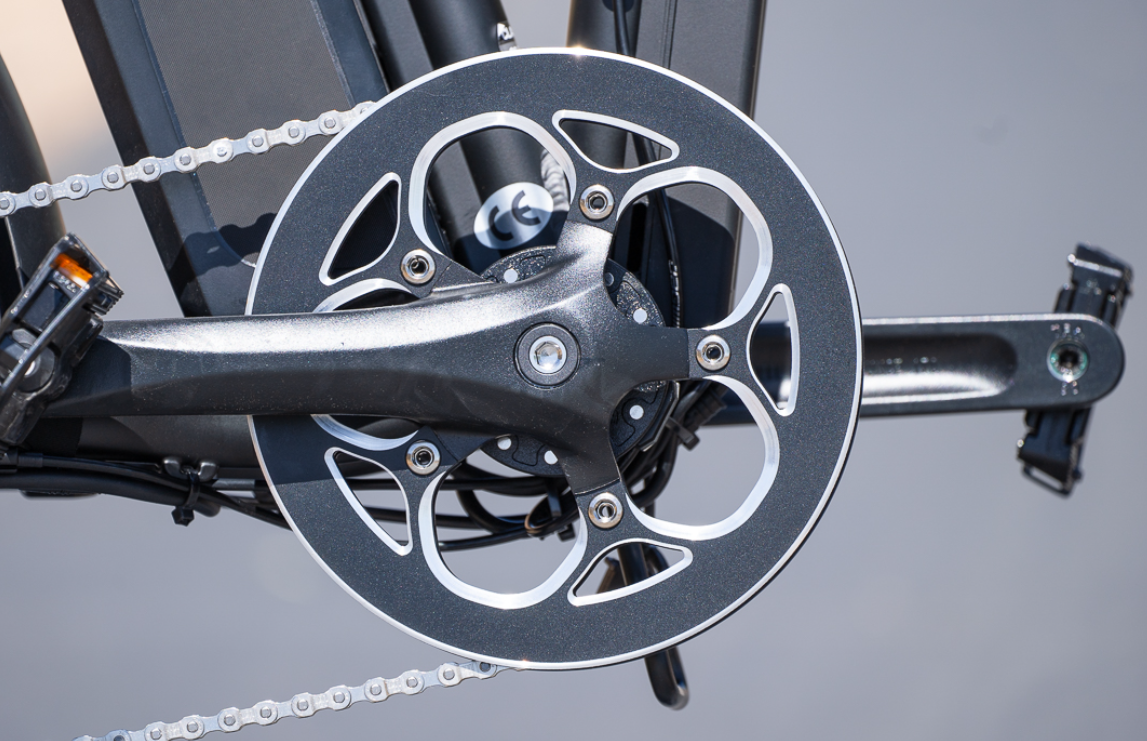 First and foremost, let's take a look at the RadMini 4 specs:
Range: 30 – 50 miles / 48 – 80 km
Speed: 20MPH / 32KM/
Battery: 48V 672Wh (Equivalent to 14Ah)
Charge Time: 6 hours
Motor: 750W brushless geared hub motor with 80 Nm of torque, 5:1 planetary gear reduction
Headlight: Standard Rad Power Bikes LED headlight
Handlebar: Custom formed aluminum alloy, 25″ wide, 2.5″ rise (low-rise), 640mm length
Grips: Ergonomic, stitched imitation leather, black
Saddle: Velo plush with lifting handle, black
Spokes: Stainless steel, 12 gauge, black with nipple
Tires: CST Big Boat 20″ x 3″, puncture-resistant liner
Fenders: Front and rear
Pedals: Forged aluminum folding platform with reflectors, standard 9/16″ x 20 TPI threading
Kickstand: Heavy-duty aluminum with wide plastic foot
Brakes: Tektro Aries (MD-M300) mechanical disc brakes
Maximum rider weight: 275 lbs / 124 kg
Maximum load on the rear rack: 50 lbs / 22 kg


Get The Product Here!

Who should buy this (pulling strengths and weaknesses of the product)
Before making a purchase, it's important to understand if the e-bike in question is the perfect fit for everyone (of course, it can't be). We dug deep into the belly of the internet to find out just what was being said about the RadMini 4 and how suitable it was for people of different heights, sizes, and weights.
According to the experts, this RadMini 4 electric folding fat bike can accommodate riders of varying sizes, thanks to the ability of the RadMini 4 to lower and heighten the seat post, which actually has a relatively large range.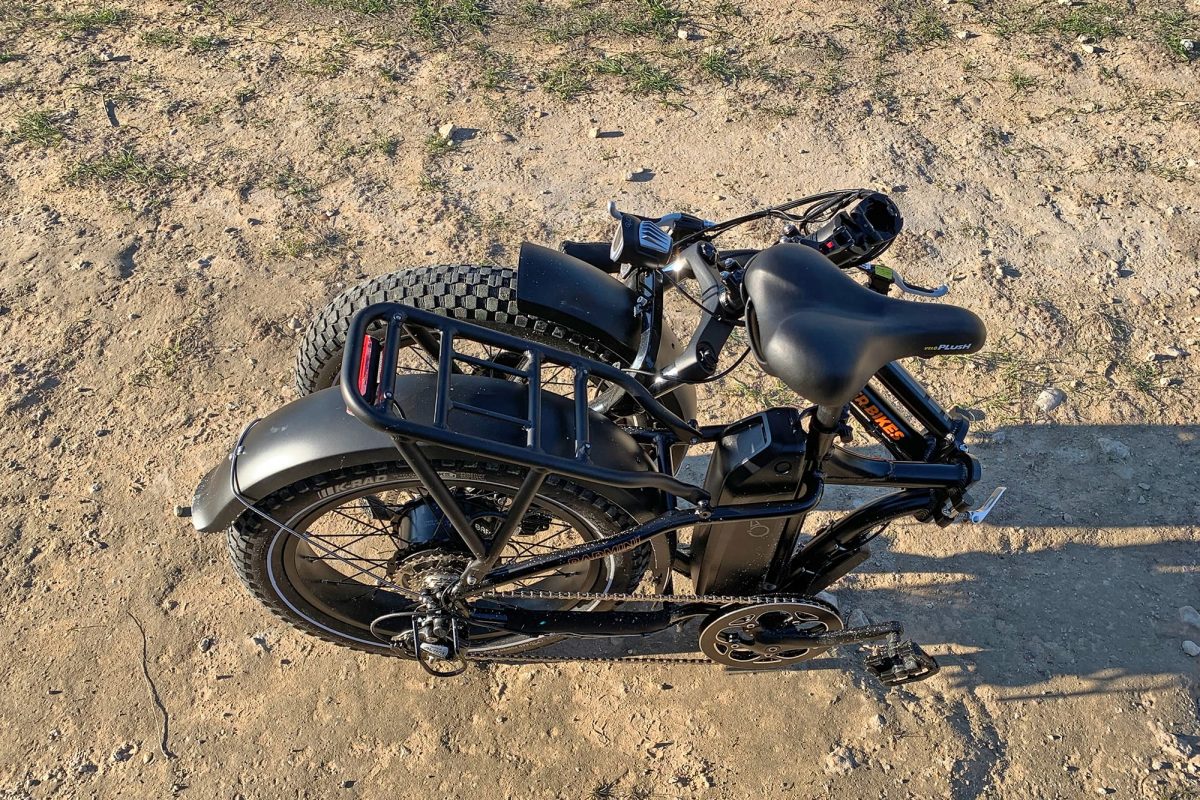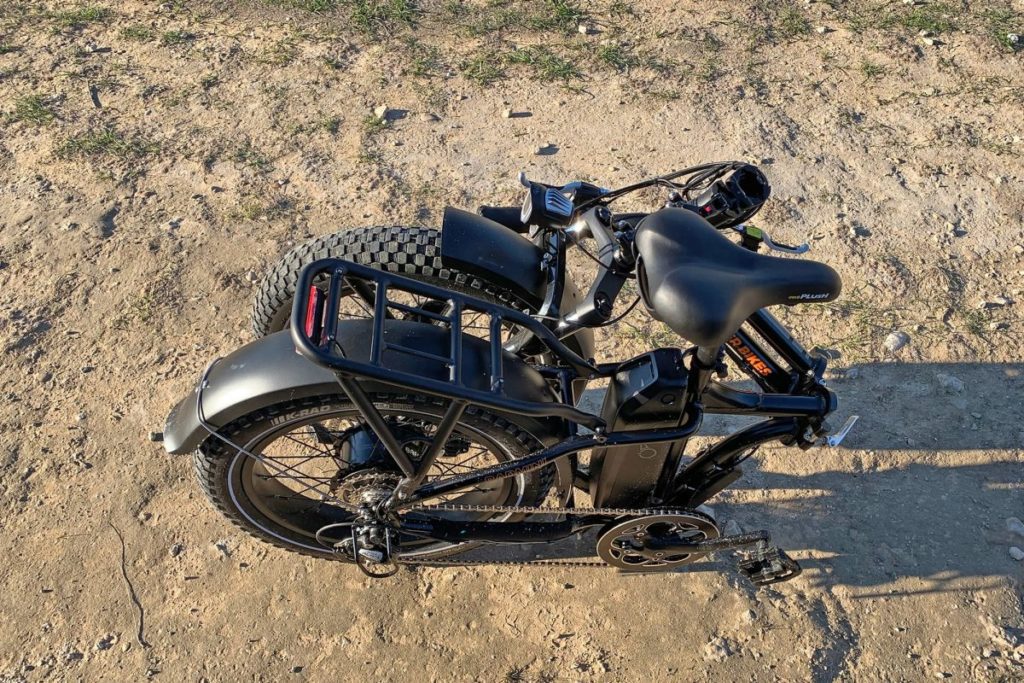 The main issue with the RadMini 4 is that the handlebars can't go back and forth, leaving little room for customization in that department, however, they can be adjusted up or down.
And while the RadMini 4 is a "mini" bike, we've found that the stepover height is pretty high, which works well for taller folks but might pose a bit of a struggle for the shorter ones among us. The stepover height is 27 inches, meaning you'll have to get your legs over a 27-inch post in order to mount the bike.
Another major complaint was just how heavy this portable bike really is. The RadMini 4 weight clocks in at a hefty 69 lbs, which will prove to be a pain when you're trying to carry it up a flight of stairs for example.
The puncture-resistant tires are a major perk though, helping you to ride comfortably regardless of the terrain, road debris, or condition. The RadMini 4 electric bike is suitable for all kinds of urban settings and gravel trails and is even capable of handling off-road adventures.
Of course, as with most e-bikes, the RadMini 4 operates in two ways, by pedaling or using the throttle (which works independently of the pedals). The pedal assistance mode of the RadMini 4, in turn, works on 5 different levels, with sensors detecting how fast you are pedaling thereby generating power to assist you.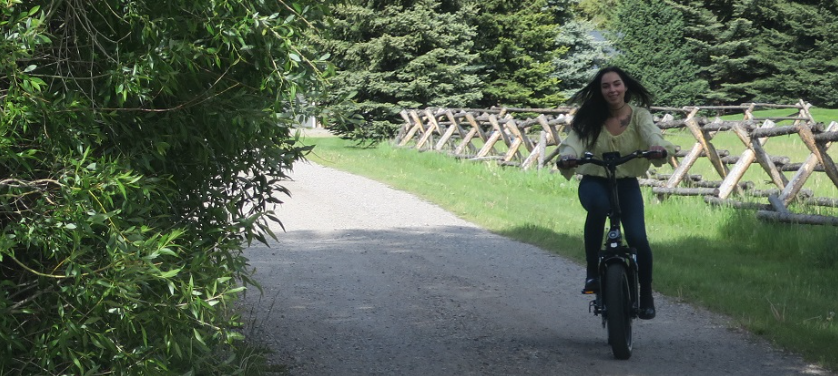 Meanwhile, the RadMini 4 electric folding fat bike comes with a newer twist throttle design that has the capability to override pedal assist, giving you that extra boost of power when necessary.
The RadMini 4 motor offers a smooth but powerful ride and allows you to adjust the top speed from your settings menu if you aren't comfortable with a top speed of 20 mph. As for the brakes, these large 180mm disc brake rotors will deliver control and superb stopping power. As an extra layer of safety, the brake levers activate the rear light as well!
The rear light of the RadMini 4 also has a blinking mode. Additionally, the RadMini 4 headlight has an added upgrade of a bright 80-lumen beam, illuminating your path. It also has LED ring lights that keep you visible from the sides, making you visible to others sharing the road with you at night!
Other RadMini 4 accessories that experts love include the LCD display panel which includes a full-size USB charging port built-in! This is great for when you are using your phone's GPS to get around and are running out of batteries.
One inconvenience is that like all Rad Power Bikes, the RadMini 4 electric bike is mostly sold online, which can require some complicated do-it-yourself assembly. It also makes repair services more difficult to find.
No electric bike is perfect, and there are a few negative points to keep in mind before purchasing a RadMini 4, but with how inexpensive the investment is, it certainly deserves some serious consideration.

What are the experts saying?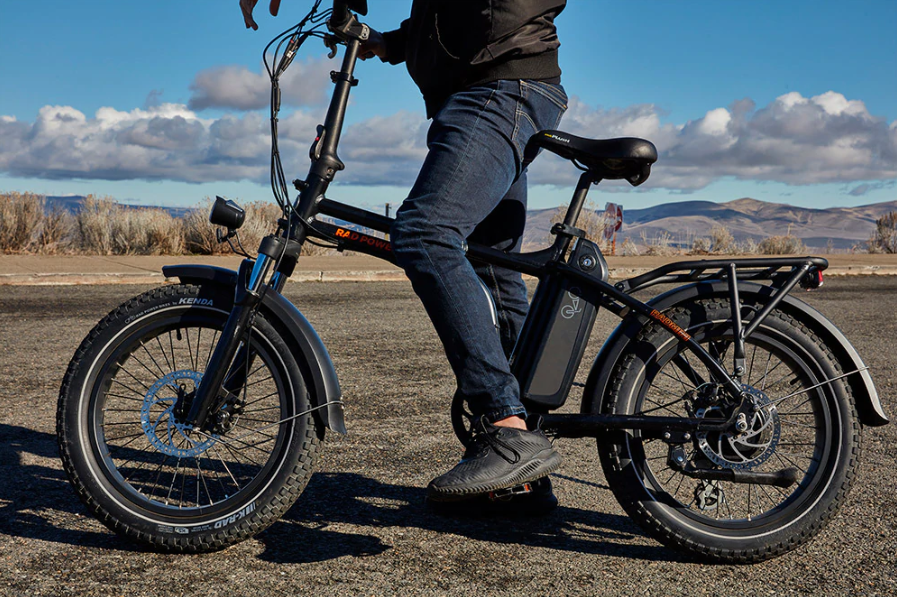 After hunting down the most credible RadMini 4 reviews on the internet, we're here to give you a detailed look at what all the experts are saying.

Overall
To begin with, reviewers were impressed with the versatility of the RadMini 4 electric bike, saying that this bike could literally take you anywhere you want to go. The durable tires ensure that you will have a smooth ride even on some of the most tricky road surfaces.
Aside from versatility, the RadMini 4 was commended for its durability and sturdiness. One expert reviewer pointed out that, compared to other folding electric bikes, the RadMini 4 doesn't flex very much or suffer from speed wobble.
The various RadMini 4 accessories and features also made a buzz, as they provide an added comfort for riding both during the daytime and at night when there is low visibility.
More than anything, the RadMini 4 was praised for its affordability, allowing people of all budgets to experience a good-quality ride on a robust folding e-bike at an exceptional value. The RadMini 4 boasts comfort, adaptability, and convenience in one pretty package.
The general consensus is that the RadMini 4 is a great choice for those in the market for a dependable folding electric bike.

Speed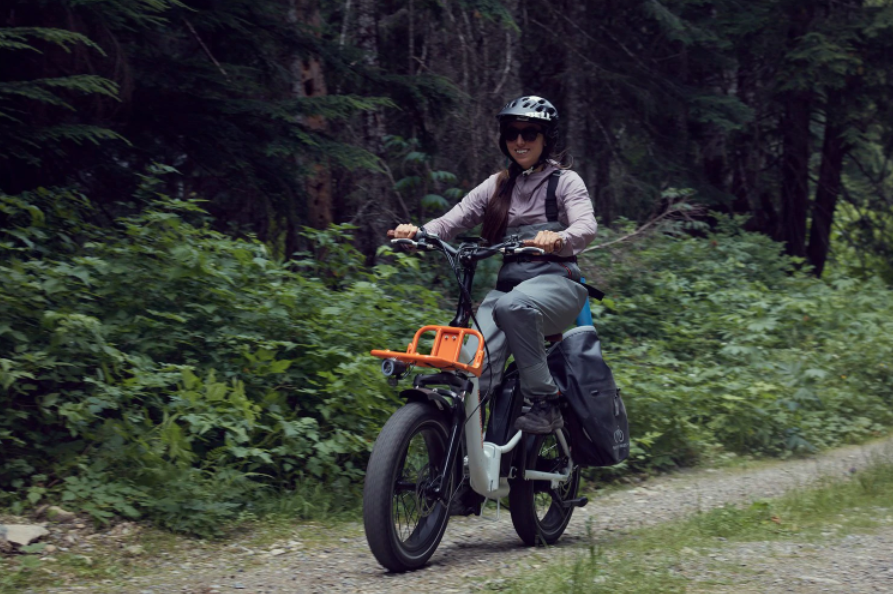 The RadMini 4 is more than capable of accelerating quickly and is considered quite fast for its size. This is all thanks to the 80Nm of torque that the motor can produce. The 20-inch wheels on the RadMini 4 also contribute to the quick acceleration, and to the smooth riding experience.
Another contributor to the smoothness of the ride is the seven-speed Shimano drivetrain, letting riders shift gears without a hitch.
Of course, as with any electric bike, the speed depends on varying factors such as the road surface, the incline, and the weight of the rider.
As mentioned before, the Rad Mini 4 top speed is 20 mph or 32 KM/h, which is nothing to laugh at.

Portability/Weight
Here is where the RadMini 4 doesn't particularly shine. While the RadMini 4 certainly is considered portable in terms of how conveniently it manages to fold up and take up very little space in its folded form, the weight is something desired.
At a whopping 69 pounds, the RadMini 4 outweighs most folding e-bikes that range around 50-60 lbs.
Sure, it certainly folds into a compact size that makes it great for storage, but this e-bike is not an easy load to pick up or carry around. For that, the RadMini 4 has racked up plenty of complaints from expert reviewers.
Battery Range
True to its word, the RadMini 4 lived up to its advertisement, delivering about 45 miles of riding on a single charge, even when using the throttle on a consistent basis!
In fact, reviews claim that using pedal assist and actually putting in the work of pedaling, you'll be able to get more than 45 miles on a charge.
This, coupled with the 750-watt motor and 14-amp hour battery, and the 48-volt system, means that the RadMini 4 range is also nice and long, making for an impressive e-bike overall.

Comfort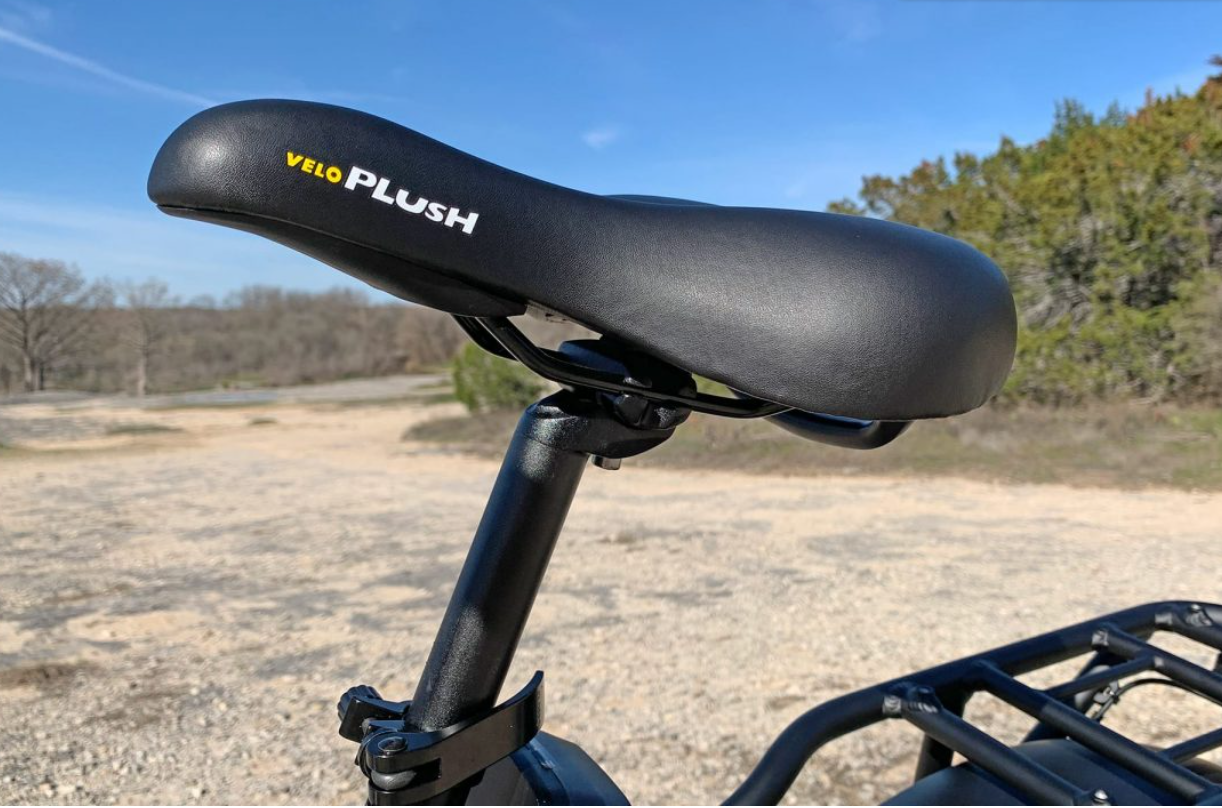 In terms of comfort, many RadMini 4 reviews generally agree that it offers a quiet, comfortable and efficient ride.
A combination between an upright position, decent front suspension, fat tires, and a wide and comfortable seat make for a pleasant riding experience.
According to the experience of one expert reviewer, the wider and soft saddle will also ensure that your behind won't get sore, even after long rides. And there is the added benefit of being able to adjust the saddle up, down, or forward and backward as needed. e
Reviewers were also impressed with the flattened shape of the handlebars as well as the faux leather coverings, claiming that the RadMini 4 is quite ergonomic.

Mechanical Quality
One important factor to take into consideration when purchasing a RadMini 4 is that it comes with mechanical brakes which have a tendency to break down, need pad adjustments, or other repairs. This is simply the nature of mechanical brakes because with time and use, they tend to fade away and need adjusting.
And since you're more likely to ride your electric bike more regularly and you'll be stopping at much faster speeds, you're sure to be burning through your mechanical brakes at a much faster rate than you would with any kind of traditional bike.
Otherwise, the RadMini 4 offered splendid front suspension, contributing more to the smooth ride feel.

Tires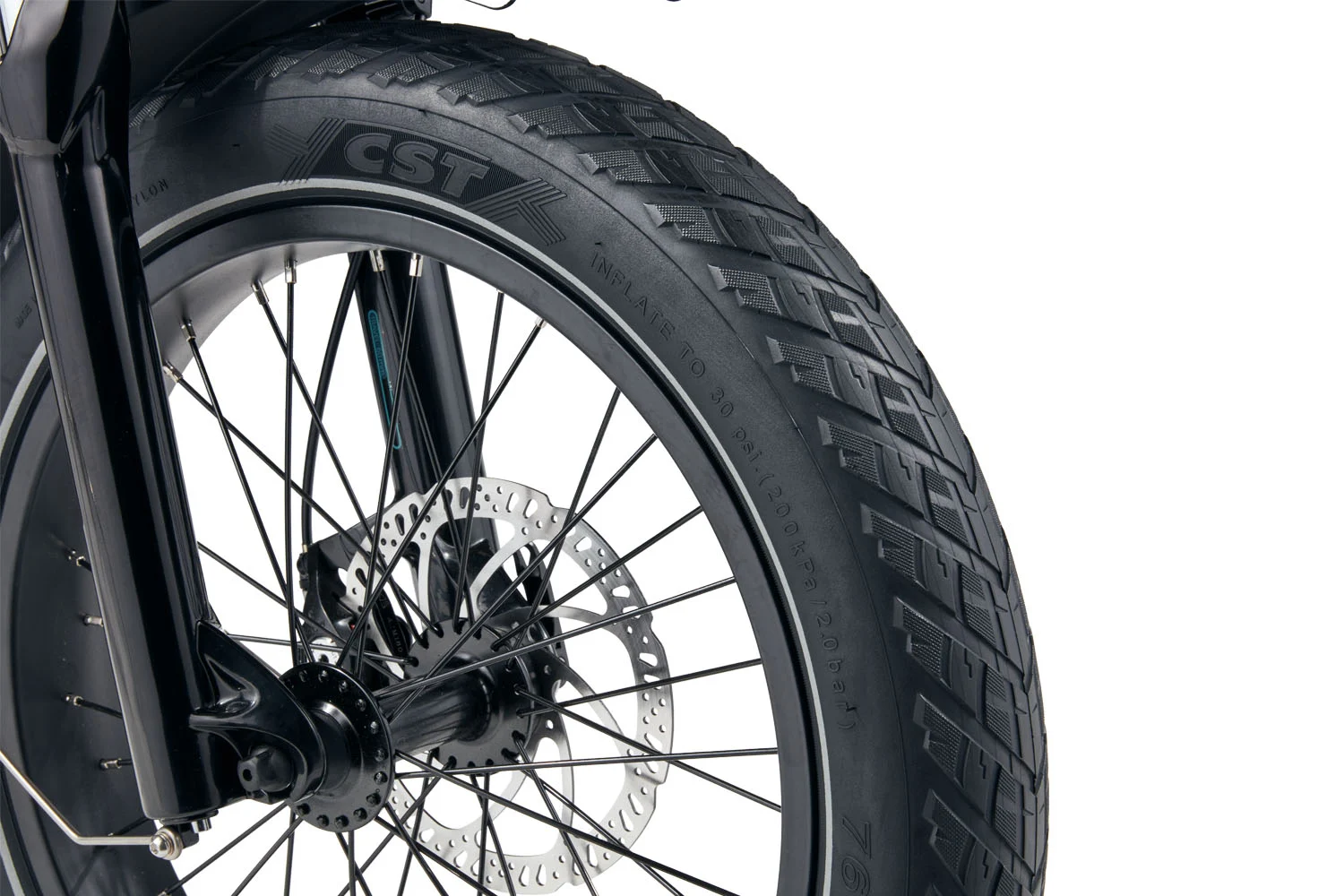 According to one expert RadMini4 review, the Rad Power Bikes RadMini is the Swiss Army knife of the fat tire e-bike world.
Thanks to the CST Big Boat fat tires that measure 20″ x 3″, the RadMini 4 rolls both quicker and quieter than many of its folding fat-tire competitors.
They offer excellent stability and grip, making them appropriate for both bike paths, gravel, urban streets, and off-road areas.
The liner in the tires makes them puncture-resistant, and the reflective sidewalls make riders more visible, both adding a nice safety feature to the RadMini 4 electric bike.
The RadMini 4 also delivers when riding fast on gravel paths, or when making sharp turns, which is usually an area of contention when riding slimmer wheeled bikes.
Abilities
One of the more outstanding qualities of the RadMini 4 is its ability to climb hills, performing beyond expectations. The rear hub truly helped the bike to battle the hill, along with its seven-gear system.
Either when using the throttle or pedal assist, or switching to a lower gear, you'll find climbing up those hills to be a fairly easy experience.
There was some debate regarding the 750-watt motor, as many companies lie about the actual wattage, reporting what is the peak wattage instead of the sustained one. This seems to be the case with the RadMini 4, which is something that you may want to consider.
That is to say, while the RadMini 4 motor is capable of reaching 750 watts, this does not mean that when riding it, you'll be consistently getting 750 watts out of the motor.

Get The Product Here!

What are the customers saying?

Reddit was filled with riders who were not happy with how heavy the RadMini 4 electric bike is, even when conveniently folded.

Another customer had complaints that they were unable to find the rear stack RadMini 4 accessory in stock in the shop. It turned out, they were not the only ones waiting for a restock.

There also seemed to be some confusion about the 750-watt motor (as mentioned and hopefully explained above).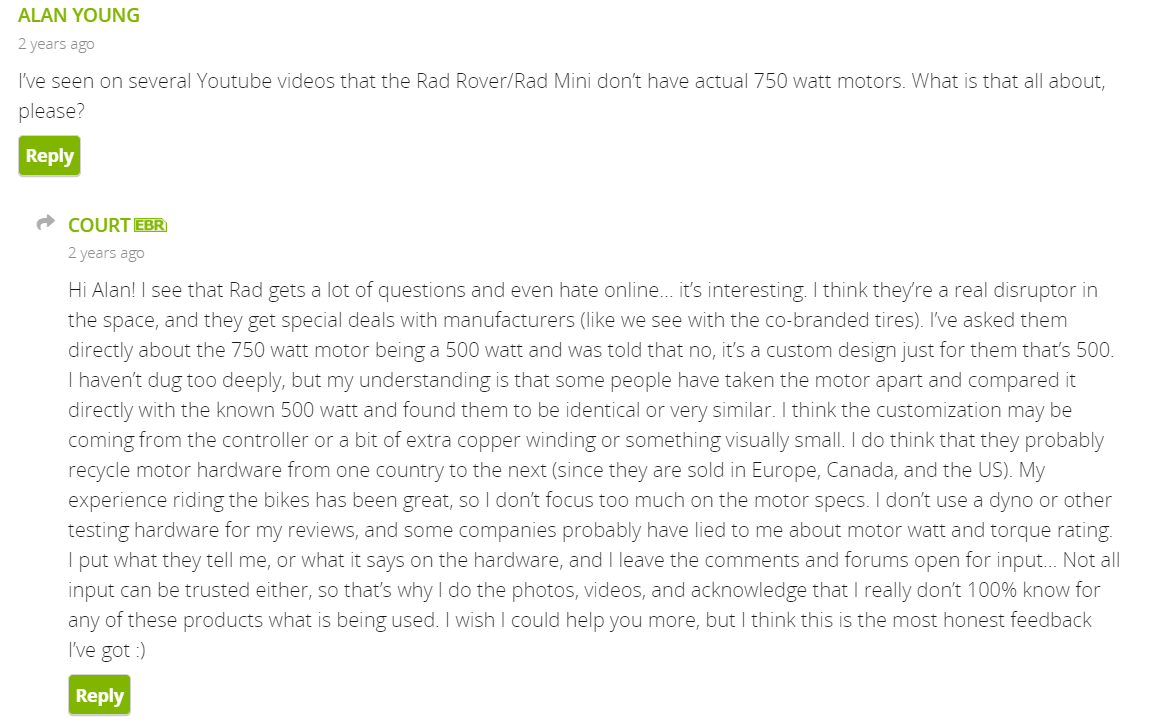 But overall, it seems that customer satisfaction with the RadMini 4 was fairly high!
Shipping
Probably one of the most praised points of the RadMini 4 is the price, as compared to similarly-priced products (and even their higher-priced competitors) the RadMini 4 electric bike truly delivers.
With many electric bike prices ranging from $5,000-$6,000, the RadMini 4 is extremely affordable, at around $1,500.
Taking into consideration the power, durability, and versatility of the RadMini 4, that price is pretty amazing, especially for a folding electric bike.
Check out the shipping countries, shipping methods, and shipping prices of Rad Power Bikes below!
Costs
US: Shipping is free in the US for all bikes, and most accessories* purchased with a bike. Accessories purchased separately from a bike, and replacement parts not covered under warranty will be charged a shipping fee.

Canada: Free shipping to all provinces

Austria, Belgium, Czech Republic, Denmark, France, Germany, Luxembourg, Poland, The Netherlands, United Kingdom: e-bike – €49.50, parcel – €10.00

Finland, Hungary, Ireland, Italy, Portugal, Slovakia, Slovenia, Spain, and Sweden: e-bike – €49.50, parcel – €15.00

Estonia, Latvia: €49.50, parcel – €20.00

Bulgaria, Greece, Romania, Croatia, Lithuania: €49.50, parcel – €25.00
Battery orders have a standard €50 fee, which covers the dangerous goods classification documentation when shipped by land/sea or air. This fee will be applied to your basket in addition to your regular shipping costs for all other items.
Shipping is not available for the following destinations:
Albania, Azores, Balearic Islands, Belarus, Bosnia & Herzegovina, Canary Islands, Channel Islands, Cyprus, Iceland, Kosovo, Madeira, Malta, Moldova, Monaco, Montenegro, North Macedonia, Norway, Turkey, and Ukraine.
Estimated Shipping Days
In the US, in-stock items typically ship within three business days after an order is placed, unless otherwise noted on the product's page. Once your bike ships, it can take 3-8 business days for delivery, depending on where you live in the US.
Delivery to Canada varies according to province and can range anywhere from 1 to 15 business days.
Delivery of In-stock e-bikes (or accessories) to countries within the European Union takes up to 15 business days. Pre-orders and Back-orders need extra time to arrive in stock.
Delivery to the United Kingdom takes 5 to 8 weeks.
Conclusion

So what is the verdict of this RadMini 4 review? The fact is, this foldable electric bike is simply fun to ride, with comfort, versatility, stability, durability, and ease of use in mind. And with the affordable price of $1,500, it's easy to turn a blind eye to the areas where it lacks (including the hefty weight).
The folks at Rad Power Bikes offer great customer service, which is super valuable when dealing with online sales, shipping, and remote repairs.
It is suitable for those who have never experienced riding an electric bike before and comes with valuable safety features like headlights, rear lights, and reflective tires.
Overall, the RadMini 4 electric folding fat bike is perfect for all kinds of terrain, urban, off-road, or more. We hope that you found our RadMini 4 review useful, and wish you all happy and safe riding!
Get The Product Here!