Welcome to the ultimate Propella 7 Speed (7S) review. If you're looking for a budget-friendly electric commuter bike, you'll want to check this one out.
Propella 7 Speed Overview
With gas prices going through the roof, many drivers are looking for better commuting alternatives. What could be a better alternative than an ebike?
After 6 years of improving their product, Propella has finally come out with the Propella 7 Speed ebike. It is a lightweight class 1 ebike that works like an ebike but feels as sleek and smooth as a regular bicycle. Essentially, you get a narrow bike that looks standard but has a little more oomph under the pedals.
The Propella 7-speed ebike is perfect for commuting to work. They also feature a single-speed ebike version, which can work for people living in flatter areas.
As a class 1 ebike, the Propella ebike features pedal assist only. If you're looking for an ebike with a throttle, we recommend you look for something else since Propella only sells class 1 ebikes.
You must be intrigued by now. But only knowing a couple of highlights about a product won't help you decide if it's right for you. That is why we've pulled together all the most relevant and credible reviews from the web and summarized them into this Propella 7 Speed review.
Continue reading through to discover every detail about this Propella electric bike. Ultimately, we'll help you decide if this is the ideal choice for you.
Propella 7 Speed Specs
The first thing you do when choosing an electric bike is checking out the specs. Does it have the range you need to commute to and from work every day? Is it light enough to carry upstairs? And can you climb steep hills on your rides?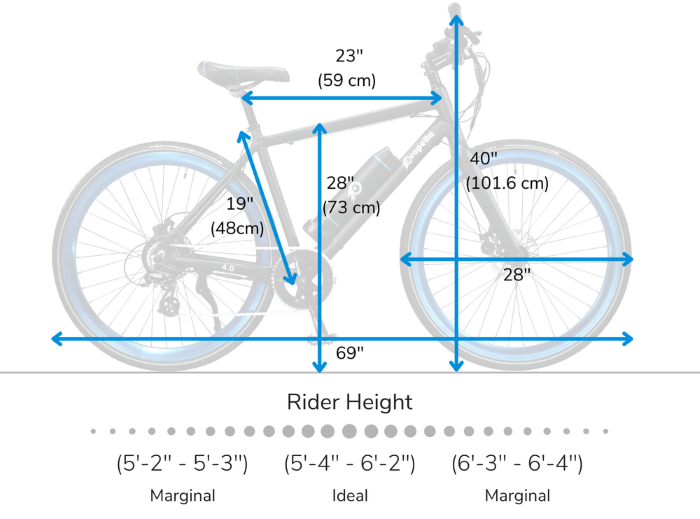 The Propella 7 speed electric bike is definitely a good ride across the board for its category. A commuter bike is supposed to be lightweight, and this bike is one of the lightest in its class.
Let's have a look at other Propella 7S specs to gauge whether it's worth it for you. Here are the specs that the manufacturer claims to feature.
Dimensions: 40 × 69 inches/ 101.6 x 175 cm
Weight: 16.8 kg / 37 lbs
Top Speed: 29.8 km/h / 18.5 mph
Range:32.2-64.4km / 20-40 miles
Battery:250 Watt-Hour, 36V / Charging time – 2.5h
Motor: 400W (rear hub motor)
Material: 6061 Alluminum alloy frame
Special Features: 5 levels of pedal assist, lightweight for commuting, 12% hill climb, 7 speeds.
Who should buy this (pulling strengths and weaknesses of the product)
The biggest selling point with the Propella 7 Speed is its weight and performance ratio. Considering how light it is and how sleek it looks, this ebike can really surprise you with its specs.
With a top speed of 18.5mph and 20-40 miles of range on one charge, the Propella 7 Speed electric bike is a force to be reckoned with. The manufacturer claims that it can handle any challenge you throw its way. In short, this is a bike that's worth the price.
But who is it PERFECT for?
Well, seeing how the Propella 7 is a commuter bike, it is perfect for people who want to ride to work. Even if this is your first electric bike, you'll find the ride smooth and easy. Additionally, it won't put a hole in your wallet, and it won't break your back.
The folks at ElectricBikeReport said it best: "If you love to ride bikes, don't really want an e-bike that is overpowering, and don't want to spend too much money, the Propella 7S is a great option for you."
What are the experts saying?
We've scraped the web for all the most relevant info available about the Propella 7 Speed ebike.
The general opinion is that the Propella 7 Speed ebike is a great budget-friendly, value-packed commuter built with high-quality parts.
The Propella 7 Speed ebike seems to solve the issues that come with finding a great ebike for new cyclists that doesn't compromise on performance. [bestelectricbikes.com]
Overall, this ebike seems to have impressed many reviewers. Let's dive in deeper and take a look at the best and worst features of this electric bike.
Propella 7 Speed Weight
Since the Propella 7 Speed ebike is one of the most lightweight electric bikes in its class, it's no wonder that weight is one of its biggest benefits. For a commuter ebike, being lightweight is critical. When you're riding in the streets, you need mobility.
Most high-performing ebikes weigh too much and can even start feeling like a moped. With the Propella, you can feel that zippy, rider-to-road experience. And you will do it with a battery-powered bike. [wired.com]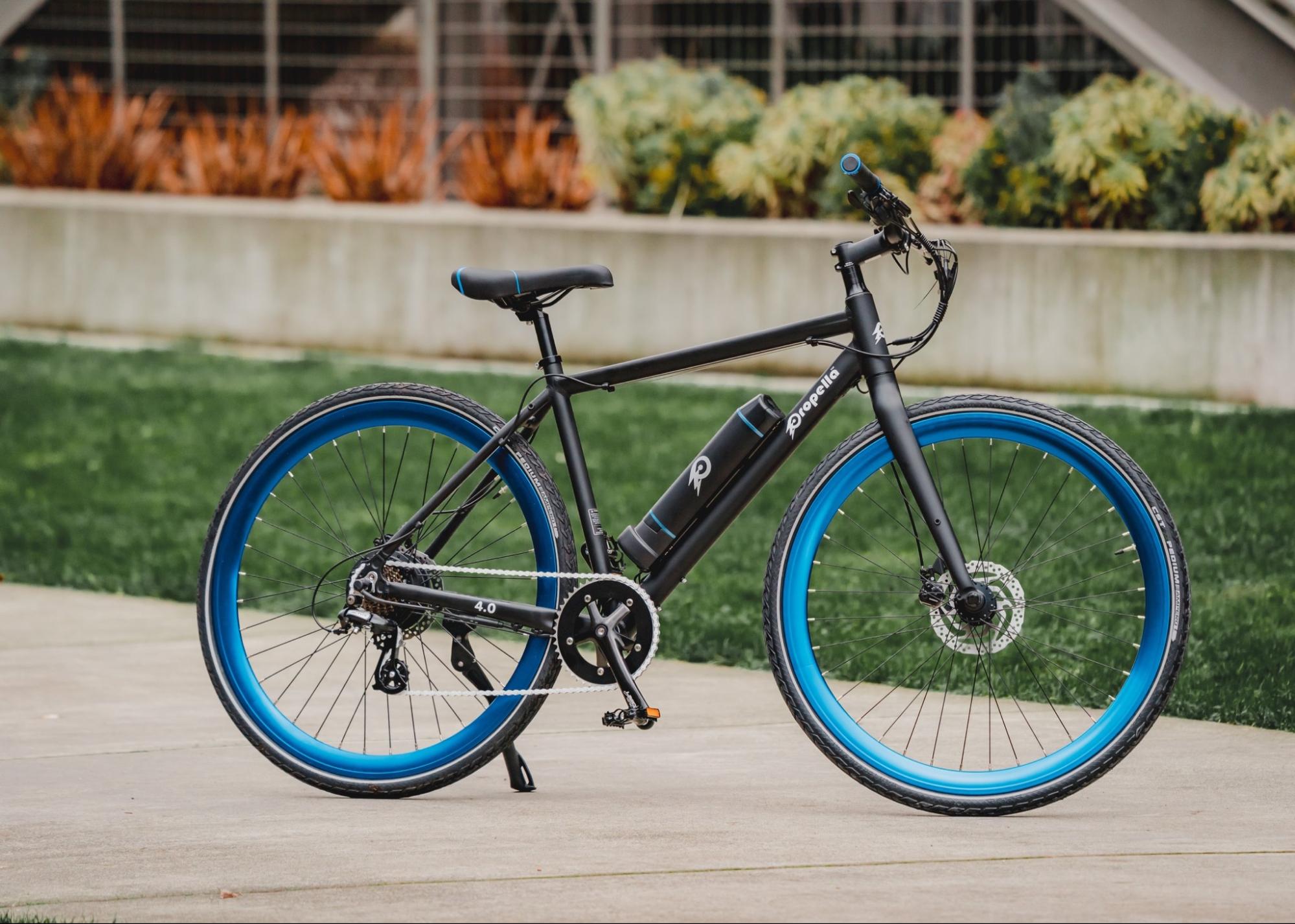 The Propella weighs around 37lbs, which is almost half the weight of some bigger bikes. This makes it easy to carry into the office, upstairs, and more. Plus, if the battery dies, you can still ride it like a normal bicycle without feeling like you are carrying a truck.
The only time when you will slightly feel the weight of this electric bike is when starting up from a full stop. The Propella doesn't feature a throttle to shoot you forward with ease, but it features pedal assist, which takes a little time to build up when you're starting back off after a stop. [mtnweekly.com]
Propella 7 Speed Top Speed
The Propella 7 Speed claims to have a top speed of 18.5mph. As a lightweight bike, this is a good advantage. Let's see what other reviewers found about the top speed of this commuter ebike.
In reality, some riders only got the bike up to 18mph on a flat road. [wired.com]
Others claim that it can go up to 20mph. [bestelectricbikes.com]
Overall, most reviewers confirm that the Propella 7 Speed has no problem hovering at the advertised top speed of 18.5mph. [ElectricBikeReport]
On top of the great speed metrics, the 7 speed allows riders to climb hills as steep as 12%, so you won't sacrifice too much speed when riding up a hill in the city.
Propella 7 Speed Battery
This Propella ebike gets many compliments for its battery pack. It doesn't make the bike seem like an ebike, which is an advantage for some riders who don't like too much attention. [wired.com]
The pack weighs only 3.5lbs and gives the bike enough juice to last a long time. It also takes only 2.5 hours to charge, so you can stop for a quick lunch and charge up almost fully while you eat instead of waiting around for hours.
You can charge the battery pack both off and on the bike. Plus, you can purchase a replacement or spare battery pack for longer journeys. [mtnweekly.com]
Propella 7 Speed Range
Propella claims that the 7S commuter ebike has a range of 20-40 miles. You might ask yourself why the range is so wide. Well, it's because this ebike features 5 levels of pedal assist, each consuming different amounts of energy. If you're switching between the levels during your ride, then it'll be tough to estimate the range.
If your ride has many hills, you'll probably need to use pedal assist more, which will leave you with a shorter range. [mtnweekly.com]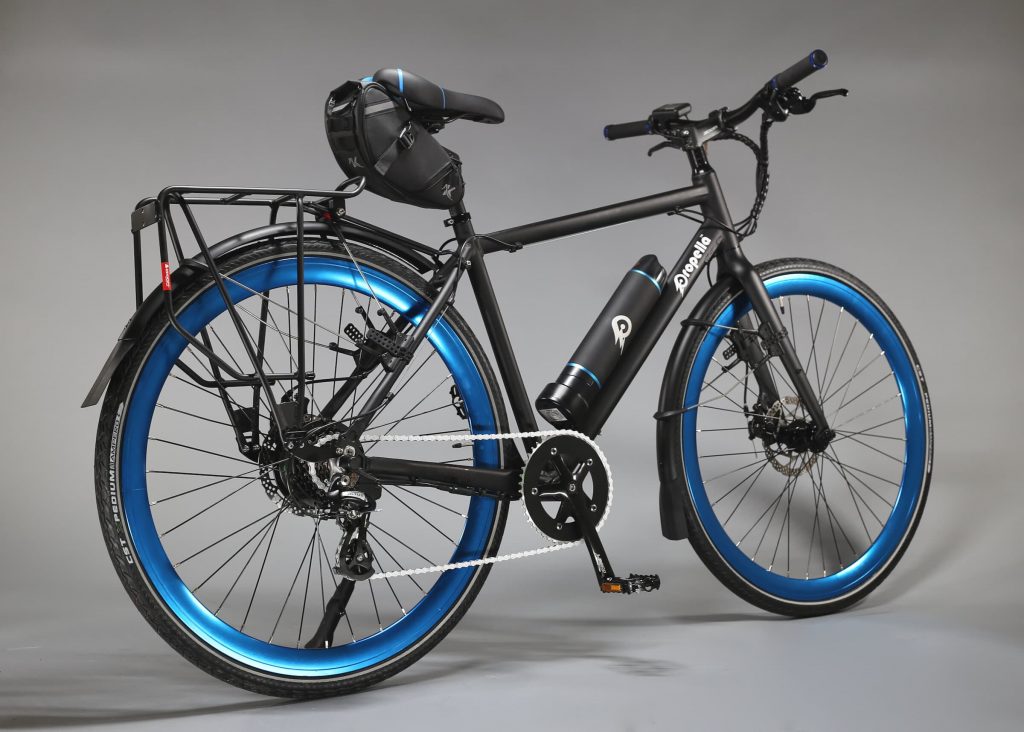 Usually, your rides will last around 30-35 miles on a full charge. [bestelectricbikes.com]
When on the highest level of pedal assist, the guys over at ElectricBikeReport managed to get a max range of 17.1 miles with an average speed of 16.2 mph. The road wasn't too flat, but the guys estimated that the bike could reach the 20-mile range if it were tested in a more flat area.
When the guys tested the Propella 7 speed ebike on the lowest pedal assist level, they managed to reach 33.5 miles before the battery died. The average speed was 10.1mph, which is what you can expect from level 1 pedal assist.
Propella 7 Speed Wheels
The main reason why this powerful bike manages to keep up its compact appearance is the wheels.
The Propella 7 Speed wheels are 1.85 inches wide, which allows the bike to be as slim as it is. Plus, it helps with mobility and turning radius improvements.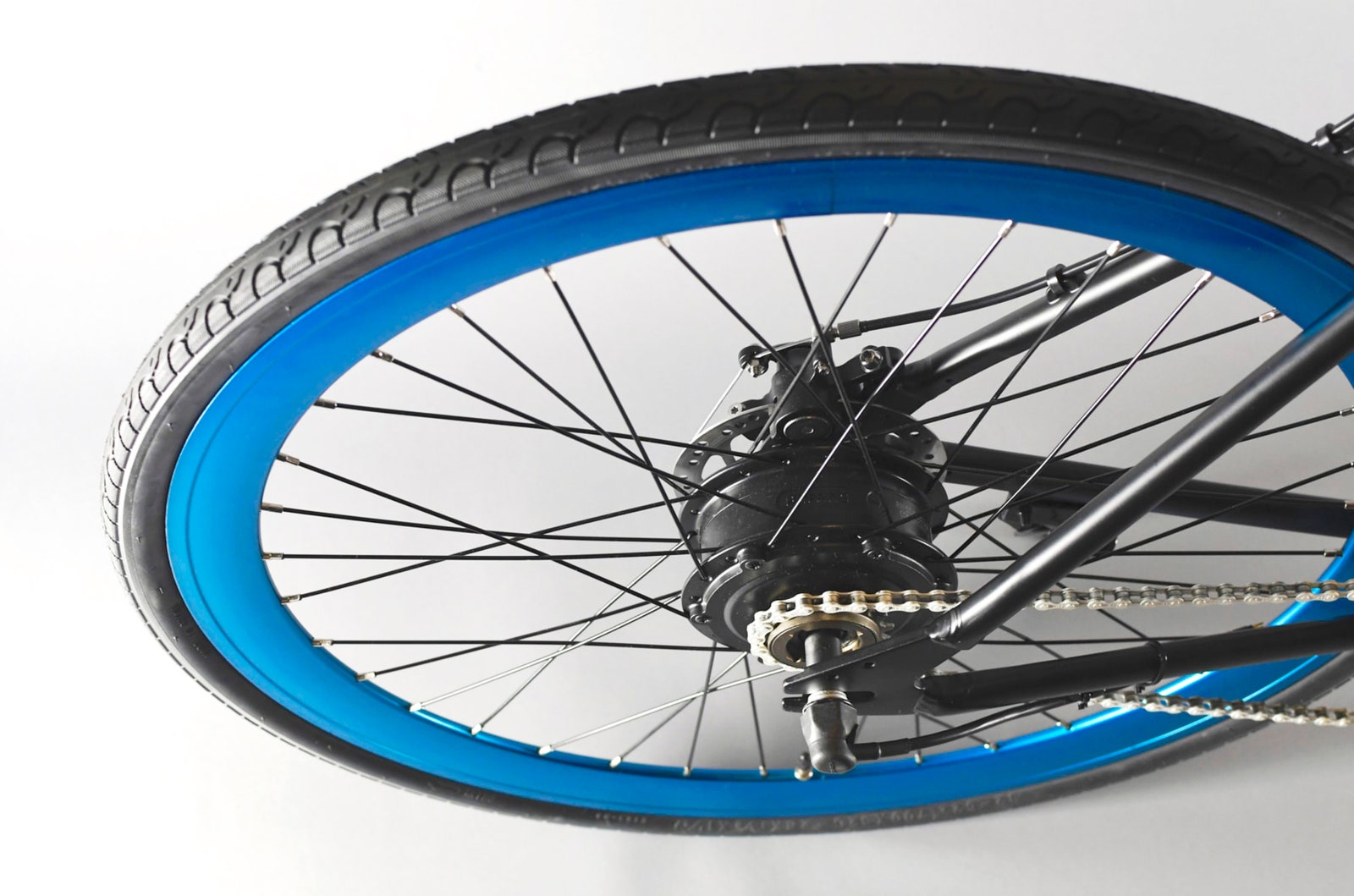 With a 29-inch diameter, the tires allow you to experience amazing acceleration.
These intelligently-designed tires are a fantastic fit for commuter ebikes. They give this bike its amazing slim look, as well as an overall superior riding performance.
The tires are puncture-resistant, mounted on double-wall all-aluminum alloy rims. This is a major benefit for city riders because it will allow you to cruise at high speeds without worrying about getting a blowout. [bestelectricbikes.com]
Propella 7 Speed Accessories
The Propella 7 Speed ebike doesn't come with too many accessories. However, there are great options you can add to your order and attach during your assembly.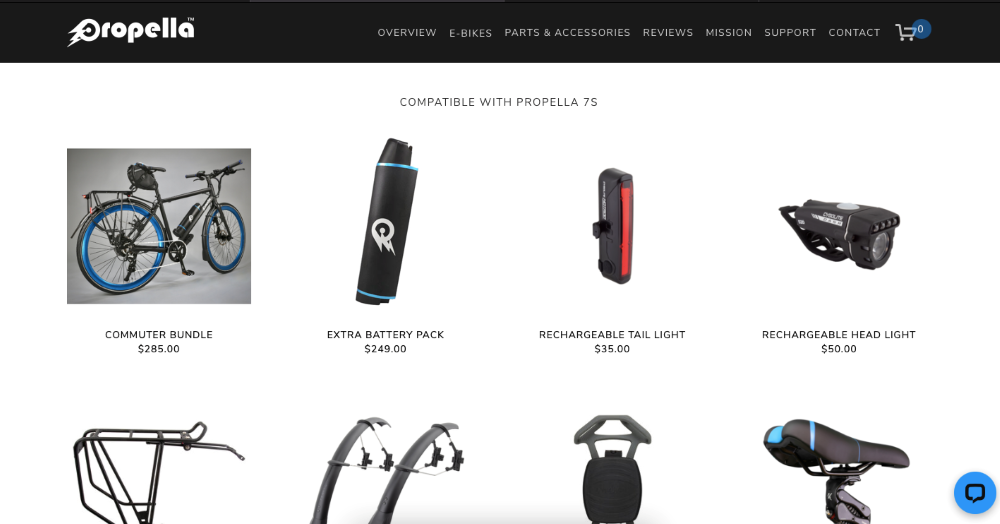 First, you should get a headlight, taillight, and the Kinekt suspension seat post are must-haves. If you want to take it up a notch, you could also add the SKS Fenders, Axiom rear rack, or the matching Fidlock water bottle.
What are the customers saying?
Although the Propella ebikes are sold only through their own website, the products don't have customer feedback sections. Nevertheless, we've found reviews and feedback from customers on their Facebook page.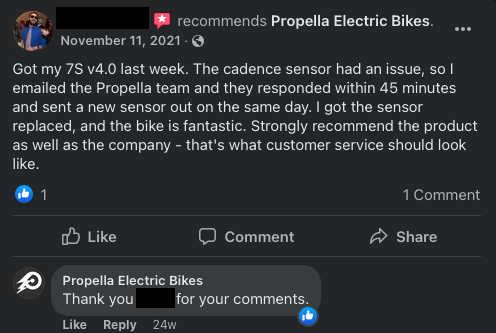 They have 33 customer reviews, with an overall 4.9 out of 5 stars rating.
Customers are usually excited to get their bikes, and first impressions are positive, according to the reviews. People also mention the high quality and speed of Propella's customer service in their reviews.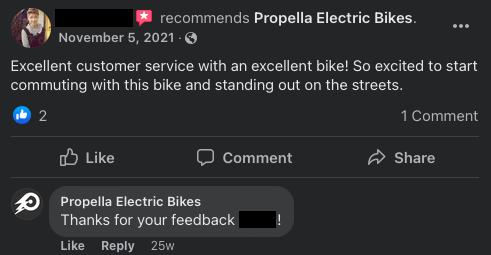 Let's take a look at a thorough review from Jean Keyes and uncover the little insights we can get from actual customers.
Jean mentioned that she absolutely loves her Propella 7S 4.0. She finds it very comfortable, smooth, and with a powerful motor.
She praises the weight of this Propella ebike and mentions that she can ride even further if she preserves the battery by turning off pedal assist from time to time.
Jean finds the customer service to be fantastic. You can call by phone or contact them through email, and you'll get a quick response.
Last but not least, Jean thinks the Propella 7 Speed ebike is super cool to look at!
Propella customers definitely love this product. Now, let's take a quick look at the shipping options before concluding our Propella 7 Speed review.
Shipping options
As of right now, Propella only ships to the US (excluding Alaska and Hawaii) and Canada. The Propella 7 Speed ships within 1 business day, which is great news for those living in the North Amerian Region of the world. As for the rest of the Propella ebikes, you'll have them shipped within 3 business days.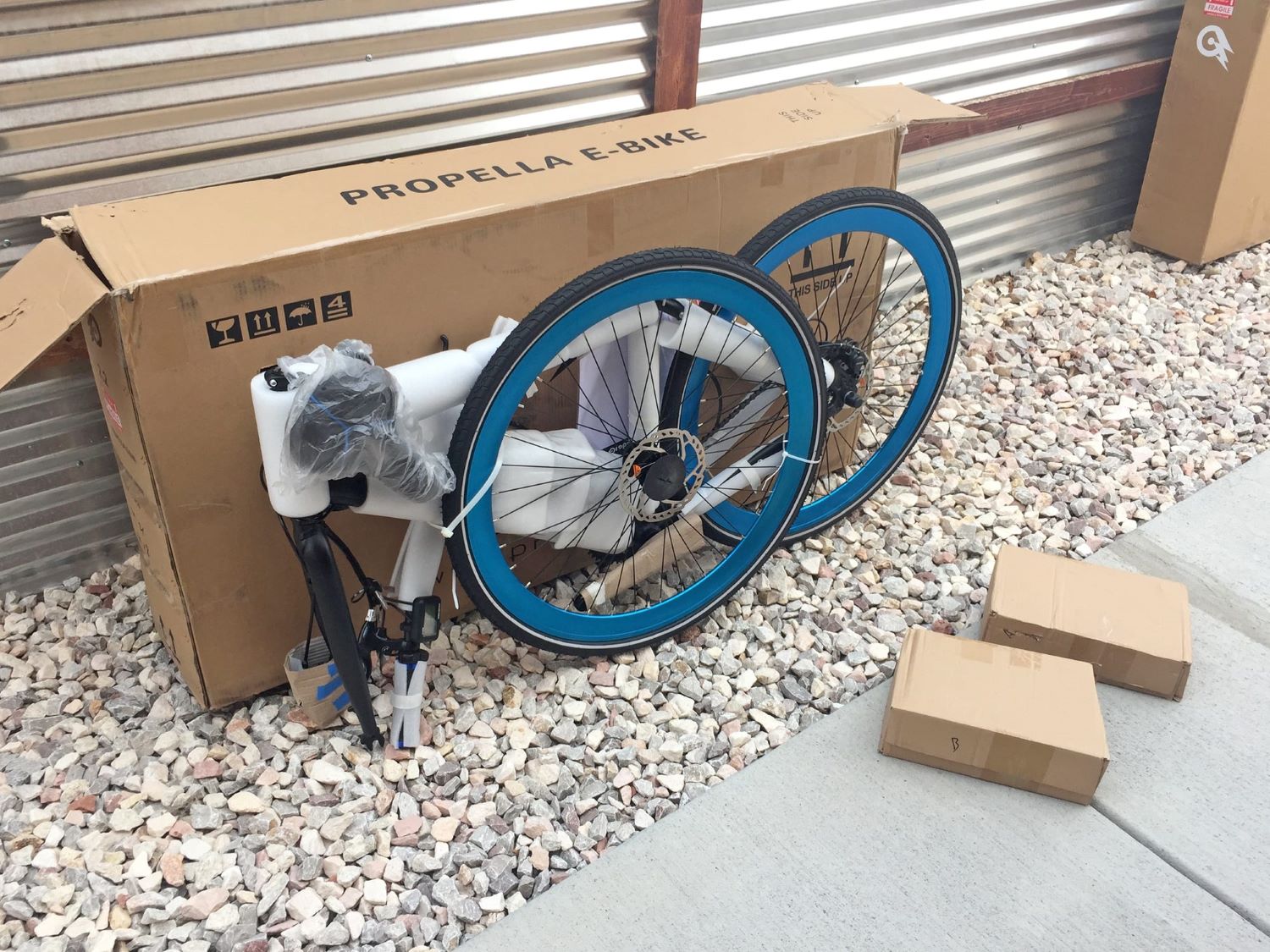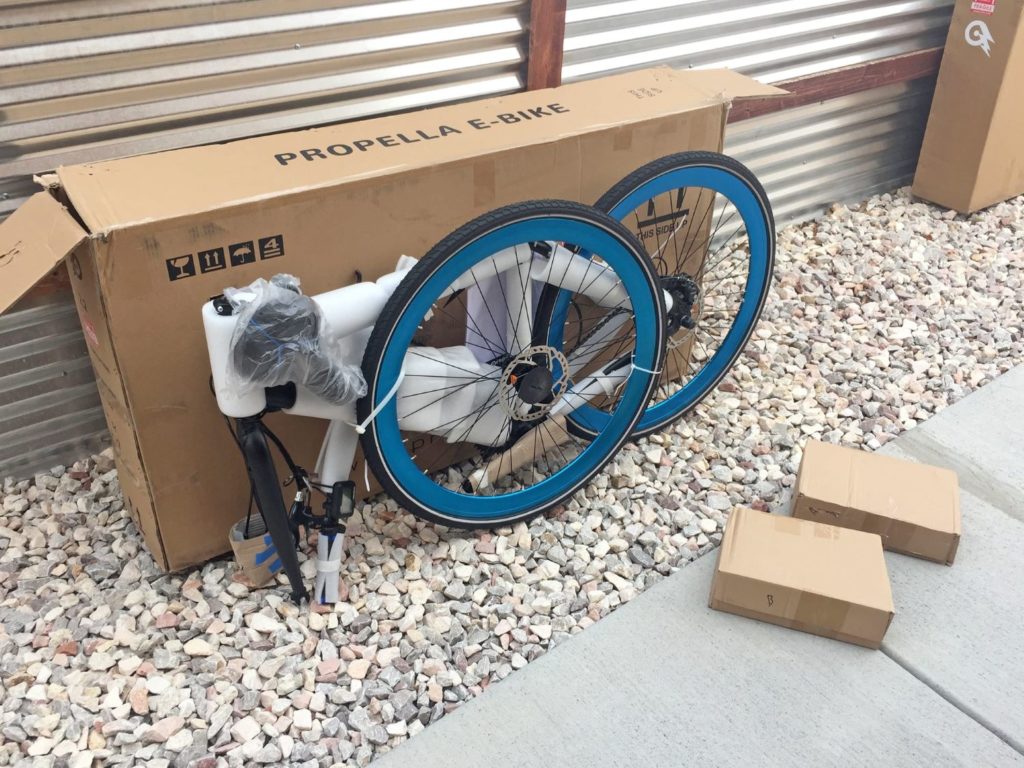 Shipping in the US costs $50. If you are ordering your delivery to Canada, you might be charged $100, plus an import tax (10-20%). Propella organizes sales from time to time when you can get free shipping for all your orders. So, if the shipping cost worries you, simply wait for a seasonal sale.
You can order your Propella 7 Speed ebike on their website for $1,299, which will come down to around $1,350 including the shipping, and maybe around $1,450 if you get a couple of accessories as well.
If you're looking for a cheaper alternative, you can get their single speed ebike for $200 less.
The shipping usually takes 2-5 business days, so you should have your ebike under your feet in no time!
Conclusion
Finally, it's time to summarize and conclude this Propella 7 Speed review.
So, how do you know that the Propella 7 Speed ebike is the one you need? Ultimately, it'll come down to your needs. If you're looking for a commuter ebike, this is definitely a fantastic budget-friendly option. It is also perfect for ebike beginners.
This ebike has amazing features, including its weight (one of the best in its class), range, looks, and maneuverability. You might need to sacrifice some extra speed, but you'll definitely get what you paid for and more.
The users of the Propella 7S are in love with it, so this is definitely an option to consider.