Peter McKinnon X NOMATIC
Camera Backpack
key advantages
Completely modular
Includes more than 10 pockets
Water-resistance material
estimated
delivery
October 2021
The Best Nomadic Camera Backpack
As we proceed to move into the future, the trend seems to be that humans are becoming more and more nomadic. We are traveling more, we are connecting and collaborating with others around the world. And as we become more and more decentralized, the gear we carry along with us should be just as versatile.

If you happen to be a content creator, a passive photographer, or just someone who likes to look at sweet and smoothly produced video content on Youtube, you might have heard of Peter McKinnon. With a subscription count of over 5 million on his channel, and thousands of more on his social media profiles, it's fair to say that he has a decent following and that people either like what he's dishing, trust him, or just like looking at amazing cinematography that he puts together through his travel and adventures.
That being said, coming from a photography background, Peter has a bit of knowledge of what works and what doesn't when it comes to using all sorts of gear. This would include backpacks, especially those that lug around camera gear for when content creators need to go and mob into the city, woods, and snow-capped peaks.
With all of that knowledge and experience, it would only make sense to pair those insights with weathered and experienced crowdfunders who specialize in making bags. You can guess where this leads… A Peter McKinnon and Nomatic collab! So how does this exclusive and specialized backpack stand up to content creators' needs? Let's find out in our TIW review!
The Product
Innovation
Is this a truly new product that you can't find on the market? Or this a product that defines an entirely new product category. In some cases, the combination of several features into one or the introduction of a new feature to an old product are also considered to be an innovation.
As the saying goes, if it ain't broke, don't fix it. And as we look at this backpack, it heavily resonates with that saying. This backpack was created to be what every backpack is intended to be, a solid utility to transport goods from one place to another, without adding extra hassle to the process. 
And that is exactly what Nomatic does. There was no need to reinvent the wheel here, but there was room to improve that wheel. And with the experience and insights that Peter brought to the table, most likely expressing his needs for what an ideal camera backpack would look like, the Nomadic team took all of that into consideration and executed it amazingly. 
They made the pack as a 2-in-1 to serve the needs of not only specialized photographers and content creators, but to also appease the likes and needs of everyday backpack users.
They start off by doubling down on what they know (well at least what Peter knows). They compartmentalized the inside to fit various types of lenses and cameras. But they didn't stop at that, these compartments are modular, so you can actually remove them and place the one you need based on how you will use your equipment. 
They also innovated a "latter system" which helps divide the gear and compartments of your choice. So pretty much, they've made the inside of the bag as customizable as you can get without sacrificing structure, protection, and weight. 
But wait… there's more. Though they've made what already seems to be a solid backpack to have in your closet, or more so out in the world, Peter McKinnon wanted to add a specific bag for a singular camera for when you want to grab and go. So they made a sweet sling bag, and not only that but also made an organizational tech and chord bag on top of that. And the thing is, they made these two extra bags fit perfectly within their own space in the backpack. So whether you have to lug all of your lenses, or just want to take something on the fly, they've made all of these options to suit your needs.

Aside from these great organizational features that would benefit the lives of photographers and content creators, its modularity also allows you to fully remove all of these components and purely use the pack as a daily commuter bag with its included zips and pockets that are featured inside.

So yeah, this bag goes from super technical, to very basic, but yet, still very useful. And although all of these features would make any creator's life so much easier, it still isn't necessarily innovating too much. 
But even if they aren't reinventing the wheel, they still made what seemed to be a wooden coach's wheel into a nice modern-day all-terrain tire. Useful, durable, and efficient (we're still talking about backpacks here).
Competitiveness
How much better is it than the competition? Is it faster? Bigger? Cooler? More affordable? There needs to be a solid reason why you should back this project over any other.
| | McKinnon X NOMATIC | Peak Design |
| --- | --- | --- |
| Price | KS $199 | $260 |
| Dimensions | 19x12x8 | 23 x 13 x 8 |
| Material | TPU tarpaulin | Nylon |
| Water-resistant | ✔️ | ✔️ |
| Capacity | 25L | 20L |
So how does the Nomatic camera backpack fare with the competition? Have you heard of something called brand? Apple, Microsoft, Patagonia, Bill Gates… Yes, Bill Gates is his own personal brand. Peter McKinnon? Yup, also has a reputation and a personal brand. 
So with that in itself, the Nomatic X Peter McKinnon collaboration backpack is already competitive with the brand alone.
It's still best to hold your reputation to a standard and follow through with a great product that is also competitive in its features. And it seems that with this backpack, they've done exactly that.
If you're looking for a nice camera backpack that has everything you would need to hold your equipment, there's a large selection you can choose from. But when it comes to quality camera bags, this one seems to be better at organizing and holding what you need, while also being cheaper than its competitors. 
First of all, its modularity makes it incredibly easy to use and customize specifically for your needs. Having the ladder system, a divider, organizational cubes, multiple pockets for small items, a laptop, and an RFID pocket in the front (the list goes on)… this backpack gives so many options to fit anyone's necessities.
Many other packs might have cool organizational systems, but personally, I have yet to see something as modular as this pack that while holds a capacity of 25L. 
And to add to all of that modularity, they add in an extra easy-go sling camera bag and organizer to drive home their variability and usability. It's almost as if Peter wrote down everything he disliked about his previous camera backpacks, and added those features on this Nomatic one (exactly what happened). 
So for a cheaper price, larger capacity, far greater organizing capabilities, and 2-in-1 camera and everyday use, this bag holds lots of credible weight, without even considering the weight that Peter McKinnon brings on his own.
Product Competitiveness Score
The Team
Reliability
How capable is the team? Have they developed something like this before? Do they have crowdfunding experience? Manufacturing experience? A lot of campaigns fail to deliver their product because they don't know what they're doing.
Here's where it gets good. They have one of, if not, the highest score we've given a campaign for reliability. And here is why:
NOMATIC found its beginnings when two cousins — Jon Richards and Jacob Durham — designed an innovative wallet and launched it on Kickstarter. They expected to get about 50 orders, but over 6,000 people backed their campaign… And the rest is history. Since then, they have launched multiple crowdfunding campaigns and shipped products to hundreds of thousands of people worldwide.
They were originally founded in 2014 but as they continue to grow, they now have 22 employees on LinkedIn with very professional backgrounds. That being said, NOMATIC has continued to innovate products by listening to what consumers want, prioritizing quality, and how they say on their website, creating some of the most functional products.
They're incredibly active on their social media channels (FB, Instagram, Twitter, Pinterest) especially Instagram with 171k followers. Aside from their social media channels, they have a great website with a user-friendly interface for smooth and efficient navigation. All this makes for a great customer experience that won't leave you questioning whether they're legit or not.
I mean, if their socials aren't enough to solidify a reputation, they have had 11 previous crowdfunding campaigns with over 61000 total backers and $11.5M raised in total. They are pretty much the Apple of crowdfunding, people become addicted to their backpacks and are ready to jump on the next product as soon as they hear the word of it being launched.
The reason why they didn't get an absolute 30 is that they have been a few comments that have yet to be answered (but they're managing 11 previous campaigns and all of their social media channels), but that's fair. Aside from that, there have been a few comments from backers stating that they did not receive their package. But understanding that logistical processes were heavily impacted through last year's pandemic, it could be a possibility that some of the packages took longer to arrive than expected.

So if it weren't for those two completely understandable reasons, they would be maxing out this score.
Attitude
How transparent are the campaigners? Do they give their backers valuable updates on their progress? Do they engage with their backers? Crowdfunding is all about community, sharing information, and building a meaningful relationship with the people who fund your project.
SO the thing about their campaign is that they get better and better every campaign, and they're on their 11th. They have a few unanswered comments, but they have immense amounts of comments and past campaigns to attend to as well. 
But they are courteous, positive, and very detailed. 
They are very polite, and when someone has a suggestion, they respond by saying they'll take it into account and ask the design team if they could incorporate it or not. 
They answered all comments very politely and to the point. Their previous collaboration with Peter McKinnon resulted in a $2,286,193 amount raised. 
They have lots of experience because they've had 11 campaigns.
Conclusion & Public Opinion
So is this the best backpack out in the market? That's a question that is impossible to answer due to the sheer variables and needs of every individual. But is this a backpack that can serve the needs of many, yet be specialized enough to solve many of the logistical issues creators face on the day today? Yes.
TIW Total Score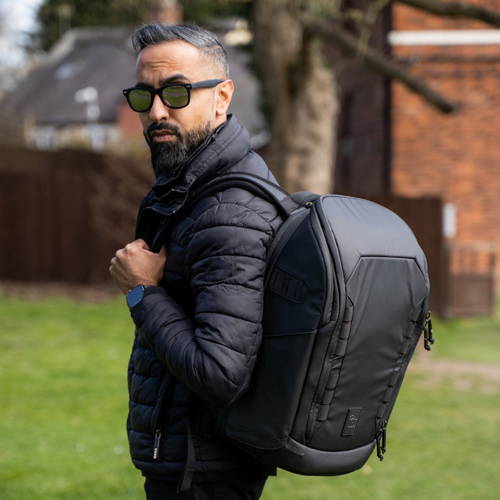 Peter McKinnon X NOMATIC
Peter McKinnon X NOMATIC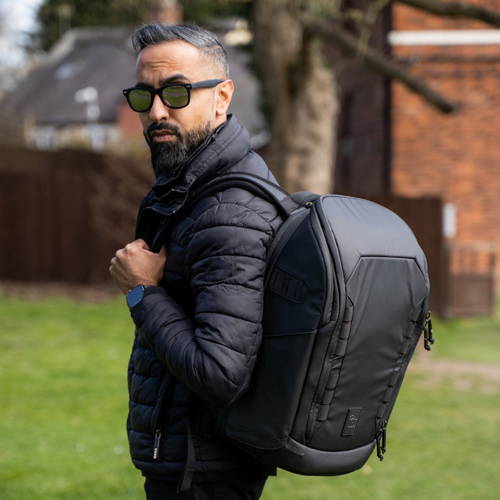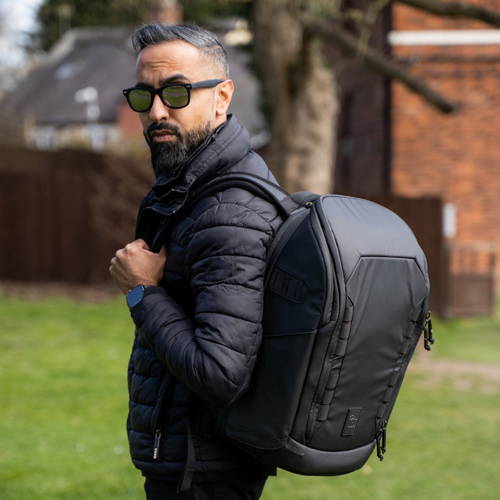 Limited time offer
d
·
: :