Paselec GS9 in-depth review: a budget-friendly full-suspension electric mountain bike
Product overview
Money can't buy happiness, but it can buy a PASELEC GS9 bike. And it's so damn close.
The goal of Paselec is to make it possible for everyone to ride a better electric bike, and its fully-loaded mountain e-bike now gives you the comfort and confidence to do things you wouldn't ordinarily do on most other e-bikes.
The Paselec GS9 is an affordably priced full-suspension electric mountain bike with a spec sheet offering plenty of reasons worth sticking around. A high-speed brushless 500-watt motor, 48V 13AH battery, and Zoom hydraulic disc brakes with 180mm rotors provide you with the most memorable action-packed, off-road rides.
So what's on the flipside of the coin? How do you set your expectations on a bike that offers so much for well under $2k?
We have compiled all of the most essential PaselecGS9 reviews into one Tech I Want mega-review to save you time.
Specifications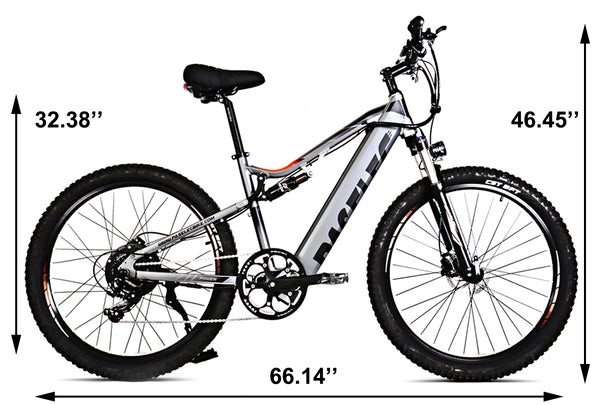 Tech specs
Motor: High speed brushless 500 watt motor
Battery: 48V 13AH Panasonic battery
Max Load: 220lbs (100kg)
Range: 30-50 miles
Rider Height: 5'5″ ~ 6'3″ (165cm ~ 190cm)
Tires: 27.5 KENDA/CST Mountain Tires
Saddle: Breathable seat
Seat post: Adjustable height
Rear shock: HLT-100 shock
Brakes: Front and rear hydraulic disc brakes + power off
Fork: Adjustable shock fork
Variable speed system: 9-speed
Display: Colorful LCD
Who should buy this?
Are you looking for an electric mountain bike meant for recreational riders? Are you trying to find an e-bike that you could take on a dirt road now and then and have some fun, without spending a fortune? Granted, Paselec GS9 has all you need to satisfy that search on the cheap.
Although the GS9 is classified as an electric mountain bike by Paselec, it's more likely to be a light-duty trail bike. This means, that you won't be able to perform any enormous insane leaps. However, the four-link 40mm rear suspension, the lightweight 26-inch rims, and the fat tires are undoubtedly well suited for smoothing out bumps and taking light jumps.
Having a throttle is a welcome feature, isn't it? With Paselec GS9 you have the option of both pedal assist and thumb throttle when you need it. For those who're speed-hungry, the GS9 boasts a few standout features. The 500W motor easily exceeds the 28 mph class 3 speed limit and accelerates as though it's running late. Once more, this isn't a professional bike, but it doesn't feel like it'll shake loose on you either.
If you want a lot on the range, though, you should give it a second thought. With the throttle, you can get 20-30 miles, and using the pedal assist will let you obtain even more range. Take this into account, if you are looking for long trips close to 50 miles or more.
Most importantly, let's not forget about the price. If it meets your expectations, for $1,400 this Paselec electric bike is a steal.
Nothing spectacular – a reasonable electric mountain bike at a reasonable price.
What are the experts saying?
Certainly, you can't buy a Lamborghini for Honda prices after all.
"And, while I can tell it isn't as good as the more expensive full-suspension electric mountain bikes, it still impressed me with how effectively it handled the challenges I threw at it… It's the very essence of "value": providing just enough of what you require at a reasonable cost." Micah Toll, electric vehicle enthusiast [electrek.co]
So if you're looking for more capabilities without overly compromising on safety or quality – congrats! You found your match in the Paselec GS9 proper budget-level, full-suspension electric mountain bike!
And here's an undoubtedly remarkable fact about GS9. The e-bike is made of 6061 aluminum – decent quality material for the frame.
However, you should be aware that it weighs slightly over 70 pounds!
Now it's time to review each part of this affordable full-suspension electric mountain bike.
Motor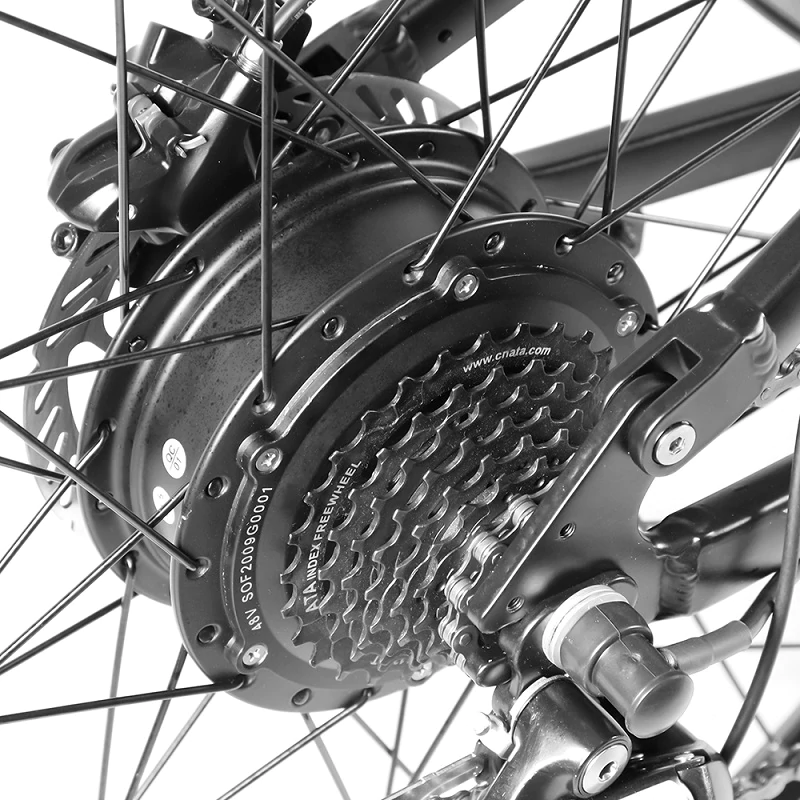 According to some Paselec GS9 reviews, the GS9's 500W rear hub motor is lightning fast.
"While the bike's surprisingly well-rolling 27.5″ X 2.2″ Kenda mountain bike tires undoubtedly helped, the GS9 is without a doubt one of the fastest bikes I've ever tried. Nevertheless, rather than full-boar eMTB riding, the GS9 is more suited to light-duty trail riding. The motor is quicker on flat terrain and will assist you on slopes, but it will not do all the work for you. " Griffin Hales [electricbikereport.com]
The Paselec GS9 is far from a wimpy or underpowered electric bike. Nonetheless, it lacks the power of other top-tier electric bikes, which becomes obvious while riding on more difficult terrain. It has a top speed of roughly 25 mph and is a lot of fun to ride. And, unlike some low-cost electric bikes, it doesn't feel like it's about to break apart when you hit top speed.
Don't you agree that Paselec deserves some extra credits for that?
"However, in reality, the GS9 takes a long time to attain its maximum speed. Again, it does have a cadence-based pedal assist, so don't expect it to be as responsive as a true torque sensor. " Emma Cunningham [electric-biking.com]
Suspension
Given that it's a mountain bike, the front, and rear suspension are of reasonable quality. Although the suspension isn't perfect, it provides for comfortable off-road riding. The front fork performs pretty well at cushioning the bumps that come with any uneven terrain. Because the GS9's geometry keeps you a little more forward on the handlebars, it is great that the fork can absorb some of the road impacts that your arms might otherwise feel.
The seat has more padding, which makes for a smoother ride. The ergonomically designed faux leather grips do not twist at all.
"On my lengthier trips, I started to like how they felt and loved the fact that they didn't twist around. Overall, the handlebar was a little narrow for my big shoulders, which resulted in slightly jittery handling, which I didn't mind at all when sticking to paved trails or softer dirt." [electricbikereport.com]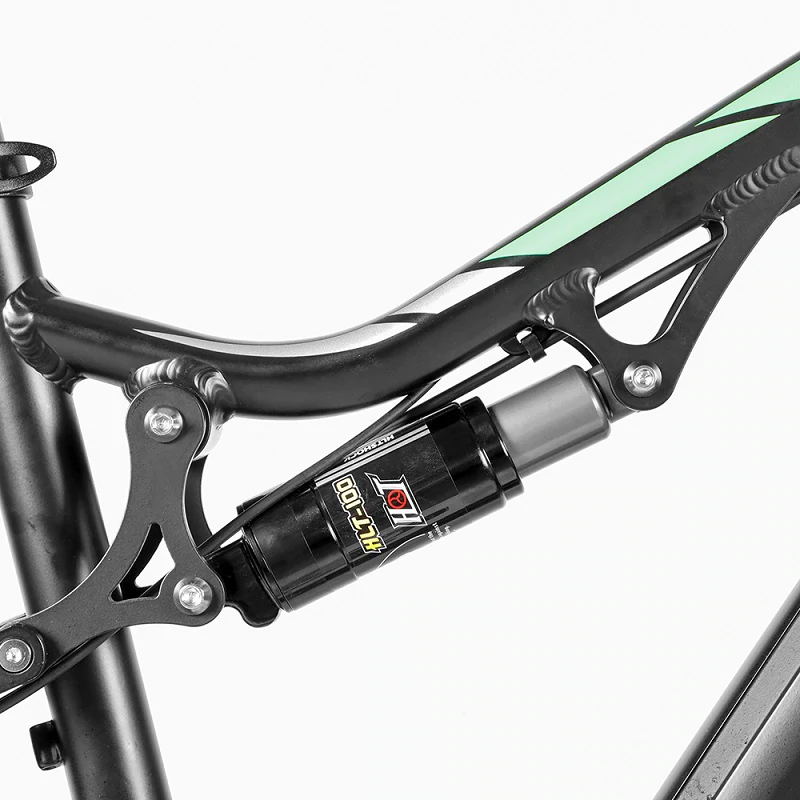 Battery
A fully integrated battery is a great little perk when you are riding trails with snobs who make fun of e-bikers. Still, fully integrated batteries have the disadvantage of not being able to be removed for charging, lightening the bike when loading it onto a vehicle rack, or any of the other reasons you might want to remove the battery.
Now imagine a battery, which is integrated yet still removable. You can have it with the GS9.
There is a lock located at the bottom of the downtube, directly in front of the bottom bracket of the bike. The battery drops easily out when you turn the key. However, the pack is so long that you will have to lift the bike or lay it on its side to get the battery out.
Another huge advantage of detachable batteries is that you can carry a spare or even replace it in a few years when the cells start to age and you don't get as much range anymore.
Even so, as stated in Paselec GS9 review on electric-biking.com, it is important not to overdo the throttle. The battery is sufficient, but not especially large.
"The Pasalec GS9 is advertised as having a range of up to 45 miles on a single charge, however, I strongly disagree. On the throttle, you will get about 20 miles, and with Level 1 pedal help, you will get about 30 miles."
Before drawing conclusions you also need to consider the results of the test done by electricbikereport.com during their Paselec GS9 review.
"Aside from the odd setup choices, the battery in the GS9 operates admirably. 25 miles on the high PAS end and 48 miles on the low PAS end is an impressive accomplishment. Regardless of your intended use for the bike, whether it's on the dirt trails, paths, or roads, the GS9 should provide plenty of battery life."
Brake type, rims, and tires
The Paselec GS9 comes with Zoom hydraulic disc brakes with 180mm wear-resistant rotors. Despite the decent quality, testing their capabilities in extreme situations is not recommended.
The bike's advertised "all-terrain" characteristics also include lightweight 26-inch rims, complementing the fat tires. This electric bike features 27.5 KENDA/CST mountain tires, completely suitable for mid-level riding. With these large rims, you can easily get over the obstacles, enjoy a strong grip, and a lighter ride at high speed.
What are the customers saying?
The vast majority of customers gave 5/5 stars on both Amazon and Paselec e-bike websites. On Amazon, the Paselec GS9 has received 4.2 stars out of 5 based on 131 global ratings.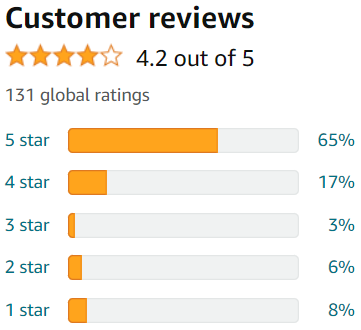 According to the customer reviews, most of the reviewers are satisfied with the bike quality and enjoy the bike to the fullest. The customers like the ease of riding and claim that the motor is powerful enough to push a full-grown adult.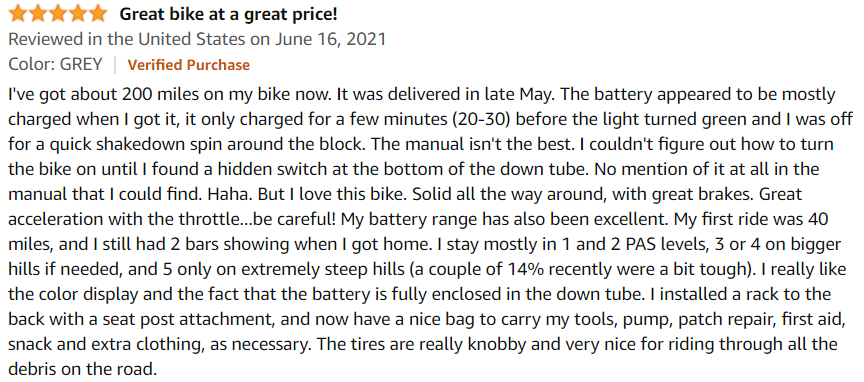 Some customers state that after riding the GS9 more, they have grown to appreciate it even more.
The biggest beef among the reviewers seems to be the instruction manual. Some of the customers had difficulties with installation and spent some time figuring out how to turn the bike on and how to access the various settings with the control module. Another issue that appears to be widespread is the difficulty in mounting the headlight and the tail light.
Still, as stated by the reviewers, the customer service of Paselec responds and resolves issues promptly. The customers, who had some issues with the parts of the bike, contacted the company and got replacements.
"I've driven hundreds of miles with this bike and I'm still happy with it. I've had no difficulties with usage, the battery, or the charge, and I can honestly say that I enjoy riding this bike. I've driven it on roads, in large parks, through mild terrain, and up and down various hills (paved and unpaved). I had to make a slight adjustment to the brakes after receiving it, but it was otherwise simple to assemble and use. The instructions could be clearer, but aside from that, I believe this is an excellent electric bike to purchase. It performs as advertised and in my opinion, it goes beyond that. DO IT! Get this bike."
Dave, February 11, 2022 [amazon.com]
Shipping
You can get this full suspension electric mountain bike for $1,499 right now on Paselec's website. The Paselec GS9 is available in black and gray colors.
For now, they only provide free shipping to the lower 48 states in the US. And they do not ship to PO BOXES or APO.
Unless otherwise stated on the product page, in-stock orders usually ship the next business day. Paselec will give a tracking number for in-stock items within 4 business days. Once the order has been delivered, a shipping confirmation email will be sent to the registered email.
A processing fee of 5% of the e-bike cost will be applied if you cancel orders that have not yet entered the shipment process. For these orders, the change of address as well as the replacements and exchanges are free of charge.
If your order has been dispatched and cannot be changed, you may refuse it and a cancellation fee of 10% of the e-bike cost will be levied.
A processing fee of $20 will be levied if you successfully change your address or exchange the item. If you fail to change your address or the item, you may refuse the shipment, and a reshipping fee of 10% of the e-bike cost will be charged.
Conclusion
Keep in mind that you must set your expectations accordingly. All the advantages that Pasalec GS9 provides on that little of a budget will not be without compromise. Yet compromise doesn't have to be a negative thing. Having your expectations set to the proper level will determine whether or not you end up enjoying it.
As mentioned before in our Paselec GS9 review, the bike makes efficient use of its battery, due to a solid 500W engine and 48V 13AH battery combination, as well as the bike's 27.5 KENDA/CST Moutain Tires.
While the readiness to endure the rigors of true eMTBing is not granted, rest assured, that you will have the most enchanting experiences on light-duty trails or paved paths.