Product Overview
Hailing from the successful collaboration between Orbitkey and tidying expert Marie Kondo's brand KonMari, the Nest is an innovative desk organizer designed to revolutionize the way you organize your essentials. Encased in a limited-edition stone colorway, this compact marvel boasts a sleek design, clever storage solutions, and a commitment to creating a clutter-free workspace.
The KonMari Orbitkey Nest is not just an organizer, it's a whole new way of managing your daily essentials, where portability meets function. Uniquely equipped with a 10W wireless charging pad, this portable nest ensures your devices stay charged while you focus on your productivity. The portable organizer and storage solution, beautifully wrapped in a custom-made indigo and cream furoshiki, spark a sense of joy and serenity, reflective of its Japanese heritage and Marie Kondo's philosophy.
As Marie Kondo herself affirms, "Simplifying organization can spark joy and create a more productive mindset." So, how does the KonMari Orbitkey Nest live up to these expectations? Stay tuned as we delve into a comprehensive analysis of this brilliant fusion of design, organization, and technology in our upcoming review.
Get The Product Here!
---
Who should buy this?
So, you're asking who would fork out $139.90 for this organizer, huh? Let me tell you, if you're the kind of person who's always on the hunt for the perfect balance of practicality, grace, and compactness, this KonMari Orbitkey Nest might just be your jam. Think about it. If you're constantly striving for a neat workspace and drooling over aesthetically appealing solutions for your clutter, it's the stuff of dreams. The limited-edition stone color? Onboard wireless charger? Unique compartments? It's like a gourmet meal for the organized professional, satisfying both looks and practicality.
However, if you're watching your budget, it might not be your first pit stop. Let's face it, it's a premium item, and if you can live without the wireless charging and customizable storage, there's a world of more cost-effective choices out there.
If you're a road warrior, always on the go, and hunting for a reliable organizer to keep your daily items in the line, the KonMari Orbitkey Nest might just do the trick. Its compact design means you can slide it into your backpack or briefcase, keeping your items safe while you navigate through your day. But, if you're one of those folks with larger gear like those mammoth headphones, it might be a tight fit.
So, here's the million-dollar question: should you be hurling your hard-earned cash at this Nest? If you're craving a high-end organizer with wireless charging, that's a big yes. But if the price makes you wince or if you need something that can accommodate more stuff, there's an entire universe of alternatives to explore.
---
What are the experts saying?
The Orbitkey Nest: a dynamic tool, designed to give your everyday tech a bit of an uplift. The design packs a powerful punch of functionality and aesthetics, served in a neat, tidy package. Sure, it might leave a bit more of a dent in your wallet, but hey, some say you can't put a price on the sheer joy that comes from a workspace so well-ordered, it would make a librarian blush.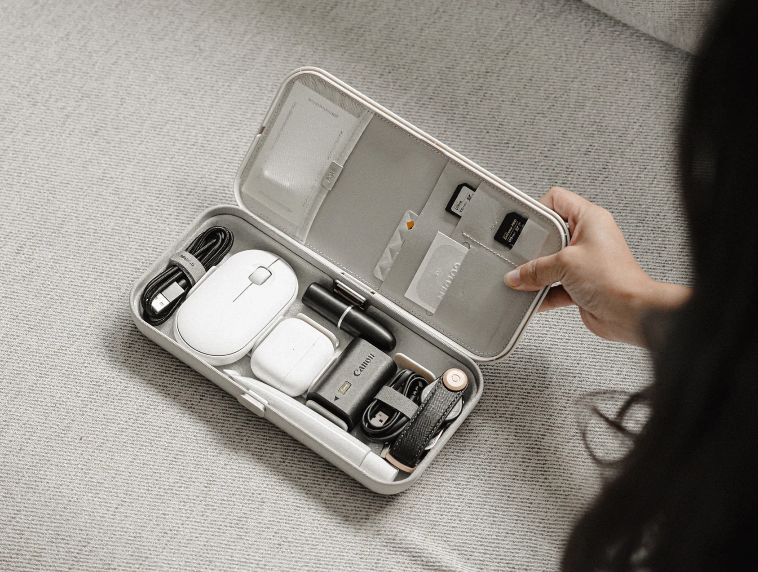 The Orbitkey Nest is more than just a pretty face. Compact and intelligently designed, it's the unsung hero of desk organizers. Its compartments are like little homes for your various items. The real star of the show, however, is the built-in wireless Qi charger. Simply place your device on top, and watch it come back to life! This feature makes it your tech's home base when they're running on empty. And while some users have pointed out it can be a tad restrictive when it comes to larger items, isn't it comforting to know that at least you'll never lose your keys in there?
Let's take a stroll through the Orbitkey Nest's features. Picture this: a hardshell case, colored in a uniquely understated stone hue, designed to cradle and protect your tech goodies while you're out and about. Chris Van Hoven from everydaycarry.com was quite taken with it!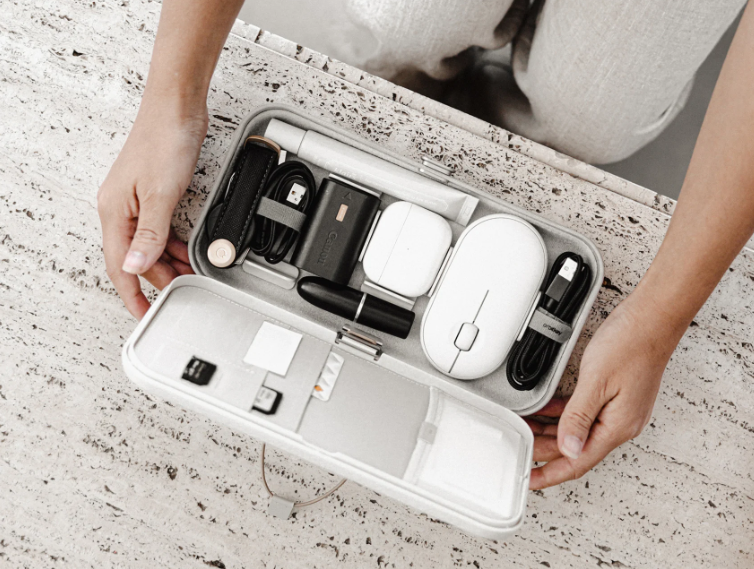 And that's not all. What if you could rearrange your storage space at will? Sounds like a dream, doesn't it? Well, that's precisely what the Orbitkey Nest delivers. Its customizable storage, complete with six Velcro dividers, gives you the power to tailor the internal space exactly to your needs. Prasham Parikh from androidpolice.com thinks this makes the Orbitkey Nest a chameleon of sorts, adapting to the ever-changing landscape of your EDC. On the flip side, though, there could be a slight hiccup if you're hoping to squeeze larger items into the Nest. But don't fret! A built-in elastic band will help keep those big boys secure.
Did we mention the wireless Qi charger? Oh yes, we did! But it's such a game-changer, it's worth repeating. The top of the Nest doubles up as a charging station for your wireless devices, creating a one-stop tech haven right there on your desk. While Prasham Parikh does recommend exercising caution when aligning devices on the charger due to its limited surface area, it's a small price to pay for convenience.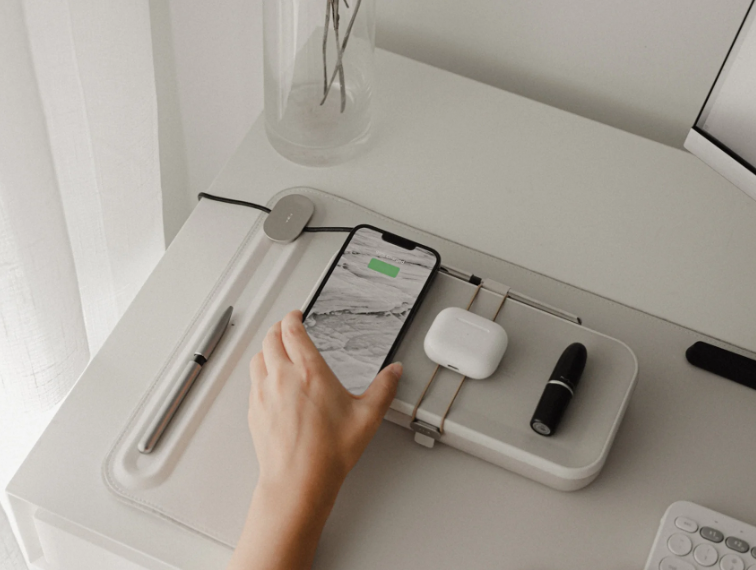 It's not all tech and gadgets, though. The Orbitkey Nest takes a bow to sustainability as well. Each unit comes wrapped in a custom-made indigo and cream furoshiki, a nod to traditional Japanese wrapping cloths. And the best part? They're reusable! So you're not just organizing your tech, you're doing your bit for Mother Earth too.
Now, where does the Orbitkey Nest shine the most? Organization and tidiness! Whether you're at your desk or jet-setting across the globe, the Orbitkey Nest ensures your essentials stay neat, decluttered, and protected. Graham from themodestman.com also thinks the Nest could be the missing puzzle piece for those without desk drawers or caddies. Its Velcro dividers, elastic pouch, and card slots make it a veritable treasure chest for small items. However, he does mention that the Orbitkey Nest might need to hit the gym to beef up a little bit and accommodate bulkier items like those over-ear headphones that are just too funky to fold. But let's be honest, we all have our little quirks, right?
Get The Product Here!
---
What are the customers saying?
Based on the ratings and reviews on both the Orbitkey website and Amazon, the Konmari Orbitkey Nest has received significant acclaim, holding an average rating of 4.6 stars on the Orbitkey website.
The high ratings from various customer reviews seem to be a result of the product's unique design and functionality. Customers rave about the Orbitkey Nest's aesthetic appeal, with phrases like "Wonderful outlook", "Beautiful colors", and "the special edition is just awesome and it looks so good" appearing across multiple reviews. Users particularly appreciate the Konmari Orbitkey Nest's ability to declutter and organize their belongings effectively, with its compact design being lauded as perfect for daily use or travel.
One reviewer, Vhonda R, highlighted how the product's color perfectly matched their desk mat, indicating satisfaction with the aesthetic continuity the Orbitkey Nest provided. Stéphan A. and Tara K. pointed to its organizational capacity and beautiful aesthetic as key selling points. Stéphan A. even went so far as to "strongly recommend" the product.


Even with its many positives, the product is not without its detractors. Some customers have suggested improvements to the Orbitkey Nest's design. For example, Donald R. wishes for longer or more diversely shaped dividers, and Jackie C. would prefer the nest to be taller to fit a power brick.


From Amazon, Austin W acknowledges the excellent engineering and functional wireless charger but mentions the tightness of pockets as a possible setback. Danielle Arenas praises the product for its convenience and portability, mentioning how it essentially acts as a "tiny portable desk".
Overall, the Konmari Orbitkey Nest seems to be a highly appreciated product that offers both aesthetic and functional solutions to the user's needs. The minor critiques offered by a few users highlight potential areas of improvement, which could further enhance the user experience.
Shipping
The KonMari Orbitkey Nest, available at a regular price of $139.90 USD, offers a range of shipping options depending on the location of the customer. For North America and Canada orders (from www.orbitkey.com), products are shipped from their Utah warehouse. However, depending on stock availability, your order may be shipped from the nearest suitable fulfillment center.
After an order is placed, packing and processing take 1-2 business days. If an item is on backorder or pre-order, Orbitkey will ship your order only when all items are available, in line with their efforts to reduce their carbon footprint.
The estimated shipping time varies and can take up to 30 days. For standard shipping, USA orders are delivered via First Class UPS, while Canada orders are delivered via AppleExpress, CanPar, and Canada Post.
Orbitkey also offers express shipping within Australia (via Australia Post) and in the UK (via Evri). For domestic shipments in the US, standard shipping usually takes between 3-7 working days. However, for Canada, the package will first be sent from Utah, US, and then domestic shipping will take over after sorting and customs clearance.
Orbitkey provides free shipping for orders above US$50 in the US and Canada. Orders below US$50 attract a shipping fee of $9.90. All orders are processed within 1-2 business days from their various fulfillment centers.
Please note that due to changes in customs fees, increased delivery time, and shipping costs, Orbitkey has had to make the tough decision to stop shipping to certain regions or countries. For more information, please refer to the list on their website.
These shipping options and costs ensure that customers can enjoy their Orbitkey products as efficiently and economically as possible. All transactions are carried out securely, guaranteeing the safety of the customer's information.
Conclusion
Keeping track of your belongings can be a nightmare, but the KonMari Orbitkey Nest changes the game. This compact organizer, though pricier and smaller than average, boasts exceptional quality, unique engineering, and a built-in wireless charger. It embraces Marie Kondo's ethos of sparking joy, demonstrating how simplicity and thoughtful design can transform everyday chaos into a streamlined routine.
Get The Product Here!