key advantages
Easy Access to the Ports
High Portability
100W PD Charging
estimated
delivery
April 2021
You lost your wires yesterday and already fed up buying new ones? Or can't take any longer the tangled cords on your office desk? Let me add one more thing which irritates you the most. Your phone remains uncharged because someone unplugged it? Want to transfer data quickly and effortlessly? Time to get a docking station or hub for your USB-C devices to charge and interface various phone, tablet, and laptop models.
We all know that the market is really full of charging and docking hubs with different functionalities and compatibilities and finding the best fit is not always a smooth process. Let's together explore the OmniCase docking station and cable organizer box. The 100W charging hub is equipped with an ideal range of 7 ports that also transfer data at full speed.
2x USB-A 3.0 ports
1x 100W USB-C PD charging
1x 4K HDMI OUT
1x SD Card Reader
1x Fd Card Reader
RJ45 Gigabit Ethernet
The Product
Innovation
Is this a truly new product that you can't find on the market? Or this a product that defines an entirely new product category. In some cases, the combination of several features into one or the introduction of a new feature to an old product are also considered to be an innovation.
Let's start the section with the thing that captured my attention the most. A cable organizer attached to the dock with a magnetic snap-on significantly increases the value of the product. All the needed wires are neatly nestled into the hub body ensuring your effortless access anytime and anywhere. 
It also minimizes the chance of losing the cords. The OmniCase USB-C hub comes with the cords as well which you can choose from the add-ons. Here is what they offer:
USB-A to USB-c Female

Micro USB to USB-C Female

USB-C to USB-C Cable

USB-C to Lightning Cable

Sim Card Slot

Eject Pin
10 GBps data transfer to move any HD movie in seconds, up to 100W of charging power allows you to juice up your gadgets seamlessly while having the rest of the ports in use. Plus, the OmniCase USB-C hub has an Ethernet port which ensures a more stable and faster network connection.
More importantly, the device is equipped with a cooling system to enlarge its lifespan and to ensure the smooth working of all ports simultaneously. The surface will always stay below 65°C even when all the ports are plugged.
Competitiveness
How much better is it than the competition? Is it faster? Bigger? Cooler? More affordable? There needs to be a solid reason why you should back this project over any other.
| | OmniCase | VaVa | Tiergrade |
| --- | --- | --- | --- |
| Price | KS $69 | $38.9 | $129.99 |
| Dimensions (mm) | 104x64x9.35 | 100x40x13 | 237x156x61 |
| Number of Ports | 7 | 7 | 9 |
| Data Transfer Speed | 10 Gbps | 5 Gbps | 5 Gbps |
| Charging Power | 100W | 100W | 60W |
| Wire Organizer | ✔️ | ❌ | ❌ |
Numbers speak themselves, right? Despite being one of the most compact and portable USB-C docking stations it offers huge charging power and the highest data transfer. And the thing that makes OmniCase proudly stand out in the market is the magnetic snap-on cable organizer box. This is the utmost solution to have all the cords not only in hand but also neatly organized. No more tangled wires, turtle-like speed, and uncharged gadgets. And most importantly you can get the device at a highly affordable price.
Product Competitiveness Score
The Team
Reliability
How capable is the team? Have they developed something like this before? Do they have crowdfunding experience? Manufacturing experience? A lot of campaigns fail to deliver their product because they don't know what they're doing.
OmniCase is designed and developed by JSAUX which is a well-known Chinese company founded in 2016. They have specialized in manufacturing 3C products such as chargers, adapters, different kinds of ports and cables. Staying faithful to their mission of "Connect More, Power More" they always challenge themselves with new ideas trying to broaden product categories and types they manufacture. If you have doubts about the quality of the products just have a look at their Amazon pages.
OmniCase USB-C hub is their first crowdfunding project. Having raised $52,266 with 39 remaining days, the campaign promises to be successful thanks to the new approach JSAUX implemented to the USB-C docking station category. The campaign page gives all the necessary information and details regarding the product specifications and problems it solves thus earning backer's trust and support.
Attitude
How transparent are the campaigners? Do they give their backers valuable updates on their progress? Do they engage with their backers? Crowdfunding is all about community, sharing information and building a meaningful relationship with the people who fund your project.
As I have already mentioned this is their first crowdfunding campaign with only 1 update and 19 comments. Most of the comments are answered within a day.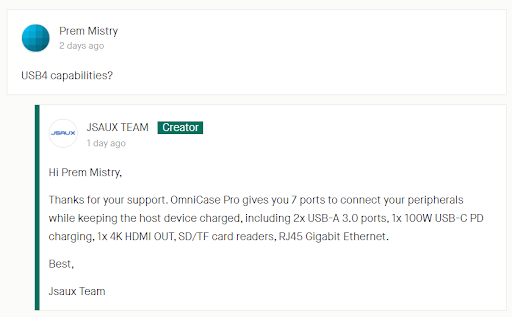 The only thing that makes several backers feel dubious is the fact that the majority of their online shop products are out of stock. Hope they will manage to gain the trust of backers and fulfil all the plans with OmniCase.
Conclusion & Public Opinion
To sum up, OmniCase is a cable organizer box and USB-C hub with 7 ports to meet all your needs connected with USB-C devices. In spite of its small dimensions and high portability, OmniCase is a must-have accessory. 
The JSAUX team is relatively new in the crowdfunding sphere but taking into consideration their mass-market experience we have big hopes they will succeed and launch new campaigns.
Here are public reviews for you to have an overall picture of the company and its products.



TIW Total Score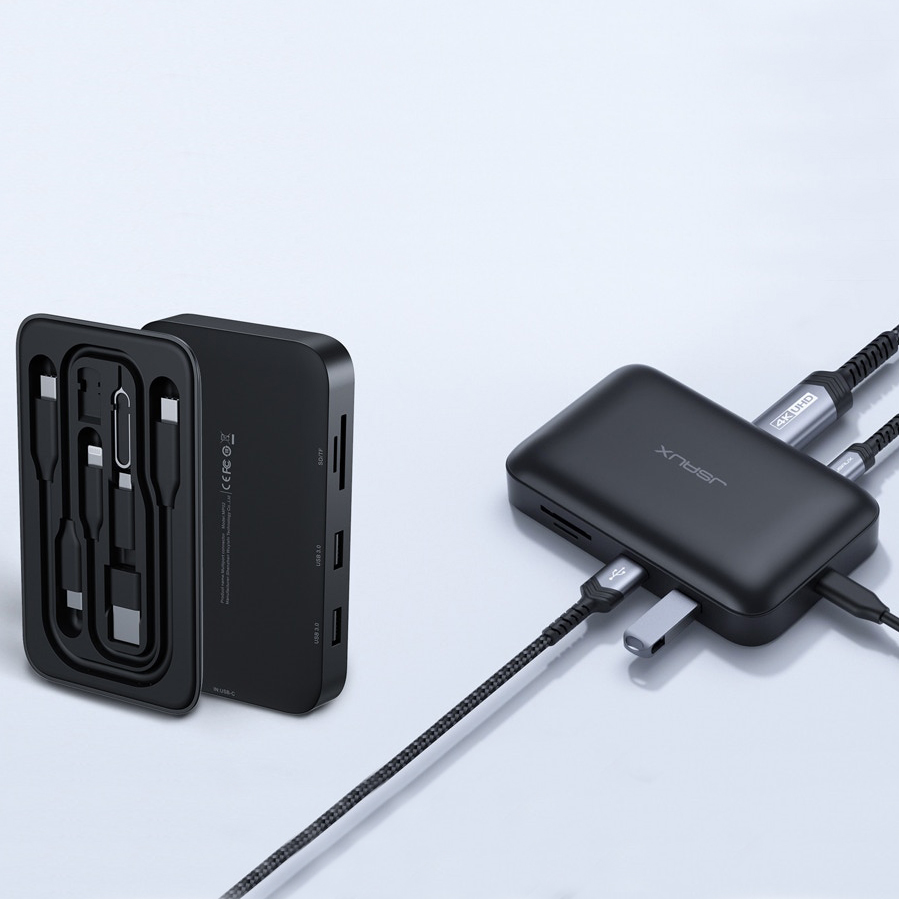 OmniCase
OmniCase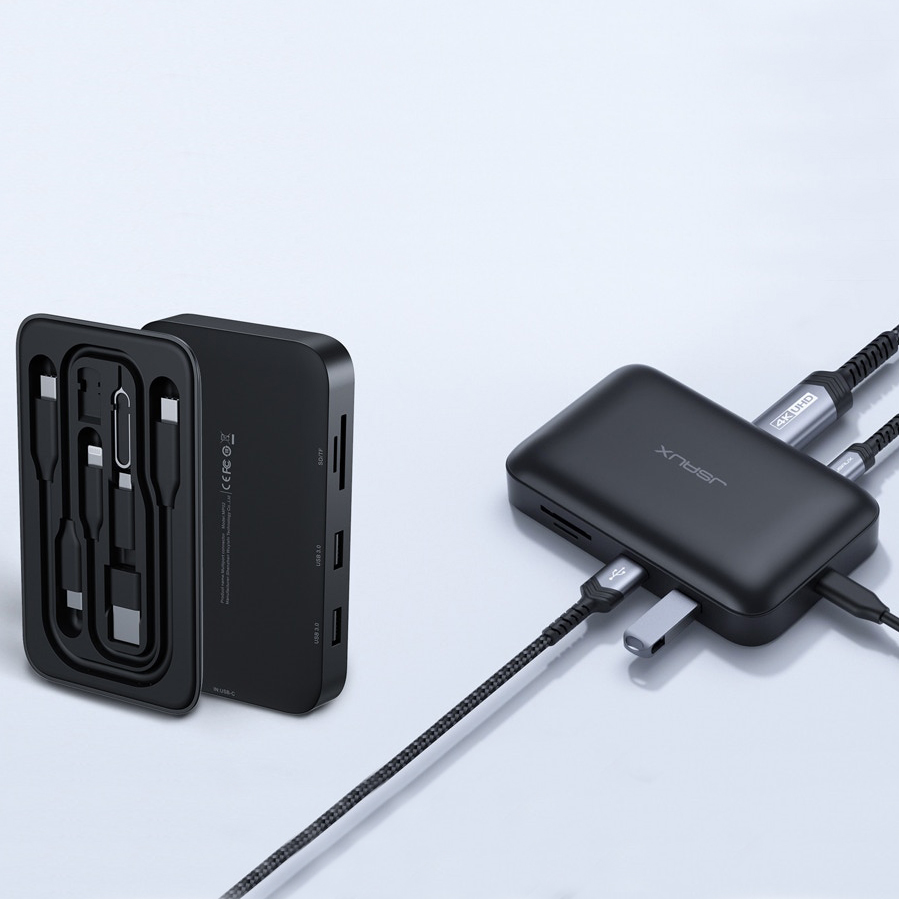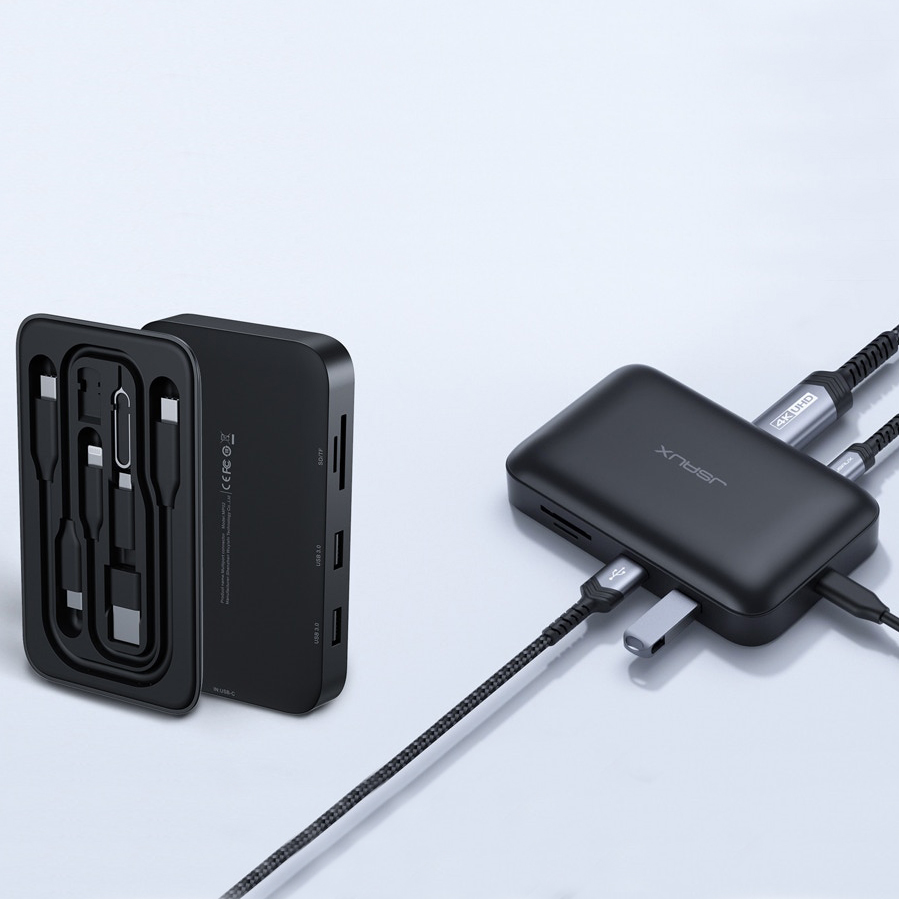 Limited time offer
d
·
: :